An Englishman in New York.
By Paul Bartholomew
After following this site for a number of years and being intrigued by how a rangefinder camera experience might work out for me, I finally pushed the boat out and bought a pretty pristine used M9. My first lens was a Carl Zeiss f/1.5C Sonnar – I felt it would match the sort of portrait and model work I normally do with my 5D MKIII.
As a low depth-of-field junkie, I had this lens calibrated to focus at f/1.5 (it focus shifts and is set at f/2.8 by default but can be adjusted). Although I love the lens (and I still have and use it), it was the wrong first lens for me. Once I had the Leica, I was eager to get out of the studio and on to the street. Once there, I found the field of view of the 50mm was too restrictive for street work – I knew I would need another lens at some point.
Then, a few months ago I needed to go to a book-writing symposium in Michigan – both my wife and I were co-authors and we decided to spend a couple of days in New York en route. I knew that I would need that new lens
if I wanted to get some nice street images while I was there. After much deliberation looking at reviews of 35mm and 28mm lenses at this site (thanks Steve!) and others, I ended up buying the Carl Zeiss ZM 28mm f/2.8 Biogon. I'd already worked out that I was going to be shooting with a zone focusing technique at around about f/5.6 and so I felt that the Zeiss 28mm f/2.0 lens would just cost me more and be larger without giving me much more bang for my buck (or pound!). Of course I did look at Leica and Voigtlander options too, but the Carl Zeiss offerings just seemed to hit that sweet spot of image quality, build quality and price!
So, how did the lens choice work out? Below I offer a set of images configured as a bit of a photo-essay. All images were shot with the little 28mm lens, all have been square cropped and all were taken within walking distance of our midtown hotel. It was tempting to try to just shoot the edgy and the eclectic, but instead I wanted to acknowledge my identity as a tourist – an Englishman in New York, and to produce images that captured that context.
Below then, I first offer an index image to the photo-essay series and then the individual photos in a sequence. After the images, I finish this report with a few words by way of reviewing this great little lens and offer my thoughts on my adoption of the Leica M system. But first…
9 Blocks: An Englishman in New York
Image 1: Lure of the Empire
Image 2: Lady on the Corner
Image 9: Don't Walk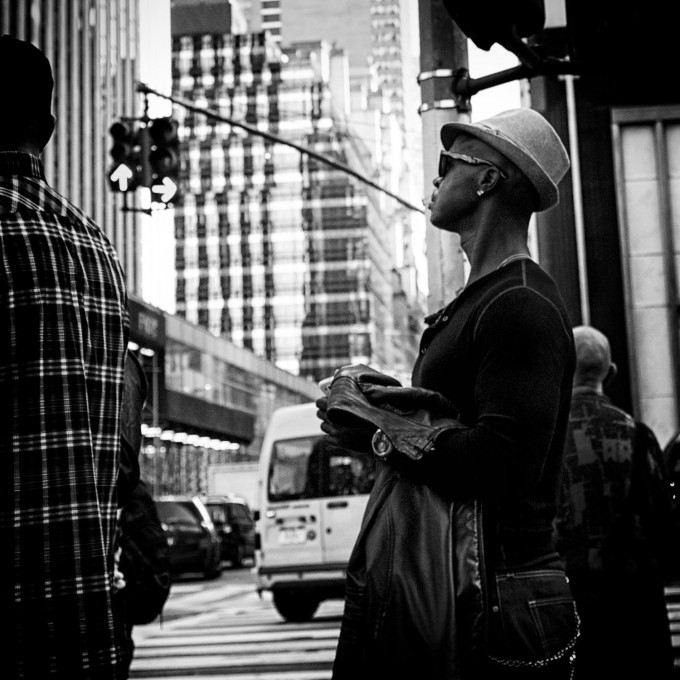 Why a Leica M?
Prior to buying my M9 I had hankered for a way of shooting that was more involving than the technically focussed SLR experience. I'd had a Olympus E410, a Canon 5DII and then my current Canon 5DIII. All capable tools – the 5DIII especially, but the experience of shooting DSLRs is, to my mind, rather like flying-by-wire – you control the electronics of the camera and the camera takes the shot. It's all a bit sterile. My initial foray into trying to pull myself more into the shooting experience was to buy a Lensbaby Composer for my Canon – it forced me to focus manually, take my time and choose my moment. All good training for the Leica M to come!
When I invested in the Leica I was rewarded with exactly the sense of engagement I had hoped for – only it was much harder to shoot than I had anticipated! Using my 50mm f/1.5 at f/1.5 on the street was laughable – everybody moved too quick, I couldn't keep up. Stepping the aperture down and zone focusing gave better results but the 50mm frame size was way too small for me to get decent results. I knew I needed a wider lens and (as you know) the 28mm f/2.8 was my choice.
So how does the lens perform? Well, on the streets of New York (and elsewhere since) it has been a fine choice. It feels really nicely made, the lens hood I bought for my 50mm seems to work just as well on the 28mm (I like to use a hood to protect the front element) and the quality of the images I have been getting – in terms of sharpness, contrast is exemplary.
Couple the image quality with a compact form factor and ladies and gentlemen we have a winner! Although I have little experience of other lenses on the M system, I still recommend this lens highly. I do have a bunch of Canon L
lenses and I would say the little Zeiss 28mm is my second favourite of all the lenses I own – second only to the rather special Canon 85mm f/1.2L II.
I know my M experience is limited, so perhaps I'll splash out on a Leica lens for my M9 at some point – just to compare, but in the meantime the price and quality point of the Zeiss lens line up remains tempting and furthermore I'd contend that the ZM 28mm f/2.8 Biogon is right up there at the zenith of the quality/price curve.
Thanks for reading.
Paul