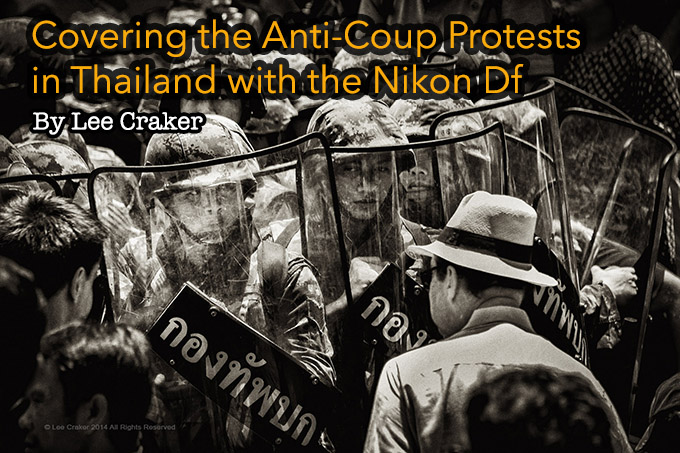 Covering the Anti-Coup Protests in Thailand with the Nikon DF
By Lee Craker
Covering the Anti-Coup Protests in Thailand with the Nikon Df
On the 25th of May, 2014 I covered the Anti-Coup demonstrations in central Bangkok Thailand. Thailand had experienced a Coup D'état 3 days earlier, and this was one of the first gatherings of people to show disapproval of the coup.
Using the Nikon Df on an important journalism assignment was literally a last-minute decision. I had arrived in Bangkok on the 23rd to teach a street photography workshop, and in my camera bag for the trip I chose 2 bodies and two lenses. I travel to Bangkok from my home in rural Thailand by public van to avoid the insane traffic in Bangkok and traveling light is a necessity. I chose my workhorse D3s and the Df as bodies, and a Nikkor 24-70 f/2.8 along with the Nikkor 28-300 f/3.5-5.6 for lenses. The Nikkor 28-300 has all but replaced my Nikkor 70-200, it is a sharp capable lens, but that is another story for another day.
On the 24th, the day of my workshop I chose the D3s to shoot with as we were starting before sunrise and I wanted to have a fast focusing body for the morning darkness. I ended up carrying the D3s and the 28-300 lens for about 8 hours that day. I need to explain I am 62 years old and have been a professional for many years. Carrying two pro bodies and lenses has taken a toll on my body. After a day of carrying the D3s for 10 hours, I have had it. My back is sore and my neck is also feeling the pain of the heavy body. So on the morning of the 25th I decided to shoot with the Nikon Df for the day. For the reasons stated above, these days I carry one camera and one lens for fast moving assignments. I'll leave carrying a bag of equipment that you may or may not need to the younger, stronger guys. I'll rely on a good camera, experience, and maybe a little luck to get the job done.
I had two concerns in choosing the Df for this assignment. 1) Would it focus fast enough in critical situations? and 2) If it got knocked around would it hold up? As for #1, the Nikon Df does not focus as fast as the lightning fast D3s, but it did focus fast enough. I also knew that I did not have 9FPS available to me and on this particular day I never needed a rapid-fire machine gun of a camera. My other concern was durability. When in tight situations, when I was being shoved around by the crowd, I protected my camera as if I was carrying my Leica and had no problems at all. This is another distinct advantage of carrying one camera, it is in your hands and not at your side so it suffers much less abuse.
I have to report that the Nikon Df did a fantastic job on the 25th. It did everything I needed it to. Except for me being out of position, I did not miss any shots or walk away feeling I would have done any better job with any other camera. After this experience I am not afraid to use the Df as a journalism camera, when I need to.
One of the reports I filed is here: http://www.demotix.com/news/4840647/protests-against-thailand-coup-continue-central-bangkok
The following are some shots I made with the Nikon Df at the anti-coup protests in Bangkok, Thailand, May 25, 2014
Website: http://www.leecraker.com
Facebook: http://tiny.cc/ge6f0
NPPA: https://nppa.org/profile/48992
Blog: http://www.leecraker.com/wp/
Sales: http://tinyurl.com/lmxboyl
Books: http://www.leecraker.com/wp/books
News Images: http://www.demotix.com/users/lee-craker/profile