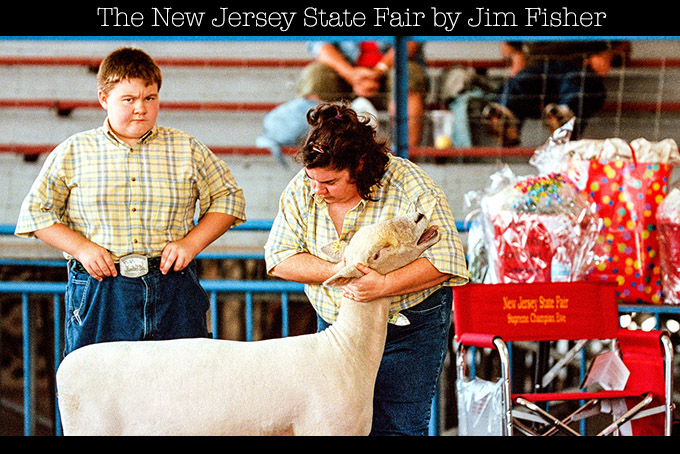 The New Jersey State Fair with film and digital
By Jim Fisher – His blog is HERE
For the past few years I've been visiting and photographing at the New Jersey State Fair, held each August in Sussex County. It ís a true rural affair, complete with 4H and FFA kids showing off the animals they've raised, lots of fried food, and carnival rides.
This year was the first that I came armed with a press pass, which made it possible to get some close access to livestock judging and the Queen of the Fair pageant. I concentrated on these events for this trip, skipping over the carnival side of things mainly because my feet were worn out by the time enough darkness fell to make the rides really visually striking.
Caption: Kodak Portra 800, Canon EOS ELAN 7NE, Sigma 50mm F1.4 EX DG HSM
The Gear
I took a few cameras with me this year, a mix of film and digital. I was carrying the full-frame digital Canon EOS 6D along with Sigma 50mm F1.4 EX DG HSM and Sigma 120-300mm F2.8 EX DG IF HSM APO lenses, and a Canon EOS ELAN 7NE 35mm film body. The 120-300mm is a huge beast of a lens, but delivers a solid telephoto zoom range and is absurdly sharp. I also brought my trust Nikon F3 along with Nikkor 28mm f/2.8 AI-s and 50mm f/1.4 AI lenses, and a pair of compact digital cameras: The Ricoh GR and Sony Cyber-shot DSC-RX100 II.
Caption: A young girl answers questions about her chicken during judging. Ricoh GR.
Chickens and Sheep
My first stop was to the pavilion that houses the chickens, rabbits, and other small animals. Cages line the walls and center of the building, each a temporary home to the animal awaiting judgement. I stumbled in just in time to come across some of the judging of chickens.
Caption: Sheep judging. Kodak Portra 400, Canon EOS ELAN 7NE, Sigma 120-300mm F2.8 EX DG IF HSM APO.
A middle-aged man called the 4H and FFA kids who had raised the birds up one by one, asking them questions about each, and taking down some notes that will determine the best in show. I moved outside and to one of the larger judging rings. There was a really bizarre sheep event going on. The sheep themselves were normal, but the handlers pair of humans ranging in age from teenagers through adults were all wearing matching plaid shirts. An older gentleman with a cowboy hat and a huge, huge belt buckle oversaw the judging and chose a winner.
Caption: Twin sheep handlers. Kodak Portra 400, Canon EOS ELAN 7NE, Sigma 120-300mm F2.8 EX DG IF HSM APO.
Queen of the Fair
Each year a Queen of the Fair is crowned: a local teenage girl who is paraded around the grounds in a tiara and serves as an honorary representative at various events throughout Sussex County over the next year. Iíd not yet seen the pageant that crowns the winner, but my wife (who was familiar with the event from her time as a reporter for the local paper) assured me that it was long and boring.
 Caption: Looking in at the Queen of the Fair pageant. Canon EOS 6D, Sigma 50mm F1.4 EX DG HSM.
But I still wanted to attend, just for the sake of curiosity. To me, pageants are just weird. Parading women around, choosing one above all the others, and crowning them just seems like something that's out of step with today's society. On the other hand, the winner gets some money for college, so there's that.
 Caption: Miss Lafayette (T). Canon EOS 6D, Sigma 120-300mm F2.8 EX DG IF HSM APO.
I tried to shoot the pageant as darkly as possible, with grainy black and white film (Ilford HP5 400 pushed rated at ISO 800), and a grainy conversion to monochrome for any digital images. Basically, I was going for the antithesis of how typical coverage would be done, and when I saw that the pageant was being held in a dimly lit tent and that all the girls had armbands identifying them by letter (odd if you ask me), I knew that I wanted at least a few shots that isolated that visual.
 Caption: At the mic. Ilford HP5, Canon EOS ELAN 7NE, Sigma 120-300mm F2.8 EX DG IF HSM APO.
I used the Sigma 120-300mm and 50mm prime, with a mix of film and digital. A monopod was employed to steady the telephoto lens; the 120-300mm is too heavy to use practically without one, and it helped me get a steady enough shot at the shutter speeds I was limited to at ISO 800 and f/2.8. I'm glad I had it, because my wife was not exaggerating about the length of the pageant. I shot the first portion, which involved each of the two dozen contestants walking slowly to the stage and giving a prepared speech, and I called it a night.
 Caption: The Queenís Carriage. Sony Cyber-shot DSC-RX100 II.
And that was it for another year at the fair. I skipped the carnival portion this year and some of the other usual goings-on. But since it took me so long to put this post together, the 2014 fair isn't too far off.
You can look at my 2011 and 2012 reports for images from those years. For more images from 2013, check out my Smugmug Gallery.
Jim Fisher is the Senior Digital Camera Analyst at PCMag.com. He also posts photos, an occasionally finds time to write, at his personal blog, daguerreotyping.com.