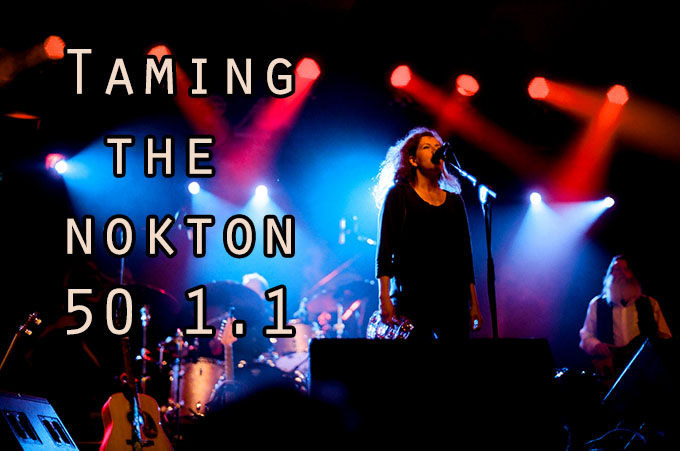 Taming the Nokton 50 1.1
By Manikarnika Kanjilal
My name is Manikarnika Kanjilal. I am a doctoral student and I devote my almost my entire (lately dwindling) free time in pursuit of photography. I was always interested in photography but started being seriously into it for the last couple of years – after I found a Digilux 2 on ebay. It was Steve and Thorsten Overgaard's reviews that made me acquire the camera and thus start exploring my photographic vision. This post is however not meant to wax poetic about that cult camera but on another "controversial" lens about which the photographic community seems to be divided.
Last summer I acquired a second-hand Nokton 50 1.1 in a moment of insanity and went on to use it in a one-lens-one camera challenge to myself. What was even more insane was that I did this while covering a four-day music festival in my city.
Edmonton Folk Music Festival is quite the religious experience for a huge number of music lovers in this town. People queue up at the gates for a chance to place their tarp as close to the main stage since 3 am or some ghastly time like that. The main stage is at the bottom of a hill and people sit on the hill as a natural amphitheater. For four days tarps and their placements become an extension of the private space and ego for many of the audience members. For someone like me that attends the festival alone and spends most of it standing or walking or crouching to not get in the way of other photographers, tarp politics is fascinating. There are six side stages that hold simultaneous workshops during the day and the main stage performance starts at around 7 in the evening when audience from all these side stages come back to their tarps and settle down for the evening like homing pigeons.
My motivation for choosing a Leica film body and the Nokton f1.1 came from the fact that carrying a backpack full of stuff up and down a hill very soon starts to feel like I am carrying a backpack full of sins from all my past lives. In short, I wanted to travel light and be able to capture decent photos on stage after dark. I did carry my Digilux 2 as a backup but I liked the images from the film set-up way more. It was at times disconcerting because I had no immediate feedback like that in digital. I was being extremely cautious with achieving focus as well as not shooting too much and wasting film. It was quite the lesson in constrained optimization. I had a couple of rolls of Portra 400 in my pocket along with a 4-stop ND filter for when the sun was too strong. This was pretty much it. I ended up using a total of 4 rolls of Portra over four days. I shot everything either wide open or at f1.4. A huge advantage of working with such a constrained/minimalist set up is that this year I had a lot of time to enjoy the music instead of being glued to the camera viewfinder. Often I pre-focused and waited for the musicians to hit the spot instead of trying to track them in their movement. The other advantage of shooting a film rangefinder is that the photographer doesn't hide behind the camera. With a little practice one shoots with both eyes open and it does wonders when actually connecting with the subject – be it musicians on stage or people on the street.
I ended my nokton-festival challenge with the portrait of a very young music-lover and her mom holding the Forever Folkfest candles in the dark. Nokton 50/1.1 is a beast that needs to be tamed. Using it on a film rangefinder feels almost like writing with a brush pen blindfolded and the challenge could be a source of constant excitement for any photographer.
Cheers!
Manikarnika
Website: http://kanjilalmanikarnika.com/
Flickr: https://www.flickr.com/photos/chhayanat/