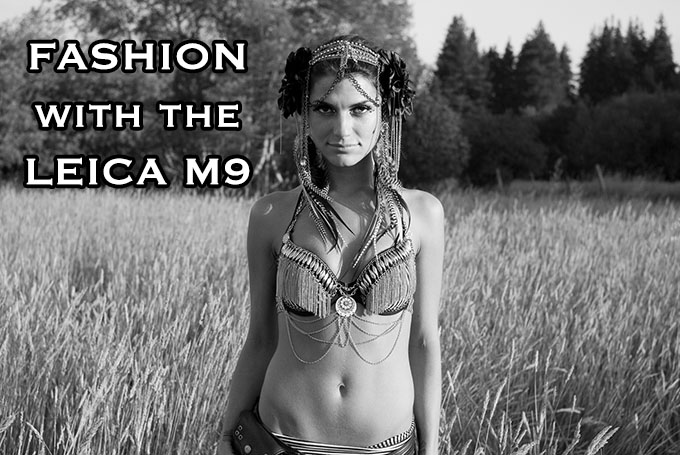 Fashion with the Leica M9
By Logan Norton
www.logannortonphotography.org
Hello Steve, Brandon and Readers,
Last year my friend Raine contacted me with ideas about a fashion shoot to introduce a new line of headdresses she had designed. We began discussing concepts for the shoot and I could sense from the start that this would be an ideal project for my Leica M9. Her designs feature vibrant colors, rich textures and exquisite details, characteristics for which the M9's CCD sensor is magical. A few of the other factors that influenced this decision were the location (outdoor with three different settings spanning a 1+ mile area) and the number of models we would be working with (5). I knew that this would be a long day of shooting and would require a lot of physical movement on my part and I did not want to spend it dragging my Nikon D800e and lenses all over the place. The M9 allowed me greater mobility while still enabling me to capture images of the absolute highest quality. I was able to bring all of my gear in a small Ona Bowery bag with room to spare!
Steve has written extensively about the Leica M9 so I will not go over technical information about it but will instead focus on the shooting experience and how it fit into a fashion driven shoot. There are two things that I see as drawbacks to the Leica M9 as an on-location, fashion photography tool. The first one is easily remedied while the second presents the kind of stress that only photographers know. First is battery life. It isn't the worst I have ever experienced but it isn't very good either. As I said, extra batteries solve this issue easily (albeit expensively as this is a Leica after all and nothing comes cheaply…). The second is the single memory card slot. I hate this. A lot. Knock on wood I have never experienced a memory card failure but the possibility exists and the simple fact that no backup images exist causes me great stress.
With those negatives out of the way, let's talk about what I loved about this experience. Most obvious is the overall size of the system. I shot this entire look with the 35mm and 90mm Summicron lenses on the M9. There was not a single moment I wished for a zoom lens, or for more frames per second, or more megapixels. I simply went about my business and when I was done, I still had enough energy to go to the after-party!
The second thing I noticed was that the models responded positively to the system. They loved the camera, admired its beauty and marveled at how quiet it was. It is impossible to say what affect this had on the way the models behaved or on the final images but it definitely felt like they were able to engage with me a little more than I have experienced when using a DSLR. Some of this may have to do with the smaller system being less intimidating or it may just be they were hypnotized by the undeniable attractiveness of the camera!
At the end of the day, my final assessment of the Leica M9 as a tool for shooting fashion images was very positive. The depth of color and contrast that it produces, along with the incredible freedom that I feel when working with such a manageable system far outweigh the anxiety caused by the single memory card slot. I can highly recommend this camera to anyone for on-location fashion work where mobility and stamina are crucial elements.
Check out more of Raine's amazing work:
http://www.etsy.com/shop/gatodesigns