Lens Turbo II Review
By Henrik Kristensen
Hi My name is Henrik Kristensen, and I am so lucky to be able to share my work on this amazing site. English is not my strongest, so hope it's not to bad – Feel free to ask is there is any doubt. Got a small Danish camera site (Kameravalg.dk), and recently received the brand new Lens Turbo II adapter, and want to share my experience with it. Its pretty much a cheap Metabones adapter, thats turn your APS-C Sony NEX camera into full frame – Or that's what the ad tells you 🙂 … It will provide 0.726x magnification and increase aperture by 1 f-stop, using Canon EF lenses on the Sony E-Mount platform.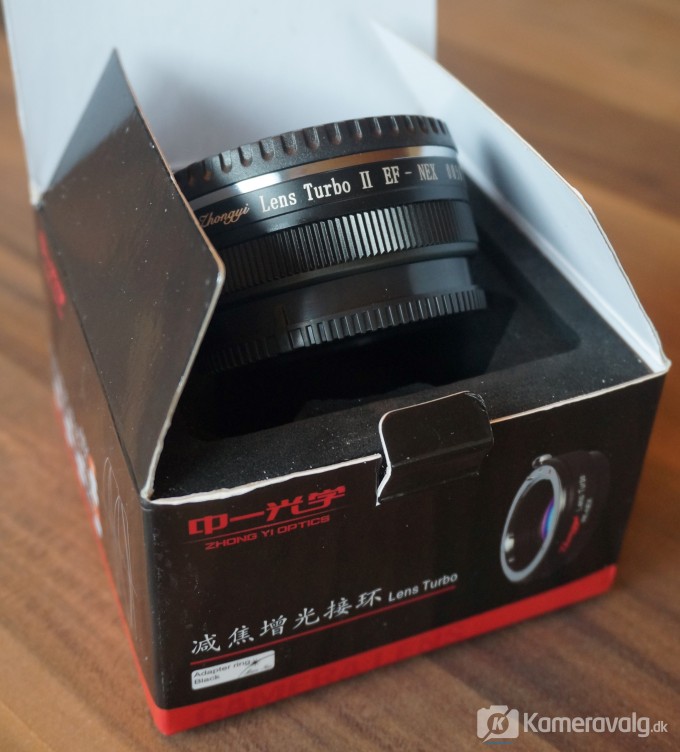 The setup:
I'm a hobbyist photographer, and often just use "Auto" settings, so this review was quit a challenge, since this is a 100% manual adapter with no electronic.
To start with this is my setup:
– Sony NEX-3N mirrorless
– Canon 24-105L f4 lens (Rentet)
– Lens Turbo II adapter – Canon EF to Sony E-Mount
(All pictures have been shot in .jpeg with no editing done)
To show the size and how its work, I made this little film.
And just a single picture, the Canon 24-105L mountet on my Sony NEX-3N with the Lens Turbo II adapter.
Maybe a detail, but on the new version they have removed the red text and made it white – Looks way better + the black and white match the NEX-3N great I think.
The First day:
As told in the top, I have just rented the Canon 24-105L, so the first day was used just to get learn how to manual focus etc. The first test was the range, and with the 0.726x magnification this adapter got, you get pretty close to the Full Frame experience on this point. 
24 vs 105mm, and to me this is a GREAT range when shooting on a daily basis. Is used to my old Sony 18-70mm, and the ~4x optical zoom range fits me very nice.
The adapter is all manual, and these was some of the first pictures I snapped that were in focus 🙂
Second day
Being a amateur photographer and alway use autofocus, the hole "Manual" thing was something I really feared.But there was nothing to fear, the "focus peaking" in the Sony NEX works like a dream, even if you never tried it before. On my NEX the peaking colors are "White, Yellow and Red", all easy to see on the screen when the subject is in focus. The only problem I found with focus peaking, was that I REALLY missed having a EVF like NEX-6/7 or the A6000. I am sure it will make it much easier to see the focus peaking when the sun is bright, but not a deal breaker.
Lets see at some more pictures:
One of the big problem with the first Lens Turbo, was the corners being soft and not sharp – A pretty big problem to most people. Being an amateur I will let people judge themself, but when compared to pictures taking by the old Lens Turbo, I think the new one is way better.
Another problem with the first Lens Turbo, was an issue called "blue dot" – When shooting in the sun or bright light you could something see a blue "dot" on the pictures. Has only played with the Lens Turbo II adapter a short time, but has not seen this problem in ANY of my pictures  – Really looks like the new coating on Lens Turbo II has resolved this problem.
After 2 days I had to deliver the Canon 24-105L back, and its time to look at the experience. Looking at the quality of the Lens Turbo II, I really got nothing to complain about. Its fit very well, and feels like a quality piece to put on your beloved camera. Is not a big fan of the release button to the lens, but think it's a minor thing. Not being an expert, I will say that the adapter got a very nice optics performance – They have improved the corner performance compared to the old version, and the "blue dot" issue seems to be total gone.
Using a small house like the NEX-3N I don't think a bigger lens will be nice to work with, but the 24-105 is just about the right size to me. Using the adapter with focus peaking worked really well, and most people will learn it fast without any problem. It could be nice having a EVF + a bigger grip, but it's no deal breaker.
Compared to the Metabones it's almost on par in performance to my eyes, and it only cost 1/3 of the price ! – You don't get the electronic connection, but with focus peaking it's not a huge problem, and you can play with all the amazing Canon EF lenses.
It has been really fun to make this review, and it's not the last time I play with the Lens Turbo II adapter ! … You can buy a Sony NEX-3N + the Canon 24-105L at a decent price second-hand, and the adapter cost around 165 Dollars = You got a very nice setup and a great platform to work with. –
You can see a lot more pictures on my site here:
http://kameravalg.dk/lens-turbo-ii/ (Unboxing)
http://kameravalg.dk/lens-turbo-ii-review-foerste-skud/ (First day)
http://kameravalg.dk/lens-turbo-ii-review-billeder-fim-og-tanker/ (Second day)
Thanks for reading! Regards Henrik Kristensen – Kameravalg.dk