The Leica M9 held its relative value better than any DSLR of its time
By Karim Ghantous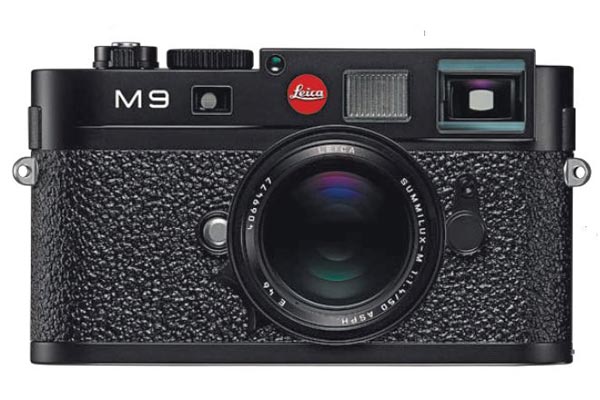 It's noteworthy that the Leica M9 has held its value so well since its launch in 2009. It does produce beautiful photos and after owning an M8 (but not an M9) I have to say that the digital M system is great. There are one or two features which I would call stupid – such as the average LCD and noisy shutter – but overall the M9 is a damned fine camera, despite its quirks.
I'm comparing it to four high end DSLRs from about the same period, which were available as the M9 launched: the Canon 1D MkIV, the Canon 1Ds MkIII, the Nikon D3X and the Nikon D3S. I'm also including the D300S out of interest. It was launched at almost the same time as the M9. It is at the other end of the price range, but it is a professional grade camera.
NB: The fact that competing cameras are not usually launched at the same time does not allow for straightforward comparisons.
The 1Ds MkIII was launched about two years before the 1D MkIV, but was not replaced until 2011 with the 1DX. I was almost not going to include this camera – it is unfair to compare a camera significantly older than the M9. However, it was one of Canon's top end cameras at the time the M9 launched. So depreciation will be compared with the cheapest known discounted price of $5,999.
The 1D MkIV has a crop factor of 1.3x, which some would consider an advantage, depending on their preferences. (There could very well be a strong market today for a RF camera with the same sized sensor as the 1D and the M8).
The D3X was only one year old when the M9 launched so I thought it was fair to include it without a handicap.
Here is the summary of the DPReview articles on the cameras in this comparison. Dates are announcement dates, not review dates:
Leica M9: $6,995, 18Mpx, September 2009.
Nikon D3S: $5,199, 12Mpx, October 2009.
Nikon D3X: $8,000, 24Mpx, December 2008
Canon 1D MkIV: $4,999, 16Mpx, October 2009.
Canon 1Ds MkIII: $7,999, 21Mpx, August 2007.
Nikon D300S: $1,699, 12Mpx, July 2009.
Here are observed used prices from eBay USA. All auctions took place in December, 2014, and were for bodies which were either in VG or EXC condition:
Leica M9: $3,200 (body), $2,950 (body)
Nikon D3S: $2,025 (body), $2,025 (body)
Nikon D3X: $2,425 (body), $2,060 (body)
Canon 1D MkIV: $1,875 (body), $1,950 (body)
Canon 1Ds MkIII: $1,650 (with two zooms and light meter); $1,450 (body)
Nikon D300S: $512 (body), $450 (body)
There are two ways to calculate depreciation: percentage and dollars. All values used in the calculations are averages for each camera model.
First, the depreciation in dollars from the official list price. A lower score is better:
M9: $6,995 – $3,075 = $3,920
D3S $5,199 – $2,025 = $3,174
D3X: $8,000 – $2,243 = $5,757
1D MkIV: $4,999 – $1,913 = $3,096
Canon 1Ds MkIII: $5,999 – $1,550 = $4,449
D300S: $1,699 – $481 = $1,218
Second, the depreciation in percent from the official list price, the formula being 100-(100/LaunchPrice x UsedPrice). Again, a lower score is better:
M9: 56%
D3S: 61%
D3X: 72%
1D MkIV: 62%
1Ds MkIII: 74%
D300S 72%
It's important to have both the dollar amount and the relative amount. The Leica depreciated less, relatively, than the other cameras. But you lost less money on the D3S, D300S and 1D MkIV.
One M9, brand new in the box with not a single shutter actuation, sold for $4,000. So on that particular camera, depreciation was only 43%: 13 percentage points better than average. I did not include it because it did not represent at typical example.
The M9 does best by a small but clear margin in terms of relative depreciation; and it comes third in terms of outright depreciation, excluding the D300S. It is slightly surprising to see the D3X perform so poorly, given its very good image quality.
In one way, the D3X is a bargain if you're after a second-hand camera. I would argue that if you're taking photos of motionless cars or some such thing, and if you couple it with the best Zeiss lenses you can afford, you'd be doing very well.
Here is the summary of the DxOMark scores for DR and ISO:
Leica M9: 11.7, 884.
Nikon D3S: 12.2, 2290.
Nikon D3X: 13.7, 1992.
Canon 1D MkIV: 12, 1320
Canon 1Ds MkIII: 12, 1663.
Nikon D300S: 12.2, 787.
With the exception of the D3X, these cameras have similar DR. The D3S and D300S have an edge – half a stop over the Leica. The D3X has two stops more than the Leica and performs significantly better than any camera here. Canon users must be questioning why even their newest models are still limited at 12 stops. Nikon and Leica (and Sony) users must be happy at the progress made over the past few years. The M type 240 is one stop better than the M9; the D4S is one stop better than the D3S but does not match the D3X.
In terms of the ISO figure, the three big DSLRs have between 1 and 1.5 stops over the M9, at most. It's worth noting that the M9's highest useable (i.e. real world) ISO is underestimated, but I don't know if that's also true for the other four cameras. The Canons aren't that hot compared to the D3S, but have higher pixel counts.
Thanks to modern cameras like the D4S and especially the A7S, and the occasional whining about the M9's limits, it's tempting to look back with misty eyes and overestimate the ISO capabilities of older DSLRs. The reality is a bit different.
So, does this matter?
Cameras are not investments – they are disposable. It's the images which are supposed to last. Taking reasonable care of your equipment makes sense, of course, because if you don't then you'll get crap photos, unless you don't care about misaligned lens mounts, inaccurate focus, light leaks and sensor dust. But the camera serves the photograph.
Also, the big DSLRs are more of a niche product (read, "sports") than the M9. The D3X isn't a sports camera as much as it is a studio or landscape camera. I suggest that the M9 is more suitable than any of the DSLRs for reportage, landscape and portraiture (and travel, if that is a real category). Finally, overall depreciation depends on which lenses you bought, and there are plenty to choose from for each system, both OEM and third party.
I compiled this data mostly on a whim, and partly to show that Leicas are not as expensive as people think (even if you count lenses, but that is beyond this article).
Sometimes, a person might say that they can take the same pictures with a $500 Nikon, Canon, Pentax or Sony DSLR as they can with a $6,500 Leica. Of course they can. But Nikon and Canon do make $6,500 cameras – today. And to repeat, the M9 is arguably better suited to most applications (but distinctly unsuited to macro and many sports).
Finally, the M9's market value is possibly lower than it should be. The noisy shutter and sensor issues no doubt are affecting used prices. The availability of the M-E might also contribute.
So, to answer the question of which is the 'smarter buy', I'll leave that to you.
URLs for all citations:
DPReview (for price):
M9
http://www.dpreview.com/previews/leicam9
D3S
http://www.dpreview.com/reviews/Nikond3s
D3X
http://www.dpreview.com/reviews/nikond3x
1D MkIV
http://www.dpreview.com/reviews/canoneos1dmarkIV
1Ds MkIII
http://www.dpreview.com/reviews/canoneos1dsmarkiii
D300S
http://www.dpreview.com/reviews/nikond300s
DxOMark scores:
M9
http://www.dxomark.com/Cameras/Compare/Side-by-side/Leica-M9___640
D3S, D3X, D300S
http://www.dxomark.com/Cameras/Compare/Side-by-side/Nikon-D3s-versus-Nikon-D300s-versus-Nikon-D3X___628_614_485
1D MkIV, 1Ds MkIII
http://www.dxomark.com/Cameras/Compare/Side-by-side/Canon-EOS-1D-Mark-IV-versus-Canon-EOS-1Ds-Mark-III___629_436
eBay items used for this post:
M9
http://www.ebay.com/itm/Leica-M9-Digital-Rangefinder-and-signed-copy-of-Stephen-Colbert-039-s-America-Again/261703507813ssPageName=STRK%3AMEBIDX%3AIT&_trksid=p2047675.l2557&nma=true&si=p%252B89YZd5ehhLC4ucS8kv83crRbk%253D&orig_cvip=true&rt=nc (body, $2,950)
http://www.ebay.com/itm/Leica-M9-digital-rangefinder-Black-EXC-boxed-w-acc-Only-1132-activations-/391004707220ssPageName=STRK%3AMEBIDX%3AIT&_trksid=p2047675.l2557&nma=true&si=p%252B89YZd5ehhLC4ucS8kv83crRbk%253D&orig_cvip=true&rt=nc (body, $3,200)
http://www.ebay.com/itm/Leica-M9-18-0-MP-Digital-Camera-Black-Body-Only-NEVER-USED/131382090750?_trksid=p2047675.c100011.m1850&_trkparms=aid%3D222007%26algo%3DSIC.MBE%26ao%3D1%26asc%3D20140602152332%26meid%3D91b545c3992b4abf81aa5fed3f4055e1%26pid%3D100011%26prg%3D20140602152332%26rk%3D6%26rkt%3D10%26sd%3D391004707220 (body, $4,000, brand new in box, not used in this comparison)
D3S
http://www.ebay.com/itm/Nikon-D3s-12-1-MP-Digital-SLR-Camera-Black-Body-Only-/141507854653?ssPageName=STRK%3AMEBIDX%3AIT&_trksid=p2047675.l2557&nma=true&si=p%252B89YZd5ehhLC4ucS8kv83crRbk%253D&orig_cvip=true&rt=nc (body, $2,025)
http://www.ebay.com/itm/Nikon-D3s-12-1-MP-Digital-SLR-Camera-Black-Body-Only-/151517389748?ssPageName=STRK%3AMEBIDX%3AIT&_trksid=p2047675.l2557&nma=true&si=p%252B89YZd5ehhLC4ucS8kv83crRbk%253D&orig_cvip=true&rt=nc (body, $2,025)
D3X
http://www.ebay.com/itm/Nikon-D3x-Camera-w-original-box-and-contents-plus-extra-battery-/231422217996?ssPageName=STRK%3AMEBIDX%3AIT&_trksid=p2047675.l2557&nma=true&si=p%252B89YZd5ehhLC4ucS8kv83crRbk%253D&orig_cvip=true&rt=nc (body, $2,425)
http://www.ebay.com/itm/Nikon-D3x-24-5-MP-Digital-SLR-Camera-Black-Body-Only-/261709201062?autorefresh=true&_trkparms=gh1g%3DI261709201062.N7.S2.M202.R4.TR6&_trksid=p2047675.l2557&nma=true&si=p%252B89YZd5ehhLC4ucS8kv83crRbk%253D&orig_cvip=true&rt=nc (body, $2,060)
1D MkIV
http://www.ebay.com/itm/canon-1d-mark-iv-/301444446130?ssPageName=STRK%3AMEBIDX%3AIT&_trksid=p2047675.l2557&nma=true&si=p%252B89YZd5ehhLC4ucS8kv83crRbk%253D&orig_cvip=true&rt=nc (body, $1,875, reserve not met)
http://www.ebay.com/itm/Canon-EOS-1D-Mark-IV-16-1-MP-Digital-SLR-Camera-Body-Only-2-Batteries-EXC-COND-/231425104475?ssPageName=STRK%3AMEBIDX%3AIT&_trksid=p2047675.l2557&nma=true&si=p%252B89YZd5ehhLC4ucS8kv83crRbk%253D&orig_cvip=true&rt=nc ($1,950)
1Ds MkIII
http://www.ebay.com.au/itm/Canon-EOS-1Ds-Mark-III-21-1-MP-Digital-SLR-Camera-Black-Body-Only-/251748797630?ssPageName=STRK%3AMEWAX%3AIT&_trksid=p2047675.l2557&nma=true&si=J4HjVpcOXF8Di88U05sc0SvZVe4%253D&orig_cvip=true&rt=nc (body, $1,450)
http://www.ebay.com.au/itm/Canon-EOS-1Ds-Mark-III-Camera-Body-with-Accessories-/261693511617?ssPageName=STRK%3AMEWAX%3AIT&_trksid=p2047675.l2557&nma=true&si=J4HjVpcOXF8Di88U05sc0SvZVe4%253D&orig_cvip=true&rt=nc (body and two zooms, $1,650)
D300S
http://www.ebay.com/itm/Nikon-D300S-12-3-MP-Digital-SLR-Camera-body-with-EXTRAS-Low-Shutter-Actuations-/191445022871?ssPageName=STRK%3AMEBIDX%3AIT&_trksid=p2047675.l2557&nma=true&si=p%252B89YZd5ehhLC4ucS8kv83crRbk%253D&orig_cvip=true&rt=nc (body, $512)
http://www.ebay.com/itm/Nikon-D300S-body-DSLR-plus-extras-Excellent-Condition-/181613904582?ssPageName=STRK%3AMEBIDX%3AIT&_trksid=p2047675.l2557&nma=true&si=p%252B89YZd5ehhLC4ucS8kv83crRbk%253D&orig_cvip=true&rt=nc (body, $450)
Amazon listings (yes, it's weird that most these cameras are still listed with new prices, so please don't shoot the messenger):
M9
http://www.amazon.com/Leica-M9-Digital-Finder-Black/dp/B002NX13LC/ref=sr_1_1?s=electronics&ie=UTF8&qid=1418885238&sr=1-1&keywords=leica+m9
D3S
http://www.amazon.com/Nikon-Digital-Camera-3-0-Inch-Capability/dp/B002SQKVD0/ref=sr_1_1?ie=UTF8&qid=1418888285&sr=8-1&keywords=nikon+d3s
D3X
http://www.amazon.com/Nikon-24-5MP-CMOS-Digital-3-0-Inch/dp/B001MJ03U0/ref=sr_1_1?s=electronics&ie=UTF8&qid=1419476094&sr=1-1&keywords=nikon+d3x
1D MkIV (no listing with a new price, so these are only used prices)
http://www.amazon.com/gp/offer-listing/B002TG3ZYQ/ref=dp_olp_0?ie=UTF8&condition=all&sr=1-1&qid=1418889804
1Ds MkIII
http://www.amazon.com/Canon-1D-Mark-III-Digital/dp/B000NP1C5O/ref=sr_1_2?s=electronics&ie=UTF8&qid=1418885227&sr=1-2&keywords=canon+1ds+mark+iii
D300S
http://www.amazon.com/Nikon-12-3MP-DX-Format-Digital-3-0-Inch/dp/B002JCSV6M/ref=sr_1_1?ie=UTF8&qid=1418884964&sr=8-1&keywords=nikon+d300s
Finally, and not necessarily relevant, my favourite camera review so far:
http://www.overgaard.dk/leica-M9-digital-rangefinder-camera.html