The Moose That Got Away
by R.Luther
(From Steve: This is a cool little post from Site Sponsor, rluther.com. He makes amazing little buttons to add to your mirrorless cameras for improved tactile feel and control. I have a set on my Sony A7s and A7II, love them. You can see more at his website HERE.)
Okay, it really wasn't a Moose! It's just that when you grow-up in a large city, (in this case Pittsburgh) ya think of all large four-legged animals with antlers pokin' out of their heads as a "Moose". It was probably a large elk. A really, really big Elk. We'll get back to this mammoth mammal in a moment. But… Here's how this true story really begins.
Sometime in February, 2012 I spotted in a photo magazine what I've been dreaming of my entire photographic life. Sony, in their divine, creative engineering wisdom, was offering a camera that I was sure I could not live without. A very small, twenty-four megapixel, Tri-nav….yada, yada The "Sony NEX-7 24.3 MP Compact Interchangeable Lens Camera".
The links below compelled me to lose touch with my normally prudent senses.
http://www.stevehuffphoto.com/2011/10/23/the-sony-nex-7-digital-camera-review-by-steve-huff/
http://www.cnet.com/products/sony-alpha-nex-7/
The Cactus
Next, came the very unpleasant task of convincing "the wife" that there's a big difference between our definition of "need" and "want". I would surely rather sit naked on a cactus! Persistence is key in these matters! After creating a solid week of sound arguments (mostly bullshit), I could tell that she was tiring. Persistence! Finally she gave in, but made it quite clear that all of my Nikon gear had to be "sacrificed" on Craigslist ASAP! What could I do? That's right, I offered my Nikon D300 and all lenses on the www. I guess I under priced this equipment, because within a week or so I had more than enough funds for my new "dream camera".
Then the floods came
http://www.stevehuffphoto.com/2011/10/20/sony-nex-7-majorly-delayed-due-to-flood/
The wrath of Mother Nature decided to super-soak Thailand and brought the Sony NEX production to an unexpected screeching halt. My disappointment was painful. Sometimes "bad" news can be good news in disguise and this delay actually turned out to be "a good thing". While anxiously awaiting Amazon's pre-order announcement, I began reading everything I could about Sony's new offering. It soon became very obvious that they (Sony) weren't thinking very hard or clearly when it came to the placement of the "Record" button. This "flaw" was reported by everyone everywhere.
An opportunity was revealed
This nuisance button placement needed a solution and re-ignited my dormant entrepreneurial spirit. It took a few drinks, a few days, and dozens of sketches, but voila, I felt good enough about my design/solution to begin production. "The Guard" was born! It was/is a success! Luck counts too. http://www.rluther.com/
Finally
On Monday Sept 12, 2012 Amazon notifies me that they have a few NEX-7 bodies available and within two minutes my finger was pressing the "Buy Now With 1-Click" button. (Prime/No Shipping) for $1199.99. Now I'll be happy! Within a few long days I ordered 3 "E" lenses. Even my wife thought that it was the coolest little camera she had ever seen. It's all good.
I love that truck!
We live on an acre of high plains property in New Mexico and our neighbors are sparse. I mention this because it helps explain how the faint sound of a strangely colored truck could be heard miles away. To be fair, you need to know that the "Track Package" feature at the "Your Orders" page at Amazon gave me a "heads/ears-up". Ya just gotta love that Jeff Bezos!
Robert, my UPS driver was grinning as broadly as I was when he pulled his beautiful "Toy Truck" (my wife calls it "Rick's Toy Truck") on to our property. I think they may be on to me. It was like Christmas morning! It was here!
Getting acquainted
It didn't take long to not read the manual and installing the "Guard" was just as easy as I had been telling our customers. (note: I borrowed a NEX from a friend of mine that worked at Best Buy to develop the Guard). Before the sun settled on the horizon, I managed to take the obligatory 150+ pics of our four cats, 55 lawn furniture pics, & 88 sunsets. I believed I was ready.
Vacation time
On Sunday 6-24-12, after loading-up our Jeep Liberty with probably 72% of everything we own, (I'm not sure why, but my wife has this "disorder" that results in her thinking that when we take a vacation, we are permanently relocating. Very peculiar!) we headed North. Our destination was a time-share resort in Estes Park, Colorado. Very nice! We settled in and rested-up for the hiking we would do the next day.
The beast and the buttons
It's just my opinion, but I think that cameras & hiking get along better than most any married couple that I've ever met. I'm just sayin'! The forest trails in Estes Park were almost as beautiful as my new NEX-7 but much more challenging. We hiked for hours when I heard something that sounded like it might be a lot larger than us and I quickly, but cautiously turned to see a monster of a Moose (Elk). It really was very probably the largest animal I ever made eye-contact with. Regaining my composure, I reached for the almost new camera and decided to use the attached lens, a 55mm f3.5-5.6. As I was getting the camera ready for the "shot of a lifetime", I realized the "flush" setting buttons didn't allow the quick access I needed for "the perfect shot". The [email protected]#$* setting buttons were "hiding" from me! The big beast patiently looked at me as if he knew he would have to pose a bit longer, but as I struggled with the "invisible" buttons he decided that he had lost patience with me and my new NEX, and wandered off leaving me with only an unbelievable mega-Moose (Elk) story to tell. Without the photographic evidence, no one was ever going to believe me. Damn!
We hiked awhile as I cursed the stupid buttons.
On the way back to the condo I decided that subtle modifications could be made to my "baby" that would very likely preclude ever missing "the Moose shot of a lifetime".
Goodwill, a manicure set & some toothpaste
Since we were staying in CO. for another week or so, I thought I'd put on my designer/entrepreneur hat once again and started drinking, thinking and sketching. I'm a big fan of all the used stuff at Goodwill and decided that would be the best place to begin. It was just down the road. Rummaging through a bunch of small junk, raw materials appeared that could be "whittled on" to produce my first, second, and third prototype. A bit of toothpaste and a hairdryer and Voila the four not so shiny buttons came to life. They looked like crap but added the tactile feel that I was looking for and needed to "find" the buttons. YES! My "missing the Moose" days were over and another simple but clever product began its infancy.
Home sweet home
Time to go to work. Taking some of the "Guard" profits, I ordered some materials for final button prototypes. After considering every conceivable material, I decided CRES (stainless-steel) would be the best choice. The production of these flawless buttons wasn't as easy as you might think and I won't bore you with details, but here are a few photos to illustrate some of the difficulties:
See the finished product at http://www.rluther.com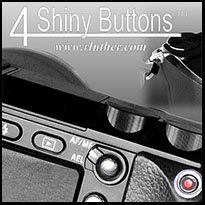 I love that Moose! …. The End