Looking Back: A Review of The Old Nikon V1
By Jake Hyland
Hello fellow Huff readers. If you are reading this article, it means, I assume, that you are considering buying a Mirrorless camera. I also assume it means you are looking into the Nikon 1 System – among others – and that you probably have already read some pretty lousy reviews of Nikons entry into the popular mirrorless arena. Like you, I was totally conflicted. I found very few positive reviews, unless, of course, they were sponsored by Nikon. Even Steve Huff's positive review left me a bit skeptical. Why? Because everyone keeps dismissing the V1 sensor – the Nikon invented CX sensor. Honestly, when I got back into photography, I didn't even know what a sensor was. I still don't, actually. Supposedly bigger means better. Well, the v1 proves that dead wrong.
Lemme give you a quick background on me. I got my undergraduate degree in photojournalism, right around the time digital photography took over in the late nineties. I used a student loan to buy a Nikon D90, which for a student photographer was kinda a big deal. I never became a professional photographer, I became a nurse…..just the way life turned out. I mention this "about me" section simply to let you know I am not, in any capacity, an expert on cameras. But I am very tempted to assume you aren't either, which is why I think it is important for you to read why the V1 is a perfect choice for folks like us
Because I bet you are in the same boat, I feel it is my absolute duty to tell you that, for most of us, most of the time, the Nikon V1 is pretty much all you will ever need. Lemme point out that you should just dismiss the J1 altogether. There is no viewfinder, and you are not gonna be that guy/gal holding the camera out with your arms like some sort of B-list celebrity taking a selfie.
Which brings me to my first point: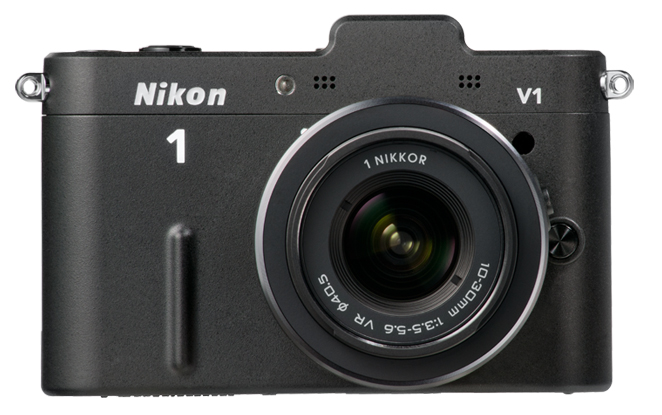 The V1 simply looks cool and, honestly, when it came down to it, that's one of the main reasons I bought it. Like I said, I did not even know what a sensor was, so the technical side of cameras was secondary to just having a cool looking camera, and I couldn't afford the Olympus OMD and certainly not the Sony A7 (Two other powerhouses in the 4/3 game, in case you have not looked them up yet). But this is not all in vain. Let's face it, you really do not want to lug around a DSLR……yes, it makes you look professional, but that entire mindset needs to be dismissed. Why? Because it's plain dumb. We are not professionals. We are every day blue-collar folks who like photography. And I am betting most of us are street photographers, so a compact, yet professional functioning camera is what we really need.
Which brings me to my second point:
The V1 feels great in your hands, but there is a catch here. You simply must buy a grip. I got a nice metal one for ten bucks on Amazon. (Be sure to use Steve Huff's link anytime you buy from Amazon, for anything!) The menu screen is very easy to navigate, and there is this neat dial that let's you scroll through the menu.
Ok, so the camera looks cool and feels even cooler. Now to the main point that everyone criticizes: the sensor. Yes, it is a small sensor. I believe it is about half the size of a common DSLR. But who cares?! Look at the clouds in my pics, and the clouds in Huff's V1 review pics. Look at the vivid colors. Can you tell that those pics were taken with this so-called "toy" camera? Of course not. Because, again, for most of us most of the time, we are just shooting for fun. The sensor is an absolute non-issue for, I'd say, everyone looking for a 4/3 camera. By the way, I do not have any photo editing software. The pics were processed with whatever came on my computer. Like I said, I'm just a working stiff that likes to shoot candid shots of people.
Point number Three:
MONEY! HUGE! ASTRONOMICAL issue! As you may know, Huff is a major fan of the Olympus OMD and Sony A7. The OMD is gonna set you back a grand (for the original EM-1, I just looked it up), and the Sony A7s and Fugi and Panasonic and ALL the other 4/3 camera bodies are WAY more expensive. Do you really need that much of a camera? Do you really need a thousand dollar body and $1200 lens? Huff does, but do you? I got my V1 refurbished from Amazon for $200. It was brand new, just had been returned. There are hundreds out there. I borrowed my brother's OMD and, although it's the coolest looking camera I have ever seen, I was not impressed with the electronic viewfinder (EVF). The V1 EVF is BETTER than the OMD. That's right, BETTER! You know what is also better? The auto focus. It is blazing fast! All these images I submitted were taken from the hip, while I was walking. So the autofocus is so fast you can be moving while shooting. It really is impressive. Sorry Steve…..I know the OMD is in your arsenal. But I also know the V1 is, too.
Finally, the lenses. Nikon originally did not make any fast lenses with the V1. Now, however, there is f1.8 18.5 (50mm) and it is a must have, and it only costs around $170. In all the images I submitted I used the kit lens that the V1 comes with – the 10-30 zoom. I believe that equals a 30mm-70mm. It is a totally acceptable lens for, again, most of us most of the time. Am I making that clear enough? The V1 is absolutely awesome for…….I won't say it again….yes I will….most of us most of the time.
Ok, there is one thing I gotta admit. The V1 has this camera mode dial on the back panel. It is really a poor placement because when you take your camera in and out of a bag the dial often changes to video mode, or this other silly "perfect shot mode" that is kinda a gimmick. I have missed a few cool shots because of this.
Well, I hope reading this has helped you make up your mind about buying a V1. I think you should certainly read Huff's review, and also the review on the new V1 prime lens because he includes abunch of stuff about the V1 camera itself.
Good luck shooting everyone!
Jake Hyland