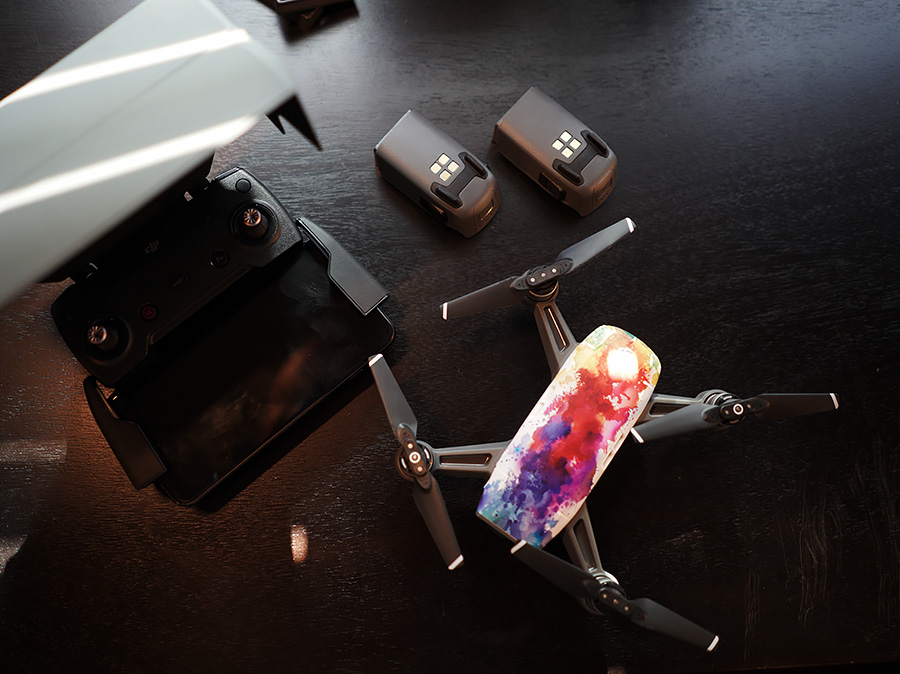 Why I like my DJI Spark more than my Mavic Pro. Plus, some footage.
By Steve Huff
SEE MY VIDEO WHERE I TALK ABOUT WHY I LOVE THIS DRONE AND SHOW SOME COOL FOOTAGE SHOT AROND PHOENIX AZ
You may have noticed something lately…yes, I have started to write a bit about drones. Two reasons. 1. They are great tools for photography and videography and can even be used in a very cinematic way when you want to create some amazing looking footage that would be worthy in a low budget film ; ) and 2. I LOVE THEM. This tech is getting incredible and we are starting to get into a drone revolution. Drones are selling like hotcakes, and some photographer friends of mine that used to shoot Leica, Sony or whatever are now concentrating on DRONES, and shooting with them in all kinds of situations. It's quite amazing really. I think that both go hand in hand. My camera for normal photos and a drone for cool in the air shots. Drones are huge, and they are here to stay unless laws get passed that makes no one want to own one ; )
COMES IN MANY COLORS, THIS ONE IS "LAVA RED"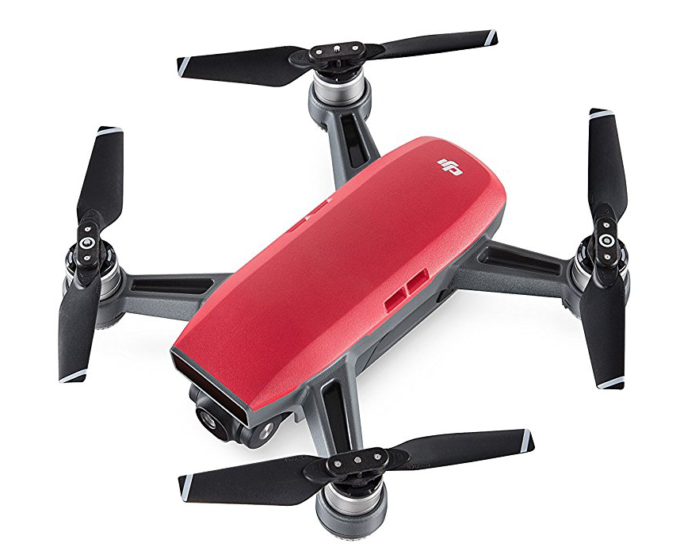 With todays drones we have so many to choose from. There are quite a few companies creating them but after trying a few out there I decided to stick with the one company that I feel is making the most strides in the drone industry. DJI. I have owned the Phantom 4 Pro, which was AMAZING. Stable, fast, long battery life and stunning video quality. Not the smallest or most portable thing but a great drone. Then I picked up and still own a Mavic Pro, which is as good as the review say it is but if you are just a hobbyist and do not shoot video footage for pro work, then it can also be overkill. What DJI has done recently is release a small, tiny, almost pocketable drone that many wrote off as a toy or for absolute beginners. They could not be more wrong. In fact, the little spark has surprised the hell out of me and I see it as a 'Mini Mavic" and truth be told, I have used my Spark more in the last few days that in 6 months of owning a Mavic. Why? Simply put, the size.
THE FLY MORE COMBO IS THE WAY TO GO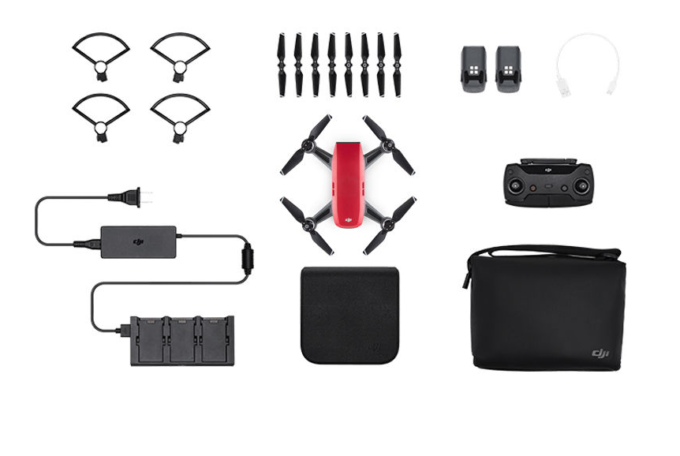 The Spark is incredibly tiny and therefore, will not be as feature packed as the Mavic. The Mavic will deliver longer battery life, a better camera (though not as huge of a difference as you may think) and it is also more powerful and faster…with better stability in the wind. The Mavic is also better suited to LONG distance flights. I have seen some go 4  miles using a Mavic Pro in optimal conditions. The Spark, well, will not deliver that same level of performance with the battery, so long distance is out. It will be a little shaky in string string winds at high altitude and does not have ALL of the features of the bigger brother, the Mavic. EVEN SO…the Spark is my fave drone ever due to the size, fun factor and the simple fact that I USE IT way more. I can take it with me ANYTIME I go out and if I see a scene I want to shoot, it takes me 45 seconds to set up and get in the air.
The video footage is incredibly cinematic as well, with its stabilized 2 axis gimbal, the footage is just as smooth as from my Mavic. Not sure how they did it but wow, it's good. SO MUCH MORE THAN A SELFIE DRONE! DJI marketed this more to those who want a "follow me" drone, a selfie drone..but what they have delivered is a powerful tool that is perfect for anyone who shoot for fun, for themselves, and wants a drone they can use almost anywhere (where it is permitted of course). I even flew mine indoors, and it was stable as can be. Also, the build quality is very sturdy. I was shocked when I held it as I thought it would feel cheap, but nope. The spark is still a premium made DJI product.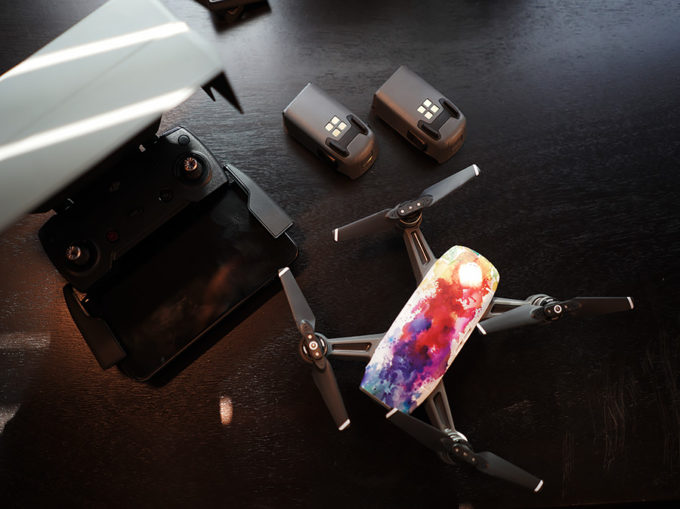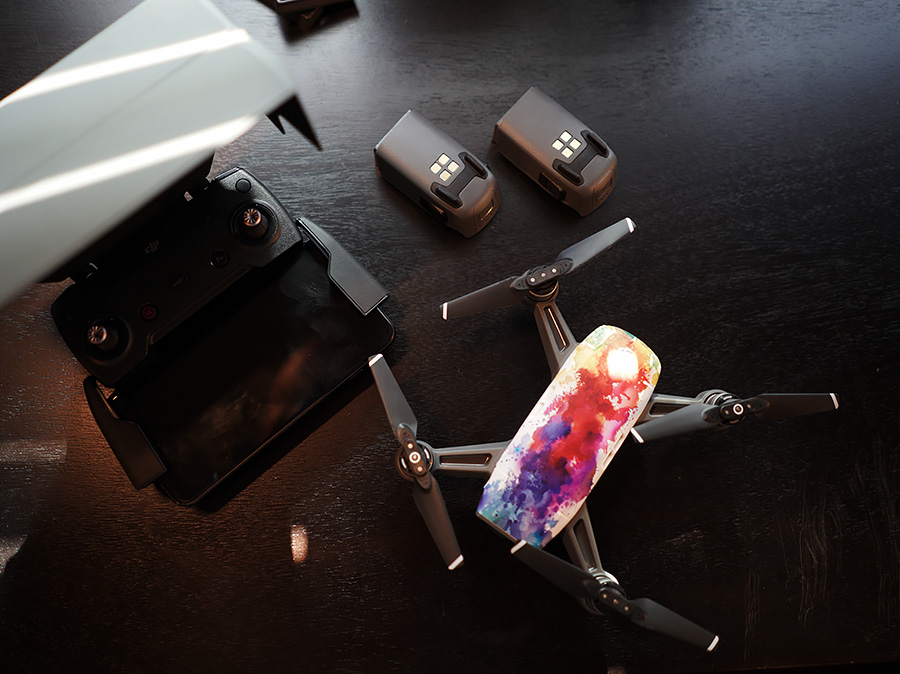 Be sure to see the video above, as I go over why I love the drone and show you my setup for it. I then show you some footage where I tried to film something that appeared to be cinematic, and for me, it passed with flying colors. I spent a day in Phoenix driving around and just took out the spark when I saw something cool. Kind of like street shooting with a drone. Lol.
This is only the start, as I am now hooked. Also, if you never flew a DJI drone before, the Mavic and Phantom and this Spark literally fly themselves. I am not sure how some crash these as they make it very hard to do so Anyone can fly these drones and anyone can capture amazing and stunning footage that just a few years ago would not have been possible.
I HIGHLY recommend this drone if you are new to drones or highly experienced. BUT let me save you some regret down the road. BUY THE FLY MORE COMBO You get so much more for your extra $200. A carrying case, an extra battery, a charger that charges three batteries at a time, and the remote which turns the spark into a SERIOUS drone capable of vey impressive performance. $499 for the standard Spark and $699 for all the extras in the "Fly More Combo".  I would only recommend this as the FLY MORE COMBO with the remote. Makes a world of difference as flying with your phone is quirky and limited, and not so much fun.
I AM SO IN LOVE WITH THIS DRONE, I MAY SELL MY MAVIC AND BUY A 2ND SPARK! FOR ME IT IS NEAR PERFECT. 
You can buy the DJI Spark at Amazon, via prime RIGHT HERE.