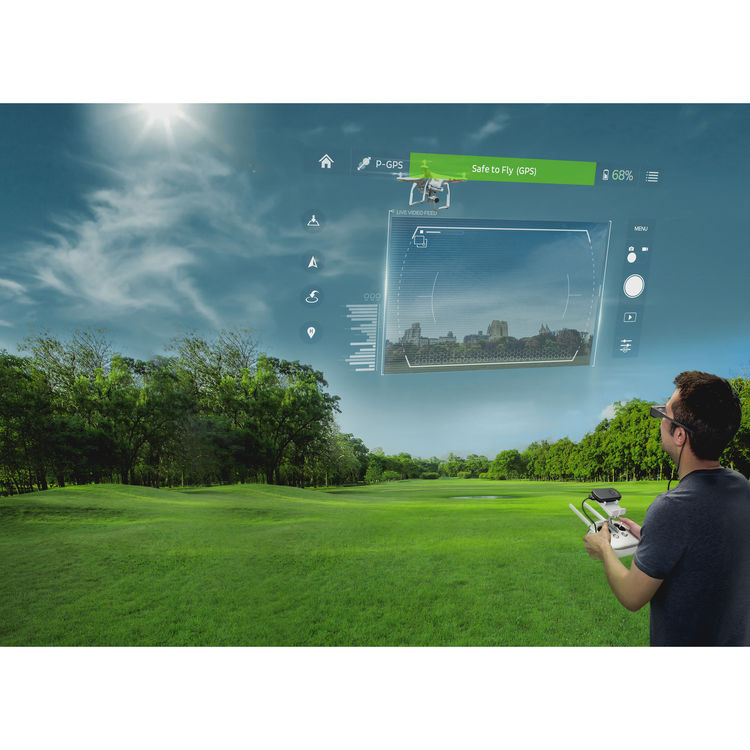 DJI Spark with the Epson BT-300 Glasses. Best way to fly your drone!
By Steve Huff
As you may have seen in my latest video with Debby, I went over a few things. The Sony A9 with Voigtlander f/3.5, the Olympus PEN-F with a 7.5mm f/2 LAOWA lens and what I was really excited to try, the DJI Spark with the Epson BT-300 glasses which take flying your drone to a whole new level of enjoyment. I mean, this is the FUTURE right here and right now! Wearing these while flying your drone is amazing..simply amazing. I never want to fly any other way if I do not have to..
If this intrigues you, read on…
But 1st, if you did not see these in use, check out the video below:
The little DJI Spark
has become my #1 goto drone, and I fly it over the
Mavic Pro 9 times out of 10
. The small size, easy travel capabilities and simplicity make it my go to as I never really need long distance flights. I shoot video for my own video projects and while the Mavic does shoot better video, the Spark is almost just as good for my needs as I do not shoot 4K. BUT if you do buy a Spark, do buy the
"fly more combo"
as it comes with the much much needed controller. Without the controller, I do NOT like the drone. With it, it is amazing.

One thing I disliked about all of these DJI Drones is that you have to use your phone or iPad for your display and in full sun, it is so hard to see what is happening on a phone screen. The good news is there are options from better screens dedicated to using the drones in the sun, like the expensive DJI Crystal Sky 5.5″, which do offer compatibility issues with the spark and mavic (you need a dedicated custom-made holder) and even something like DJI's own Goggles which offer a full immersive experience much like a huge VR helmet does. But there is one other option that I was lucky enough to be able to test, thanks to B&H Photo, and boy are they glitchy (UPDATE: FIXED THE GLITCHINESS WITH A SYSTEM UPDATE TO v 1.4) yet AMAZING. I mean, AMAZING. Once you get them set up to your drone, they are simply unreal.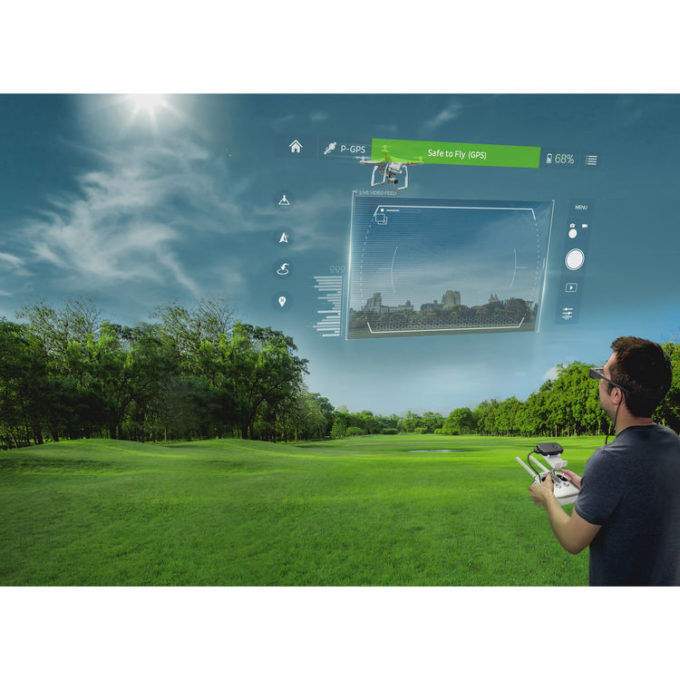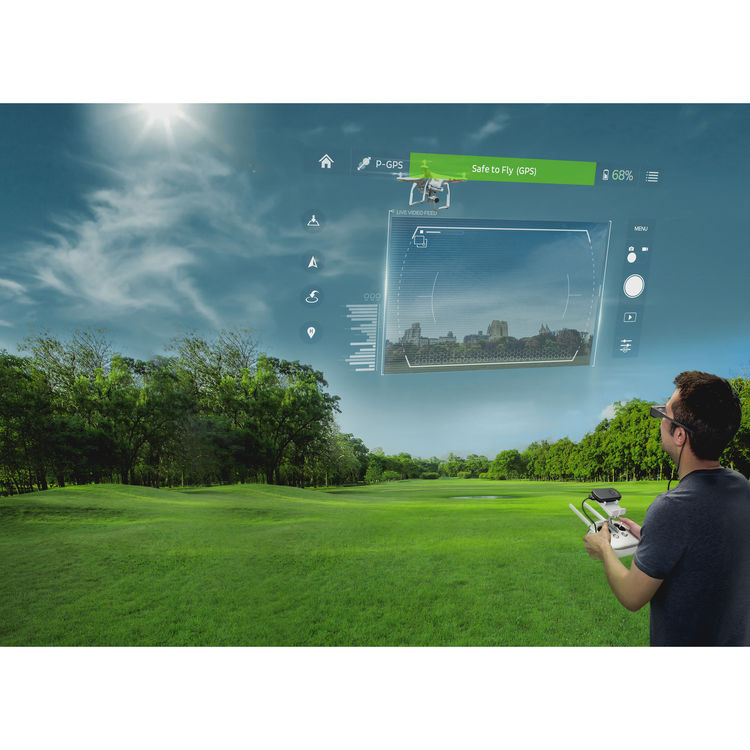 I feel like I stepped about 10 years into the future and then realized THIS IS THE FUTURE! 
These will work best with drones like the DJI Mavic Pro, Phantom 4 series, and even Inspire but they can be used with the little slightly more limited Spark and let me tell you, I had a blast using them. With the spark you simply use the glasses built in WiFi to hook up to the Spark controller WiFi. That's it. You are set.
Slip on the glasses and you will be able to see a full  line of sight, all around you..as in, you do not lose vision so you can see where your drone is at all times. BUT, in addition to this you see a huge screen that appears to float in space 10-15 feet in front of you, like watching a 100″ screen. THIS is where you see what the drone sees, the live video feed. I mean, this is simply amazing. You see the display with all of your info and since you do not have a phone to control everything, you use the Epson track pad base to control your flight.
When you open the Epson BT-300's you will see a nice carrying case and when you unzip it you will find the glasses which are constructed very nicely. They are thin and reminded me at 1st glance of the old google glass. But these are solid, well made and fit comfortably on the head, unlike the huge DJI Goggles. In fact, I would take these over the DJI Goggles (if you see the video above, you will see I have both on hand, and yes, I have tried both) as the DJI Goggles are really meant for two people to control them. One to see where the drone is and one to watch the video feed. With the DJI, they sit on for head and are heavy, bulky and huge, like a PSVR Helmet.
The Epson's though are sleek and lightweight. They also come with a set of frames that you can have set up with your prescription glasses if need be. They snap on the inside so you can be sure to have crystal clear vision when using them. They also come with "sun shades" that clip on the front so if you fly in a bright area, like I do here I AZ, you slap on the sark shade and it allows you to see the drone footage much clearer. The EPSON glasses though will never and can never give you an "immersive" experience like the DJI Goggles can, but IMO, that is AOK as the Epson for me delivers a much nicer, stress free flight experience.
Drones are all the rage right now and are VERY popular. Finding new ways to fly them is pretty cool and I would have never imagined just a year ago that this would be possible. I will be testing these with a Mavic Pro or maybe Phantom 4 Pro soon. They can be addicting, as the experience for me was just out of this world.
BTW, if you want to see why I prefer my Spark to the Mavic for my use, be sure to see my video which shows some cinematic video captured with the spark HERE. 
You can buy the Epson Glasses at B&H Photo but they are not cheap! Coming in at $799 is a lot to pay if you own a Spark. I see these being used more by those who have a Mavic or higher end drone though. If you own one of those, like a Phantom, Inspire or Mavic, I would say these can bring your enjoyment up many levels. Also, these are not just drone glasses. These can be used to lay in bed and brown the internet, watch YouTube, watch Netflix…having a screen projected 10-15 feet in front of you, appearing to float in space. You can check your emails, and these even have a front facing camera.
Future tech, nut right now ; ) 
See the video of them in use HERE
---
PLEASE! I NEED YOUR HELP TO KEEP THIS WEBSITE RUNNING, IT IS SO EASY AND FREEE for you to HELP OUT!
Hello to all! For the past 8 years I have been running this website and it has grown to beyond my wildest dreams. Some days this very website has a crazy amount of visitors and because of this I need and use superfast dedicated web servers to host the site. Running this site costs quite a bit of cash every single month and on top of that, I work full-time 40-60+ hours a week on it each and every single day of the week (At peak times I receive 100-300 emails a DAY). Because of this, I could use YOUR help to cover my costs for this free information that is provided on a daily basis. 
To help out it is simple, and no, I am not asking you for a penny and I NEVER EVER DO! I do this for free basically, and have for years…but I do get paid when you, the reader makes a purchase (of anything) using my links to my sponsors. That is the only way I make the money to keep this free info flowing.
If you ever decide to make a purchase from B&H Photo or Amazon
, for ANYTHING, even diapers..you can help me without spending a penny to do so. If you use my links to make your purchase (when you click a link here and it takes you to B&H or Amazon, that is using my links as once there you can buy anything and I will get a teeny small credit) you will in turn be helping this site to keep on going and keep on growing. But each month I need HUNDREDS of you to do this in order for this site to continue, and believe me that is not easy.
Not only do I spend money on fast hosting but I also spend it on cameras to buy to review, lenses to review, bags to review, gas and travel, and a slew of other things. You would be amazed at what it costs me just to maintain this website, in money and time (250 hours a month, and about $3000 per month).
So all I ask is that if you find the free info on this website useful AND you ever need to make a purchase at B&H Photo or Amazon, just use the links below. You can even bookmark the Amazon link (not the B&H) and use it anytime you buy something. It costs you nothing extra but will provide me and this site with a dollar or two to keep on trucking along.
AMAZON LINK (you can bookmark this one)
B&H PHOTO LINK – (not bookmark able) Can also use my search bar on the right side or links within reviews, anytime.
Outside of the USA? Use my worldwide Amazon links HERE!
You can also follow me on Facebook, Twitter, or YouTube. 😉
One other way to help is by donation. If you want to donate to this site, any amount you choose, even $5, you can do so using the paypal link HERE and enter in your donation amount. All donations help to keep this site going and growing!
 I do not charge any member fees nor do I (nor will I ever) charge for reviews, so your donations go a long way to keeping this site loaded with useful content. If you choose to help out, I thank you from the bottom of my heart.