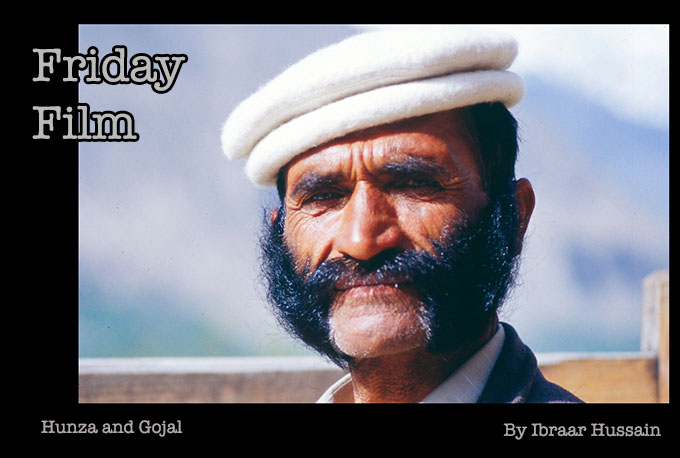 Friday Film: Hunza And Gojal
By Ibraar Hussain
Part 2: NAGAR, HUNZA AND GOJAL – See Part 1 HERE
The farther north one goes, the more magnificent the Karakoram scenery becomes. Leaving Shina speaking Chilas and Gilgit and the green Alpine Himalayas behind, with only backward glances revealing Nanga Parbat dominating the southern horizon and the line of the Himalaya.
North from Gilgit along the Karakoram Highway one follows the Hunza River, flanked on either side by the Hunza and Nagar Valleys. These valleys are absolutely gorgeous, full of tall graceful Poplars, Cherry, Walnut, Mulberry and especially Apricot trees.
The way is dominated by Rakaposhi, a 25,551 foot snow Giant, and flanked by His peaks, including Spantik or Golden peak, Diran, Ultar and Lady Finger Peak. The people of these valleys speak Burushuski along with the lingua franca of the North – Shina.
Hunza is famous for it's Apricots, longevity and lifespan of it's people and the astounding beauty of it's country. just as Vigne described Nanga Parbat 150 years ago as 'the most awful and most magnificent sight to be met with in the Himalayas.' The Greats Eric Shipton, HW Tilman and Francis Younghusband along with Lord Curzon all acknowledged (amongst other explorers) that Hunza was probably the most beautiful country in the world.
From Karimabad and it's Baltit and Altit forts one crosses the KKH until it joins the ancient Silk Route and they merge into one through Upper Hunza or Gojal where the people speak Wakhi, and onto Gulmit and Passu where one has to ford the Atabad Lake by boat. (This is a new lake caused by earth quakes, as the mountain sides collapsed damming th e Hunza river, and destroying the KKH and villages in the process).
This area is dominated by the Passu Cathedrals; a line of unclimbed jagged peaks which are a thing of exquisite beauty. Photographs cannot do this area any justice at all.
Faces from Hunza, Nagar and Gojal
Contax G2 45mm Planar T* Kodak Ektachrome e100vs
Rolleiflex 3.5F 75mm Planar Agfa Ultra 50
–
The Atabad Lake and River Hunza, Gojal
Contax G2 21mm Biogon T* Fuji Velvia 100
–
The Passu Cathedrals, Passu, Gojal, Upper Hunza by the Karakoram Highway/ Silk Road
Contax G2 45mm Planar T* Fuji Velvia 100
–
The Altit Fort and The Hunza Valley from The Baltit Fort at Karimabad.
Rolleiflex 3.5F 75mm Planar Agfa Ultra 50
–
The Hunza Valley and Rakaposhi
Rolleiflex 3.5F 75mm Planar Agfa Ultra 50
–
The Baltit Fort and Ultar Peak Hunza
Rolleiflex 3.5F 75mm Planar Agfa Ultra 50
–
Atabad lake, Gojal, Upper Hunza. Rolleiflex 3.5F Agfa Ultra 50. lab Scan