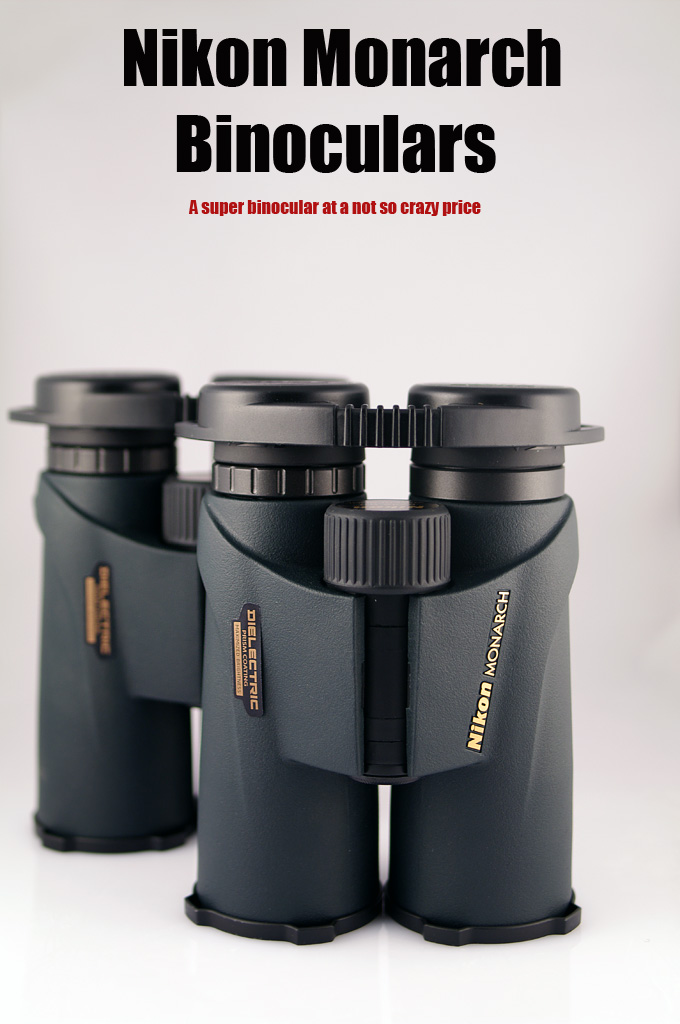 Nikon Monarch ATB 8X42 and 10X42 Binocular review – What is this?? Binocular reviews on a photo site? Yep! Not only do I love photography, I also really like good binoculars. The fact is that there are quite a few photographers who carry binoculars in their kit! Especially the nature/wildlife crowd. Since I know many of you also enjoy decent binoculars I will be reviewing some on this site from time to time, even some Leica Binoculars 🙂 Yep, for those who did not know, Leica does in fact make some KICK BUTT binoculars.
Today I will be writing a little bit about the Nikon Monarch series, in particular the 8X42 and 10X42 models. These are Nikons mid-priced, feature packed small size binoculars and they come in at $279 and $299, which is actually cheap when you start getting into the nicer sets. The 10X42's are only 5.5 inches long and weigh in at 21 oz.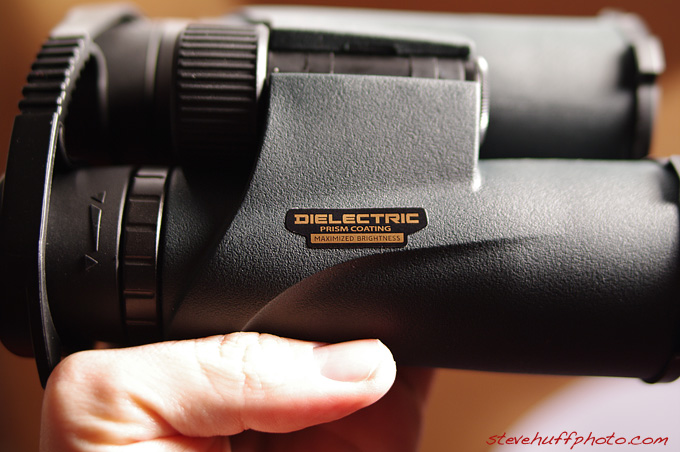 I received both of these in the mail after B&H Photo contacted me and asked me if I enjoyed using binoculars. When I said yes, they sent me these two sets because "they are so good that more people should be made aware of them". I have looked through some $3,000 binoculars as well as $50 binoculars over the years and the pair that I actually own is a $79 (Now $56)  pair of Celestron's that I thought was great for my uses. I do not use them too much but when I do I never had a problem with my set. That was about to all change. Once I looked through the Nikon Monarchs I knew that I would have to buy a set for myself, or at least upgrade from my crappy set to something…Arg!
Before I write about my experience with them, here is what Nikon says about them:
A roof prism binocular with a hearty feature-set that's easy on the wallet and the environment? Yes! – theMonarch ATB 10×42 from Nikon is here – it's layered with assets, and it won't break the bank when you bring one home.Nikon's proprietary lead and arsenic free optical-glass formula, known as Eco-Glass, is used for all lenses and prisms in this fine Monarch binocular. All of the air-to-glass surfaces are fully multicoated to ensure maximum light transmission, sharpness, and contrast. The roof prisms are finished with a dielectric coating that enhances the efficiency of the optical system to near perfection.

This easy-to-handle optic is fully waterproof and fogproof, and a tactile rubberized exterior ensures a secure grip at all times. The centered focus knob is fast, accurate, and easy to use. A pair of multi-setting click-stop eyecups and a notable 15.5 mm of eye relief allow you to tailor the binocular to suit your needs – whether you're wearing glasses or not.

They are also covered by Nikon's 25 year no fault repair/replacement policy! LIFETIME!

Optical Performance

AFOV: 55.3°
Fully multicoated Eco-Glass lenses for enhanced sharpness and clarity
Dielectric multilayer prism coating delivers extremely high levels of light transmission, excellent contrast, accurate color rendition
Construction Details

Nitrogen filled/o-ring sealed for water and fogproof performance
Durable/protective rubber armoring provides a sure non-slip grip
Sleek lightweight form factor: excellent ergonomics, easy to carry, durable
Use and Handling

Center focus knob: fast full-range of focus for quick viewing.
Click stop eyecups: clear comfortable view with/without sun/eyeglasses
The specs above are for the 10X42 set which are just a TEENY bit larger than the 8X42. Both are somewhat small, light, and seem like they are geared for the hunting crowd. Also, they would be awesome for children due to their small size and weight.
Eye Relief
These have a 8X and 10X magnification and from using both of these it seems like the 8X42's are a little sharper. The eye relief of the 10X42 is not the greatest at 15.5. What does this mean? It means you will have to press your eyes closer to the eyepieces for the clearest view. Think of it as giving your eyes some relief! With these (10X42) you get 15.5 so if you wear eyeglasses you may want to look for a set with 20+ of eye relief. The 8X42's are a little better with an eye relief of 19.6.
Me, I had NO problems or vignetting when using either of them though the 8X42's were a little more easier to look through. I also had my Mom and Son give them a try and they were very impressed with them. I think they spent an hour bird watching in the backyard. They could not tell a difference between the two in regards to eye relief which tells me both would make most people happy.
For more info on eye relief and binoculars, you can check out this web page.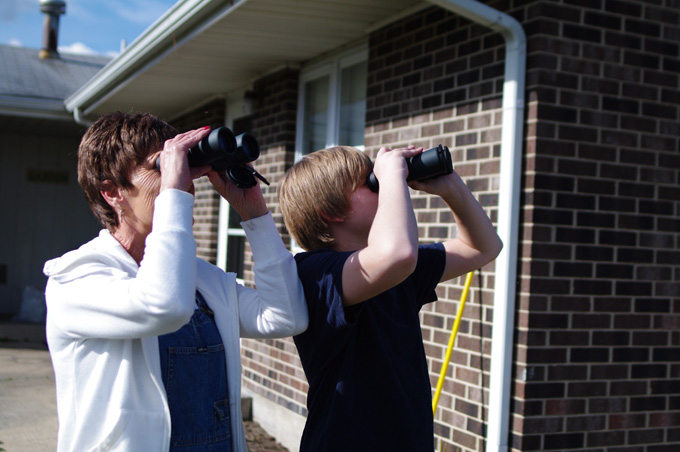 So how are these with real world use?
After using these for birding, spotting far off objects, and even some night time sky gazing I can say that I am VERY impressed with these. The images are bright, colorful, and sharp. There is a little softness at the edges but for this kind of money the Nikon Monarchs are simply awesome. So good in fact that I may be sending B&H my money for the 10X45's. But, I would like to get some mid range Leica binoculars in here just to compare. How cool would it be to have an a Leica M9, Leica X1 (yes, I am still thinking of buying one) and a set of Leica binoculars in your bag? Cool yes, but EXPENSIVE!
For the cash, these Nikons will be hard to beat. When looking at a cardinal up in a tree the view was very 3-D and crisp. The red color of the Cardinal was eye popping. When I compared the view with my trusty 8 year old Celestrons I wanted to toss them in the trash. What I thought were my "nice" binoculars looked yellowish and blurry in comparison.
My son and I did some stargazing and the stars were crisp and sharp. The sky was black, not grey.
Also, these are waterproof and rugged and they come with a killer 25 year warranty from Nikon. At $299 for the 10X45's I really do not think they can be beat. For a little less you get less magnification but a little bit of a sharper view in the 8X42 Set.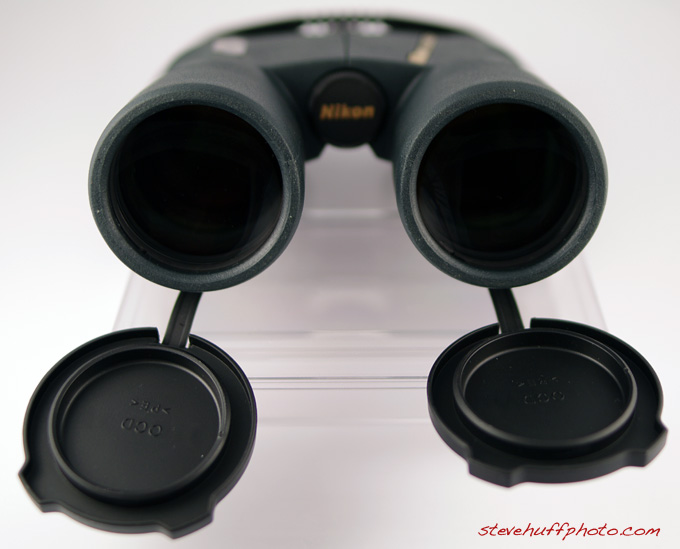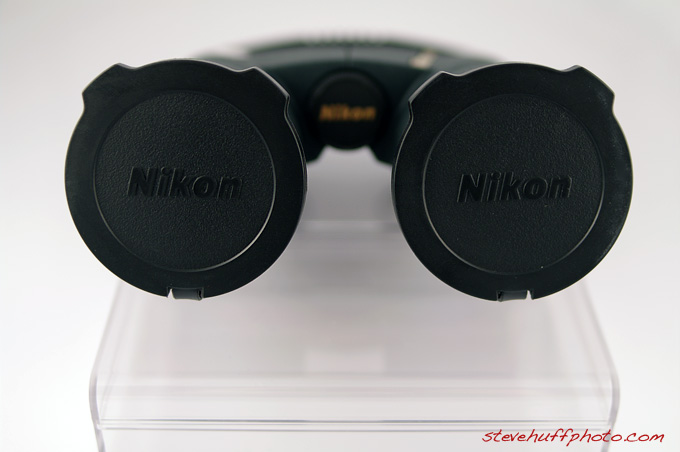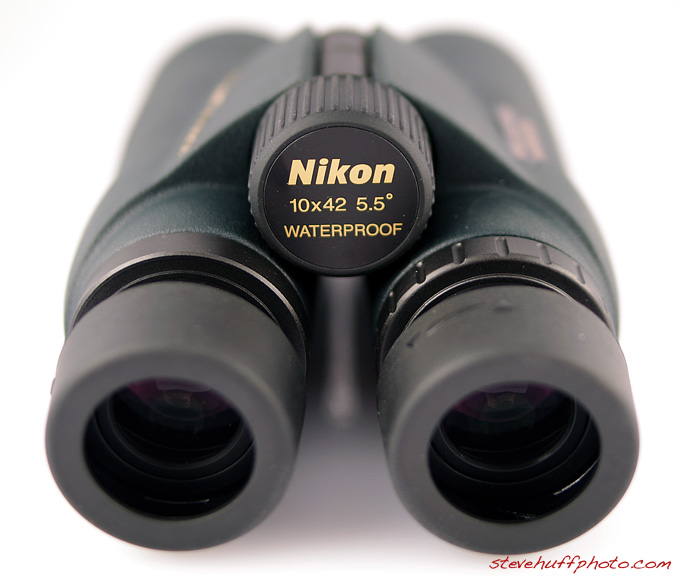 I admit it. I am not one who would spend $3000 on a pair of binoculars because I do not use them very often but $300 is pretty amazing for what you get with these Nikons. This is a set I would buy, and I just might do so.
Here is my pro/con list:
PROS
Nice size and low weight
Crystal clarity, especially on a nice sunny day
Great contrast and color
waterproof/weatherproof
Comes with strap and nice case
Nikon 25 Year warranty! $10 to replace if anything goes wrong with them within 25 years.
Rubber eyecups are soft and comfy 🙂
Easy to focus with a smooth twist
CONS
Eye relief could be better at 15.5 for the 10X42's
Not up to the performance levels of the $1000+ binoculars (but these are $299 and come eerily close at times)
some softness at the edges
So there you have it. These have a huge following from those who own them and I now know why. For my uses the 10X45's would be perfect for me, and at a price I can swallow. I enjoyed using these and now have to decide…do I send both sets back? For those of you looking for a set of binoculars that are built well, waterproof, have great optics and magnification, come with a superb warranty and are "all terrain" I can highly recommend the 10X45's AND the 8X45's. Both are SUPERB, especially for this kind of money. Really, they make my $56 Celestrons look like they are broken.
These binoculars also work VERY well in lower light. To test them out, while we were stargazing with them I looked down my street (it was dark out) and I could see with extreme clarity. It was like I was superman and I engaged my super eye with 10X power! They still had that 3D pop and contrast. These may just be the best Binoculars I have looked through up to the $1,000 price point.
I am hoping that my next binocular review will be of a Leica pair. This pair looks pretty amazing. But for those with an absolute top budget of $300, I can think of nothing better than these Nikons! Keep in mind that these are the latest versions which are Version III and have enhancements over older versions. These are truly "high end" at a mid end price point!
You can find these at B&H Photo. These are an EASY recommend, both the Nikon and B&H!
Nikon ATB (All Terrain Binoculars) 10X42 at B&H Photo – $299.95
Nikon ATB (All Terrain Binoculars) 8X42 at B&H Photo – $279.95
Also, for more magnification you can also find the 12X42 set at B&H Photo – $329.95
[ad#Adsense Blog Sq Embed Image]