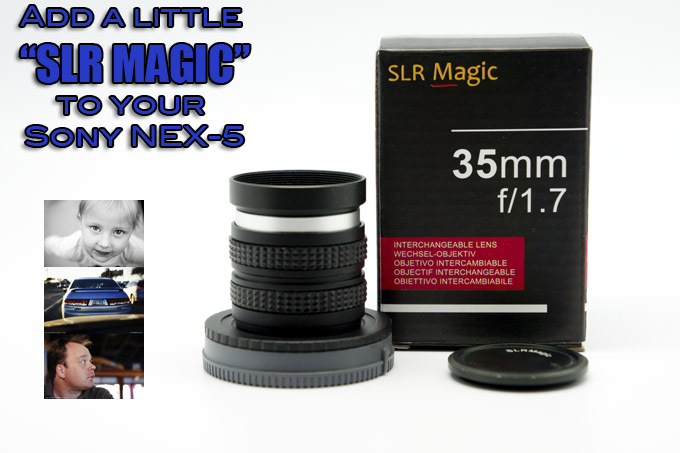 SLR Magic 35 1.7 Lens Review for the Sony NEX system
SLR Magic? What the heck is SLR Magic? Well, they are a company that sells some interesting camera gear on E-bay and one of those products is a lens that has been modified to work on the Sony NEX mount cameras. This lens is a 35mm f/1.7 lens and it comes with the lens, a sun shade, metal cap and rear cap for only $99. Yep, a fast 35 1.7 lens for your NEX camera for $139. When I started to read about this lens I thought..."For $139, this has to be some cheap piece of plastic that is useless"! But then I saw some samples from a few people online and I became interested in the lens. Keep in mind that the 35mm will become a 52mm equivalent on the NEX with the 1.5 crop factor. SO basically, you have a tiny, super fast 50 for the NEX. The question is, does it suck or is it useful?
I contacted the owner of SLR Magic through their E-Bay listing and within 3 days I had the lens in my hand. They sent me the lens, a cleaning cloth, and even one of their Leica M to Sony NEX adapters. When I opened the lens I was immediately drawn to the small size and I thought it looked super cool on the NEX-5. After some research I realized this lens was much like the Noktor 50 lens I reviewed a while ago (see review here) due to the fact that it is a cine lens converted to the NEX mount. SLR Magic also sells this lens for M4/3 mount. From what I hear these lenses can be found for $30 but then you need an adapter and you will not have the caps or box so to me, the $139 seems worth it to have one already set to mount on the NEX.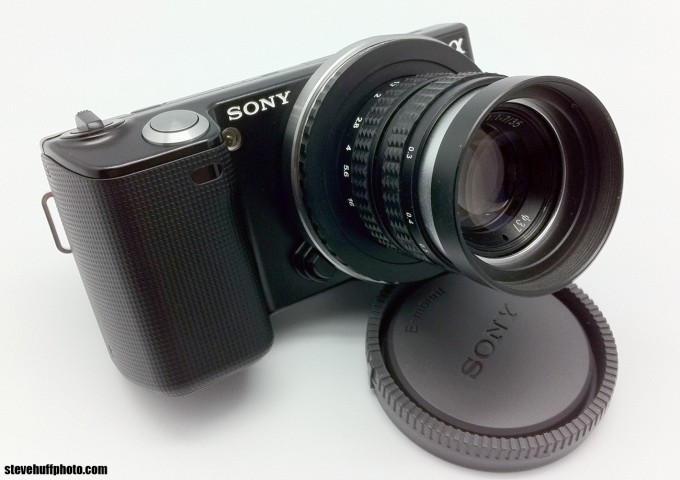 I was not terribly thrilled with the Noktor, especially at $799 but this little guy was only $139 so it HAD To be worth it, right? Well, you can not go wrong by adding this lens to your collection and I have to say that if you own a NEX camera, this lens is a must own just for those times you want to get creative and go for a special fun look. This lens almost reminds me of a lensbaby. The effects you get with this lens are dreamy, soft wide open, shallow depth of field and the Bokeh is better than the $799 Noktor I reviewed in the past though not up to exotic glass like Leica or Zeiss.
This is the kind of lens NEX and M4/3 owners have been begging for and is perfect for those who love creative lenses.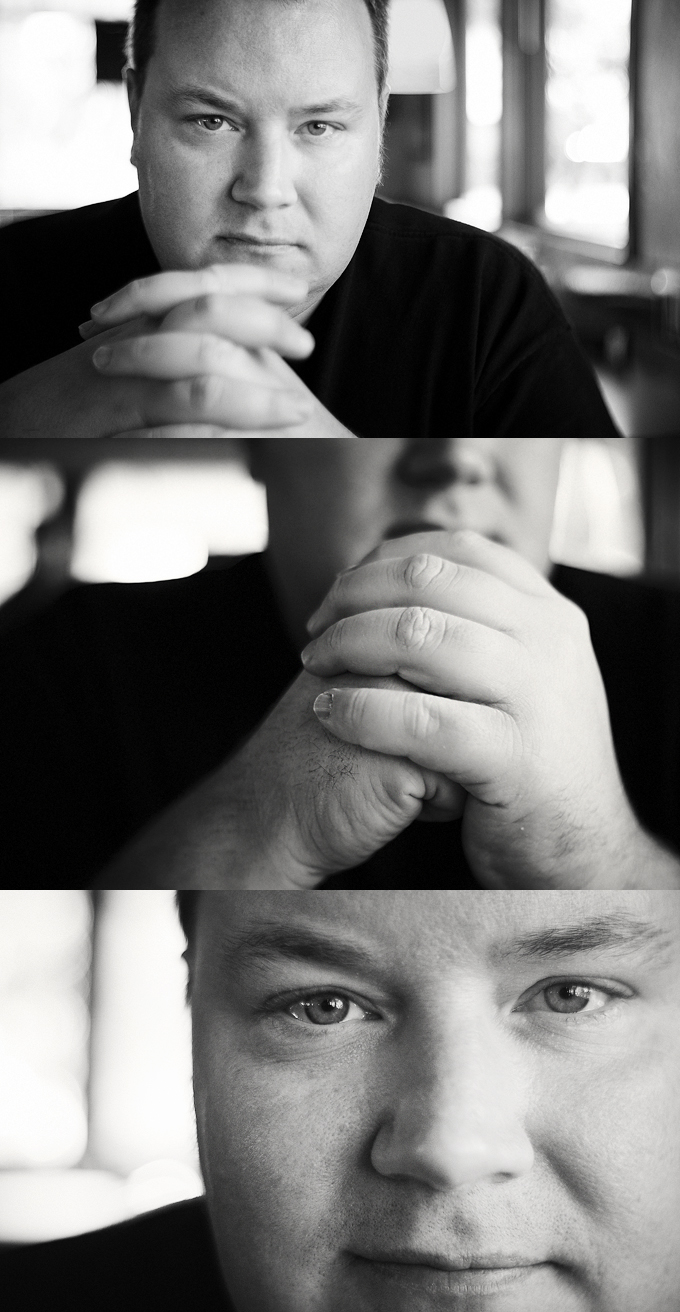 ABOVE: Sony NEX-5 and SLR Magic 35 1.7 Lens at 1.7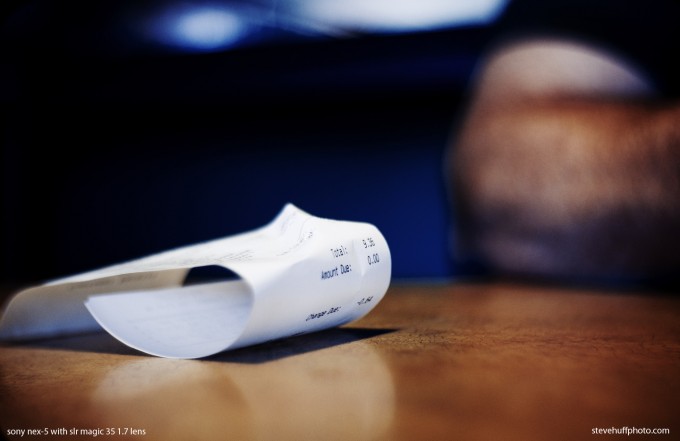 ABOVE: Sony NEX-5 and 35 1.7 SLR Magic lens at 1.7 – Click image for larger view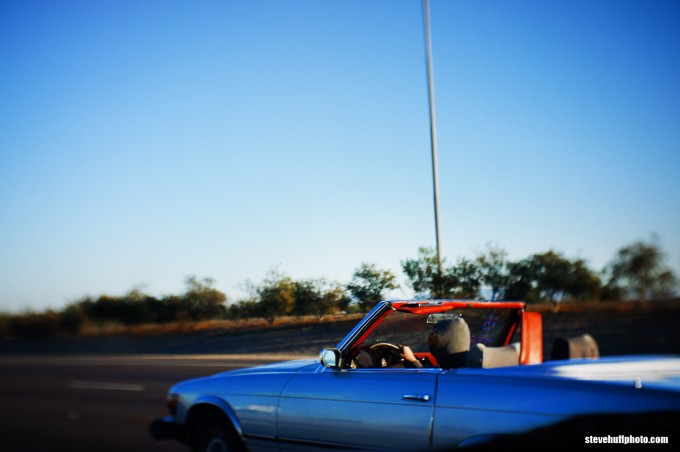 ABOVE: Sony NEX-5 and the 35 1.7 SLR Magic lens at 1.7. See how the edges  get soft and give you an almost diorama effect? Click image for larger view.
THE GOOD
The lens arrived FAST from Hong Kong (3 days) and it actually came in a nice box with the lens hood and rear cap. The packaging and presentation was nice and I was still surprised that this was only a $139 lens. The lens itself feels pretty good. Not anything like a Leica lens of course, but for the price, it is very nice feeling. This is an all manual lens meaning it is manual focus and you manually set the aperture. When using it, it's almost Leica like in the fact that you have to take your time composing the shot because you have to get  the focus just right which usually means using the 7X or 14X magnification on the NEX. Luckily, Sony makes this easy because when you mount a manual lens the right rear button acts as the magnification button. If you want the magnification for a focus aid, just hit the button and  you will get a 7X or 14X view of the subject for critical focus.
The lens can be useful for portraits as it usually renders in a soft, glowing and dreamy type of way. I also like that the minimum focus distance is 0.3 meters, much closer than Leica lenses mounted to the NEX-3 or 5. The image above was shot at the minimum focus distance so for a 35mm lens, you can get pretty close. As I stated earlier, with this lens on the NEX camera you get a 52mm Equivalent so it's like having a fast 50 on your NEX. Very cool, and for $139 it is well worth owning it just for those times you want that special look.
THE BAD
Well, a super fast 35mm lens for a really good price..there has to be something wrong with it right? Well, that depends on your state of mind and how you look at it. I knew going in that the lens would be soft at the edges and this is what drew me to it. The lens has a unique way of rendering a scene that you will either really enjoy or totally hate. To some, they will say this lens is useless do to it's softness and weird edges but others will use that to their advantage. The lens can be super soft and if you miss focus it will look even softer, but when you nail focus its actually not so bad at all and sharp in the middle of the frame.
So what is the "Bad"? If I had to say anything I would say that the lens could be sharper but that would take away from its character. I could say that the lens could be built better, but this is a $139 lens, not a $600 lens. I could also say that it should be Auto Focus but nahhh, I love shooting manual lenses. This lens is a great addition to your Sony NEX collection because when you use it you will always get interesting results, no matter what you are shooting with it. Just keep in mind that this is no Leica lens and will not render images in that sparkly, super micro contrast way 🙂 BTW, the SLR Magic lens is a medium to low contrast lens.
Take a look at the images below and you can see how this lens turned ordinary subjects into interesting photos…
One or two of these were not fully in focus and ALL were shot wide open at 1.7…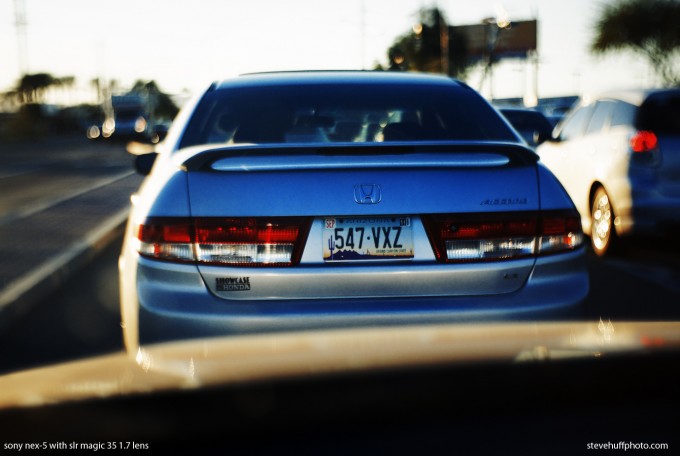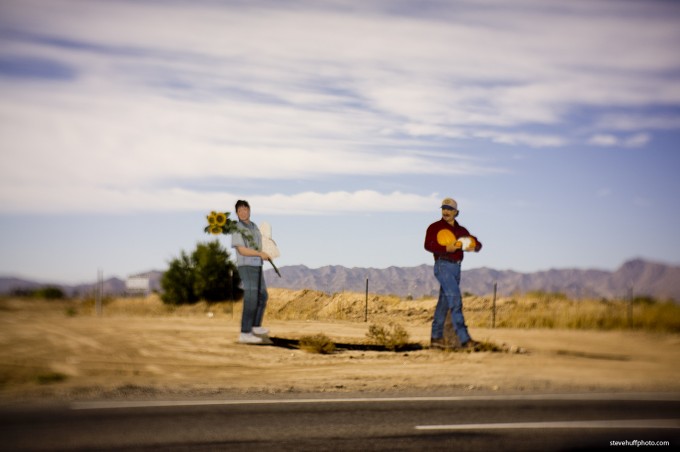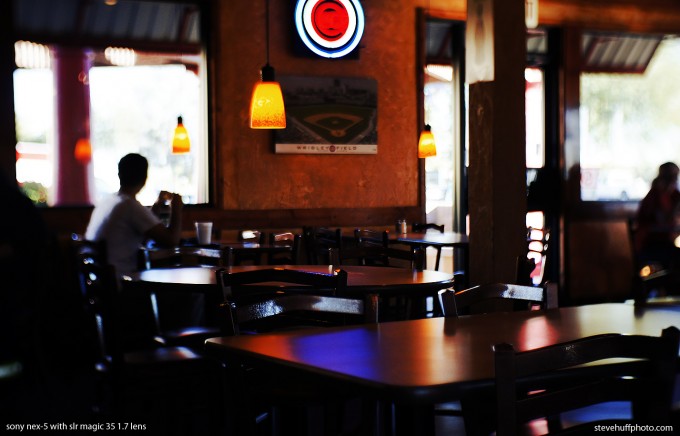 So the bad? For the cost, there really is no "Bad" on this lens. As long as you know what you are getting ahead of time then it should not be a disappointment. I'd buy this lens at the asking price in a heartbeat. Below you can get an idea of how small this little guy is, sitting next to the Sony 18-55 Zoom that came with my NEX-5.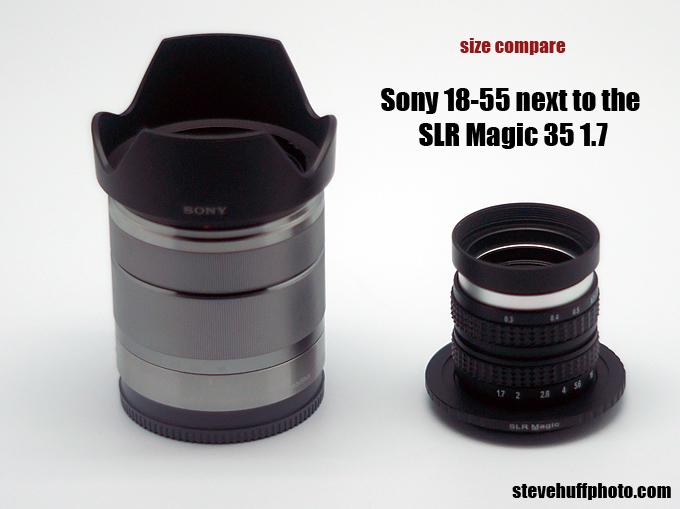 BELOW: A video showing the SLR Magic 35 1.7 lens
SHOOTING THE LENS STOPPED DOWN. DOES IT SHARPEN UP?
So, does this lens sharpen up when you stop down the lens say to f2.8 or f4? Let's find out! Below is a series of shots from F1.7 to F5.6 to show you how the lens sharpens up as you stop it down. Click on the images for a larger 1500 pixel wide view. I see that this lens remains somewhat soft on the sides/edges, even through f4. It sharpens up a bit at 5.6 but this lens is not about sharpness, it's about the unique look you can get with it and that look is maximized when wide open at 1.7.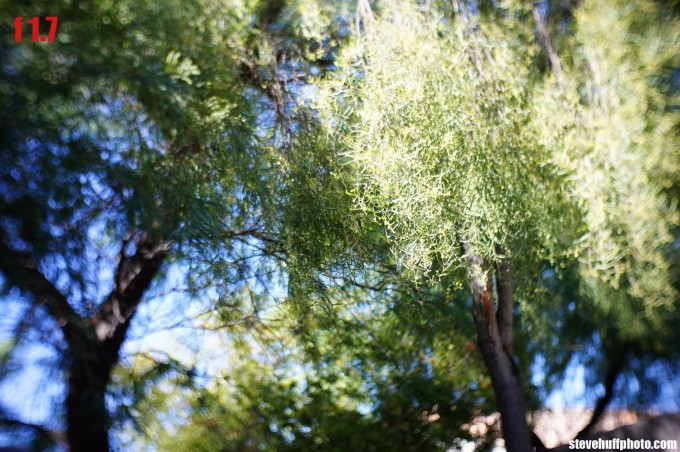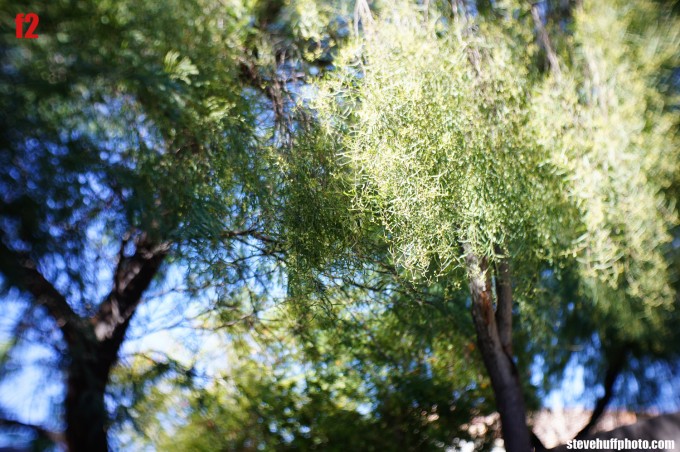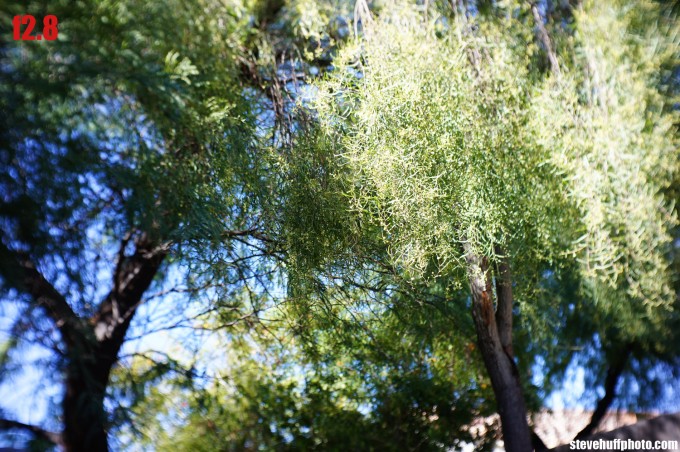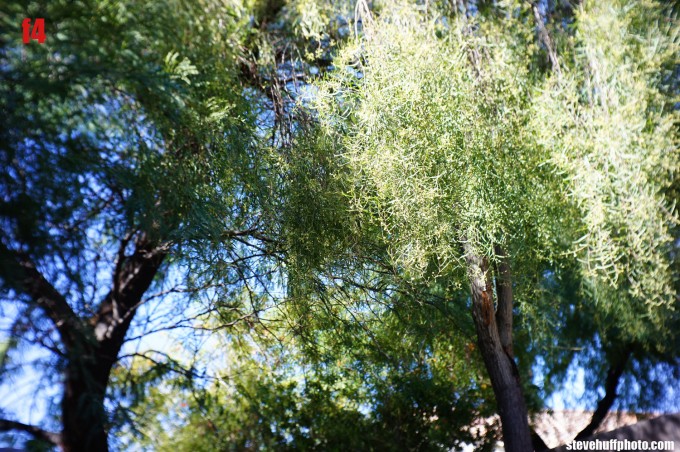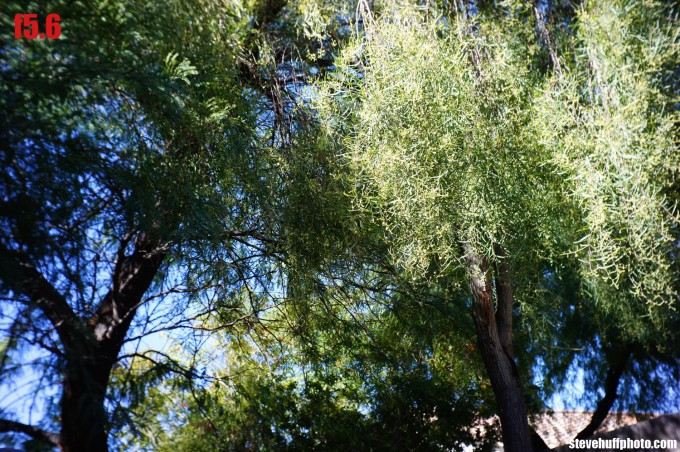 FINAL THOUGHTS ON THE SLR MAGIC 35 1.7 E-MOUNT LENS
I have to give applause for someone releasing a small fast lens for these small mirror-less cameras. Even though it is not a super sharp Leica lens, this little 35 1.7 is a great buy for $139. PERIOD! It may not be a lens you will use all of the time, but when you do use it be prepared for some interesting images. I consider  this a "Special Effects Lens" much like a Lensbaby but I'd highly recommend this lens if you are like me, and like shallow Depth of Field and a unique look to certain images. I found this lens can do good with portraits and everyday snapshots. I think it is good to have an arsenal of lenses  that do many things and the SLR Magic 35 1.7 is another lens that you could pull out on those days when you feel a but creative. I now own this one, and have been enjoying it and thats what it's all about!
You can buy this lens from SLR Magic on Ebay HERE and their store is HERE. Thinking of buying into the Sony NEX system? If so, I'd buy mine at B&H Photo HERE.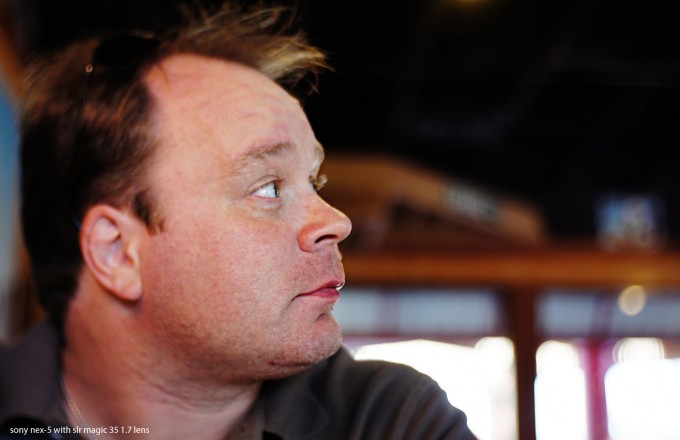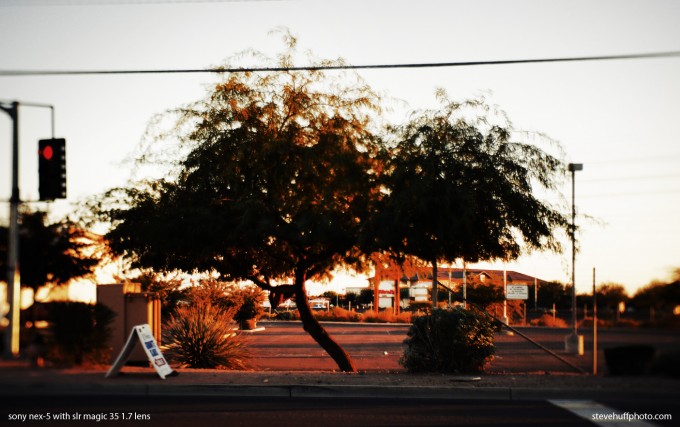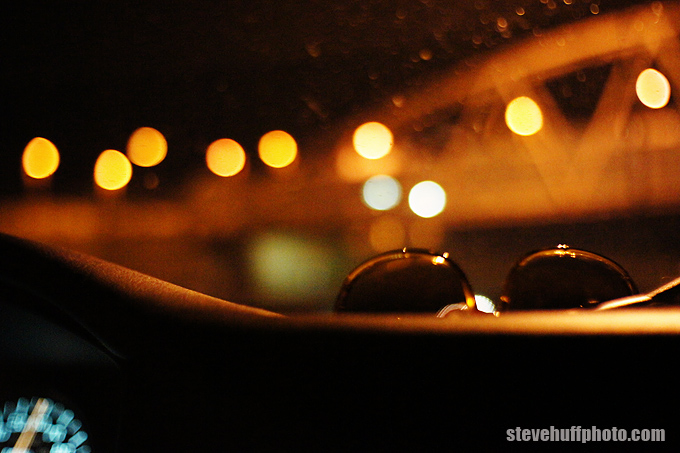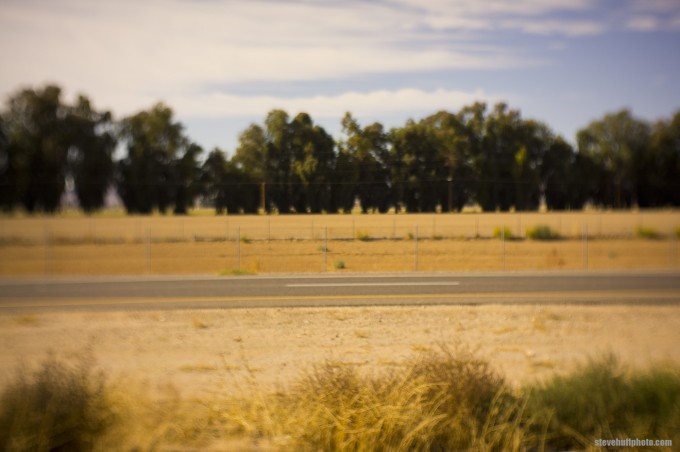 I NEED YOUR HELP! YOU CAN HELP SUPPORT THIS SITE TO KEEP IT GOING AND GROWING!
Remember, anytime you follow my links here and buy from B&H or AMAZON,
this helps to keep my site going. If it was not for these links, there would be no way to fund this site, so I thank you in advance if you visit these links. I thank you more if you make a purchase! I have nifty search bars at the upper right of each page so you easily search for something at either store! I currently spend 10-14 hours a day working on this site and the only way that I can pay for it is with your help, so thank you! Currently my traffic has been increasing but my funds to pay for the site has been decreasing, so any help would be GREATLY appreciated!
Even if  you buy baby food, napkins or toothpicks at amazon it helps this site, and you do not pay anything extra by using the links here. Again, you pay nothing extra by using my links, it is just a way to help support this site, so again, I thank you in advance 

If you enjoyed this article/review, feel free to leave a comment at the bottom of this page and also be sure to join me on twitter or facebook! Also, you can subscribe to my feed at my subscribe page HERE and read these posts in your browser or news reader! Also, the new forums are NOW OPEN on this site so get involved if you like! Thanks so much for visiting my site!
[ad#Adsense Blog Sq Embed Image]