–
GOODBYE 2010, HELLO 2011!
HAPPY NEW YEAR to ALL who come here, lurk here, and contribute here! I love all of you and truly wish you a HAPPY 2011. May the new year bring  joy, happiness, new friends, new experiences, and new motivations. For me, I am as motivated as I have ever been thanks to a mixture of friends, family, the thrill of things to come and the fact that this blog has really taken off in the past couple of months. Traffic here has went up and it appears all who come here are having a blast. I am thrilled with the community that has been building here and I have a few tricks up my sleeve for 2011 as well.
–
This site is growing FAST and I THANK ALL OF YOU from the bottom of my heart!
Check out these stats for the past 12 months…
In 2010 stevehuffphoto.com has had 6,085,640 page views and now is averaging 65,000 unique visitors per month with over 30,000 page views each and every day and December was a record month with over 702,000 page views. There has been 663 posts since this new version of the site started in November 2009 (and  you can see them all listed out HERE) with 14,793 comments left. I'm not gloating, I'm just excited 🙂
This site is growing! November 2009 had 47k page views. December of 2010 had over 700,000. Hoping to make it 1 million per month by March 2011. THANK YOU ALL!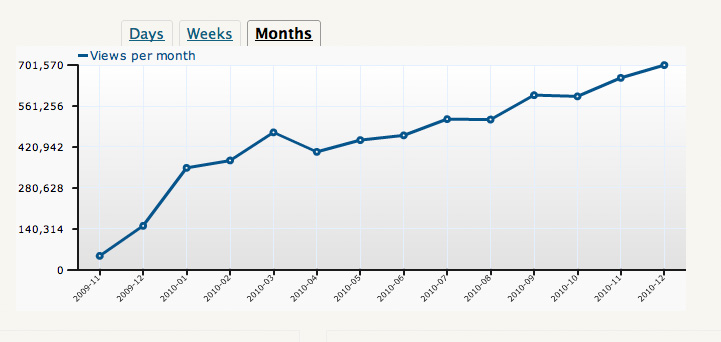 So again, I thank ALL of you who come here and enjoy reading the posts by not only me, but the multiple talented readers who have submitted their own stories and articles. My dream for this site is just now starting to become a reality. I wanted a community that could come here and be civil, kind, and friendly. We now have that here. I have not even had to moderate ONE forum post, not a one!
I wanted this site to also be a place where we can all come and learn. I wanted us to all learn from each other. I can learn from you guys just as much as you can learn from me as I am above no one. So with the guest articles and commentary here it has been amazing and not only have all of the readers learned a ton, so have I.
I will always keep this site unique, personal, and true to what it started out as. Just a guy who has a passion for photography, gear and life! I will always let the readers have a voice as well as I feel this is important.
As many of you know my personal life was a bit rough in 2010 due to a divorce and at one point in July of 2010 this sites existence was threatened but again, thanks to you guys it continued on. So again..THANK YOU! (cant say it enough).
–
Things to come in 2011
I can't spill all the beans but as I said, I have plenty up my sleeve for 2011. More great real world reviews of the coolest gear, more great daily inspirations, more awesome guest articles and more contests that will get us all involved. Maybe even a collaboration or two 🙂 I will also be planning some cool meet ups in 2011 because the NYC meetup was a great success and I promise the next will be even bigger and better.
But ultimately for me it's all about the passion. I think those who come here have the same passion that I do for photography. We may not all be pros, we may not all be amazing photographers, but does any of that matter? NO! What does matter is that we enjoy shooting…that we have a true love to create memories and if we get enjoyment and fulfillment from it then THAT is great for the soul. We only have one go round in this life so we MUST enjoy it 🙂 ANYONE who enjoys shooting, even if it is taking photos of their dogs, cats, birds or kids this site will always welcome you without having the stuffy "pro" attitude.
So I welcome the new year with great happiness. Can't wait for more cameras, more lenses, more stories, more lessons and yes, even more controversy 🙂 If anyone is interested in submitting articles, stories or ANYTHING photo related that would be interesting to post here then email me and I'll give you the details 🙂
Of course I can not forget the Leica M9 Giveaway contest which is coming in January 2011.
–
Special 2010 Thanks…
I want to give special thanks to a few special friends who helped me out in 2010…
SEAL (~6) – Thanks brother…you have been an amazing friend this year. The highlights have been spoken about here of course from taking me on tour, letting me shoot with your Noctilux, and donating your own M9 for the upcoming contest. You have been a true friend and were one of the few there when I was down and out. Here is to more experiences in 2011! Of course you must check out picortwo.com and while there, register!
Ken Hansen – My favorite Leica dealer bar non. Ken has helped me from day one when I started the old site and to this day still helps me. Sure, I help him wiyth my recommendations but I do not recommend him for $$, I do so because he is a great guy, an amazing dealer and in todays world of customer service nightmares it really doesn't get much better than Ken. He knows what he did to help me this year, so I THANK YOU KEN! His email is khpny19@aol.com if you ever need any gear, new or used.
Ashwin Rao – What a guy. Ashwin has submitted so many guest articles in 2010 and I know he is a busy guy, so thanks Ashwin! Hope to work with you more in 2011! Ashwin's blog is here.
Riccis Valladares – I'd like to thank Riccis for helping me out at my 1st meet-up in NYC. He was the guest speaker and gave a killer presentation on shooting Leica while he shared some amazing photos. Hopefully we can work together again in 2011! Riccis site is here.
There are others but the ones above are those who influenced me, motivated me and helped me out in 2010 with the site.
–