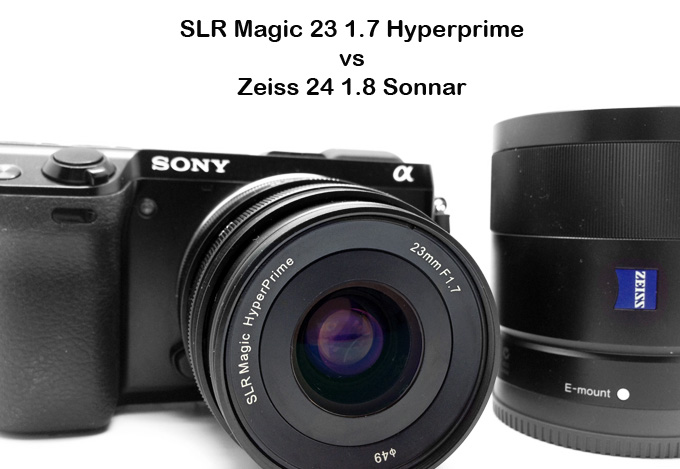 SLR Magic 23 1.7 vs Zeiss 24 1.8 on the NEX-7 – $379 vs $999
UPDATE: SLR Magic has seen my results and contacted me to tell me my lens must be defective as they sent me samples they shot with the lens on a NEX-5 and the corners and sides are not nearly as soft as they are on the one I have. I will wait for a new lens before doing a full review. Until then, take these samples with a grain of salt. I have added their samples to the bottom of this page so you can see what they took with the lens. 
I just received a copy of the SLR Magic 23 1.7 lens for the Sony "E" NEX mount and since I am shipping the super slick NEX-7 back TODAY (yes, for real this time) I decided to do some quick tests since these lenses are so close in specs but so far away in price with the Zeiss coming in at about $600+ more than the SLR Magic Hyperprime. The 24mm Zeiss is a lens I have grown to appreciate more and more as I spent time with it over the past 2 months. It is not a critically sharp lens but it is indeed sharp, and gets really sharp as you stop down. The only niggle I have with it is that it is on the larger side but it is very very light. It does not have that heavy Zeiss build that we associate Zeiss quality with. BUT, the lens is a very good performer and the best native lens available for the NEX system to date.
So with the hype of the NEX-7 and Zeiss 24 1.8 along comes SLR Magic with the introduction of their 23mm f/1.7 HyperPrime for the NEX mount. It was clear they had their sights set on the Zeiss as a more cost effective alternative and they even one upped them on focal length and aperture. The only thing with the Hyperprime is that it is manual focus ONLY. For me, this is not a problem but many of you want Auto Focus so if this is you, you can ignore this lens right now as there is NO Auto Focus with the SLR Magic lens. This is a good and bad thing IMO. It is a good thing because you will never miss focus. Sometimes the Sony misses AF for me and with the Hyperprime you will be choosing your focus point and manually focusing the lens. Its foolproof with the focus peaking feature of the NEX cameras. It can be bad because if you want to get a quick shot where time if of the essence then using a MF lens will slow you down. It all depends on your needs and preferences.
With that in mind, let us take a look at these two lenses with the NEX-7. As you can see in the image below, the SLR Magic Hyperprime is smaller than the Zeiss in length and width. These are 35mm equivalent lenses.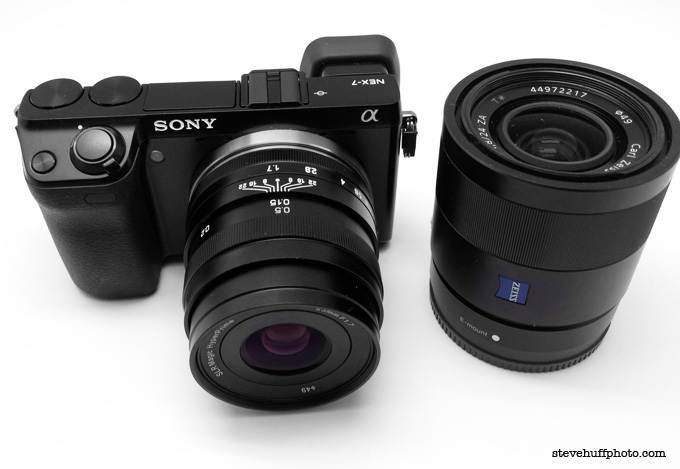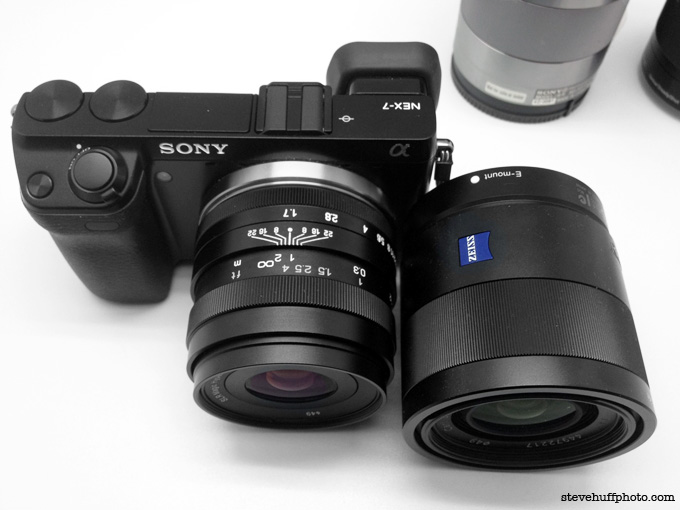 The Hyperprime is also heavier and feels more like a Leica lens in build and feel. It has a manual aperture dial just like Leica, and a buttery smooth focus ring. The lens feels like quality. Coming it at $379 this lens is over $600 cheaper than the Zeiss but you would not know this by the build quality and overall construction. For all of you Leica shooters, this lens almost looks and feels like the 50 Summicron. The only thing is that the aperture ring does NOT click into place. Like almost all other SLR Magic lenses they kept it clickless to also aid in video performance. Changing apertures is silent but to see what aperture you are at you will need to look down at the lens barrel. I prefer clicks so I know where I am at but again, its all personal preference.
On the camera both lenses feel good. The SLR Magic makes the NEX-7 feel more solid and heavy and  the Zeiss keeps the camera on the lighter side. I guess Sony knew that one of the features of the NEX system is small size, so they most likely wanted to keep the lens light otherwise it would defeat the purpose of the system. Size wise, the Zeiss is larger but remember it has Auto Focus and is a much sharper lens corner to corner as you will soon see. Keep in mind this is not a formal review of either lens, just a comparison of the performance between them. To see tons of Zeiss shots see my NEX-7 review. I hope  to get more shots with the SLR Magic on a NEX-5n and the NEX-7 as soon as mine arrives. Even though the SLR Magic lens is heavier it feels really nice on the NEX-7. Balanced and solid. But how is the IQ? Let's see in these quick tests…
The Sample Test Images for comparison – Sharpness, Distortion, Bokeh and Up Close Performance
I will put all of the test images below so you can judge for yourself between these two lenses. The SLR Magic 23 1.7 will be available soon at $379. The Zeiss 24 1.8 is available NOW at $999. These are strictly test images to judge sharpness at all apertures, bokeh, distortion and close up performance. You will need to CLICK ON EACH IMAGE to see the large size and full 100% crop. You can not judge them by just looking at them here so please click on them to see them how they are meant to be seen.
1. Sharpness
Sharpness is not the be all end all when it comes to photographs so I don't mind it when a lens is not super sharp and in fact I prefer my lenses to not be clinically sharp. I am a fan of "character" in a lens. The SLR Magic and Zeiss both have their own character and neither is clinically sharp but the Zeiss IS sharper as it should be for the $$ difference.
CLICK IMAGES FOR FULL CROPS AND LARGER VERSIONS
I REDID THIS TEST BELOW AS MY 1st COMPARISON MAY HAVE HAD THE SLR MAGIX SLIGHTLY MIS-FOCUSED
The 1st set is the SLR Magic at 1.7 followed by the Zeiss at 1.8 – Tripod mounted on the Sony NEX-7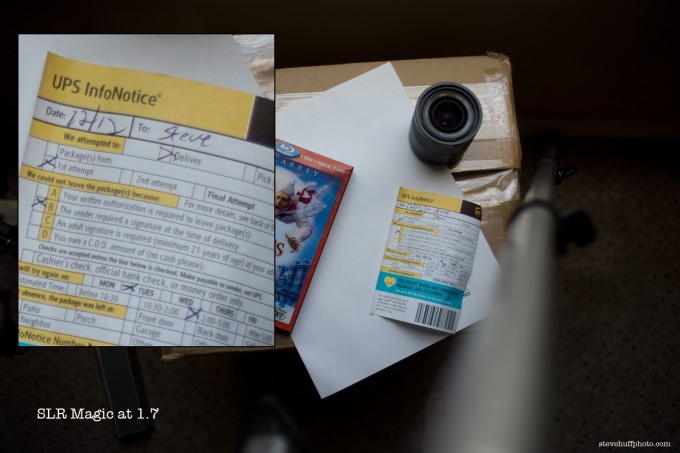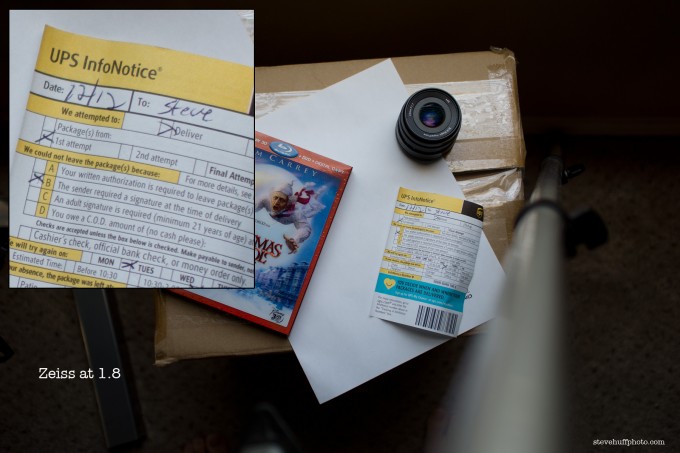 –
Stopped down to 2.8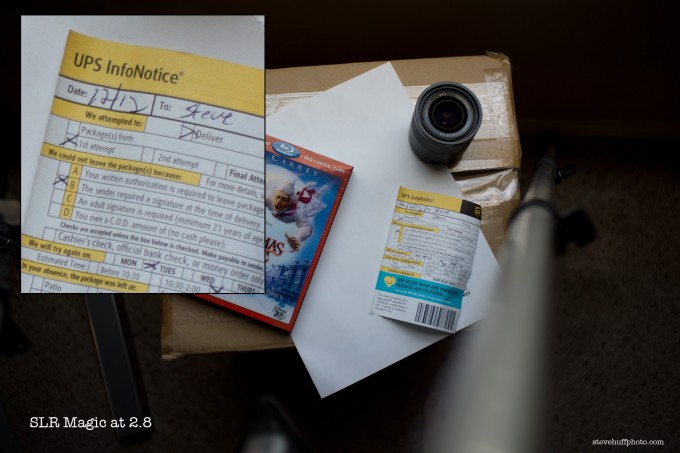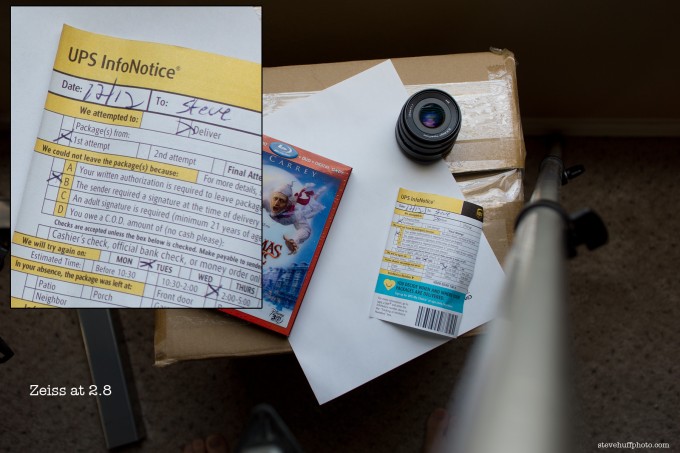 –
stopped down to f/4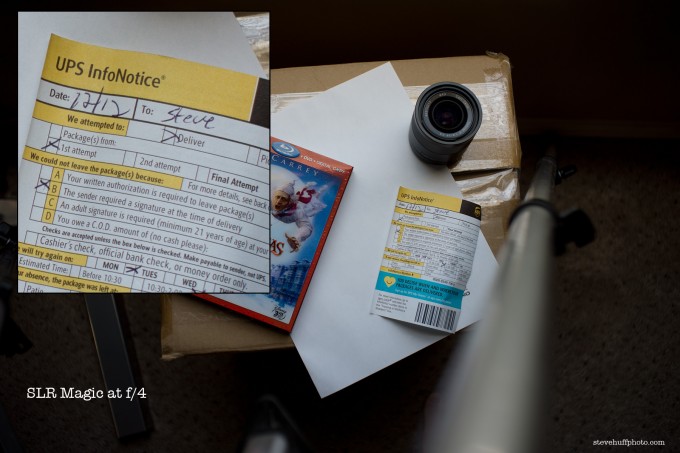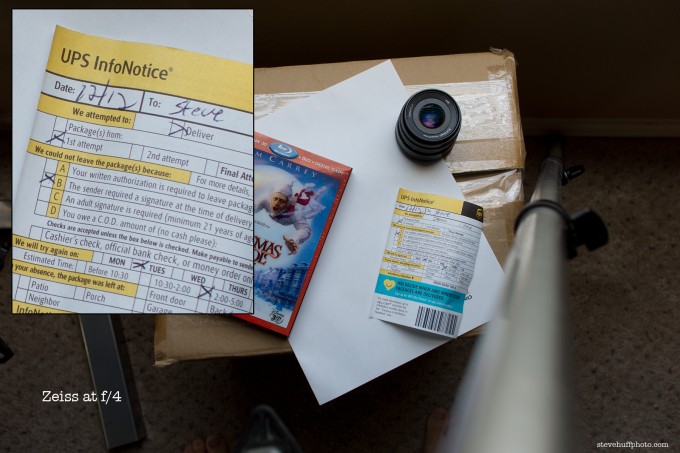 –
F/5.6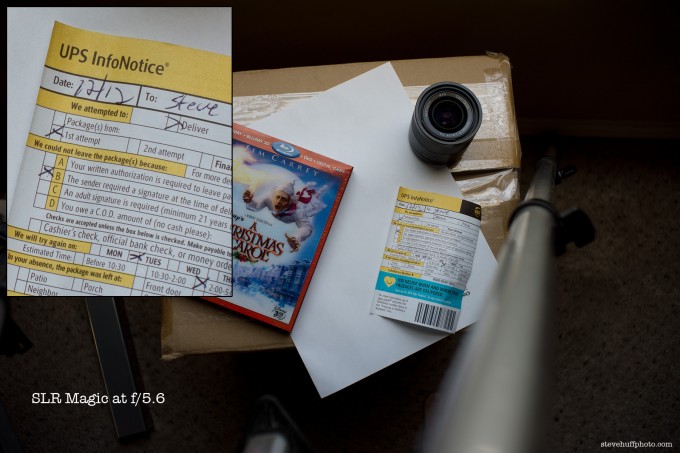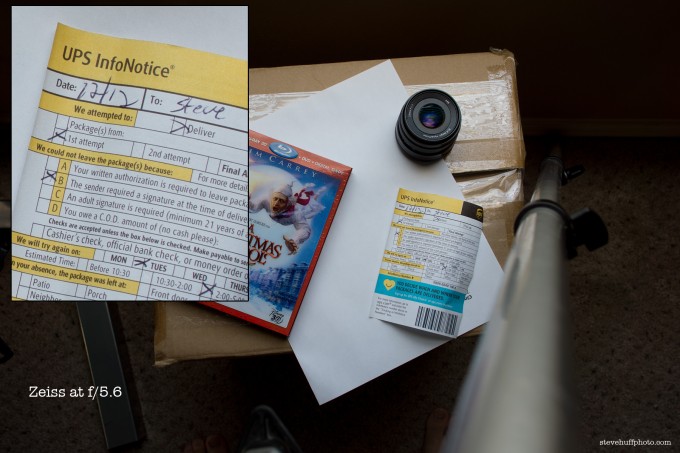 –
f/8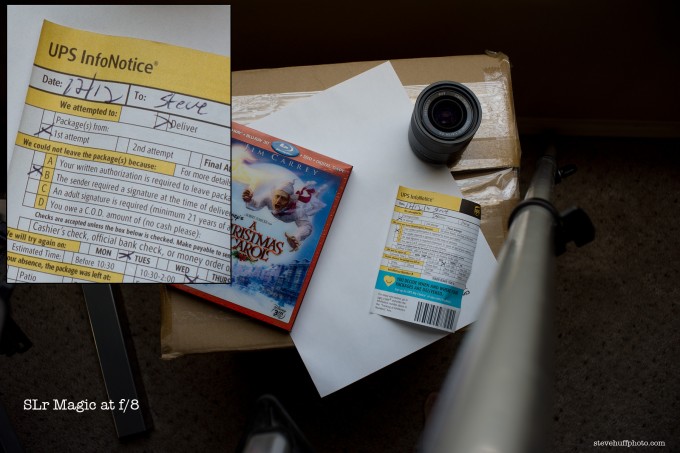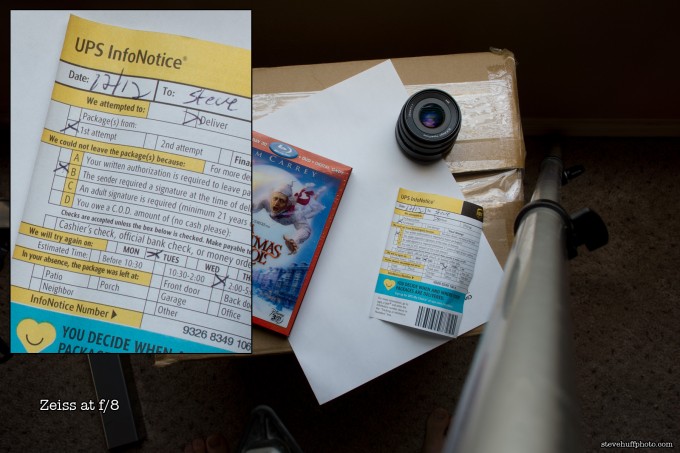 –
[ad#Adsense Blog Sq Embed Image]
2. Distortion
The Zeiss wins here as the SLR Magic has plenty of barrel distortion. If you are a landscape shooter or like straight lines, Id go for the Zeiss. If you like character, go for the cheaper SLR Magic as it seems to have plenty of that. I would have liked to see the SLR Magic have less distortion though.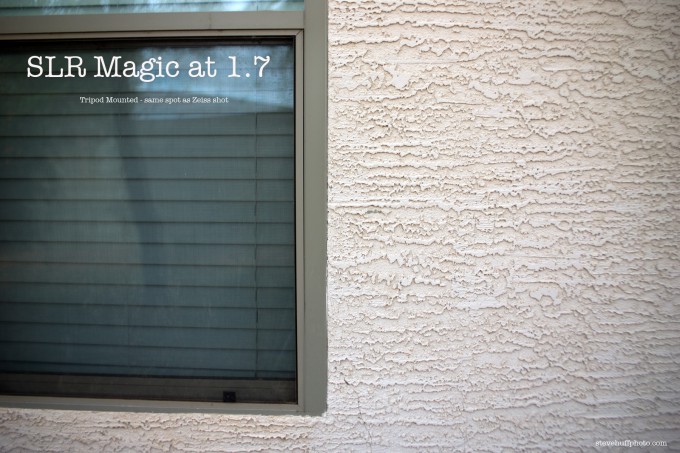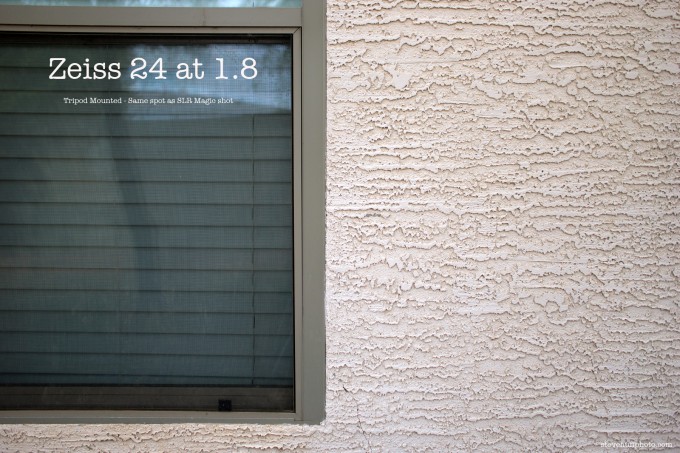 –
You can see how the SLR Magic twists the straight fence. These were tripod mounted and the tripod was not moved for these tests.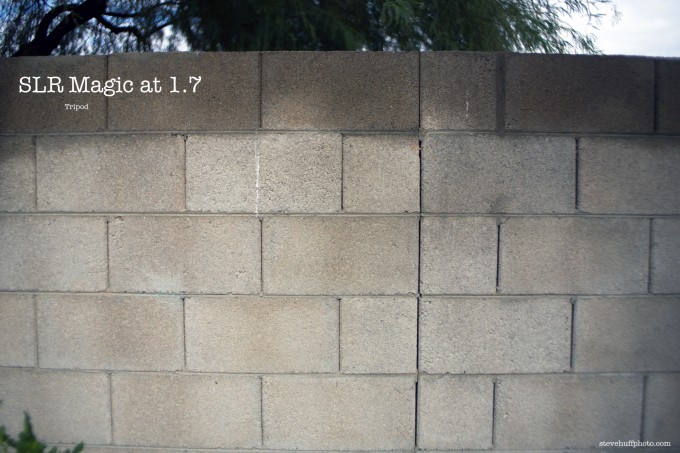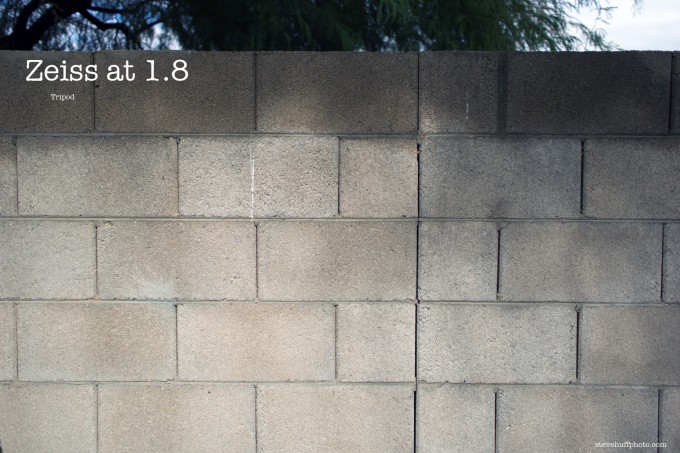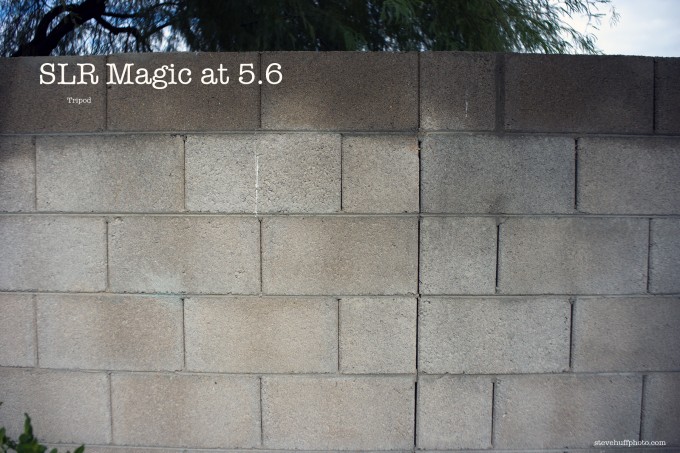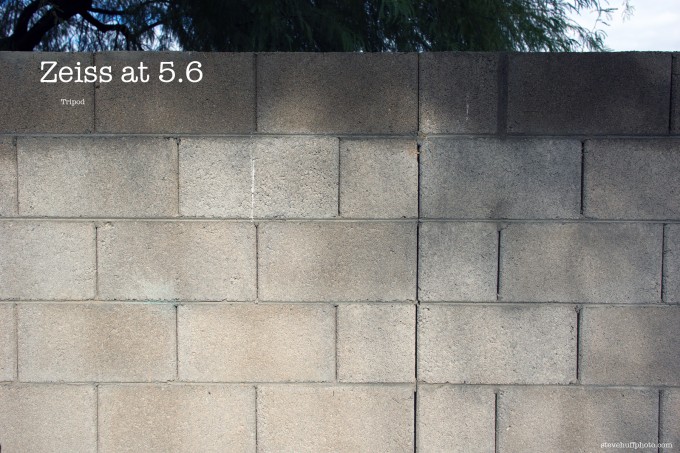 –
3. Bokeh/Up Close
Both of these lenses focus really close. The SLR Magic lens focuses as close as 5.9 inches and the Zeiss is 6.2 inches. So they are very close in this dept. Which do you prefer here?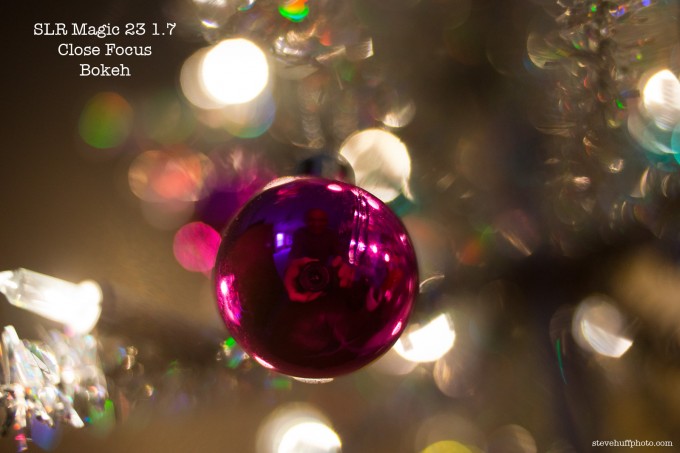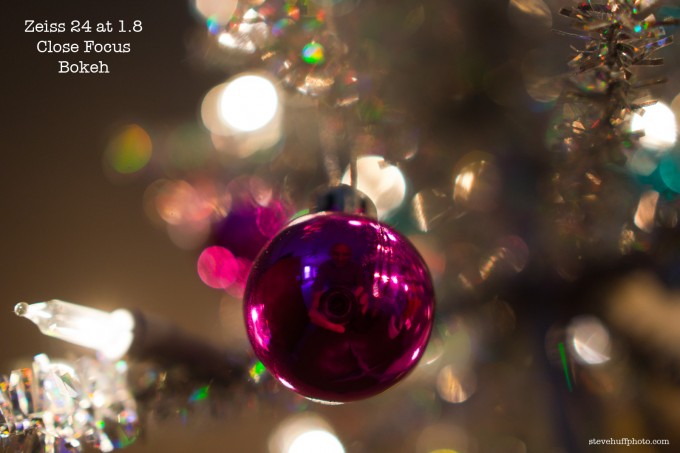 That was about all I could get done before packing up the Zeiss 24 to go back to Sony. The SLR Magic Hyperprime will be available in January 2012 for $379. Check back soon for more my real world testing with actually photos. The SLR Magic is actually a very nice lens and the only weakness I found in my quick testing is the barrel distortion. When shooting straight lines or buildings this will be evident. The Zeiss doesn't have this distortion. The SLR Magic also has a softness at the edges that the Zeiss does not have. With a price difference of over $600 only you can decide which lens suits your needs best, the manual focus SLR Magic or the Auto Focus Zeiss. I would say the SLR Magic is the more "Artistic" lens and the Zeiss is the more "Perfect" lens.
UPDATE: SLR Magic has seen my results and contacted me to tell me my lens must be defective as they sent me samples they shot with the lens on a NEX-5 and the corners and sides are not nearly as soft as they are on the one I have. I will wait for a new lens before doing a full review. Until then, take these samples with a grain of salt. I have added their samples below so you can see what they took with the lens on a NEX-5.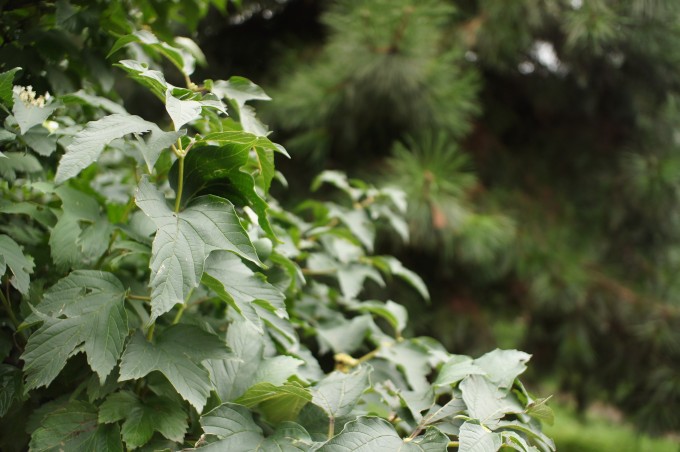 –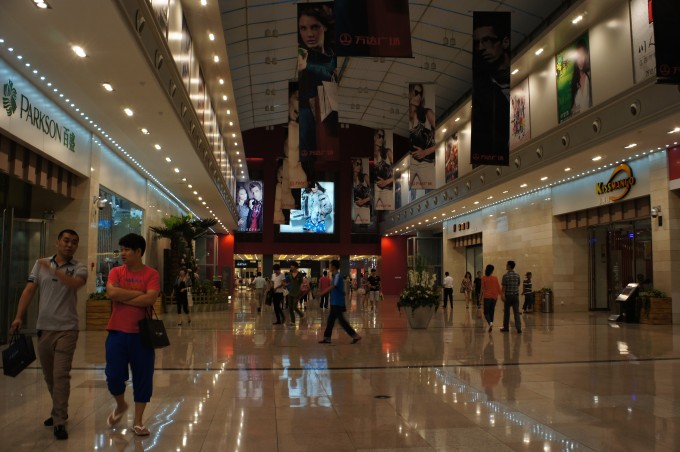 Below is the technical data on the SLR Magic 23 1.7 Hyperprime
Technical Data    
SLR Magic HyperPrime 23mm F1.7
Lens Type:
Fast wide-angle lens with five Tantalum glass elements to ensure superior cinematic performance.
Compatible Cameras:
All E-mount cameras
Optical Design:
8 elements in 7 groups
Distance Settings:
Distance range: 0.15m to ∞, combined scale meter/feet
Aperture:
Manually controlled diaphragm, 12 aperture blades (circular), Lowest value 22
Bayonet:
E-mount
Filter Mount:
49mm; filter mount does not rotate.
Surface Finish:
Black anodized
Dimensions:
Length to bayonet mount:
approx. 50mm (approx. 1.97in)
Largest diameter:
approx. 61mm (approx. 2.40in)
Weight:
approx. 240g (approx. 8.47oz)
HELP ME TO KEEP THIS SITE GOING AND GROWING!! IT'S EASY TO HELP OUT & I CAN USE ALL THE HELP I CAN GET!
PLEASE Remember, anytime you follow my links here and buy from B&H or AMAZON,
 this helps to keep my site going. If it was not for these links, there would be no way to fund this site (and the cost these days to keep it going is pretty damn high), so I thank you in advance if you visit these links. I thank you more if you make a purchase! I have nifty search bars at the upper right of each page so you easily search for something at either store! I currently spend 10-14 hours a day working on this site and the only way that I can pay for it is with your help, so thank you! Currently my traffic has been increasing but my funds to pay for the site has been decreasing, so any help would be GREATLY appreciated!
Even if  you buy baby food, napkins or toothpicks at Amazon it helps this site, and you do not pay anything extra by using the links here. Again, you pay nothing extra by using my links, it is just a way to help support this site, so again, I thank you in advance 

 More info is here on how you can help!
If you enjoyed this article/review, feel free to leave a comment at the bottom of this page and also be sure to join me on twitter, my facebook fan page and now GOOGLE +!
Also, you can subscribe to my feed at my subscribe page HERE and read these posts in your browser or news reader!