Photographing Tree's. By Ibraar Hussain
Dear Steve, I hope all's well mate.
I've really been enjoying the reviews and submissions and thought I'd add something else into the mix.
Here's a short article about photographing Tree's. Tree's are usually looked over, and ignored, they're just, well, tree's! they're always to be found and I love photographing them. Yes, I am a bit of a Tree Hugger, am quite conscious and positive towards 'green issues', and a 'born again Pagan', (not really, I just like the sound of the last bit! )
Tree's are very interesting and curious to photograph. they have a lot of character and charm. To look at and to study their shape, way of growth, form and texture is something which can be a very fulfilling task.
The best thing about them is that they're (more or less) to be found everywhere, in cities, along avenues and pathways, gardens, parks, forests, plains, high mountains, moorland, deserts and even in and around offices and shopping mauls – concrete jungles!
[ad#Adsense Blog Sq Embed Image]
They're also very interesting subjects on their own, collectively, or as part of a scene – urban or rural.
I like to mix it up bit and my pictures range from photographing a favourite tree at different times of the year with different mediums, (some folks have made some perfect examples of a tree during the year – blossoming in Spring, Fully laden in Summer, golden in Autumn and naked and bare in Winter – and of course covered with snow. Tom Mackie, a well-known landscape photographer has many examples, as does Joe Cornish and Charlie Waite in some of their books – superb stuff) to a shot of a scene where the line of tree's make up the main subject.
I also like to capture fascinating or strange or historical tree's such as The Druid oak in Burnham Beeches, or the major Oak in Sherwood Forest. I'm sure countries all over the world have their important landmark tree's – and these can make interesting subjects.
Another idea would be to create a sort of abstract photograph combining certain elements from a tree – whether the branches as I am won't to do, or the trunk – focussing on a specific aspect. Some people concentrate on the texture and look of the trunk – something which I think is very difficult to get 'right'.
And Infra red – as this makes the leaves resemble snow! You can get some crazy results with this medium (whether film or digital).
And of course, tree's can combine with the elements (both flora and fauna) in a landscape to make up the scene.
I also love to try to capture the play of light and shadow and the rays of the sun through branches when I am able to.
Anyway, here are some examples, and as for myself, I will be going out more as soon as the dire weather clears up, and will be having a look at interesting tree's in the City. I've also just received my Polaroid SX-70 and a pack of Impossible Colour Shade Film – and I reckon tree's will be amongst the things I'll be photographing with it!
This is of one of my favourite tree's in Epping Forest in Essex – just outside London. A lovely ancient forest which i enjoy walking in all year round.
it is an Oak, and a very attractive one at that, I just love the shape, the way the branches flow and extend upwards and outwards, and the curious shape of the trunk – the number 4 painted on it – well, I don't know what that's all about but I presume it's an important tree and has been registered with the Corporation of London who own the Forest.
I photographed it with Tri X 400 (developed with ID11) with a GA645 Fujifilm camera.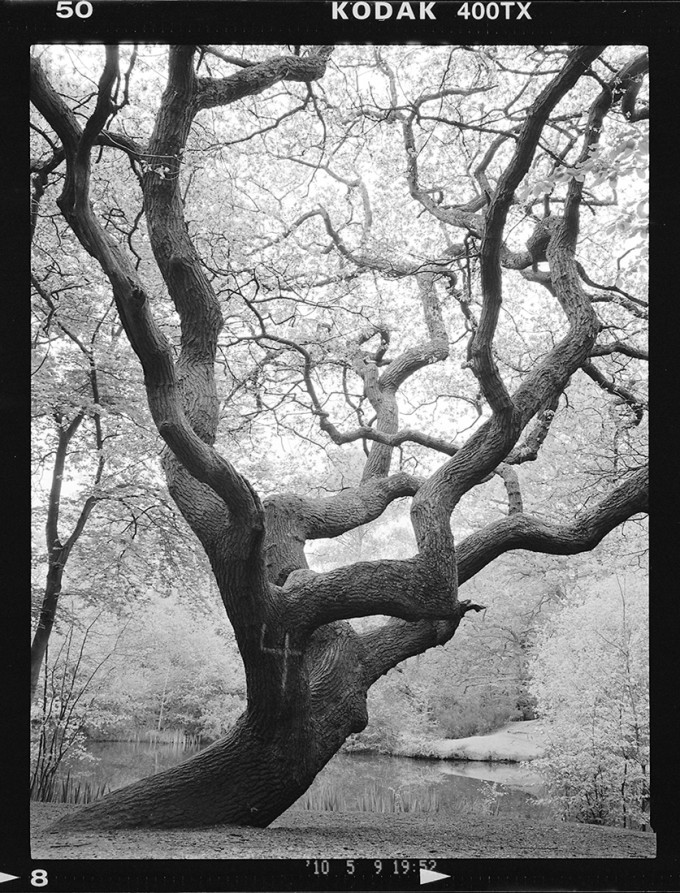 –
And I also snapped it with the same camera and Fuji Velvia film.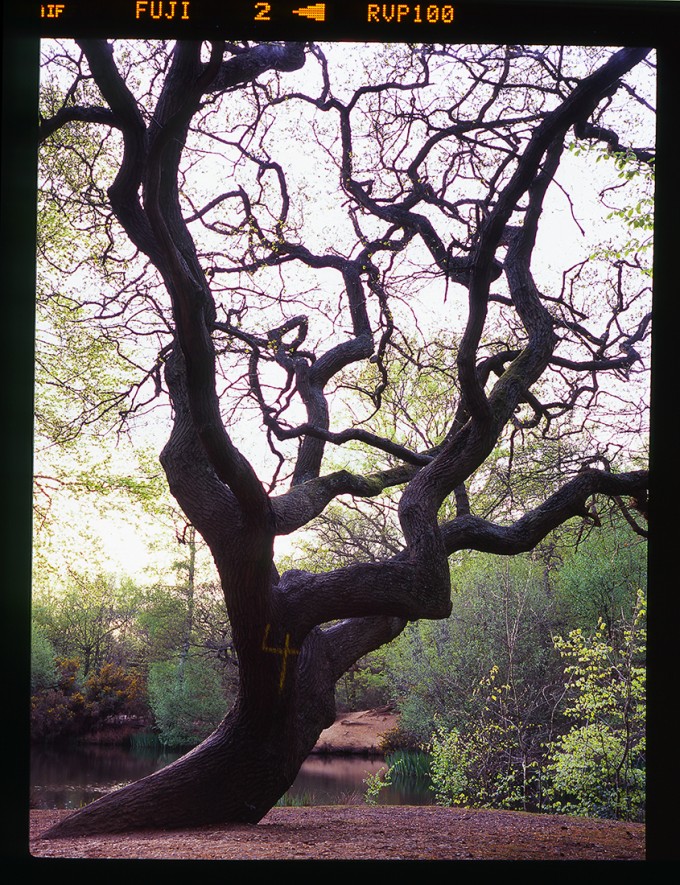 –
This is a very interesting and dominant tree I came across in The Chitral Gol national park in the Hindu Kush. I love the way it fills outwards. (Fuji GA645, Fuji Velvia 50)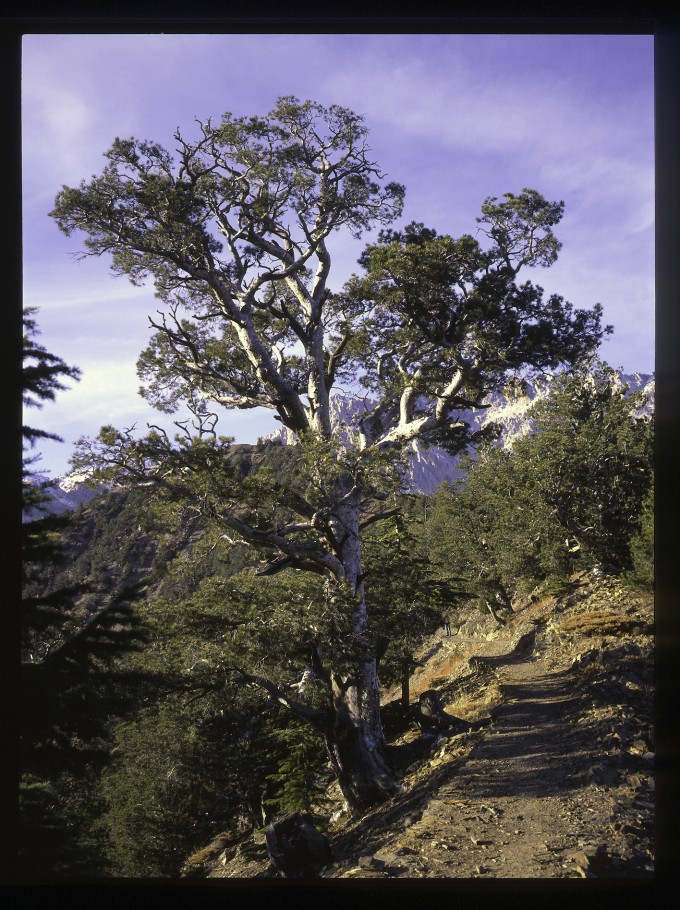 –
The Druid Oak, a 500 year old Oak in Burnham Beeches in Berkshire. (Contax G2, 21mm Biogon T* Kodak e100vs)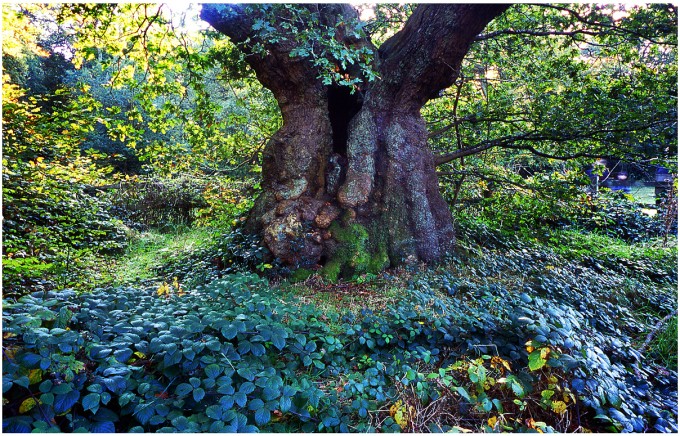 –
Line of trees in Osterley park – I love the form of the upper branches, the way the middle tree disrupts the shape,  and the reflections. (Fuji F200EXR converted to BW, dodge/burn, Film Grain added)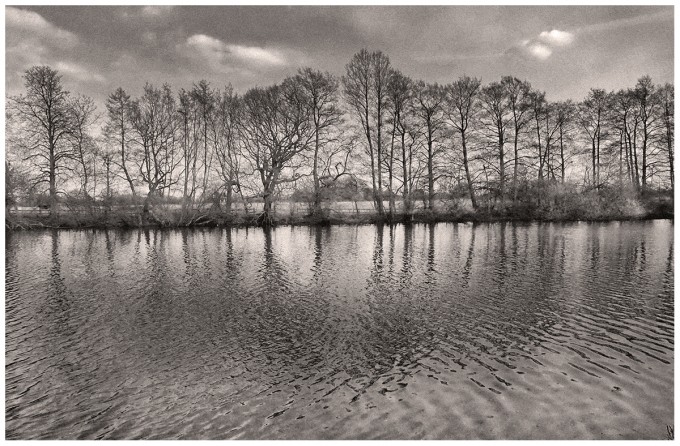 –
The following line of tree's is to be found near Turville in the Chiltern Hills. The Moon plus Red Kite add to some magic – i like this as it gives me the vibe of the place (Fuji GA645 Fuji Velvia 50)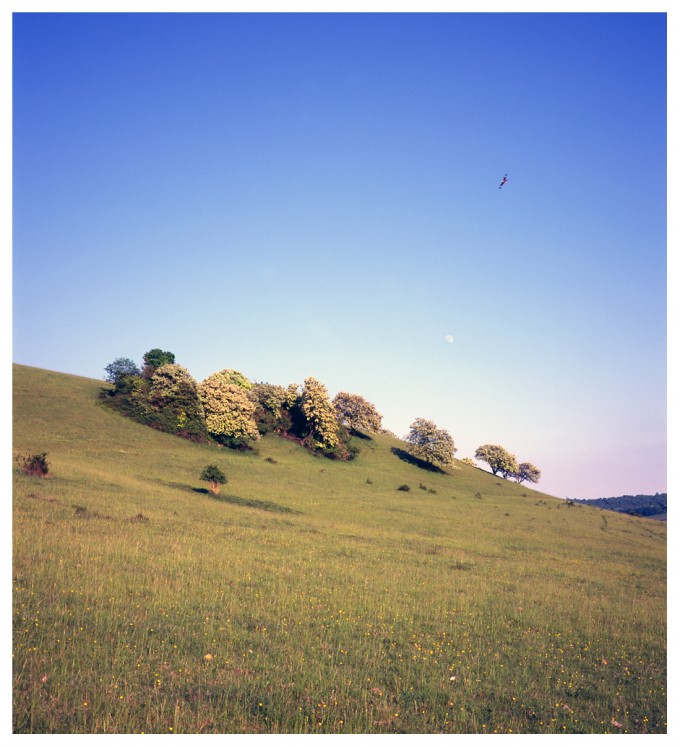 –
The following photos are in Epping Forest. The BW are my favourite as I wanted to capture the shafts of lights flltering through the branches and the magic they create in this beautiful spot. (Fuji GA645 Ilford Pan F 50 ID11)
The 3rd photo is a different spot – Fuji GA645 and Agfa RSX 200
–
This photo was a hit n miss affair with the Contax G2 21mm Biogon and a red 25 filter. The Film was Kodak HIE Infra-red, which I didn't have a clue how to expose for, nor develop – so was pleased with the results. Virginia Waters – Surrey
–
The following is a snap of branches, I like the light and shade and reach of the branches backlit. Epping Forest. Fuji GA645. Ilford Pan F 50.