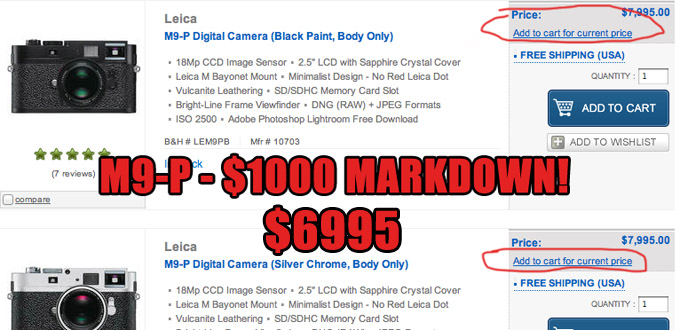 OFFICIAL: Leica M9 and M9-P Markdown 
Great news. The Leica M9 and M9-P are officially marked down in price. Last week I mentioned that Dale Photo had a $1000 markdown on the M9-P and $500 mark down on the M9. You can read about their specials HERE. 
This week, B&H Photo joined the price slash bandwagon and I was told these are now official markdowns. M9-P goes from $7995 to $6995 and M9 from $6995 to $6495. This is a huge savings for a camera of this caliber. Never in the history of Leica do I remember anytime that they cleared out stock of cameras at a reduced price.
PopFlash.com also added the markdown and I am assuming Ken Hansen is also in on the action (his e-mail is khpny19@aol.com)
WHAT COULD THIS MEAN?
Well, I read this as Leica trying  to clear out mass amounts of M9 and M9-P stock before the M10 is launched in 2013. I think Leica will announce and show an M10 at Photokina and deliver the M10 by March of 2013. Just a hunch really but between now and then they will need to sell off the M9 and M9-P's sittin on dealers shelves and their own warehouse. It's no secret that sales of the M9 have slowed down dramatically lately because many are realizing that an M10 is close.
This may also mean that the M10 could be priced in at $7995 or even $8495. Less than the $9500+ I had previously thought. Maybe Leica has finally decided to NOT up each release by a couple of thousand dollars. I really have no clue but we shall see soon enough as Photokina is right around the corner.
With the new price drops we should start seeing used prices of the M9 and M9-P drop a little more as well.
If you want to pick up an M9 at these prices check out the links below – You must add the cameras to your cart to see discount!
M9-P Chrome at B&H Photo $6995
and Dale Photo has their specials going as well HERE – You must add camera to cart to see discount! I am sure Ken Hansen has the specials and you can e-mail him here.
PopFlash.com has 'em too so you have MANY choices to get your M9 fix…or you can wait for the upcoming M10 🙂