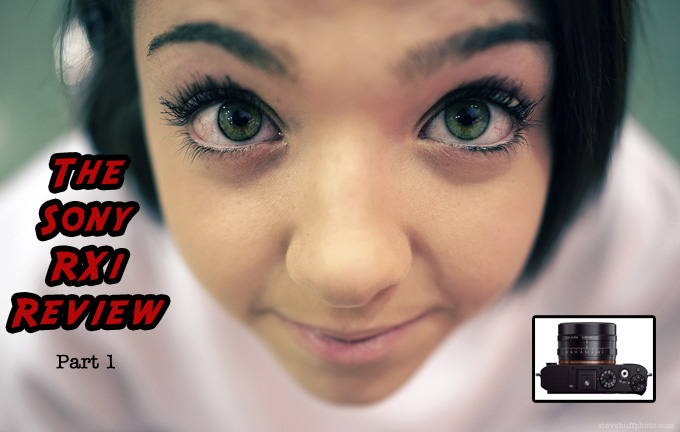 The Sony RX1 Digital Camera Review Part 1: 1st Thoughts, 1st Samples, Auto Focus, and JPEG's
Welcome to Part 1 of my Sony RX1 Real World Review. This will be the "Meat & Potatoes" of the review with the next installment (part 2) touching on performance aspects as well as the pros and cons of real world use.  By the end of the final part in this review you will have all of the info you need as well as loads of samples from JPEG, RAW, crops, ISO tests, crop mode shots, full size samples as well as my thoughts on durability, lack of an EVF, cost, accesory reviews and much more. 
But any way you look at it this camera is special. It is REVOLUTIONARY instead of EVOLUTIONARY. I will go over it's amazing abilities as well as areas where it fails. So hold on, sit back and enjoy part 1 which is going to cover the main aspects of the Sony RX1 with some JPEG samples and my thoughts on what Sony did right and did wrong with the design. Enjoy. Part 2 will be up in 1-2 weeks with full size RAW samples and more high ISO across  the entire range from 50-25,600 and EVF/OVF thoughts and images.
PART 2 of the review is HERE
 The whole shebang..the RX1 means business.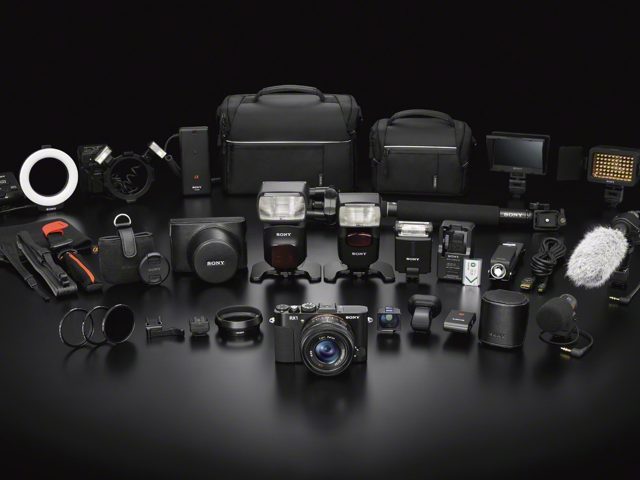 What is the Sony RX1?
It's a natural-light image-taking motivating and surprisingly sweet MONSTER! Seriously though, for those that do not know what the Sony RX1 is, well, it is the 1st of its kind and no, Canon or Nikon did not pull it off, Sony did. To make a long story short it is a full frame 35mm sensor compact camera with a stellar FIXED 35mm Zeiss lens attached. This has its pros and cons but I like to find the pros for a fixed lens camera and with the RX1 there are loads of them. This camera has a pro build, pro feel and the performance is astonishing. About as good as it gets in 35mm.
[ad#Adsense Blog Sq Embed Image]
I will say this right now. Personally, I'd take an RX1 over a Nikon D4 ANY DAY OF THE WEEK  (due to size and weight). Regardless of cost. Yea, the image quality is THAT good and the size..well the RX1 can fit in my coat pocket. I had a D4 here for a month and between the size and weight and large lenses I was let down. The RX1 is giving me better results and images than I got with the D4 only because the RX1 would go with me EVERYWHERE. I mean..EVERYWHERE. Please notice the key word in my statement "I'd" – as in ME. I would take an RX1 over a D4. I do not need an elaborate flash system, super wide angle lenses, 400mm telephoto lenses or the things a DSLR brings to the table. This is not what the Sony RX1 is all about. Instead, it is about portability and super high image quality that has almost no compromise when it comes to that image quality. Throw it in your coat pocket, small bag or purse and GO.
This is a camera that no one else has dared make, probably to avoid hurting their DSLR sales. Sony who grew some big balls with the NEX-7 just grew them bigger with the RX-1.
Waiting for a Home – Sony RX1 – f/2 – *from RAW* – click for larger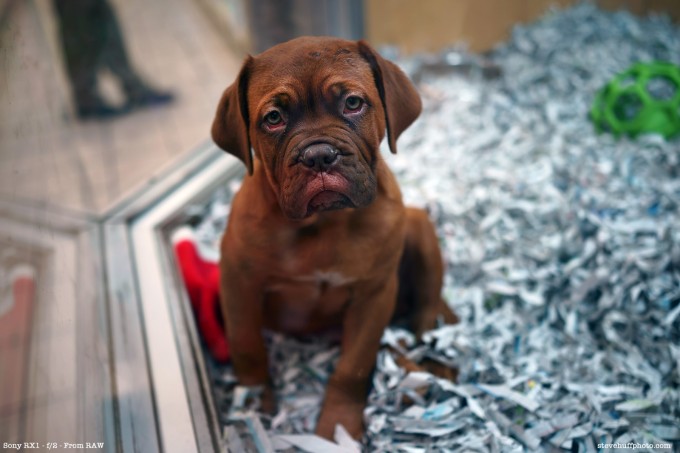 Sony's own words on the RX1:
 "Settling for nothing less than the best possible image quality, Sony aligned the bright 35mm Carl Zeiss lens and 35mm full frame image sensor with a precision beyond anything possible in interchangeable lens cameras. The performance of the lens, sensor and imaging engine were also fine tuned to perfectly complement each other to acheieve image quality never seen before in a compact user friendly camera".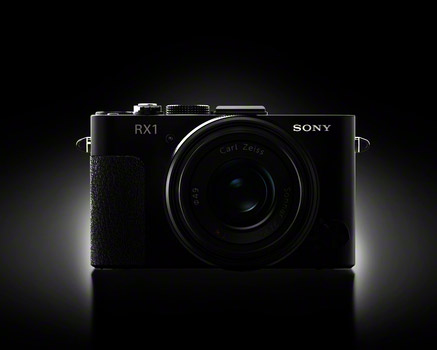 What would a part 1 review be without the basic Specs of the RX1?
Full Frame 24MP CMOS Sensor – and it is one hell of a sensor!
JPEG, 14-bit RAW Image Capture – Nice.
35mm f/2.0 Carl Zeiss Sonnar T* Lens – Carl Zeiss. Nuff said.
Xtra Fine 3″ LCD Display – Can see it in bright light as well.
Full HD 1080p Video at 24 or 60fps
High Speed AF – AF is fast but not blazing
Dedicated Focus, Iris and Macro Rings – Love this feature
Full Frame 24MP Bursts at up to 5fps
Hot Shoe for External Flash, Viewfinder
Auto HDR Protects Highlight and Shadow
So while this all looks amazing on paper what is missing is the built in EVF..but more on that in a bit…
The Sony RX-1  – JPEG – ISO 640 – f/2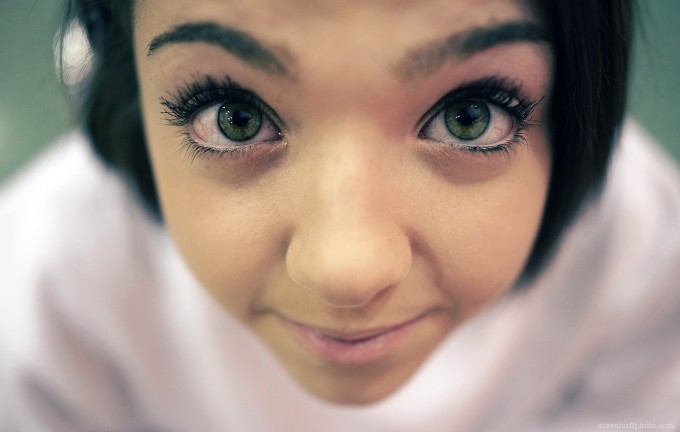 –
Intro: My 1st thoughts on the full production RX1
When Sony slipped me the information that they were releasing a full frame compact fixed lens camera with a Carl Zeiss 35 f/2 lens and they claimed it would have a sensor that would be any 35mm format camera on the market my very 1st thoughts were…disappointment. Like many of you I was secretly hoping for the full frame NEX camera knowing full well that if they did this they would need a whole new lens mount and lenses. The current NEX E mount lenses are NOT full frame lenses. They work much like the Nikon DX lenses do for the APS-C Nikon camera bodies, so yea, they would have needed all new lenses made for a full frame imaging sensor.
I was also disappointed in the fact that this new groundbreaking full frame compact camera did NOT have a built in EVF of any kind. But as of today, after trying out the camera for a solid week a few weeks ago and now having a full on production sample in my hands for a while I have changed my thoughts a little bit. No longer am I upset that they did not release the rumored full frame NEX system camera. In fact, I am pleased that they didn't do this. It would have been a big fat mess with lack of lenses just like we all went through with the 1st year and a half of the standard E mount lenses. There would have also been a question of lens quality. If there were a full frame NEX the lenses would have probably been in the $500 range and very good but not having a true "WOW" factor.
Some would complain of lens softness, slow AF speed, soft corners, etc. The camera would have been bigger and  thicker than a NEX-7 and it would have taken away what the whole NEX system is about. Size.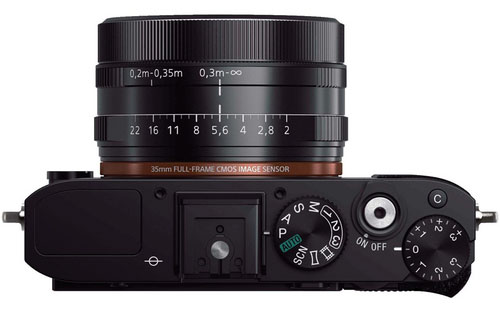 So instead of going that route Sony decided to do what no other camera company has even come close to doing. That was to create the all new RX1 which is a compact, solidly built fixed lens full frame digital camera. So why is the RX1 so special and SO expensive? Coming in at $2799 for the camera without any accessories is sort of a bold move on Sony's part..but then again, I think they knew what they had in this little guy that is hard for many of us to understand. Recently Sony released the amazing RX100, which I dubbed the best compact camera EVER. That little pocket rocket was a quite astonishing little teeny thing that pumped out superb image quality. You can read my review of that one HERE.
When they emailed me last week saying "we are sending you a production and final RX1 for review" I was jumping for joy as this is a camera I was waiting for and had high hopes for. I was excited about reviewing this one just because I know what it is all about and it also MOTIVATES. Yea, it is one of those. A motivator. Much like Leica…the RX1 can motivate you to go out and shoot and even try things you would not normally try just due to the no compromise design and performance.
My 1st thoughts when I opened the packaged RX1 was "Ahhhh..there she is..and she feels better than before..more solid". The camera instantly excited and motivated me..much more so than the NEX5R and 6 that were laying besides it mainly because like I said, the RX1 is revolutionary while the NEX series is now all about "evolution"  – more of the same with improvements here and there.
The RX1 has the gorgeous full frame sensor which means no more compromising on Depth Of Field. No more having to spend $7000 on a Leica to achieve these results. No more having to lug a huge DSLR and lenses around to get the creaminess of a Zeiss 35mm f/2. We now have a choice and while we are limited to a 35 f/2 with the RX1, it is quite the versatile machine. My very 1st impressions out of the box were VERY positive but still, not having a built in EVF was bugging me a little. I mean, if it were included, even if it meant making the camera a little larger…it would have been a super grand slam hit. Without the built in EVF it is still a bonafide home run, and with the IQ that comes from this little magic box I can almost forgive the EVF issue, especially since Sony has a pretty damn amazing one available to add on to the camera (though at an extra cost).
The Sony RX-1  – JPEG – ISO 6400 in VERY low light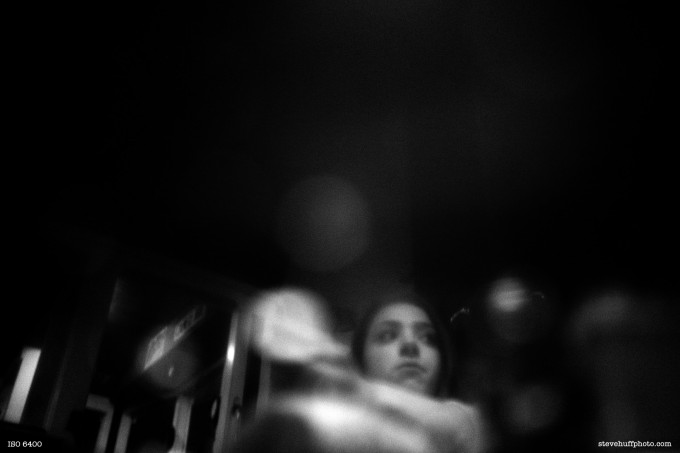 The RX1 Build…yea, it's impressive. 
When I tried this camera for the week in California at the big Sony shindig I was thrilled with the cameras performance. After getting a full production model I am beyond thrilled. Sony has improved the feel somehow and I cant figure out what it is that they did. It feels even more solid and tank like though not heavy. It makes any Fuji X feel like a toy in comparison in the build department. For example, the Fuji X-Pro 1 is large and hollow feeling. The RX1 feels like it is machined from a brick of metal with pieces carved out for the controls. In other words, the build is about as good as you can get in a camera like this. It feels on par with Leica in the build department which is good because it seems Sony was on a mission with this camera. That mission? To deliver what the enthusiasts have been wanting and waiting for (well, almost)…a full frame no compromise image quality monster that also is made to withstand some daily abuse . Even the lens cap has a metal heft to it with screws in the back of it!
In fact, I will put out a spoiler here right now..and it is a bold statement. Remember, I get to use every camera that is made if I desire. I have had all of the big guns in this house..Nikon D4, D800, Leica M9, Leica Monochrom, etc. You name it I have tried it. Even if you do not see reviews for some cameras on this site that does not mean I have not tried them. So what I am about to say is bold but here it goes…I have never had a 35mm format camera in my hands that...wait..why I am saying this now? No, I will wait 🙂 Back on track….
Sony may have left out a couple of things that I really wish were here but after using this camera more and more I realize how special it is and even if it does not have a built in EVF, I have never gotten results like this so easily with any other camera…ever.
RX1 – JPEG – f/2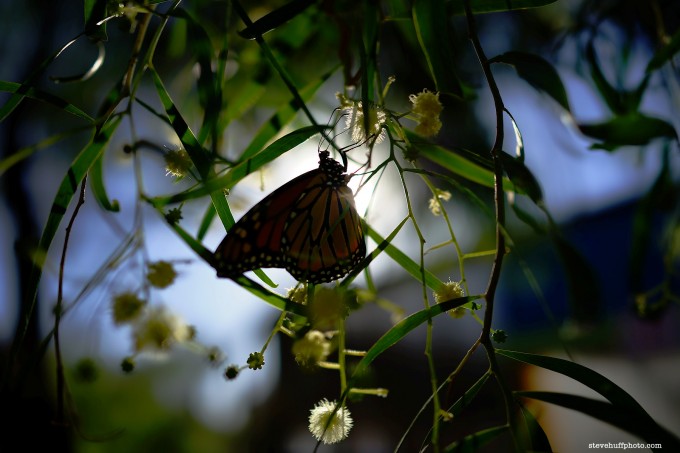 It's all about results and creating YOUR vision
Speaking of getting good results with ease. This comes when you do not have to fight a camera to get the results you envision in your head. Much like when you buy a new guitar..some cheap guitars play like garbage..and you have to fight the damn thing to get it to do what you want it to do. Premium guitars play with much more ease and can actually make you sound and play better. The Sony RX1 is sort of like this. It seems that no matter what light situation I was in, no matter what aperture I shot at, no matter what I snapped…it pumped out results I envisioned in my head. In other words, it was expressing what I wanted it to. For example, that Butterfly shot above? Exactly what I envisioned before taking the shot. The RX1 spit it out and said "Is that all you got"? Harsh light, low light, flat light..the dynamic range of this sensor continually pumped out pleasing to the eye results.
I could not do a shot like the butterfly shot above with my Leica because it doesn't focus as close. I could not get this shot with my Olympus OM-D because I did not have the right lens with me. The D-Lux 6 would have never rendered this scene with this kind of look. A Fuji X-Pro 1 would have been fighting with me to actually focus on what I wanted and by the time it finished the Butterfly would have been gone.
With the RX1, the mix of high Dynamic Range, Crazy Detail and Beautiful Bokeh make this shot. This is one of those cases where the camera DID help the photographer. I snapped many shots of this with the Olympus OM-D and 60 Macro and even my Leica Monochrom with a 50 but none looked like the one from the RX1 which has a mix of beauty, magic and something special that makes for a "WOW" image.
I can say the same for the "EYES" shot at the top of the page. The ability for this camera to focus as close as .2 meters makes it very useful. You can shoot close for some cool effects. Add this with the insane detail and sharpness of the sensor and you have a recipe for some magic. Keep in mind that EVERY single image in this part 1 review besides the very 1st one of the dog was shot as a JPEG which will lead me to this statement that I stand by 100%: I have never had a 35mm format camera in my hands that delivered such beautiful out of camera results. In other words, in my opinion…The Sony RX1 is the best JPEG camera I have ever shot with. Period.
Sony RX1 – f/2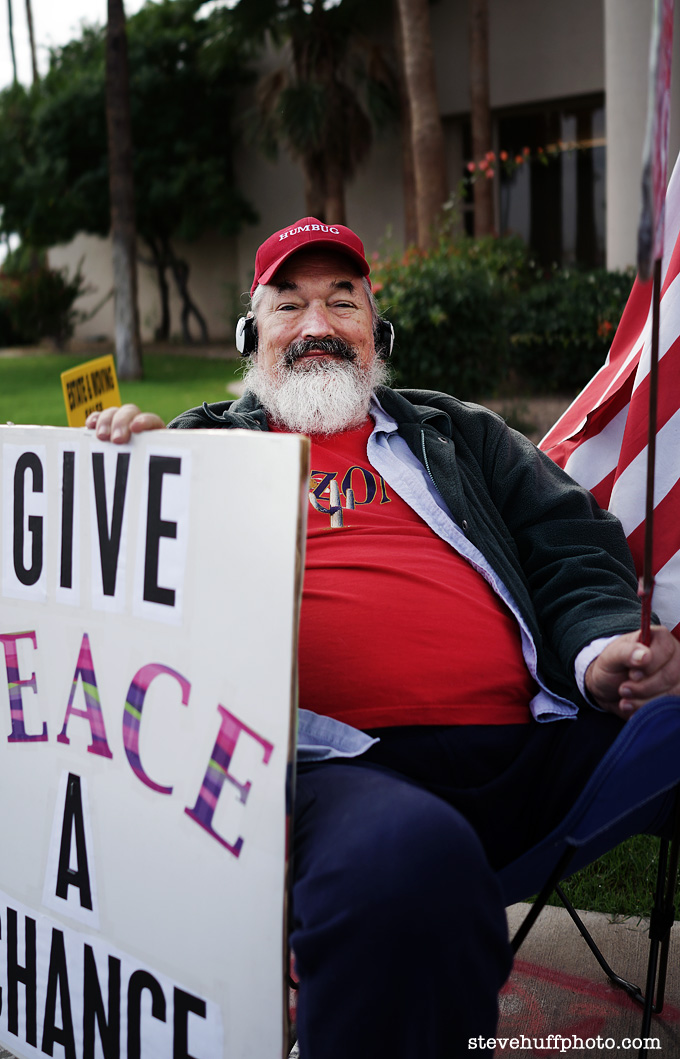 Sony RX1 JPEG output – The best JPEG camera EVER? 
I have to say that I have never seen JPEG output from a camera that is so rich, so sharp and so nice. At this point I have not even looked at any RAW files yet because the only software that supports it is from Sony, and the software sucks. I have downloaded it though and will be processing RAW files for part 2 of the review and I expect the RAW files to blow me away. With JPEGs this good the RAW files have to be phenomenal. So back to the JPEGS I am raving about…they are very hardy files themselves and I would not hesitate to shoot JPEG every day for my family shots and casual snaps. Let us take a look at a JPEG file from the RX1 and the possibilities. For this example I am using an image I shot in "High Contrast B&W Mode". This will give you an idea of the sharpness, ISO capability, and Dynamic Range of an RX1 file, even with in camera processing applied to make this a deep black contrasty shot. It will also give you an idea of what to expect from this in camera filter.
CLICK images for larger…The out of camera JPEG – contrasty, deep blacks..just as the mode implies. ISO 1600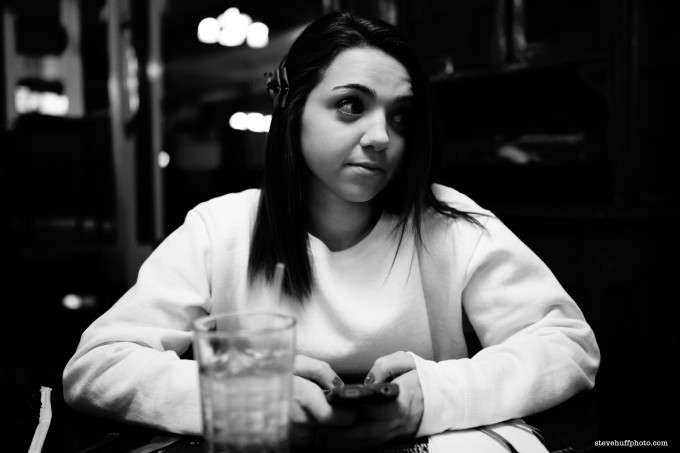 –
with some highlight recovery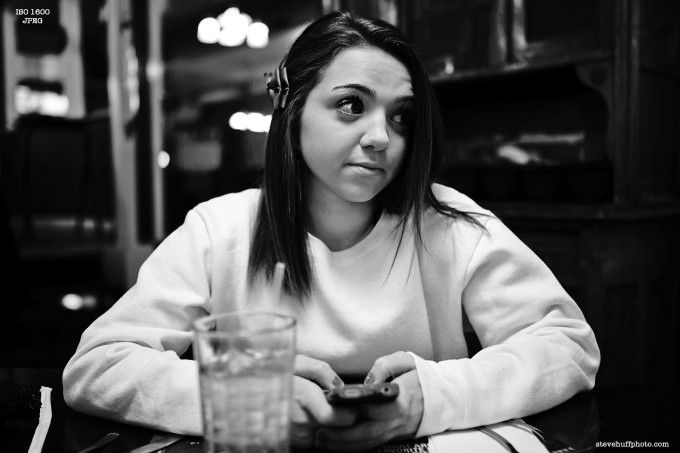 –
and a crop from this ISO 1600 JPEG
NOTE: The camera, even inside this very low light restaurant never failed to focus but did hunt a few times. It still locked and gave me sharp results from an OOC JPEG using an in camera B&W filter and has enough DR to pull out plenty of detail. I could have went farther but pulling out too much will cause an HDR effect, which I am not a fan of.  In part 2 I will do this with a standard RAW file to see what we get but I am VERY impressed with the out of camera JPEG files. 
–
The RX1 Auto Focus – PASS or FAIL?
Happily, the Auto Focus speed has also been improved since I last used the RX1. Gone is the constant lens shifting and moving which Sony told me before was intentional to speed up AF. It was a concern of mine then because I felt it could drain the battery. The good news is that this is gone and the lens is still and silent and no longer shifts and moves trying to focus even when you are not using it. It seems Sony tweaked the firmware and the camera now focuses even faster than it did during that trial week with the camera. If I had to guess I would say it is on par with the NEX-6, NEX-5R and almost OM-D. Once the light gets low though the AF does indeed hunt. But I am talking low light…no contrast light. But have no fear there either..the manual focus implementation is good. Very good. It easily beats the Fuji X line with manual focus. I only use center point focus and that is how I shoot ALL cameras. I do not think that the Sony would be a good camera for tracking fast action but for 90% of photography it seems to work well.
This camera would make a GREAT street camera, even using manual focus. You can set your distance (roughly) on the LCD and fire away. Setting the ISO high, black and white..could be interesting.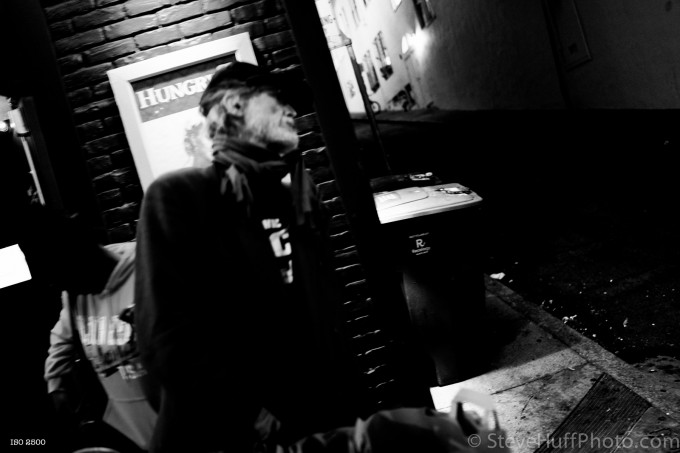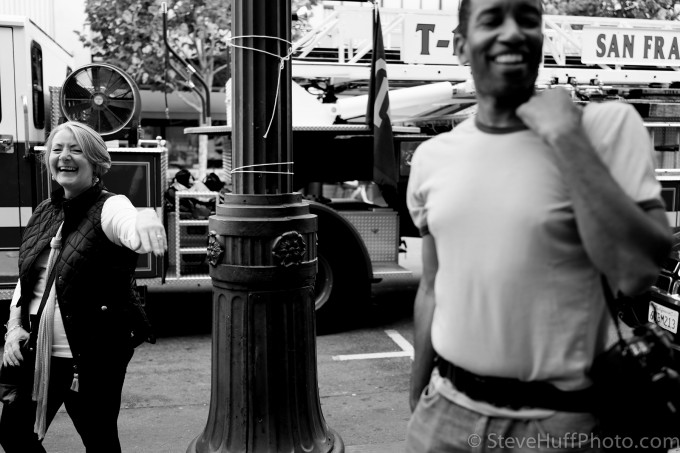 –
ISO 8000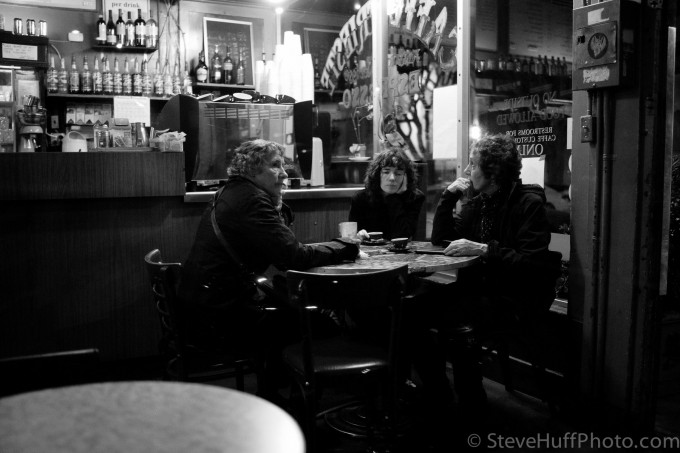 –
ISO 25,600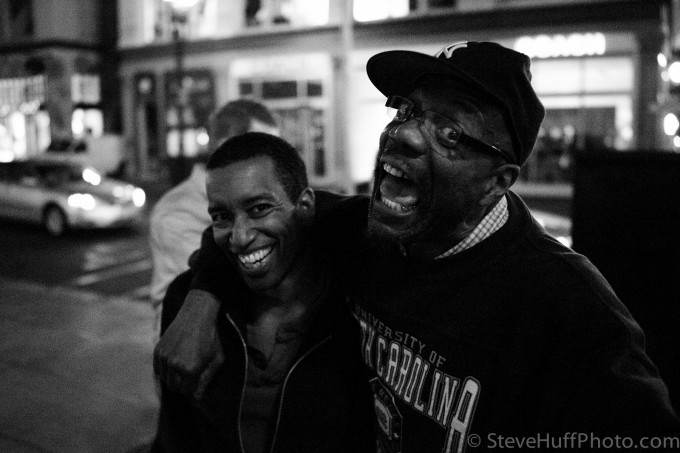 The lens on the camera has the aperture dial and a focus dial. The Aperture dial is nice and firm and the clicks come in with Authority and they stay locked in. It feels like a high quality lens should feel. The focus ring is also smooth and buttery. If you have focus assist turned on in the camera then you will get an exploded view of your scene for easy manual focus and this is when you can use focus peaking as well if you desire.
Video showing the size of the RX1 with a quick AF speed sample
–
FOCUS PEAKING..yes it is here but only when using manual focus assistance (magnification)
For some reason you can only use Focus Peaking when you use Manual Focus Assist. Not sure why this is but if you turn on focus peaking and set the front dial to MF (Manual Focus) the camera will not "PEAK". You also have to turn on the manual focus assist for this to work which means you will have an expanded exploded view when using manual focus. This also works and ensures you nail the focus. I have tested it and found it to work just fine but wish that Sony would have added peaking in the normal framing view as well.
So Auto Focus Speed? Very Good but could be faster in super low light. Manual Focus? Easy and implemented nicely – smooth focus ring.
One other thing I noticed is that shooting the RX1 has not given me any false positives..meaning when the camera has locked, it is really in focus. I used to have issues with the NEX-7 in particular where it would say it is in focus but it really was not. So far the hit rate with the RX1 is 100% in regards to accuracy. I will report if that changes as I use the camera more and more.
RX1 – JPEG – f/2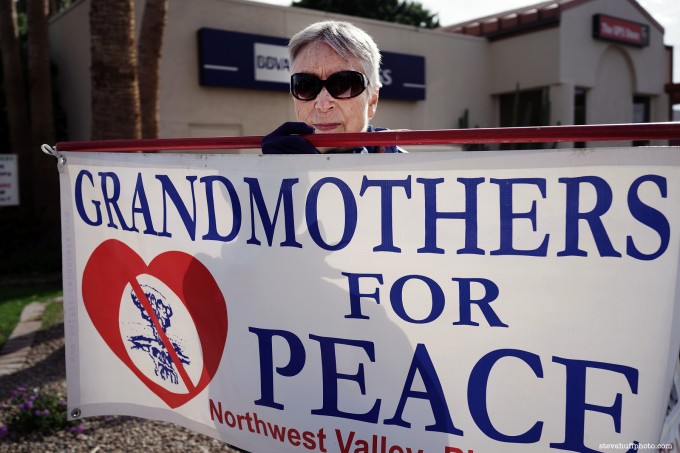 –
The 35mm f/2 Zeiss – THIS one has that Zeiss Character, and I love it!
When Sony released the Zeiss 24 1.8 for the NEX system I applauded this choice because it gives a 35mm equivalent with a quality lens and aperture. BUT when I shot with it I did not get that "Zeiss" feeling like I do when I shoot Zeiss ZM lenses on my Leica M. The RX1 Zeiss 35 f/2 DOES give me that Zeiss pop and color I expect from a great Zeiss lens. I was thrilled when I saw the color, the details and the 3D pop from the lens and sensor combo. It seems the colors coming out of the RX1 are very Zeiss like instead of very Sony like. This is a good thing.
The lens protrudes a bit from the body but what many may not know is that the lens is actually almost all the way INSIDE of the RX1 body as well. This is one more thing that makes the camera special and give such amazing performance. The Sensor is matched to the Lens perfectly and therefore will give amazing results every single time. No guessing if the lens is soft, has soft corners or has issues. The RX1 gets it right every time, every snap every press of that shutter button. You never have to worry which lens to bring or if that lens will give you what you need.
QUICK LENS TIP: When you get the RX1 be sure to go into the settings and turn ON the Lens Distortion Correction. For some odd reason it is shipped with it set to off and with it set to off you will get some barrel distortion. Turn it on and all out of camera JPEGS will be corrected. 
When shooting one camera/one lens you grow as a photographer. You learn to see in that focal length and it is a good thing. Also, do not let anyone tell you that a 35mm focal length is no good for portraits or people because it certainly can be. Maybe not head shots but full length works out just fine.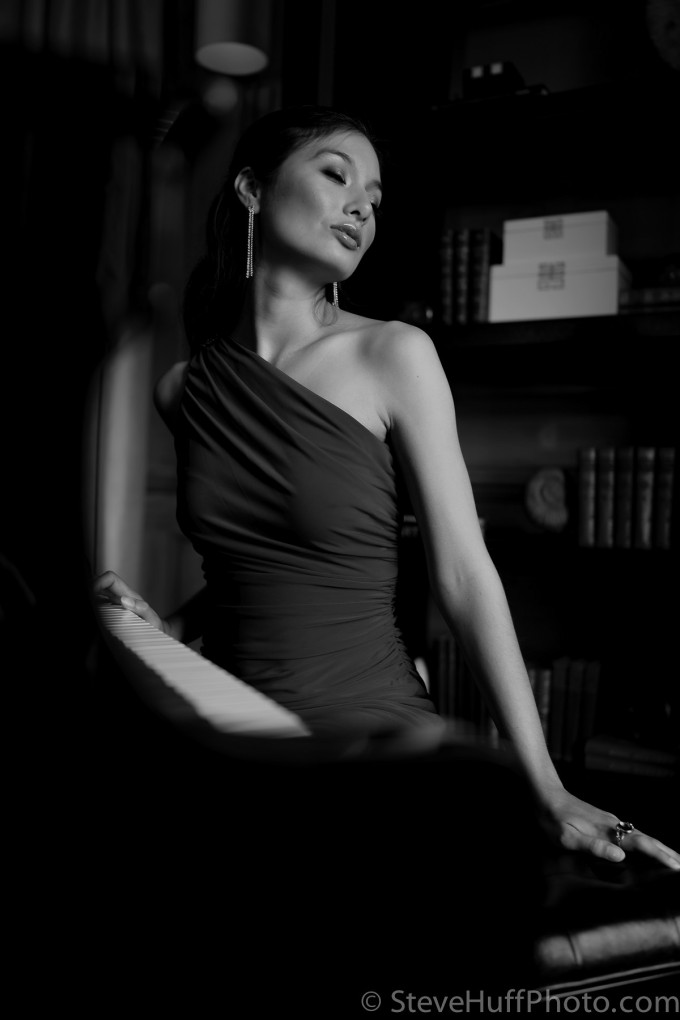 The Zeiss 35 f/2, just going by the JPEGs for now, is incredibly sharp but at the same time very creamy and smooth. It is NEVER harsh of rough and the bokeh, in my opinion, is about as good as it can be from a lens like this. I have NO COMPLAINTS at all from the lens.
If I had to say something negative about it then I could say..well, it makes  the camera larger, but then again, this camera is TINY when you think about what it can do! It's the same size as a OM-D, slight larger than a Leica D-Lux 6 yet it has one of the best full frame, if not the best full frame sensor currently made. So the lens is actually not large at all. Also, as stated in my "lens tip" above, this lens does have some distortion so it is VITAL that if shooting JPEG that you turn on the Distortion Correction in the menu. If you do not (and for some reason the default is OFF, which is crazy) then you will get some barrel distortion that is noticeable. All of the images posted here were shot with it ON.
Bottom line? This is a great lens for this camera and Sony knew what they were doing when they matched it up. I have no doubt that doing this (matched built in lens to the body/sensor) is what makes the IQ so good. Yes, the image quality is superb and the build of the lens is solid with the aperture clicks and focus feel and the image quality is ALL ZEISS. Color, POP, Detail and Feel.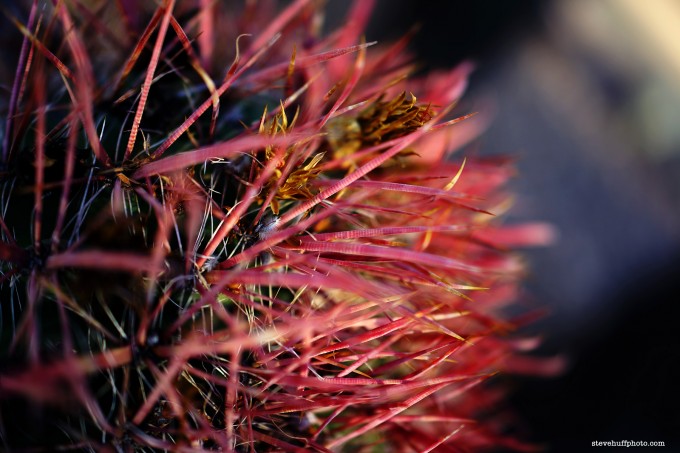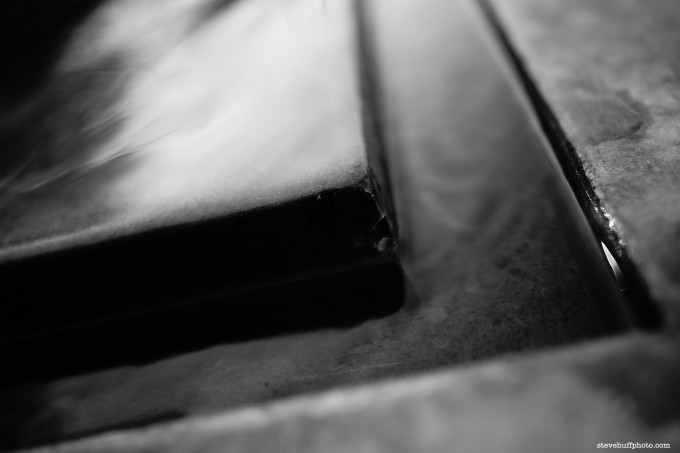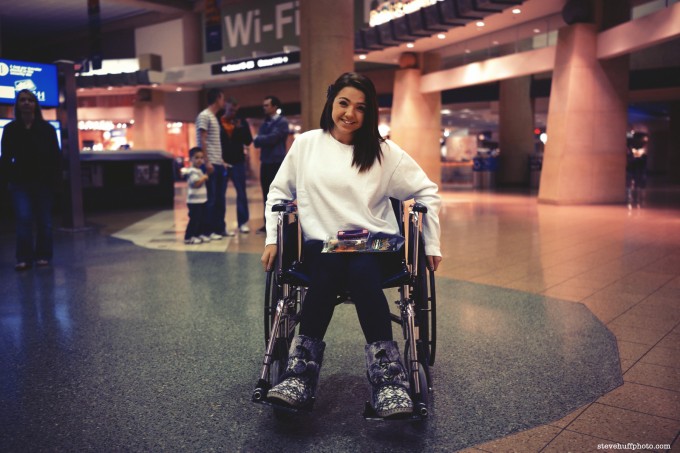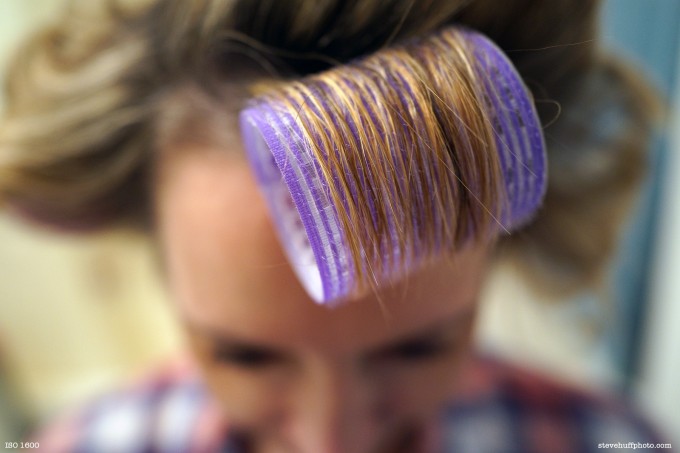 Usability Factor. Can the RX1 deliver in this oh so important area? 
This is huge because as good as a camera is in delivering the IQ it doesn't mean squat if it is a pain to use. I spoke earlier about not having to fight with a camera to get great results. Some cameras do just that…they fight with you. They have slow twitchy focus, rattly lenses or they mis focus when the camera tells you it has locked. These cameras usually feel like prototypes and I have come across quite a few cameras like this in the last 10 years. The Sony RX1, so far, seems pretty polished. From it's build and speed to it's usability. If it had a built in EVF it would be better and more joyful to use for sure. As it is, I found the external EVF to be pretty fantastic. It makes the camera larger and taller but it is an exceptional quality electronic viewfinder. The user interface and menus are also easy to use and once your camera is set up you can have direct access one button press to any feature you like. Aperture is controlled on the lens and shutter speed is controlled by a dial on the back. Any button on the camera can be customized to perform whatever task you like so for this reason I can say the camera, once set up to your liking, will be a joy to use.
The LCD on the back is huge, crisp and clear. It also is viewable in daylight so it is not like you can not see what you are doing. Yes you can frame your shot though you will look like an amateur with a sexy point and shoot. Again, an EVF built in would have been amazing and I know many who are skipping this camera just because of this missing feature. It is a shame because the RX1 is one hell of a camera and without a doubt would have had many more buyers with a built in EVF. BUT, even how it is right now, without a built in EVF…for ME:
it is my #1 pick for camera of the year 2012. Yes, my #1 pick for Camera of the Year for 2012.
The RX1 is easy to use. It is quick and delivers stunning photographs. It is a camera that will not fight you and it will deliver results better than you expect. It will allow you to be creative and deliver on what you envision. Would it be better with the built in EVF? YES YES YES but for me it is not a deal breaker without one because the external ROCKS and works well. This is a world's 1st to have a full frame 35mm sensor in such a compact body but it is more than that really..the camera as a whole was made to deliver a no compromise experience. The sensor and lens combo are perfectly matched.
"Weekend Rider" – RX1 – JPEG – f/5.6 – 1/160s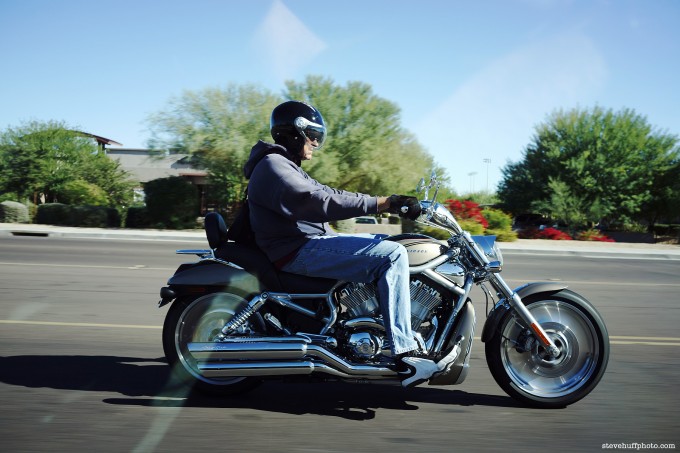 By request: The Sony RX1 vs Leica Monochrom and 35 Summilux FLE
Many have asked me to do a shootout between the Leica Monochrom and Sony RX1. It is not really a "Crazy" comparison but actually a very valid one. Full frame vs Full frame. How can the Sony RX1 do with an OOC B&W vs the Leica MM which is specially made to do just that? Again, these are JPEG files (RAW's will be coming in a future installment). The Sony comes in at 24 Megapixels with the latest sensor tech. The Monochrom is 18 Megapixels using the same sensor as the M9 with the color filters removed. I can already state one thing, that at F/2 on each camera the Mono/LUX combo is sharper out of the camera as long as you nail focus.
Take a look at the quick comparison shot below:
Click image for larger and full 100% crop. The 1st shot is the $2799 RX1 at f/2. Straight from camera JPEG with crop embedded.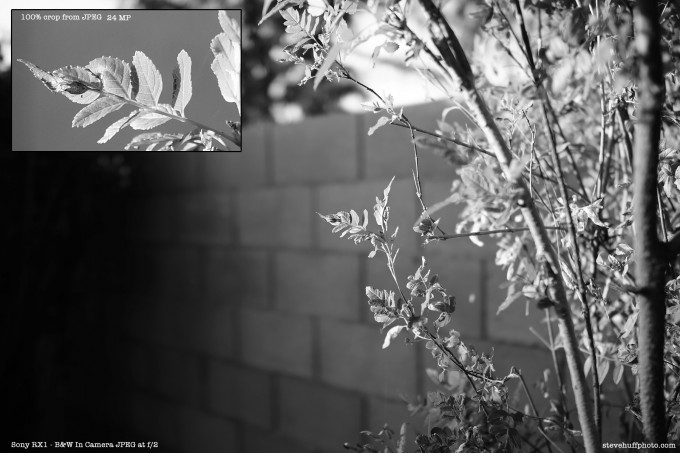 –
Below is the $13,000 combo from Leica, again, direct from camera JPEG.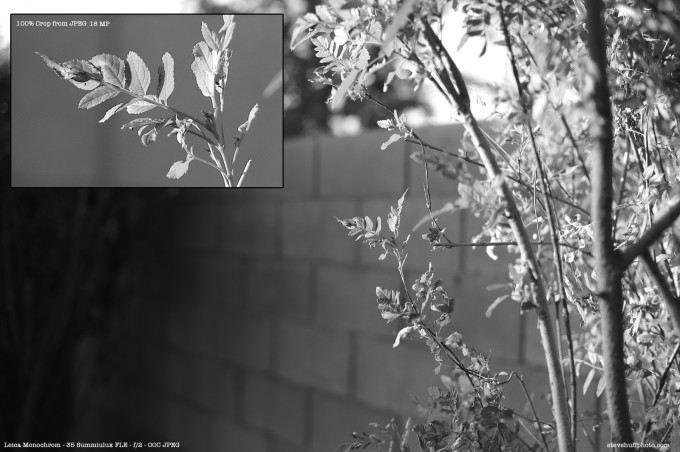 So there ya go. Can the RX1 compete with the $13,000 combo from Leica? Sure, but you do lose out on the whole rangefinder experience while doing so and still, in this JPEG test the Leica is indeed sharper. With an over $10,000 difference between the two setups one has to ask themselves if they are really that much into the Leica experience. Some of you are indeed, and what can I say..I own the Monochrom as well and love it to pieces and I feel a rangefinder is just my kind of camera to shoot with. But being honest 100%, the RX1 is a giant killer..literally. It can compete and win against camera like the Nikon D800, Canon 5DIII, and even Sony's A99 at a lower cost and without the need to worry about lens expense and choice, lens problems, focus issues, etc. It's simplicity is its biggest plus. It just works.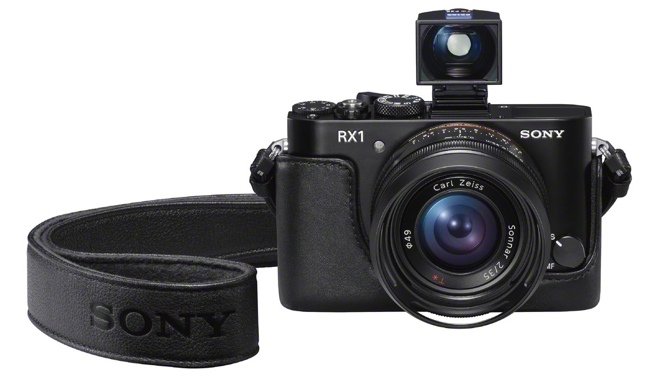 Bokehlicious…
Just as it says above. Many enthusiasts love to see what a lens can do in regards to Bokeh..well, the 35 Zeiss on this Sony is pretty nice IMO. Below are a few samples at f/2 to show Bokeh qualities. Again, click them for larger views. What I see is a molten creamy melting dreamy Zeiss signature all the way. Be sure to click the images for larger!!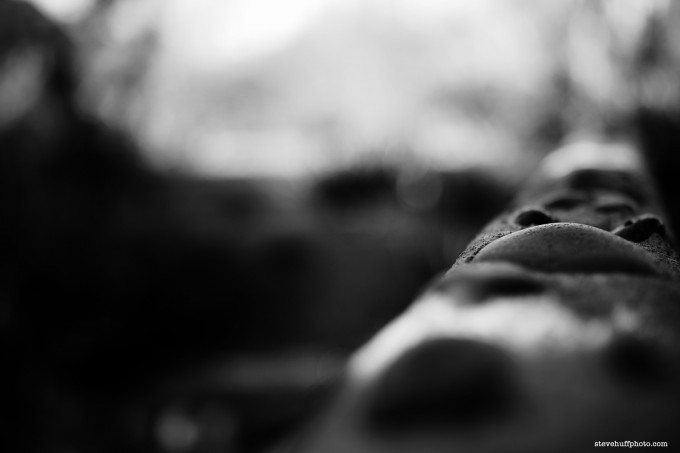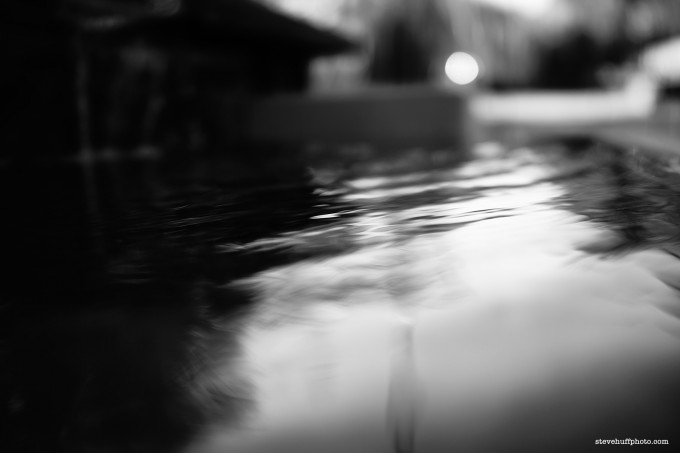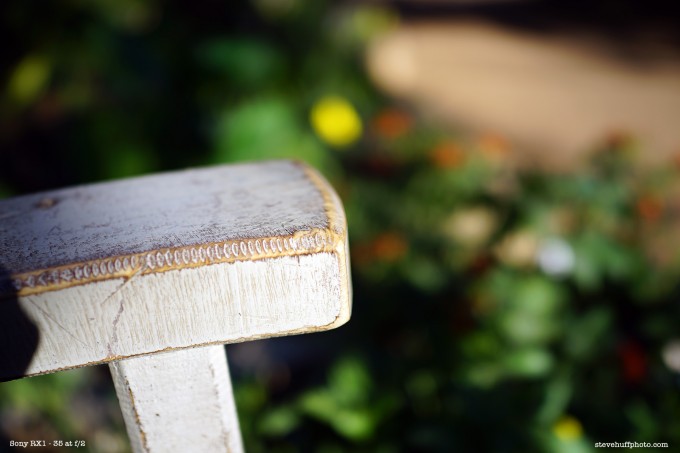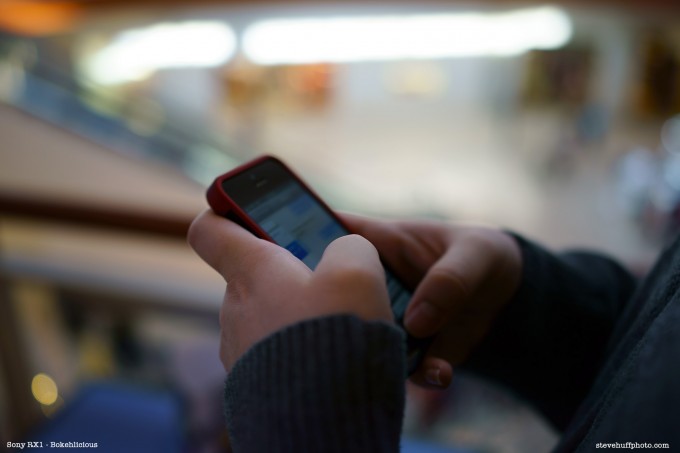 The CROP Mode..what is it and what can it do for you?
The Sony RX1 has a unique feature. Since the lens is a fixed (but gorgeous) 35mm f/2 many are saying "if it only had a 50"! Well, Sony has sort of made an odd but cool feature that will allow you to crop to 50mm or 75mm in camera. With a press of the "C" button on top (which is totally programmable to whatever you want it to be) I can go from 35mm view to 50mm view to 75mm view. Now, there are some major drawbacks to using this mode. 1st of all, you can only use this feature when in JPEG only mode and 2nd, you lose resolution and image size. The full frame 35mm file size is 6000X4000. In 50mm crop the image size is 3936X2624 and in 75mm crop the size is 2640X1760.
Sony also had the RX1 apply some trickery to the files in the crop mode so you do not lose IQ or sharpness. To get an idea of what each mode looks like from the same position you can see the three images below, all of which were shot at ISO 1600 indoor. Basically it is like taking the image and cropping it but the RX1 can do this in camera with the press of a button.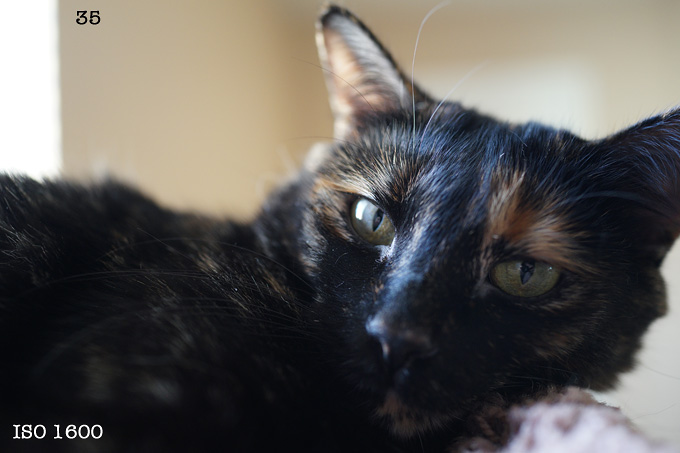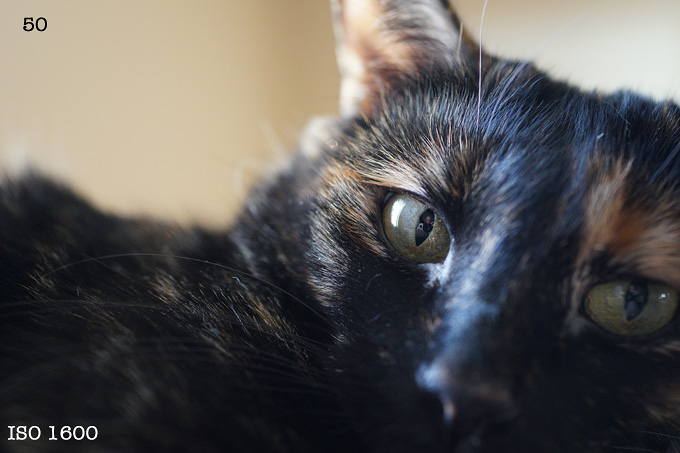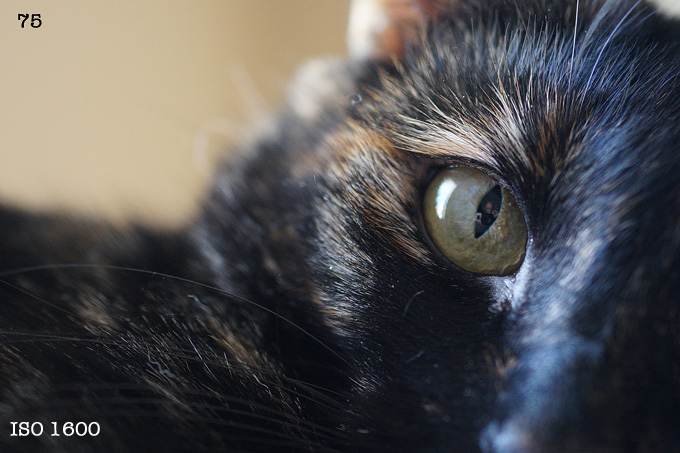 –
Wrapping up Part 1 and what is to come in Part 2 – HIGH ISO TEST, RAW CONVERSIONS, FULL SIZE SAMPLES, HD VIDEO, ACCESSORIES, FLASH and more!
So I will wrap this up because it is getting a little long for a part one review!  Almost 5600 words and I still have to talk about high ISO, full size samples, RAW, HD video, lack of EVF and if it hurts the usability at all,  accessories such as the EVF and OVF (which I have on the way) and all of the other good stuff like pros and cons, etc! So I hope you enjoyed part 1 and my thoughts on the camera from my limited use. There will be MUCH more to come on the RX1 and part two should be posted in 1-2 weeks. It is an exiting camera and so far so good.
UPDATE: New street shots in high ISO B&W – all OOC JPEG
So just some of what will be in PART 2:
Using the camera with and without AN EVF
Full ISO samples – low (50) to high (25,600)
Comparisons
HD Video Quality and Samples
RAW Files and Detail, Lens Sharpness, etc
Pros and Cons
Bottom Line Conclusion
The Sony RX1 EVF, available for order separately at Amazon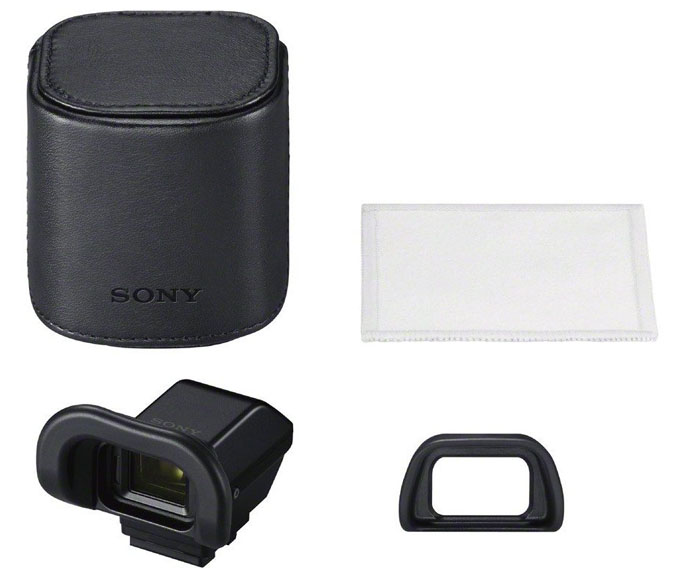 WHERE TO BUY the RX1 and Accessories
Those who pre-ordered the RX1 should be getting them in the next 2 weeks or so. If you have not yet pre-ordered I am guessing Sony will have many of them at launch but it is indeed selling very well so you never know.
You can pre-order/order the RX1 at Amazon HERE or B&H Photo HERE if this is something that floats your boat.
You can now pre-order the Electronic ViewFinder at Amazon HERE. The Optical Viewfinder is HERE.
The RX1 magic lies in the fact that it is small, solid, hassle free and creates images that you expect it to. No muss no fuss. No messing or 2nd guessing with lenses, No worries and results you can count on. Add in that special Zeiss magic and the RX1 gives images that will soon be known having as "That RX1 Look".
Thanks to all for reading! PART 2 of the review is HERE
Steve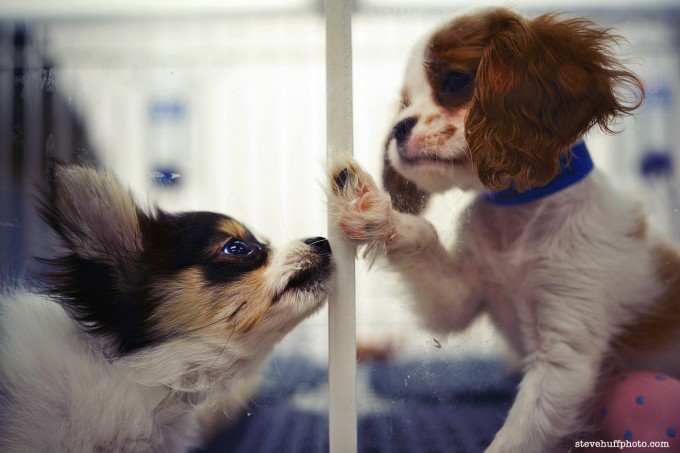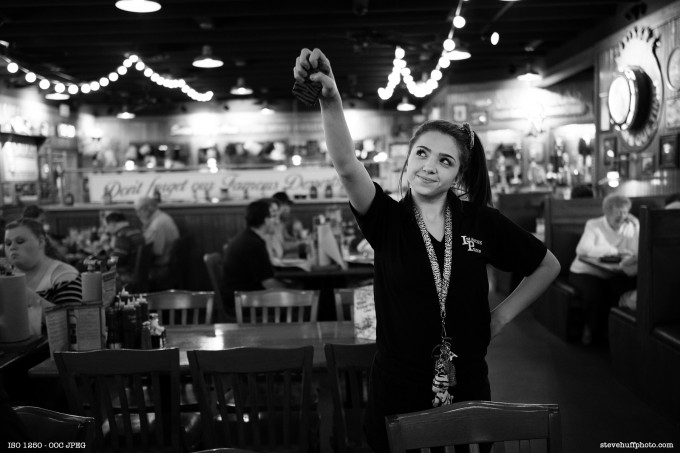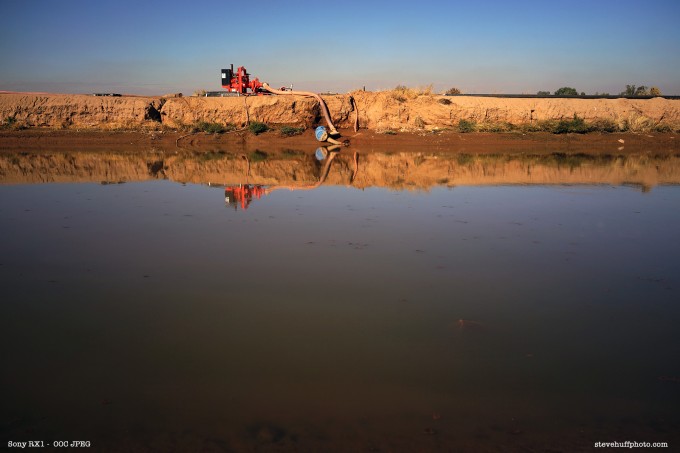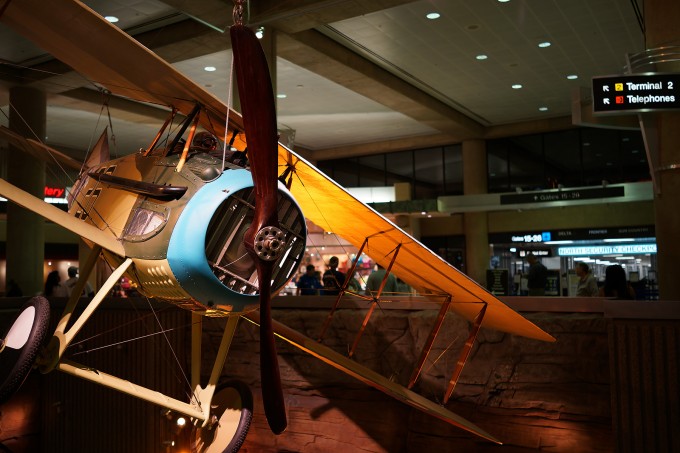 HELP ME TO KEEP THIS SITE GOING AND GROWING!! IT'S EASY TO HELP OUT & I CAN USE ALL THE HELP I CAN GET!
PLEASE Remember, anytime you follow my links here and buy from B&H or AMAZON,
 this helps to keep my site going. If it was not for these links, there would be no way to fund this site (and the cost these days to keep it going is pretty damn high), so I thank you in advance if you visit these links. I thank you more if you make a purchase! I have nifty search bars at the upper right of each page so you easily search for something at either store! I currently spend 10-14 hours a day working on this site and the only way that I can pay for it is with your help, so thank you! Currently my traffic has been increasing but my funds to pay for the site has been decreasing, so any help would be GREATLY appreciated!
Even if  you buy baby food, napkins or toothpicks at Amazon it helps this site, and you do not pay anything extra by using the links here. Again, you pay nothing extra by using my links, it is just a way to help support this site, so again, I thank you in advance 

 More info is here on how you can help even if you are NOT in the USA as I have Amazon links to Germany, United Kingdom and Canada as well!
If you enjoyed this article/review, feel free to leave a comment at the bottom of this page and also be sure to join me on twitter, my facebook fan page and now GOOGLE +!
Also, you can subscribe to my feed at my subscribe page HERE and read these posts in your browser or news reader!