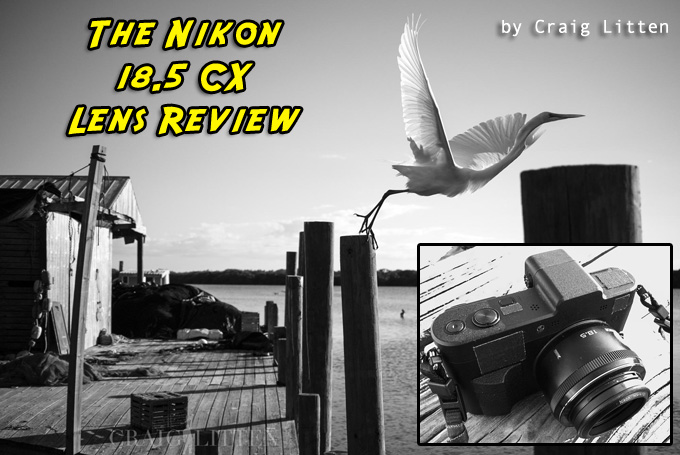 1 Nikkor 18.5mm f/1.8 lens for CX format Lens Review
By Craig Litten
See his website HERE
INTRO
I've been looking forward to getting this lens ever since it was announced. Primes are always welcome, and I hope the Nikon will keep them coming. If you're a regular reader of Steve Huff Photo, then you probably know that I'm a big fan of the Nikon V1. To keep it in perspective though, the Nikon 1 system has its place. It is not necessarily to be used as your main camera, but rather for specific purposes or shoots. But if you're a street photographer or you travel a lot, the Nikon V1 could very well be your main camera, it's that good. As much as I wish there was a one-camera solution for every situation, there isn't. The Leica M has its place, the Canon EOS-1D X has its place and the Sony X100 has its place. All vastly different cameras to fill different needs or desires. The world would be a very boring place if everyone drove the same car wouldn't it? But we don't park next to someone at the mall, get out of our cars and ridicule them for choosing to drive a Nissan Cube do we (I think the Cube is cool by the way)? So Nikon 1 naysayers can look elsewhere because you cannot, nor ever will, be convinced. Secondly, the images in this lens review are not a portfolio, but they are meant to show a variety of situations, angles, f-stops, etc. to give you, the one who is considering a purchase of this lens, an idea of what the lens can do. I see so many poor sample photos shot with new lenses on the Internet than I can hardly believe, which is one reason why I personally come back to Steve's reviews. If he says it's good and gives it a thumb's up, then I don't think twice about it.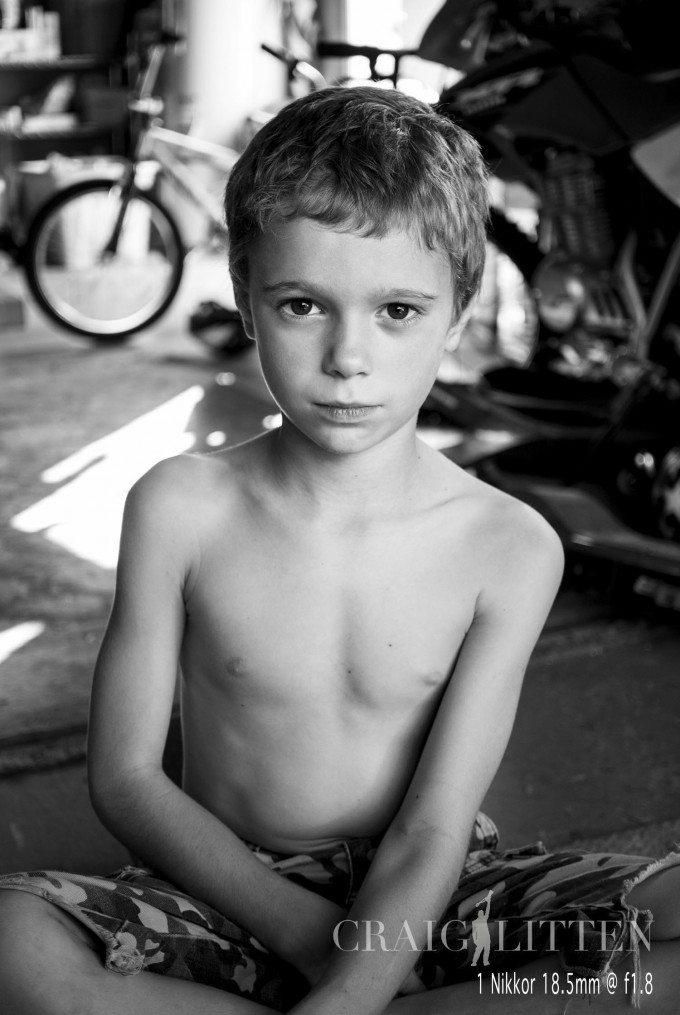 So whether this lens is for you or not, you'll have to decide. But like the wildly popular Nikon AF-S Nikkor 35mm f/1.8 DX lens, it checks all the right boxes. It's cheap, light, fast, sharp and a great bargain. When it was announced I immediately pre-ordered it at B&H Photo, but I probably didn't need to since I don't think it will be a hot seller like the Sony 24mm f/1.8 E-Mount Carl Zeiss Sonnar lens or other lenses like it, so it should always be in stock. This lens is not exotic, but more of a utility lens that can be used in almost every situation, everyday and especially in low light. As of writing this, B&H has all three colors, black, silver and white, in stock HERE. So, to summarize the above paragraph: if you are a Nikon 1 hater, please be kind or stop reading now. I've always been a fan of the underdog, and that's exactly what Nikon has here in the Nikon 1 System. It's a camera that caused a big stir, but then was soon forgotten. But at its current price, $299 HERE at B&H, it's an absolute steal. Yes STEAL! You can revisit my review HERE or other reviews by Colin Steel HERE on this very website. Maybe now that the price is reasonable to the masses, you may reconsider. Plus you can pick up this fantastic, tiny wonder-of-a lens for under $200. (The V1 Ultimate Kit is now half off as well at B&H)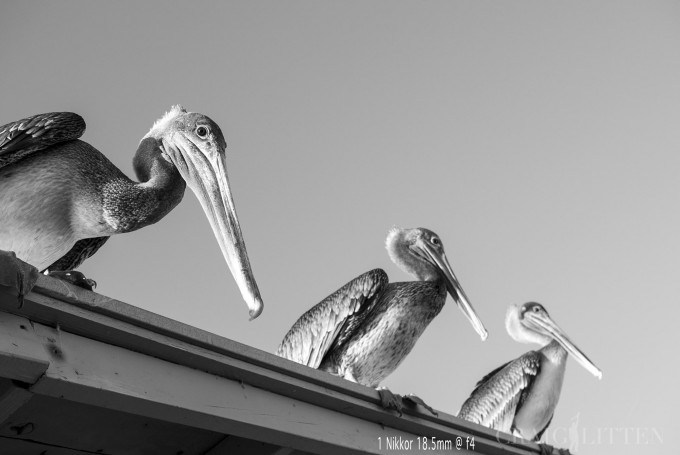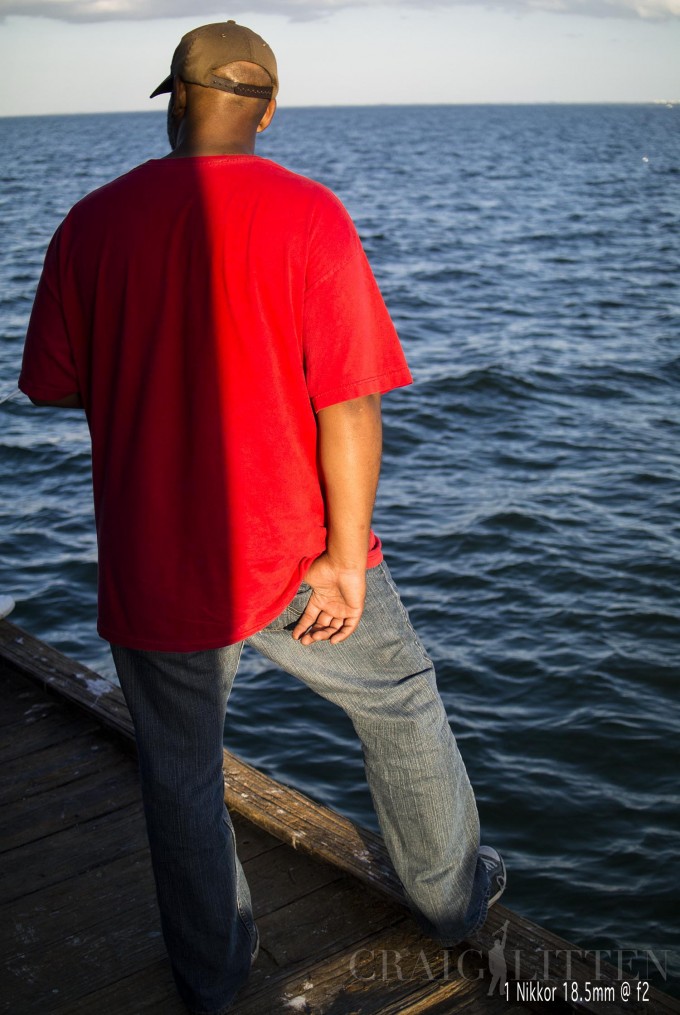 FIRST IMPRESSIONS
Immediately after taking the lens out of the box and handling it, I noticed how light it is, it's a featherweight. It feels almost hallow like the lens consists only of the outer lens barrel, the mount and the front and rear elements but is empty inside. But unlike its DX counterpart, it has a metal mount–a must for any lens I own period. So even though it's light, it seems to be well built. Not Voightlander well built, but this new-day-of-digital-cheap-lenses well built. I also examined it to see if the lens barrel was metal or plastic. Yesterday I concluded it was plastic, but today I think it may be metal, but I'm not 100% sure and Nikon doesn't say. I did compare it to my 1 Nikkor 10mm f/2.8 lens, which has a metal barrel and seems heavier and much denser. After having the lens sit on my desk overnight, the barrel is slightly cold to the touch, like the 10mm, which makes me wonder if it is metal after all. I also own the Panasonic Lumix Leica D Summilux 25mm f/1.4 for the Four Thirds system, and it has a metal lens barrel, which seems very cold to the touch. Plastic never feels cold to the touch though. Even though all the 1 Nikkor prototypes were in shiny metal, I have a feeling that this lens is plastic. If anyone can verify this, I'd love to know. No matter, it's still well put together and you can read about the usual specs at Nikon USA.
There's not much else to say. It comes with the usual 5-year Nikon USA warranty, which is great. It's solid, light and doesn't rattle or move when you shake it. It takes the usual 40.5mm filters, which are slightly hard to find, and the plastic Nikon HB-N101 lens hood fits snugly (I can't say that about all lens hoods for other systems), looks cool and works perfectly.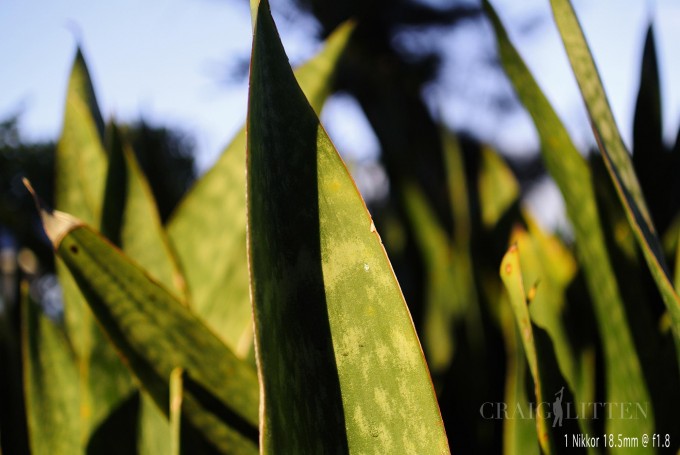 WHAT IS IT?
First off, those reading this review that are not familiar with the Nikon 1 system may not know exactly what this lens is. The 1 Nikkor 18.5mm f/1.8 lens is for Nikon 1 CX format cameras only. The Nikon 1 camera has a small one-inch sensor that you must multiply a given lens focal length by 2.7x to figure out the exact focal length. So this 18.5mm lens is a 50mm equivalent standard f/1.8 lens.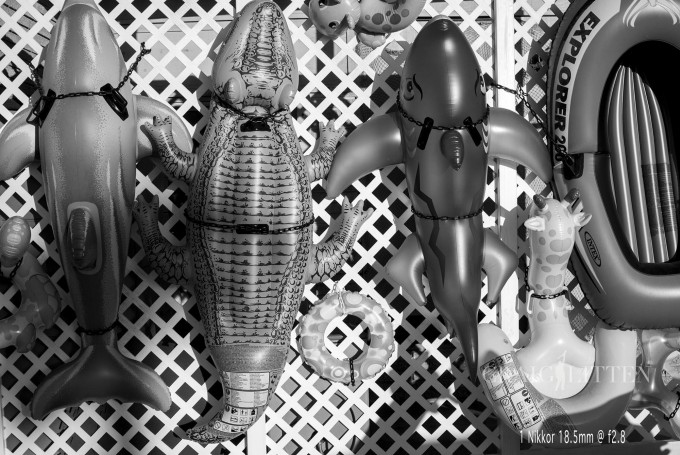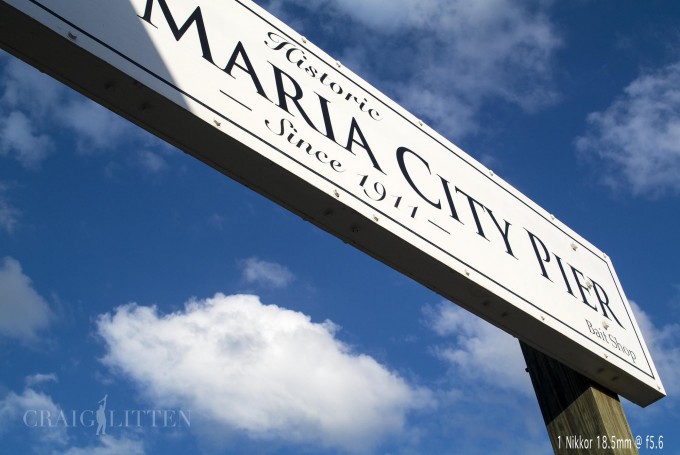 USING THE LENS
The lens is slightly smaller and lighter than the standard 10-30mm kit zoom, and balances perfectly on the V1. It has just enough size, protruding out from the camera body, to hold comfortably. And it's light enough not to be noticed.
1. Focus
Focus is instant and silent just like the 10mm f/2.8 pancake lens. It locks on instantly and rarely racked. The focus did rack (back and forth once not multiple times—in other words, it did not hunt) only a few times, and I shot hundreds of photos, but it always locked on immediately afterwards. But mostly because I was putting the lens through it's paces shooting every type of situation I could think of. The Nikon 1 system is known for it's incredible fast and accurate focus, and the 18.5mm f/1.8 was in line with the already existing lenses. I did notice that the 18.5mm racked a bit more than the 10mm pancake though, and it could be because the elements have to travel further, I'm not sure. But it is nothing to worry about or even give a second thought. I was a Canon shooter for 11 years and the Canon lenses rack like crazy (sorry Canon shooters, but it's true), so even top pro systems and L glass rack focus.
Focus is also very accurate. Only on one or two shots did focus not lock into place, and I didn't notice until I got back to the computer to edit. I don't look at every photo I shoot while out in the field. I haven't used the 10-30mm kit lens a lot, but I feel that the focusing on the 18.5mm lens is better that that of the 30-110mm telephoto 1 Nikkor zoom lens. It was able to focus, in complete darkness over a completely black body of water on a string of lights running across the center of the frame. The string of lights was so small in the frame that they almost couldn't be seen. The auto focus auto point selector picked it out and instantly focused on it. Amazing. One of the shots included in the article was shot on a pier at night under incredibly low light. The focus didn't hesitate at all and locked in on the subject immediately. So, in conclusion, the focus is both fast and accurate and in line with the Nikon 1 system and the other 1 Nikkor lenses.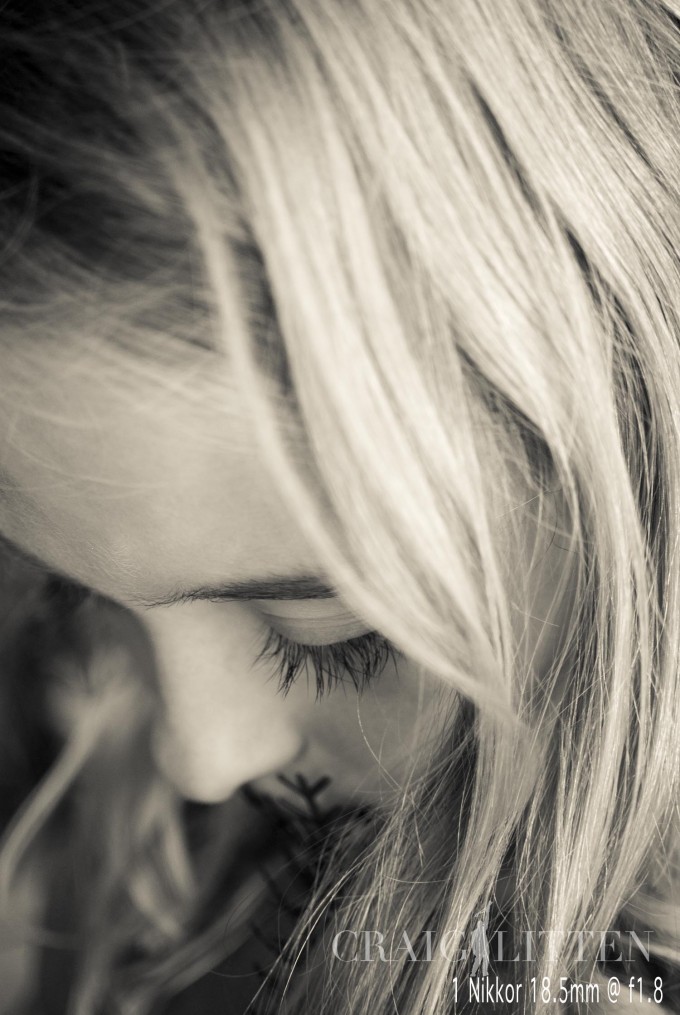 2. Handling
The lens handles perfectly. Again, it's small and super light, so you hardly notice it, which is one of the pluses of the Nikon 1 system. The lens never gets in the way of itself.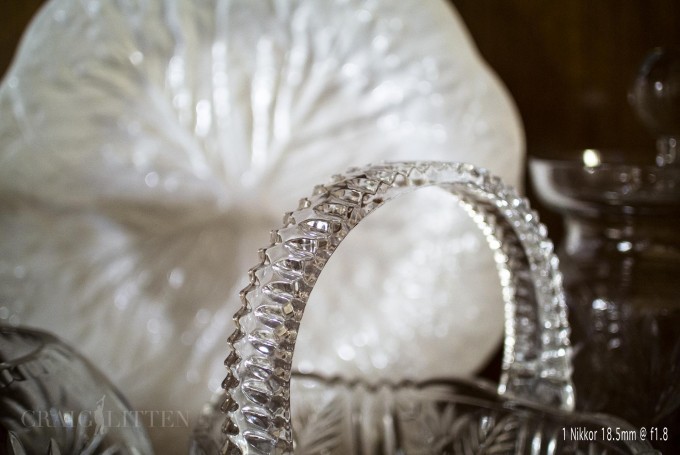 3. Sharpness
I'll let the test images speak for themselves. I have included several full size copies for you to download and examine. NO sharpening has been applied during processing or in camera. All photos were shot RAW+JPEG, but the samples where from the RAW processed though Lightroom 4. There are many samples shot at f/1.8, an f-stop most of us want to know about to see if this lens is worth the asking price. These are sharp, very sharp. Plus there are also samples at f/2, f/2.8, f/4, f/5.6 and f/8. I'm a photographer who makes 100% of my living at photography, not a lab technician of a test chart shooter. But I'm personally impressed with the output of this lens. Both wide open and stopped down. I really didn't notice much difference, but also didn't spend hours pixel-peeping the files. To me, they look good. This lens, even wide open at f/1.8, is good enough for paying gigs. Enough said.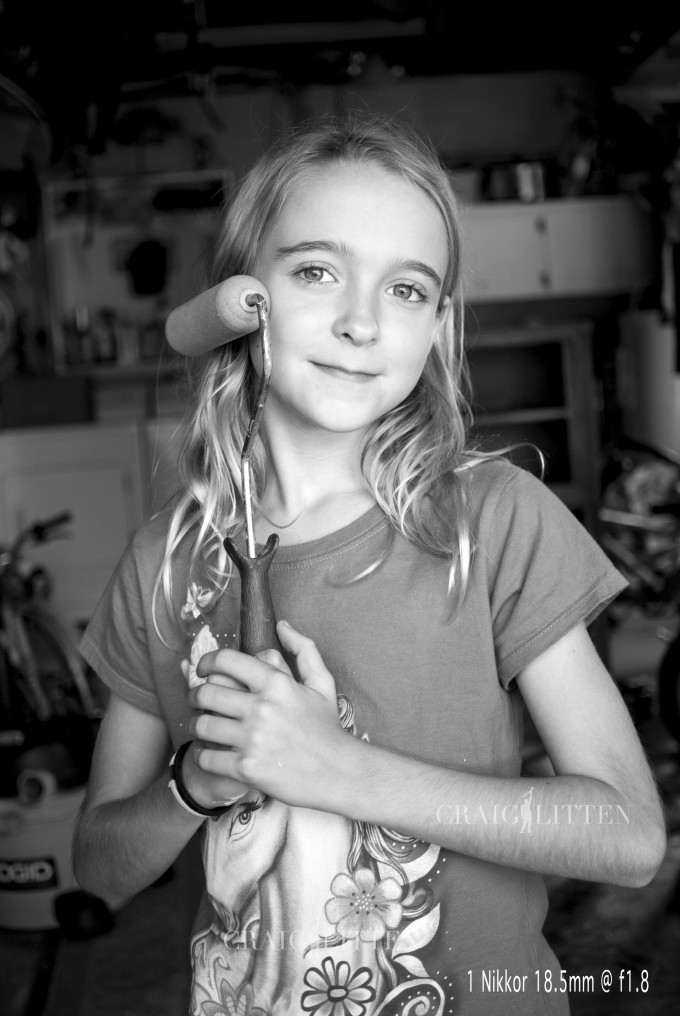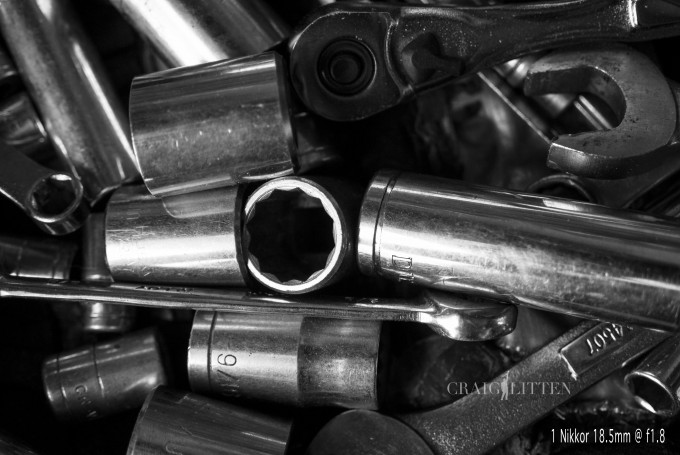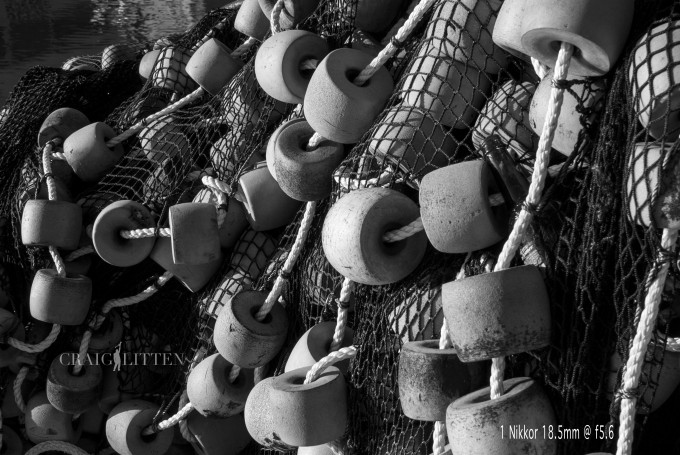 4. Distortion
In practical use, shooting people and most subjects, you will not notice much if any distortion. But when shooting a horizon such as at the beach, you will notice a slight bend downwards. Also when shooting near a wall. In the photo with the white egret on the black fishing nets you will notice the slight curvature in the barn siding to the bottom left of the frame. You can also see slight rounding on the top and bottom of the night photo of the wooden fish sign shot through a window. Notice the "Bridge Tender Inn" sign at the top and the "fresh fish" sign at the bottom, both have a slight curvature. On the other hand, Vignetting is very slight but I really didn't "notice" it during practical use. Finally, purple and green fringing reared its ugly head in one photo, the wind chime in front of a screen, shot wide open at f/1.8 and with extreme backlighting. I didn't notice it any other time though, and don't think it's anything to worry about.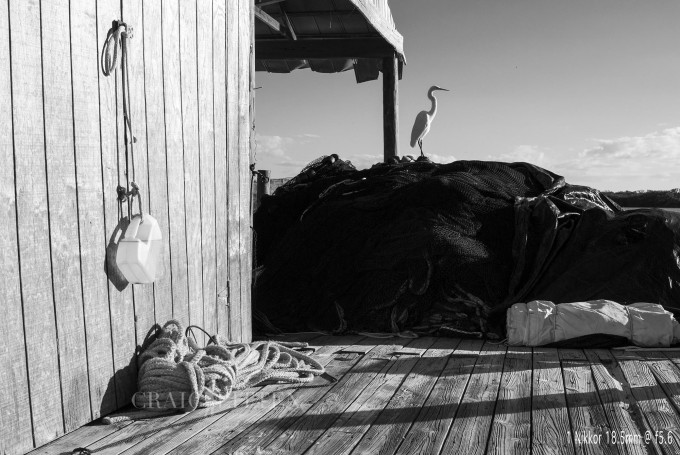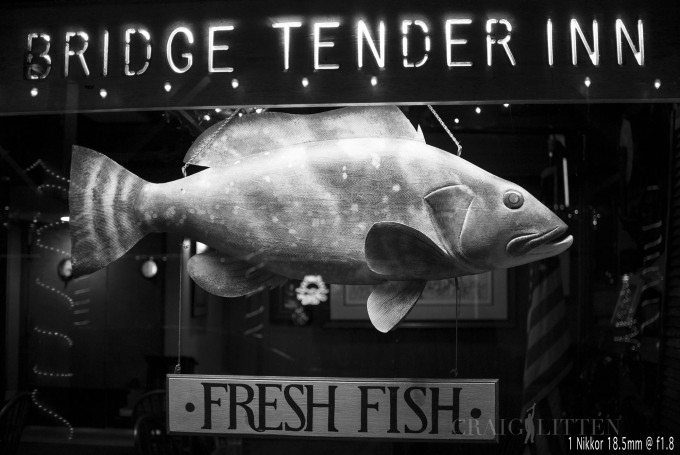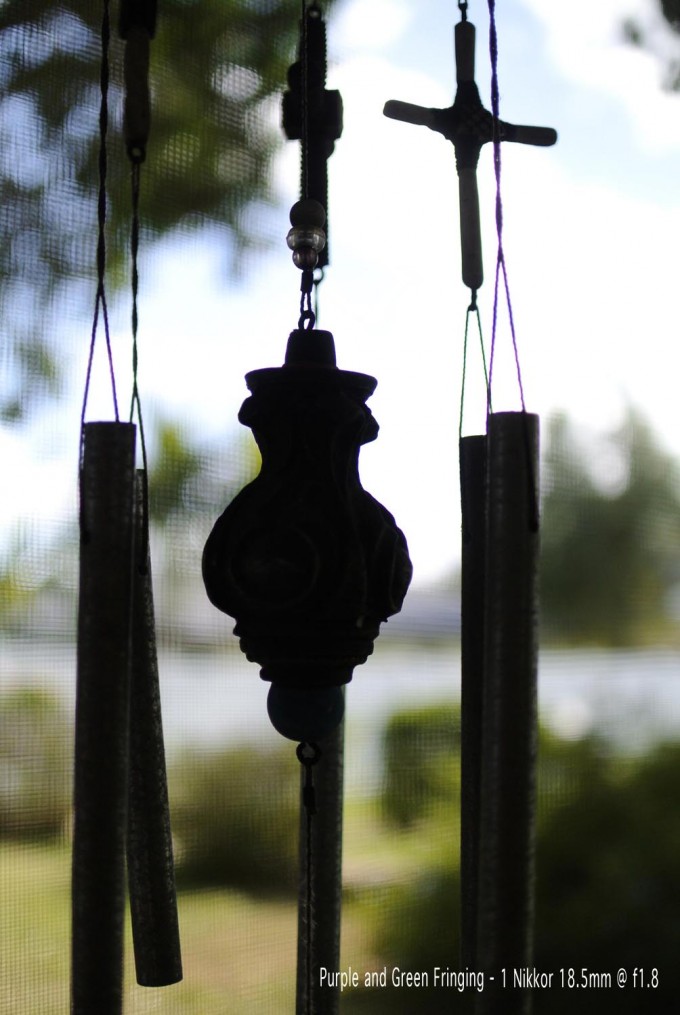 CONCLUSION
If you're a Nikon 1 owner (whether the J1, J2, or V1, V2) this lens is a no-brainer, just buy it. For $186.95 it's well worth it. It finally gives Nikon 1 owners a fast option for low light. Although I think files out of the V1 are very pleasing up to and including ISO 800, and sometimes even ISO 1600 if exposed correctly, this will give users an option to shoot at much lower ISOs in a given lighting situation, and as you can easily see from the sample photos, some fairly nice bokeh. If you are not currently a Nikon 1 owner, maybe this lens and the currently ridiculously low price of the wonderful V1 will push you over to the dark side. Since I am a photojournalist by profession, I shoot almost exclusively with zoom lenses or I wouldn't be able to compete. There simply is not enough time to change lenses in this fast-paced profession. So I found it a real pleasure to shoot with a 50mm equivalent prime lens. It is a great focal length and always seemed to be 'just right.'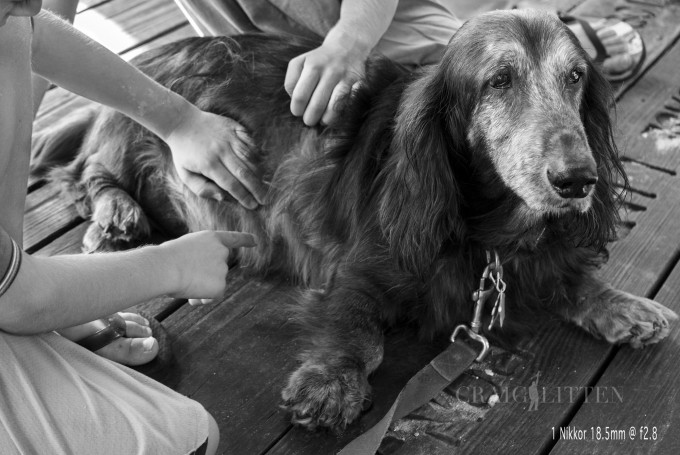 ACCESSORIES
As I've already mentioned, the Nikon HB-N101 lens hood, designed for the 1 Nikkor 10-30mm kit lens, works perfectly on the 18.5mm lens. But the Nikon HN-N101 metal lens hood, designed for the 1 Nikkor 10mm f/2.8 pancake lens, works well too with no vignetting in the corners. The metal hood is very low profile and will most likely not give you the coverage that the plastic bayonet hood will. I use the metal hood exclusively on my 10mm pancake, and have never had any flair issues. This entire review was shot with the metal hood on my 18.5mm lens that I borrowed from my 10mm pancake. I just ordered a second one that will live on the 18.5mm lens. I love it because it can also be fitted with a screw-on metal lens cap (which I also own), the HC-N10, to make it a tiny, low profile package but still offering the protection of a lens shade. Nikon also makes a very nice, inexpensive lens pouch, CL-N101, that will easily hold the 18.5mm, the 10mm pancake, the 10-30mm kit zoom and even the new 11-27.5 pancake zoom with hoods attached. It features a stiff, padded bottom, a drawstring interior, and a Velcro flap. It's also very soft, flexible, easy to store and comes in red, black and white. But for some reason the red and white versions are more expensive.
Craig's Website is HERE
Craig's Street Shooting Workshops can be found HERE