Strange Past: Post Mortem Photography
by Steve Huff
(NOTE: This post is THE most popular post EVER on this website which shows our fascination with death and oddities. Over 1 Million views here since this was posted. Amazing.)
Over the last 20 years I have taken probably close to 400,000 photographs. Many of them just for this blog in reviews and my various travels and others that were snapped over the years of my family, vacations, and life in general. But over these years I have also read many books, browsed the works of others and have also researched the history of photography. One subject that I was always amazed by (although it used to creep me out) is "Post-Mortem Photography".
Yes, taking portraits of the recently deceased. Back in the Victorian ages it was common to have a family portrait taken when someone in the family died. The invention of the daguerreotype in 1839 made it more affordable to families who wanted to remember their loved ones after they have passed.
It was not common for families back then to be able to take a snapshot of their families as not many could afford to hire out someone on a regular basis to take shots/portraits, so for most, this was reserved for death. Cameras as we know them today were not invented yet so having a photo of a loved one was a special gift that was treasured and the only way for someone to really remember the physical person they once knew and loved. You can read the Wiki on this subject HERE.
When you look back at this early practice today it seems morbid, creepy and for some..it will seem just plain wrong. When I sit back, close my eyes and transport my mind back to the early 1800's I can picture how people lived, worked and died. If I lived back then I would probably want a photo of my deceased family member or pet as well. Remember, memories in print were just not common so having even one photo would mean so much.
Today we take the power of a camera, a digital sensor or a roll of film for granted. Because technology is everywhere and is getting more and more crazy by the day we have everything at our fingertips and can access any information at any given time, no matter where we are. Many of us forget what photography really is all about.
Back in the 1800's there was virtually no type of conveniences to be found, not even something as simple as taking a photo so what we may perceive as creepy today, was very normal back in the 1800's.
But do not think that this practice is 100% gone from todays society. In fact, when I was a teen I remember going to a funeral of a relative of mine and his family was taking photos of him in his coffin. Entire family portraits as well as they gathered around him. Even today there are some who do this though they do not talk about it so much. I think for the most part it is no longer done because we have the ability to take photos of our loved ones every day if we so desire, so remembering them as they were in life is always better than remembering them after death.
As for death, I personally do not fear death in any way, shape or form as I know it is coming eventually, but that is another story for another day. As for post-mortem photography, take a look at some classic examples below and let me know how YOU feel about these photos that were so normal back in the early 1800's. What was seen as something beautiful back then..well..today many will see it as grotesque or wrong. Either way, it is part of photographic history, like it or not.
But beware, some of these are disturbing and may upset some of you who are very sensitive. So take a peek at your own risk.
Supposedly, this is A Post-Mortem photo session from the 1800's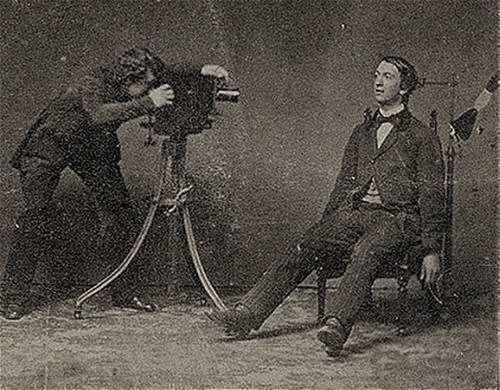 –
and now some photos that are all said to be post-mortem portraits…