The Leica SL post yesterday..220 comments so far and growing..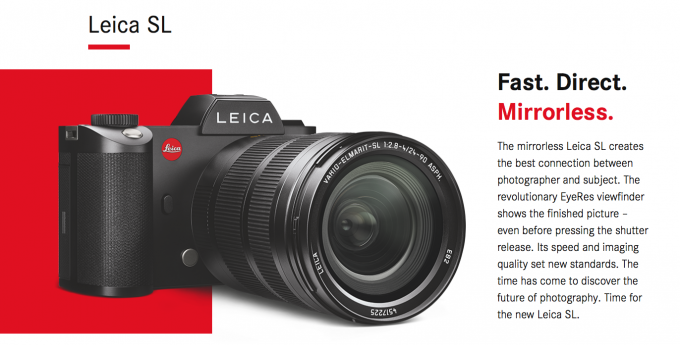 Want a Leica SL? Contact Ken Hansen or checkout PopFlash or B&H Photo!  They start shipping on November 21st, day after my birthday..HMMMMMMM
So yesterday I wrote down my instant opinions on the new Leica SL right after seeing the specs, images of the camera and the info on it. That post already has over 220 comments and its growing every hour. That page has had 76k views in the last 24 hours. So there is loads of interest in at least SEEING what this new Leica is. I usually do not get those numbers on a single post unless it is a massive big review. So there is some buzz going around here with the SL for sure.
I had signed an NDA over a month ago for  this one, which is why I could not speak of it before the announcement but I have thought more and more about the SL since yesterday and have come to realize that Leica is aiming this at the PRO Market for the SL (as they say themselves). The guys and girls who shoot Nikon, Canon and even Sony. It appears they want the Wedding market, the Concert shooters, the portrait shooters, the studio photographers… and I am sure the SL will excel in those situations as long as the sensor delivers performance across the board – low light to good light. The SL is actually more like a Mini S than anything else after studying the tech, rear controls and taking a closer look at the build. So they created a small S with a 35mm full frame sensor to market it to the discriminating pro market who want a Leica.
But how easy of a task will this be for Leica? First off, with only three native and very very expensive lenses at launch it will be VERY hard for them. Not sure how many will want to sell off their Nikons and Canons to spend $25 k or so for a Leica SL and three lenses, with one fast prime. But I am sure there will be many who do, just not massive numbers. Then again, Leica is not used to massive numbers as they are a Niche brand in reality, and while they do VERY well, no camera they ever make will sell in the same numbers as a Nikon or Canon or Sony.
I have seen Leica go from near bankruptcy before the M8 and M9 to thriving during the M9 days when it was impossible to find almost ANY M lens in stock, anywhere. Used M lenses were, at times, selling for more than the new prices and there was an M9 "movement" because there was simply NOTHING out at the time that could replicate what the M9 did. Being a digital rangefinder meant nothing else existed in the world like it. It also had an IQ about it that nothing in the 35mm full frame world could match or replicate, so the M9 was a smash hit for Leica. They sold way more than they thought they would. The only camera I have seen in recent times that sort of replicated that M9 look is the Leica Q, and the Q is quite popular as it was a great design and performs to a high level. Problem is, finding it in stock. Just ask Ken Hansen.
The X1 was another HUGE HUGE hit for Leica back in the early digital days and sold the best of any X  they released afterwards.
So the digital cameras that did really well for Leica? The M8, then the M9, and the M 240 (not as well as the M9 though). Then the old X1, and now Q. The Q is VERY popular and well received but Leica is not delivering units to the USA, and dealers have been backordered for months. Same with the new Monochrome..seems they have been busy making loads of SL's instead gearing up for shipping. Not sure why the lack of Q's and Monochrom's here in the USA but many are wondering what is going on. With the shiny new huge Leica factory you would think they could pump out the M's and Q's with ease. Not sure what the delay is for the US customers.
But again, as with Any Leica release, the SL has brought on controversy. Some are lusting after it big time and many have placed pre orders for it as well. Then there are those who are just slamming it from every angle. Me, I am neutral. While I do not agree or really gel with the body style, the two zoom lenses (size or price), or the price point in general, I am fully aware it will make a beautiful photograph, be built to a very high standard and be a camera that anyone would be proud to own. That was never in question. The question I have is…WHO is really going to buy this?
With the M, there is no competition, so the price is justified. With the SL, there are loads of other cameras like it for much much less. So competition is fierce in this area, very fierce. 
It's one thing  to charge $7k for an M240 when no one else on earth makes a digital rangefinder. It's in line with what people will pay so they price it accordingly. The SL at $7500 without a lens is a hard pill to swallow for me personally as one can go buy a Sony A7RII for $3100 or a Nikon D800 series body for $3k or a Canon 5D series, etc They will also have HUNDREDS of lenses to choose from where the SL gives them 3. So the SL has to be pretty special to convert hard core pros who are bonded to their brand.
Of course you can always buy or use Leica S lenses or M lenses with the SL, and as I said yesterday, if the SL can use any wide angle Leica lens and have it problem free (which they may do with in camera correction like they do with the M) 100% then it will be the only NON M game in town for M lenses and perfection. A huge EVF, easy focus and no issues with M glass would make the SL a very interesting tool. 
So we all have to wait and see how it behaves with the wider angle M glass.
Is it expensive? YES. Will it be a beautiful machine? YES. Does it have enough to justify the extra thousands of dollars over a Sony, Nikon or Canon? THIS we do not know, but time will tell, and if so then I congratulate Leica for coming out of the gate with a world class Mirrorless camera. 
If not, then I think it will be another ho hum camera in regards to sales for Leica. We shall see, but I am indeed excited to test this one out as my curiosity has been aroused. In the meantime I may go back to shooting an M240 for a while to get my RF groove back on after months of a break from it. It's never dull around my house! I may even buy an SL and one lens to do a long term review diary…then sell it here to a reader for a great discount. Not sure yet 😉
I spoke with a couple Leica dealers today who told me the demand for the SL is there…so should be interesting to see how this one plays out. I seriously can't wait for the new M which I feel will be out in 2016, and be MUCH different from what the M 240 or M9 or M8 was. THAT will be my dream camera if what I am thinking is happening really is. 😉 of course I know nothing and am saying nothing but my crystal ball showed me a few things recently, hehehe.
Steve