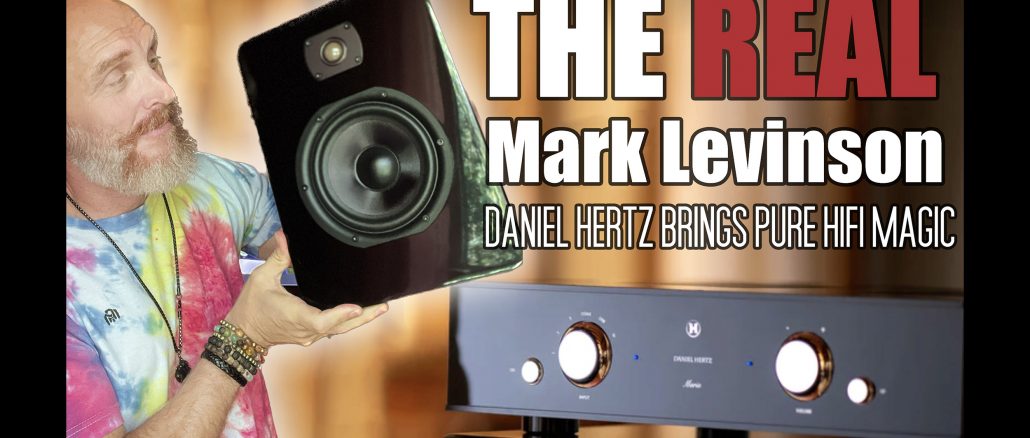 Daniel Hertz Eva S50 HiFi System Review. Mark Levinson's Beauty.
By Steve Huff
UPDATED on August 10th 2023. 
Now that I have listened the Daniel Hertz EVA system for over 200 hours I am ready to talk about it and share my thoughts on this HiFi system from Mark Levinson and Daniel Hertz called  the"EVA S50″ system. This Eva system is a complete setup with preamp, amp, DAC and speakers and was designed to offer the purest form of sound from your music.
What is unique about this approach from Daniel Hertz Audio is that each piece works together to combine perfect synergy and this takes the guesswork and mistakes out of setting up a system. This means no more worrying about system matching and synergy as all here is designed to work together perfectly. BTW, each of these pieces work with other brands of course and the Maria amp is a stunning piece of engineering that is forward thinking. It is unlike any other integrated amp made as it is not using the same tech that other amps use (the same tech they have been using since the 60's).
The Maria Integrated amp is powered by a programmable chip that does everything from pre-amp, DAC and amp duties. It's quite remarkable really and is one of the finest integrated amps I have ever heard. There is so much more to this system and the integrated so if this sounds interesting, read on.
My Video Review!
A System without Limits
This system is in no way limited as we still have analog and digital inputs for adding a phono stage, or even using your own DAC if you so desire. I wouldn't suggest this though as the DAC inside of the Maria amplifier is quite special and does indeed sound remarkable with the Eva speakers. When I tried my fancy DACs with this system, I preferred the one inside of the Maria and this has never happened with any gear I have tested. Not even with the $20k Aavik U-150.
Normally, Internal DACs range anywhere from awful to excellent but most fail to deliver "magic". The Maria's DAC does bring that magic even to the Daniel Hertz "Starter" system that I am reviewing here. Loads of it in fact.
The Maria 50 amplifier is quite unique and it puts out 150 WPC into 8 ohms and 300 WPC into 4 ohms. I was expecting the worst before I hooked it up because it is so light. I mean, it's LIGHT.
In this industry we have been trained to think HEAVY = BEST and this Maria amp proves to me that this is not the case. This is the lightest high end integrated amp I have ever witnessed in the flesh and may be the lightest in general that I have had my hands on. It is made not of metal, but of Perspex and my initial thoughts when I unboxed it were "Uh Oh, I hope this plastic box doesn't sound thin and wimpy"! I then remembered that Aavik now uses a similar material to make integrated amps that cost much more than this entire system does. Hmmm, I then started to see the logic here.
I will go in great detail about what this system sounds like in a bit but for now let me talk briefly about the history of Mark Levinson and why you should take Daniel Hertz seriously.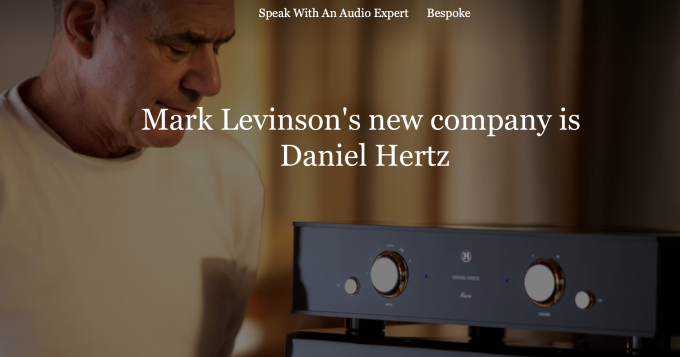 Mark Levinson History of Audio 
This full history can be seen at the Daniel Hertz Website HERE. 
1970's Mark Levinson Audio Systems (MLAS)
LNP-1 Preamplifier
LNP-2 Professional Preamplifier
JC-1 Moving Coil Cartridge Preamplifier JC-1AC Moving Coil Cartridge Preamplifier JC-2 Straightline Preamplifier
LNC-2 Electronic Crossover ML-1 Preamplifier
ML-2 Class A Mono Amplifier with regulated power supplies
ML-3 Stereo Power Amplifier
ML-5 modified
Studer A-80 professional tape recorder with custom electronics ML-6A Dual Mono Preamplifier
ML-7 Preamplifier
ML-7A Preamplifier
ML-8 Microphone Preamplifier ML-9 Power Amplifier
ML-10 Preamplifier ML-11 Preamplifier
ML-12 Power Amplifier
1980's – mid 1990's: Cello
Cello Audio Palette, world's first no-compromise analog equalizer Cello Audio Suite
Cello Performance Mono Power Amplifier with regulated choke power supplies, 6.000 Watts @ Ohms in bridged mode.
Cello Encore preamp Cello Encore 1MΩ preamp
Cello Encore Mono Power Amplifier Cello Duet 350 amplifier
Cello Amati loudspeaker Cello Premier loudspeaker Cello Master loudspeaker
Grand Master Reference loudspeaker Cello Serafin active monitor loudspeaker Cello Legend loudspeaker
Cello Strings cables and interconnects, industry first with Litz construction, Teflon dielectric, and Swiss-made Fischer connectors.
Cello Reference Digital to Analog Converter
1990's – mid 2000: Red Rose Music
Red Rose Music Model One Reference amplifier
Red Rose Music Model Two amplifier
Red Rose Music Model Three preamplifier Red Rose Music Model Five integrated amp Red Rose Music Passion amplifier
Red Rose Music Affirmation amplifier Red Rose Music Rosette amplifier
Red Rose Music Rosette Two phono stage Red Rose Music Spirit integrated amp
Red Rose Music Genius integrated amp with inboard USB digital-to-analog converter
Red Rose Music Revelation loudspeaker Red Rose Music R-3 loudspeaker
Red Rose Music Rosebud loudspeaker Red Rose Music Rosebud II loudspeaker
Red Rose Music Classic loudspeaker
Red Rose Music M1 Multi-Channel Power
Amplifier Red Rose Music M2 loudspeaker
Red Rose Music M-3 subwoofer
Red Rose Music Meditation loudspeaker
In 2007 Mark Created Daniel Hertz.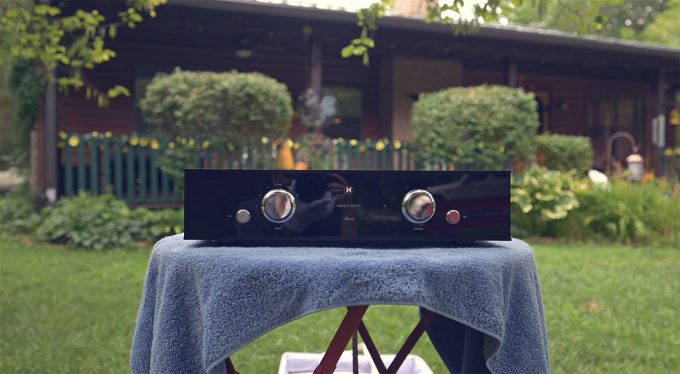 Setting up the Eva System. 
When I setup the Hertz system I placed the small but hefty bookshelf sized Eva speakers in the usual position that these types of speakers do well in within my space. That means 3 feet from the back wall and 2 feet from the side walls. I toe them in slightly and sit 8 feet from the speakers. They are about 8 feet apart. In this position I get the best of all worlds. A super wide soundstage, precise yet organic imaging and just the right amount of clean tight bass for my tastes. The treble is crystal clean and clear as well. It's quite remarkable as I have had speakers here with world class treble performance but there is something unique going on here with the Daniel Hertz system in the way the top end is reproduced.
One thing I noticed as well is that the soundstage and imaging are quite spectacular and different from what I have heard in the past. There is almost mini soundstages within the larger stage. These mini smaller sound areas will bring each instrument and sound within its own fully spaced out space! It is quite remarkable to experience, especially in a "starter" system from a high end brand. Also, let's talk about the bass here.
These EVA speakers go down low to about 30Hz (in room) and they are as tuneful and tight as can be. They do not get bloated in the bass either, meaning the mids and highs stay clean as a whistle and very organic and rich. I recently reviewed other small speakers that had remarkable bass in the Buchardt A10's and while the Buchardt's go deeper and shake the floor more, the Eva speakers go almost as low but stay more composed and controlled in the midrange.
It's quite remarkable. They do this with an unsurpassed clarity that I have not yet heard, even in speakers that cost $20k+ that I have bought and owned here in this room.
Keep in mind though that being a small speaker they will not have the outright scale of a larger speaker but what they do bring is room filling sound that is intimate, haunting and quite unique. They can also kick with the best of them. 
Sound Demo – Three Songs
This system is made for those who seek to hear their music with clarity, space and detail yet without any of digital hash, grating or sloppiness. Y
es my friends, this is one refined system and it should be as it was designed together to sound just how Mark Levinson and the designers wanted it to sound.
Again, it's more than that though. Much more.
I can listen to just about any source and yet the sound stays magical. Spotify? Sure. Qobuz? Sure. Tidal? Sure. All sounds equally as wonderful. I do not need a fancy streamer either. Wether I use a Bluesound Node X or $5k streamer the sound is glorious, magical and fluid. For me, it reproduces digital music in a way I have never heard, and IMO better than the best analog I have heard as well.
I hooked up the Maria amp to other speakers I have here and I was shocked to hear it produce music in the same way! Hooked up to Alexandria Audio Monitors, Triangle 40th Anniversary Comete and even the CSS Typhons this amp sounded sublime with all of them. I still prefered the sound with the Eva speakers though and feel this was one of the most beautiful and complete sounds I have heard.
I will say that I have NEVER heard Jazz sound better than I have with the Eva system. The way the instruments sound are just about pitch perfect and they sound like real instruments in the room more so than any other small system I have heard in my lifetime. If you are a Jazz fan, stop reading now and truly look into a Daniel Hertz system NOW!
Really, it's intoxicating the way the instruments sound and how each note is presented with beauty and realism. The instrument separation here is top class as well and when a big Sax is in the recording it sounds like a BIG SAX as the bass is just so well done here. Take al listen to Melody Gardot's "Bad News" from her Live album. Near the end the Sax blows big and I have yet to hear a system or speaker reproduce this with the scale and heft of a real sax. This one did.
When I switch in real time to the Buchardt A10's for the same music (Jazz) I hear a more colored midrange where some of those intimate details are lost. Of course if I never compared them side by side I would have never known but it's there, and should be expected for the cost difference. The A10's are warmer and thicker and even with their new Tweeter it is not as extended as the one in the Daniel Hertz System. Some may prefer the warmer thicker sound vs the more transparent sound so as always with audio, try to audition if you can.
What Daniel Hertz states is so special about this system is the Mighty Cat chip that is inside of the Maria Amp as this was designed solely from the ground up as part of this systems design. It's what creates the sound, the power, the well, everything. It's also what makes this setup so unique. There is something to all of this and let me tell you now from why heart that this system sounds like nothing I have heard before. In an astoundingly good way. Then there is the unique C Wave technology which Mark Levinson told me is responsible for the Magic and pleasing "Magical" Sound.

It's a small system but sounds large and complete with nothing missing. I will say that the clarity is so refined it is not a system I would recommend for Heavy Metal or Heavy Rock. Not that it sounds bad (at all) with these Genres but for me, this system shines so well with Jazz, Chamber, Classical, Bluegrass, Vocals and even EDM.
UPDATE: After listening during an entire day to four systems I have here I have found that even metal is sounding much better than I initially thought. In fact, it's very good. I listened to two albums in full. The new Metallica and an old rock and roll Kiss Album, Alive II. No problem and while these do not pump out big mid bass it means the sound will have impact but will be clear as can be. This allowed me to hear guitar solos in these albums as I never heard them before. Once I really settled down and enjoyed bot hot these albums front to back, I was very happy with how this system even reproduced harder rock and metal.  
This Eva system is without question the finest all in one setup I have ever heard as of August 2023 for a small room like mine which is 13X18. Daniel Hertz makes even larger systems that go all the way up to $200k for a system that can fill any space but for me, I always loved the intimacy and sound from a small two way like the Eva speakers. I always pick speaker size for the room size and these little Eva speakers have no issue here.
UPDATE: After speaking with Mark Levinson he is sending me a pair of their newer "Amber" speakers which are floor standing source point speakers. He told me these have insane drive, impact and WOW factor. I will report on those when they arrive and I hear then for a little while.
This little system comes in at around $13,500 (not sure of the USA price but should be close) but let me say this, I prefer the sound of it in most ways to a system I had here that retailed for $75,000. So no, I do not feel is not priced too high for what it delivers. AT ALL. Expensive, sure. Overpriced, NO WAY. 
I find it to be a bargain if you are the target audience for this kind of sound and price point and I know many are. Heck, I once spent $13k on a DAC alone, and now that I hear this system I feel like a fool as this entire system costs the same as that one DAC yet offers so much more than any DAC can. This is a SYSTEM not a piece of standard HiFi. 
I spoke recently in a video about how I am scaling down my system and sold off most of my gear because I am looking to scale down to something lower cost yet still retains the soul of the music.
This Eva system produces just that, the soul of the music. It's one of those systems that can bring out the emotion in you as well. It was reaching my heart and as I listened I kept saying "what the heck is going on, why does this simple system sound so good"?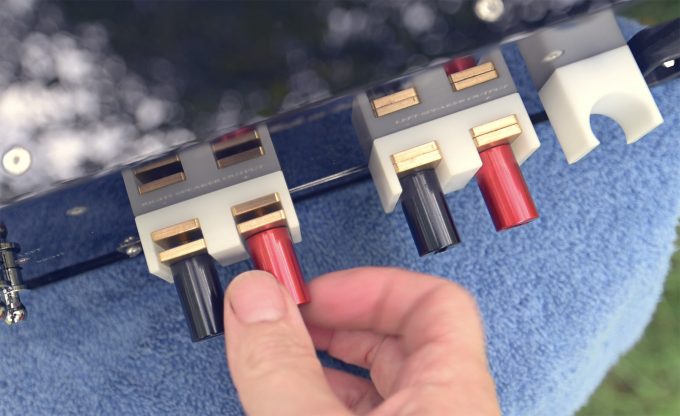 As for selling my big money system, why would I sell of gear I loved and raved about? It's simple really.
I am blessed in life to be able to review audio gear as audio has been a passion of mine since I was 15 years old. It was then when I built my 1st system in my bedroom which was in my parents basement. I listened to that system every day and night and was sort of a loner who would rather listen to music than hang out and get in trouble. I did spend time out with friends and I did have great friends but every night I would listen to 2-3 records in full, front to back. That system was nothing special and I believe it cost me $1200 in its entirety at the time, even so I loved it and thought it was the best thing ever. I am taking 1983-1984 here.
Eventually I was able to afford better and moved up over the years and here I am almost 4o years later still building systems and listening just about every day when I am home. As for bringing in new gear,  I enjoy the process and never see anything as 100% permanent when it comes to a piece of audio gear simply because I have access to so much gear I can hear. If I can move to something I like better without losing money I go for it. Well, sometimes I lose a little but I look at it as a "rental fee". Makes me feel better.
Going back to that reviewer thing. I get to listen to amazing gear every day and am sent new gear just about weekly to review and evaluate. I get to hear it all, the bad, the good and the very special. Over the last few years when my mind would be blown from a piece I had in for review I would find a way to buy it by selling off something else that I didn't like as much. It started to get crazy and when I saw I had a system that was inching towards $100k in retail I knew I had to stop because of one reason.
I was not enjoying the music any more than I was when I was 15 in my basement room listening to records. I knew I was buying for the excitement, the addiction (and it is), and the "new factor". After a few weeks I would realize that money does not buy audio happiness. I could be just as happy with much less spent in gear and more cash in my bank account. I was listening to the gear rather than the music, and that is not a habit I wanted to keep up. I found that I started to listen to the gear more so than the music, and that for me is a huge NO CAN DO.
I will say it again, spending more money will not always bring more audio enjoyment for the long term but I guess that would be different for all of us. It would depend on what YOU want.
More money spent may bring nicer looks, better design and more transparency but we do not have to spend anywhere near $20k and up to have beautiful sound reproduced from speakers. I should know as I have been hearing all price ranges for the last three years! I have heard and seen with my own eyes that there are systems that can be built for much less that sound even more musical and pleasing to my ear than some others that were triple the cost. It happens.
A Shootout! 
Since I get to hear so much, I can now slowly pick out my new system and build it without feeling buyers remorse or guilt for dipping into my life savings (which has now been replenished after selling off other gear).
Reviewing audio gear is a blessing and a curse as for someone who is truly passionate about audio AND THE GEAR. It's a dangerous place to be in but this has now changed just as my camera gear addiction stopped many years ago when I realized all I needed was the one tool that could get the job done for what I needed.
I feel this way about the Daniel Hertz EVA system. It is now a contender (UPDATE: I bought it) for my new more modest system and would come in for 60K less than my last system yet I would enjoy the experience just as much, if not more. Yes, more. 
So no, this system is not overpriced at all for what it brings and does, at least in my eyes. Your thoughts may differ as I am not here to tell you what to buy, I am here solely to speak of my experience.
Some may ask, why choose something like this over the Buchardt A10 which is around $4k? Well, as much as I love the A10's they are not the best solution for someone who still uses a turntable. I still listen to vinyl but I am listening less and less, and this system here is probably going to have me listen even less to those records. The reason is how this sounds with digital music. It makes even streams from Spotify sound remarkable, organic, magical and sweet. I do not need to push through high res or MQA as what this Maria amp does for even Spotify has it sounding as good or better than Tidal masters.
It's the tech inside of this integrated and how it was designed, This is not your fathers integrated amp, as it doesn't use the same old tech from the 60's that most amps still use today. It's new, it's forward thinking and IMO the way of the future. Mark Levinson told me he is open to licensing this tech out to other manufactures so they can use it in their amps. I think some should take notice of this.
UPDATE: I am going to go for the Daniel Hertz setup (I DID). This little system has it all I love. Light weight, no heat, silent as a mouse as in ZERO noise, uses little power and teh sound is to my liking, more so than what I have had before. I see it as a win/win for me as the Maria amp is also a reference grade integrated that sounded amazing with whatever speakers I hooked up to it.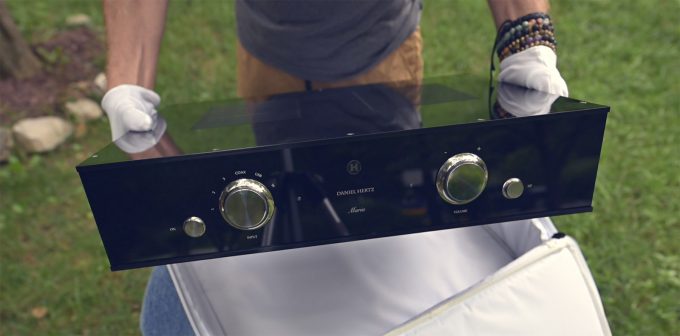 LONE CROW
This system came to me to review from Lone Crow Audio as they asked for my thoughts on it. Lone Crow is the only dealer in the USA for Daniel Hertz and the good news is that they are offering a 10% off discount for my readers and viewers if you choose to purchase a Daniel Hertz system. You will not find other dealers who have the Daniel Hertz systems and Lone Crow says they have just about all of these systems available and ready to listen to in their showroom in California.
If you are serious about audio but want a smaller intimate system that will provide haunting music reproduction well under $15k with speakers, amp and DAC then you must hear the Daniel Hertz EVA S50 system. I really do prefer it to the system I had here that was a $75k system and this one puts out even more quality bass (no sub needed with the Hertz setup).
The looks are classy, the design is brilliant and while it is a Class D amp, todays Class D can be remarkable and the implementation here sounds better than any Class A I have heard, and I love Class A! I recently talked about a $20k Class D Integrated from Aavik, the U150.
That integrated is no longer "the best" I have heard but one of the best for my tastes. It sits with the Maria but I have to say I enjoy the Maria more though it is a different sound. The Aavik also had a built in DAC but I didn't use it as my external DACs were better. The Maria amp is $10k and has a DAC inside that bested all of my external DACs as well as the one in the Aavik. The sound is not as "muscular" as the Aavik but instead more like you are there with the artists and the instruments. More intimate, more ethereal and more present. The Aavik has a sense of power and finesse, the Maria has a sense of realism and inner beauty.
This is indeed the most intimate and "you are there" that I have ever heard for Jazz and instrumentation. Even some electronic music such as Aphex Twin and music with vast spatial soundscapes sounds otherworldly here.
A Case for Daniel Hertz – SYNERGY BUILT IN
One thing to keep in mind with this system is that you do not have to shop around for an amp, DAC and speakers that all mate well together. Synergy is real my friends and it is why some spend tens of thousands of dollars on a system and are disappointed. Anyone with good ears can tell you that all amps do not sound the same and not all amps will work well with all speakers. Building a system can cost us big money especially when our gear doesn't mate well with each other. What happens then is the sound is usually just lifeless, flat, hard or is missing a good midrange, treble or even bass foundation.
I feel part of the future of high end audio is here with Daniel Hertz and I feel the future of mid tier audio is here with what Buchardt and some others are doing. I am not saying the Buchardt is Mid-Fi, as it is HiFi for sure but the Daniel Hertz brings a more refined and special sound, as it should.
I have also found no shortcuts taken with the Hertz system. Headquarters are in Switzerland and the Maria amp I have here says "Hand Made in Venice Italy" on the back. This IS the finest small system I have had the pleasure of listening to but no where near the cost of those other high end fine systems. For me, it is a win/win.
CONS:
Well, not many consider $13-$14k "Affordable", myself included. With that said, this is the baby system in the lineup and the most affordable. This is what I would call an Audiophile System, for those who favor detail, clarity and 3D imaging above all else. Some call it "The Truth" and many love this kind of sound so it should not be considered a con. This is for those who want to set up a system  and enjoy such a sound. When I say it speaks the "truth" in no way do I mean it sounds bright or etched. It does not, in any way. In fact, it's a sound like I have not heard before and one that really touched me.
For me, I could find no cons as it offers more to me in sound and price savings than the big heavy systems that cost much more, at least to these ears. It's also nice to look at and the feel is top tier.
I actually packed it up one day to send back, and then a couple of days later I pulled it back out and compared it side by side with the other systems. It was then I knew there was no going back. I urge anyone who is looking for a system within this price range to find a way to hear it. You have two ways to do so. Visit Lone Crow Audio in CA with a 10% off discount (mention me) or buy from Daniel Hertz as they offer a 30 day audition money back guarantee. That is awesome.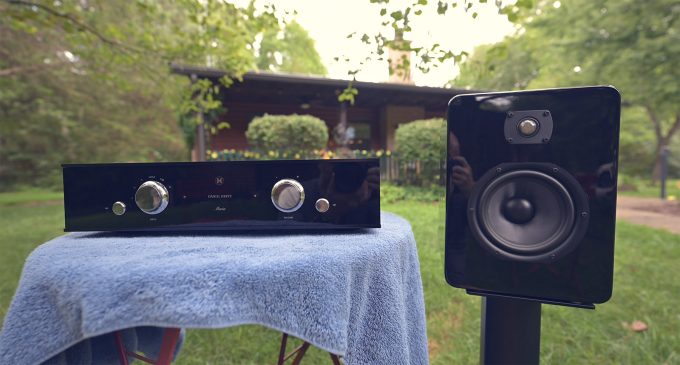 HOW TO BUY or TRY?
Lone Crow Audio is the official USA dealer for Daniel Hertz Audio.
As I stated above, I do/did not make a cent from this review so it's not slanted due to me being paid for it.
It was not a "sponsored" review either. When I get in a piece of gear to review it must thrill me in all ways or I will not review it. I do not want to waste my time writing about a product that stinks.