KEF LS 50 Wireless Speaker Review. My Speaker of the Year…so far.
By Steve Huff
My Video Review and thoughts on the LS50 Wireless Speakers
KEF LS50 Wireless Speaker Review. WOW!!
from
Steve Huff
on
Vimeo
.
Wow. Just Wow. Audio tech just continues to move forward, and here we are in 2017 with a myriad of new tech waiting for us audio nuts to try. Me, I am now a huge believer in the "wireless" speakers…well, more so "Active" speakers for 2016/2017. With the Devialet Phantom Golds blowing my mind (and wallet) last year, so far this year I have tested the modest $799 Klipsch Sixes which are also a set of powered active speakers. I really enjoyed them and for the money, the Klipsch's are tough to beat but at the end of the day, the build or sound of those Klipsch are not nearly up to the levels of Devialet Phantoms, Dynaudio or KEF Active speakers. The Sixes, I consider "Mid Fi" as they just do not deliver the Audiophile experience with soundstage, air and imaging yet they are very good for playing good old fashioned party music, and they sound damn good and fill a room. But what we have here in the KEF LS50 Actives is something entirely different and on a different level. IN A GOOD WAY.
Let's back up a tad…
About a year or two ago I owned a pair of standard passive KEF LS 50's and had them set up and stand mounted in my listening room, which is SMALL. 12X13 and most speakers in this room sound like magic somehow..almost all, but not all. Normally a room like this would be a nightmare, or so I am told but anyone who has heard my audio systems in this room has told me how amazing it sounded. Rich, full yet with all of the audiophile tricks included. ; ) I truly love my room, as what I hear inside of these walls has beaten demos of high end speakers in shops and others I have heard that cost much more than what I normally have in here.
When I had the standard passive LS50's in this room though, which are notoriously hard to match an amp to, I ran them with three integrated amps. One was a $10,000 McIntosh Ma8000, one was a McIntosh Headphone amp and the other was an Audio research 75WPC amp. None really drove those original LS50's to my satisfaction, or..what I should be saying is, the LS50's while being amazing with layering and detail fell flat for the lower end. They had almost no real solid room filling bass, and while they were as open as can be, had a nice wide soundstage and had gobs of detail, the high end irritated me too much so I got rid of them and sold them at a $300 loss after a few months. They never grew on me and yet I tried, and I did love them for what THEY COULD DO, just not what they could not do. This is why I never reviewed them as well. I do not review what I do not like ; )
After they were sold I somehow missed that layering and detail they gave with some vocals. In some situations, they did deliver amazing spooky real vocals. When I saw KEF was releasing "wireless" active versions of the LS50's with four amps inside of two speakers that matched the drivers perfectly (200 WPC for the mid/bass and 30WPC Class A/B for the tweeter) as well as its own 24/192 dacs and all the inputs I would need…I knew I had to give them a test. The word on the street was that these new Active versions upped the game and brought these speakers to life and the bass now extended lower, into the 40's. WHAT?!?! If so, I would be getting that sweet detail of the KEF's and some of the bass that was missing from the passive versions! Hmmmm.
I ordered Black with Blue drivers but you can also get these in White with Copper Drivers or a Grey with Red Driver (would have been my 2nd choice)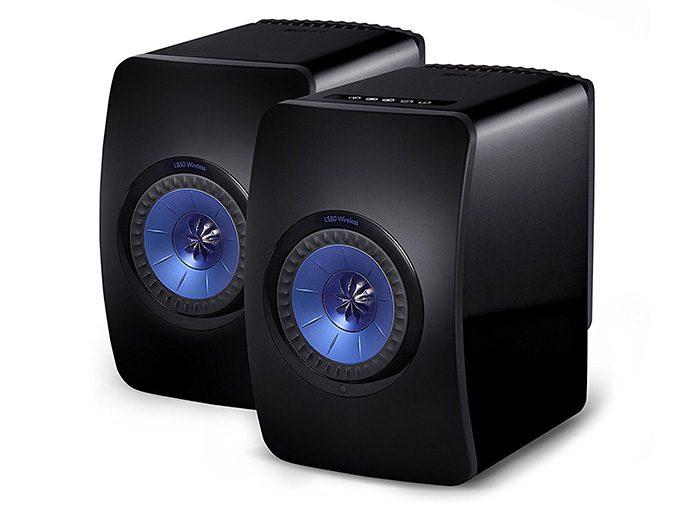 I ordered a set from Amazon at $2200 in Black with Blue drivers as that color combo matched my listening room perfectly. When they arrived I moved out the Klipsch Sixes and was ready to be BLOWN AWAY! All of the reviews of these speakers praised them as amazing. When I put them in, I was a little let down as they sounded thin and flat. The $799 Klipsch Sixes I reviewed recently were pumping out LOUD, LIVE sounding music with an effortless ease and these were..well..NOT. Now, due to the power cords and cables needing to be plugged into the each speaker, I could not fit them on my stands (same with the Sixes) so I set them where I had placed the Klipsch speakers.
As the music played I notice the same thing as I had with the passive LS50's. They seemed thin and a tad bright. Hmmmm. Something had to be off..it had to be. I soon found out that yes indeed, something was off.
I have a Sonos going into these with an audioquest Diamond optical cable. I also have my Marantz TT15 Turntable going into a Tube phone stage (Vincent) and then into the analog ins of the speakers. As they played I decided to read the instructions, lol.
When I set them up I set the controls on the back to them being on a desk and away from the wall. When I changed the settings to being close to the wall, they came to life in the bass dept. THERE IT WAS. BASS. It was rich, never boomy, and solid/tight and fast. Wow. What a difference. While no where near as plentiful as the Phantom Golds with the Bass, they were delivering better imaging and resolution and were more open. The bass was plenty good enough, and much better than the previous passive LS50's.
On the back of the right speaker you can set up the speakers for your listening room and placement. Also, all inputs reside here. Analog, Optical, PC, Subwoofer, USB, Network and an output to the left speaker. The cable that connects the speakers comes with the set and is around 3 meters long.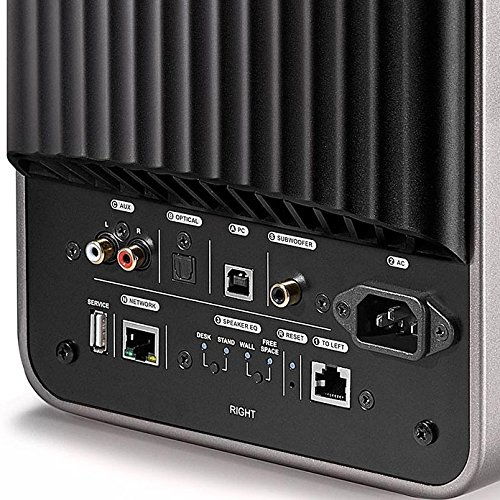 I then set up a pair of suedo sands, the ISO Acoustics Aperta stands. They are aluminum and fit these speakers like they were made for them. Amazing fit and finish and look. When the speakers were placed on these, same spot, they were lifted up a tad and BOOM, now I had even better bass and focus. I had a little warmth going on but it was … magical. I then set the settings to these being on stands and close to the wall. ONG, OMG, OMG. THIS WAS IT! On the Aperta stands, with these settings I was hearing magic.
I had to get serious and get in my spot, and make sure they were set up perfectly for my "sweet spot". Once I did this, I dimmed the lights, chilled out and sat in my chair listening to my demo playlist.
I was … well…BLOWN AWAY. These do NOT have the all out gusto and power or bass output and in your face sound of the Phantom Golds but dare I say, they sound more delicate, more focused, more complete, more cohesive, more open when compared side by side. No chest thumping shaking bass and no warm sound but it was just right. A shade or hair to the right of neutral into warm and with the detail and imaging I was hoping for, the same imaging and depth I heard from the passive versions but now they came to life with the extra bass extension and power. The way these speakers deliver music is quite special and spellbinding. Put on some acoustic guitar, piano, vocals or a mic of all and you will be shocked at the realism of the vocals and midrange. Best I have heard since my old Guarneri Evolutions and these may even be better in many ways (Guarneri can be very warm depending on amp or room and this can hinder the details and open-ness of the speaker) . The KEF's are More accurate but also throaty and husky when needed.
These speakers ship with all cables you need and a basic plastic remote, with matching colors to your speaker. So my remote is blue and black.
You can use the remote of the touch panel on top of the right speaker to power them on, change inputs, go to bluetooth or adjust volume.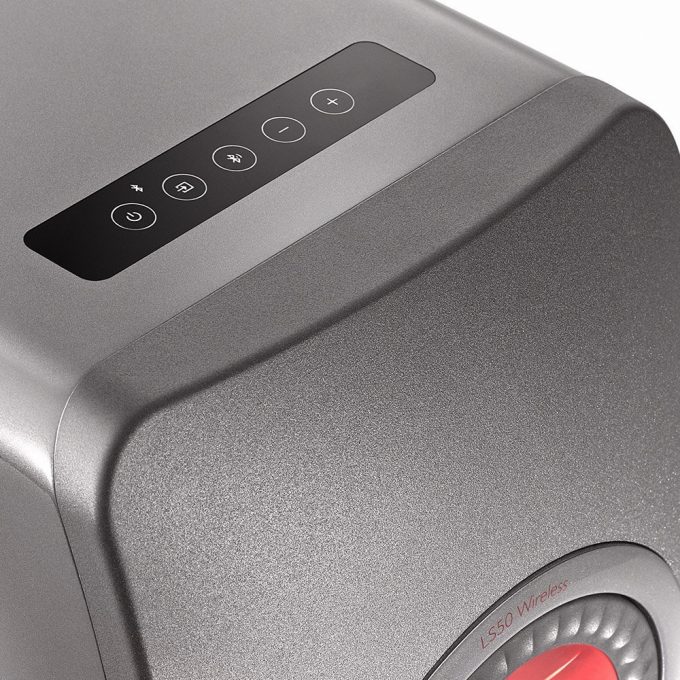 The remote could have been better. For example, I am using two inputs. Optical and Analog. There should be buttons on the remote to pick whatever input you want but instead there is just one button to scroll through the inputs but you never know which one you are on, so it is hit or miss. The remote is also plastic, and kind of cheap. I would have loved to see a nice backlit metal remote as these seekers are pure high end in looks, build and sound but the remote was an afterthought. But back to listening…
For kicks I started to turn them up to see how loud they can go, as this is usually a test of how good a speaker really is…and as I kept going they would get louder and louder yet the volume steps are like baby steps, so I kept pushing and pushing and they became so loud my wall shelving units were shaking yet the speakers never sounded congested, they never lost focus and they never sounded harsh. They kept that same sound at every volume level I tested them at but would get louder and louder. When my shelves were shaking I decided to not go any further with the volume so I never maxed them out, but they retained clarity and focus when pushed which was pretty impressive. When loud, they can fill my room but they sound much different than the Phantom Gold's do. The Phantoms have a warmth and just overall sense of ease and power about them, and they can blow you out of the room, but they sound much warmer and not as open as these. With the KEF's I hear amazing things with acoustic instruments, piano and vocals. For metal and rock, the Phantoms rule the day but these are not bad at all, even with old 70's rock. All I miss is a tad bit of mid bass thump. But the pros far outweigh that one con with these.
For my small room, these are just about PERFECT. Not too much, not too little.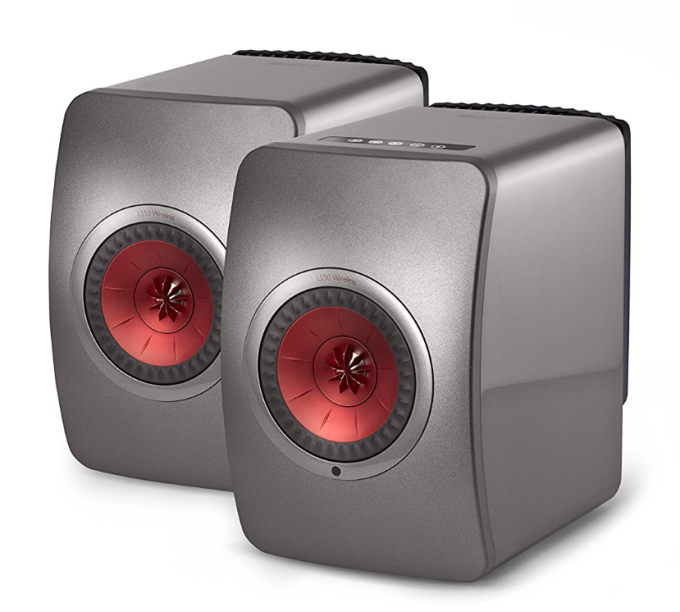 As I sat in my sweet spot, I realized it was now four hours later and I was still grinning and smiling at the amazing sound coming from these. When I listened to all of my demo music not once, but twice I knew I had something very special here. No hype, no BS. No fatigue, no shrill sounds, just exactly what I had hoped for. When I had the original LS50's I did not even want to write a review, as if I do not really love something I do not review it or write about it. So they were sold at a loss and I never spoke of them. THESE on the other hand, these are up there with some of the best I have had in my house, and I have owned systems up to $45,000 and some a little more. The funny thing is, my worst sounding system here was that crazy expensive one that neared $50,000. That showed me that the cost does not mean all out performance. Some speakers and amps are just over rated and go by name recognition, and I have learned this the hard way (by buying and selling and losing). After having these LS 50 Active Speakers in this space for a while now, I can not imagine taking them out, even for the Phantom Golds. THEY ARE THAT GOOD. They offer something that is hard to pin down, and hard to get from larger speakers as well. They are so lifelike, yet do not shout of of the speakers like the Klipsch do. They are not direct, but when you listen you feel an expansion of a soundwall  that stretches out beyond the speakers. You hear precise layering of instruments and voices and damn good imaging.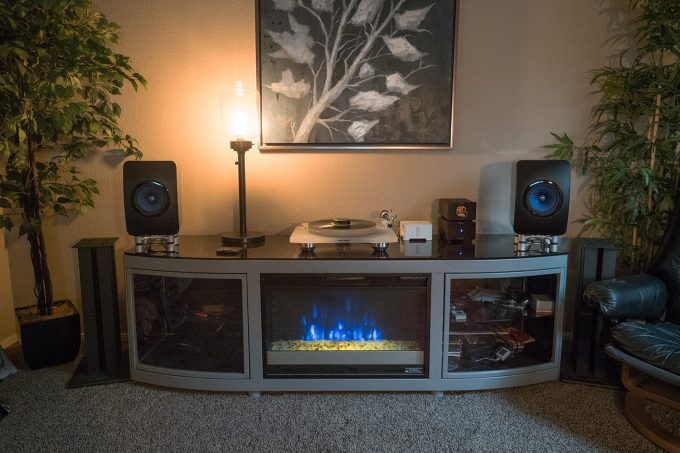 KEF has a future classic here.
But remember, they did not get this good until I set up the DSP on the back and put the stands in place. Now they are locked in, and just give me a wide soundstage, precise imaging, amazing layering of music (you hear each instrument clearly) and vocals to die for with some artists. Bass is tight, snappy and amazing, and I do not need a sub here..in fact, I would not want to muddle things up by adding one. I do not feel these are lacking bass and unless you are addicted to Hip Hop and beats headphones you would not find them lacking either, unless you had them in a huge room. What is truly awesome is the bass never ever gets boomy or muddled, nor does it ever interfere with the delicate mids and treble. It is tight, and called upon the needed. Amazing integration here and KEF really has created a speaker that truly blew me away, and for much less than all of my old setups. CRAZY!!!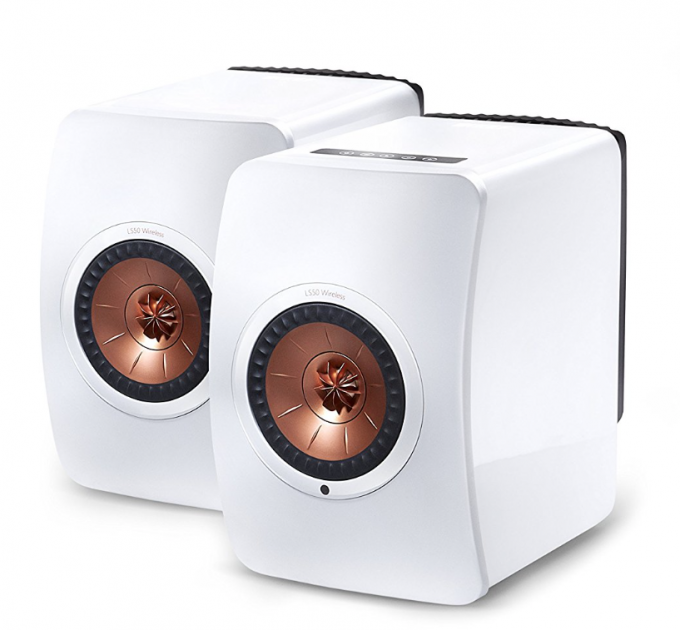 Listening to Only by RY X had his voice floating in the middle of my room with a scary realism that blew my mind. I had this effect with a couple of other speakers ($25k and $16k) but never with $2200 self powered speakers. As the guitar and piano were behind this voice, it was almost like VR audio, lol. At that point I knew, I KNEW these were staying no matter what I had to do. Now, the old lS50's suffered with rock or metal music, and some electronic as they did not have the balls and gusto to reproduce that music properly. THESE CAN to some extent but if you like hard driving rock and metal, I'd say there are better options. These excel with voices, acoustic, electronic, jazz, and even modern pop and country. With Rock and Metal they sound great but you may miss the driving thump of larger speakers with more mid bass. I am listening to KISS ALIVE II on vinyl as I write this and while some mid bass thump is missing the soundstage and realness of the voices and instruments make me feel like I am there. The old LS50's could not do this. So these are much more versatile than the old ones that were raved about everywhere.
Now, with the good there has to be a bad right? YES THERE IS.
The App that you use to set these up? WORTHELESS GARBAGE. I never use it, and do not need to. read below on my thoughts on the app, and how I use these to guarantee I never need to load that app up ever again 😉
I have used countless HiFi setups in my days, over the last 20 years or so and I have had opportunities to use systems ranging from $500 to $50,000 and this right here, these KEF Powered Active Wireless speakers? In my top 3 easily yet they come in at $2200 and include all you need from amps, dac and inputs. All in one, the future of HiFi. Set these up right, use a good source and cable (I use a fancy Audioquest Diamond Optical and yes, there is a marked improvement over a generic optical) and they will reward you with some amazing organic beautiful sound. This is what 2 Channel is meant to sound like, and the fact that these come in at this price point makes me wonder what other high end manufactures will be doing for the near future.
Of course there is another con to these. With all electronics being INSIDE the speakers, if an amp goes out you are sort of screwed. If a DAC goes out, screwed. With separate components we can fix of swap what is broken easily. With these, not so much. So while we do not know about the longevity of these, they seem to be built to a very high standard, and so far, so good.
My advice if you buy these?
USE Dedicated stands and set them up correctly. If like me you are limited with this due to the cables needing to be attached, get some ISO Acoustics Aperta stands, that were actually made just for LS50's and set them up like I did. Take your time and angle them in to your sweet spot. I have some toe in. Set them up as on stands but far from the wall if going the ISO Acoustics route and  you will have rich sound with plenty of tight, never boomy bass. Of course, room size and dimensions come into play so work with it. When set up just right these will be incredible.
KEF makes dedicated stands JUST for these LS50's. They come in black, white or silver to match the color of the speaker you choose.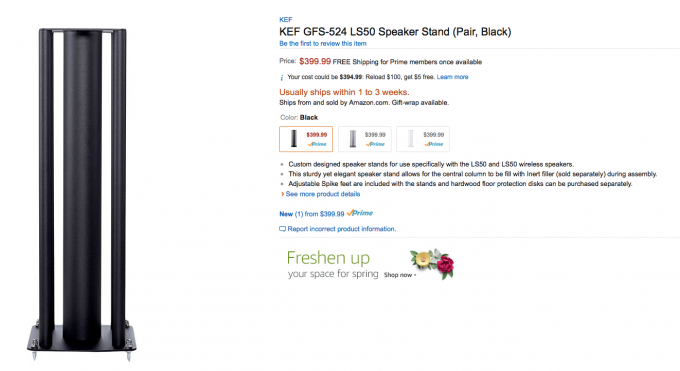 So far this is my speaker of the year. No contest. For the cost, and what you get, nothing on earth beats these at this time and I do not see anything coming up soon that will at this cost/price point for what these offer in looks, design, build and most importanty, SOUND quality. if you like accurate sound with a wide soundstage, precise imaging, amazing layering of details and a natural non bloated sound, these are it. If you are used to artificial booming bass, or have a very large room these would probably not make you happy. But for me, in my 12X13 space, with the Aperta stands and using Sonos and Analog (which gets converted to digital just like the phantoms) I have never heard a better speaker anywhere near this price point, again, in my space.
OH, one last thing. After about 5o hours these open up DRAMATICALLY over what you hear out of the box. At around the 50 hour mark I noticed a more effortless sound, more room filling with a soundstage expansion in width and height and I also noticed the bass performance get better and better. Break in is true with these babies, so do not judge them out of the gate. Right now mine have about 100 hours on them and they are sounding jaw droopingly amazing. I still can not believe what is coming from these speakers. KEF could have charged more and gotten away with it. ; )