PS Audio Directstream Junior Dac (REDCLOUD) in my System! My Thoughts. 
Ever since finding my Audio Nirvana with my system in general (Speakers, Amp, Vinyl and Digital) I have found one area that needed improvement (My DAC). I am thrilled with my system and my speakers (Klipsch Cornwall III) as I say it and my friends who have heard them say it. It's the best sound I have had I my room…EVER.
Yep even beating a $50k system for sound here (that I once had here, in this room), and that is no BS. These little speakers, when paired with the right amp and source are pure heavenly magic. I know as I am listening right now, and I am floating inside the music when I close my eyes. This is a holy grail for me as I have never been so content with my system. The fact that this is happening with $2000 speakers instead of $20,000 speakers is what makes it extra nice.
One thing that is helping with this magic is the new DAC I bought. The PS Audio DirectStream Jr. But I admit, when it arrived I hated it. I was ready to send it back after the 1st 2 hours. But I waited for this supposed burn in that was supposed to make it come alive and about a week later, leaving it on 24/7 for the week, my jaw has dropped and so has the mic. Yes I am excited and that is because I have found a HiFi product worthy of that excitement! That is rare for me these days!

It's true. This DAC is the best digital I have ever heard with my ears. It easily defeats any DAC I have ever owned as well and it is not even close. I mean not even close. That doesn't mean there aren't DAC's out there to beat it, as there are. Also remember the room makes the biggest difference from what I will hear here vs what you hear in your own room. For my room this DAC has beaten all others I have tried, and it's not even close.
The 1st few days though, it sounded soft, mushy, dead and dull with a limited stage. Today it is giving me the most organic, sweetest most magical sound I have ever heard come from these speakers. In fact, this is an amazing DAC to pair with Klipsch heritage speakers. This sound I am getting is so analog, so pure, so sweet.
Burn in with this DAC though is 100% real, and a thing. If you dismiss burn in you can't with this as it changed entire personalities within days for me.
In fact, here is a true story. I had a good friend here the other night and I sat him in the sweet spot, turned down lights and played three songs. When I returned to the room he had tears running down his cheeks. He was amazed and asked what kind of pixie dust I had spread on my setup, or him. He said it was so real he was also inside the music. He has heard my system before, many times, many variations. He said he has never heard it quite like this, and the only addition since he last listened is the DirectStream JR DAC. He heard the difference easily as it was HUGE. Night and Day, and I never thought a DAC could do this. But this one did. Probably because it doesn't use a traditional DAC chip like almost every other DAC does these days. In fact, what is used here allows PS Audio to update it, and change it as they see fit.
It's a futureproof DAC and from what long term users of the Directstream Sr say, these updates have been improving it each and every time. I agree as I have tried all previous firmware's and the latest is the best one for my system. How cool is this though? Would be like an interchangeable sensor on a camera, which would give you the experience and quality you wanted, by having a choice.
This Digital to Analog converter though sounds so much different than typical high res DAC chips we see implemented in so many DAC's these days. All other chips do indeed sound digital, and I used to never understand the disdain for digital sound when it is good and done right. I also have never heard digital sound like it does with this DAC, so it was an all new experience for me to literally now own a digital front end that sounds like analog, but better, without the noise and maintenance.
I say "better" because it beats my modest Analog rig. I can see it beating an Analog setup priced at $10k to be honest, or in line with it.
What this DAC has done for my system…
THE MOST 3 DIMENSIONAL SOUND I HAVE EXPERIENCED IN 2 CHANNEL AUDIO in my lifetime. 
A LEVEL OF REFINEMENT TO THE MUSIC THAT SOUNDS TRULY HIGH END, YET NEVER HARSH. 
EASE OF STREAMING HIGH QUALITY HIGH RES USING BRIDGE/ROON WHICH IS BUILT IN!
AN ANALOG SOUND THAT HAS NO HINT OF DIGITAL (in my system) AND IS ORGANIC AS CAN BE (rich, fluid, big, dimensional) 
HUGE SOUNDSTAGE.
Now keep in mind, this is my system with my speakers, amp, cables, etc. What it does here may not be what it does for you but for me, it was the biggest improvement I have ever made to any system I have owned.
As I listen now I hear the room fill with beautiful music. Never harsh, never dull, never flat, never sharp. It floats in the room with voices coming from the extreme right, well beyond the speaker, then the same on the left, then a voice comes from dead center about 5 feet up from the floor, singing directly to the person in the sweet spot. Even my dogs are being tricked by the sound, barking and thinking there are people in the room (from a live performance I am listening to).
Before this DAC I had a Cambridge 851 CD player, using it as a DAC as I have in the past. It's great, it's wonderful. But I paid $1k more for the JR (Great deal open box from a great Dealer) or around $2500 (List is $3995). The Cambridge cost me $1599. I enjoyed the Cambridge but now, I could never go back. The digital I have now is so organic it sounds pure analog, but if I can be honest, it sounds a lot better than my now $5500 analog rig. There is no digital sound at all to be detected, in my setup (Line Magnetic 219ia, Cornwall III, Tidal HiFI through ROON, Nordost Frey 2 Speaker and IC, Audioquest Power Cables (Tornado and Thunder) Also an Audioqest Niagra 1000.
This Sounds like the best vinyl I have heard with zero noise. Its dead quiet. So better than any Vinyl I have ever had in my system. The front end of your digital system is KEY! I am starting to see this may be the most important part of your system.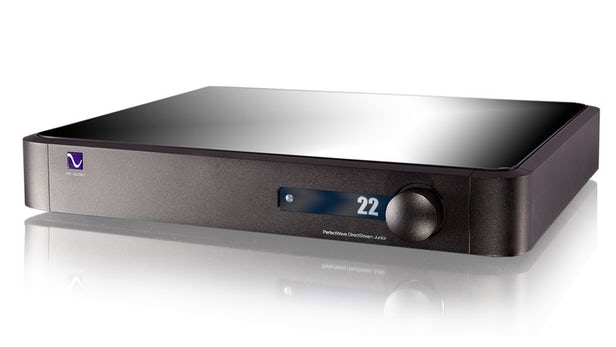 This sound is IT for me. It can only get better for me if I spring for the DirectStream SR (and I just may after a year or so). Period. Buying this DAC was one of the best audio decisions I have ever made. The other was the LM 219ia Amp. I was able to get an open box show deal on this DAC and saved $1500 over a new one. When it arrived (from Upscale Audio) it was practically brand new, still had the plastic wrap on the top. It was never used as the burn in was so dramatic it shocked me how much it changed over just a week.
UPDATE 11/18: Been testing this with a Luxman 590 AXII as well and the current firmware, Redcloud is a tad sharp with this amp but going back to Huron, OH MY!!! SO SO SO ANALOG sounding! With the new SNOWMASS update coming, I can to wait to see what it brings to my system.
BUILD, APPEARANCE AND BRIDGE!
The build quality and appearance is also top notch here. PS Audio makes some stellar gear and this one was built in the good old USA. The quality is sublime and very attractive as well. It also includes the BRIDGE which means setting up ROON or Spotify Connect was easy and too no more than 2 minutes. I can now stream Tidal HiFi or Spotify direct to the DirectStream Jr. I was able to drop the Bluesound Node altogether as I no longer need a streamer. The more I think about this, the more I realize what a deal this DAC is.
Man, I am so glad I decided to jump on this DAC. I would have been happy paying the full retail, as it sounds like a $10k DAC. Even better. I am running the latest update REDCLOUD but when it arrived it had Torreys on it. These are the updates, that comes from PS Audio from time to time. They deliver sound improvements and the beauty is that anyone can go back to any previous firmware if they prefer the sound of an older update. I have tried them all (Updating and changing takes 2 minutes) and I ended up preferring REDCLOUD, which is the latest and greatest IMO. Pure Analog sound here, and I still can not believe it, or what I am hearing.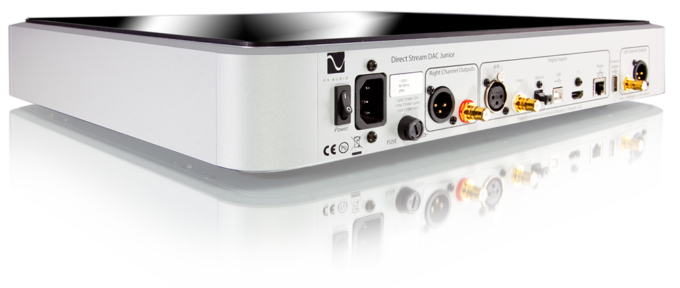 Actually, I just paused my writing to switch back to the Bluesound Node using it's internal DAC. Eek. This JR is sooo worth it. The Bluesound Dac sounded strange when compared to the JR. Digital for sure, a tad brighter, and thinner. ALL THINGS I NEVER noticed until the Jr. was in my system. In fact I was saying just weeks before that the DAC in the Bluesound was so good, I did not need an external DAC. Amazing though how the JR DAC elevated my system compared to that little NODE.
The PS Audio JR has a full sound, but also a huge transparent sound at the same time. Music has weight, but is never even slightly muffled or veiled. Instruments are placed perfectly within the stage. Music "floats" and you can float with it if you have a good imagination. ; )
I have also had in my system the following DAC's, all of which this JUNIOR literally slaughtered… I will rank them between 1-5 as well…
Chord Hugo TT – 3.5 out of 5
Cambridge Dac Magic – 1.5 out of 5
Cambridge 851 – 3.5 out of 5
Bluesound Node  – 2.5 out of 5
Mytek Brooklyn + – 4 out of 5
But I give the JUNIOR a 5 out of 5 for what I paid for it ($2500) There is no comparison. Adding this Directstream Junior was like adding a major new component to my system and an astounding one at that. No kidding.
I LOVE IT, AND WILL NEVER LEAVE ME. Unless…
INTIMATE, PURE, NEVER fatiguing. Those words pop I my head right now. Even crappy recorded songs from the 80's sound good using this DAC and to me, this is unreal as I have never heard some of these 80's recording sound good, EVER. I have yet to find ANY recording sound bad. It seemingly does some kind of magic inside to make all music sound extraordinary. It's amazing. Truly. But again, what it is doing here for me…doesn't mean it will for you. I can only give you my experience in my room, and let's face it, the most important component in your system is your room. All rooms sound differently. I just so happened to find my perfect combo of gear for my room, luckily ; )
I have never been as happy with my audio system as I am today, and thats after 25 years and countless systems. I attribute this happiness to my system as a whole but it was not until this DirectStream DAC JR that I truly truly understood how good it all is ; ) If you can audition one, I say go for it. What it has done for me is eye opening, and now I realize the importance of a good or great DAC.
11/23/18: I am going to upgrade to the DirectStream SR which is said to offer a 15% improvement or so. Ill add the bridge and sell this JR. This shows how good this DAC is. I love it so much I am staying within the PS Audio family to upgrade to the SR version which will set me aback another $1500 or so after I sell this. It's future proof. With the yearly upgrades from PS Audio, at no charge we never have to feel like we have an outdated DAC. It's like a fine wine, it just gets better with age.
I bought mine from Upscale Audio. I used to buy a lot of Cary Amps from them back in the day (Rocket 88R, V12I and R, 805C) as well as some speakers (Avantgarde Uno) and gave them a call about a show piece JR they had. I bought it and it arrived the next day ($88 next day ship) and I could not be happier with my purchase. I will buying the SR from them as well, but make no mistake…this DAC is a stunner and will bring an almost analog vibe to your music, but for me, even better. No downsides here for me, at all.
I recommend this dac 110%. It's magic, but let it burn in, do not judge it the 1st week or so!