The Best Beard Care and Oil on Earth. My Reviews.
By Steve Huff
Over the last six months I have been trying out various beard all natural products for my beard and not all are created equal! Products from companies like BeardBrand, Live Bearded, Honest Amish, Fable, Black Rebel, Beard Octane, Luxurious Bastard, Bearded Bastard and others have been in use by me for the last 9 months.
Of all of these, I have one clear stand out fave brand and a close second place.
I used each brand exclusively for 2-3 months, then would trim down and start again with the next brand to find my fave. 
What does beard oil do? Butter? Balm? Well, over my 53 years on this earth I have tried to grow a beard many times. In the years past I would stop and shave due to one reason. My skin would get irritated, dry, flaky and beard dandruff would be awful! I was not aware at the time that all I needed was some beard oil. The oil soothes the skin, keeps it from drying out and promoted healthy beard growth. Since I started using beard oil, my beard grows so much faster, fuller and softer. I have no more itchy skin, dandruff or issues. I use Beard Butter mainly at night to nourish the beard and skin while I sleep. I sometimes use it with oil during the day.
Just before starting my beard journey. Bare faced!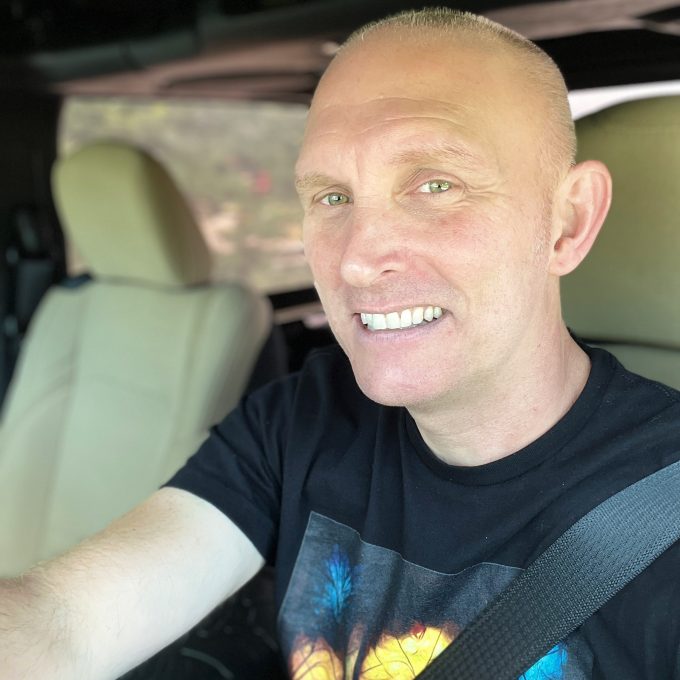 I have been doing these experiments with various brands over the last nine months and I have found that not all beard products are created equal. I have found most department store brands (wal mart, etc) use ingredients that are not natural or use inferior quality carrier oils. Some of these messed with my skin. 
In this article I will speak of my experience with all some of these popular beard companies who sell all natural oils, balms, butters and washes. How did they work for me? Were there any issues? I can say right now that I have bought all of these products, paid full price and none were sent to me for review. No discounts for me as I want this to be 100% fair and square.
I was using BeardBrand OG Balm and Oil during this phase of my beard journey. I believe I had Temple Smoke in and I LOVE that scent though it is light and without much lasting power.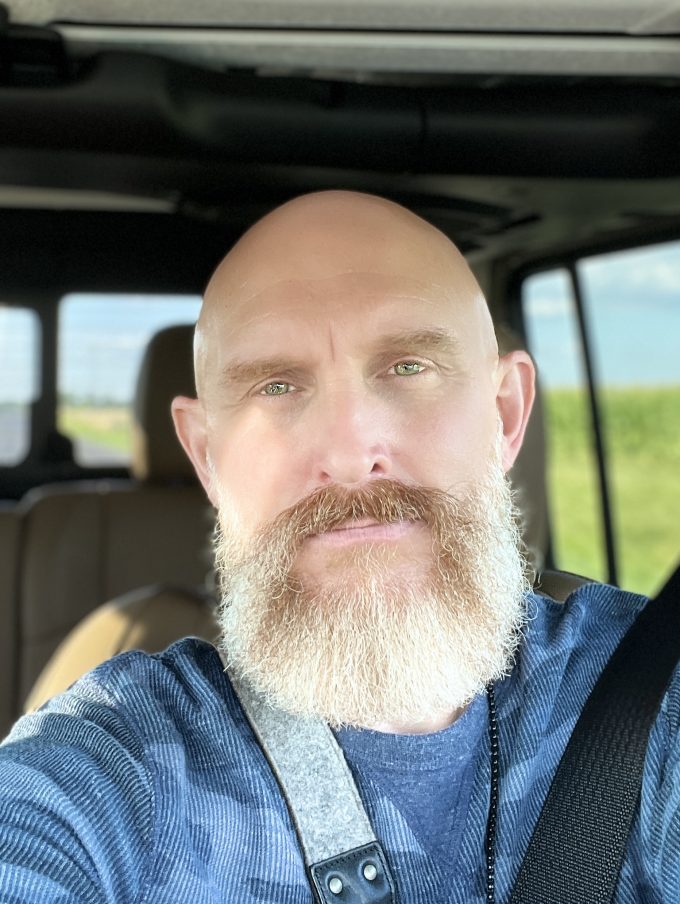 Here I am at the age of 53, growing a big full beard for the first time in my life.
It's been a learning experience indeed but today I do my own trims and have found the right products to not only tame the beard but to keep it (and my skin) soft, nourished and feeling amazing. It also smells outrageously good! The road to get here was not quick though as I have tried over 50 different oils, balms and butters from several brands. I can be OCD like that until I find just the right product.
I settled on one company that did no wrong for my beard and truly took it to the next level in softness, style and smell! 
I will only be talking about a few companies and my experience with their beard products. I tried out oils and butters from several companies but will keep this discussion to just a few of them. The ones that stood out the most. There were quite a few brands I did not like at all, so will not discuss them here.
So who were brands that my beard liked (and disliked) the most? 
Let's get started.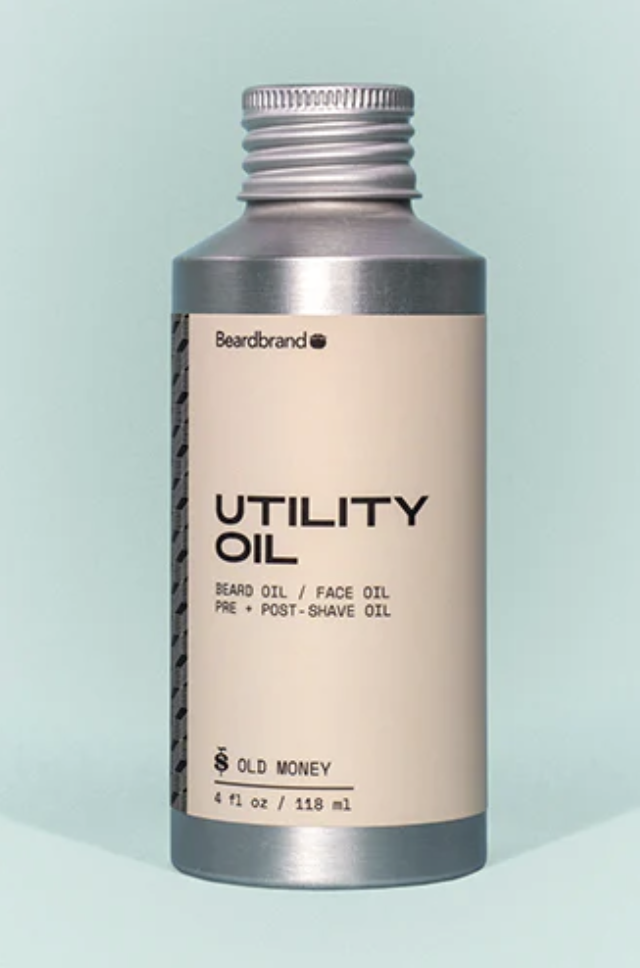 Let's start with Beard Brand.
BeardBrand is a beard related company that really took off when the owner, Eric Bandholz, appeared on Shark Tank.
Even though he did not get a deal from the sharks, Beard Brand exploded after that appearance and they were able to create some stunners in the beard oil and balm line. They also released several other products like Sea Salt Spray, Cologne, soap and beard wash/conditioner.
Beard Brand was the first company I tried after all of the selections at the local Target and Wal Mart disappointed me in one way or the other (Though I do like Honest Amish, just not the scent). They were also on another level of quality from what was on those retail store shelves.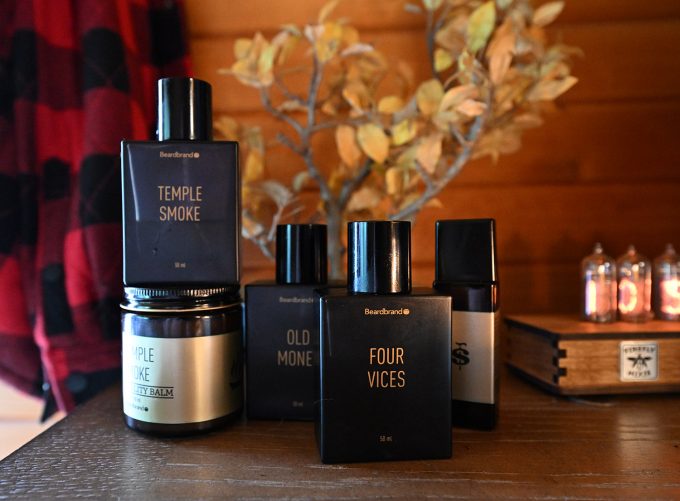 I started with their "Old Money" Scent and bought the oil which comes in a 4oz aluminum bottle (image above is their old formula and packaging which I liked much better) as well as the large metal tub of Utility Balm. I then added the deodorant and cologne and I was blown away by the complexity of the scent. It was a bit dark but rich, with hints of mahogany, leather and an overall sweetness and uniqueness that truly stood out to me. I was so happy with this I bought their "Tree Ranger" and "Temple Smoke" scents as well. Tree Ranger was ok and Temple Smoke was intoxicating if not a bit subdued.
Keep in mind I was so happy with this as I was used to the subpar store brands I tried and disliked. BeardBrand is next level from those. But not all was peachy with the products and my skin.
After a month of use I noticed my beard was so soft but at times the balm seemed to weigh down my beard somewhat, and it started to look a little greasy. I was also getting some pimples under my beard. The current BeardBrand balm is old school with a yellow gritty kind of greasy feel that smooths out and melts when you rub some in between your hands for a bit. Reminded me a lot of Honest Amish balm but with a much better smell. Honestly, after some time with it I stopped using the current formula of Utility Balm due to the greasy feel and pimples it was causing on my skin.
I then found the old formula and was very happy.
My batch of BeardBrand's Black Crown Utility Balm (OLD Formula) is pure silk.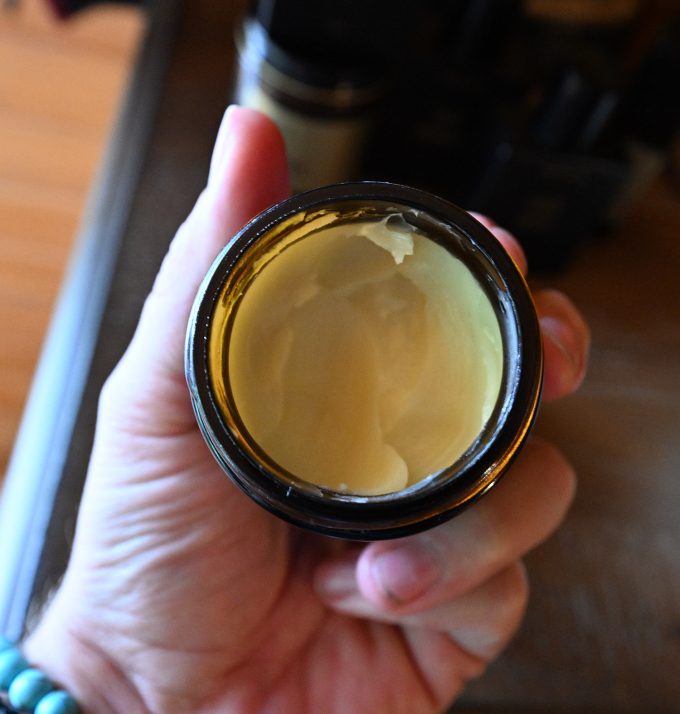 I later found out that this current formula was their "NEWER" formula launched in 2022 and not so many Beardbrand OG customers liked it. Neither did I. 
I ended up going to eBay and I bought the OLD formula of Utility Balm in the Glass Jars of Temple Smoke, Four Vices and Old Money. WHOA! This was at the time the best Balm/Butter I tried and in reality it is much more like a butter. It's hands down the most luxurious feeling butter of the group here but it can develop grains, which was the reason why BeardBrand changed their formula and removed the best ingredient, the Shea butter (and ruined it IMO). Even so, these grains are easily emulsified by rubbing it between the hands. This old formula was so good I went on a mission to stock up on old jars of it and I did. I only have one left after nine months, half a jar of Temple Smoke.
Just recently (while writing this article) I discovered that BeardBrand is bringing back the old formula by popular demand as of  September 2023. They are also reformulating their Temple Smoke scent and my guess is that it will be stronger (it needs to be). I will be buying a Temple Smoke and Old Money from them this week with the NEW OLD formula!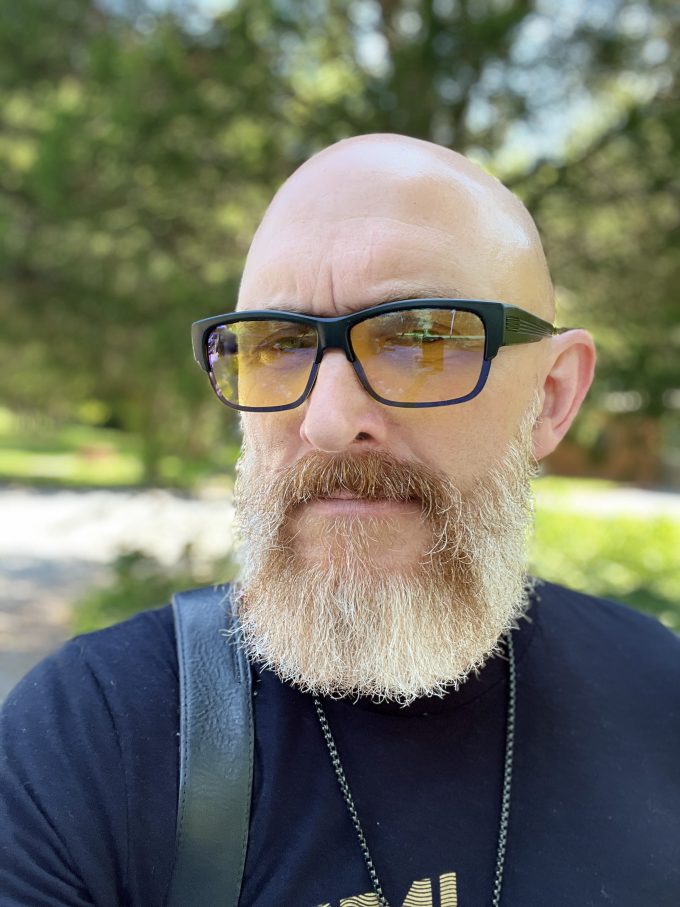 As much as I enjoyed the scents from Beard Brand AND their OG Balm formula, they do not have lasting power in the scent department. I would say after an hour the scent is all but gone, maybe two hours. These are not loud obnoxious scents and Beardrand states they are "for you" and not everyone else. Even so, I would like to see more punch in the scent for Temple Smoke. Old Money is pretty strong, the most potent of the bunch so I guess that one is just fine.
As for pricing BeardBrand are among the most affordable there is while keeping the quality pretty high. BeardBrand is much more affordable than what I see at Wal Mart yet the quality is much better. They used to be the highest priced (when using glass jars, older formula, etc) but now are in fact the lowest priced.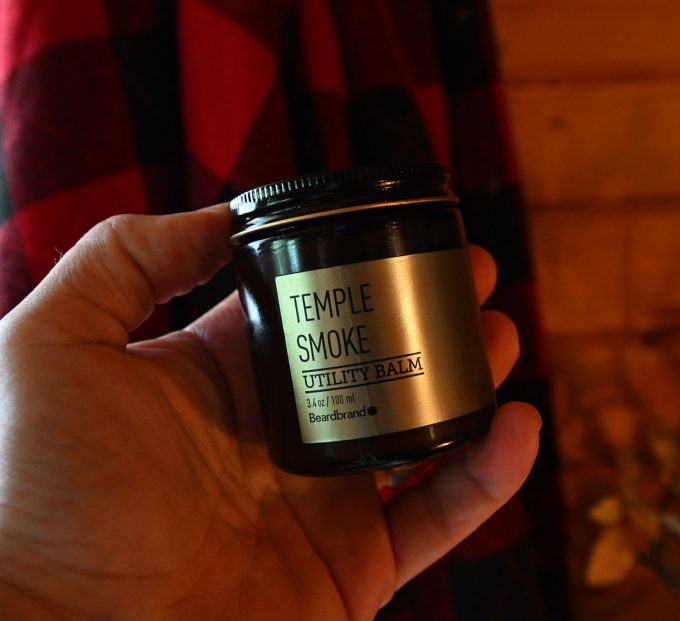 For example, most brands sell an ounce of oil for $15-$25. BeardBrand sells their oil in 4 oz containers for $35. That is like $8.75 an ounce for premium oils with unique scents. About $12 less an ounce than everyone else. Four ounces of oil from say Black rebel will cost me $120. Four ounces from BeardBrand will set me back $35. That's a difference of $90 for the same amount of oil. 
Overall Beard Brand is a great company with great prices and quality oil and products. If I rated via STARS, BeardBrand would get 4 stars (now that they are bringing back the OG balm) as I feel they need some excitement in their line up, which is looking a bit tired now. No new scents have come along in quite a while and they need a few. Even so, their New OG formula (the one they are relaunching in Sep 23) balm/butter is tied for the best in the game for my beard. It has slight to medium control, superb softness and feels super nice in beard. I feel this is the best conditioning my beard has gotten overall as well though it is a touch heavier than the other butter I love from another company on this list.
I also like their wash and conditioner but do prefer one other brand in this area. I am THRILLED that they are going back to the old formula for the Balm as it truly fantastic for hold, feel, and the scents are mellow compared to some others. I had to return two products to BeardBrand (The current (NON OG FORMULA) metal tin of Temple Smoke smelled nothing like Temple Smoke) and the Customer service is legendary. Meg is amazing and they get an A+ for service.
See more from Beard Brand HERE. (not an affiliate link)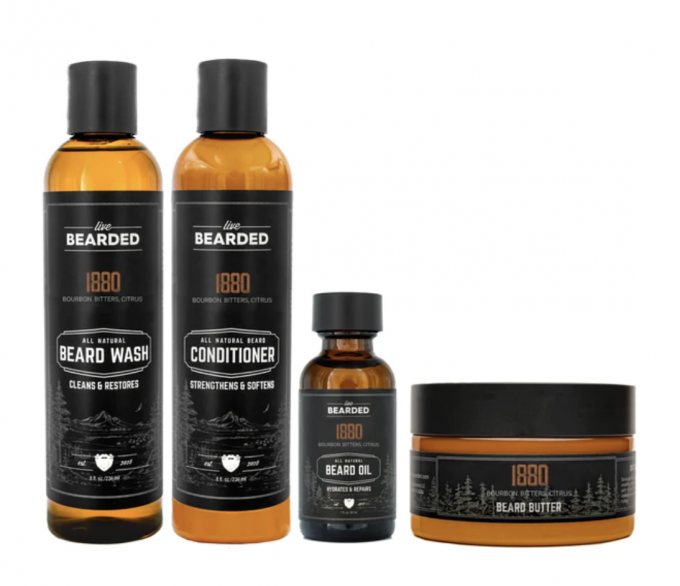 Moving on to Live Bearded 
Live Bearded runs their company in a completely different way than BeardBrand. In fact, LB is very aggressive with marketing and they do a great job on this. They have YouTube commercials that are entertaining and informative, as well as fast paced and they like to call every male on earth "brother". I will be honest, talking with them through email turned me off as every other sentence was "Brother Steve" or "Brother…".
They know how to market though and it is genius of them to offer a sample of all of their scents for $10. This is how I started with them and I instantly knew I enjoyed their 1880 and Tombstone scents but I could not tell from the samples how these would do in a longer beard. At the time I had mid growth but did use LB products in a short and long beard both over time.
I ordered a few of their complete sets and found that their oil is thinner than the BeardBrand oil. It's also clear/white where Beard Brands oil has a yellowish hue. Based on oil, for me, BeardBrand wins easily vs Live Bearded. It feels more luxurious, thicker and keeps my beard softer and it's much more affordable to boot. It coats the skin underneath and never has my beard feeling dry. The Live Bearded oils cost much more ($19 vs $9 an ounce) yet for me does not nourish my skin nearly as well. In fact there were days that may beard felt like straw when saying LB oil and I am not sure why. I thought it was very odd and am not sure how this can happen.
The Live Bearded Butter is much different from the Beard Brand Balm and even different from the sample set they sent for $10. In the sample set the butter was creamy, lotion like and fantastic in feel. The butter you get when you order a tub seems different. It's semi firm, tacky and well, different. The only thing I do not like is that it can feel tacky/sticky in the beard. It offers up nice hold and does seem to make my beard look fuller but by hour 1-2 the scents are gone and my beard feels tacky, almost sticky (but not really sticky). This starts to become an issue with longer beards, at least for me. Especially in the summer as the butter melts in beard.
Consistency has been OK with LB. The only issue I had is when I ordered a special edition limited release (Pirate Drake), the butter was way thinner than normal, looser and much more tacky (and it wasn't from being warm, it never solidified). It looked like someone mixed Elmers glue and Elmers paste together. I had to toss it in the garbage but the scent was not to my liking anyway (Pirate Drake). Smelled like Wrigley's double mint gum to me, period. My wife said the same as did my son. That was the last order I placed with LB because I found something else I prefer for my skin and my beard.
During my use of Live Bearded I found the butter to be a little too tacky for a bigger beard. Feel in beard was not the best.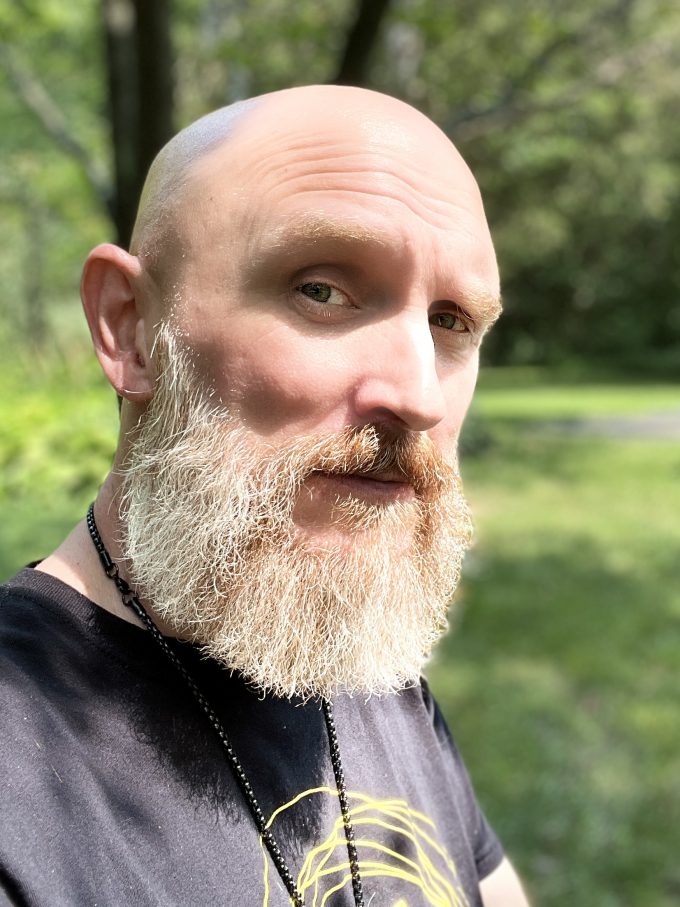 I do enjoy their wash and conditioner as well as their Utility Spray though the spray is pricey IMO and doesn't have lasting power. Much like BeardBrand the scents from LB do not last very long in beard for me. Maybe an hour or two.
The one scent I love above all else from LB is their limited Holiday scent called "Claus". It smells like Christmas in a bottle. You can nab a set of Clause only near Christmas time. I also enjoyed 1880 and American.
With Live Bearded I must use the oil and the butter otherwise my beard dries out. With Beard Brand the oil keeps my skin and beard soft. Keep in mind that BeardBrand oil is $7 an ounce, LB is $19 an ounce. I feel the oil from Live Bearded doesn't hydrate my beard as well as others do.
After a couple of months I found I wasn't liking the LB products as much as I thought. The tacky feel of the butter and the thin oil just didn't work for me. They are also one of the most pricey. I enjoyed them at first, but with almost anything time will tell you the truth. I gave the products away to my son, who enjoyed "Canyon" and "Tombstone".
Live Bearded just didn't work for my beard in the long run but they may work for you and they have tens of thousands of reviews that say so! I highly recommend their $10 sample pack before you jump as you may LOVE This brand. Many do, just know the butter is a tad tacky and feels different from the sample pack for some reason.
I did see how their customer service was with a petty complaint. I did this just to test their service and they were AMAZING. Live Bearded cares about their customers and have a wonderful team in place to fix whatever issue you may have. So they get an A+ here.
How about Black Rebel Beard?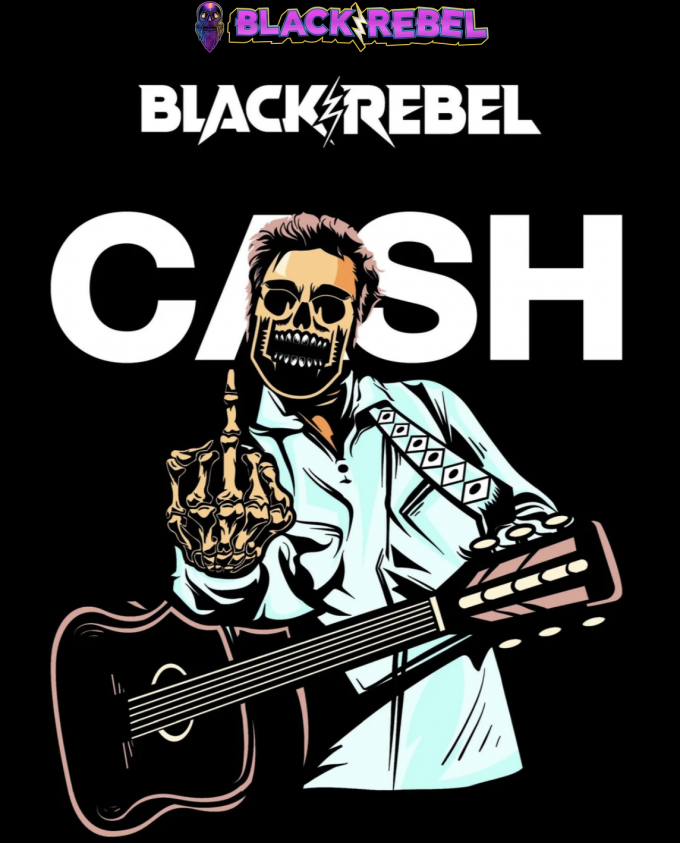 I have purchased quite a few scents from Black Rebel as well because my 1st go round was interesting. This company uses Ostrich oil as their base, 75% to be exact. This means the oil is thicker (very much so) and it seems to go much quicker as well. In beard it feels nice and keeps my beard soft and I like what it does for my skin as well. Ostrich oil will not clog pores and it has some anti inflammation properties. It makes for a great carrier oil. 
The scents (I own 8 of them) all have a similar vibe as you can tell they are all from Black Rebel. There's something in each bottle that connects them together. I could easily blind test and pick out any BR scent. This can be good, but also not so good as some scents, at least to me, seem similar. This is also the most expensive company I have ordered from though they do offer free shipping.
Their oil? Freddie smells a lot like Elvis. Ramones has a similar vibe to Easy Rider. All smell fantastic and unique with lasting power in the way the scent sticks with you throughout the day.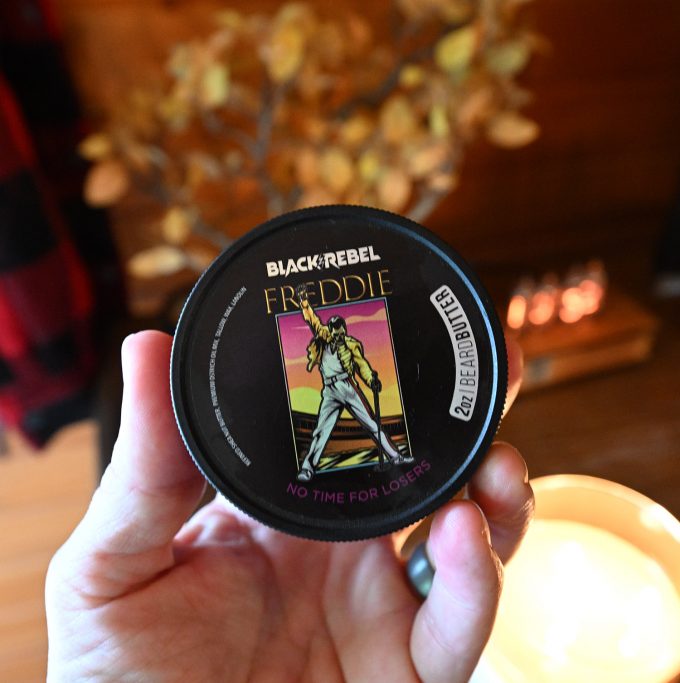 The butter from Black Rebel uses beef tallow and I have to say that after 3 months of use I am not the biggest fan of their butter. It reminds me somewhat of the Live Bearded consistency and when in beard it makes my beard feel a bit heavy and even somewhat greasy. It doesn't look greasy but its feels it and I do not use much at all. Even so, it does offer slight hold as well as conditioning. It's a good butter, and I prefer it to the Live Bearded butter but it does have some slight tackiness. This may be too much conditioning for me with the Ostrich oil and butter combined!
I love the oil, but not so much the butter though it is good/decent. Just use it sparingly. I also bought many of the colognes and they are nice to have when you truly love a scent. When I wear CASH I get compliments. I wore SCOUT the other day to a festival and had two people ask me what I was wearing. So these scents do get noticed unlike when I wear BeardBrand.

I have to say that CASH is one of the greatest beard oil scents ever made, truly unique and WOW.
Scout is one of my fave scents from any Beard company. Should be part of the Mainline scents! It's a keeper.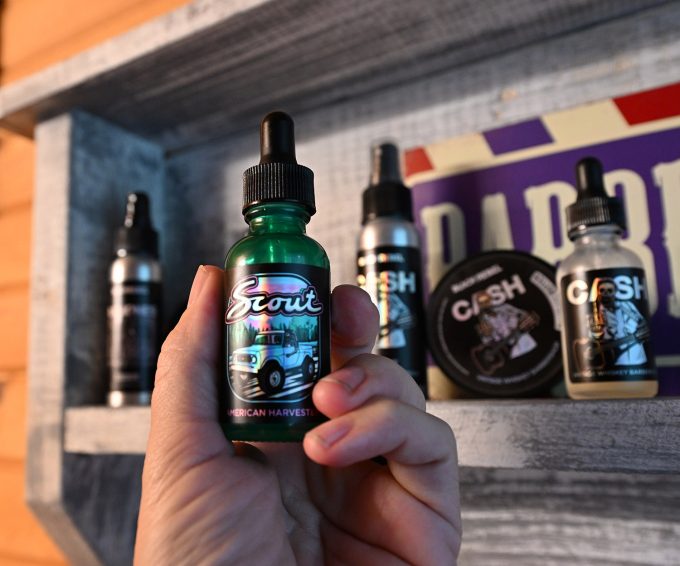 Some of my faves from Black Rebel are Scout (Amazing Unique Scent), Cash (best BarberShop Scent EVER) and Rambler (Has a great light cologne kick and smells nice). I wasn't a huge fan of Lemmy (sort of basic) which was a special drop but of course scent tastes will vary from person to person. What I love you may hate and vice versa. Black Rebel does indeed offer something for everyone but it can get expensive trying scents. They release special drops like Lemmy and then have the monthly scent. No way to know what it will smell like so if you go all in and buy oil, butter and cologne it will cost you a pretty penny and you may not even like the scent. If you just buy the oil and wait to see how it is, they will most likely be sold out of the entire line by the time you get your oil. So you either have to be all in or not at all.
After a trim I started using Black Rebel exclusively. These products use Ostrich Oil as the main carrier oil. It does feel heavier in beard but performs great. Just a thicker feel in beard which for me, lent to a little bit of a "greasy" feel. With that said, the beard looks great with Black Rebel products! This was when I started using Black Rebel, after a self trim.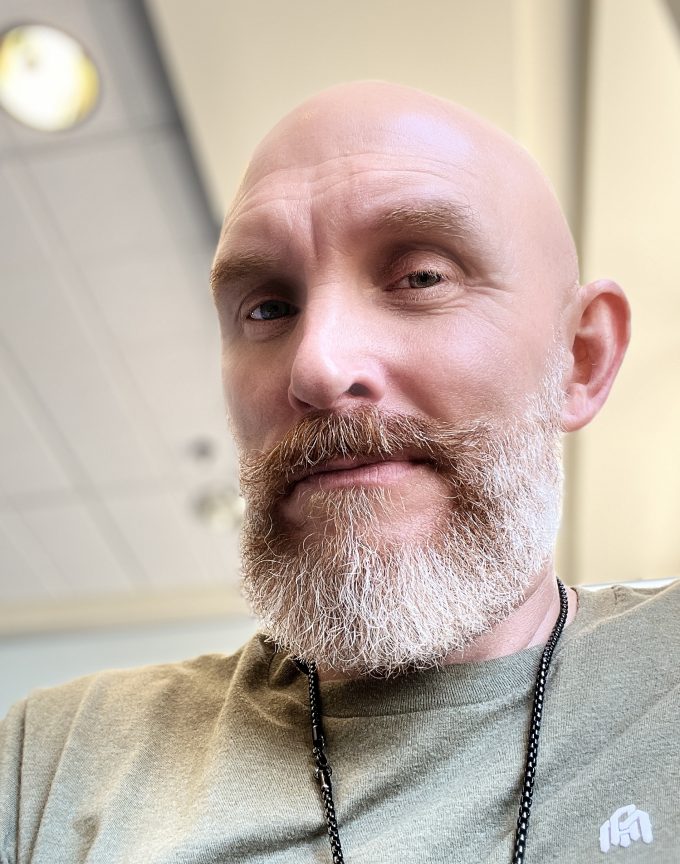 SOFTEST BEARD EVER?
Black Rebel claims a 10X softer beard with their Ostrich oil formula. I used BeardBrand for 3 months, Live Bearded for a month, Black Rebel for 3 months and Luxurious Bastard for 3 months. I did not find that my beard was any softer using Black Rebel vs BeardBrand or Luxurious Bastard but it did soften my gray hairs better than the Live Bearded products.
Overall I feel Black Rebel is a good company with amazing artwork, stickers and quality. I enjoy their product and love three of the scents so much they will stay in my rotation when I want that kick of rebel! I will keep CASH, RAMBLER, and SCOUT. When my Scout runs out I will use Ramones which is a nice light berry kind of scent.
The CASH butter from Black Rebel uses Beef Tallow as one of the ingredients. You can see it looks sort of like paste. It's not butter soft so you have to dig in.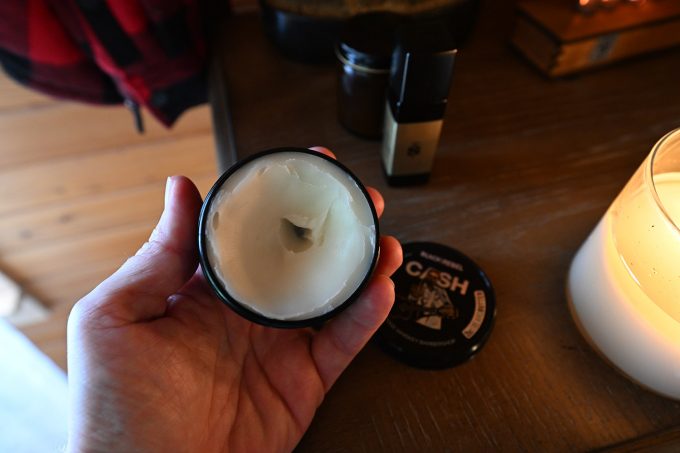 As for customer service, I had to use it once with BR. I placed an order for two products one day apart during their one and only yearly sale just recently. One shipped next day, the other took about 10-12 days to ship. When I emailed them to confirm that this order didn't fall through the cracks I received a reply only saying "we had a sale". That was it.  Umm, yea, but why did one ship and the other didn't? I placed both during the sale. I was cool with it as I knew it didn't fall through the cracks but still, the customer service here is sort of odd and cold. I guess you can say that Pedro just "keeps it real" and I get it as I am the same way in life. To the point, honest and without much of a filter. Even so, when running a business such as this I feel the customer service could be a bit more friendly. I give them a C in this dept. If I were selling a product I would do my best to be friendly, nice and helpful.
I like BR and feel they make a super product. If you do not mind slight tackiness in the butter and super thick oil (that gets used up quicker due to its thickness) then you may want to check them out. Their new wash and conditioner is also decent though my "Scout" wash is as thin as water. Literally. I wasn't a fan of it as when I pour some out, it's water consistency spills through my fingers and there is waste but man does it lather up nicely and the scent is lovely (Scout). I believe this is the new formula they just released for the wash. I ended up sticking with another brand for wash and conditioner at the end of the day (Luxurious) but do enjoy the Black Rebel wash and conditioner, even with the thin water like consistency.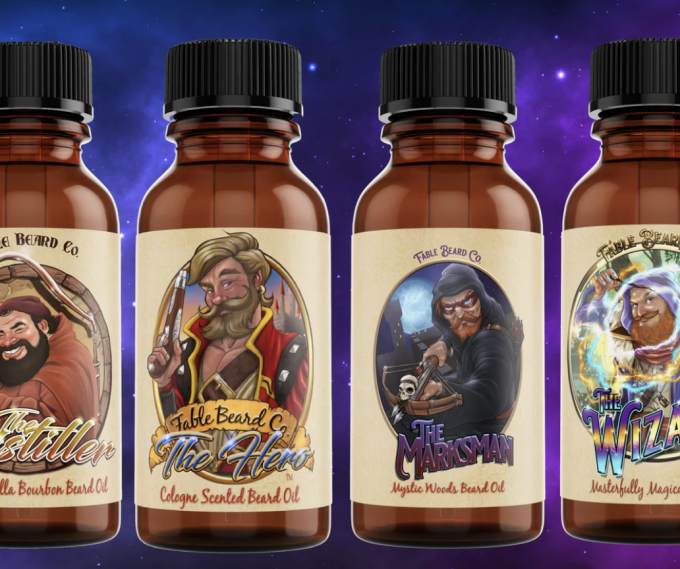 FABLE hooked me in but how were the products?
I have heard great things (and not so great things) about Fable. They offer up scents with a fantasy type of theme and I dig their presentation and unique style. Their website is cool and the scent names and artwork are second to none. I feel they almost best Black Rebel in the art dept, who are known for their stunning artwork/labels but not quite. I admit that I did NOT use Fable products for the full term as I just couldn't love the scents. So take this for what it is, limited use.
I had one scent here that my son gave me a while back, but he only had the oil. That scent is "The Teacher" and I liked its fruity berry type of scent. Problem is, there was maybe a few days of oil left in the container! So I used it for two days and then knew I had to eventually order a couple more with butter to test. A couple of months later I did just that.
I bought "Harvester" and "Scarecrow" and honestly, Scarecrow is one of the strangest beard oil scents I have ever experienced for my tastes. It smells exactly like one of those very loud and strong holiday candles you may smell when walking into one of those small craft shops or candle shops. It's a very strong and almost chemical like, as if a holiday candle is in my beard and lit up. I told my wife maybe I should put a wick in my beard, lol.
It's strong, smells nothing like the description and reminds me of my days of walking through those shops that just have tons of these overpowering candles lit. I do not want my beard to smell like a candle. I get none of the pumpkin or hay in this scent but I do get that fake pumpkin artificial scent. I asked my wife what she thought and she got CANDLE immediately, then frosting. Yea, it's sweet and overbearing for my nose. Too much for me but if you are someone who loves sweet, sticky and gooey scents this one may be for you.
Coconut oil is also one of the main ingredients with the oil. This oil is know to cause breakouts and just 3 days after using them I noticed a couple of pre-pimple bumps under my beard, Coincidence? Maybe but I have not had one issue like this while using Black Rebel or Luxurious.
I have VERY sensitive skin though, so your results may vary of course.

Harvester was much better for me but also smelled like a candle, just tamed down. There was also an ever so slight tingle when I put in the butter. The Butter is nice and reminds me most of the OG Beardbrand Balm. So I do like the butter but just couldn't vibe with the scents I purchased. The oil is thin to medium and feels nice in beard.
I love the idea and website of Fable but the two fall scents I tried turned me off a bit. You may love them though, as the scents are all personal preference. Their packaging is fantastic, artwork is amazing and the themes are super cool. I have to state that these products may be awesome for your beard. Fable has many superb reviews so feel free to check them out! To be fair if I didn't have an issue with Coconut Oil for my skin I would probably try a couple other scents as I did enjoy the scent of "The Teacher", so this company may work great for you and the prices on the oil and butter are very good. The butter is fantastic quality as well, up there with the better butters. I prefer the butter to Live Bearded and Black Rebel as there is no tackiness. They shipped fast, about a day after I ordered and I did not need their customer service. Sure, I could have said I wanted to swap Scarecrow for something else but I like supporting these small businesses and did not want to send anything back as Fable is a small business unlike BeardBrand and even Live Bearded who are much larger. I like to support the small guys, and if I could manage with coconut oil I am sure I could find a few scents I love here.
You can see what Fable has to offer at their Website HERE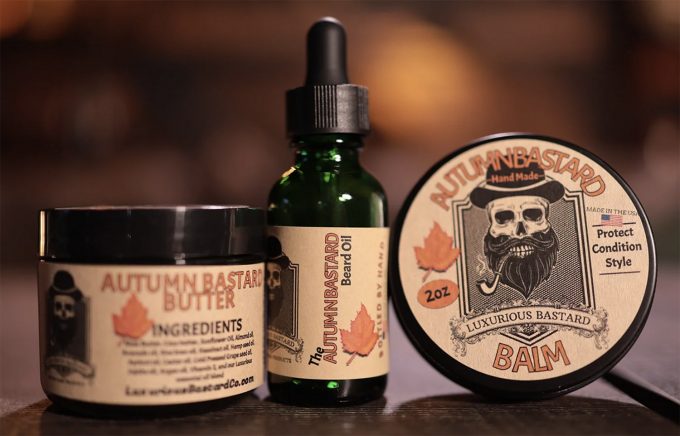 What About Luxurious Bastard?
I found this company after someone suggested them to me. This is a small batch operation with one guy (Dave, Mr. Lux) who mixes the scents and pours each bottle and tub of butter or balm himself. It's a company made by a bearded man for bearded men. The focus of Luxurious Bastard are the scents and the complexity of the scents but also the quality all natural ingredients he uses. Dave releases a new scent EVERY WEEK and I admit, I have bought a slew of them. Each one is unique and has that Lux vibe just as Black Rebel has their own vibe.
As I write this I am wearing the "Holy" scent which is one of the best beard product scents I have ever experienced in my life. Then again, I can say that about a few of Dave's scents as he is known as a master of complex and rich scents when it comes to his beard products.
These products are so rich, complex and natural and the scent stays with me for 6-8 hours. Yes, 6-8 hours. The first time I used it I felt as if it was overpowering but my nose was so used to those weaker and more artificial smelling scents, I just had to acclimate to it. Now that I have I am in love with most scents Dave creates.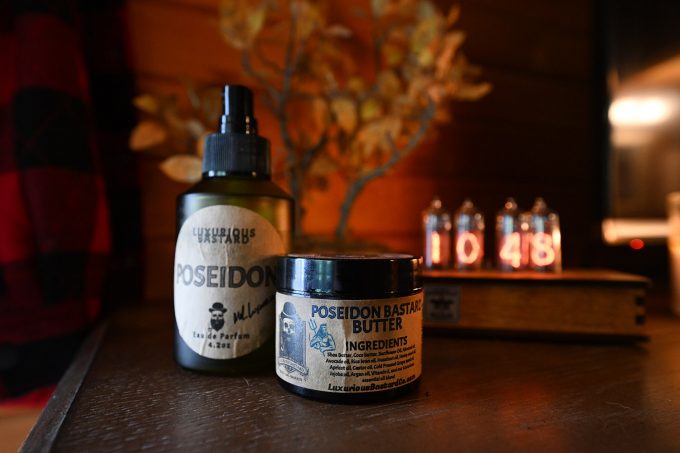 Scents like Poseidon have amazing depth and well, just smells like nothing else on the market. I have tried other brands who offer an "Aquatic Cologne" scent but all of those smelled fake, almost car freshener fake. Poseidon from Lux is astonishingly good though not in your face. It's earthy and natural and slightly sweet. I am addicted to this scent.
My top 5 scents from Lux right now?
Poseidon
1912
Holy
Sacred
Bilberry
BeardBrand and Live Bearded scents are no where near this complex or long lasting. Luxurious Bastard sells their oil for $17-$22 an ounce and it is well worth it for these artisan made hand poured scents. I posted my top 5 but that changes and I expect the Autumn Bastard to make my top five when I get it next week. There are scents from Dave that I also think are too strong for me. Legendary is one I bought and just can not wear as it is crazy strong, top the point it makes me feel sick to my stomach after an hour or so. Ombre was the same but my son loves it and uses it for his beard. Rustic and Chakra is nice but also super strong when I wear them so they rarely get used. So some of these can be powerful but many of you love that. These are powerful in a good way though as each scent is complex, rich and tells a story.
The "Sacred" butter is pure Luxurious Bastard. Smooth, light, creamy and the scent is OMG!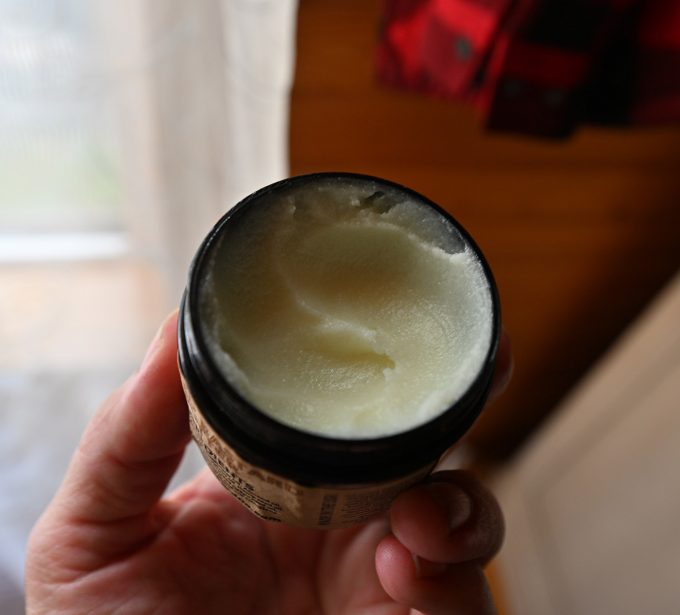 Dave also sells cologne for some of his scents and they are legit, full big bottles of cologne rather than small metal bottles. His colognes smell like a real cologne rather than a sport spray.
Keep in mind that a few of the Luxurious scents are cologne like but smell so so good and feel so..well…luxurious. The butter is crazy amazing luxurious as well. Soft, rich and truly softens the beard and my finger goes through it like it was really butter. It's the most luxurious feeling butter I have ever experienced though it doesn't have the hold of the OG BeardBrand Balm, Fable's butter or even Black Rebel. It's light weight and so nice for night time use before bed.
But never worry! Dave sells an actual BALM for more hold, and his balm has amazing holding power yet at the same time keeps the beard feeling soft. It never makes my beard feel sticky, tacky or thick. Feel in beard is a 10/10 for the oil and butter and I'd say an 8/10 for the balm. When my beard is short the butter is amazing, as well as for night. When it is longer the Balm provides plenty of control for the fly aways.
One of the ingredients in the oil is Castor Oil, which is a good one. No coconut oil here.

After two months using Luxurious Bastard exclusively my mostly white beard was never softer, fuller or more luxurious.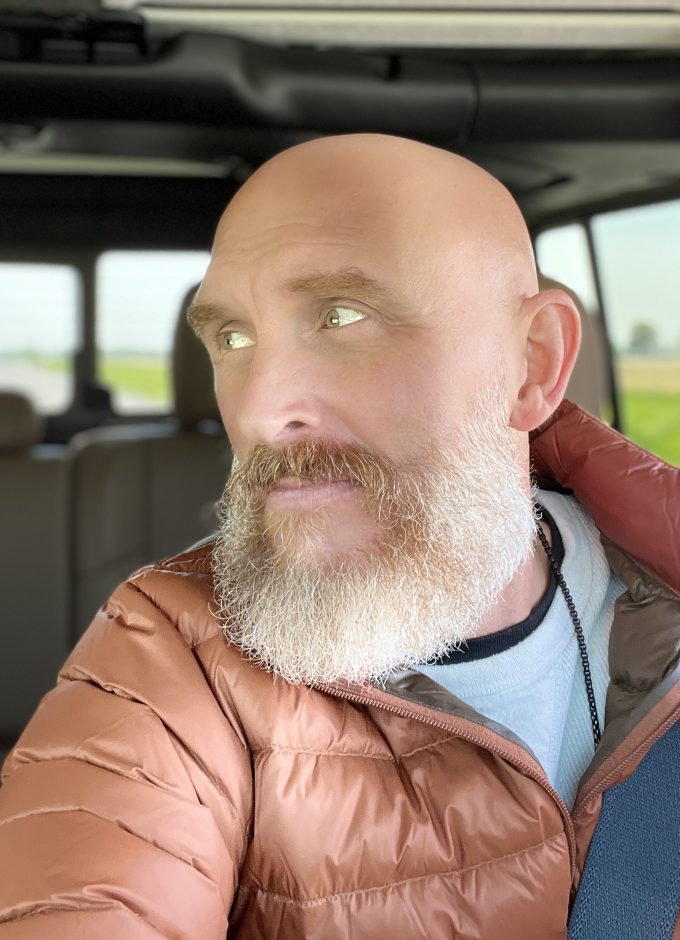 I admit though that I love Lux's butter just as much as the OG BeardBrand formula. The LUX formula is just a bit lighter and different but it feels so light in beard where the BeardBrand feels heavier.
At night I wash my face and clean my beard and apply Lux butter for night conditioning, usually Bilberry, Poseidon or Sacred. The feel in beard is exquisite and nothing else for me has compared. An amazing night scent from Dave is the "Soothing" bastard though I think it may be sold out. Has a similar vibe to Live Bearded nightcap but even better. My wife loves this one and if Dave brings it back I will surely pick up the butter as I only have the oil, and it's almost gone!
My beard has never felt better, looked better or smelled better than it has using Luxurious Bastard. My wife LOVES these scents as well and has urged me to buy a few more! I even bought her some bracelets, shirts and the scents Dave makes for women. Lux is also her fave.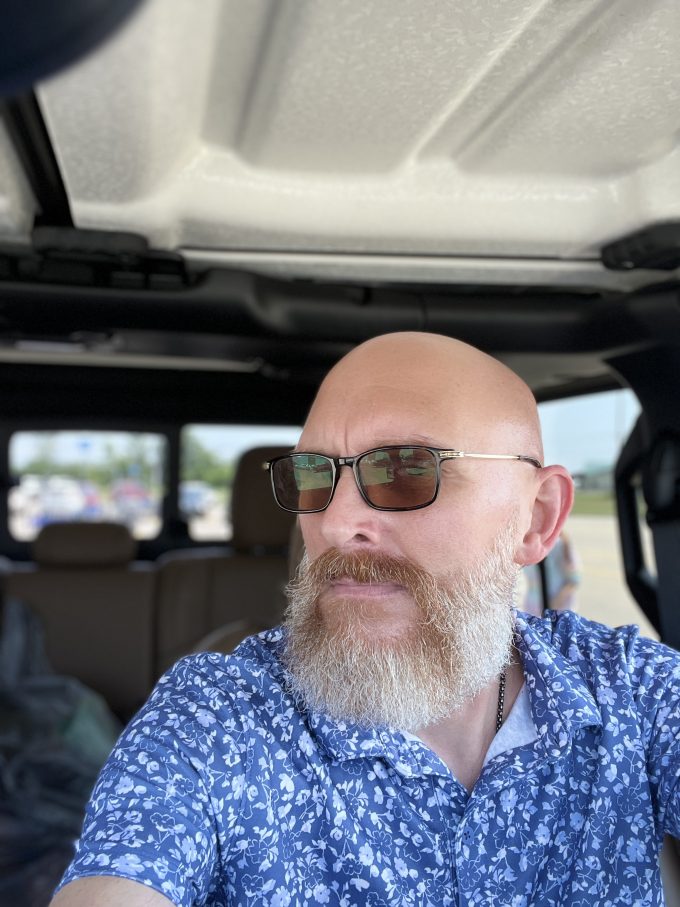 At the end of the day, Luxurious Bastard stood above the crowd in the beard oil and butter game for this bearded dude. Of all of the companies I have tried, LUX just worked for me the best. Not just for the scent but for the feel in beard as well. Also, Dave's customer service is fantastic and he has answers every message I have sent to him (just as a customer, I never told him or any company of this long term review I had planned) in a polite and real guy kind of way. He ships the goods faster than any company I have spoken of and I also enjoy his videos that he posts every Friday on his YouTube channel. (see it here). He's a bearded dude just like you and me who loves what he does, and has a talent for what he does.
I am so thrilled with this company I have ordered many MORE products. Rollers for the wife, shirts, hats, night face oil, body wash, beard wash and more. All of it has been priced right and well worth the cost. I can say they exceeded my expectations in every way. He has it all for mens grooming, even pine tar soap that he makes himself, and it's the real deal.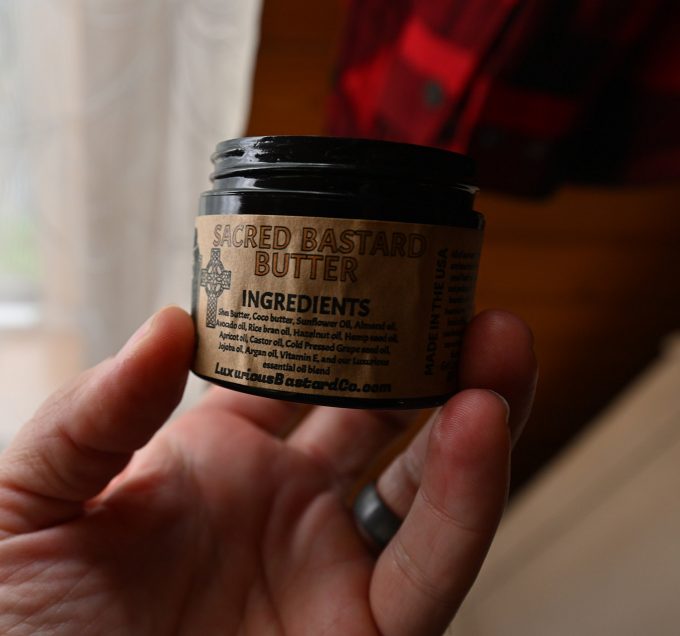 While I still will be rotating my three scents in from Black Rebel and a couple from BeardBrand using their new OG formula, without question my favorite brand for quality, scents, unique-ness and customer service is hands down LUXURIOUS BASTARD. These brands all bring something unique to the table as does Fable. They are all quality products and exceeded the other brands I have tried, and I tried MANY.
Products that I love from Lux besides the oils and butters are his CoWash, Beard Wash and even Biotin gummies (which do work, check this out)
Gave myself a big trim….was taking the Biotin gummies for 1 month prior and continued on them…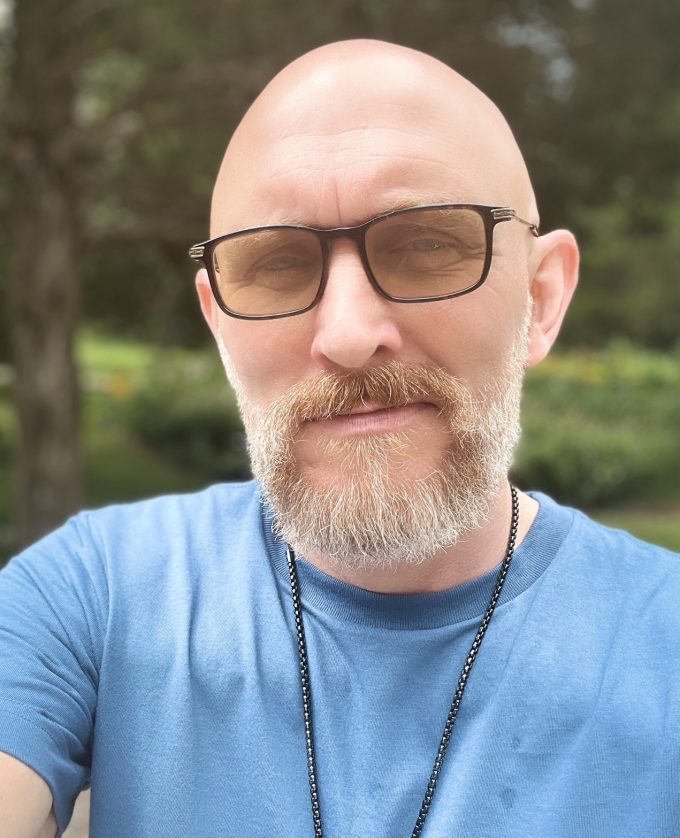 16 days later my beard looks like this, just over TWO and a HALF WEEKS later. My beard has never grown so fast and I attribute this to the oil, butter and biotin gummies from Luxurious Bastard. These also keep my skin smooth, or so it seems. I can't believe how quickly this growth happened as it wasn't this fast when I started. Now that I have a routine with wash, oil for day, butter for night and vitamins that promote skin and beard health it is growing like a weed. I am going to try for a longer beard now that my beard product nine month long tests are done!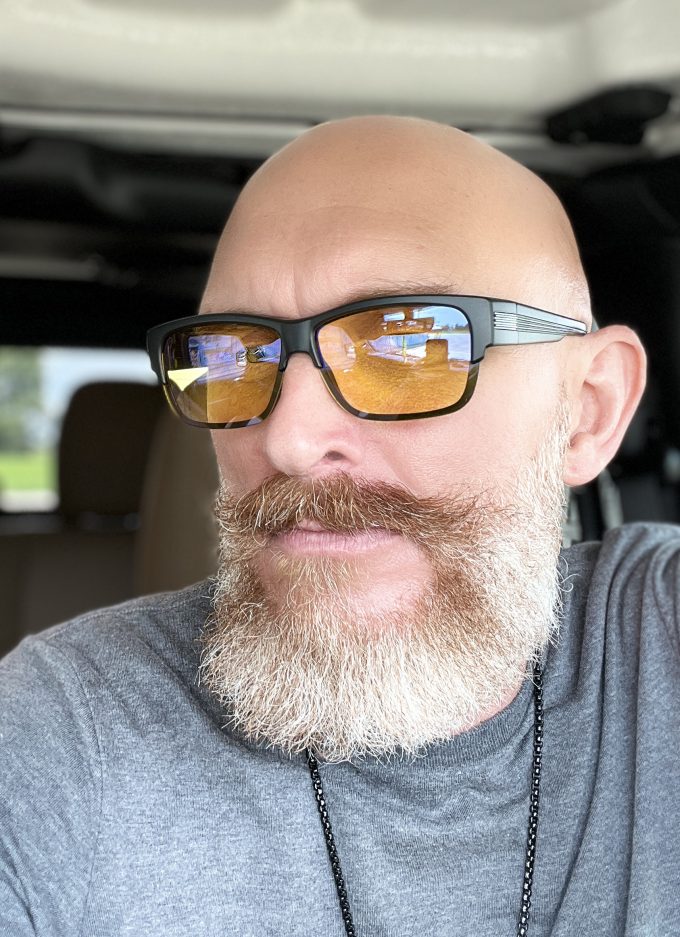 If you are looking to up your beard game, get rid of dryness and itch and create a fuller softer beard then look no further than Luxurious Bastard. I am addicted, you will be too.
PS – NONE of the links here are affiliate links and I will make not a cent from any of them if you buy products. I just wanted to share my thoughts for others out there who may be looking for the right beard products. If this review helped you in any way, and you want to try something from Amazon that will give me 4% commission you can check out BeardBrand's offerings on Amazon. Lumber Yard is offered in the same OG balm formula (the good one) as well as the oil and wash for a pretty affordable price. Same quality as the ones I used for this test but with a more basic scent. Check them out on Amazon HERE. 
If any beard companies would like me to test out their product and possibly add it to this page, I will keep it going for as long as I test products. You can email HERE if interested. 
Candle from Luxurious, Old Money in the Old Bottle, Biotin gummies that I love and just one of my three boxes of oil and butters that I acquired during these tests! Also, The Harvester from Fable (excuse my dirty nails here, was working on the property) and the rather amazing Pine Tar Soap made by Dave at Luxurious. I use this soap once per week to strip my beard, then follow up with his CoWash.