The Sonus Faber Amati Futura Speaker Review
By Steve Huff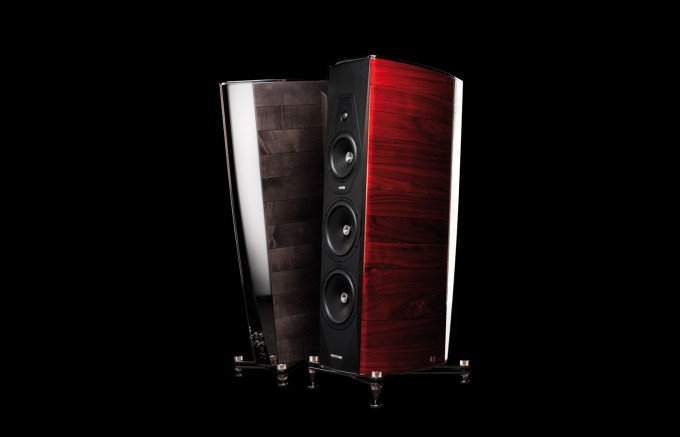 Life is funny sometimes. It was just 8 months ago (from the date of this writing) that I purchased my pair of Sonus Faber Guarneri Evolution speakers and I was in love with these speakers. In fact, I have owned all versions of the Guarneri and was always attracted to their design, their beauty and their sound, which improved dramatically over the years in each new model from the Homage to the Memento to the Evolution.
I assumed that this latest pair of Guarneri Evolutions would be my last set of speakers ever. I mean, EVER. The sound quality in my small room always brought goosebumps and chills. The speakers disappeared and the sound just melted into the room. It was magical, especially with a SET tube amp (Line Magentic 219ia)
There was one thing that was getting to me a little bit though, and it was when my son came by to visit a few weeks ago that I realized he noticed it as well.
BASS. The Guarneri Evolution, while CLOSE to a full range speaker in BASS performance is NOT QUITE THERE and you do miss out on the lowest registers. It never really bugged me until I started listening to full size full range speakers.
While the Evolutions are a full and somewhat fatter sounding speaker that leans more to the warm side of the fence, they are just not full range speakers. They can indeed stand on their own without a sub but if you are someone who is used to full range super deep bass, the Evolutions may sound thin to you, especially in larger rooms. To me, they never ever sounded thin at all but with some music that was bass shy, they did sound a little bit lacking in the slam dept. I could play all kinds of music with them..classical, jazz, rock, soul, fusion, chill out and just about anything. Sometimes though, they could sound a little bass shy to others who visited my room. For me, they were perfect because I have only really known monitor speakers, and I knew  that the evolutions were the best I have ever heard.
When my son came by he said "these sound a little thin". I said, "well you have a sub in your system so you are used to deeper bass, and more of it". He agreed but that made me want to go check out a full range speaker. I have heard many full range speakers at my local dealer but my Guarneris always sounded better to me than what they had on display so I knew to get better than what I had then that meant I had to go up the ladder to the next Sonus Faber in line, the Amati Futura.
So away I went…
It just so happened that the dealer I bought the Guarneris from, LMC in Scottsdale, AZ, had a pair of Amati Futura's on Demo. They also had, in stock, a brand new in box pair in Violin Red, the most beautiful of all of the SF colors in the Homage line IMO. I hopped on down to LMC and met up with Mike, the guy who runs the place. LMC is huge. They have millions of dollars worth of speakers, electronics and all kind of goodies. It is a premium shop and you can listen or demo any speaker you desire, even the giant Sonus Faber Aida. They are all on display with top of the line electronics.
When I sat down to listen to the Amati Futura, I remember thinking "These sound BIGGER than my Evolutions, but not nearly as sweet". I did not hear the soundstage width, the holographic imaging or the focused vocals I was used to but I knew that they would sound much better in my room, with my setup and cables and front end gear, at least I thought they would. In the shop they had the Futuras set up with top of the line McIntsosh pre-amp and amp. I am not a huge fan of McIntosh as I find the sound too direct and old school with only a very little "magic" to the sound. They have grunt and oomph, but none of the things that attract ME to HiFi. For others, that is THE sound, for me it sounds nice but not really the sound I was looking for.
In any case, I told Mike I really could not afford the Futura's even though he was taking my Evolutions back in full towards the trade up. He sat and thought for a while and then made me an offer I could NOT refuse and I decided to take the chance and do the upgrade. I mean, he really worked with me this  time, and it was appreciated.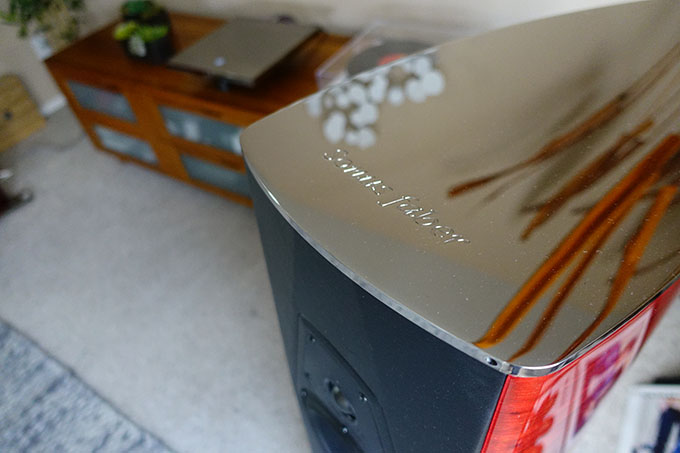 Delivery within 24 hours!
The very next day two guys from LMC came into my house and boxed up my Evolutions (that were playing when they came in the house) and brought in the new Amati Futura's, in their HUGE boxes. They unpacked the red beauties and set them up. Took them about an hour or so from beginning to end, not bad. When they left I did more tweaking but I was worried because earlier that morning I was reading how the Amati's require much more power than the Evolutions even though the specs of the speakers say the opposite (86db vs 90db). People on Audio Forums were going on and on saying you need 200, 300 or even 500 WPC for the Futura's and that they were much harder to drive correctly than the Evolutions. Uh Oh! My main amp at the time of delivery was an Audio Research VSi 75 integrated, and that amp powered the Evolutions into magical bliss, even with them being 86db 4 ohm speakers!
Yes, the Evolutions are rated at 4 ohms with an 86db sensitivity. NOT an easy load yet the VSi 75 drove them perfectly in my room. The Futuras are rated at 4 Ohm with a 90db sensitivity, so on paper they should be much easier to drive.
Well, in a way they are and in some ways they are not. It seems that the bass was there but a little boomy. I asked around and many told me it was the amp not giving my speakers enough juice. Others said the speakers had to break in. So I waited a while, and played the heck out of these Amati's. 
My tube amp at home sounded so much better than that megabuck megawatt McIntosh did at the shop. It's more 3D, more liquid midrange, more depth, much larger soundstage width, more depth, etc. My Audio Research Integrated is not a cheap amp. At $9,000 it is expensive but those 75 Watts are VERY high quality watts. BTW, You can read my VSi 75 review HERE. I read somewhere that a guy was interested in buying the Futura's and he was asking how the Audio Research REF 75 amp would do with them. Someone answered the guy telling him "Those Futuras need 300WPC, that 75 WPC will not work".
That is NONSENSE. The Ref 75 is even better than what I have and I will tell you now that the REF 75 would be an AMAZING match for the Amati Futura's if you value midrange purity and sweetness over bombastic bass. But, keep reading and I will tell you about a perfect match that I found that still has my jaw dropped to the floor two weeks after getting it to power my new Amati's.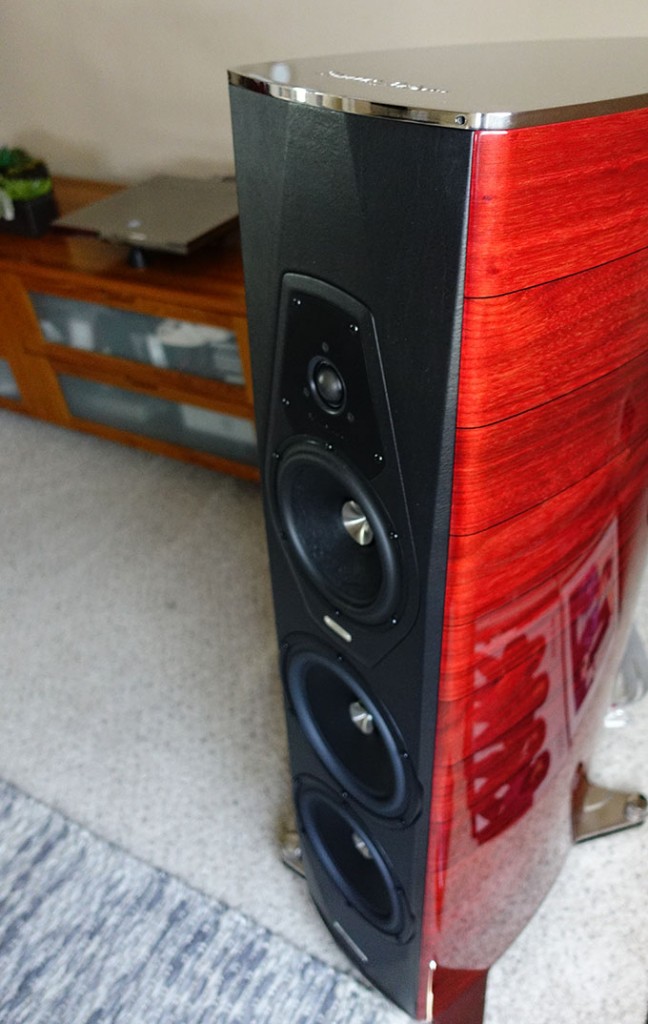 Admiring The Beauty..then the Listening
With the power myth out of the way, and yes, if you read the Amati's need 500 WPC to sound right or to have control or to sound full, then that is simply not true.
After I spent a few hours tweaking the position of the speakers and dialing them in perfectly I just sat and looked. I admired their amazing beauty. I looked  them over closely and could not spot one imperfection. The woodwork was astonishingly amazingly fantastic. Works of true art. Instruments. Yes, these speakers are crazy expensive but when you see the detail and work that goes into making them you can sort of justify the price. I mean, these things cost the same as a decent car (am I crazy to say I would rather spend my money on these than any car)?
In any case, these are indeed the most beautiful speakers I have ever laid my eyes on, and I am familiar with EVERY single Sonus Faber speaker. I have heard them all and seen them all. In the late 90's and early 2000's I bought and sold Sonus Faber speakers and had the chance to hear all of them in my own home up until the Cremona. After that I heard the newer models at the dealer. But I have heard them all.
I have seen and heard countless speakers in my lifetime and nothing has come close to the beauty, the style or construction of the Amati Futura. Many complain about the new metal /nickel look of these speakers but in person it is jaw droppingly beautiful. I prefer the look of the Futura to the original Amati Homage (which also had looser woolier bass) and the later Anniversario models (which were a tad brighter/harder in the treble area than these Futura), without question.
So after sitting there wondering how in the world I became so lucky to own these speakers and admiring the beauty, it was time for the true test. THE SOUND.
For the past eight months I have listened to my Guarneri Evolutions every single day. I use my speakers and audio system more than my car, and more than anything I own. Even more than my cameras.  I loved my Evolutions, that is for sure.
I became accustomed to the sound, the depth and the sweetness that are Guarneri. I was not so sure I was ready for this new BIG sound to knock me over 😉
So on goes some music.
1st impressions in hour one were NOT good. They sounded dull, direct and overly warm. A flat fullness that made me start to get VERY worried.  Uh oh. Bass was a tad boomy. It was much more prevalent than it was with the Guarneri. Gone was the airy highs, the soundstage width and the clarity I have grown to love from the Evolutions. Now, knowing that these need some break in I decided to let them run for a few hours. I left the room and let them run in some.
2nd impression after 8 hours. MUCH better. Wow, break in is real as when I came back in and put on the same music I noticed much more of the high end coming through, muss less warmth and my soundstage and imaging was starting  to creep back! Still was not up to the level of Guarneri though. I tweaked the speaker position more and sat in my room for 4 hours messing with placement. I decided to wait more and hope for the best.
3rd impression after 24 hours of play time.  Better. As in, sounds like a totally different speaker than it was out of the box. Between burn in and placement, WOW. WOW. WOW. At this time, I could put on even an 80's rock song on a horribly mastered CD at LOW volume and I was getting rich, full, detailed sound with a nice semi large wall of sound. But still, not up to my Guarneri in 3D sound or magic. Hmmm. I was starting to regret what I have done. I paid MORE for sound that I did not like as much? What a mistake. So I waited and burned them in more.
4th Impression after about 80 hours. WOWZERS. Now we are talking. This burn in thing is absolutely REAL and TRUE. The speakers took on a whole new sound. A transformation. At this point I do not imagine they can get any better and they now just about match my Guarneri but they do seem a bit flatter as in, no air or sweetness. More direct sounding, sort of like what they sounded like with a McIntosh amp powering them. They are never ever lean or thin sounding, but more warm and bass heavy. They never lack detail yet never are in your face. While as good as I have heard them yet, they still are not beating the G's.
5th Impression after about 120 hours. No change at all from 80 hours so it may have stabilized in the sound, which is just a very very balanced, warm, rich, huge, detailed yet smooth midrange magical sound.  No real bass bloat, but at the same time the bass is not lightning quick either. Basically, this is a speaker for those who want to listen and enjoy MUSIC and not listen to and enjoy the tech qualities of Hi Fi. While not nearly as "Romantic" as the original Homage, it still has some romance in its wooden bones.
6th Impression after 140 hours. Uh oh. For some reason these speakers have taken a turn for the worse. Muffled and dull sounding more than ever. WHAT HAPPENED? I was so worried and bummed that I sent an email to Mike asking him if I could go back to my Guarneri! NOT GOOD! The speakers sound flatter, duller – and too full and too fat. No treble detail and they sound really rolled off. Almost like something broke. I will let them play all day and night to see if they get better. I turned up the volume and let it rip all day while I was out of the house.
7th Impression after 165 Hours. I messed with placement again and moved the speakers farther apart with LESS  toe in than I had.I sat in my spot, turned on a reference recording that I know up and down and BAM. There it was. Focus, precision, air, holographic 3D sound and a soundstage that finally matched my Guarneri in width and depth. The bass was no longer too warm or fat and the detail was shining through in a very organic way. THIS is music. THIS is an instrument.
This was good. Real good.
As I listened to the song "Money, Power and Glory"  from Lana Del Rey (Ultraviolence CD) just could not believe the sound I was hearing. I am used to high end sound but man, I never heard it like this. RICH, BIG, WARM WITH DETAIL, and a midrange to die for without a hint of harshness, grain, strain or edge. It was truly the most effortless sound I have ever heard  – oozing out of the speakers but sounding like the sound was oozing from my room itself. This is what a nice tube amp can do for you.
(UPDATE: The new Focal Sopra #2 Beat out these with ease..review HERE)
The Midrange is MAGIC
In fact, this is one of the best midrange drivers I have ever heard (next to the Focal Sopra #2). Never have I experienced vocal performance like this. Never. When I auditioned Magico speakers years ago I did not warm to them, at all. Much too analytical and "Hi-Fi" for my tastes – big and dynamic sound which was fantastic in some regards but fatiguing as all get out after a couple of hours listening. Many rave about Magico but I have never been a fan of  that sound, the hyper detailed life sucking type. Me, I like MUSIC. I like my music to FLOW and enjoy getting lost in the music. I love emotion, soul and fluidity and romance. Letting the sound surround me in detail with some warmth. The ONE thing I demand in my speakers is a magical midrange, which is why I always adored the Sonus Faber Guarneri. This Amati Futura uses a different driver for the midrange. Sonus Faber speakers in 2014 mix the past romantic sound with a new modern sound and the results is so so sweet, one that is enjoyable without fatigue or bloat. They really nailed the sound here but I warn anyone who buys these…you MUST place them correctly as it will make ALL the difference in the world. It has taken me hours and hours to get them placed correctly for optimal sound. When I thought it was spot on it wasn't and eventually I got there bit it took some work. Then again, my room is SMALL at 12X12 so any speaker is challenging to place.
FACT: MIDRANGE IS WHERE THE SOUL OF A SPEAKER LIVES
Yes, when you have a magical midrange you have vocals that come out to touch you. They are so real, so palpable and so juicy and wet that when it is done perfectly you can close your eyes and believe in your mind that the artist is in the room with you. I thought I had it good with the Guarneris, and I did..but the Amati Futura is on another level up from that. Best midrange I have heard, ever. My worries in that first few hours with the Amati were now completely gone, vanished and laid to rest. The money it cost me to upgrade..the stress over it for a few days, the fact that the money is now out of my bank account…well, no more worries and no regrets. Listening to Leonard Cohen's "Coming Home" was as real and haunting as it gets for a vocal and the Futura threw a rich and timbre correct voice from Cohen. When a buddy sat and listened to that track he was wowed and amazed by it, then he bought the album..though I warned him "it won't sound the same on your iPod dock" 🙂
I want to stress that when listening to music on the Amati Futura's there is NEVER a hint of harsh or bright or edge but at the same time, there is never a hint of muffled sound, or veiled sound or too warm of a sound now that they have broken in past that point and have been re-positioned. There is super treble information and wonderful highs with tremendous detail but at the same time there is massive BODY to the sound, as if a band is in the room with you. Full and rich yet detailed and holographic with stupendous imaging. I could literally close my eyes and see every band member in front of me..where they would be. The sound fills the room with wonderful sounds, much like the Guarneri did, but even more of it, bigger, badder and sweeter.
But it gets even better. I was still feeling that at times, with some music, that the sound was a little flatter than it was with the Guarneri. I decided to do a home demo of a new integrated amp…the Devialet 200. If you are not familiar with the Devialet then I suggest you become familiar as it is an amazing piece of Audio gear. Probably the coolest and sweetest sounding  piece I have ever laid my hands or ears on. It is revolutionary and quite special. While expensive it is WELL WORTH the cost of the 200 model. In fact, I would say they could have charged more. For me it beats out about $30k worth of solid state amps, pre amps, dacs, etc and it is all in one. It made my VSi 75 system sound a little veiled and off, but that was with direct comparison. I mainly used AIR Streaming and uSB via a Heimdall USB cable (Nordost) and also have a Rega P6 for my Analog duties. The Phono stage in the Devialet is the best I have heard (personally) and some say it competes with phono stages in the $5000 range, and I agree as it handily beats my my old Black Cube SE that I paid $1200 for. My Vinyl finally sounds "RIGHT". Not uber detailed or bright, but like I remember it back in the day when I was a teenager. Full, fat and with some soul and massive musicality.
I will not be reviewing the Devialet in this Amati Futura review but I will say that it is a great match for the Amati's, even showing up at some audio shows in this configuration. After a few days burn in and going through a rough harsh stage for 48 hours it has blossomed and opened up to a whole new level. Playing that same Lana Del Rey track "Money, Power and Glory" it was taken a step up with amazing sonics, 3 D soundstage, tons of air and loads of magic. The Leonard Cohen track..wow..erry and haunting vocals. Best I have heard. As I said, I will not get too much into it but if you have not heard a Devialet then I suggest you do so. I auditioned one from Esoteric Audio in Phoenix AZ. I was able to sell my AR gear, 3 red dawn power cords, a set of nice interconnects, my phono stage and a few other things. This left me with $7,000 left over AFTER buying the Devialet at just under $10,000. So I was able to now upgrade a power cord for the Devialet itself as well as buy a couple of tweaks (Nordost Sort Cones for under the Devialet). I still had big money left over, had better sound (for the Futuras) and a much sleeker nicer looking unit. Also, no heat and no issues.
Perfect.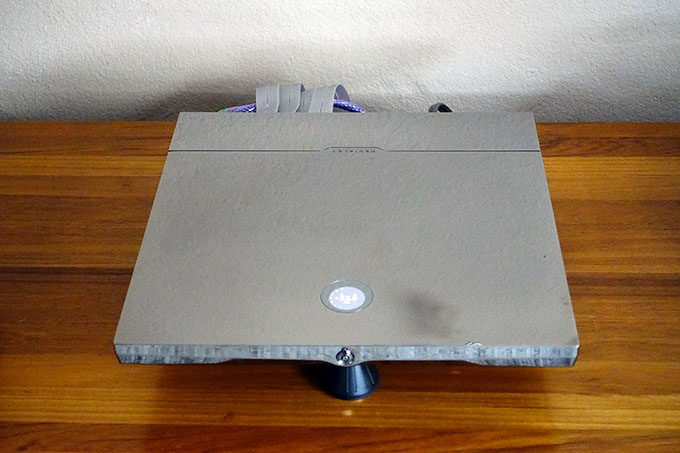 Let's get back to the midrange of the Amati Futura
It is rare to have a speaker do this (midrange) so well, but here it was, in my room. I feel that I have somehow achieved something that used to be very difficult for me. System matching. I feel the combo of the Devialet 200, Nordost Cables and Power products along with the Sonus Faber sound is just about a perfect match up. FYI, I also auditioned the Wadia Intuition and for me it was a big fail. Harsh sound, horrible remote, low power and no soul or magic at all. The Devialet smoked it in every way. Is the Devialet as good as the Tube amps I have owned and tried? Well, yes and no. With the Tube amps you get a bit more "richness" and "air". But you also lose out on the clarity and pumping rhythm that the Devialet is capable of. It's a trade off, you lose some and you gain some.
As I sat in my chair listening to an Enya song "If I could be where you are" I was in awe. The music had true emotion and just flowed from the speakers in a way that filled my rom with Enya's haunting voice while the speakers truly did vanish. Enya's vocal was dead center between the speaker yet a bit forward as if it was floating in the space a foot or so in front of the center of the speakers. This, to me, is the goal of any high fi setup and not easy to accomplish. If you hear you vocals coming FROM the speakers then you need to re-position them. When set up perfectly, you will not be able to hear where the vocals are coming from. That is when the magic happens, and the Amati's excel in this area as do the Guarneri Evolutions. Once set up perfectly these big behemoths disappear just as well as a bookshelf speaker. I even auditioned the king of disappearing speakers, the Proac Tablette Anniversary. They are special little speakers but were no match for any aspect of the Amati. For 15X less cost I would not expect them to be but I thought they would disappear better than the Amati but they didn't though they were a more detailed and "airy" speaker, yet much harder to drive over the big Amati.
So at the end of the day, this VERY expensive speaker may seem like a ridiculous and foolish purchase to many out there who have systems that sound amazing with $2,000 speakers. To me, it is not about that at all. Money comes and money goes. Life comes and life can end at any moment, any second. I have a belief that we are on this earth to live and love. To cherish family, friends and to be kind to all we meet. To help others, to be caring and sincere. I feel when we live like this that Karma comes back and we receive it all back X10. This is how I feel my life is now anyway.
I help others, I am kind to all and I am fortunate to be able to own these speakers. Hi-Fi is something I am very passionate about and have been for many many years. I love it just as much as I love photography, and that is saying a lot. I know people who have $100k in cameras and lenses. I know people who have $150k in a car. I know some who have $200k in a boat and others who spent $50k on a watch. I use my audio system 6-7 days per week, for about 4-5 hours a day. I am a very lucky guy to have a finacee I adore, an amazing Son, a great career and super friends all over the world. I am FAR FAR FAR from rich, and no, I am in no way even close to being a millionaire but I own my Audio System 100% free and clear.
Our passions are what mold us, create us and make us who we are. They help us live and even live longer. Without these passions we have nothing to look forward to, nothing to strive for and nothing to get excited about. This is why those who have no passion, no hobbies and do nothing all day live a miserable life and die early. We need things to do that we enjoy every single day. For me it is photography, HiFi and I also have a few other interests that keep me extremely busy. I love it.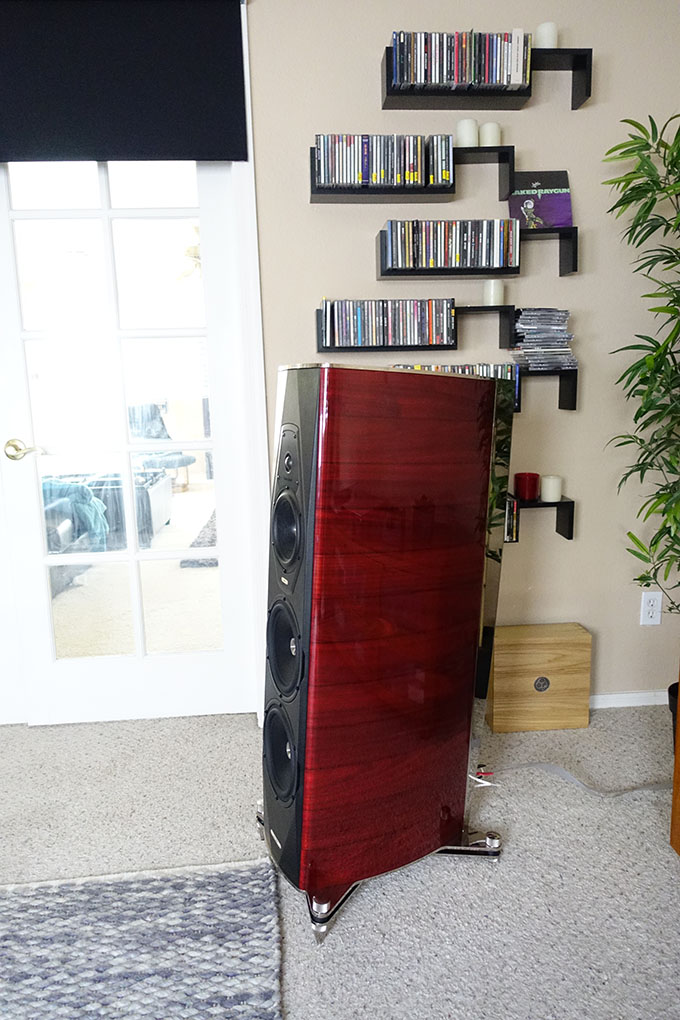 If you are someone who has been eyeballing the Sonus Faber Amati Futura I will state right now that they are the most beautiful speaker I've ever owned, without question. For the sound, not all will like it as it is a tad romantic and full sounding.  It took a while for them to break in, and yes, it made a huge difference. I now have about 400 hours on them and they seem to keep improving and becoming more transparent but if you love transparency, these will not be your cup of tea. (The new Sopra #2 is MUCH more transparent than these, and with a better sound IMO, for $22,000 less). Not a hint of harshness nor are they overly warm..they are huge sounding speakers with a beauty that most other loudspeakers just can not match. It makes many high end speakers I have heard sound a little off or ragged. They have a soul just like the little brother, the Guarneri Evolution but remember if you want a cleaner, clearer more transparent sound, look to something like Focal as these Sonus Fabers are more soulful and thick.
8th Impression after 350 hours. Now with a Devialet 200 amp this is now, without question a VERY VERY nice sounding setup, quite incredible in most areas and the speakers strike a balance between all of those HiFi aspects we love including Dynamics, Sweetness, Air, Soundstage width and depth, clarity, bass, and midrange purity. Surpassing the Guarneri Evolutions in scale, size and retaining mostly all of the magic of that model it is basically like a bigger Guarneri. The speakers do not disappear as well as the G's but they have a large soundstage and really are something special. In looks and sound they excel. Something that is tough to do :). I still have a soft spot for the Guarneris and a part of me just wishes that I would have kept them because I would have saved a  ton of money and had 95% of the sound. Basically I upgraded to get an extra 5-10% in sound quality, so diminishing returns have kicked in. Even so, these things sound amazing.The Violin Red color is sublime and it is basically a Guarneri on steroids..much bigger sounding and much more of it.
FINAL UPDATE: I ended up selling these as over the long term they were a bit too warm and thick in my small room – too big – too much of a good thing and as soon as I had these things in my head I said "the journey must go on".
Listening Suggestions to experience the sweetness of the Amati Futura: Lana Del Ray Ultraviolence LP or CD "Money, Power, Glory", Enya's "Journey of the Angels" song, Led Zeppelin Celebration Day live CD, Depeche Mode Sounds of the Universe CD, Laurel "To the Hills", Apparat "Goodbye", Sarah Brightman "Angel", Sarah Blasko "Illusionary Light" , Sara Jackson-Holman "Freight Train", Adrian Legg's "Fingers and Thumbs" CD and Kathy Mattea's "Calling me Home" CD. Leonard Cohen's "show me the place" and "coming home". All great stuff that can show off the capabilities of this speaker. Also  give some Buddha Bar stuff a listen, fun stuff.