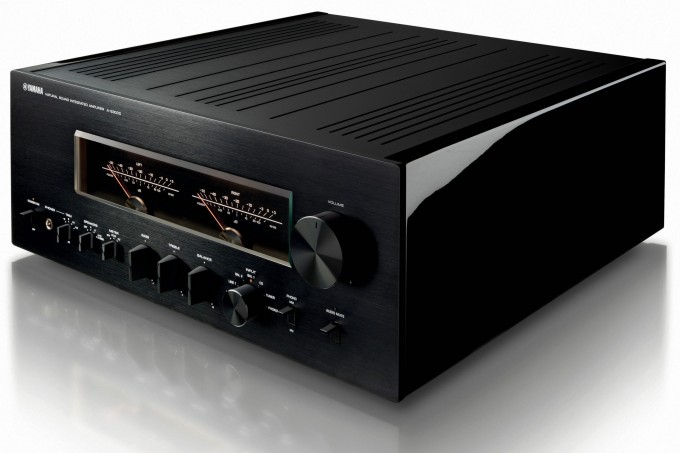 The Yamaha A-S3000 Integrated Amp Review
UPDATE 2021: I much prefer the Pass Labs INT-25 or Luxman 590 AXII over this amp, even for harder to drive speakers. I no longer recommend the Yamaha as I have heard much better in 2020-2021 for less or the same. I also do not recommend Yamaha with Klipsch speakers as they can sound dry, a little sharp and not as sweet as with some tube or class A options. This review is now quite a few years old. 
---
I have been into high-end audio for over 20 years. I have owned many of the uber brands like Levinson, Krell, Cary, Wadia, Musical Fidelity Luxman, Prima Luna, McIntosh and many others. I have auditioned Leben and newer Ayon integrated amps as well just recently in my search for an integrated amp that runs cool but sounds magical.
I have recently in life built up another high quality 2 channel system to live with for the rest of my days after having to sell my old one-off for personal reasons 4-5 years ago. I have been auditioning and trying amps, integrated amps and pre-amps and been having a challenge finding that perfect fit. I did find the perfect fit (or so I thought) in a Line Magnetic 219ia amp (my review is HERE). The only problem with the 219 was the HEAT. The 219ia is an 845 Tube S.E.T. amp and it cooked my room raising the temp by 10-15 degrees (small listening room). So it had to go. BTW, I live in Phx AZ and it gets HOT with 110 degree temps normal for the summer.
So I had to sell the 219ia which was one amazing sounding and made amplifier. Best I have heard or owned. Ever. The heat was too much for the amount of time I have my music on during the day. After the sale I had to find a new amp so away I went to audition a few.
First up was an Ayon Orion III that I bought from the USA distributor here in AZ. Paid $4400 with tax and was told that this amp came with a 15 day trial and they never ever had a return. Hmmm. Must be good. Took it home, hooked it up, ran it in for 10 days or so and it sounded awful. There was big tight bass and super high treble (borderline bright) but no midrange. I was highly disappointed in this highly bragged about "award winning" amp. It's 60 watts pentode just could not power my speakers well even though the LM 219 was only 24 watts per channel and did it with ease. Nope, the Ayon had to go as I would get headaches after 20 minutes from the brightness. I returned it and was  told I broke their streak on no one returning an Orion III. I received a full refund, no hassle. They were a pleasure to deal with in that regard though a little over the top in the "best of show" claims all over Audiogon.
I then tried a Cary SLI-80 integrated. I love Cary, and have owned a few Cary amps in the past. The SLI-80 is highly regarded but again, could not cut it in my system. Was I spoiled by the Line Magentic? Maybe so, but once you get that sound it is like a drug..and you chase it until you find it again. The SLI-80 was bloated, fat, and at the same time a bit harsh in the highs. It sounded like a 20-year-old sound, which makes sense as this amp has been around for many years. It also had rattling tubes and a slight buzz from the transformer.
So it went back even though I had to pay a hefty 15% restock fee (which I agreed to happily as I did open it and use it)
Then came a Luxman integrated priced at $4000. It was nice, sounded good..bested the Ayon and Cary easily but a teeny bit on the warm/rich side, which I liked but lacked a little in the dynamics. It was nice but was not 100% on it.  I was all set to just give up and go order a Line Magnetic again until I decided to try ONE MORE integrated that caught my eye.
The Yamaha A S-3000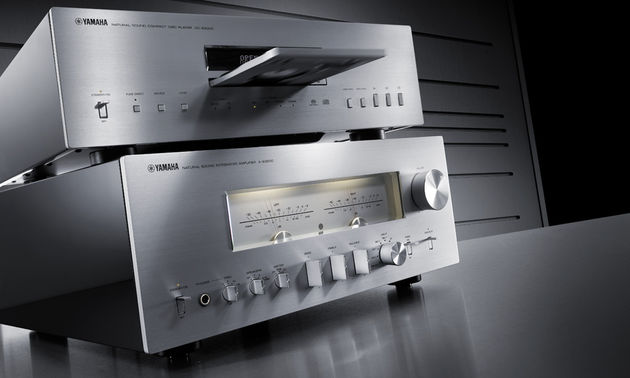 After trying Ayon, Cary and Luxman , I realized nothing would come close to the sound of the Line Magnetic 845 amp. But I kept on trying and figured I would take a chance to try this new amp that I kept seeing pop up on Amazon …and it was something I would have never thought I would like.
Yep, a Yamaha A -S3000 that comes in at a whopping and seemingly nutso $7000 (though same cost as the Line Magnetic 219ia). There are basically no reviews on this piece online and I did try the less expensive $2000 Yamaha A S-2000 which I liked but did not love. The S-3000 looked to be just what I was looking for but I wondered if it would fall short in the sound department. There was only one way to find out so I decided to go all in and do the "you get what you pay for" thing and order from Amazon (using prime). With Amazon, if I did not like it or if it did not work with my speakers it is an easy return and quick refund. So no risk. If I loved it then it would mean an end to the constant amp swaps. I have to say that Amazon is the best in this regard. Easy return if it does not work for you. Never an issue.
I use Sonus Faber Guarneri Evolution speakers and they were NOT cheap. I want and need a nice amp to power them, preferably an integrated. I never thought a Yamaha would be an amp I would consider but I put aside any brand name issues and gave it an honest try.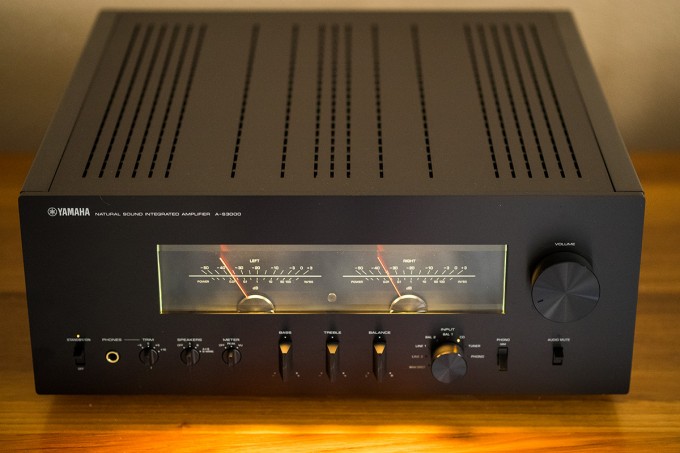 Remember, I did try many other amps, including an Ayon integrated (Orion III) that did not cut it (sounded weak, thin and bright with no midrange presence – all treble and bass – $4400)  and Cary SLI-80 (fat sound with bloat and rolled off bass and highs and not enough power – $3100). I previously owned a McIntosh MA7000 integrated  5 years ago that was a bit on the dull and boring side ($8500)
I was looking forward to see if this Yamaha could do it for me or if it would be just another boring SS amp.
The Amp Arrives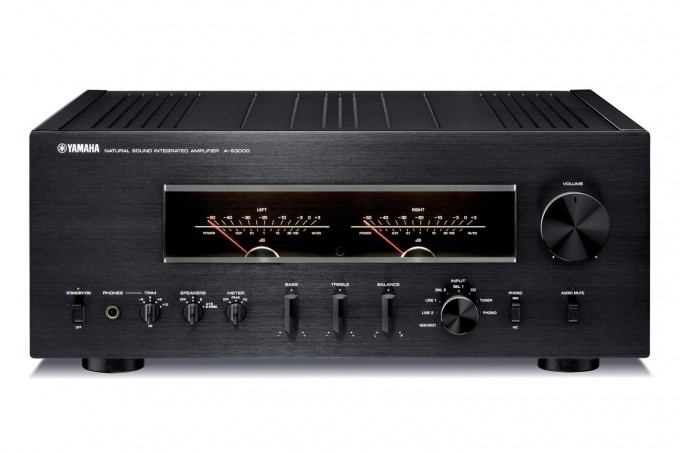 After installing it and letting it warm up for a few hours I started to listen. Even without any real burn in I knew it was a much better amp than the cheaper Yamaha S2000 and all of the others I recently auditioned, and it seemed to have more power and grunt than my old 250 WPC McIntosh even though this one comes in at just over 100 WPC. This tells me that Yamaha is very conservative in their power rating and McIntosh may be overstating some things.
1st the top of the Yamaha A S-3000. Massive heatsinks, custom transformer and high quality caps. 100% quality parts selection with super short signal path and directly screwed on connections instead of soldering. Copper shielding throughout.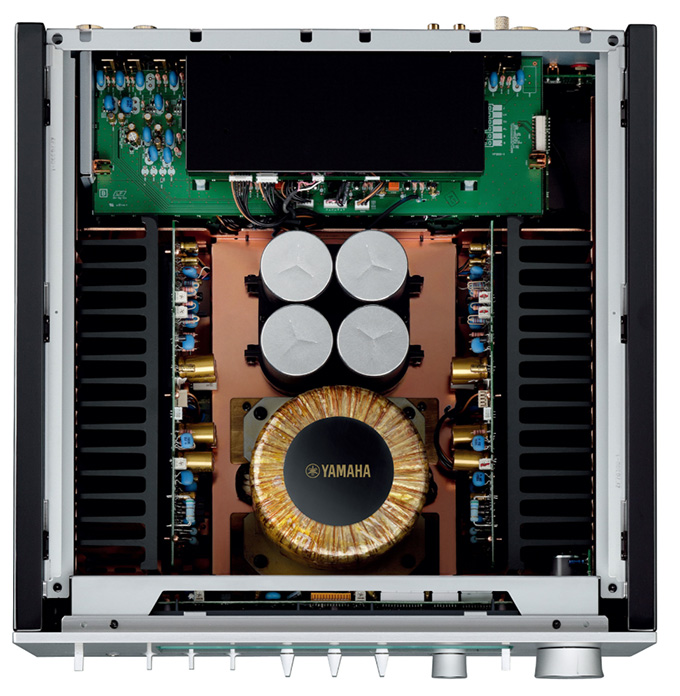 and the bottom of the Yamaha. Massive copper and more screw in connections for maximum musical fidelity.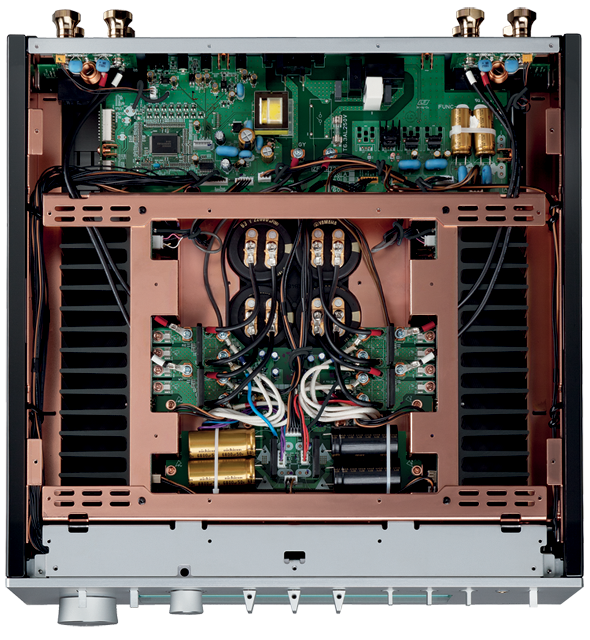 and below is the top of the $10,000 competing Luxman, which is still a beast and quite amazing. But when compared to the inside of the Yamaha, the Luxman falls short by a bit.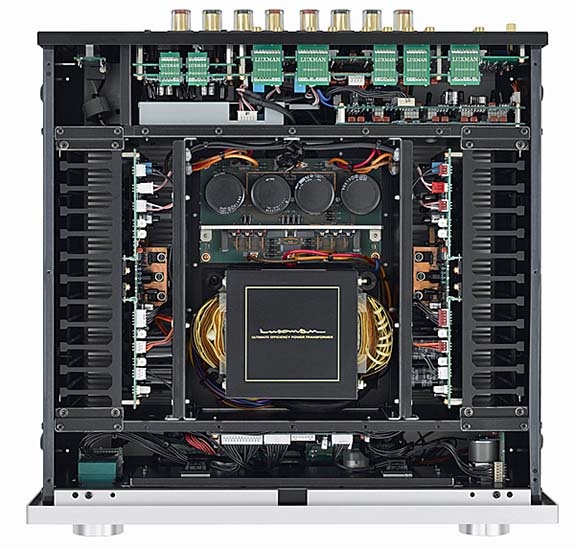 But 1st, the build and design. Wow. With the jet black sleek design and big bold illuminated meters this one is a real sleek looker that makes you think of the more expensive Accuphase and McIntosh brands. The dials and switches are all metal and feel substantial and weighted and silky smooth. This is a gorgeous integrated my friends. It comes in at about 56lbs. Not the heaviest amp I have owned but not the lightest either (My line magnetic was 120lbs). It may not have the most "bling" and "wow" in the design like the big Macs and some exotic tube amps but it is an understated beauty. Clean, sleek, and beautiful. Classic.
But is it all beauty and no beast?
As for the sound…
After just one day of use it was very smooth yet precisely detailed with a touch of sweet warmth, no fatigue, no sense of strain or congestion..music flows through my speakers with an absolute ease. No brightness, no harshness..just an effortless sound with some nice dynamics as well. The artists come forward somewhat INTO the room with a sweet velvety midrange much like a nice tube amp (but not quite a rich as a SET amp). BUT!! I did notice a tad but of a "Dryness" to the sound. It was not as liquid as the 219ia, well, not even close really.
There is no harshness,  (unless pushed up to a loud level, then it gets hard sounding) and yet it offers up a 3D detail soundstage that is as just about as wide as I have heard in my room, rivaling but not surpassing the Line Magnetic which was and still is the champion in that area. Again, the midrange is creamy and gorgeous and never bloated or thin which is odd for a Solid State amp but in this price bracket, the midrange should be beautiful..and it is. Female vocalists are superb with that "in the room with you" feel. Texture is good as well and while not as magical and mystical as the midrange from my 219ia, it is decent.
Instrument separation is wonderful. 
On night two with the amp I was listening in the dark and for the first time I said "wow, this actually sounds as good". It was close in sound quality and signature to the SET amp but the Yamaha has less midbass warmth and am ore dry presentation. This made some music even clearer and more defined while still retaining a nice flow.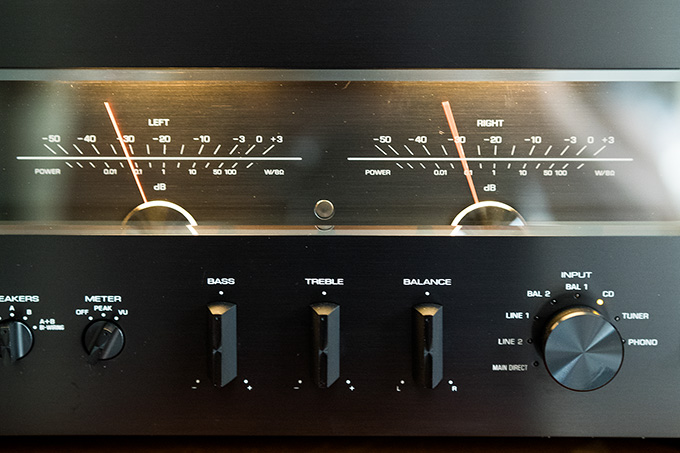 As for the amp, at low volume it sounds nice and pretty full but could not compete with the 219ia (or other amps) for low level listening. At loud volumes it sounds nice and full and crisp 🙂 No thinness or brittleness that plagues some amps, especially many solid state amps. BTW, there is NOT a loudness button or control on the S3000 as some have reported but it is not needed. At all.
I keep the bass and treble dials, which are made of metal and feel so smooth and nice at ZERO which keeps them out of the circuit. I never have felt the need to up the bass or treble but if you do this you will find it sounds NOTHING like it does on cheap amps when you up these levels. It is quite amazing really and something you would have to experience. This is a quality piece.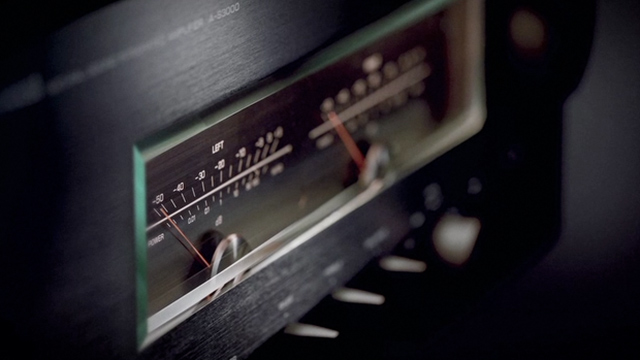 It is sad though…
Many high-end buyers will never get over the name Yamaha for an Audiophile product and that is a shame as this is one of the best integrated amps I have ever heard in my HiFi life, and almost sits right up there with that $7000 LM 219ia I waxed on and on about. The Yamaha sounds more like a tube amp than a solid state and it creates an amazing synergy and magic with my Guarneri Evolutions.
Forget what you know about the horrible best buy Yamaha receivers..this is nothing like what you see at any chain store. This is true high-end. Really. Forget the name..think of the build, the sound, the design and the QUALITY that went into making this amp. It is quite special and I predict in 20 years it will be one of those collector pieces being sold on the used market for those who want "vintage" but amazing gear.
At $7000 it is VERY expensive and overpriced for the market, but again take a look at the competition that this piece is in the same class with.
Accuphase which is much more expensive than the Yamaha (and sound and build is comparable) can set you back up to $20k for a piece and Luxman who has similar offerings  to the Yamaha comes in at around $4-10k.  I much prefer this to the $8500 McIntosh MA7000 I once owned and it destroys the $4400 Ayon Orion III I tried, which was the worst of all amps I have auditioned (in my system and I chalk it up to not having enough power or current for my speakers). The price of the Yamaha, while high, is there for a reason. THE SOUND and BUILD are as good as it gets. While I think it would have been better priced at $4995 so more buyers would jump in and try it (and it may end up there in a year or so), Yamaha has built an instant classic and I am so happy that they decided to build this amp. It shows that they are serious about 2 channel listening and this is not just "jewelry" for the rich, it is an astounding product and handily beats the $2000 A-S2000 with a richer more 3D sound, more separation, and more detail while keeping warmth and an organic like tube like feel. Power is never an issue as it sounds like a 300WPC amp.
I have no issues using it to power my very expensive and power hungry speakers.
The cheaper Yamaha A S2000 comes in at $2000 and Yamaha took a huge price  leap to $7000 for the S3000.
I can not wait to get more hours on it as I expect this one to burn in nicely.  I never ever would have thought I would end up with a solid state amp as I am a tube guy through and through but this amp is indeed special and I go for sound over all, no matter the name of the brand. It was created to celebrate Yamaha's 125th anniversary..as a statement piece. So it HAS to be good.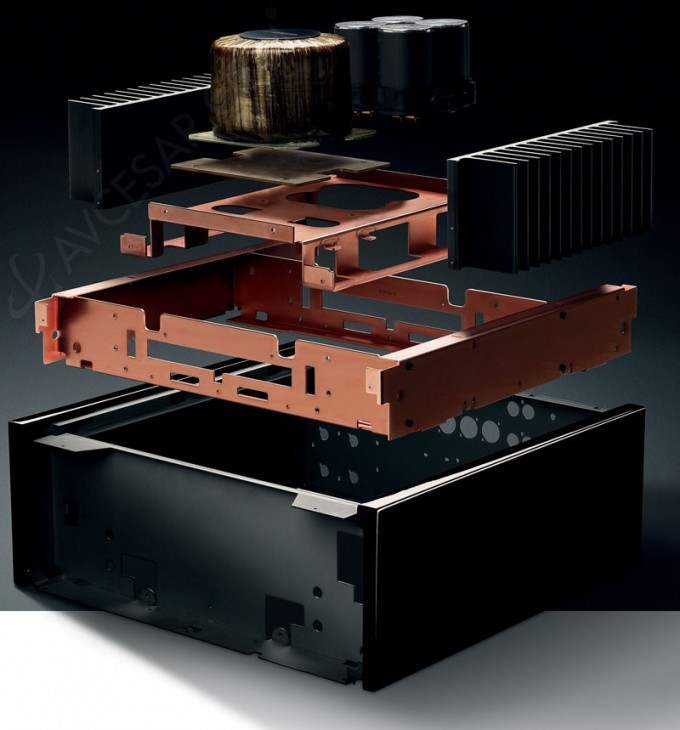 Some notes:
Amp is DEAD silent – jet black backgrounds – no hiss, no noise. Even with ear to speaker..silence.
Build should last a lifetime
Phono Stage, especially the MC stage is very good but lacks when compared to a nice dedicated phono stage 
Big soundstage width, depth and height, superb detail.
Very rich sound with detail and precise imaging – hard to do and get right
Remote is not so hot, I have seen much nicer! In fact, it sort of sucks. 
Runs warm, not hot or cool.
Has PLENTY of power – runs my 86db 4 Ohm speakers without even breaking a sweat!
BASS is AMAZING and BOMBASTIC after 50 hours of burn in – TIGHT and DEEP, never flabby or loose.
My complaints
The 1st complaint I have is that Amazon did NOT double box this and that was dangerous. The amp shipped in its only single box which is held in place by two cheap styrofoam bars. HIGH chance of damage here. It could have easily been damaged by UPS and for a $7k product, it should have been double boxed.
Second, I also hate the remote which is a cheap-ish one. The volume buttons seem like they lack response. Amps in the $2500 range have better remotes. 
Third, I also wish they put an illuminated notch on the volume dial so I can see where it is at. As it is, you have no idea where the volume is set when across the room. This is a pretty major oversight IMO.
Fourth, when illuminated in the dark this thing throws some light – in fact, the meter lights hit the cabinet top that the amp sits on and the floor 2-3 feet in front of it (in the dark). It doesnt "glow" like a McIntosh or Luxman, it "projects" light. You can turn off the meters and light 100% but you can not dim the light or run the meters without it. I would have loved a three level dimmer.
Fifth. In the USA Yamaha gives only a 2 year warranty. In Australia Yamaha gives a 10 year warranty. I feel that for the cost of this piece, the warranty should be 10 years everywhere. When I bought it I assumed I was getting the 10 year warranty but upon inspection the warranty card states TWO years for USA. 
If you are on the fence about this amp look at it this way. How many amps have you bought and sold trying to find the right sound? I am a huge believer in "you get what you pay for" and this one is no exception. The S3000 is a modern-day solid state masterpiece with a retro flair. Add in the superb Phono stage for vinyl and you have an amp that can last you your lifetime. For me, it gets close to the best sounding integrated amp I have heard in my life, the Line Magnetic 219ia (2021: Now Pass Labs INT-250), but without the heat and last bit of magic dust. It is not 100% all the way there, maybe 75%.. but close enough and in some ways a little better (clarity/bass) and in others a little worse (midrange and dryness).
This amp is slightly on the warm side of neutral but also has great dynamics and WOW factor when called upon by the music but it will NEVER EVER be bright or harsh. Large scale orchestra music sounds absolutely BOMBASTIC from quiet to HUGE. Yes, the sound is huge. There is no flat skimpy sound here. The sound is pushed from the speakers INTO the room so your room is filled with sound. This amp is not LUSH like my old tube amp but it has a sound that tells you "I can play gentle but when needed I will turn into a monster and give you all I got". For anyone who owns Sonus Faber Guarneri speakers like me, know that this amp is a great match for the liquid sound of the speakers. It is NEVER EVER harsh or bright yet does not sound veiled. It is a balance that is hard to get right yet Yamaha managed to do it. You can tell it is a solid state amp but some love that sound.
BTW, I did try a couple of vintage Yamaha pieces and they do not compare to the S3000. The older models sounded puffy and flat with a narrow soundstage. Pleasing but not high-end sound. The S3000 will deliver a true high-end sound. The cheaper S2000 will get you 3/4 there but will have some grit and slight edginess with a flatter sound. The S3000 drives it home in all aspects. It may not be the worlds best integrated, and I am sure the upper end $10k+ Luxman and Accuphase class A units can beat it in some ways (The $9,000 Audio Research VSI75 beats it), but if you dig around you may even find this Yamaha at a much better price than the $7k asking. 🙂
Congrats to Yamaha for this beautiful piece of Audio Equipment. If you have a chance to Audition one, I highly recommend it.
UPDATE – 50 Hour Burn In
After 50 hours on the Yamaha is has opened up more but has become slightly warmer in sound. It is very smooth yet dynamic. Some of the treble energy has faded and it now sounds more tube like. Not sure if this is good or bad, all depends on speaker choice. With my speakers the sound is now fuller, bigger bass, less treble energy and a richer midrange/midbass. Sounds deliciously good. The S3000 is supposed to sound best with 100 hours so I will update this once again at 100 hours!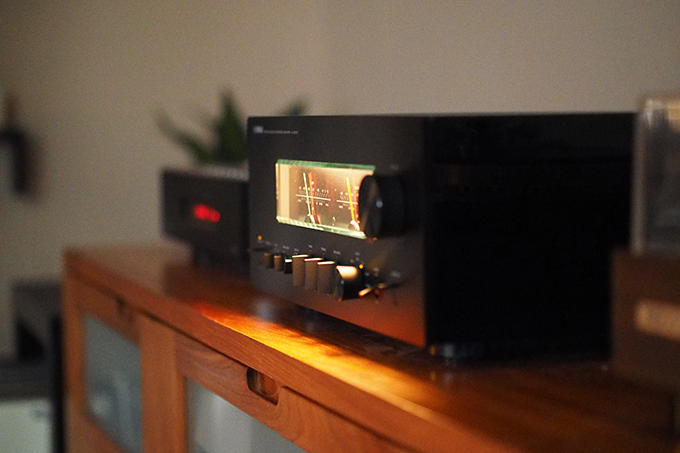 UPDATE 3: 100 Hour Burn In
Ok, I now have put 100 hours on this Yamaha A S-3000 amp and I see even more improvement, ESPECIALLY from day one. What I hear now is a rich, full, clear huge 3D presentation. I mean, HUGE sound that fills the room, a soundstage that extends to the walls on each side and a CLARITY that I have not previously heard in my system..all while remaining full with the bass, mid bass and having a sweet extended treble. The bass fullness that was at the 50 hour mark that seemed to hide or tame the treble is gone and now I have a nicely balanced sound from top to bottom with the biggest but most controlled bass I have experienced in my room as of this writing.
I bought this amp with a 30 day trial from Amazon (using prime, Amazon return policy is 30 days and no question asked). To be honest, I assumed I would be returning this guy after a week or two because I could not fathom paying such a high cost for a Yamaha SS amp. But this is the real deal my friends. It is quite amazing and is a huge jump up from the Yamaha A S-2000 in sound, build and pride of ownership. I have owned expensive Mark Levinson gear in the past and this is better in terms of sound. It is musical, pleasing, but without being mushy or bloated. It offers imaging and sound staging that is up with the best, yet is never analytical or harsh.
So there you go. If you are worried about this amp delivering the goods, do not worry. If you think the S2000 is just as good, think again. If you do not feel it has the power for your speakers, it does..and then some. The Yamaha A S-3000 is a masterpiece of design and Yamaha knows audio, they just proved it. In my room, with my speakers, cables and source it is fantastic.