My Homeless Project 2006-2008
The homeless population in America is growing every year and a few years ago I lived in an area that seemed to have many homeless men and women walking the streets. As I took my daily walks I would see them, say hi, help them out with food and water or even blankets in the winter. One day back in 2006 I decided to document my walks through the streets of Phoenix, AZ so with camera in hand, away I went to make some new friends.
In each case I would sit down with each individual, talk with them and then find out about their situation. I would buy them a meal, bring them some cold  water and help with money if they needed shelter. In exchange they opened up to me and allowed me to shoot their photos ( I ALWAYS asked if I could). Sometimes I would sit for 2-3 hours just talking and found out that many of these men and women were once like you and me. A bout of bad luck or a twist of fate landed them on the street and in some cases mental illness had taken hold of some of them.
It was a learning experience for me and I am glad I took on this project. Instead of walking buy and staring and sniping photos which is disrespecful I took my time to get to know each and every one of the people below and this is their story. The text that accompany the photos is the text I wrote right after shooting the photos. All of the negatives were processed in my laundry room and scanned by me using a Nikon Coolscan V. Yes, these were shot on good old fashioned film.
I hope you enjoy the photos, and the stories.
A video with some of the photos and narration with my memories of these meetings
—————–
Rodney
I met Rodney on November 19th 2006. I saw him walking out of Walgreens, limping. He soon roamed in to an alleyway and sat down. I noticed a hospital band around his arm and approached him to make sure he was OK. He had a pretty nasty cut on his head and he looked very dirty. As I approached he smiled and he said he was fine…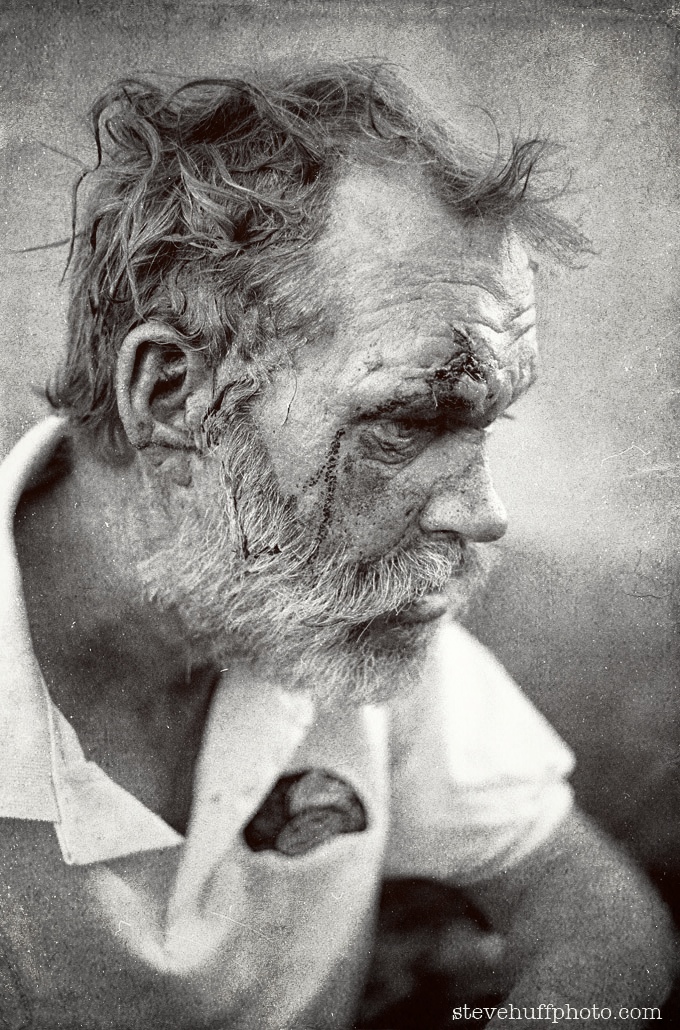 The cut on his face was pretty severe and I saw the fresh stitches on his face. The hospital obviously did not care to clean his wounds or his face. Blood was in his hair, ear, and beard. I felt bad for Rodney. He was not drunk, he was not on drugs, and I could see that he was ashamed of what he had become. I gave him some money for food and sat with him for a while. Most people I know would have NEVER even looked at him, let alone talk with him, I have found that these guys, down on their luck, are VERY nice guys and they get a thrill from the fact that a regular guy would come up to talk with them and listen. Only after I ask, I take their pictures. I have yet to have anyone say no.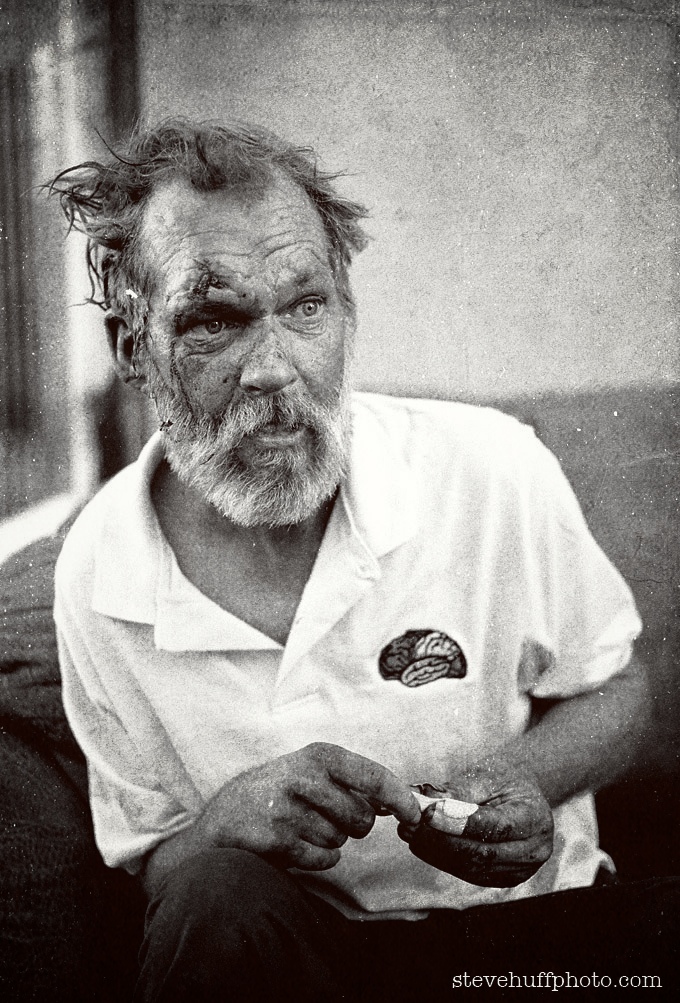 As we talked more he told me about how he had been living in an assisted living home but he somehow wandered out and got lost. He was on the street for 30 days and asked me if I knew where the home was so he could pick up his check. He told me the name of the place and I later found it.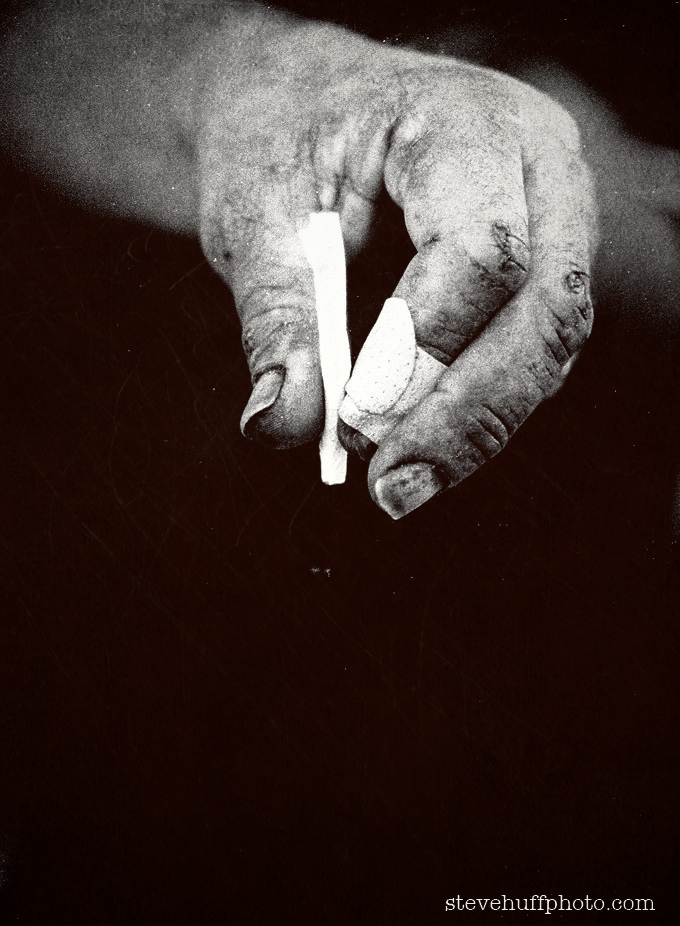 As he rolled his own cigarrette we talked more. He used to have a job and a family and after losing everything he took to the streets, was hospitalized, and ended up in the home. I did find out where he was living but tonight Rodney is without a home, without food, and probably cold. Makes me feel lucky for everything I have, and makes me angry that in America there are people like this that starve and have no options. I mean, I COULD be Rodney. Tomorrow I could lose everything and what could I do? I have no degree. No college education. I am lucky to have owned my own successful business in the past and now this web site. If I lost it all tomorrow (and I could) all I could do is go get a job paying minimum wage. About $140 a week after taxes. Hardly enough for a place to live let alone food, necessities and medical care.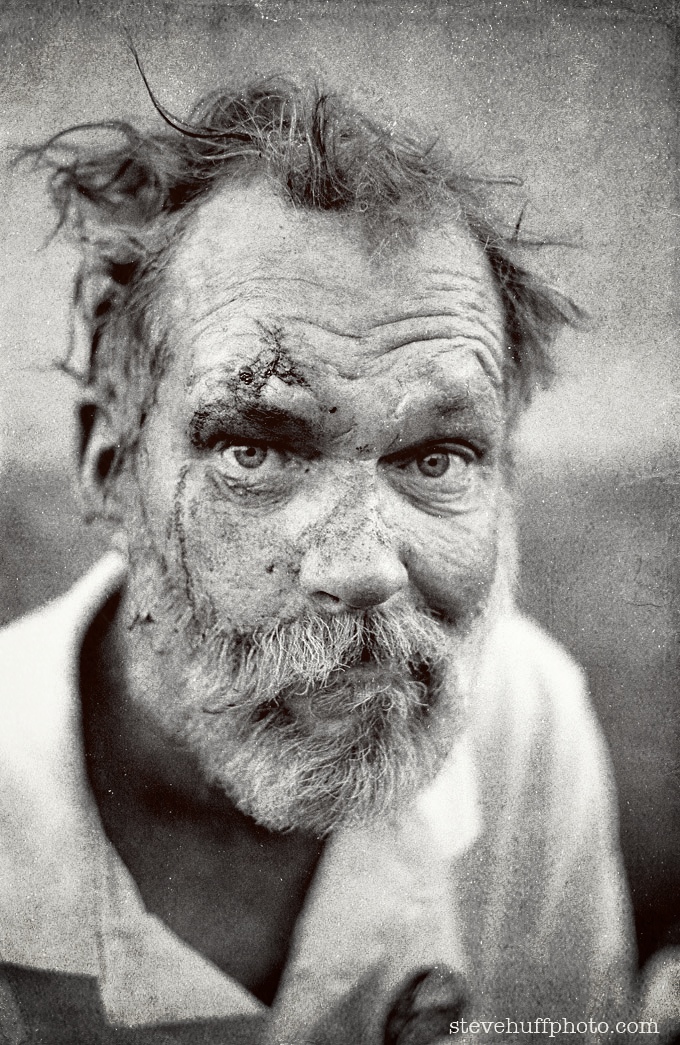 ———————
Gary
I saw Gary on the street holding his sign looking for help. I pulled over and approached him. He 1st asked if I was a cop and said the cops always chase him away. I told him I was just a photo student working on a project and soon he was at ease and I asked if he was doing ok. He said he was hungry and a bit cold at night as the day before someone stole his blanket. This was Phoenix AZ but winter time which means it gets pretty chilly at night.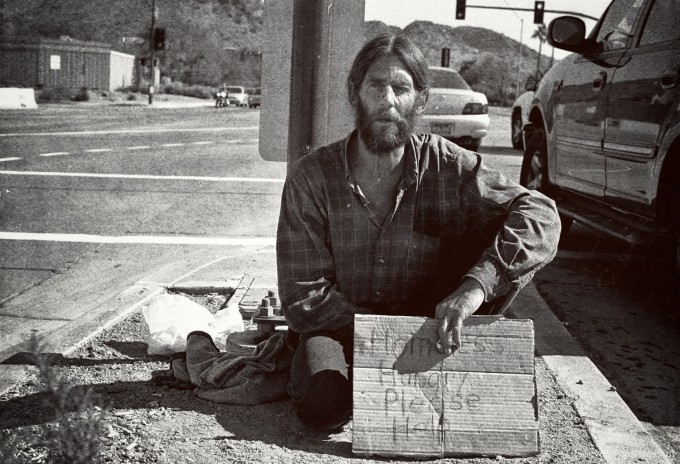 At 43 years old he seems to have more lines and wrinkles than he should. I soon found out he has been on the street for 23 years and in prison for 13 of those years. He deeply regretted his past and told me he has no friends on the street. I helped him out with some money and he said it was his lucky day. He talked more about his past and how he used to work for a newspaper many years ago as a photojournalist. Not sure if he was telling the truth but he seemed to be. He admired my camera.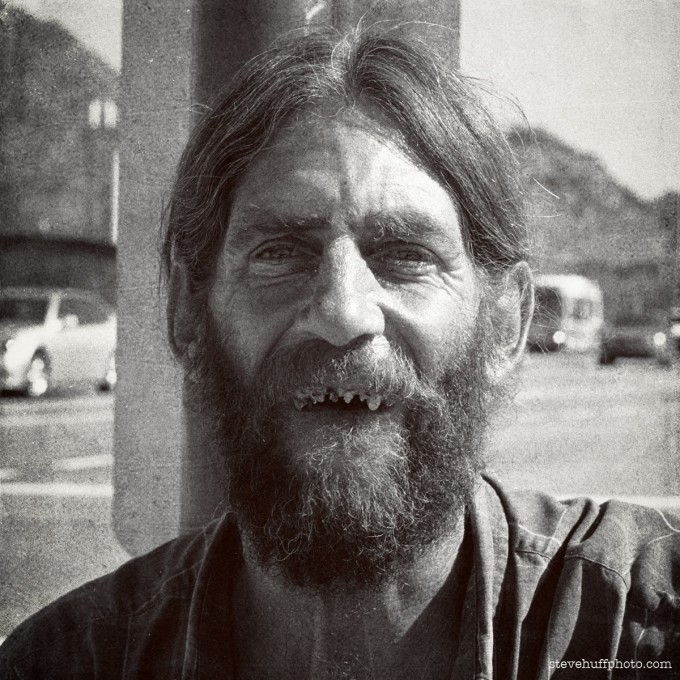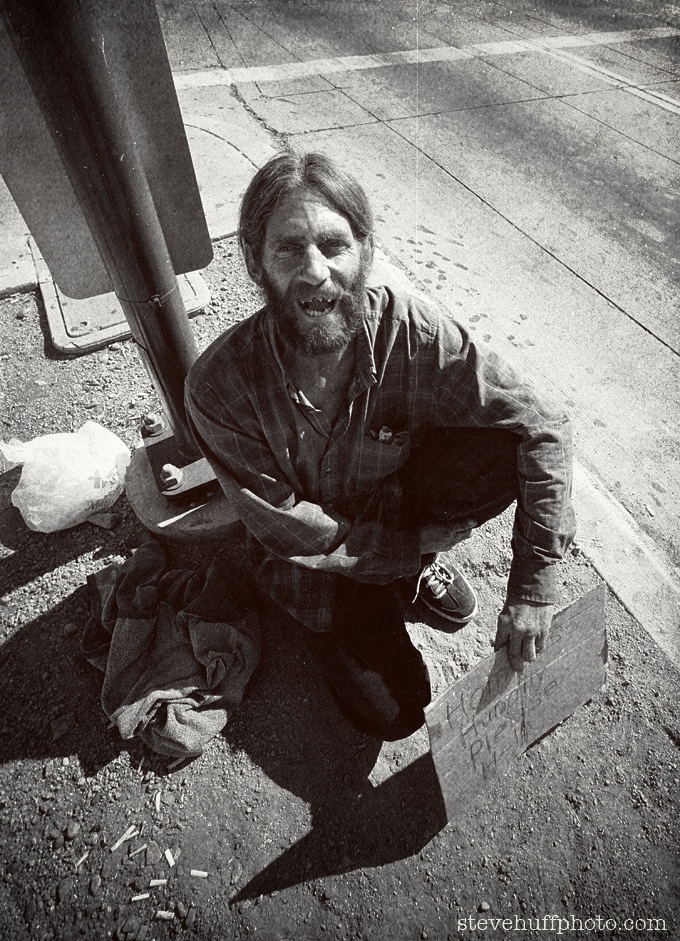 Before leaving, he called me back to show me his teeth which were severly rotted. He joked and said he wanted a print of this image. I left with the impression that Gary is a very smart man who has many regrets in life. Makes me want to think about my life even harder than I do.
—————
Stanley
I was heading out to the store when I saw a man walking down the street with a HUGE backpack on his back AND front. He was pushing a jamed packed shopping cart as well. He looked tired and beat down. I walked up to him and gave him a fresh sealed coke and $10. He thanked me. We then sat and talked a while.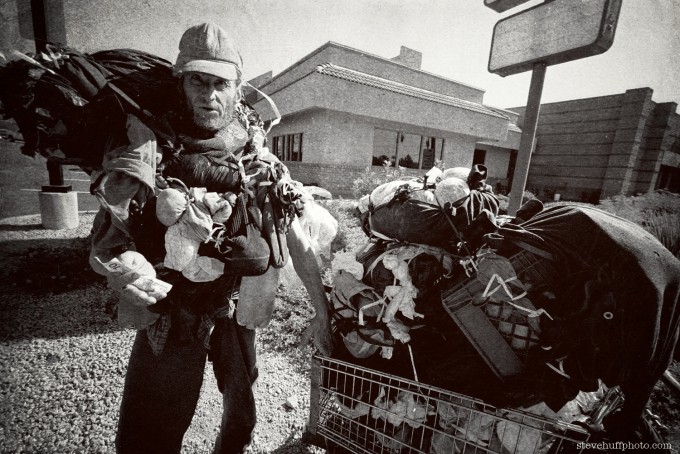 He is 54 years old and has been on the streets since he was 36. He said he has been everywhere and was born in Louisville, KY. He said he liked Phoenix for its warm climate and he also told me he goes around to businesses after hours to collect their garbage. This is why his cart is so packed with stuff. He had 2 liter bottles filled with liquids, food from the garbage cans, and varous items of clothing stuffed in the basket. He rambled on for an hour, talking non stop and thanked me countless times for spending time with him.
Stanley was a little mentally off. He kept repeating how he used to work on engines and old cars and he became homeless when he lost his car due to mechanical trouble. He said his parents died and left him with nothing and he also lost his wife. With a ton of credit card debt racked up and no job, he ended up on the street. Even with all of that he was in high spirits and smiling quite a bit. Again, he was thrilled that I was sitting there talking and laughing with him.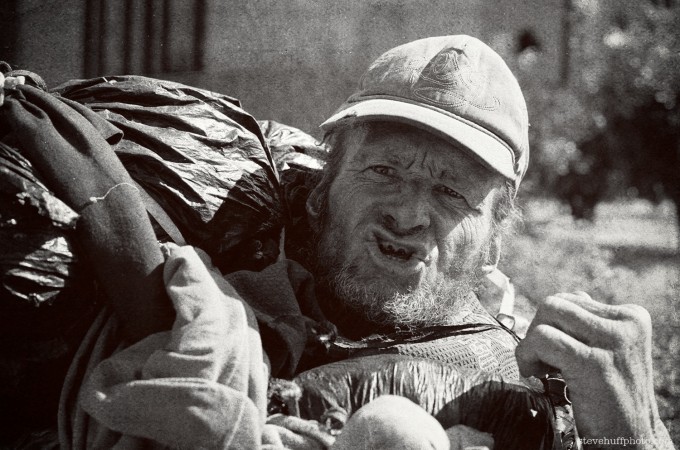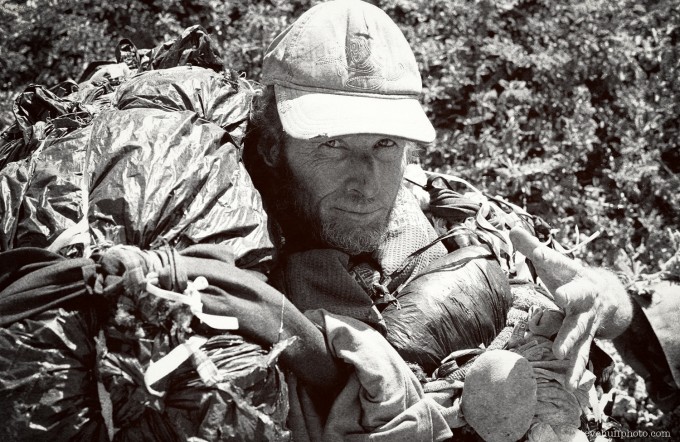 As he walked off he thanked me again with a smile on his face as he finished off the coca cola I gave him earlier. I gave him some $$ to get some food and he walked on with his cart and bags. I learned a lot from Stanley, and realized once again how lucky I am. 
—————
Dan
I was walking down McDowell Ave near 7th st in the early morning and saw this guy sitting on the side of the road working on something. I did not approach him as I did not want to bother him and he seemed to be REALLY in to what he was doing. About 6 hours later, I walked by again and he was still there so I had to ask him what he was working on. His name is Dan, and he was working on an old digital LCD watch all day, trying to fix it. With no luck. We struck up a conversation and he was full of life, jokes, and though he did not have a dime he seemed happy.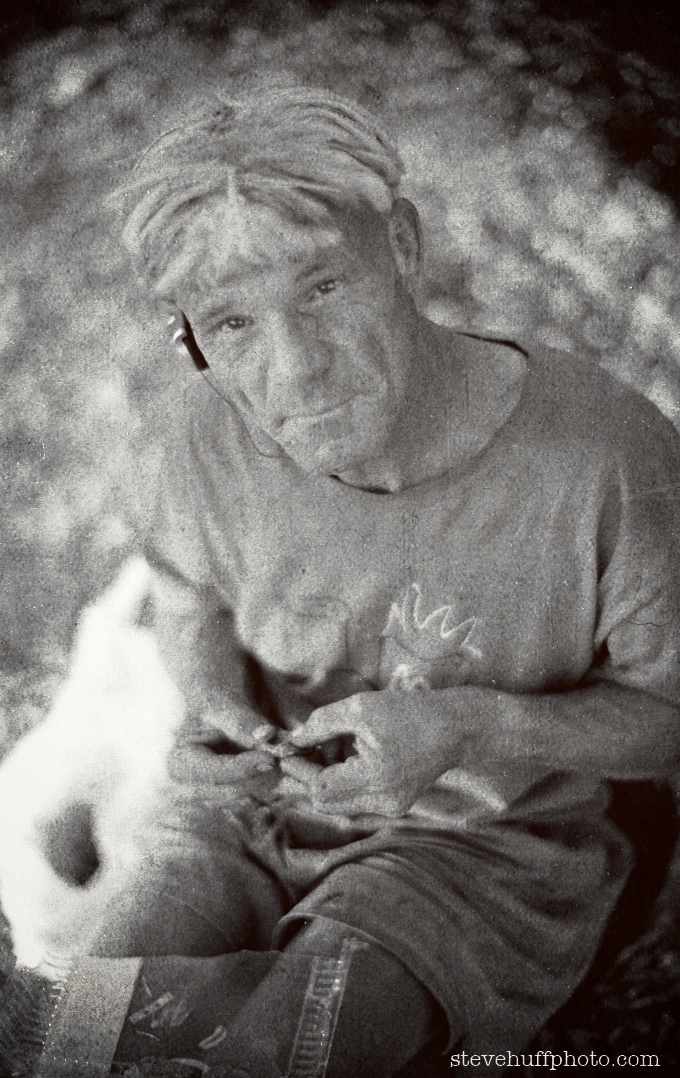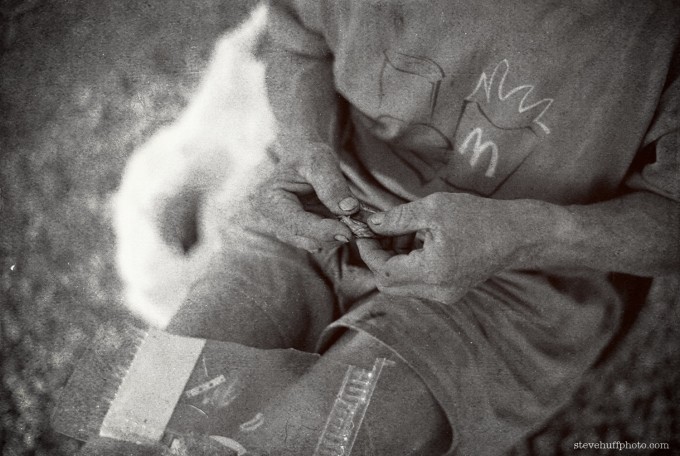 Dan is a "traveler" – He came to Phx from Philly for the warmer climate. Here is the watch he was attempting to fix for hours. A taped up broken $2 LCD digital watch.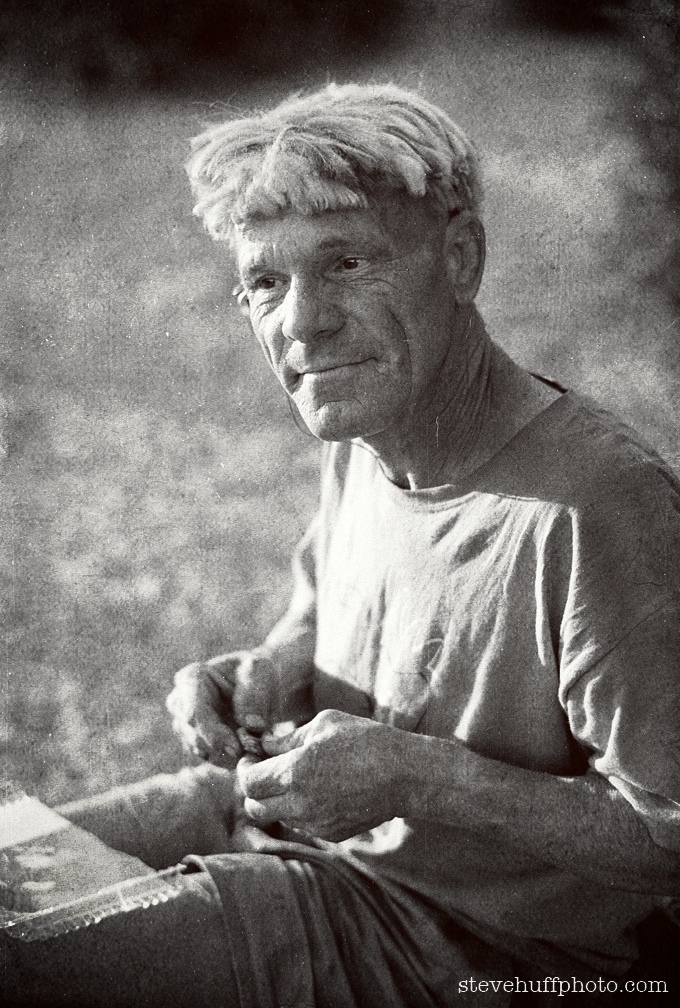 His hair is actually a wig with real hair he weaved in on his own. When his hair falls out, he weaves it into his wig. It was very creative and he really was proud of his real hair wig. He told me he was 34 years old, but I believe he is a bit older than that. Probably 20 years older.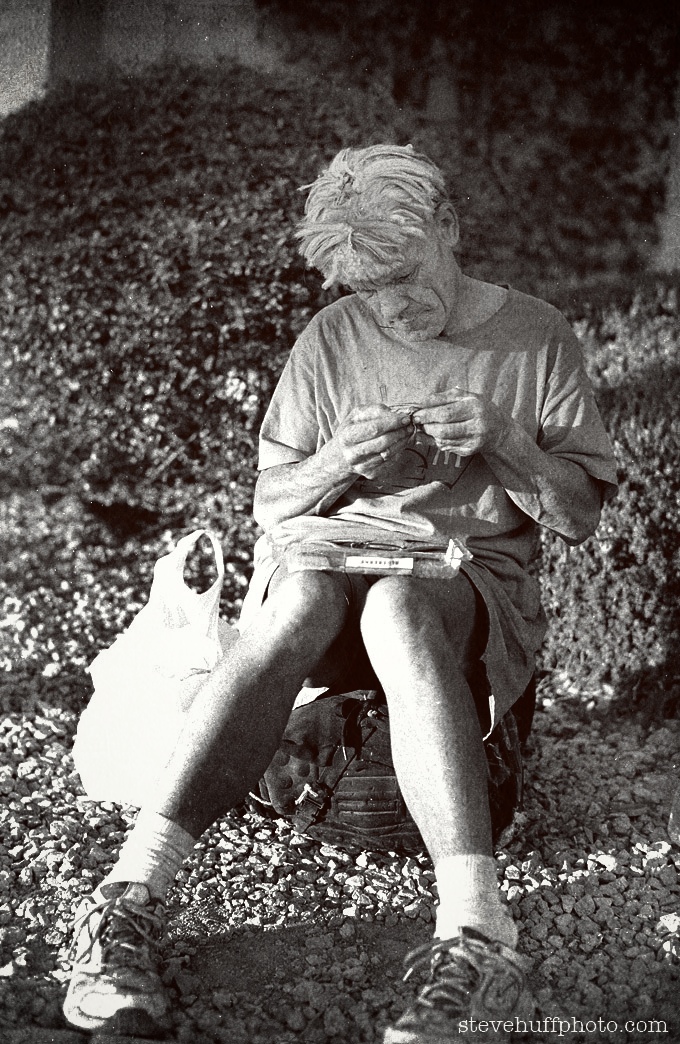 As I walked away, he continued work on his watch. Dan was a real joy to talk to and his spirits were high. He seemed intelligent but a little odd at the same time. I gave him some coca cola and he thanked me with a smile. Another great guy in high spirits. Makes me wonder why so many of us who have everything seem to always be unhappy and angry while guys like Dan and Stanley are happy and content with the little they have, which is basically nothing.
—————
Mary
I was only able to snap TWO shots of Mary. I have seen her for the past 2 years roaming the streets. Even in the summer when it is 120 degrees she is out in this coat. She has been on the street many many years and has this coat, a blanket, a purse, and believe it or not, some old make-up. When I approached her she was smoking and when I asked to take her pic, she threw down her cigarette and tried to fix her hair. She talked for 15 minutes, and it was getting dark so I helped her out with a few $$ and went home. I will see her again though I am sure.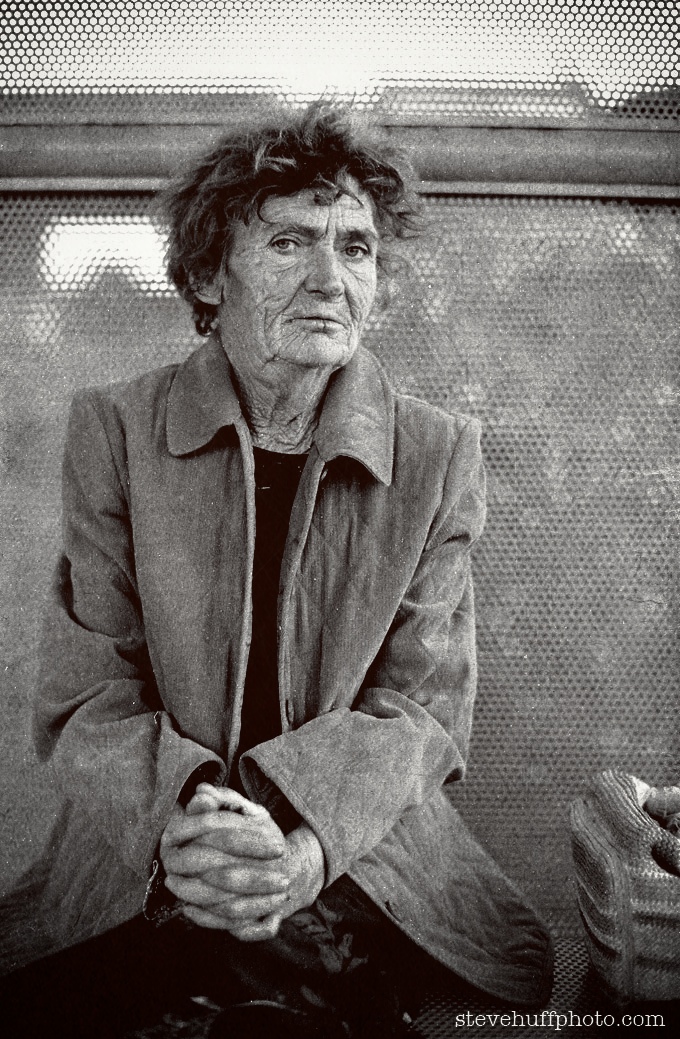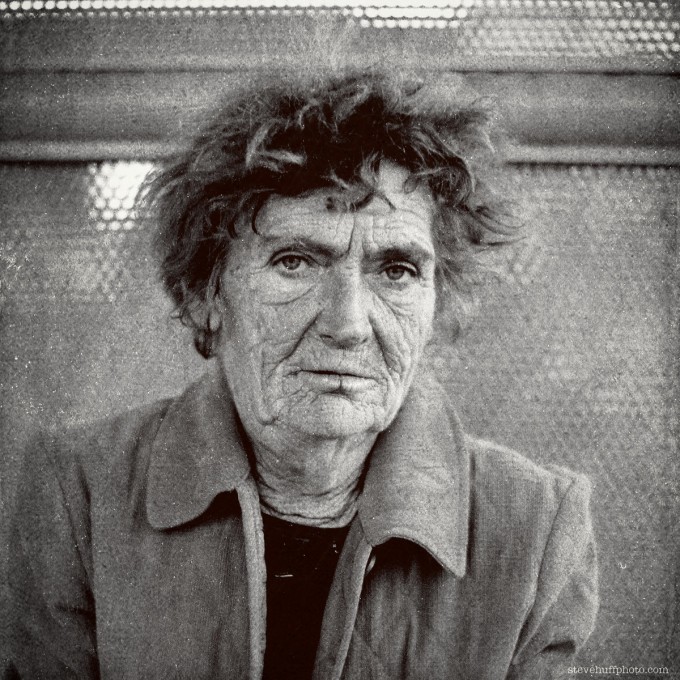 I did see Mary after this shoot and she remembered me as the camera guy. We chatted one day but I did not have my camera and she looked worse than she did the previous time, but she still wore that coat. About 6 moths later I stopped seeing Mary but I did see her coat in someone else's cart. Makes me wonder. Did she pass away? Quite possible. One of the realities of street life is bad health and even death.
——————-
Scott
I met Scott at night in front of a store. It was 11 pm, and he was very cold as it was getting down to the 30's. We may be in Phoenix, AZ but in the winter months, at night, it can get cold. He had no money, no blanket and was very hungry. He came here from Hawaii 2 months prior and has since lost his father and family and job. He lives on the street and sleeps behind dumpsters in alleyways. I went to my car and grabbed an old blanket I had and gave it to him. He was very happy to have the blanket. This was shot without flash, at 11pm at F1.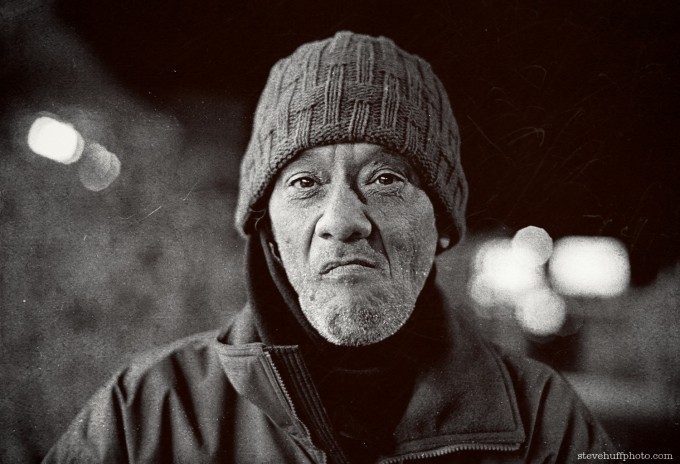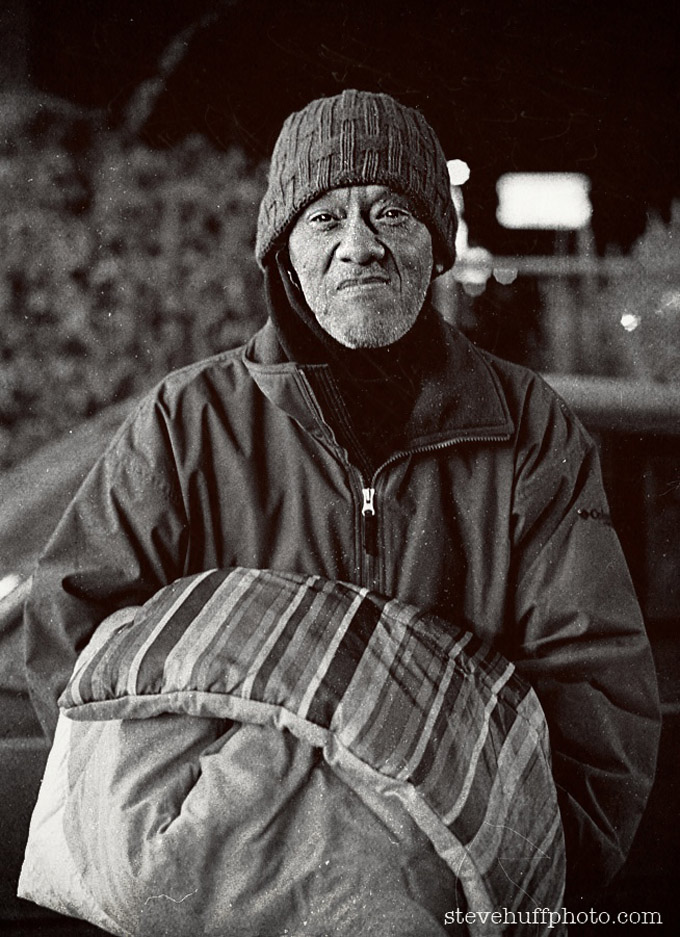 Here is Scott after I gave him the blanket and a few bucks. He cracked a smile, told me I had a kind heart and that God will reward me. He shook my hand, teared up, and left as the store clerk was chasing him away. He walked in to the darkness, probably on his way to find a place to sleep for the night. Sometimes I really wish I could do more and this was one of those times. 
—————–
[ad#Adsense Blog Sq Embed Image]