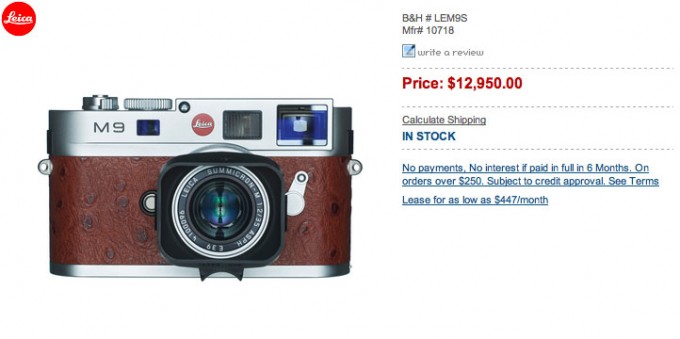 LOOKS LIKE B&H SOLD OUT IN ONE DAY but if you still want one LENRENTALS.COM has ONE left in stock NOW! CLICK HERE TO SEE IT. – Well, lensrentals.com sold out within minutes!
Only 50 were made and once they are gone, they are gone. B&H Photo just listed as IN STOCK the Special Edition Leica M9 set (NOW SOLD OUT but LENSRENTALS.COM HAS ONE LEFT – UPDATE #2 ! Sold out too!) that is finished in SILVER CHROME (Not Steel Grey) and wrapped in brown ostrich leather. It comes packed with a chrome 35 Summicron lens and it also has the upgraded Sapphire glass. This set also comes with a nice leather strap and again, only 50 were produced. If you break down the price…A new M9 is $7,000, a new 35 Summicron is $3000 and the Saphhire glass option on the M8′s were over $1000 if I remember correctly. That is $11,000 right there. Add to this the matching leather strap, the fact that this is the only M9 you can get in chrome AND that only 50 were made and this is actually not too ridiculously overpriced. Basically you are paying an extra $2000 for the ostrich leather, chrome finish, strap and to be one of the 50 to own this set. I've been seeing these sell at various dealers and B&H probably only has one or two so if you have been itching for one, now is the time. Check it out HERE.
PS – Some of you may know that this was actually the M9 Neiman Marcus edition that probably didn't sell very well when it was $17,000+! And yes, IT DOES COME WITH the 35 Summicron ASPH in chrome, some of you questioned this but it does indeed come with the lens. Again, B&H sold out but lenrentals has one left!