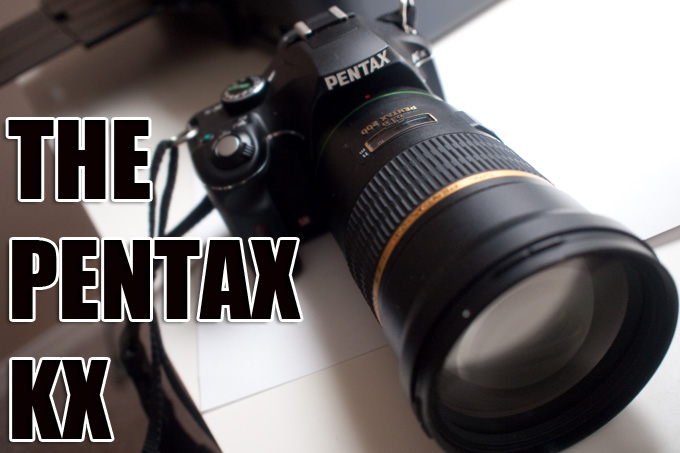 The Pentax Kx Digital Camera Real World Review – Yes, I am back with another review of a camera that arrived to me from B&H Photo a couple of weeks ago. The Pentax Kx DSLR. This will be a short but sweet review on the camera, which is a massive "bang for the buck" DSLR. The cool thing is I was able to shoot it with the very cool Pentax 200 f/2.8 lens. A stroll through the Zoo and a trip to europe to shoot part of the Seal tour, I have taken this little/big guy with me everywhere.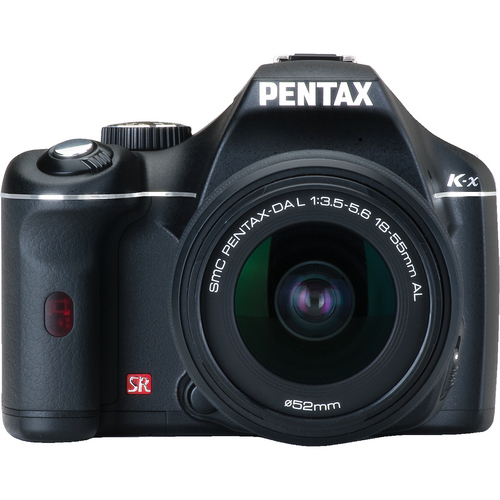 The little bro to the K7
As some of you may remember, a while back I wrote a very positive review of the Pentax K7 camera. I thought the K7 had so many great qualities that I ALMOST bought one for myself. It had a great build, smallish size, weather sealing and terrific image quality and color. It's only flaw or drawback was its high ISO performance. The K7 was and still is a great buy in a DSLR. The video was also very very good with terrific image stabilization. When I reviewed the K7 many asked me to check out the little brother, the Kx. The Kx is around $500 with lens, and is smaller but it is also made of plastic where the K7 is a more sturdy pro metal build.
My 1st impressions when I opened  the box with the Kx was WOW, this IS small! But it felt pretty good in my hand. I have smallish hands so not sure how this little guy would behave in larger hands, but for me it felt nice. My son also loved the feel of the camera and liked it better than his Nikon D3000. One thing I noticed right off the bat is that it takes AA batteries. When I heard about this originally I was turned off by this but after shooting with it for a while I actually thought of this as a positive. If the batteries run out, you can always have spare AA's on you, or buy re-chargeable batteries. This way you can always shoot without having to worry about having spare factory batteries on hand and charged.
GORGEOUS – I shot this with the 200 f/2.8 using spot metering on the Flamingo. It was a bright, harsh, sunny AZ day but the camera handled it with ease. This was shot wide open at 2.8. I love the color.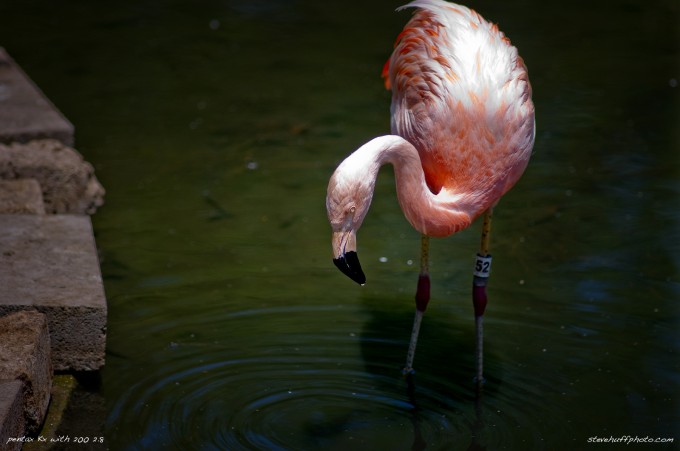 While using the Kx I did not like it as much as the K7 due to it having less control via dials, or buttons. I am a huge huge fan of having a camera where all of the controls are easily accessible. The K7, being a semi-pro body had all of that and more. The Kx is more of a dumbed down camera with ease of use in mind. I am not saying it's a "dumb" camera or made for "dummies" just that its not as easily controlled as the K7. But when it comes to image quality, the Kx shines and provided me with winner after winner.
The Auto focus speed was fast. Not blazing as in Nikon D3 or Canon 1d but fast for a $500 DSLR body. I had no problems capturing the Zoo action 🙂 It has the same 11 point AF as found in the K7, so that is pretty sweet. You usually don't get this in low/mid range DSLR's.
The Pentax Kx with 200 f/2.8 – The AF had no issues keeping up with this guy. Sun was HARSH and shooting anything white is usually a disaster for dynamic range, and yes we have some blown highlights here but overall its not so bad. The Kx has 11 point AF like the K7 but I always use center point anyway.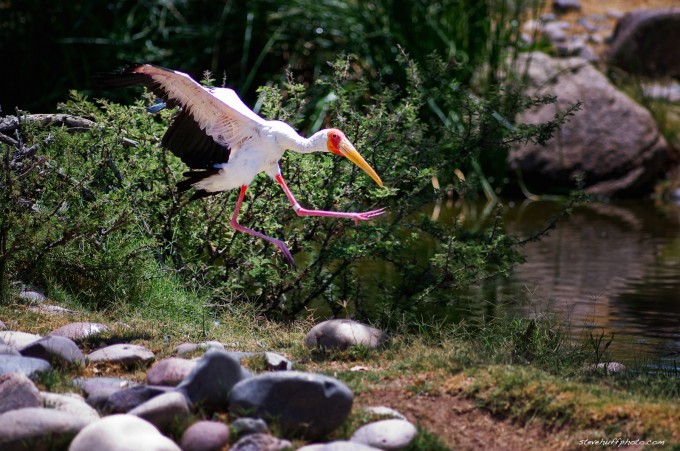 The Pentax 200 f/2.8 lens
The Pentax 200 f/2.8 lens was also pretty impressive. Right out of the box I knew it was up there with the pro Nikon and Canon build quality and was wondering how the optical quality would be. Its a DX lens, so not a full frame 200, so it's pretty compact (for a 200 2.8).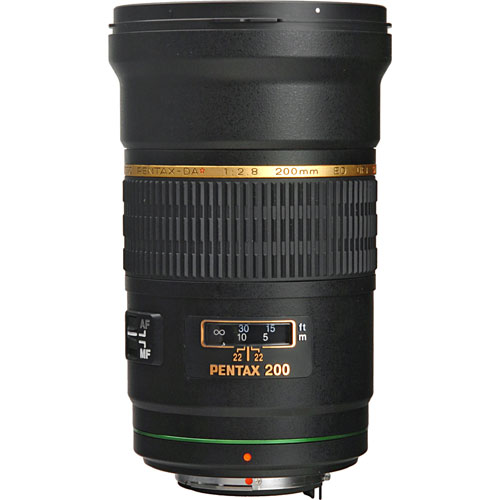 Here are the specs of the lens, which IMO is a GORGEOUS lens up there with the 2.8 Nikon and Canon offerings.
The Pentax SMCP-DA* 200mm f/2.8 ED (IF) SDM Lens is a high-quality telephoto lens that is designed for exclusive use with Pentax digital SLR cameras. It offers a focal length that is equivalent (in 35mm format) to 300mm. This wide coverage is ideal for a variety of telephoto applications, including portraiture, sports and scenery.
Pentax DA* (DA-Star) zoom lenses come equipped with the SDM System, which assures smoother, quieter auto-focusing operation by using a built-in supersonic motor. When mounted on the K10D digital SLR camera body, the focus mode is automatically switched to SDM-assisted auto-focusing. When mounted on older Pentax digital SLR camera bodies, the conventional autofocus mode using a camera-mounted motor is selected.
Like all Pentax lenses, this lens is treated with smc coating for maximum light transmission, sharp definition, and high contrast images. In addition, SP (Super Protective) coating made of a special fluoride compound has been applied to the front surface of the lens through the use of a unique evaporation process. As a result, the lens offers excellent water- and oil-repellent performance and makes for easier cleaning should the lens be accidentally smeared with fingerprints or cosmetics.
Note! Not compatible with "full-frame" (35mm size) cameras
Designed for Digital SLRs
The image circle in DA-series lenses is designed to perfectly match the 23.5mm x 15.7mm size of the CCD used in Pentax digital SLRs to optimize camera performance. This design also contributes to a drastic reduction in size, weight and production cost, compared to 35mm-format counterparts with similar specifications.
DA*-Series
DA*-series lenses feature tightly sealed, weather-resistant and dust-resistant construction that enhance durability for use in rain or dusty conditions.
SP Coating
SP (Super Protective) coating made of a special fluoride compound has been applied to the front surface of the lens to offer excellent water- and oil-repellent performance.
Quick-Shift Focus
Quick-Shift Focus System allows to instantly switch the focus mode from AF to manual with a slight twist of the focus ring.
High Optical Quality
Incorporates Extra-low Dispersion (ED) glass lens elements to compensate for chromatic aberration.
The Pentax Kx Feature List
The Pentax K-x Digital SLR incorporates advanced DSLR features – including Live View and HD 720p video – in a very capable entry-level camera for those looking to step beyond the limitations of point-and-shoot digicams. Bundled with a Pentax 18-55mm zoom lens (a 27 to 82.5mm zoom on a conventional 35mm camera), the compact Pentax K-x makes the transition to a 'serious' camera system with interchangeable lenses easy and painless.
The Pentax K-x contains a 12.4-megapixel APS-C format CMOS sensor that incorporates a sensor-shift Shake Reduction System that allows you to hand-hold the camera at shutter speeds up to 4-stops slower than normal under low-light situations and still maintain image sharpness. Aside from the K-x's bright optical finder, you can also compose images in Live View mode using the camera's 2.7″ LCD.
Despite the K-x's entry-level price point, still images can be captured at a fast 4.7 frames-per-second at shutter speeds up to 1/6000th-second as JPEGs or RAW files. And along with conventional still imaging, you can also capture wide-screen, full resolution 720p (1280×720) HD video at 24fps using the full range of Pentax optics. For travel or everyday family events, the Pentax K-x makes for an ideal imaging companion.
Other advanced features found on the Pentax K-x include an 11-point, wide-angle SAFOX VIII autofocus system, a variety of automatic and manual scene modes, and a True High Dynamic Range (HDR) feature that captures a series of 3 bracketed images and combines them into a single optimized image with a full range of highlight, midrange, and shadow detail.
The Pentax K-x can capture up to 1900 exposures on a set of AA lithium batteries and is also compatible with AA NiMH and alkaline batteries.
12.4-megapixel APS-C Format CMOS Sensor
The K-x incorporates a newly developed CMOS image sensor to assure high-speed image data readout and more flexibility with varying ISO sensitivity levels. With approximately 12.4 effective megapixels, this image sensor accurately reproduces true-to-life images with fine detail and rich color depth. The K-x offers a wide sensitivity range between ISO 200 and ISO 6400 and allows users to expand the sensitivity range between ISO 100 and ISO 12800 via a custom function to offer greater creative freedom to photographers.
Wide Screen HD 1280x720p Video Recording @ 24 Frames-per-Second
The Pentax K-x movie recording function* captures true-to-life movie clips in 16:9 high-definition TV proportions (1280 x 720 pixels) at a frame rate of 24 frames per second. Compatible with every Pentax interchangeable lens ever made, the Video Capture mode opens a new world of creativity for Pentax K-x owners.
High-Speed Continuous Shooting at approximately 4.7 Images-per-Second
The K-x's high-speed continuous shooting mode records as many as 17 images (in JPEG recording format) at a maximum speed of approximately 4.7 images per second. This is the fastest of all entry-class models. The K-x also features a more reliable shutter unit, which passed a demanding action test of more than 100,000 shutter releases. The top shutter speed of 1/6000 second allows the photographer to preserve sharp, crisp images of fast-moving subjects.
High-Performance, High-Speed PRIME II Imaging Processor
The K-x features the newly developed PRIME (Pentax Real Image Engine) II, that is an upgrade of the original PRIME imaging engine. This new imaging engine offers greater data processing speed and enhanced capability to produce higher-quality images with richer, more accurate color rendition, as well as faster transmission speed of movie data.
Live View Function with Face Detection of up to 16 Faces
In addition to the camera's viewfinder, the K-x features a Live View function that allows users to view subjects on the LCD monitor during shooting. The K-x also offers a choice of three different focusing modes in Live View: Contrast Auto Focus, Face Detection Auto Focus, and Phase Difference Auto Focus.
Digital Filters
The K-x's digital filter function allows users to process recorded images in a variety of creative ways within the camera and produce highly creative visual expressions. With a choice of 16 different filters including Color Extract, Retro, Soft, Starburst, Toy Camera, and more (including a custom filter for building multiple effects), photographers may apply multiple filters to a single image for customized effects.
Cross Process Mode
The K-x features a new Cross Process mode that automatically and randomly adds finishing touches to exposures to create eye-catching images with unique, intriguing colors (just like images treated with Cross Process* in film photography). This mode adds a whimsical element to digital photography since photographers don't know the results until the captured image is actually displayed on the camera's LCD monitor.
High-Precision 11-Point AF Sensor
The high-precision, wide-frame SAFOX VIII autofocus system of the K-x features 11 sensor points (with nine cross-type sensors positioned in the middle) to automatically capture even off-centered subjects in sharp, crisp focus. Photographers also may select one of the sensors as a focusing point to accommodate specialized applications.
Additional Features Include:
Custom Image modes offer high quality processing for images, a 2.7″ (230,000-dot) high-resolution color LCD, Auto Picture mode for effortless, automatic selection of the most appropriate shooting mode, even during Live View shooting , a Status screen for easy, at-a-glance confirmation of various settings on the LCD, 10 scene modes, including Night Scene, Surf & Snow, Sunset, Kids, and Museum available via simple icon selection, and Pentax Digital Camera Utility 4 software package, with RAW-data processing and image browser functions.
Took a stroll through the Phoenix Zoo in the 110 degree heat and it was torturous but I still came away with some nice shots. Both of these were with the 200 f/2.8 at 2.8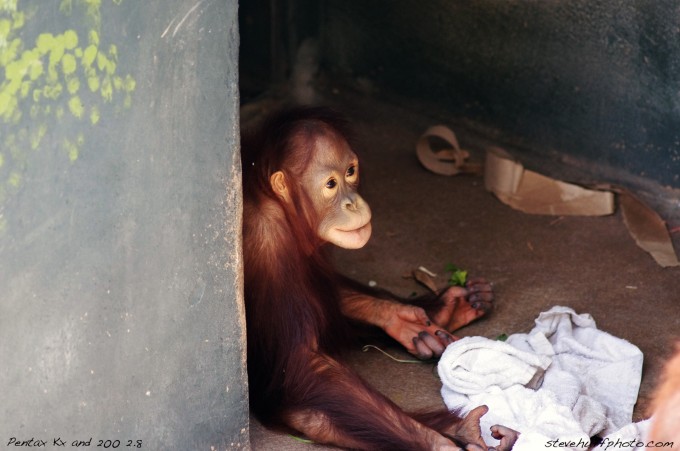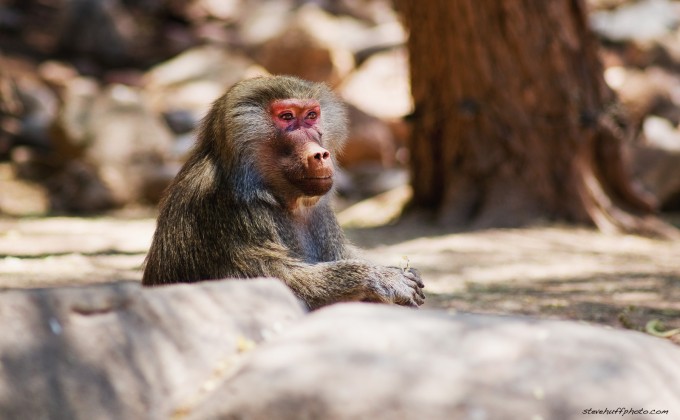 HIGH ISO
The Pentax Kx has great image quality, and even better high ISO than the Pentax K7 and for the under $500 price point it is fantastic. I can not think of another DSLR for under $500 that gives you as much as  the Kx does. The Canon Rebel is nice but if I were starting fresh, I think I would take a Pentax Kx over a Rebel. Just personal pref. Below is the high ISO test I did with the Kx and under that the ISO 3200 and 6400 of the K7.

Here is the K7  high ISO example from my Pentax K7 review (see it HERE)

Does the Kx have the usability factor?
Ahhhhh! One requirement for me is that ANY camera I buy be easy to use, easy to control and it should not have a deep menu driven system where you have to click three buttons and scroll through menus to change ISO, or aperture, etc. The Pentax Kx is pretty good in this area but as already stated, not as good as the K7. Still, while out with it I never had any issues with settings. ISO was easy as it has a dedicated button. I guess all of the "important" features were easy to set up or change. The body feels a little on the cheaper side when comparing it next to a K7, Nikon D300 or Canon 7D but remember, this is a $500 camera, nit a $1500 camera. For the money, this has some serious "bang for the buck" potential. So does it have the usability factor? Somewhat. Nothing like a Leica M8 or M9 but its there. 🙂
I even took the Kx with its 18-55 Kit lens over to Heart Attack Grille in Chandler, AZ where my Nephew at the 8000 Calorie Quadruple Bypass Burger. Their patties are 30% fat, their buns are dipped in lard, their fries are made in 100% pig fat and they do not sell diet drinks. Just sugar coke from Mexico, lucky strike cigarettes and everything and anything that is bad for you. Check out their site HERE. I ate there but only had a single at 2000 calories 🙂
These were all converted to B&W using Silver Efex Pro

This review has been short but sweet mainly because I did not use the camera as much as I had hoped due t o having four others to review at the same time. Between this, the Sony NEX-3 and 5, the Leica X1 and other lenses I did not get too deep into the Kx but from what I have seen of it, I would not hesitate for one second to buy one. I took it out and it gave me great results, as most cameras do these days anyway. It is a better camera than an Olympus E-P series camera as far as image quality goes, but it's still a but larger than one of the m4/3 cams or the Sony NEX series.
When you look at these cameras side by side, the Kx, the X1 and the NEX-5 it is pretty amazing how SMALL that Sony is, and they all have the same size sensor.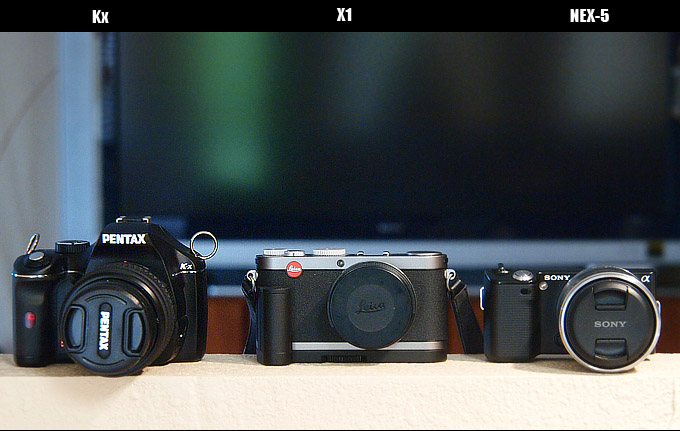 Shooting the Kx in a pro setting – Concerts
I was lucky enough to have this camera along with me when I went to Europe to join the Seal tour for a week. I had planned to shoot this as the main camera for the week but after the first night I realized I was not 100% happy with the results. It was good, but it was missing focus quite a bit when the lights wet down, and I had a hard time getting clean files. I did get a few keepers…
Sound check was no problem as it was sunny outside. Here I caught Mark Summerlin, Seals guitar player in a happy moment 🙂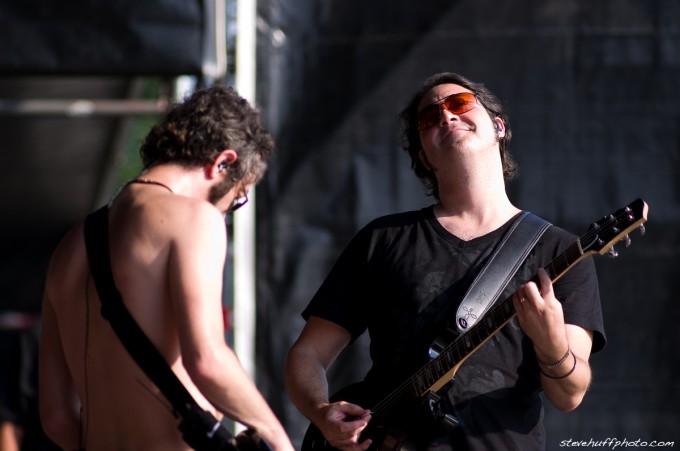 Early in the night there was still some light, but I preferred the more intimate approach of the M9 for the shows. I guess I just like getting closer into the action.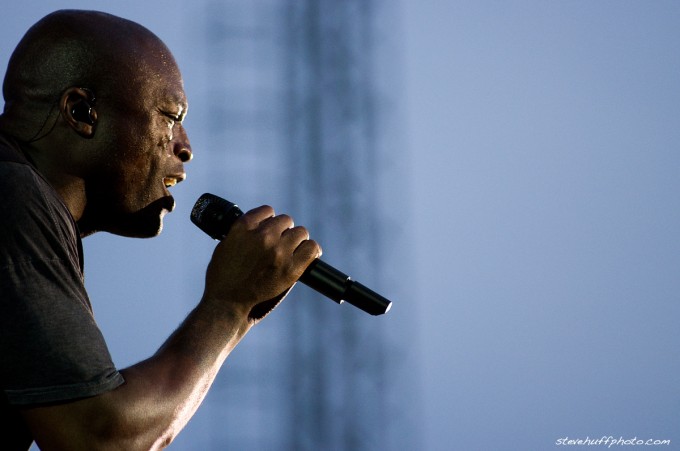 Bass player Marcus Brown otherwise known as "chops" – "crash" and "wolverine" (just kidding, was a joke on the bus)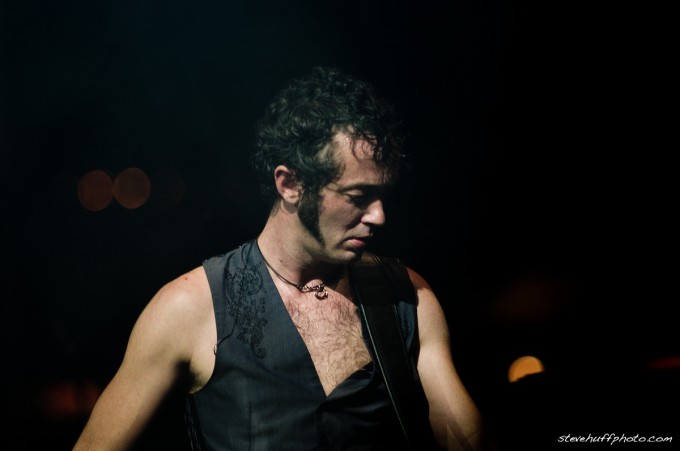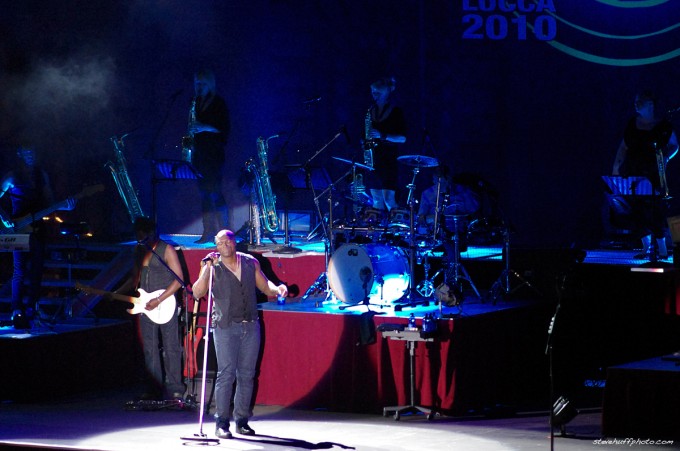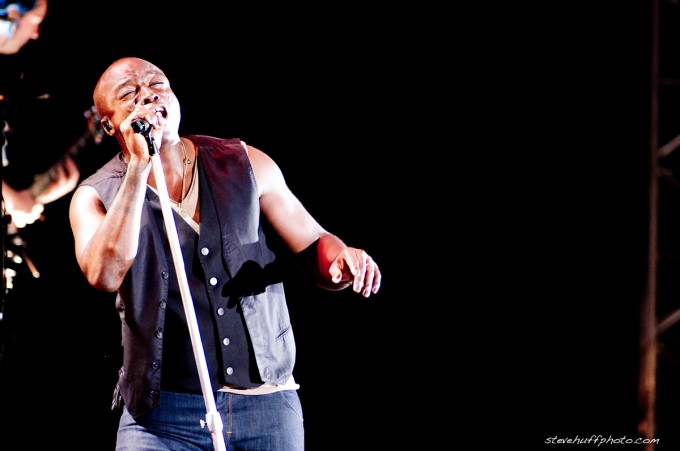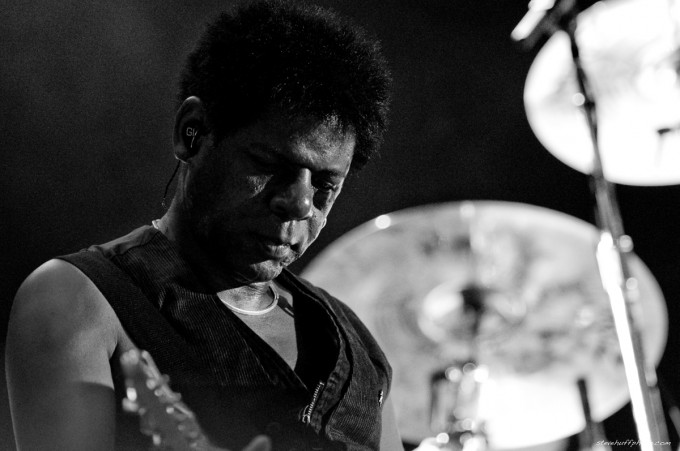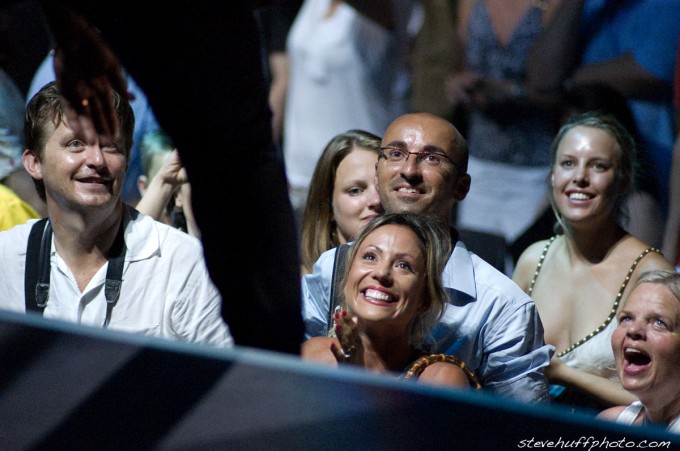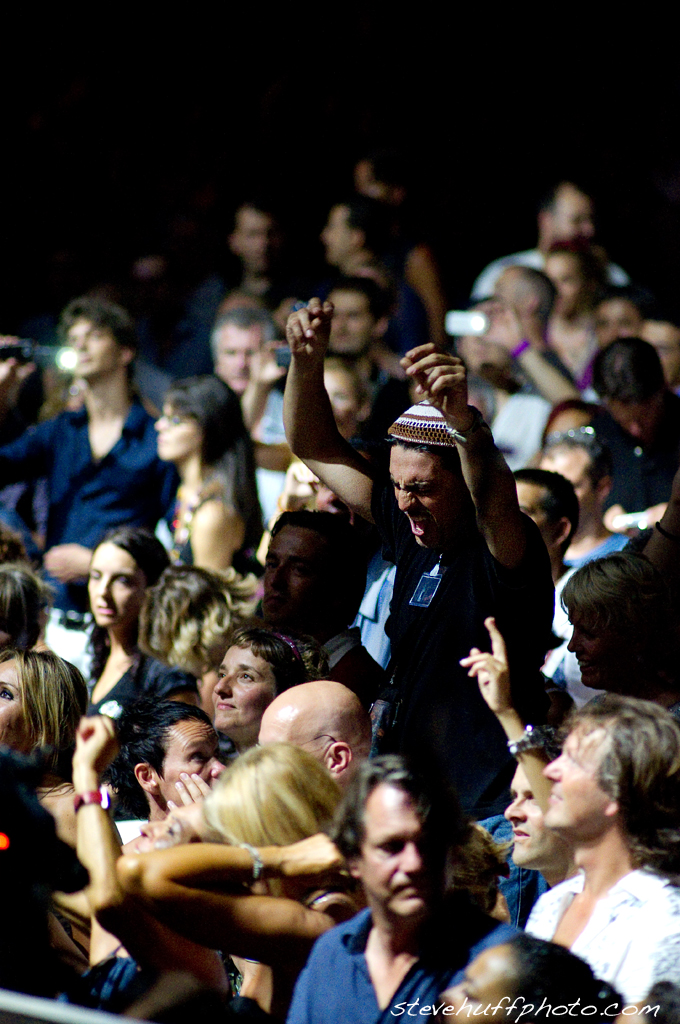 Looking at the above images you would thing that the camera handled the shows well. It has decent high ISO but in really low light, it suffers a bit when compared to higher end cameras. Also, it was a bit hard to handle for an extended time with the 200 on it. Seemed like the body was a bit too small. But overall, for the $$, this is a superb little camera. Not so much in love with it though as the K7. That one has everything for under $1000.
Colors
The Pentax Kx comes in several colors. Black of course is the standard but if you want to get creative you can also purchase this one is Red, White or Blue. My #1 camera shop of choice, B&H Photo has them ALL in stock.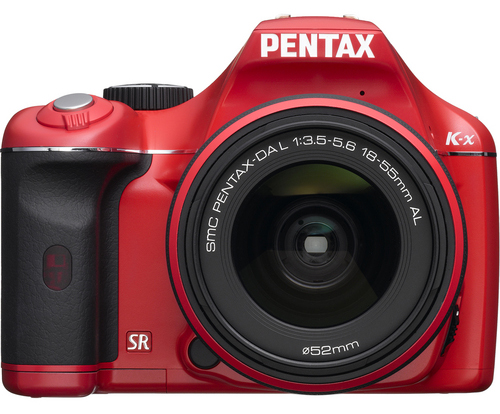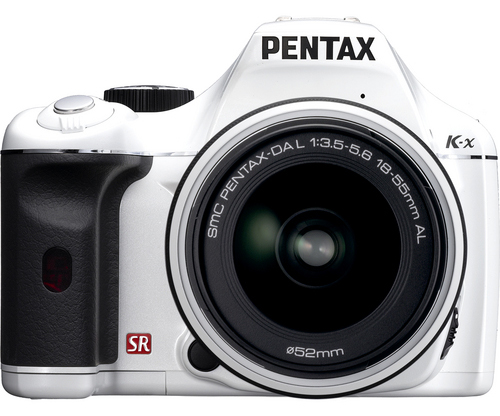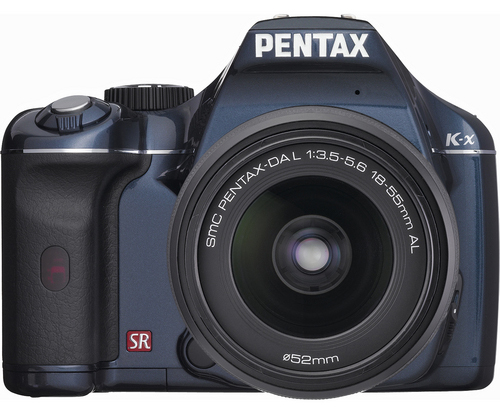 PROS/CONS
Pros:
The size is nice.
12.4 Megapixels is plenty for almost anything.
HIGH ISO is improved over the Pentax flagship, the K7
11 Point AF works well
Battery life is superb. Expect 1,100-1,500 shots per charge.
Live View
HD 24 FPS movie mode
4.7 Frames Per Second
100,000 shutter click life span
All around feature packed for a great price
Takes AA batteries and can use re-chargeables
Comes in four cool colors for those who are in to that sort of thing 🙂
Cons:
Some may think it is too small
Movie mode not very user friendly
Shutter is LOUD and clunky sounding
AF is good but in low light struggled a bit
The final Word…
Well, if you are looking for a SMALL DSLR that can give you great results, easily, then this little guy is one to be considered. It will give you better image quality than most smaller cameras, and has the advantage of mounting some of those killer Pentax lenses like the 31 f1.8 Limited and 77 Limited f/1.8. For about $500 you get a well made, super cool little SLR. Me, if I were to buy one, I would buy it with the 31 Limited and call it a day. The 200 f/2.8 is stellar for a 200 but personally, I am not a telephoto guy. If I was, this lens would be on my list as well. The Kx may not have the last word in detail, sharpness and dynamic range but its VERY GOOD for its price point. As a matter of fact, I have yet to see a $500 camera give me better results. B&H has the black kit in stock with 18-55 for $529 – Yep, $529 WITH a lens, and the lens is not bad at all. Better than most kit zooms I have seen and the same one that ships with the K7.
Overall this one sits in a weird area for me. I didnt get really excited by it, but I did not dislike it. It is what it is, and that is a great "bang for the buck" camera. I had no major complaints with the Kx, it performed as advertised. Still, if given a choice I would buy the K7 over the Kx, for me. I just preferred the body, the weather sealing, the feel and even the shutter. Can't go wrong with either though, both are superb for the money. I cant wait to see what Pentax brings out as a replacement to the K7. Should be interesting.
Hope this real world use review was somewhat helpful. I usually do not get into the uber details in my reviews, just more of a "real world use" review where I let the images speak for themselves. Thank you!
HELP SUPPORT THIS SITE TO KEEP IT GOING AND GROWING!
Remember, anytime you follow my links here and buy from B&H or AMAZON,
this helps to keep my site going. If it was not for these links, there would be no way to fund this site, so I thank you in advance if you visit these links. I thank you more if you make a purchase! I have nifty search bars at the upper right of each page so you easily search for something at either store! I currently spend 10-14 hours a day working on this site and the only way that I can pay for it is with your help, so thank you! Currently my traffic has been increasing but my funds to pay for the site has been decreasing, so any help would be GREATLY appreciated!
You can also chip in with a donation via google checkout. Any donations will go towards funding this site and building it bigger and better for the future. This is now my full time gig, so any help would be appreciated! Donations can be made at the top right of any page. Just enter the amount you wish to contribute! Thank you!
If you enjoyed this article/review, feel free to leave a comment at the bottom of this page and also be sure to join me on twitter or facebook! Also, you can subscribe to my feed at my subscribe page HERE and read these posts in your browser or news reader!  Thanks so much for visiting my site!
[ad#Adsense Blog Sq Embed Image]