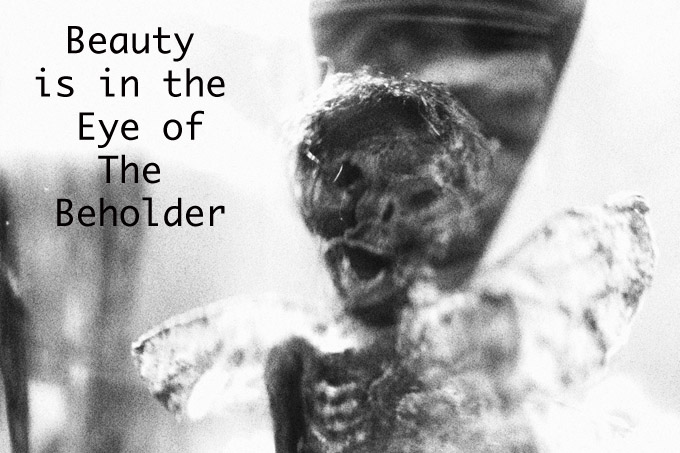 Beauty is in the Eye of the Beholder by Steve Huff
Sometimes when I wake up and sit at my desk to start work I enjoy a few chuckles, except today when that happened my chest killed me (yes, I am still battling the full-fledged flu). While that really sucked, I was inspired to write something when I saw a comment that was posted in one of the articles from yesterday. If you saw that article about Sharpness which showed a few film shots that were basically family style snaps that were pleasing to the eye and the article was all about slowing down, and enjoying photography. After all, this is the goal of the majority of us here who visit this site and is for me anyway, the most enjoyable way to shoot.
Now I am sure the above title photo snagged your attention and you are probably wondering what the hell that is! Well, it is an oddity..a mummified creature shipped to me from other parts of the world and I want to use it as an example. It is one ugly thing but to some it could make for an interesting photo that could easily spark a conversation. It's a snapshot, nothing more, nothing less but most of what real people shoot every single day are snapshots.
In case most of you do not know, this website brings in over 100-120k page views a day, over 3 million per month, 36 million per year. 
Lets break down who the "bulk"  of the visitors are…
The majority of readers here are simply "passionate photographers"  and not pro's. These are the bulk of the audience here and to me, what this site is all about. It is about those who just love to use a camera, love to capture memories and love to shoot their every day life, their kids, their pets, their surroundings. They get enjoyment out of doing this and enjoyment from using quality gear that is trouble-free. They also love to see what others shoot, what others do with the same gear and share their experiences as well.
One does not need to be a pro to use a Leica. One does not need to be a pro to buy a Nikon D4 or Sony RX1, even if it will be used to just shoot their cat. Can they take those photos with a $10 disposable? Sure but they do not want to and that is their choice, and part of what makes all of this fun.
The Passionate Photographer's life is enhanced by shooting and preserving memories of THEIR life. I am thrilled to feature stories like this on the site as I consider myself a "passionate photographer". Usually these shooters prefer to spend money on a nice camera rather than a boat, RV or fancy car. It is their right to do so. It is what I do myself.
I love taking photographs and preserving memories of my family, my growing son, my trips and adventures. 80% of what I shoot is never seen on this site or anywhere else but boy do I love to shoot and I think Photography has helped me to be amazingly stress free and happy. It can be therapeutic when you are not stressing over every little last detail and perfection or deadlines and your job.
I will always be thrilled to feature work on this site from everyday people like me who just enjoy to shoot. You never have to be worried about being "good enough" because if the passion is there that is all that is required. With that said, I have turned down many guest posts for just that. Lacking passion, ridiculous subject matter and posts written just to promote sales of something.
But to me, any kind of photography can be beautiful, even a dog, cat, kid or wife photo. It is after all still a slice of reality frozen in time for as long as your hard drive lasts 🙂
–
There are others who come here as "know it all's" that never show their work. They like to attempt to belittle the work of the "passionate photographers" in the comments but they will dare not link to or show their own. Why? Because they are afraid of being attacked on their work after creating a stir in the comments because the "know it all"  have the thinnest of skin. It makes them feel better to attack others. These shooters are just here to bitch and moan and complain. I see it every day, day in and out. They contribute nothing but anger, and hate. Sad. They also have zero passion. They are sometimes  called "trolls" and usually do nothing but attack and cause trouble. They like the attention. Luckily they are NOT the majority here but there is no way to keep them out 🙂
BTW, I am not talking about those who give useful critiques about a photo, just those who come in to hate and attack and be rude for no real reason with cruel personal attacks. They will attack others work, camera choices and just about anything. To me, their comments belong in the trash and that is usually where they go.
–
Then there are others who come here as "The Pro". These shooters are used to viewing photos from a "pro" standpoint. Perfect studio lighting, perfect composition, perfect exposure. That is all well and good but there is more to photography than this and sometimes they get so used to this "perfect" work that they forget about the "passion". I know everyday guys who just love to shoot who have much more passion than most pros. The main reason for this is the Pro HAS to stress a bit because they have paying clients. They HAVE to be perfect and perform. They know their stuff and they can sometimes be rude to others but the pros usually give constructive criticisms to others. This is good as that is what helps people along. Most Pro's are helpful and respectful.
Truth be told, I have enjoyed photos much more from every day "passionate photographers" than Pros without question. Why? The answer is simple. The pro stuff we have all seen before. We have been bombarded for years and years since the advent of Digital with pro landscapes, pro portraits, pro this and that. Basically in the pro world it is very hard to be fresh and exciting as most of it has been done. There is some fine professional work and photographers but they are no better than anyone else who visits this site as it is all in the eye of the beholder. They may be better when it comes to the "rules" and "technical aspects" but to me, we are all equal which is why when I write I do not come across as arrogant and know it all. I am no better than anyone here. Period.
Again, beauty is in the eye of the beholder. What one may love you may hate and what one may hate you may love. That is the beauty of this existence. If we were all the same it would be a boring world. Just remember, no one is always right and yes, even you who think you always are CAN be wrong. Keep the passion and enjoy what you do. That is the key!
For those interested, here is the comment that created this post:
Reader Comment:
"What I love about this site is that Steve will publish just about anything. No doubting this is a great idea from a passionate user, but surely you could have put slightly more effort in with the subject matter and post processing? I mean, two pics of your dog…?"
My reply:
"Believe me, I pass on about 3 articles a day, I do not publish "anything" but I also am not out only looking to post professional shots, or the same old street nonsense day in and day out that we have all seen a million times, or India portraits that have been done over and over and over again. There is much more to photography than that and millions of everyday people love to shoot as well, and what they shoot is just as important to them as what you shoot is to you. I will feature those who are passionate and love what they do. Many of us get enjoyment out of photography just by shooting our kids, pets, and daily life. I am just as happy to feature that, if not more so than the same old thing day in and day out of street, perfectly lit studio shots, etc. Maybe that is why this site has so many passionate followers because my belief is that we are all equal. X is not better than Y, Y is not better than X. I am certainly not better than anyone here, nor is anyone else. It's all subjective and yes, beauty is in the eye of the beholder."
One more thing. If anyone ever has an issue with a post on this site the really amazing and cool thing is that you do not have to read it 🙂 This is a 100% FREE site and any article at any time can be skipped!
Thanks to all for being here!
Steve (still sick with the flu) Huff
OH, BTW..the title image is not really a mummified creature from parts unknown, just an oddity handcrafted and picked up at the fair 🙂 I enjoy oddities and unique items.