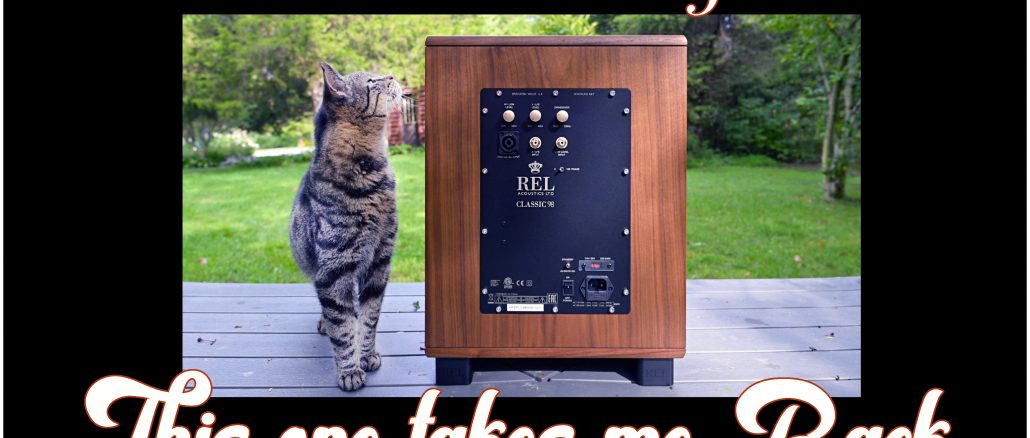 The REL Classic 98 Subwoofer Review.
By Steve Huff
My Video Review of the REL Classic 98
For the last few weeks I have had the new REL Classic 98 Subwoofer in my listening room and it has been quite the experience!
Moving out my REL S/510 sub and placing in the Classic 98 was quite refreshing due to the smaller size and ease of setup within my room. This is a sub from REL that looks like a piece of furniture and takes me back to the days where subwoofers were made to blend in with the furniture and sound big, musical and deep, if not a bit romantic.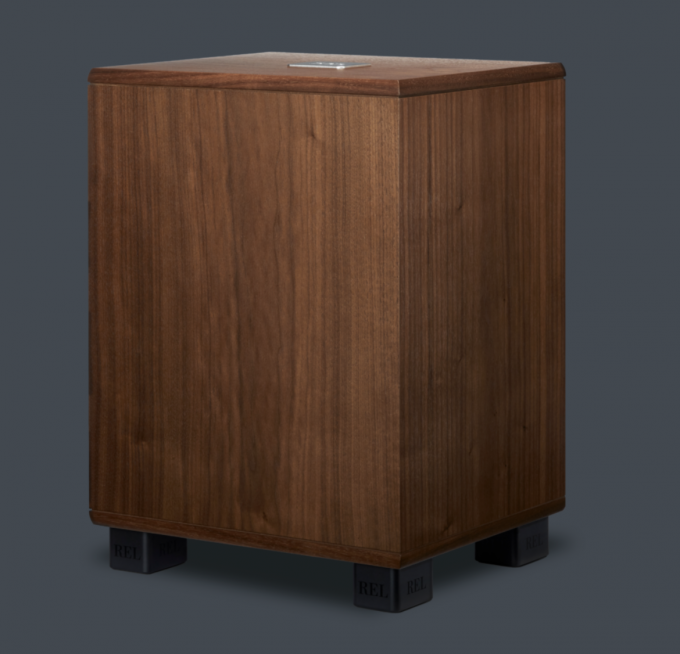 The Classic 98 is indeed a bit of a romantic with its warm fat tones pumping out into my room with the usual REL quality that is clearly evident in the build and the sound. Yes, this one offers up a 300 WPC Class D modern day amp paired to a newly designed 10″ paper woofer that brings the depth with some old school vibes. This sub was tuned to be more romantic, have more tonal colors and offer up a plump mid bass that will take you back some. Even so this little sub can kick, and it's such a gorgeous little piece of audio gear.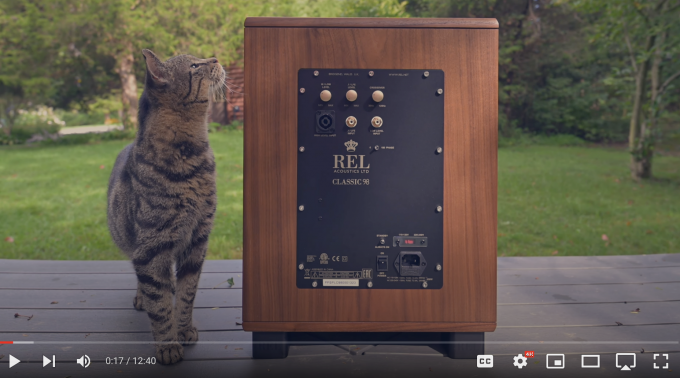 While listening to the Classic 98 I was feeling the warm and fuzzies, in a GOOD WAY as it was effortlessly offering up bass down to 27hz with warmth and a fullness I have not heard in quite a while, even from the S/510.
While my modern day REL S/510 brings the luxury vibe with that ultra deep and refined smooth bass that hits hard and clean it comes in at close to $3,000 after tax so it is not what I would call "affordable" for a subwoofer. Even though the S/510 is priced in this way I feel it delivers $3k worth of performance, easily. It's the finest sub I have ever experienced but it is heavy, and trickier to set up than the Classic 98.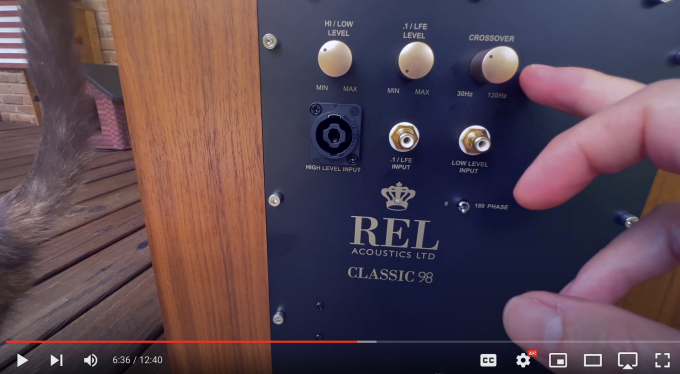 The Classic 98 is much more affordable at $1,399 and more likely to be enjoyed by your significant other as well. This is a handsome subwoofer and it is solid, hefty and offers up bass that is tight, big, expansive and controlled yet it's also a plumper fuller kind of bass, which is what brings that vintage mojo to the table. It has punch and kick but in a "clean, fat and big way".
This is  sub that will be right at home with speakers like Klipsch Heritage, Dynaudio Special 40, Triangle 40th Anniversary Comete, Harbeth, KLH and the like. This is a sub I used with speakers here such as the warm leaning Alexandria Audio monitors, the Triangle and even my Daniel Hertz EVA speakers which go down to 30hz as is. Even so, the REL Classic 98 worked its magic best with the Triangle and Alexandria Audio speakers and I was able to blend them together without much hassle or fuss. Took me 15 minutes.
If you have classic speakers such as KLH, Harbeth or others this sub was also made for you as it can match these speakers with ease and provide the foundation your music really deserves.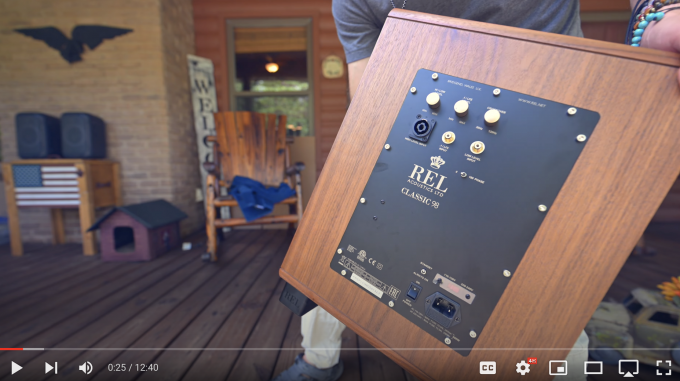 The Classic 98 is a sub that you can hook up via LOW level, HIGH level or even using the LFE input for those who want to use it for movies. I have not tried the Classic 98 with movies but can tell it would do pretty well to add some pizazz and boom to your movie watching experience. I bet it would have some real oomph in theater applications.
What I am thrilled about here is the lower price point yet the beauty of REL remains. The build is fantastic as is the all wood look. The Classic 98 is sealed, has a 10″ bass driver that was made just for this model and offers up a modern day 300 watt Class D amp for the power plant. Everything here just works and adds that foundation to the music without darkening the music and without adding any kind of overdone or muffled bass. This far outperforms the $500-$700 subs I have tried in life (which do darken and muffle the sound somewhat), yet doesn't reach the refinement and smooth impact of the S/510 which is a remarkable piece of gear for modern day high res speakers.
If you have bookshelf speakers that only go down to 60, 50 or even 40 HZ you are missing out on those lower registers, that foundation of the music. You may not realize you are missing it but once you hear a sub like the Classic 98 in your system YOU WILL notice and it will be tough to go back to listening without it. After I have experienced using subs in my system I know I can not go back to listening to light weight speakers. It always sounds like there is a hole in the music.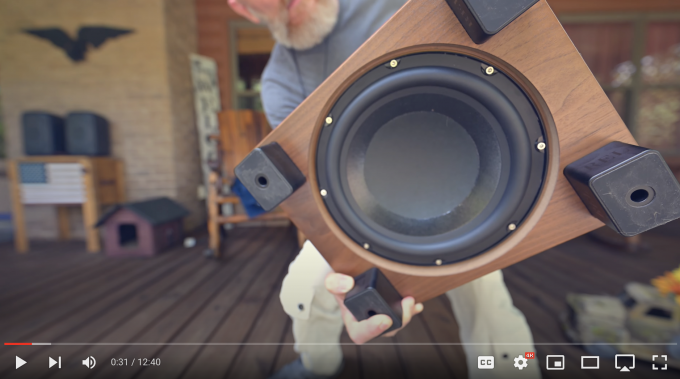 I have really enjoyed my time with the Classic 98 and if I didn't own an S/510 I would seriously consider the 98 for my own system as honestly, I think it suits my room better than the mighty S/510. It's fun to look at, and to listen to. It offers up tight and punchy bass that has a rounder feel and vibe to it, and it can kick some serious bass energy into your room. I love th atonal colors coming out of this box and it suits my preferences perfectly. It's such a beautiful sub.
I found no fault with the Classic 98 and the price is right for this gorgeous old school vintage modern subwoofer. It's just been announced and you can read more about it on the REL website HERE.
If you pick up a Classic 98 or get to hear one, let me know in the comments below what you think of it!