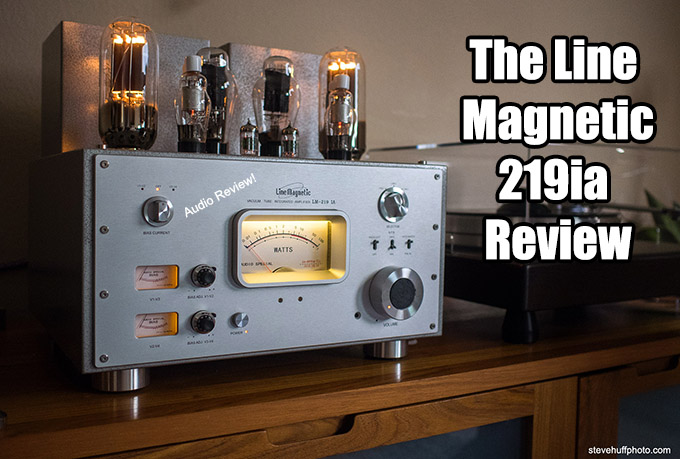 Line Magnetic 219ia Integrated Tube Amp Review!
300B and 845 Tube Magic!
By Steve Huff
Following up to my 1st ever full-blown Audio Review on my Photo Blog which was the review for my Sonus Faber Guarneri Evolution Speakers I am now sitting down to write a full-blown review for what has become the best integrated TUBE amp I have ever owned in my life.
With that spoiler out-of-the-way let me first tell you the story of how I found this 24 watts per channel integrated tube SET amplifier to power my not so sensitive speakers. Or maybe, HOW IT FOUND ME.
Over the past 15-20 years I have not only been a photography geek but also an Audio Geek. Some use the term "Audiophile" but I always say that I am just passionate about music and a beautiful reproduction of music. When I sit down to unwind and listen to music I want to be taken INTO the music, not just listen to some muffled sounds or heavy bass or ear-piercing treble. No..I want to listen and FEEL the music..CONNECT with the music…and soak it all in. FEEL as in feel a connection to it emotionally, not FEEL it as in "FEEL THE BASS" (though that has happened with this amp on a few occasions now).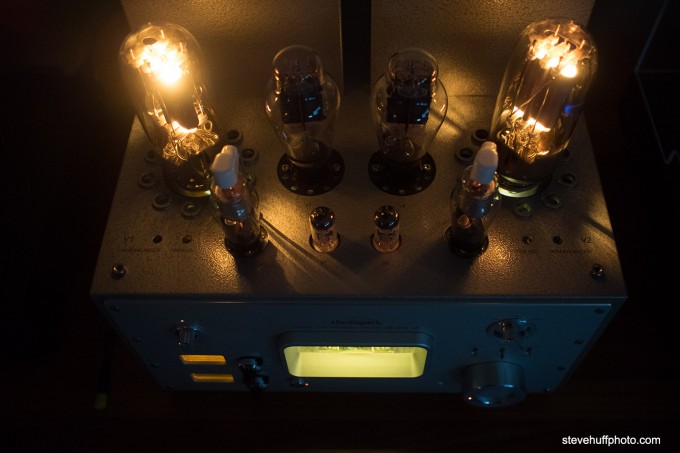 As I wrote in my Guarneri Evolution speaker review, when you have a music reproduction system that can deliver the full experience of the recording it can indeed be a magical thing. This is one reason that I have been hooked on having a 2 channel only music system in my home for the past 15 years that can do just that. Over the years it has went from small in size and price to medium to large and to what I now consider a bit over the top for me, but for some of you out there my system would be in the medium range as there are much more elaborate and expensive systems out there costing MUCH more than what I have here. I recently heard a "million dollar' 2 channel system. Was I impressed? Yes. Would I buy it? NO. Did I like it better than my system? NO, not really….I mean..it was HUGE and I would need a 1500 SQ Ft room just to install it.
I have used speakers of all kinds and types and sizes. Sensitive to power-hungry – bookshelf to huge tower – standard to dipole to horns. I have owned and used all kinds of amps and pre-amps from tube to solid state – low power tube to high power tube and low power solid state to high power megawatt solid state. Integrated amps to separates. Yes, I have owned all kinds from $300 integrates to $8000 integrated amps.  $1000 amps to $10,000 amps. $500 pre-amps to $7000 pre-amps. $100 CD players to $5000 CD players. $20 cables to $4000 cables. I have done two channel and home theater systems yet I always prefer a nicely balanced 2 channel system that has great synergy.
Yes, I have tested a ton of audio "Hi-Fi" gear and today in 2014 I can safely say that the system I have now is the best I have ever owned. Others have come close but it is what I have now that continues to put a smile on my face every day and night when I power it on.
One of the reasons for this is due to the absolutely beautiful but beastly Line Magnetic 219ia amp.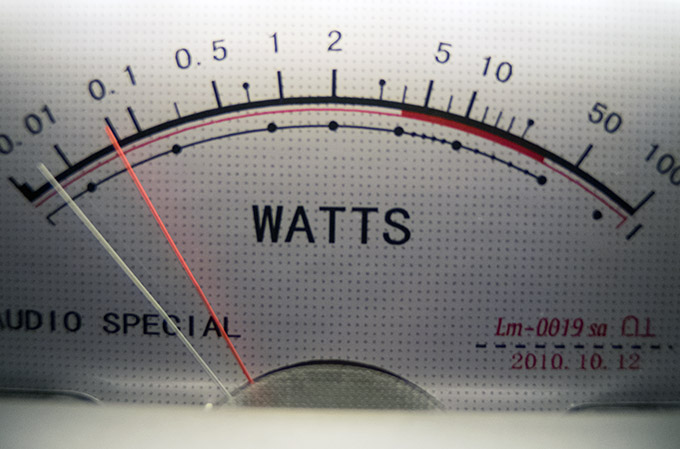 It all started when I went into my local dealer to check out the goodies he had on display and on demo. I saw this big hulking looking amp with a golden faceplate and was intrigued. I asked about it and a couple of weeks later I ended up borrowing it to test in my system. I knew from the first 5 minutes that I wanted this amp. I called to place an order, paid 50% down and waited. I assumed the wait would be a week, maybe 10 days but it was just before the X-Mas holidays so I really had no idea. Two weeks go by..nothing. Three weeks..nothing. Then I found out that the US distributor was out of stock. Instead of waiting what could have been months I decided to order the larger and more expensive 219ia as it was the one I was eyeballing online after getting a taste of the other LM amp.
Long story short, 6 weeks after placing the order for the 518ia the 219ia is now mine and now in my system.
As I write this text the amp is powering my Sonus Faber Guarneri Evolution speakers in my listening room/office and using only .01 watts to give me enough volume to where I have to close my double doors completely as to not disturb others in the next room over! I am only listening this low as others are asleep in the house right now but the sound is very nice even at this low power being used.
My speakers are NOT sensitive or considered an easy load. At 86 db SPL (2.83V/1 m) one would think that a hefty 200-400 WPC amp would be required for them to "come alive" as many would say.
Normally that would be true as many amps just do not have the grunt needed regardless of wattage. For example I once owned a McIntosh 2275 tube amp powering the previous Guarneri Memento speakers and the sound was flat, dull, non exciting..no fleshiness..no reality and no emotion. It basically pumped sound through the speakers. It was a 75WPC tube amp but just did not have the raw power to properly drive those speakers (which were an easier load than the Evolutions). I also had a McIntosh 7000 Integrated at 200 WPC and it was good with the older Mementos but not even close to what the LM amps give me.
So the fact is that NORMALLY you would need a higher power amp for low efficiency speakers but I decided to go for a good old S.E.T. (single ended triode) amp to power my power-hungry speakers because after auditioning the 219ia's little brother, the 518ia..I knew this was something special. When I saw the price..I knew it was even MORE special.
But Yes, 1/10th of a watt at this moment. These 86Db  speakers do not sound thin, small or brittle. They sound beautifully balanced and full. This is a remarkable feat.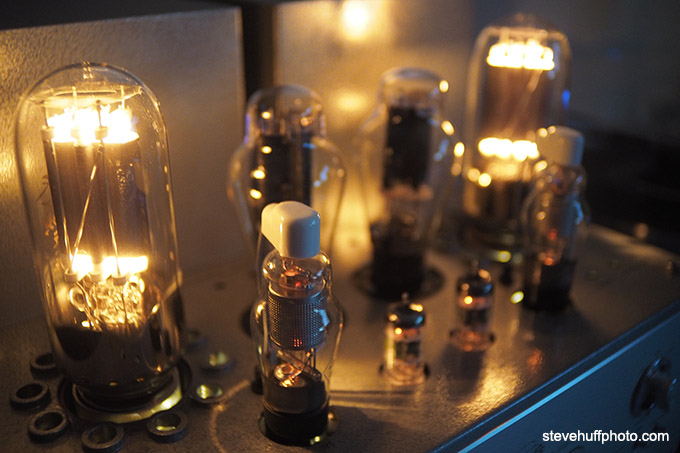 Tubes..S.E.T….it's a beautiful thing.
The Beautiful tank like 120-130lb 219ia integrated amp is a behemoth in size and weight. It had to be shipped via freight in a huge wooden crate on a pallet. Took a week to arrive after shipping and when I went to pick it up it required 2 of us to load the box into my car. Line Magentic makes these amps in China but do not think for a moment that this is just another cheap chinese amp because A: It is not cheap and B: It's build rivals amps made in the U.S.A. that cost over $20,000 and up. C: Once properly tubed up it will rival any amp I have ever heard at ANY price.
The amp uses the powerhouse 845 tube for its output and the magical vocal/midrange masterpiece 300B tube for the driver stage. Western Electric 310a replicas and 12AX7's fill out the rest of the tube compliment which I believe are part of the pre-amp stage.
After a few days of ownership I knew that this amp needed new tubes as the stock tubes were a little on the "soft" side (yes, better tubes make huge differences in sound). I quickly went all out and purchased the PSVANE Western Electric 300B replicas and a pair of SHUGUANG 845 Natural Series tubes. I had some NOS 12AX7 and purchased some NOS 310A tubes as well. Once powered on with these new tubes the sound took on a whole new signature. Gone was the softness and slight muffled sound that I encountered when I 1st powered up the amp. Now it was louder and seemed to have even more power..it had airy highs and a tighter yet fuller bass. The soundstage was HUMONGOUS..largest width I have ever experienced in my life – with certain recordings it could spread out from the speakers and fill the entire room making it hard to believe the sound was coming from the speakers. This was with FRESH tubes and I knew it could only get better from here.
The sound is typical 845 with a slight 300B midrange magic present. It was quite different from the 518ia I had in my system for 3-4 weeks (loaner from dealer). It was "bigger" and more "effortless" in its presentation. Yes, effortless with my hard to drive speakers! In fact, this amp replaced a Solid State amp that was giving my speakers 600 Watts per channel! Yes, before this amp I had a Musical Fidelity Tri Vista 300 which gave 600 watts into a 4 ohm load. It was a tad muffled sounding, a bit flat, a smaller soundstage width and height ..but it did go way loud and in fact, way too loud then I would ever need. But it did not make my speakers disappear like the 219ia does. Not even close. It just pumped out music through the speakers and was enjoyable but I knew it was not "IT" for my setup.
The 219ia lets the music flow and breathe through my speakers almost using them as a living being with the amp providing the voice. 
Yes I know this sounds extreme for an audio review but there are nights (best time to listen) when I sit in amazement and disbelief (with certain recordings) as to what is coming out of these speakers with the 219ia powering the system. I no longer sit there and think "what can I add or change to make it even better". Different maybe. Better..no. This is the sound I have been hunting for 20 years and it came from a high quality Chinese made low powered SET tube amp that retails in the USA for $7500. Expensive? Yes, but if this was a USA made amp it would cost $25k as some other USA made amps do. The build is the best I have ever seen..anywhere, from any company, no matter the cost. The build beats my old McIntosh 2275 and 7000 Integrated amps, so that puts it in great company.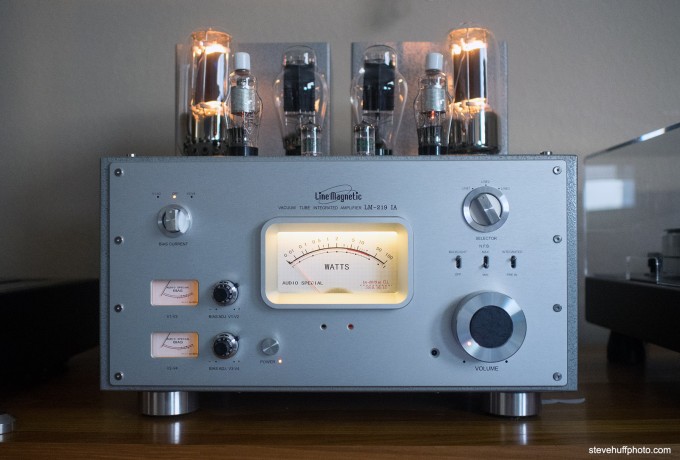 In fact, Line Magnetic is the ONLY Chinese amp company that I would buy an amp from (I have had a couple of others that were not so good at all). After using and owning this amp for a little while I can say that in all of my years I have never seen anything like it. I have owned Cary 805c amps many years ago that were equal to this one in build and sound but those amps cost me more money and I still needed to add a $5k pre-amp to them. I like this one just as much as those legendary Cary amps and pre-amp but I paid $7500 LESS than my Cary setup.
I have owned Wavelength Audio 300B mono blocks (more expensive just for amps) and I like this better in every way. I have owned USA made, German-made and UK made amps. None of them were any better than this Line Magnetic.
I have never seen any other push-pull tube amp, even when rated at 60-80 WPC come close to providing the power that this amp does at 24WPC. When I play my system "loud" it usually is pumping out between 1 – 20 WPC with loud peaks but it never strains or distorts. To test its limits I have even had it maxed out at the 100WPC mark on the built-in meter for 2-3 songs and never did it strain or give me a hint that it was in trouble. It was still going strong without strain or any audible distortion and my speakers were insanely loud! Crazy.
When listening in the evening the amp provides a full magical sound even when pumping only 0.5 watts..yes, a HALF OF A WATT to my power-hungry speakers. Drives them with ease. It is indeed that 1st watt that is the most special and when it is class A, even better and the 219ia is class A all the way.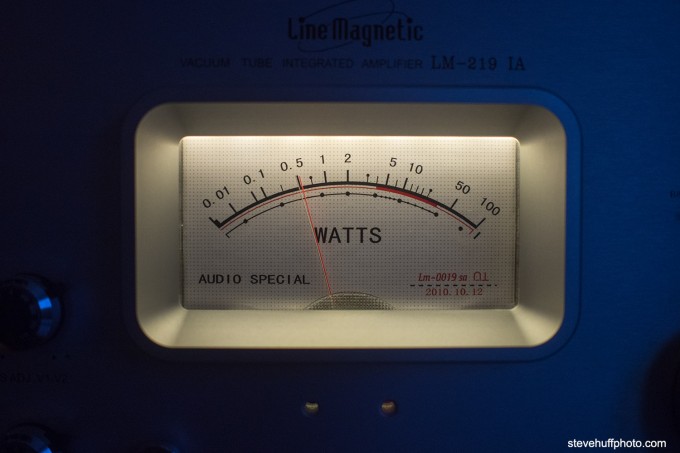 This is the 1st tube amp that I have owned that could power just about any speaker. I can only imagine what it would do with high sensitivity  speakers. I think this is due to the huge DUAL power transformers. This is a dual mono design and it provides the voltage and grunt to deliver current to the speakers. An amp is always much more than just watts my friends, and this 219ia has all of the magic ingredients to make it work and work well.
The build and design
What can I say. As I already hinted at is that the build of this amp is top-notch. It is the best built amp I have ever owned. Ever. It is tank like with a hammertone finish that will last a lifetime. What I mean is, the amps innards may eventually rot and die but the carcas will never die. It will last forever. Everything about the build is top-notch from the dials, switches and even meters. Nothing was skimped on here. Everything about it of very high quality.
The amp is completely point to point hand wired which is something you rarely see these days. I much prefer a hand wired amp and most US companies today have went to circuit boards, even good old Cary Audio (in newer designs) whose amps I once admired but lately it seems they are producing average run of the mill stuff.
Before committing to Line Magnetic I also took a look at the VERY expensive Ayon Audio line since their showroom is local to me. They have $15,000 dacs, $45k amps, and $15k CD players. I auditioned one of their starter integrated amps that came in at around $3800 and it sounded nice and looked nice but then I found out that their starter items are all made in China and the sound was MUCH different than what the Line Magnetic gave me. Their push-pull 35WPC tube integrated probably would NOT have powered my speakers right, even the dealer had his doubts and tried to steer me to a CD player instead telling me the front end was the most important. It is different when a big name brand that prides itself of being made in Austria has $3k items made in China as we have no idea where they are being made. For LM, they are a China based company, and one of the best in China at making audio products. I know where the LM comes from so I had no issues buying the LM amp. 

Lien Magnetic is almost unknown, there is no USA advertising that I have seen and there are not many dealers even carrying them yet it is the best integrated amp I have ever heard or seen or owned… in build AND sound.
The amp came crated and was amazingly protected within two other boxes. Tubes were already installed and each one had a huge piece of protective foam over it. A tube cage was in place and there was even a silk sock over the amp and it was well packed in surrounded by foam and double boxed before being crated. Top notch.
The design of the amp is sort of a frankenstein but it took 3 days for me to really appreciate the beauty. Some will think it is ugly, some will think it is gorgeous. If it is anything it is an eye catcher and conversation starter. The great thing is that not only does it look the part, when powered up it sounds as good as it looks. There is even a switch to adjust the negative feedback and I prefer it set to MINIMUM. To me it sounds best in my setup.
Id give the build a 10/10. Design an 8/10 as it could have been a little cleaner up front with the switches and dials, but either way, I find it beautiful.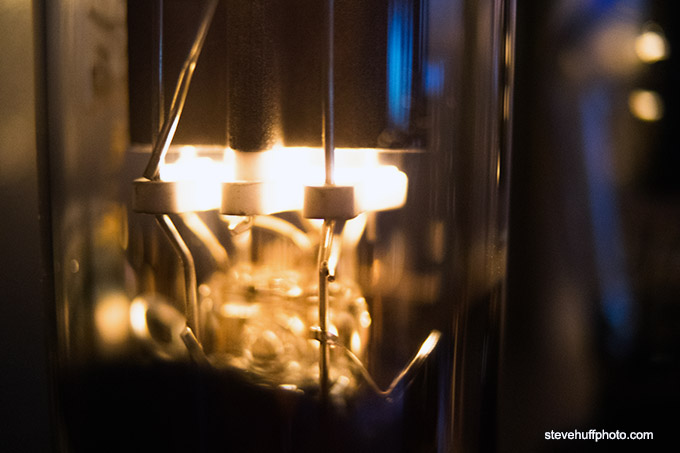 A real test…Low level listening
One test of a good amp or integrated amp is if it sounds good at low level volume listening. I listen at night quite a bit and I have a small house. I do not want to disturb others so I have to listen at low levels. Every solid state amp I have owned has been horrible at low level listening. The sound shrinks, gets flat and harsh and the bass suffers. With the 219ia (and 518ia) this is not the case. I can listen at low levels with my low sensitivity speakers and half a watt or 1 watt is enough to fill my room with some S.E.T. magic. It will sound much better turned up some but even at low level it is fantastic.  These two 845 LM amps are the best I have owned for this type of listening. If I want to go loud it does so with ease and grace. Never harsh, never with fatigue. I can listen for hours while I work and never suffer ear fatigue.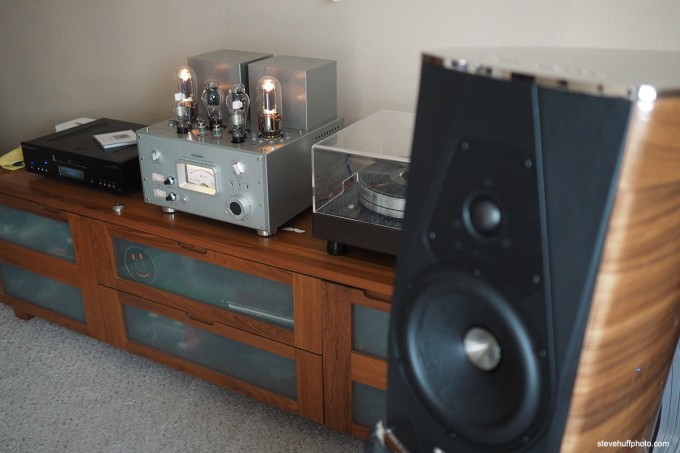 Organic
The sound that comes from these two LM 845 tube amps can be something special. Anyone who has ever owned an 845 amp will know the sound but the 219ia is a little different. Its like 75% 845 and 15% 300B and then 10% KT88 even though there are no KT88 tubes here.
I call the sound "Organic" because with the right recordings (and there are many of them as I am not taking about "audiophile" recordings) the sound is one that will suck you in, make  you take notice and help you melt away with the music. Sip some wine, have some beer or even a glass of absinthe. Turn out the lights and watch the amp glow as the music just flows like air through the room. With some songs instruments will appear to float in space before you and in front of the speakers and vocals will appear directly in the middle. Of course speaker setup is required to reach this but that is quite simple and should take no longer than an hour tops.
Once everything is aligned and if your source is a good one with decent cables prepare yourself for a treat.
Also, make sure to Bias your tubes for best sound. My 219ia was perfectly biased out of the box but LM makes it super easy to adjust with built in Bias meters.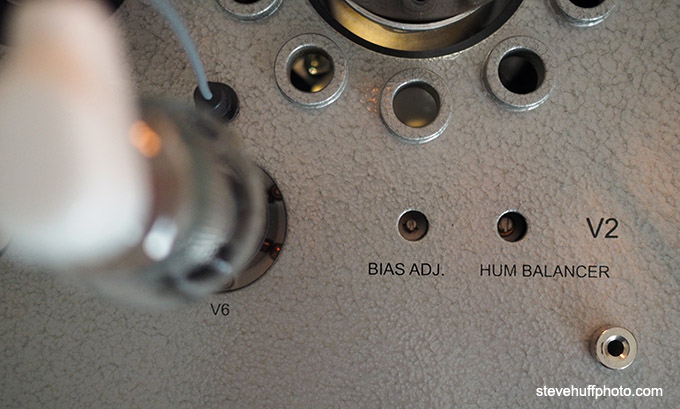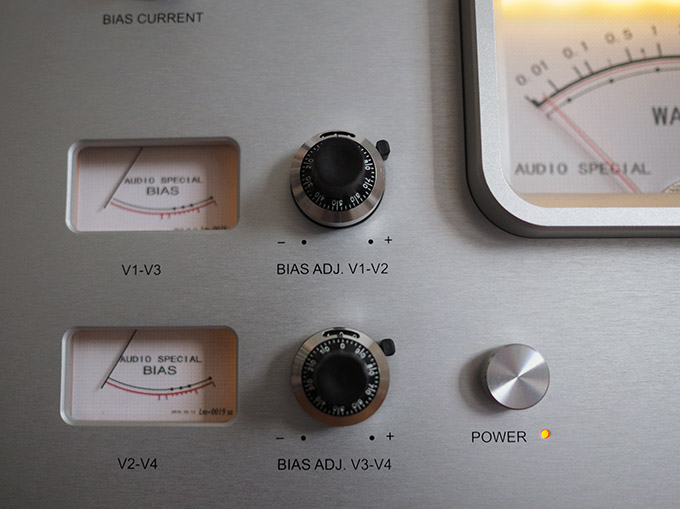 It's not cheap but it's a bargain
The 219ia is not in any way a cheap or even affordable amp. In fact, it costs about the same as a Leica M 240 camera (without lens) and Leica is known as the premo camera company with outrageous prices. But how much do we pay for our cars? Our homes? Our hobbies? This is an amp I will use just about every day. It will bring me many many years of enjoyment. How much is that worth? I will use it more than my $27,000 car. I will use it more than if I bought an RV or boat or something else that costs much more.
We live once on this earth..enough said.
I see this integrated amp as something special and I call it a bargain if you are an Audio geek. Yes it is made in China but it is NOT your typical made in China tube amp. Line Magnetic takes pride in their creations and they are one of a small few producing stellar high quality amps and audio equipment in China right now. This amp is just as good as ANY American made amp, and to be brutally honest, better than most.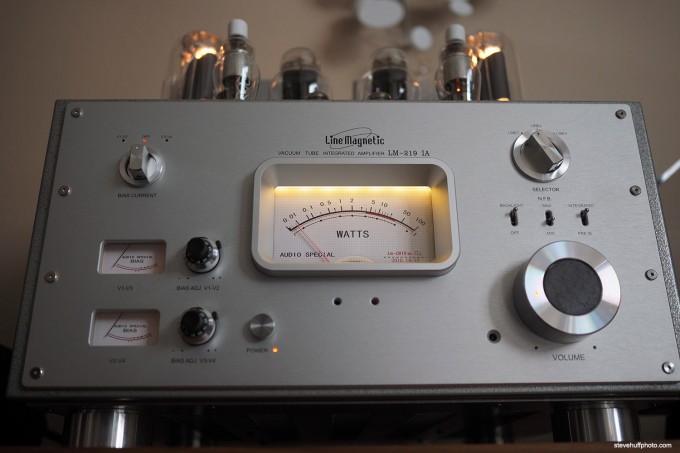 Tube Replacement Options
The tubes required to return this guy are not cheap. If you stay cheap you can re-tube it for about $600. If you go exotic prepare to spend up to $2100. The PSVANE 300B Western Electric replicas are highly recommended as are  the PSVANE Western Electric 845 replicas but buying both of those sets will run you about $1700 and you still have 12AX7 and 310A's to buy. I went with the premo 300b's as they should last me for years and years and my dealer had a pair in stock. I went with $400 pair 845's and had some $200 12AX7's. The 310a NOS cost me $120 for the pair. I now have the stock tubes as backup in case one of these blows or wears out in a few years.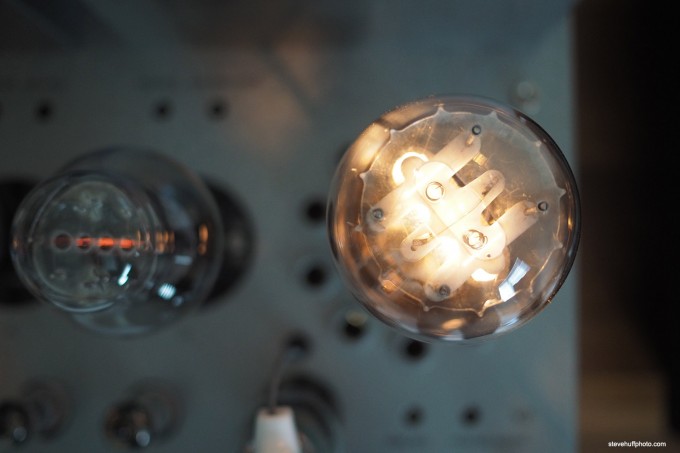 The HEAT
The one negative I have with this amp is the HEAT it puts out. In a closed small room it can raise the temperature by 10 to even 15 degrees when listening for 2-4 hours. I do not have any heat or AC on at this time of year and my office/listening stays toasty (it is winter in AZ as I write this, so 40 degrees at night, 70's day). It can put out some serious heat and if you accidentally touch one of those 845's you will indeed burn yourself badly. If you have pets or kids make sure they do NOT touch the tubes!
The amp does come with a tube cage to protect and cover the tubes, but it is quite ugly when on.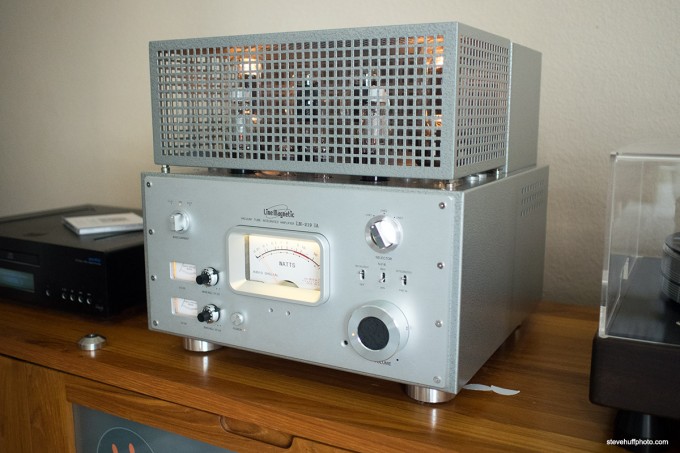 219ia vs 518ia
The Line Magnetic 219ia is not the only 845 SET amp they make. In fact, they make a few SET amps. One other fantastic amp is the 518ia which consists of two 845 tubes, two 6L6 tubes and two 12AX7 with a tube Rectifier thrown in as well. The sound from the 518ia is very similar to the 219ia but a bit less refined and a teeny bit smaller of a soundstage (not much though)  while being a bit more fat in the mids.  But all in all, the 518ia would have been the amp I went for if it was in stock without a few months wait. The 518ia is $4500 US and is also highly recommended. It comes in at 22 WPC so a whopping 2 watts less but it does not have quite the build and heft of the 219ia nor the dual mono design.
As a side note the 219ia is DEAD SILENT when on. No buzz, no hum, nothing. With my ear up against the transformers I hear nothing. On the other hand the 518ia had a slight buzz/hum when powered on but it could have been the demo model I was using. Both sounded glorious with the S.E.T. sound you would expect from megabuck amps. I'd say the 518ia is a little on the warmer side with a fatter mid-bass. The 219ia is more balanced. I could live with either long term. In other words, if I sold the 219ia I could be happy "downgrading" to the 518ia.
The 518ia comes with a gold faceplate and is $4500 US.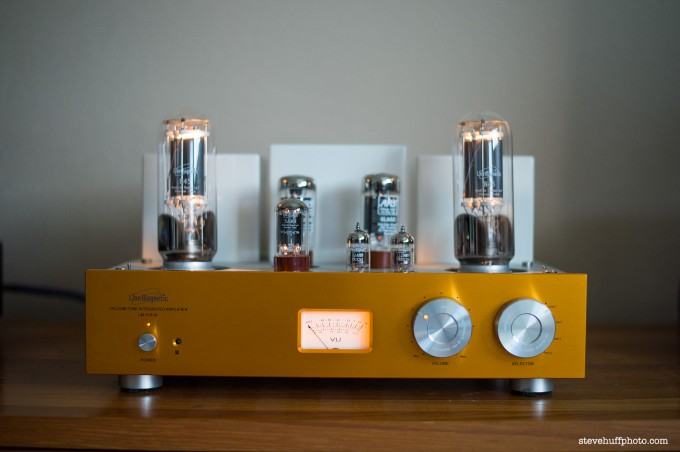 LM 219ia vs McIntosh
There is a huge myth out there that McIntosh amps and pre-amps are great or a perfect match with Sonus Faber speakers. I visit forums where people are spending $20k for their SF speakers and then spending $15-$40k on McInstosh equipment to power them. if you have read my speaker review here then you will know my history with Sonus Faber. I love them. I want nothing but the best match for them and it just seems very hard to find the perfect match for the sound I like. After owning SEVERAL McIntosh amps, pre-amps and CD players over the years I can say that McIntosh is not the best match for SF Speakers UNLESS you want that small, direct and fat McInstosh sound.
I had the 2275 Tube Integrated. It was a fail for my Guarneri's. Muffled, slow, direct, no magic whatsoever and pretty damn weak. I had the MA7000 which was MUCH better but again, while playing with more "oomph" it lacked all of the things that I look for in my music reproduction including air, soundstage and the feeling of BEING THERE. It sounded nice and was made AMAZINGLY well but the sound lacked compared to other amps, especially those in the McIntosh price range.
I have used and tested the 2275, 7000, 352 Amp, 602 Amp, 501 Mono amps and a couple or pre-amps and the SCD500 CD player. ALL of it was made to a high standard and beautiful to look at but sound quality wise it was all below average in my opinion. It just did not cut it. I think those who buy McIntosh do so for the name and the reputation and because many rave about the brand. Many use them and never hear anything else because they want a BIG MAC. McIntosh is nice buy their MA7000 Integrated is the same price as the LM 219ia and the LM is leagues better in sound quality and equal or better in build. The McIntosh house sound is a recessed treble, fat mid bass, and a direct sound. With MAC amps my speakers never disappeared like they do with other fine amps in the same price range (and under). In fact, a $2500 pair of Cary Audio AES Six Pacs beat the hell out of my McIntosh MA7000 with my older mementos.
So McIntosh is not for me. Nice quality product with great resale and reliability but sound quality is not their claim to fame.
BTW, McIntosh has been sold and purchased by Fine Sounds, who are NOT in the USA but they are still made here in the USA.
The Line Magnetic 219ia as a power amp
A cool feature of this powerhouse integrated is that it can also be used a a power amp MINUS the built in pre-amp. Since built in pre-amps are usually the weak spot in an integrated LM gives you the option to add any pre-amp that you desire and this will indeed change the sound. For the better? Maybe. For the worse? Maybe. I have not yet experimented and may not do so as I am very happy with it as is. If I ever borrow or try out any pre-amps hooked up to the 219ia I will update this section here.
My conclusion on the 219ia
The Line Magnetic 219ia is a very special amp. While waiting for it to arrive I felt guilty about spending so much on it and started to have some buyers remorse (as I do not spend that kind of money lightly) but as soon as it was in my system all of that remorse went away and I am now 100% thrilled and happy with my choice. The 219ia is one of those "heirloom" type of pieces that could be handed down to your kids. The build will last forever, it is something special to look at and see in operation and the sound in a system that is matched up with it will be very hard to improve upon. As I said earlier you can get "different" but I do not think it can get much better. FOR ME IN MY SYSTEM AND MY TASTES than this amp does. Your results may vary as all of this Hi-Fi business is trial and error and it can take some work to find components to match together. Speakers are #1, amp/pre is the next, cables are next and then the source. Spekaing of source I use a Cambridge Audio 851C CD player and DAC and mostly use it as my DAC. $1600 or so and it sounds amazingly good. I did wonder what would happen if I tried a $5k player/DAC but decided to leave it as is for now. Why fix what is not broken?
The 219ia. It's s a beast of an amp that will drive even difficult loads with ease. It may not deliver the SPL of a 600 watt megamp but it will deliver sound that is much more refined and special than any SS amp. All of the thing you want is here. Soundstage width and depth, imaging and a sweet magical presentation. Vocals are to die for and when you play a nice vocal track the performer will appear as he or she is in the room, right in front of you singing. Close your eyes and imagine you are getting a personal private performance and you may just believe it.
To get to this point requires proper speaker set up and very good sources. Speaker set up is an art in itself but a sweet spot must be created to enjoy the music like I am describing it. Room acoustics play a part as well. But I am in a nightmare 12X12 square room and getting the sweetest sound I have ever gotten from any room/system I have had in the past.
The two negatives of the 219ia are the HEAT output (those 845's!) and the fact that it could use better tubes that may costs some cash-ola to sound its best. Stock it sounds great. With premium tubes it gets way better.
In my 15-20 years of this hobby I have never owned a better amp or integrated than this and I have owned many that cost more than this one does. To those worrying about the made in China thing I urge you to NOT worry. It is made better than most USA built amps and Austrian amps using premium parts and hand point to point wiring. You can take a look at the Line Magnetic Factory tour HERE. It appears they take pride in what they do and when you mix that with a passion for quality products it is always a win/win.
To sum it up: The 219ia is not only a beauty but in the Audiophile world, it is a bargain.
UPDATE 12/27/17: I sold this amp not too long after this review due to heat output in my small room. Now 3 years later I bought another as I missed it so so much. I stopped in to my local HiFi Shop AZ HiFi (to look at the newer Line Magnetic offerings) and they had a 219ia a guy traded in, but looked NEW. It was gorgeous and they had it playing, and retubed it. I got an amazing deal, and could not pass it up so I will deal with the heat as this sound is not something I can get with ANY amp in this price rage (what I paid). I could have went with newer models but for me, this is it for an integrated. Nothing beats it, not even the $7k Yamaha S3000, Cary 300 SEI, Cary 805 AE's or much of anything. OMG, when I hooked up my Klipsch Heresy III and Forte III the sound coming out freaked me out. BASS was incredible with the little Heresy III. NO SUB required and it easily bested the Yamaha S3000 that I raved so much about. Still today, in 2017 and almost 2018, nothing beats the LM 219ia for an integrated amp. 
Where to buy or listen to the Line Magnetic amps?
I bought my 219ia from Arizona HI-Fi. The best shop in AZ IMO for tube gear, cables, speakers, and turntables. If you are ever in the Phoenix area be sure to stop in and audition any of their amazing amps, especially the Line Magnetic offerings they have on hand for demo in their store.  My amp and cables (Nordost) are all from AZ HiFi. Great shop, great service! There are other dealers that sell LM products. The best way to find them is to google them. Have fun!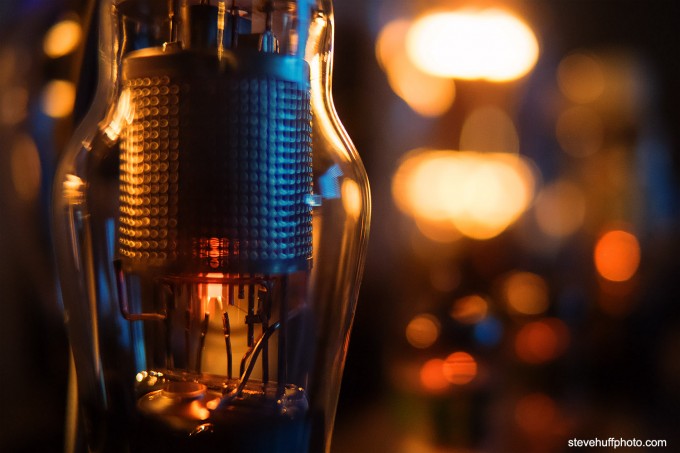 Recommended Tunes to play to see how your sound quality stacks up
As I sit in my sweet spot I am listening to a James Blake song called "The Wilhelm Scream"  – the sound is beyond my speakers by 1-2 feet and it sounds like I am inside of a big bubble with James Blake himself. This song has a huge soundstage and huge sound overall. Very detailed and with some very cool effects that will make you look to your left or right from time to time. Another James Black song that gives massive space is "Overgrown". Make sure you give it a full listen.
Another song I use to test my setup is from Martin Gore from his Counterfeit 2 CD. "In my other world" will bring Martin into the room while the hypnotic sounds surround you with every layer of sound being audible and distinguishable.
Want to hear something really beautiful and sweet sounding? If your system is decent this song will sound HUGE and crystal clear at the same time while  being full, fat and full of detail. "Not Remotely Blue" by Adrian Legg. It is an instrumental guitar track that fills my entire room with energy, sound and beautiful music. One more track from Adrian is called Mdrundgum. Will blow your mind if your speakers, amp and system can handle all of the details and layers here. This one always blows me away.
One of my favorites is Madeleine Peyroux and her song "Born to Lose" really delivers with the vocals in my setup. The 845 and 300B combo make her voice so real, so palpable, so sweet and so in my room I can close my eyes and imagine she is in the room singing. The instruments all have their own space and the soundstage is deep and wide.
Another one that is beautiful and  haunting is from Enya called "Sumiregusa". Turn it up and listen as Enyas quiet and sensitive vocals come direct to your ears before the sound gets huge and louder for the chorus.
Want to Rock and Roll? While many "Audiophile" systems suck with rock or metal, mine can do them just fine and I attribute that to the speakers and the SET amp. KISS's God Of Thunder from their Destroyer Ressurected CD had me freaking out as I have heard this song probably 1000 times in my life, but never ever like this. Same goes for some ZZ Top, Van Halen or Megadeth. This amp seems to make old unlistenable CD's sound pretty amazing. Is it the amp? The Speakers? The Cables? I think it is all of them.
Want even more magical songs to test?
Sarah Brightmans live version of Pie Jesu, Neil Young's "Peaceful Valley Boulevard" will haunt you and deliver amazing sound and textures at the same time. Michael Jackon's "BEN" from his Immortal CD, "Love in Vein" from Madeleine Peyroux…"EXILE" from Enya…"Song of Los" from Apparat and I can go on and on but will stop now otherwise I just might!
Me in my listening spot while auditioning the LM 518ia (YES. I am in my Pajamas) 😉