Nordost Valhalla 2. The Importance of cables in High End Audio.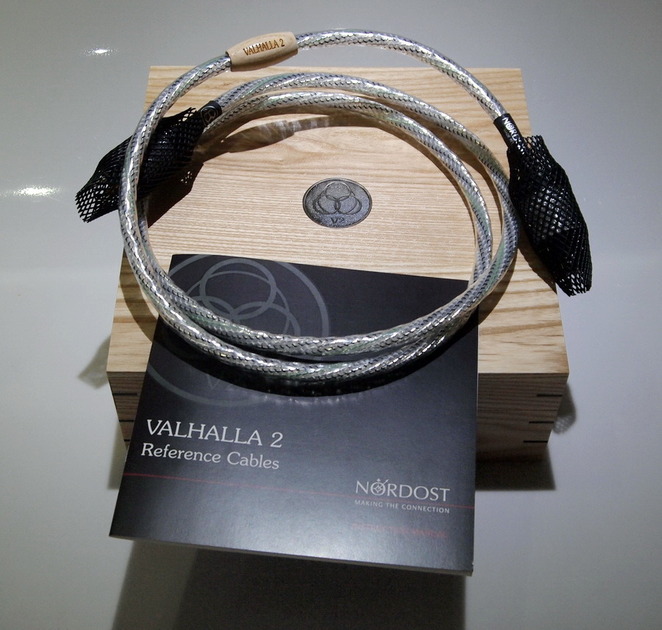 It's just past midnight and I am in my listening room with my system on low volume, and it has never sounded better. In fact, in my lifetime I have never heard anything sound as good as what I am hearing right at this moment. When I purchased my speakers and demoed them in the showroom, they did not even sound even 65% as good as they do right now, and I have a less than desirable very small and odd shaped room (12X13). So how can they sound so much better here than in my dealers showroom?  The amp? The source? Sure, they play a huge part. I even own a killer CD player and DAC and great Integrated amp (Audio Research) but my dealer had top end McIntosh separates going when I auditioned my speakers, and yes, they did not sound anywhere near as magical as they do in my room.
I think I figured it out some of it though. I use nice cables.
FACT: I have noticed the largest improvement in my system since upgrading the cables. More so than a CD Player upgrade or Amp upgrade. Crazy but 100% true.
Cables are indeed THAT big old can of worms that high-end audio guys debate on a regular basis. Some swear by them and some swear that they make zero difference, but I am here to tell you for a 100% fact that they do indeed make a difference if your system is up to the task of of resolving differences. If you have a $500 system, buying a $2000 cable would be silly. If you have a $20k and up system, buying a $2k cable would be smart IMO. Many say you should spend 15-20% of your system cost on cabling your system. So if you have a $25k high end system, spend $4000 or so on cables..minimum. Sounds absolutely insane, I know. It does not seem right or smart to do but these days I see it as no different than buying a big amp or turntable. A cable can make your entire system just snap into focus and deliver those magical sounds you may have never even heard.
I used to be ANTI cable.
I will be honest. For the 1st 15 years of my audio Hi-Fi life I was ANTI high-end cable. I used cheap speaker cables and interconnects. I refused to believe a cable, whether it was a speaker cable, interconnect cable or especially a power cable could make much of a difference. In fact, it was not until the end of 2013 that I discovered that cables can not only make a difference in the sound of your system, but a HUGE difference, and yes, for the better as long as you choose wisely.
What I am about to say is not made up, it is not imaginary and it is not placebo effect. In fact, I have no audio advertisers here, and I make no money from writing these Hi-Fi articles. I do so because when I try something that is so good, I want to let everyone know about it so they can give it a try themselves.
Lately, since getting my speakers and source and amp all settled, I decided to work on my power and my cables. In the past 6 months I have tried many cables, but the ones that stuck out by far have been from Nordost. I have tried everything from the lower end Blue Heaven and Purple Flare to the uber expensive Odin (power cord) and let me tell you, it is true that the further up the Nordost chain you go, the MORE you get of the Nordost sound. But remember, the Nordost sound of 2014 is not the Nodost sound of 2004. It is MUCH different from what it used to be.
I was never a fan of the old Nordost sound from the early 2000's with their mid to lower priced cables. Sound was thin, bright and analytical/etched to my ears. I remember trying a pair of SPM Reference speaker cable and it made my speakers sound thin, bright and superfast. NOT a sound I liked, at all. I quickly dumped those SPM's many years ago and swore off all Nordost for life, unless I was able to get up to Valhalla. (UPDATE: As of Feb 2019 I now use all Valhalla 1, which are SUPERB).
But….
When I heard that the Nordost sound of today was much different  – (warmer, punchier yet retaining the air and space aspects) I decided to give the cables a shot. My dealer loaned me a Nordost briefcase full of goodies. Initially I was using some $100 speaker wire (cheapest Kimber) and $200 interconnects (Audioquest) and stock power cords. When I put in the meter Blue Heaven cables  – speaker, interconnect and power cable the sound from my speakers pretty much EXPLODED not only in width, depth and detail but with oomph and warmth. I was amazed. The soundstage expanded and the sound melted out from the speakers. What amazed me more is that my NON AUDIO loving girlfriend was in the kitchen, OUTSIDE of my listening room and said "Wow, I can tell a difference from out here..it sounds BIGGER"..and she is ANTI high end audio, and just does not understand ANY of it. She is happy with an iPod and stock earbuds so when she heard the difference, that was verification for me. I knew that I was not nuts..those cables made a nice improvement.
From that moment on, I was hooked.
I bought some Blue Heaven speaker wire and power cords and even an RCA Interconnect.
Soon, I wanted more. Within months I had a set of Valhalla speaker cable (that I bought used at a great price) and some Red Dawn power cords. I also upgraded to a Frey 2 Interconnect. The sound of my system with the Red Dawn LS and Red Dawn power cords was sublime. Rich, full, big soundstage and air and a small 3D tangible quality, and this was near the lower to mid of the Nordost line. Nothing close to the top end, yet it sounded great. Now I know it could get better but I was afraid to demo the higher range as I knew that was dangerous.
BUT…for giggles..
One day I decided to try a uber expensive audiophile POWER CORD. Yes, a POWER CORD. Many swear that a good power cord will transform your system, even more than speaker cables will. NO way I said. I refused to believe that. A POWER CORD? Not possible. Anyone who knows anything about physics will tell you that is nonsense, yet Nordost is selling power cords for up to $20,000. Yes, a power cord. The cord that allows your amp or source to turn on.
For giggles I demoed the Nordost ODIN in 1 Meter length. It retails for $11,000. I borrowed it knowing I could and would not buy it, but had to hear it for myself. When I plugged it into my Nordost QB8 power base (well worth the cost BTW) I was blown away. Vocals were MUCH clearer and fuller and more IN THE ROOM than with the Red Dawn power cord. It was undeniable. It was unbelievable. I was hearing the sound in a way I never heard it. More 3D, more palpable and more real than ever. From a power cord! Yet even with this improvement I found that the cord was in no way worth $11,000. Not even close. Never would happen. Period.
When I returned the demo I wanted that cord so bad, but even at a crazy massive discount the dealer offered me for his demo cord, I could not do it. Not only financially but even if I could buy it I would never be able to live with myself after spending that much on a power cable. It's a mental thing mostly as I know for a fact it made a huge difference, in fact, a bigger difference than most component changes in my system. But it's a POWER CORD! Yea…
So I went back to my Red Dawn LS. But something was now missing. I knew I should have NEVER listened to that ODIN. Now that I knew what the system COULD sound like, it was hard to go back to what it DID sound like. I ended up going back and buying a Heimdall II power cord, but it was not even close to the Odin sound and the Heimdall was disappointing to me in comparison. In fact, I preferred my Red Dawn to it, in my system. The Heimdall 2 power cord warmed up my system too much and lost some air, and my system is already rich and warm and full and fat, but with nice detail. If you have a bright system, give a Heimdall 2 power cord a try to fatten it up. For me, it didn't work.
Moving on to Valhalla 2
One day my dealer had a Valhalla 2 power cord come in, wrong size. It was only 1M in length and his customer needed a 2m. He offered me a crazy stupid deal on it. Basically a deal that no one would pass up because even if it was no good I could sell it for a little more than I paid. So yea, I would be dumb to pass it up. I knew that even if it came close to the ODIN I would be one happy guy. I took it home, unboxed it from the fancy wooden box and put in my system. I mean, this is the BRAND NEW Valhalla 2! The Valhalla 1 power cord is legendary, so there it was, a Valhalla 2 power cord, in the wooden box ready to roll on into my system.
Before putting the Valhalla 2 in I played a few songs using the Red Dawn power cord so I could get an idea of the sound qualities. When I put in the Valhalla 2 it was a shocker. Not only was there a huge difference in the sound, I preferred it to even the ODIN power cable! The vocals once again were cleared up and fattened up. They were more into my room and more 3D with literally NO haze or fog. Sounds were popping out from space all around the room. The slight dullness and flatness of the Red Dawn power cord was gone. Now the sound was full of life and realism. I mean, never in a million years would I have ever believed a power cable would improve things like this. How could there be people out there that deny this? I mean, it is a fact and unmistakable. Yes, NIGHT AND DAY in MY system, but I still have no idea how they do it. Even if it is my brain playing tricks, then it is worth buying just to have the tricks played! This is no joke, and I just could not believe what I was hearing, yet I had to as it was happening.
Maybe you need a really nice system to notice the effects of the power cable upgrade? That must be it. My system is pretty high-end. Audio Research front end with Sonus Faber Guarneri Evolution speakers. If I change ANYTHING in my system, I notice it. With the Valhalla speaker cable it just snapped my entire system into place. It added some sparkle and some more depth. I also auditioned the Tyr 2 speaker cable but found it too fat and warm for my warm speakers, but again, they are awesome cables if you need some richness and air added to your system.
Power Cords?
Nordost has said that just changing out one power cord to one of their top end cords such as the Odin or Valhalla 2, that it will be a much bigger improvement than changing your speaker cable or interconnects. I called BS on that in the past but I believe them now. Throwing in the Valhalla 2 power cable was like throwing in a component upgrade for me, in my system.
I decided to remove the Valhalla 2 power cable and put in the Red Dawn back in. When I did this, the sound lost the pop and feel that it did have with the Valhalla 2 in. It sounded slightly rolled off now, muffled/veiled and lost some soundstage width.
To take things even further I removed ALL of my cables and power system. I put the stock power cords on my CD/DAC and AMP and changed cables to the $100 speaker wire and $200 interconnects. OMG..I mean..OMG. ALL of the air and decay were gone. All of the jet black background and come from nowwhere sound was gone. Soundstage shrunk by 50%. It was tough to listen to which is INSANE!! If I would have NEVER heard these Nordost cables then I would have not even known how good my system could really sound, and I would have been happy. But now that I have heard it, there is no going back.
This is the danger in demoing good cables. Try not to do it unless you can pull the  trigger and buy them.
If someone has a high end system higher end cables WILL indeed make a difference. It is pretty drastic. Nordost says to think of it as buying a component, and you really should. I do think they are ridiculous in their pricing though. I mean, these cables should cost 1/4 of what they do but I have no control over that of course.
At the end of the day though, I could never go back to listening to my generic cables on my system. Not after I heard what it sounded like with these better cables in.
I am not one to recommend things that are garbage. As I said, I write these HiFi posts for ME and for those who want to read about what I have to say when it comes to Audio Gear. I do not serve any Audio Advertiser and make no money from this AT ALL. No affiliate audio sales, no commissions, no ad money.
This Valhalla 2 power cable is incredible and one of the biggest improvements I have made to my system, period. Better than my interconnect upgrades or speaker cable upgrades.
At the end of the day, I just wanted to state my 100% honest opinion. CABLES DO MAKE A DIFFERENCE! At times, a HUGE difference. If your system is resolving enough or sensitive enough to hear these changes is another story but if you have an Audio dealer nearby, I suggest trying out some higher end cables so you can see for yourself what a difference they do indeed make. I will state that when I went from my Generic $100 cables to the lower end Nordost Blue Heaven, things improved greatly. Going up the line just gets you more and more of the good stuff. More air, more 3D, more space, more vocal purity and imaging capabilities.
My cables were purchased at Arizona Hi-Fi in Phoenix AZ. Highly recommended. You can see their Facebook HERE, or their website HERE. 
Steve