Vinnie Rossi L2 Phono Stage module Review with L2i SE
By Steve Huff
If you missed my review of the Vinnie Rossi L2i SE Integrated amp, you can see that HERE. This is for the L2 Phono stage module that fits into this integrated amp. My full thoughts and review below…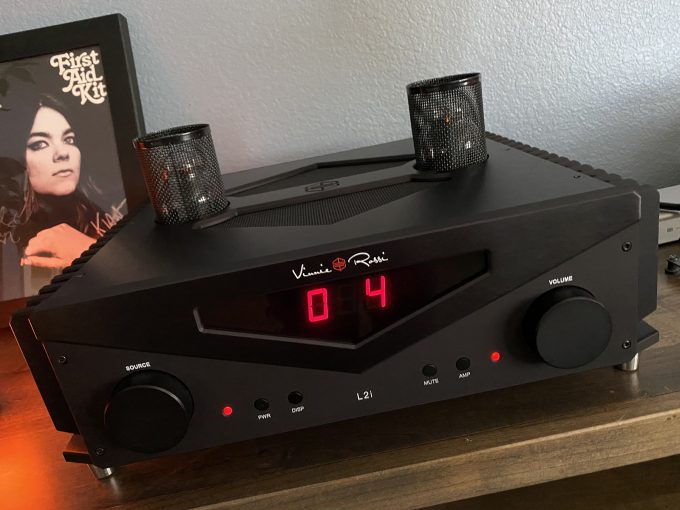 Vinyl. Records. Analog. A little bit of that old black magic. 
Ever since I was a little kid I have had vinyl in my life in one way or another. I admit, back when I was a kid my analog rig was cheap and would probably sound awful to me today but I had so much fun every single day spinning records and listening to my favorite artists. Rocking out, jamming loud and living the 80's life. Back then all we had was Vinyl (until the Compact Disc came to be). I remember when I was 15 or 16 my parents bought me a huge component stereo system with a record player AND a CD player. Before that I had one of those little suitcase style players and while it sounded awful, I was only 9 and appreciated it as it was all I had, and the best I had heard up until that point in life. But as time does, it moved on, and fast so digital was what was in. and in the form of those little plastic silver discs vs the large black vinyl ones.
I remember listening to CD for the first time thinking "this sounds TOO clean, TOO perfect..almost sterile". Yes, even back then my young ears were in "audiophile training" but CD was here to stay. It was the future of listening to music and it would be for decades to come. My entire mid adult life was all about the compact disc. I soon amassed a huge CD collection but always noticed that the "soul" of my music seemed to be missing, or lacking. Sure the CD sounded so clear and clean but I was missing that mojo I remembered from my old records, and those memories consisted of a big fat sound that was Lucious, thick and huge. Ahhh, the good old days..when I could be happy with a $500 system.
Times have changed…
Here we are in 2020. Wow, where has the time gone. My memories of hanging in my large room in the basement of my parents house in Chicago listening to records all night long are still quite vivid. Those were some good times and music got me through some tough times when I was growing up. Back then I bought one new record every week and would spend all week (nights) listening to that one record, until the next one came along. While my friends were spending their money on other things, for me it was music.
Today we live in a digital streaming world but even so… many of us out there love the ritual, the process of playing records. For the masses digital streaming offers convenience but for those of us who are truly passionate about their audio, well, we know how special analog can be when done right. That's the hard part for me (doing it right) as for the last 15 years I have always spent my big money on my digital front end and skimped on my analog in some way. I have had some nice turntables but always skimped on my phono stage believing they all sounded somewhat similar and that there could be no way analog could sound better than a great DAC, or even equal. (I was wrong).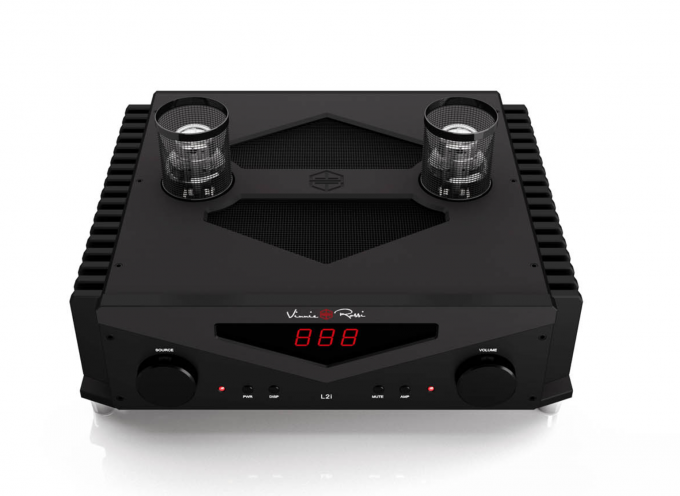 With my recent review and purchase of the absolutely amazing and beautiful Vinnie Rossi L2iSE integrated amp I was able to test out the new L2 Phono stage module as my dealers demo (AZ HiFi in Phoenix AZ) was fully loaded with both the L2 Dac and L2 Phono module. With that said my vinyl rig would be considered "mid grade" when sitting next to the Rossi amp. Even so, it was sounding delicious when connected to the Rossi rig.
I spin my records on a new Technics 1210 GR which is a new modern day turntable made by Technics. It is meant for audiophiles, not DJ's. These tables have received massive praise and I have no complaints for the money spent. It's hefty, it's solid, it allows me to use my own interconnects and it does NOT have a crappy built in phono stage. It's silent, direct drive and built in Japan to a high standard. All for $1699. I was using a Shit audio MANI preamp which is a $129 phono stage. It sounded GOOD pumped into the L2i SE but not anything like the L2 DAC in the Rossi Integrated playing streaming digital.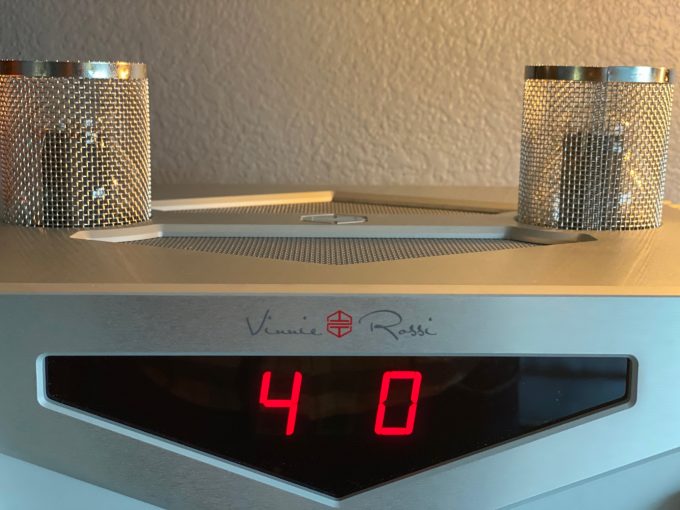 Seeing that I had the MANI and the L2 Phono I went right for the L2 Phono stage and gave it a listen with my 1210 GR and Ortofon Bronze MM cartridge. I was immediately shocked as the sound was so much different from what I was hearing from the Mani.
Do not get me wrong, the little $129 mani is incredible for the cost and it has a warm, fat sound signature. Not much in the way of air, detail or imaging. The L2 Phono in the L2i SE was another story though. While I was pleased with the Mani for casual listening, the L2 Phono stage was quite a few levels up when it came to transparency, imaging and soundstage. The details that I did not hear in the Mani (or ever ) in my vinyl appeared like magic with the L2 Phono Stage module.
I sat back and said…."This is a $26,000 integrated amp (when fully loaded) and I have a $1699 table with a $400 cartridge and it is sounding amazingly good. Imagine if I invested in a GREAT MC cartridge". While it is sounding much much better than the little Mani, it should. The L2 Phono Module is a $3500 add on, yet it may compete with phono stages up to $5000. The Mani is a $129 phono stage that competes with other phono stages in the $500 range. So the L2 Module is doing just as it should be, providing a sound quality that matches the pre amp and amp that powers it.
The Vinnie Rossi L2 Phono has two MC inputs and one MM input. I was of course using the MM side but it was sounding very ALIVE with sounds coming at me from all angles. I will say the Mani did have more "meat on the bones" as in there was more mid bass from the little Shiit piece. It was warmer as well. The Rossi L2 Phono was a tad leaner but brought out way more details in the music while still bringing a solid wall of sound. Super transparent, as in see through, like looking through a window with the L2 Phono.
My L2i SE arrived and I ordered it in all black. From time of order to delivery was about five weeks. At the time of this writing, Jan 2020, I hear Vinnie is VERY busy making these for customers. I just received my L2i SE though I did not order the phono stage with it. After a long audition period with my dealers L2i SE that did have the phono module, I will be getting one as soon as my finances recover from the amp purchase!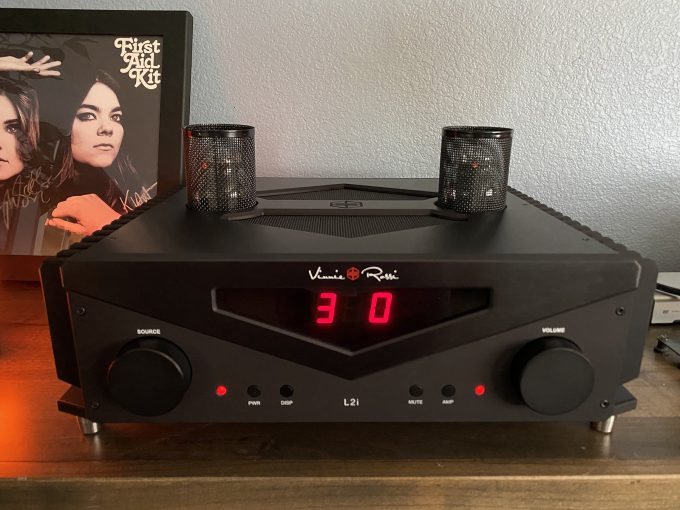 The L2 Phono module let me see into the music and allowed me to hear all that was recorded. It had a smooth organic flow that just felt right with the music. I could tell those 300B's in the pre amp stage of the L2i SE were influencing the sound as well, and it seems more so than just using the external Mani.
I then switched back to the little $129 Mani phono pre amp and it sounded great as well. But I lost the inner view into the music. I lost the smooth flow that gave a togetherness to the sound. I gained warmth, fullness and while this was great for rock music (I even tested KISS, WASP, SCORPIONS, PRINCE and more) it was not as great for all other music. Details sounded a bit smeared with the Mani in comparison when listening to some music and with a good recording like Diana Krall's "Live in Paris" 45RPM dual LP the Schiit sounded big and full but almost as all of the music and instruments were lumped together. It was nice but when I played the same LP with the L2 Phono the soundstage grew, the details emerged and all instruments were very well separated, as they should be.
It was night and day and while the little mighty Mani gave me more bass warmth, which sounded pleasing, it sounded a bit dull on many recordings and dull is not my kind of sound.
After several albums and long nights in my listening chair I could not shake what I was hearing from the L2 Phono module. Going back and forth, each time it was easier to hear the dramatic differences between a budget phono pre and one that is considered mid priced by many in audio land. Yes, $3500 for a phono stage module sounds expensive but there are Phono pre amps that go past $10k and even more. The best phono stage I have had in my room was a $2500 piece from Sugden. It was damn good but my entire system was different then, so can not compare it to this. What I can say is as a whole, my system here in Jan 2020 is better than anything I have ever had. I feel that this is due to two things. The Vinnie Rossi L2i SE and the Swisscables speaker and IC cables I purchased late 2019. They have taken my sound up to a level I never had in my lifetime and I have zero regrets on the purchase of these pieces, even if they put me in debt for the first time in 15 years. I kid you not, if you have a chance to audition the Swisscables Reference or Diamond line, I highly recommend you do so. If in Phoenix, AZ HiFi has them in the store to listen to and they are a dealer as well for these truly special cables. The reference line is a tad warmer and fuller sounding than the diamond, but the Diamonds are higher up the chain and offers more all out transparency and a very organic way of painting the sound.
Back to the phono stage…
The L2 Phono stage is a perfect mate to the L2 pre amp, L2i integrated and of course the L2i SE integrated. It was designed to mate perfectly with these pieces (it was designed as a system to work together in the best way possible) and it offers incredible sound while also allowing you to cut back on those expensive RCA cables. Just one set from your turntable is needed (you will need two sets if using a separate preamp, and good cables are not cheap) and with the options of MM, two MC inputs and ON THE FLY loading from the remote this would be the last phono stage I would ever need. You can also adjust the gain via jumpers if need be.
After hearing it for a few weeks with my fave records it is now my goal to purchase one of these for my L2i SE as soon as I can. It will be a few weeks as I have to recover from my recent purchase of the L2i SE but it is so worth it when it is all said and done.
This is the first time I have had the ability to listen to a Vinnie Rossi amp, DAC and Phono stage even though I have always admired his work going all the way back to Red Wine Audio. I almost bought a piece from him a long time ago at Red Wine Audio and remember emailing him and almost pulling the trigger.  The reason I didn't was purely due to finances at the time.
I was also more recently fascinated with the Lio and while seriously considering buying one, I saw he had released the L2 series. I now OWN ONE! I feel blessed to own an L2i SE.
His designs always get high praise and now I know why. They are jaw droopingly good. Who am I kidding, his L2i SE is the best integrated amp on earth as far as I am concerned, and I mean those words.
Every time I sit down and listen to my updated system with some Vinnie injected into it I am beyond happy. Beyond thrilled. If you own an L2 series of amp or pre amp, and you listen to vinyl this L2 Phono module is a must hear. It's got something special about it that made me feel like I was back in my basement, 17 again, listening to records at 2AM into the deep dark of night. As soon as I save my pennies I will be placing my order for the L2 Phono module (From Arizona HiFi of course). For me, it will be the last phono stage I buy for a long long long time, if not ever. With the L2i SE, L2 DAC module, L2 Phono module and the SwissCables this would be the pinnacle of my personal system. Over 30 years in the making and one that can indeed last me the rest of my days. I have reached audio nirvana once and for all.
If you desire a USA made, hand assembled with care audiophile product that has care, passion and great design poured into it then I highly recommend checking out what Vinnie Rossi has on offer. His website is HERE. My local dealer is Arizona HiFi and they have the L2i SE on demo with the L2 DAC and Phono stage. If you stop by, ask for Glen or Bill and they will treat you right.