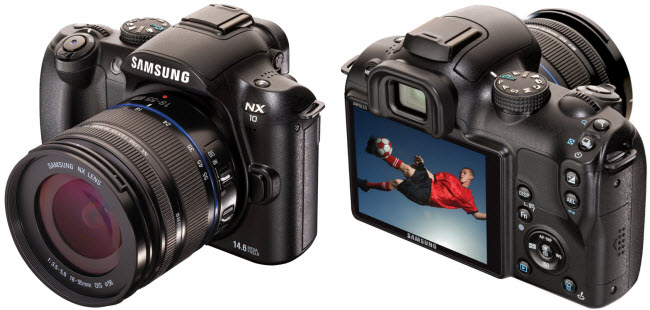 The New Samsung NX-10 was announced and I must say it looks interesting. 720 P video, 14.6 MP APS-C CMOS Sensor, 3.0″ AMOLED Screen and available in BLACK or SILVER! As I have said in one of my reviews, I feel camera makers are going to start shifting their resources to smaller bodies like this one and the M4/3 cameras. Olympus and Panasonic have proven that you can have small bodies that pump out great quality. I am looking forward to testing this one soon. I have not really been a fan of Samsung cameras in the past so this one may be a flop, BUT it looks promising. Price will be important and it needs to be under $1000 with a lens if Samsung wants it to succeed. I am hearing $800 US so we will see.
I like the LCD but it does seem a little more bulky than the E-P2/GF1.
Here is a cool CNET first look video so you can see it up close.