Last year I started a photo project where I wanted to search for and photograph abandoned buildings and homes. I find these locations very interesting and decided that I wanted to seek out and photograph these locations so I could document them while they were still standing. My idea was to find 10-15 choice locations and re-visit them every year to see if they were still there, torn down, or replaced. Of course I would photograph them every year so I could see the differences.
I was out and about yesterday and decided to re-visit a few of those locations where I shot last year. The top image was from March of 2009 with my Leica M8 and 28 Elmarit at F4. It was titled "Left Behind" as I imagined that this may have been another casualty of the housing crisis. When I took the image last year I remembered thinking that this house must have been pretty nice at one time. I imagined nice landscaping with kids in the front yard playing and even a dog running around chasing squirrels. Sadly, the house was just left to sit and rot and I wish I knew the real story as to why that happened.
The bottom image was from yesterday, Jan 22nd 2010 with my Leica M9 and 35 Summarit at 2.5. It was cold, grey and raining and you can tell from looking at the image. Isn't it amazing what almost a year will do to an abandoned house? The roof has deteriorated, the doors have completely fallen off and there have been quite a few areas with deterioration. The front door is wide open now but I did not have the guts to go inside as it did not look too safe.  I do plan on going back to this location every year so I will re-visit again in 2011. This is a part of my ongoing "rural landscape" five year project. Enjoy!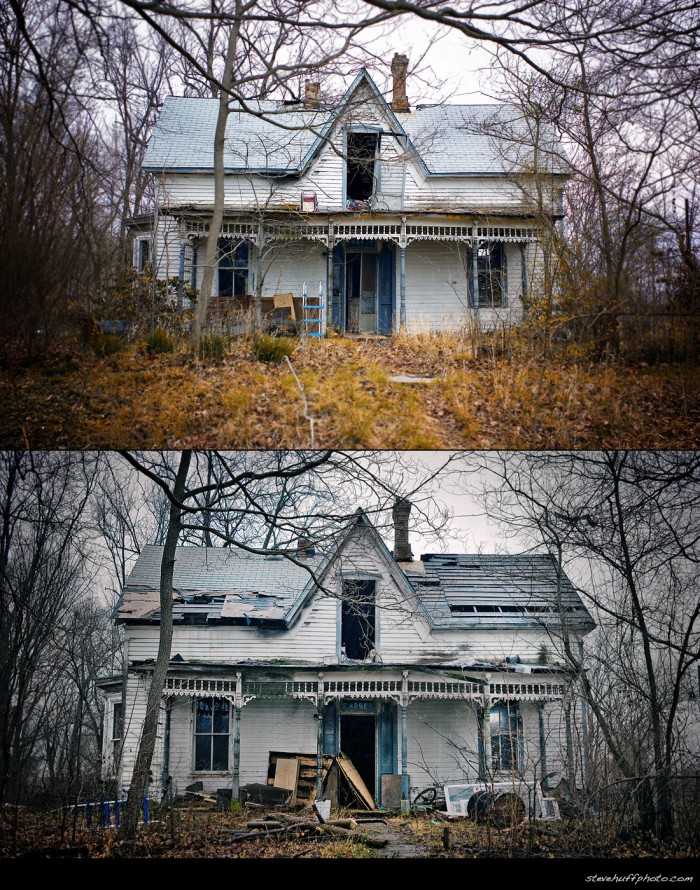 [ad#Amazon Rotating Ad]