I welcome yet another guest writer to the site today! Emily Godwin approached me when the iPad was announced and told me she wanted to write about it! Well, she stayed true to her word and submitted a nice article about shooting and then editing your images on the iPad with an app called Photogene. You can see some of Emily's work at her great blog HERE. Some great stuff there with her M9 and classic 50 Summitar! Thanks Emily!
If anyone else would like to contribute to this site, send me an email using the contact button above! Thanks!
---
Photo Processing with the iPad and Photogene
by Emily Godwin
I'll admit up front: I'm an Apple fangirl; I knew I'd have an iPad sooner or later. However, I'm not going to focus on the general shortcomings or awesomeness of the iPad in this review. Tech blogs have outdone themselves on those points since the iPad keynote.
When the iPad was revealed at the January keynote, I wanted a 3G unit but thought about waiting for the second generation model. When the iPad Camera Connection Kit was announced, allowing users to transfer files directly from their cameras or their SD cards (including RAW files), I pre-ordered the 3G model. Since I have a photography blog and like to edit and post photographs while I'm out, I was hoping the iPad would be a lightweight travel companion that would allow me to evaluate, edit, email, and post shots while I was on the road. In this review, I'm going to evaluate using the Apple Camera Connection kit and a photo app, Photogene.
For a short trip to Atlanta, I pack my Leica M9, 35 Summicron and 50 Summitar along with my other electronics. Upon arriving in Atlanta, I'm startled at the sultry heat – eighties and the humidity ratcheting beyond the curling-my-hair level – compared to the coolness back home. The Atlanta Botanical, with its shaded walks and occasional fountains, is a cooler alternative than the sun-soaked Centennial Olympic Park. I'm always surprised at the tranquility of such gardens after the hectic traffic and blocked roadways just on the other side of manicured hedges and neatly labeled plants.
Other photographers are a rarity in the teeny tiny town where I live, and I'm accustomed to being a solitary shooter. I'm startled by the number of photographers with their tripods and camera bags and focused expressions. The gardens have a nice variety but can be easily walked in an hour. The brilliant sunlight and unclouded, smoggy sky keeps me from shooting wide-open except for the most shaded of spots. I snap several frames, but even with the shade and occasional breezes, the heat and humidity is becoming a bit much for me (plus, I'm eager to view my files on the iPad).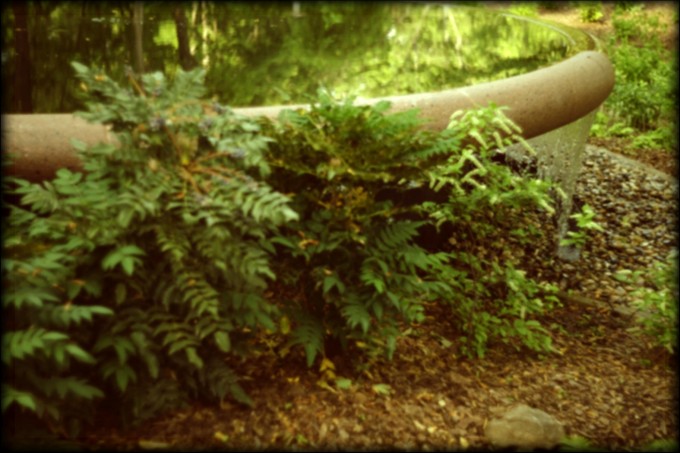 As soon as I'm settled in for the ride to the restaurant for supper, I plug in the memory card reader to the port at the bottom of my iPad. I open Photos, plug in the card, and a "Camera" button appears at the top of the menu. Files begin to quickly appear; I simply hit the "Import All" button and less than two to three minutes later, the files are imported. The simplicity and immediate gratification of viewing my images so soon after shooting is almost disorienting. The screen is crisp and rich, and I linger over several of the shots before I begin selecting which ones I want to post process. That's when I discovered a crucial element of workflow that is missing: I had no way of flagging which files I wanted to process. I mentally note which ones I want to edit and close Photos. (I can't emphasize the convenience enough; I did all this before arriving at the restaurant.)
The developer of Photogene gave me a code to evaluate the app for this review (typically $3.99 in the iTunes store); I open up Photogene and add a photo from my last import (with only thumbnails to choose from and no file name, this is where a flagged option is essential and needed). For some reason, the sidewalk in the background bugs me so I hit the scissors button, select the area with a few finger motions, and crop. As you can see from the screenshot below, I'm impressed with this app's options such as the ratios to choose when cropping. Now, obviously these choices are a given when using a program such as Photoshop or Aperture, but I wasn't sure if a new iPad app would include these features.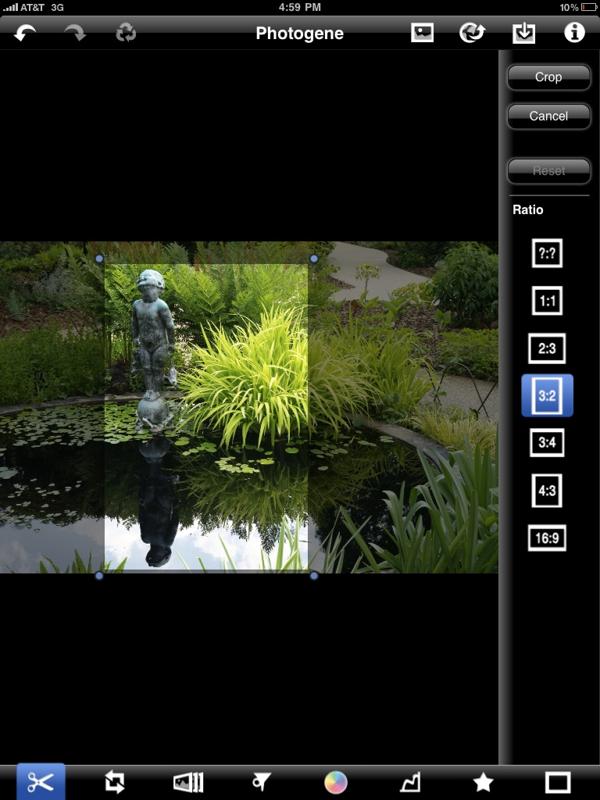 A tap on the color wheel provides exposure, contrast, and levels options amidst others. I bump up the saturation and leave my exposure as it was shot. A note of caution: when moving these sliders, use minute finger movements. At first, I was moving my finger too quickly, and the results were atrocious. A little bit goes a long way.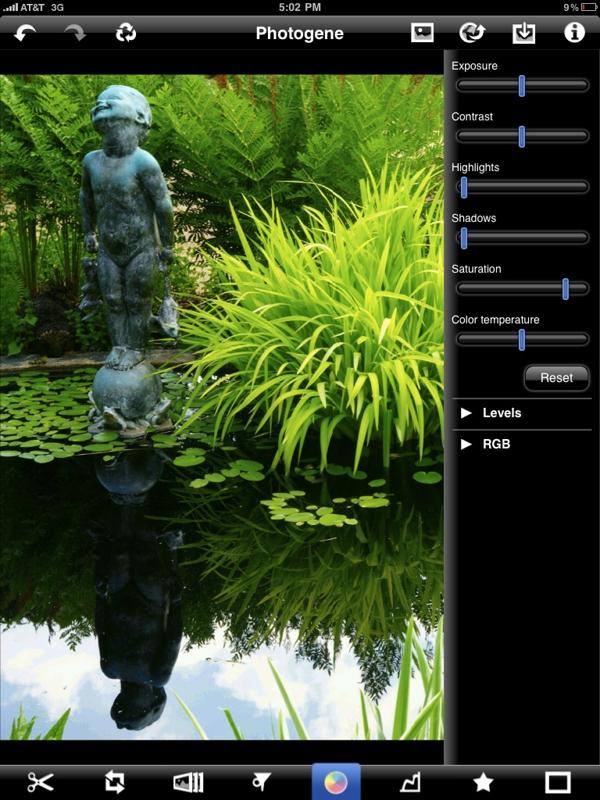 This little app has several fun filters to choose from. Below is a screenshot of the image processed with the "Bleach" macro. Trying out the different ones is quickly done with a tap of a finger. However, for the final image, I decide to go with the 70's vintage macro.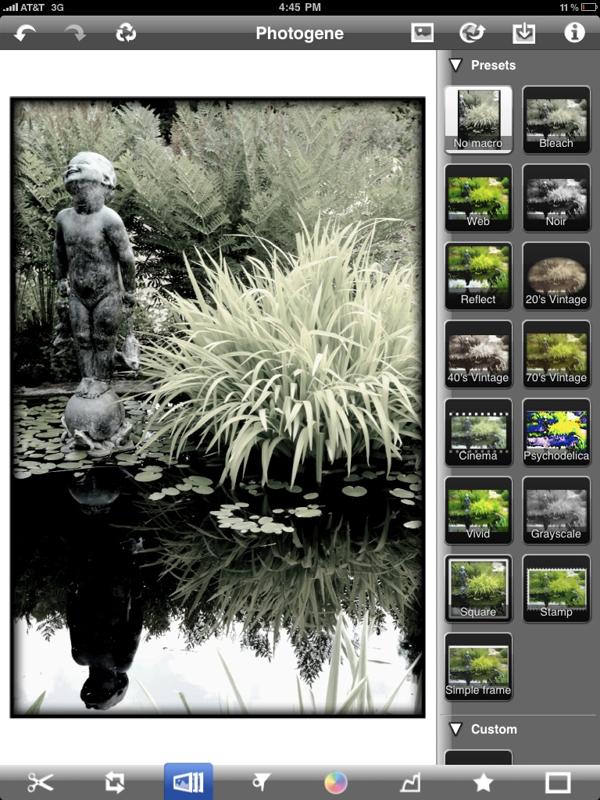 For the last step, I click the rectangle and choose a frame. The shadow and shape for each preset can be customized, and I played around with the different options until I found the look I wanted.
The last step is to save the image. Again, where the developer could have simply provided a few standard options and had a decent app, he has included several resolution choices and buttons to quickly share the image via Twitter, Facebook, or email. The image is saved to an album in Photos aptly named "Saved Photos."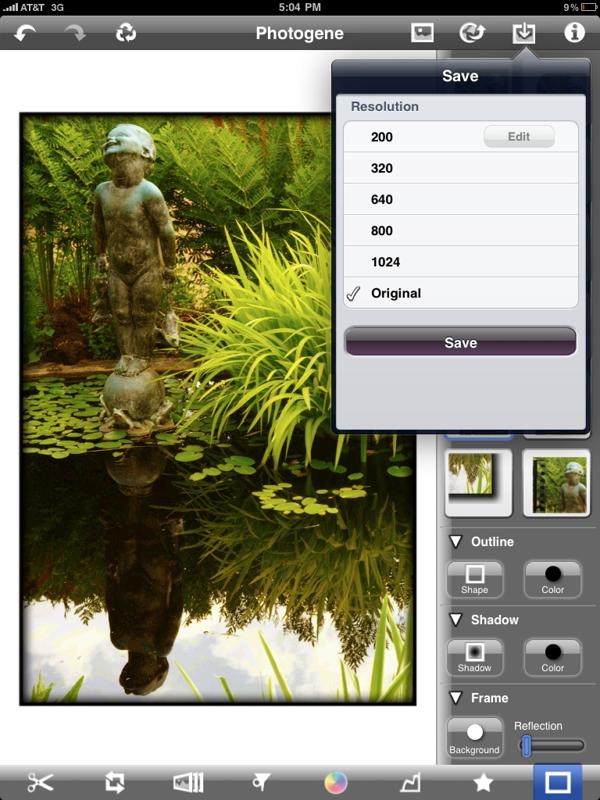 Even though I was disappointed to not be able to edit the RAW file, I was pleased with the following JPEG image that I downloaded, edited, and saved in a total of less than ten minutes. (See the end of this post for more on the RAW issue.) The Photogene app has a lot of buttons and options; however, most are self-explainable. After I clicked through each once to see what was available, using the app was intuitive and quick.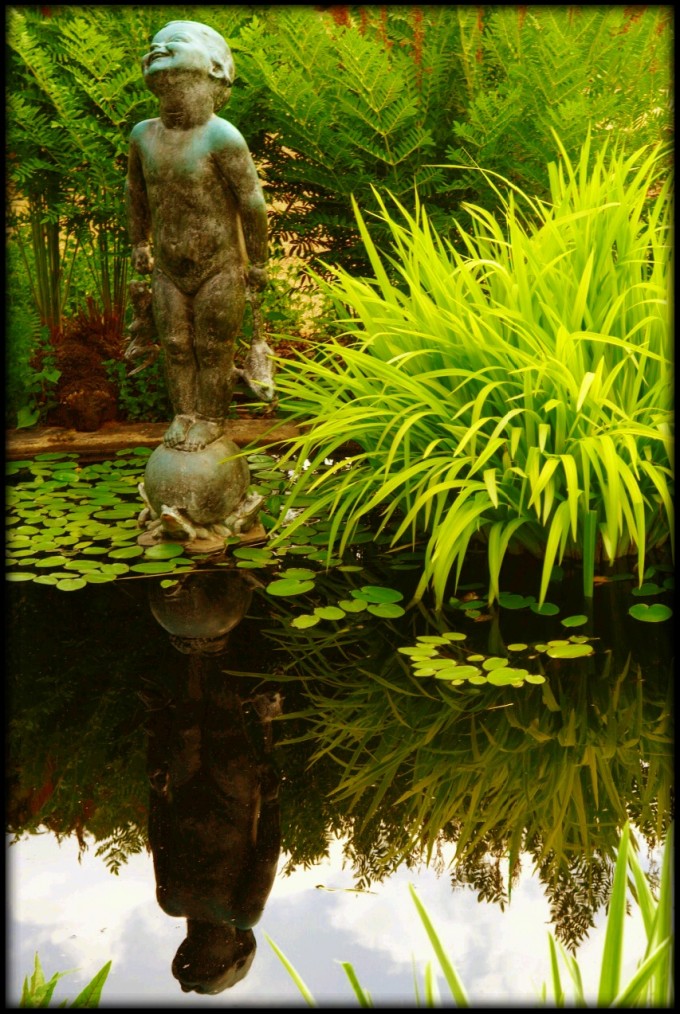 The gardens had some quirky sculptures that I loved; they were so lifelike (at least for frogs). In the app, I had fun adding some whimsical frames and effects. Bokeh was not an option. 😉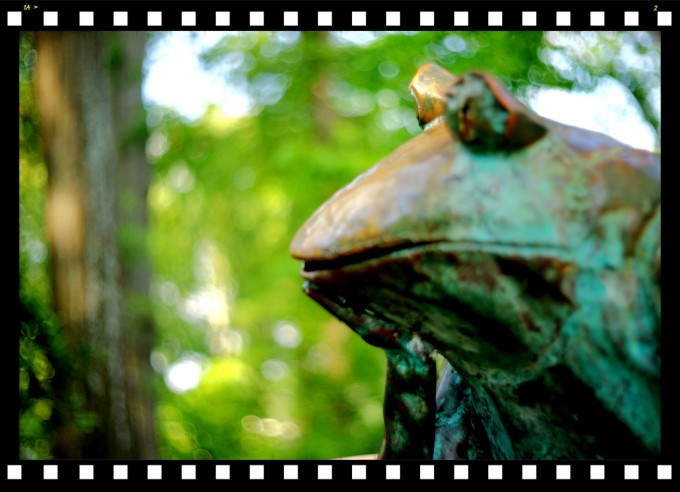 When one is traveling, the impersonality yet shared traveling communal experience is ensconced in hotels. More than anything, I love a hotel that has an expansive view, and I'm not disappointed at the Omni hotel in downtown Atlanta. I've stayed at multiple hotels in and around Atlanta, but the Omni, with its floor-to-ceiling glass windows, has my favorite view. At night, I turned off all the lights and stood for the longest, just watching the streets. (When you live in a small town that literally has NO traffic after 8 pm, you can easily become entranced not just by people watching but by city watching also.)
The street lights changing in syncopation, the voyeurism of visually following pedestrians down city blocks, the glow of half-occupied buildings are urban normalcies but hypnotic all the same. I took a quick shot, and the following is a straight out of the camera JPEG that was imported into the iPad and inserted into this document without any processing.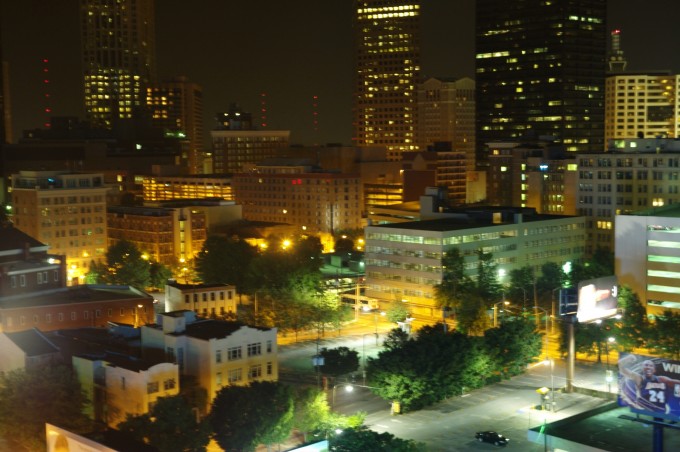 The second day in Atlanta I had some time between appointments to go shoot some more. After reading about different places to shoot around Atlanta, I decided to go find the old mill ruins near Sope Creek. My route took me past gated homes, a bridge over the Chattahoochee River, and back into a gated residential area before arriving at a small area managed by the National Park Service. The area is quiet, scattered with joggers and runners, and has three trails that I counted from the parking lot. The trail to the mill takes only about ten minutes and is mostly downhill. The ruins are there as described and over to one side is a waterfall. I was unprepared without even a tripod, so I tried some handheld shots of the waterfall.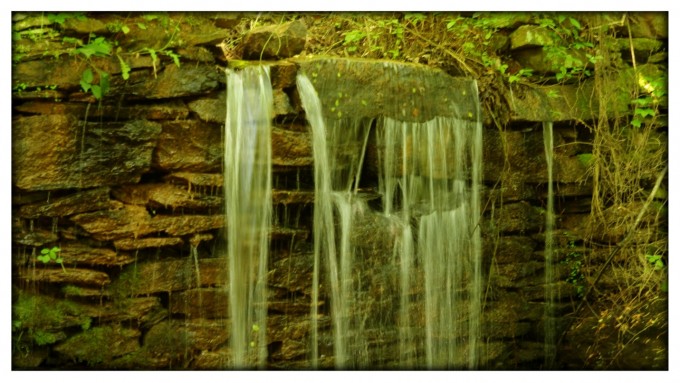 Of course, I've seen (and photographed) more majestic waterfalls and hiked daunting mountain trails. The unique feature about the Sope Creek ruins is the small spot of carefully preserved woods that is in stark contrast to the strip malls and gated communities and chain restaurants around the area.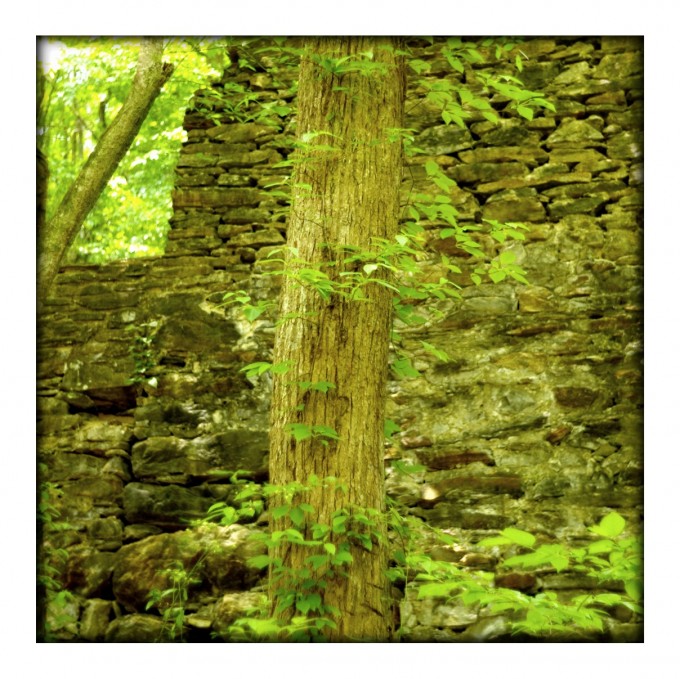 The developer of Masque also gave me that app for this review, but I discovered it's not a full processing app. Therefore, while it may serve the purpose for which it was created, I decided not to include its features in this review since it didn't meet my purposes.
The major disappointment is that the iPad supports RAW files, but it doesn't. Before I left for Atlanta, I tested a few shots and was baffled to discover that my uploaded RAW files from my M9 were horribly pixellated at a low resolution. I Googled the issue and discovered that other M9 users were having the same problem. Some cameras' RAW files import fine. The workaround for me was to shoot in the RAW+JPEG mode. That solution is not ideal because of the increased memory usage, not being to transfer the images and format my card (I wait to transfer the RAW files to my Mac at home), and the inferior editing of JPEG files. Hopefully, some updates will be issued to fix this problem. Of course, non-Leica users may not be affected by this issue; just test some files from your camera to see if the Camera Connection kit will import them properly. (Note: This issue is only when importing RAW files using the card reader or the USB plugin; this does not affect RAW files that you transfer from your computer to sync with your iPad.)
Obviously, the iPad processing capabilities do not come close to my beloved Aperture with its Nik plugins or to Photoshop. However, I am pleased with the quick upload, the crisp and rich display to evaluate the files, and the ease of doing some basic processing functions. I have a device that is much lighter and convenient than my laptop that allows me, in a matter of minutes, to view images I just shot. Additionally, distributing the files, either to social networking media or by email, is just as fast (especially if you're using Wifi or a 3G network).
Like anything else, being an early adopter has its risks and rewards. I think I fully realized the iPad's photography power when I was reading a post from this blog. I opened Wolfgang Spekner's Hasselblad Daily Inspiration post in my feedreader and was stunned at the visual beauty and richness when viewing the images on the iPad. I literally felt as if the photographer had just handed me some of his images to look at – without any disconnect or separation from the work. Perhaps it was the magic of the iPad, perhaps the magic of Wolfgang, but more than likely, both.
[ad#Adsense Blog Sq Embed Image]