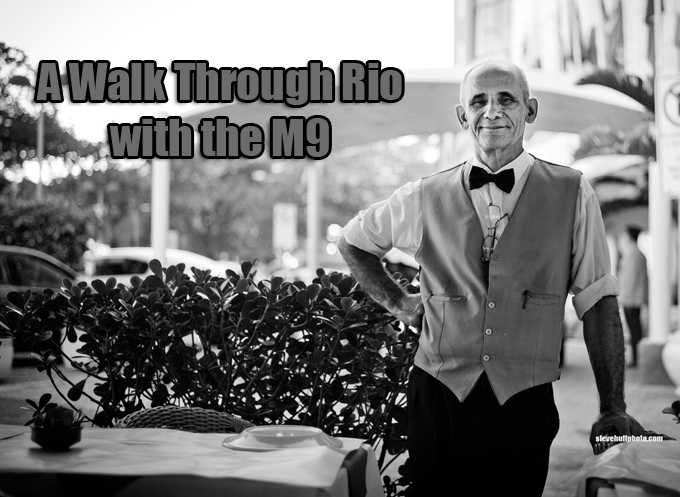 Rio Brazil! What a great place for street photography! It's sunny, it's hot, it's humid and it's gorgeous! The beach, the sand, the drinks and the cool atmosphere make this stop my personal favorite place so far. Before we hit Rio I was  told by SEVERAL people that it would be dangerous for me to shoot in the street here as the crime is high. I was almost scared off but the photographer in me forged ahead so me and Mr. Steve McDonald (guitar tech for the tour) made a plan to take our M9's out in to what we assumed was "The Forbidden Zone" – the side streets of Rio.
So there we were. Me with my Grey M9 and Silver 50 Summicron around my shoulder and Steve with his stealth all black M9 with taped out logos and black 50 Summilux pre-asph. Steve was mainly shooting from the hip and he was getting some GREAT shots. Me, I had better luck with framing them with the VF though I was so much more obvious. There was even a time when we thought someone was going to go for the cameras so we ducked into a shop real quick.
It was intense at times and exciting at others. I'm happy we went out to shoot though, and it's cool that there is yet another M9 shooter here on the tour to go explore with while we are in the various cities.
Below are the results from yesterday and again this morning when we walked around some. I still say that the Leica M is still the ultimate street machine IMO! Enjoy! BTW, ALL images were shot with the M9 and 50 Summicron, mostly wide open. Click on any image for a larger and better view!
This guy was great. All smiles but obviously down on his luck. I asked him if I could take a picture of his smile and he shook his head yes and smiled for the camera. He even gave me a handshake after I shot the image.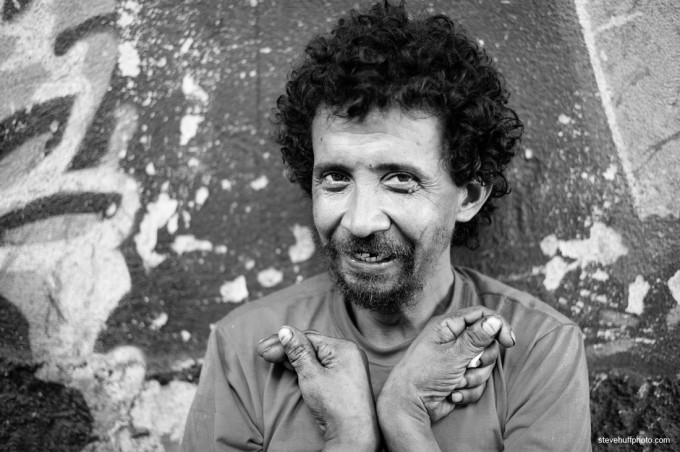 –
Before we hit the street and on the way to the hotel we saw vendors selling anything and everything on the highways.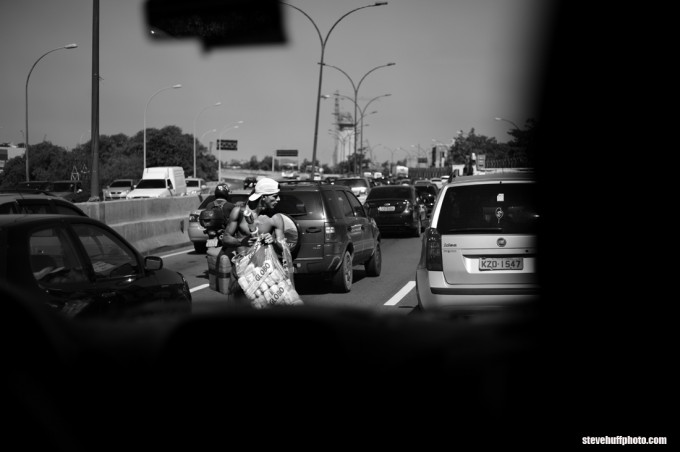 –
As we arrived to the hotel Marcus gives a smile  – 50 Cron wide open 🙂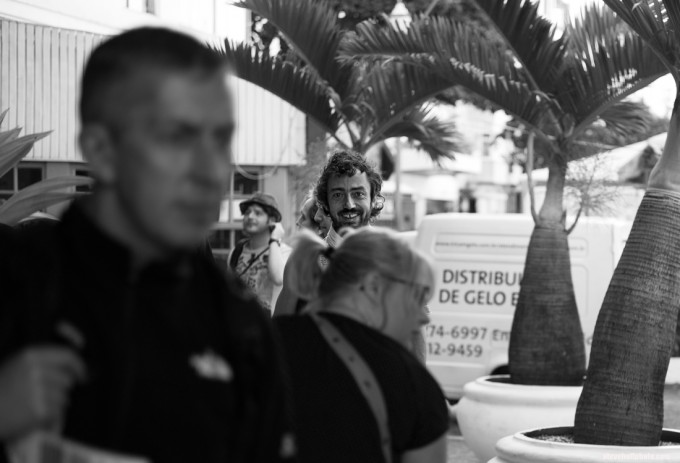 –
after checking in to the hotel we came down to eat and I saw the waiter and a guy from the hotel next door hugging. As I framed them they looked at me and it almost looks posed but it is not.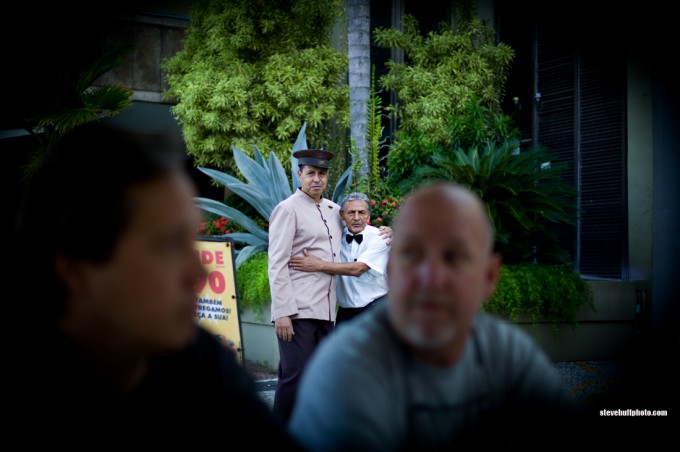 –
Many buses go by every minute or so and they seem to all be packed with people. Everyone seems to be wondering why I was taking their picture 🙂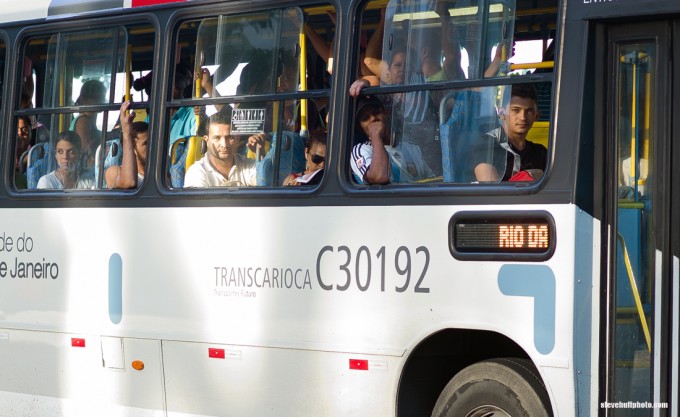 –
As we headed down a side street I noticed this wall of graffiti and even though the colors stood out I prefer this shot in B&W. This is one of my fave shots from the day.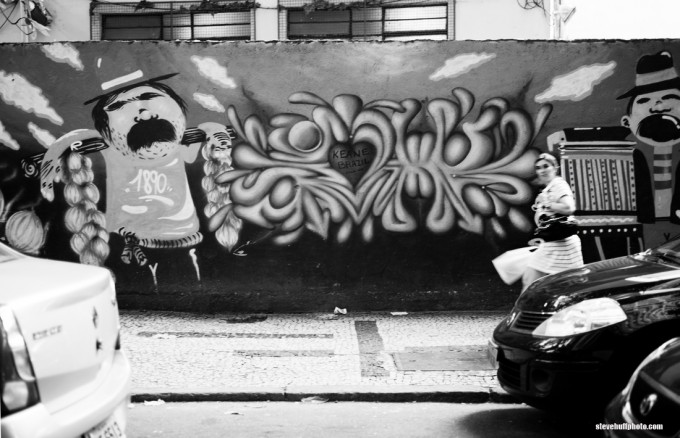 –
The deeper we walked into the neighborhoods the more looks we were getting. This one was shot from the hip.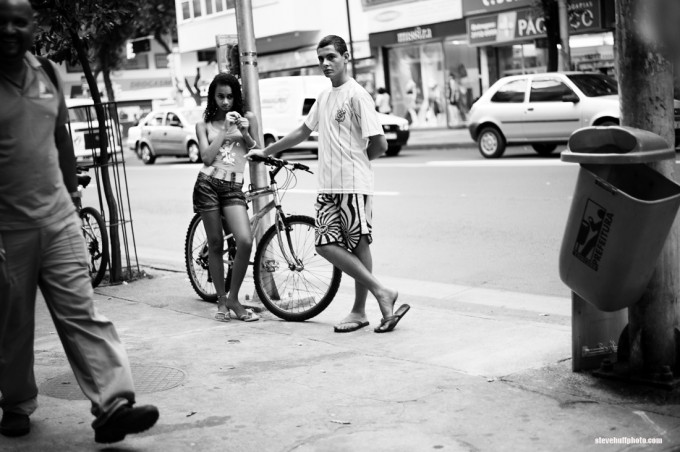 –
On the walk back we headed to the beach and it was lovely. The late afternoon sun was glowing and the weather was great with a nice breeze blowing by. This little girl was getting water poured over her head. Looked like fun 🙂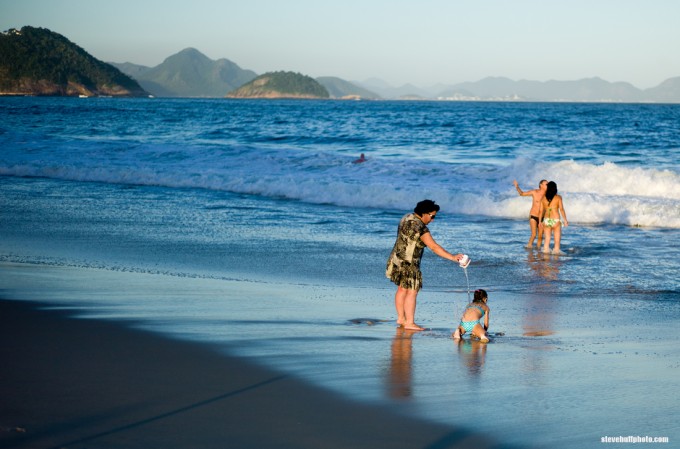 –
While this guy was getting a massage by his girlfriend 🙂 I was getting a massage by my camera strap slung around my shoulder, lol.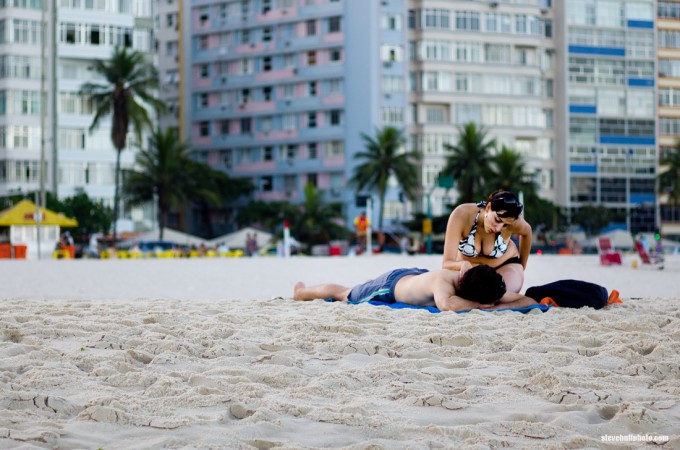 –
We stopped at this beach front cafe and had a beer before heading back to our hotel…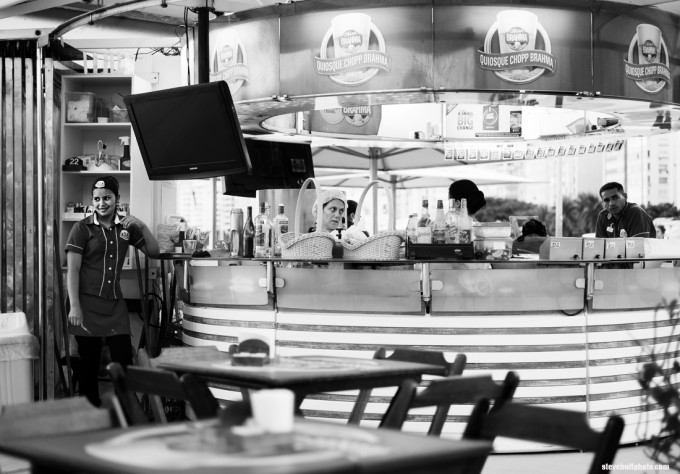 –
In Rio I noticed many people like to hang out of their car windows and see whats going on at the beach. Makes for some cool photo opps.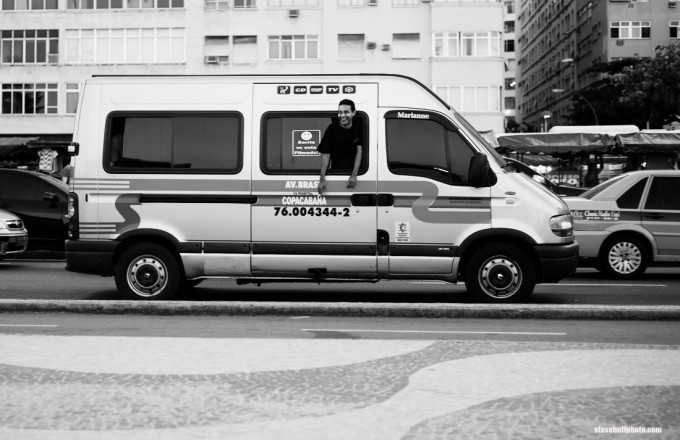 –
As we walked I saw this statue with an older gentleman sitting next to it. I liked this composition with the moonlit ocean in the background and the three ladies sitting on the bench behind him. It appears that the statue is sitting and having a conversation with the man.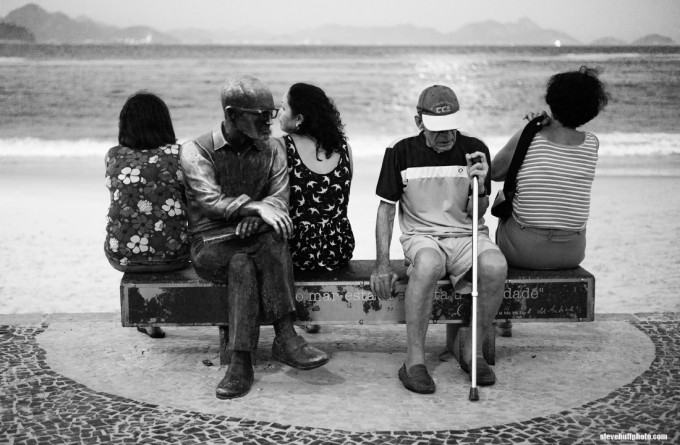 –
A few more from the first night in Rio…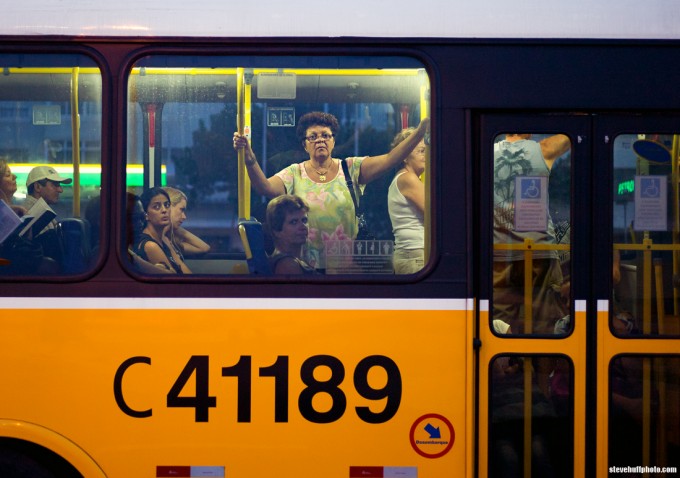 –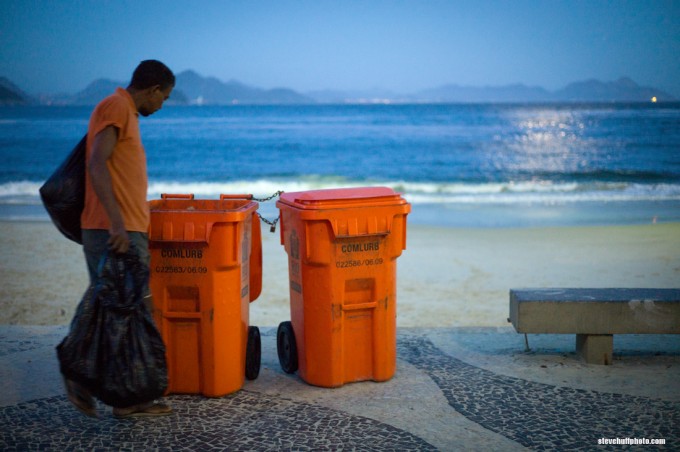 –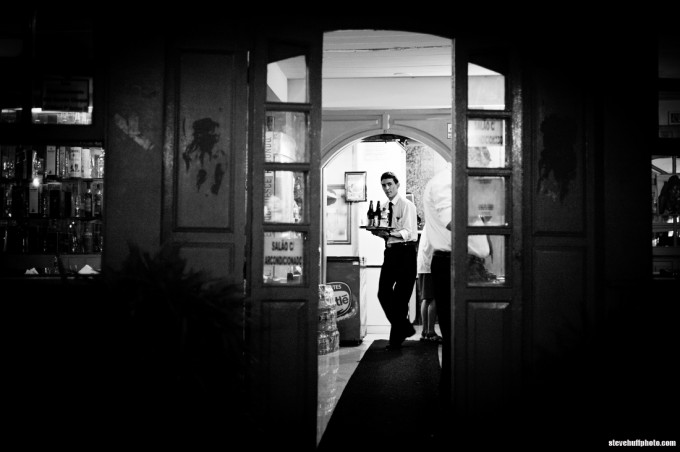 –
And the rest are from this morning during a two hour walk!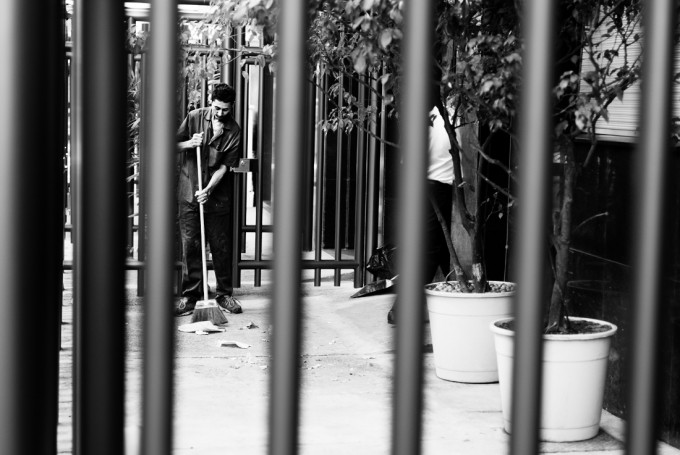 –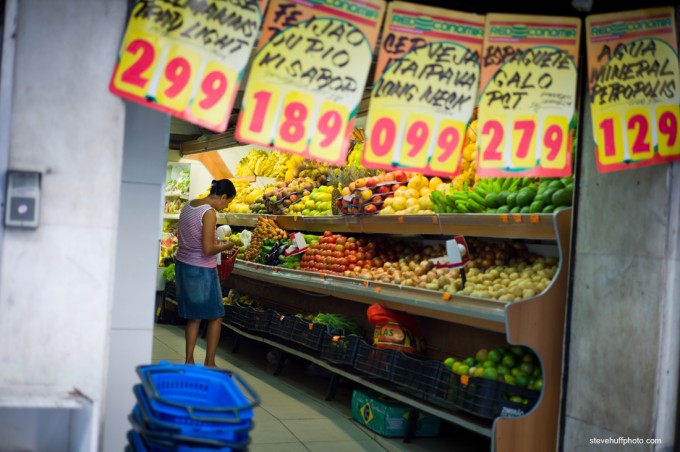 –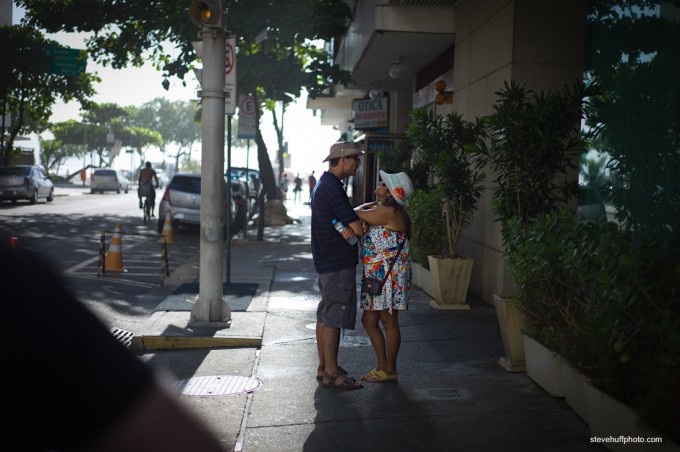 –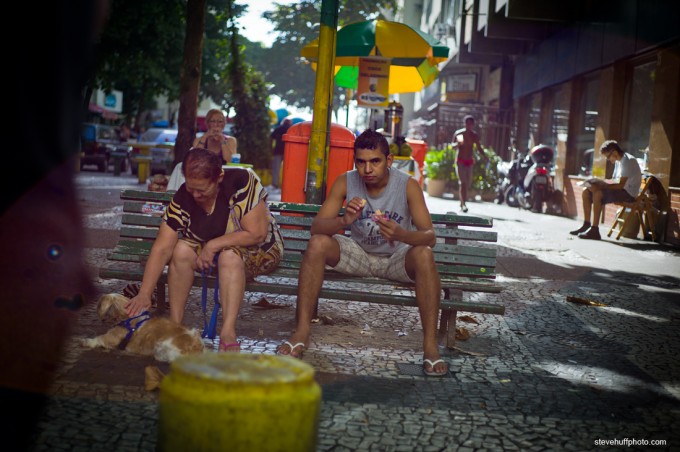 –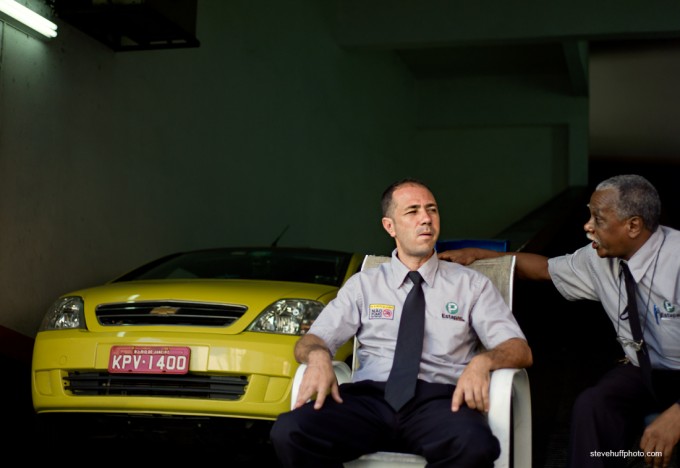 –