Steve,
I've been a fan of your site for a while now. I look forward to your frequent updates and no-nonsense reviews. Sure, there are other camera/photography sites out there, but I feel that supporting your claims with actual photos puts you in a class of your own.
I thought I'd take the time to submit a few photos for your consideration for your "Daily Inspiration." I got into a photography through an ex-girlfriend I met in college. She was lucky enough to be in the last class in the Journalism school that had a chemical darkroom. Being a diligent boyfriend, I would frequently attend her lab time and learn whatever tricks I could on the sly. Fortunately/unfortunately (I haven't decided which yet), this has been a habit that has stuck, as I can't quite seem to quit film or home developing. Sure, I'd love the opportunity to upgrade to an M9 with all the fancy accoutrements, but my wallet is not quite inclined to cough up the necessary funds.
Most of my recent photos have been taken with various film rangefinders – my Zeiss Ikon seems to get the most use along with a slew of lenses (sadly, only one of which is a Leica – my red-scale Elmar). That being said, the photos I have submitted express my love for Nikon film bodies and manual focus Nikkor lenses.
One 'trick' I like to use when shooting quickly, it to pre-focus by using the distance scale and guessing how far the subject is to me. Then, when I put the camera to my eye, just make a small focus adjustment, click, smile genuinely and keep walking. I don't try to approach people that I think might be hostile, but that being said, I've never had any subject be aggressive toward me after snapping their image. I try to exude calmness, confidence and curiosity.
The first image was taken in Ueno Park in Tokyo. I used my Nikon FM3a, Nikkor 45mm f/2.8p and Fuji Neopan 400 (my favorite b/w film). I believe I shot this at f/8. The contrast between the two subjects is what caught my eye.
The second image was taken in Enoshima Aquarium in Enoshima, Japan. I used my Nikon F3, Nikkor 50mm f/1.2 and Fuji Neopan 400. I shot this at f/1.2.
The final image was taken in Burbank, CA on my bus ride to work. I used my Nikon FM3a, Nikkor 35mm f/1.4 and Fuji Neopan 400. I shot this at f/2.8. I timed this photo as my bus stop was approaching, so I snapped the image, thanked the woman and got off the bus.
Anyway, I hope you enjoy these shots. If you curious to see any of my other work check-out my flickr: http://www.flickr.com/photos/jimfischer/
Thanks,
Jim Fischer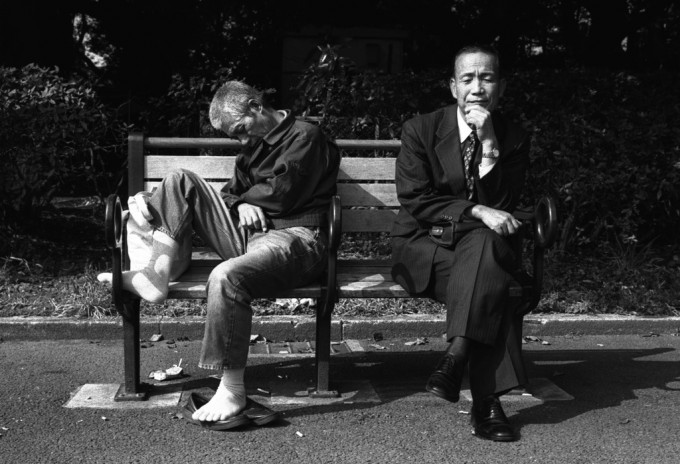 –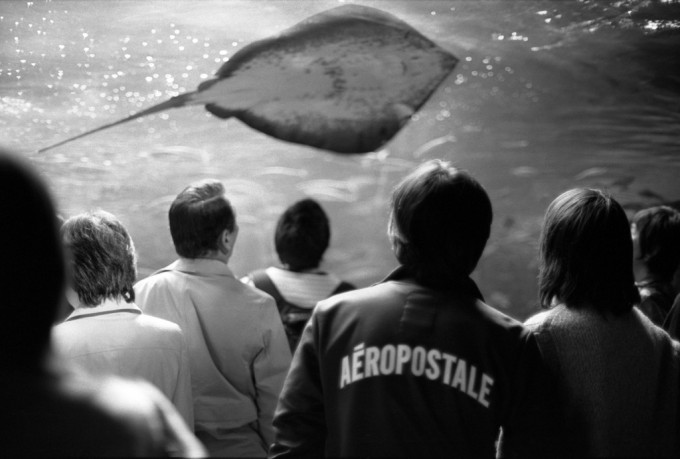 –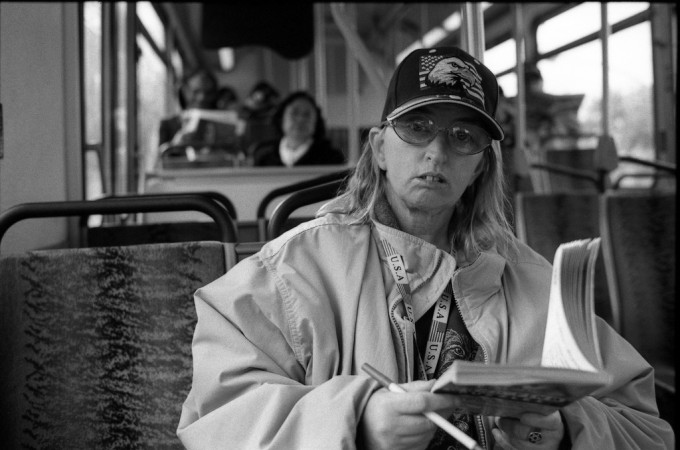 [ad#Adsense Blog Sq Embed Image]