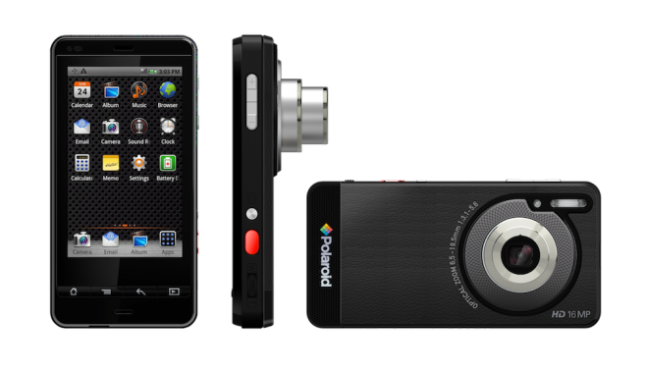 Polaroid Announces the SC1630 Smart Camera Powered by Android
Is this the future of Photography? I think it just might be the future of the point and shoot. One day, point and shoots will fall by the wayside as products like this Polaroid come out along with the amazing iPhone apps we have been seeing lately (review of a kick ass app I have been using soon). Imagine if Leica did something like this with an iPhone. Remember the concept camera/phone? The i9? That would be sweet as a take anywhere always with you device. I'm telling you…a few short years from now THIS just may be what the masses are shooting with and us enthusiasts will be the niche market with the higher end cameras.
Full Press Release below:
Fusing the Feature Set of a High-End Digital Camera with the Power of Android*, the Polaroid SC1630 Makes Snapping and Sharing High Definition Digital Images an Instant Experience
LAS VEGAS, Jan. 10, 2012 /PRNewswire/ — Polaroid today announced that capturing and sharing high-end digital images is now seamless with the Polaroid SC1630, an Android powered smart camera. The Polaroid SC1630 Smart Camera features a high definition 16 megapixel camera with built in 3X optical zoom, touch screen display and Wi-Fi, making uploads to social networks as easy as the touch of a button. Merging the optics of a digital still and video camera with the limitless power of the Android platform, the Polaroid SC1630 Smart Camera evolves the process of clicking, editing, uploading and tagging to an instant experience on one device.
With the Polaroid SC1630 Smart Camera powered by Android you will no longer need to choose between your smart phone and your point and shoot camera because it offers the best of both worlds. Delivering everything expected from a digital camera but powered by Android, the Polaroid SC1630 Smart Camera surprisingly packs all the features needed to conveniently capture, connect and instantly share beautiful HD digital images and video into one device, weighing a mere five ounces.
An ultra-portable, two-in-one instant sharing powerhouse, the Polaroid SC1630 Smart Camera leaves even the most powerful camera phones in the dust by combining an advanced imaging feature set with an unmatchable Android powered mobile platform:
Capture Like the Pros: Life's quickest moments are no longer at risk to becoming blurry images from a basic camera phone. Built on a 16 megapixel CCD senor, the Polaroid SC1630 Smart Camera treats images to a 3X optical zoom – a feature not found in most mobile phones. Choose from 18 scene modes and then click and view crystal clear images – captured at 36mm or full 108mm magnification – on the Polaroid SC1630 Smart Camera's 3.2" widescreen display.
Enhance Your Moments With Smart Features: The Polaroid SC1630 Smart Camera powered by Android takes the work out of being behind the lens with automatic face and smile detection. Also, gone are the days when digital images that never connected with a USB cord went unorganized and forgotten. The Smart Album feature of the Polaroid SC1630 Smart Camera automatically organizes photos by date, location and people. Plus, geo-tagging features can add longitude and latitude coordinates to photos.
Edit, Share and Save: Now there is no reason to leave the party – everything needed to edit, save and upload can be done anywhere right on the Polaroid SC1630 Smart Camera. On-board editing features include cropping, red-eye removal, resizing and color correction. Backed by the power of Android, the Polaroid SC1630 Smart Camera uploads images to social networks with the touch of one button and can hold up to 32GB of memory via a microSD card.
Instantly Connect to the World: The Polaroid SC1630 Smart Camera's Wi-Fi, Bluetooth, and optional cellular data connections empower digital images to be shared from anywhere in a snap.
Get Productive: Need to check-in on where friends are gathering, get directions or make the next move in your favorite game? Backed by the power of Android, the Polaroid SC1630 Smart Camera supports Google's Android Market, making it truly like no other camera available today. Now you can snap, share and link up with more than 400,000 apps.
"Polaroid has helped the world bring stories to life through photographs for the past 75 years," said Scott W. Hardy, President, Polaroid. "The newest member of the Polaroid family, the Polaroid SC1630 Smart Camera unites the beauty of high-end digital images with powerful Android connectivity features. The result is an instant experience of click, capture and share that enables social networks to see and experience the moment as if they were there."
Designed to be just as fashionable as it is portable, the simple, clean lines and straight forward interface of the Polaroid SC1630 Smart Camera makes capturing and sharing effortless. Loaded with features that enable easy capture, connecting and sharing on the fly, the rechargeable battery can last all day on a full charge.