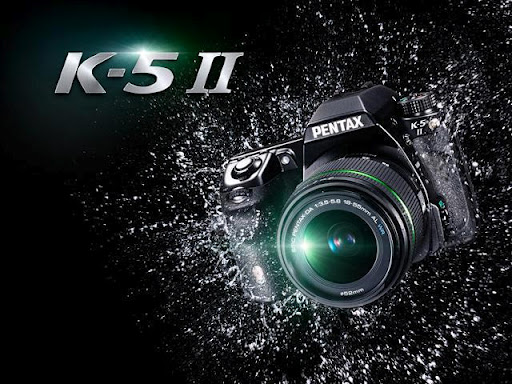 New Pentax K5II and K5IIs – They improved the K5? Looks to be so! 
To those asking me about new Sony products (over 340 e-mails flooded my inbox about this today) I will have a full write up and hands on report tomorrow night, so check back then for the lowdown. 😉
Today we have Pentax announcing a couple of new significant cameras that I will be keeping an eye on. I loved the Pentax K5 and found it to be one of my favorite DSLR's ever so how will the brand spanking new K5II and IIs be? I found the K5 to be fantastic with the Pentax limited prime lenses and the K5II and IIs will offer even more bang for the buck in the small-sized DSLR market.
I love when the smaller guys release products that are giant killers in many ways and that is just what the K5 was. Now for $1299 and $1399 you will get a small-sized DSLR that is full featured, weatherproof and sealed, has a great LCD, great HD video, great control and customization, and this time even better IQ with the all new SAFOX X sensor which will offer better DR, better high ISO and overall better IQ than the previous K5. Basically this is an update to the sensor and AF more than anything and we now get to choose a version without an AA filter (this is GOOD) for an extra $100. Not bad.
This release is sort of NOT a big deal but then again it sort of is…the ability to buy a K5 without an AA filter..wow. Get ready for extra detail and crispness. Id have all cameras without an AA filter if it were up to me because I shot with an AA filterless M9 forever and ever and had maybe 3 shots with a moire problem. I'll take extra detail and crispness any day of the week and I look forward to reviewing the new K5IIs (wanna send me one to test Pentax)?
I love Pentax and while I think they made a blunder with the K-01 a few months back I think they are on the right track even with an improved K5 because the K5 was beautiful as is..now it is even better.
You can pre-order the K5II below (DID NOT SEE A IIS OPTION YET):
Order the Pentax K5II Body only at B&H for $1299
Pre-Order the Pentax K5II with 18-135 zoom for $1599
The Pentax K5II – what it is all about:
16.3 MP CMOS Sensor
11 Point SAFOX X Autofocus System
3.0″ Air-Gap-Free LCD w/ 921k Dots
1080p HD Video w/ External Mic Jack
High Sensitivity 80-51200 ISO Range
Body-based Shake Reduction (SR) System
Steel Chassis with Magnesium Alloy Cover
Fully Weather Sealed and Coldproof
7 FPS and 1/8000 Maximum Shutter Speed
HDMI Output for Stills, Video and Sound
The Pentax Q10!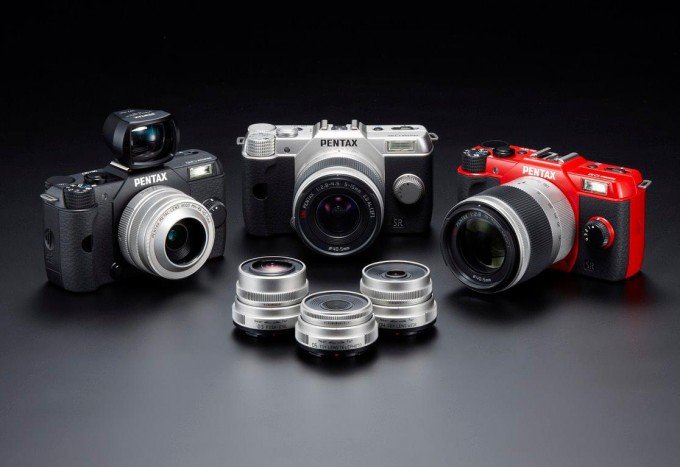 I loved the Q even though it was small! About half the size of my iPhone 4s length and height wise. The thing was and is tiny but the IQ and usability was super! I remember shooting with it at my Chicago workshop  and the video and images were so good that at that time I was secretly thinking "wow..I am buying one"! Ultimately I found it to be a but too small but for some this is the whole reason to own a Q. Small body and teeny lenses that still deliver the IQ. Almost spy like. Actually, very spy like.
Pentax upgraded the Q to the Q10 with a new sensor, new anti shake technology inside and a newer and better defocus control. They also announced some new lenses like the 83-249 zoom lens at f/2.8. This lens comes in at $299. They are also releasing a K mount adapter so Pentax users can shoot with their old and trusty K mount glass. Wow. What a sight on a Q body 🙂 The Q10 will come in at about $599 USA with a kit lens.
The Pentax Q10 will be pretty cool. The build of the original Q was excellent and I can not wait to give the 10 a spin 🙂
YOU CAN PRE-ORDER IT HERE:
PENTAX Q10  – what it is all about:
back-illuminated CMOS sensors with12.4 million pixel
high sensitivity noise reduction
ISO100-6400
Burst (JPEG) five consecutive 5 fps
telephoto lenses and dark Faster AF speed when Face Detection AF (can recognize up to 12 people)
Custom Image, digital filter function, Smart Effect function
Auto Picture mode, Scene mode
full movie HD (1920×1080), 30fps, H. 264, smart effect
Bokekontoru feature image stabilization in the body
features HDR
Exposure modes P-Av-Tv-M
DR II dust removal function of ultrasonic vibration formula
built-in flash guide number 7
the battery life – improvement
body colors: black, silver, red,