Fun on Fremont Street in Las Vegas!

There is nothing quite like getting out a couple of times a year to go to place with amazing people watching opportunities. Over the weekend during the Valley of Fire meet a few of us took the 3 mile drive from our house to Fremont Street in Las Vegas to do some people watching and snap a few photos. We went out one night and stayed for a short time and while we mainly walked around and experienced the lights, the sound, the energy and the people we also snapped a few shots here and there over the course of an hour or so.
As I walked around I told myself I wanted to take only TWELVE images during the hour, so I walked and tried my best to stick to that plan but the problem was I was so busy laughing at the antics of the party goers in the street that many times I forgot that I was there to take some photos!
I shot with the Olympus E-M1 and 25 1.8 along with the Panasonic 25 1.4. One walk down Fremont street with the Olympus lens and the walk back with the Panasonic. At the end of the day, both lenses did just fine and I would be 100% happy with either though the Panasonic does indeed have more micro contrast and a slightly sharper image. In other words, it is still the overall best 25mm lens for the Micro 4/3 system by a slight margin. 
After the hour walk I ended up with 16 shots, four more than the limit I tried to set but that was because I just was not finding my groove due to way too much visual overload! Some of the other guys had the same problem. I ended up liking 12 of shots and threw away 4 of them. Nothing special but it sure was a very VISUAL hour 🙂 I decided to convert them all with VSCO to B&W so the grain you see is from the filters.
If anyone here ever finds themselves in Las Vegas then I urge you to take a little adventure off of the strip to Fremont Street..but be prepared for some wild times, especially on weekends!
Click on the images for larger versions!
On Fremont Street people are partying everywhere..drinking, dancing, street performers and a huge mix of people from all over the world.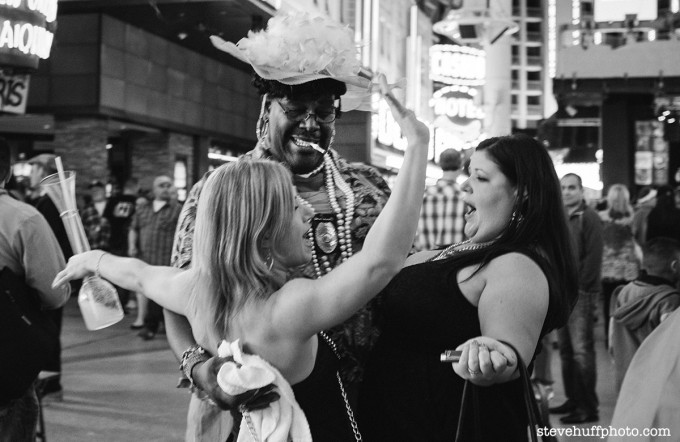 –
A street performer who was amazingly good. I squatted down to his level and shot between some guys legs for this shot taken with the Olympus 25. When shooting someone down below you, it is usually best to get down to their level for the image.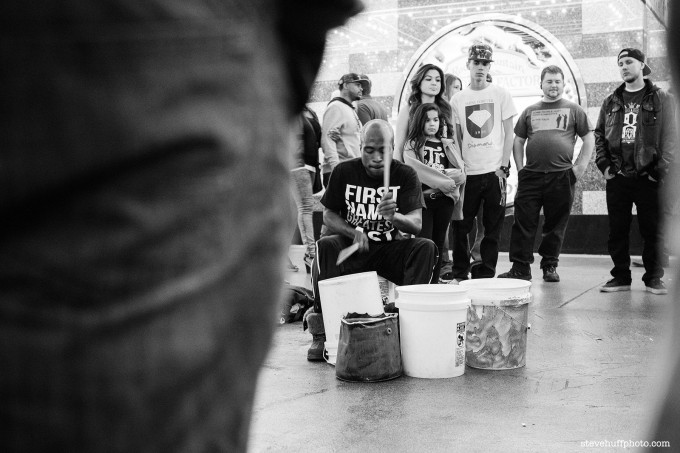 –
More street performers. On Fremont if you see anyone dressed up that means you can get a photo with them but they WILL want a few bucks for this, so be prepared to pay!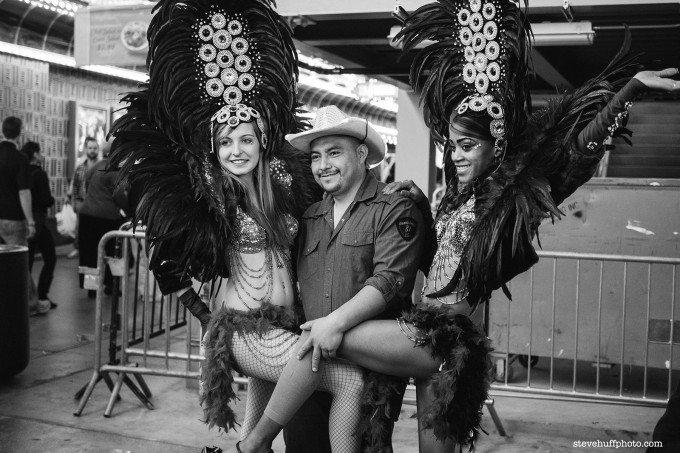 –
There are always loads of cameras and photos being taken so this is one destination where you do not have to be afraid to take the shot..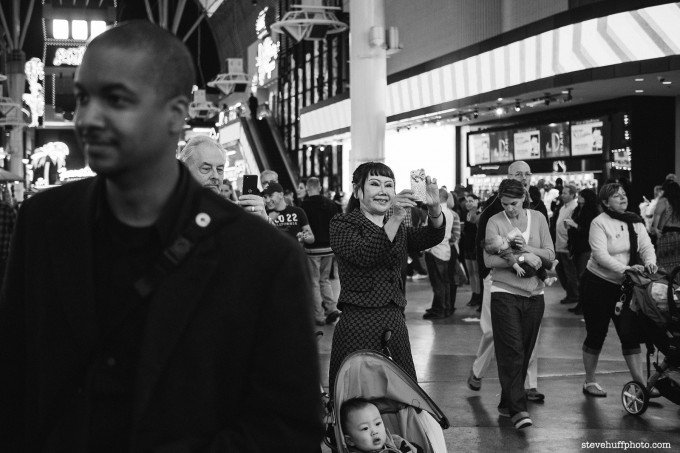 –
There are even photo opps OFF of Frenont. This was a burger truck called "FUKU" with the slogan of "Get Lucky". After taking a shot of the full truck I decided to get close and get the attention of the girl working the truck. When she looked, I snapped. 
–
Even with all of the booze, the half naked women and men, the strip clubs and the craziness there are people of ALL ages who come to see the spectacle. From young to old..
–
This guy who dresses as cupid yells out sexual comments to anyone walking buy and he has been on Fremont for a long time now..get your picture with this scary looking cupid and you will get to put a couple of dollars in his diaper.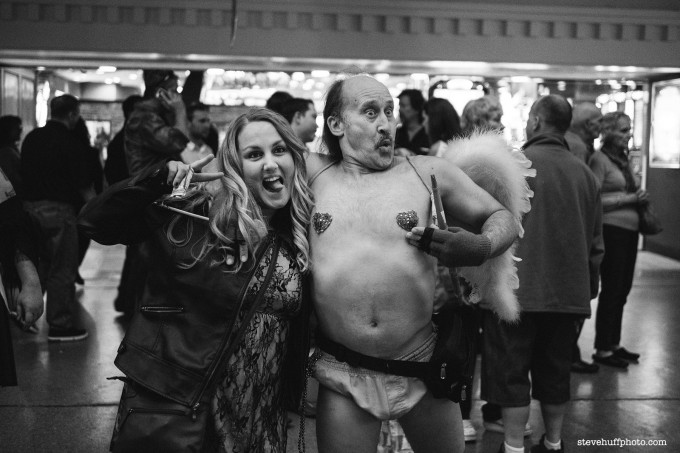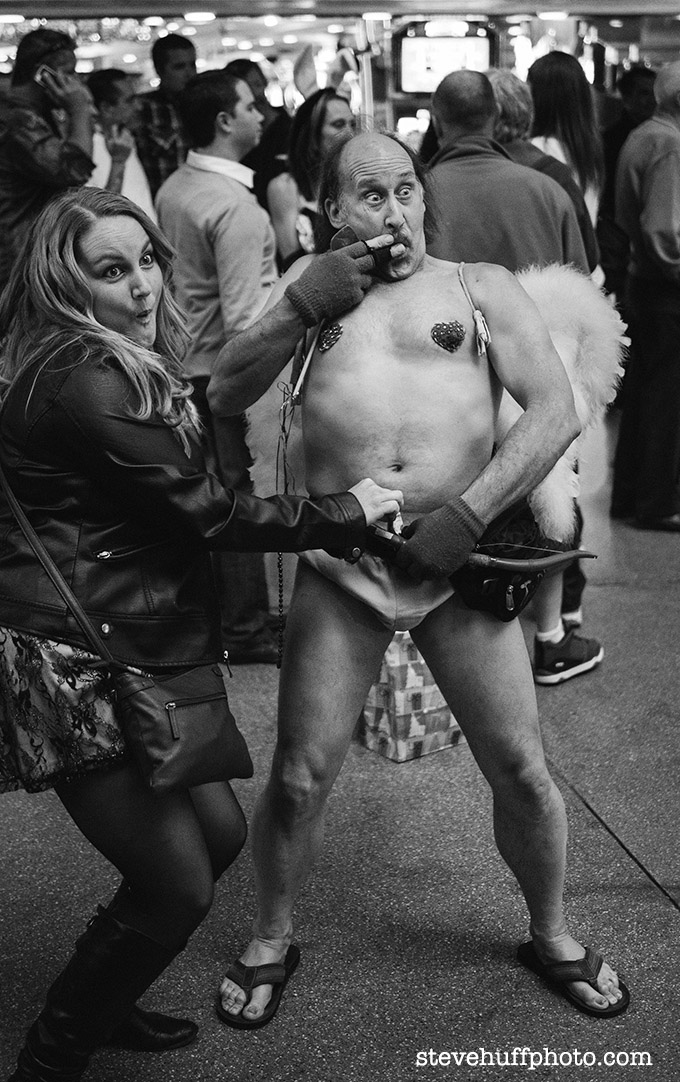 –
The last shot I took that night  – the crowd and a dancer in the background who dances on a bar to attract people to buy some alcohol