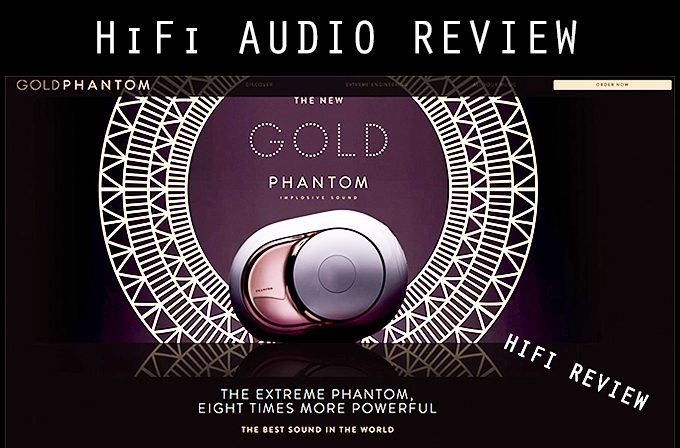 The Devialet Phantom GOLD Speakers. Full Stereo Pair Review.
By Steve Huff
ATTN: This is an Audio HiFi review. We all love music, and I have been into HiFi since my early 20's. Well over 20 years now. I have had systems ranging from a few hundred dollars to tens of thousands of dollars when I hit my Audio Life peak after years…decades.. of upgrading my system through my dealers where they allow you to trade in your gear year after year while getting full value for it if you upgrade to something that costs quite a bit more.  It has been a life journey as I love music just as much as I love cameras. 😉
Some of my other Audio reviews can be seen on my HiFi page HERE.
If you love music, and want to read about some of the best speakers I have ever owned or heard in life up to $50k (while coming in at under $6,000) then read on, as this may interest anyone with a taste for uber high end audio while not paying those uber $20-$50k uber high end prices. As I said in my Silver Phantom review, I feel that THIS IS the future of HiFi and after having these Gold Phantoms on hand now I can say that with an even stronger conviction.
Each Phantom Gold Speaker contains the amps and the DAC and all you need to start enjoying music like you have never heard it before. 4500 WATTS of refined distortion free power in each speaker. Zero noise, with the lowest and most powerful bass I have heard from any stand alone speaker ever. QUALITY bass here in the Golds.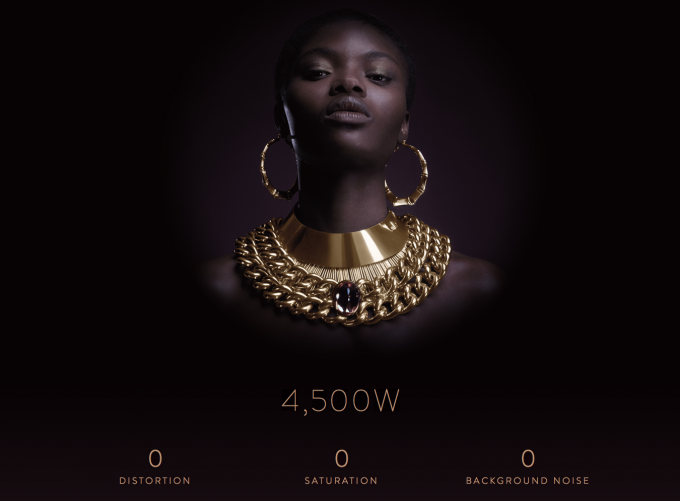 Its been just a few short months since I reviewed the Phantom Silver (Stereo Pair) and you can see that review here. I was blown away by these little alien egg-shaped wonders that pumped out 3000 watts per speaker, with thunderous bass that went deeper than any speaker I have ever experienced up to $45k. Yes, $45k. Those little Silvers come in at under $5000 a pair, and for that kind of money there is nothing that comes close to them (as a stereo set) and what they offer. Period. If you think they do, think again.
I have extensive experience with HIFi and systems ranging from $100 to $45,000 speakers. I have had $200 amps and $15,000 amps. I have had high power solid state amps and low powered 3WPC tube SET amps. Today, I have a pair of Phantoms and a turntable, thats it. I have saved so much money on cables, amps, DAC's and all of those components that we (used to) have to add to our systems to make them just how we want. These Phantoms have saved me money, and I have no desire to ever go back to big separate components as the sound I get is NOW up there with the best I have ever had for a fraction of the cost and size. That in itself is amazing. I was able to bank a ton of cash into savings by selling my old big rig system and buying the Phantom Silvers. I have had no regrets, at all.
The Golds all set up in my room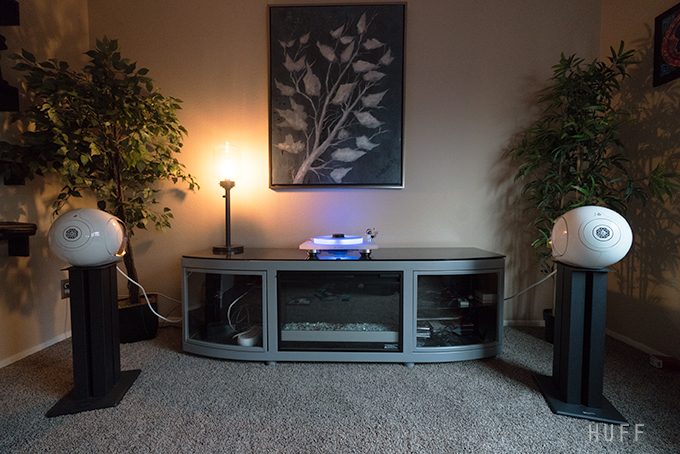 But ever since Devialet released the newest Phantom GOLD's, I knew I had to try them. I tried to get a review set from Devialet but no luck, so I did the next best thing… I bought a set from Amazon, and yep you do get a 30 day trial (devialet offers a 60 day trial direct) so I knew if they were not up to the hype I could return them.
The Gold's come in at 4500 watts per speaker and have an improved titanium tweeter and smoother more flowing mids as well as some improvements with their ADH technology itself. Devialet says the GOLD's are for the Audiophiles, and since I am an Audiophile I would be forever wondering about them unless I tried them out. I mean, I had to! 
The Silvers were and are amazing but if you are like me, and are used to that magical high-end sound that is only possible with true high-end systems then you will notice that the highs of the silver phantoms are a tad soft, and the bass is much more prevalent than any audiophile speaker you may have heard. They are very FAT sounding speakers those silver Phantoms. The Silvers are good for ALL music but perfect for dance, trance, dub and electronic music. If you like your high energy dance music, the Silvers are for you but they are not perfect for vocals and delicate music, or classical. While the silvers do all music very well, even rock and metal, I wondered if the Gold's would improve on vocals but lose out a bit with rock or dance music. That was a concern to me as I enjoy all music from bluegrass to rock to metal to pop to the old new wave 80's music. I listen to Enya, Frank Sinatra…Buddy Guy and all kinds of genres. Right now as I type I am listening to Depeche Mode but just before it was the Rolling Stones! Gotta love Spotify Connect which is compatible with the Gold's (not the silvers for some reason). It makes listening to ANY music as easy as a button press on your phone or tablet, all wireless using WiFi which each Phantom has built in to its shell. I also use an Analog turntable into my Phantoms, and its the best my Vinyl has sounded..ever. Really.
4500 WATTS per speaker, 108 DB, Low as 14hz. CRAZY!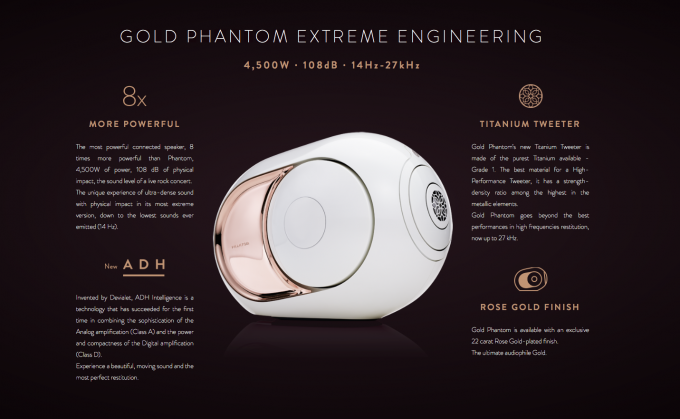 THE SET UP
After setting up the golds, going through the same awful updating process as the silvers where I had to connect one at a time to ethernet to update them (wireless never works, hoses up and errors out), it was well worth the wait. Since I remembered the laborious update process from my Silver experience (took me hours) this time it only took about an hour to get them unboxed and set up. Not bad. I set these up just as I would a $20k pair of speakers. I have a room where I have measured and placed my stands just right, for the perfect sound. Let's face it, when you get to this level the room makes a ton of difference, and when you are an audiophile, it becomes something you just automatically do as we are obsessed. As I said in my Silver review, I would not recommend just buying ONE of these. With one you have the worlds best and most expensive boombox. With two you have one of the best audio systems you can buy today for MUCH less than competing products. If I were high-end old school speaker and amp makers, I would be afraid. Very afraid.
On the stands. The ones I own are HERE at Amazon, and they do wonderfully. I HIGHLY recommend stands for a pair, not just sitting them on a table as this will also effect sound quality.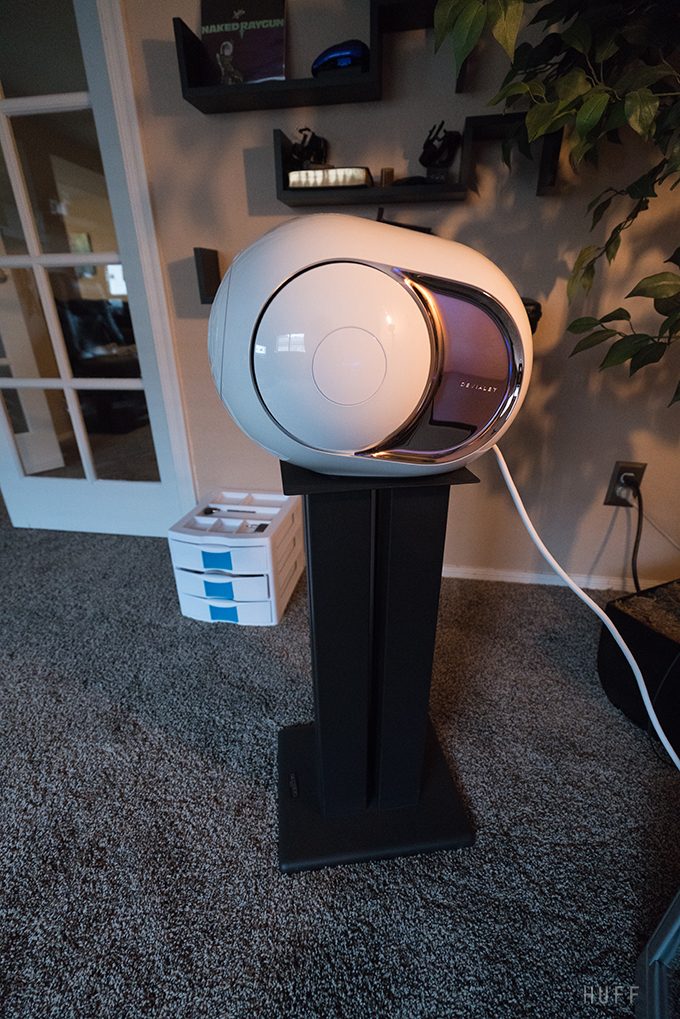 Right after set up (same location as the silvers) I heard a much larger soundstage, MUCH more air on the high end and more of the typical "magic" found in really high end speakers when compared to the silvers. I noticed a brighter more refined but smooth treble and mids were cleaner. I say "brighter" but it is never "bright" nor are they ever analytical. The bass was much different as well compared to the Silvers which surprised me, but in a good way. Where the silvers have that fat mid bass which warmed up the overall tonal balance, these seem to be tuned to deliver much less warmth and fullness in the mids, and the bass pops in when called upon. Much like when I was a kid, my 100WPC stereo I thought was the be all end all had a fat midbass that made any song "pleasing". But if you want "accurate" then "pleasing" is not going to cut it. Think of  the Silvers as "Pleasing" to any genre of music. Think of the Gold's as "Accurate" to the source.
These Gold's are very different sounding speakers over the Silver, and if you read otherwise somewhere online as I have, they were not set up correctly for that person. I have seen in some audio forums "they sound the same, I heard them in a shop"..well, they probably heard a single phantom, in a store, not set up correctly. As a stereo set these two are very very different. They are like opposites in many ways yet retain the same signature.
ALL YOUR MUSIC, ALL YOUR SOURCES.
Like I said in the Silver review and again earlier, these truly need to be set up in a pair to really know what they are capable of. These Gold Phantoms are up there with the top speakers I have ever heard or owned. They sound like a big full range audiophile speaker when set up as a pair, correctly and on solid stands.
In fact, as I sit in my listening chair I am in awe and shock at the same time. I expected them to sound slightly different from the silver but they are indeed filling my room with a very scarily clear and huge sound, but without that fat mid bass of the silver so the overall vibe is CLEAR as all get out with a huge room filling sound and some amazing imaging going on as well. As I take notes, I write down that many out there may actually prefer the Silvers depending on the music they listen to. But in comparison, to these ears, the Gold's are superior to those who have that audiophile ear. To 95% of the public, the White or Silver will fit the bill. For the perfectionist, only the Gold will satisfy, and damn, satisfy it does.
Forget about the extra 1500 watts of power in each speaker, that is not even really noticed besides in a small volume bump. It is the new titanium tweeter and whatever else they did inside that makes the difference. Using Spotify connect was simple, easy, fast and the sound was simply beautiful. I have never experienced the clarity, smoothness, air, soundstage width, bass performance, and the entire cohesive package as I am with these, from any speaker. Usually there is a compromise somewhere, but not here. Sure, I have had some amazing systems in my life, and some that cost 8X what these did. Are these as good as the best system I have owned? YES, and to be brutally honest, even better. The top to bottom performance with the Gold's is about as good as I have ever heard and while there are systems out there that can and do beat them, the value for the dollar goes to the phantoms without question.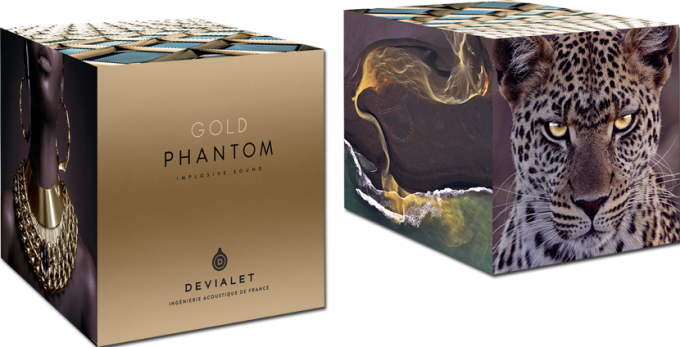 Set up a pair of these in a room, on stands (this is important), away from the back and side walls (Mine are 2 1/2 feet from my back wall, 2 feet from the sides) and place your listening chair in the sweet spot and be prepared to hear music like you probably have never heard. Devialet makes a wild claim with these…"THE BEST SOUND IN THE WORLD". Now that is as subjective as it can get but from this experienced audiophile, I will say they are 100% without question the best sound in the world under $20k. For $20k one would need to buy a reference DAC, AMP and SPEAKERS to come close and I am not so sure the $20k set would beat these. Mine in the past have not, so that says A LOT right there. Besides, most "reference" amps are $10k and up, most Reference speakers are $10k and up, and most Reference DACS also run into big big bucks. With these Gold's, around $6k for the speakers (pair), $300 for the Dialog which is NEEDED 100% (A must) to operate a pair and you are set. Sign up with a Tidal, Spotify or Deezer account and have just about any music at your fingertips. You can also add a source like a CD player, Streamer, or be an oddball like me and add a Vinyl rig. It's pretty cool.
Compared to the Silver,  I prefer the sound of these Gold's as it is more like the sound I remember from my past Focal Sopra #2's, just better. Yep, better and bigger. These may look odd, but the sound is out of this world and I suspect there truly may be Alien technology in these speakers. I just can not explain how they can do what they do.
Truth be told though, most audiophiles would NEVER admit these are serious speakers as many Audiophiles just can not believe that a set of these would even come close to their big buck systems. They do. I do not have the snob factor and I will admit when something cheaper is the way to go. I expect Devialet will keep developing these and soon we will have the "Phantom Diamond" at 6000 WATTS. Who knows, I just know that these Gold's are a far step from the Silver's with a more refined and cohesive sound. Much more air and soundstage width, and depth and height.
If you are not sure what that means let me explain…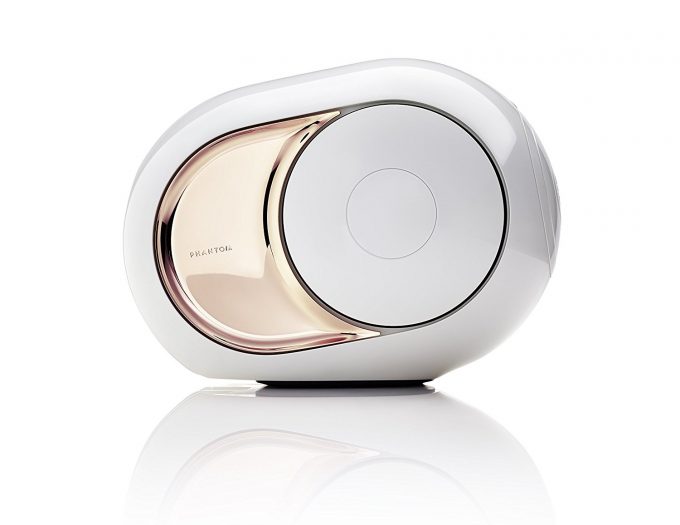 THE EXPERIENCE OF THE GOLDS
I turn down the lights in my listening room which doubles as my office. I sit in my sweet spot chair that was set up with the speakers during set up. I pull out my iPhone and bring up Spotify connect and search for my music. I decide to put on Enya's Christmas album "And Winter Came". I start with Journey of the Angels as it is a fave of mine and bam, instant goosebumps. It sounds like Enya is about two feet from me, dead center. I can not tell that her voice is coming from the left or right, it's right in the middle. It's real, it is palpable. It is haunting. As music is behind her, I hear it all over the room far beyond the speakers. The music is filling the room with sounds coming from the left, sides, above me, and overall when I close my eyes it is magical. Like I am transported to a private concert just for me. Her voice haunts me as every little detail is floating in space. WOW. Yep these Gold's are the real deal and it is very hard to comprehend and believe.
But remember, I set these up just right for this kind of experience. When I sat in my chair listening to the Silvers I also had some of that magic but all of that magic was reduced by about 35% and that extra 35% really opens these up, and open they are. They do not sound like "speakers" or a "box" they sound like music machines that deliver the music as the artist truly intended. I would bet that 98% of people have never heard music in this way simply because to get to this level of performance in the past one had to spend $20k and up. At $6k for the set this is unheard of and why I say manufacturers of standard HiFi should start  to get nervous about this French company who is really doing something no one else is or ever has done.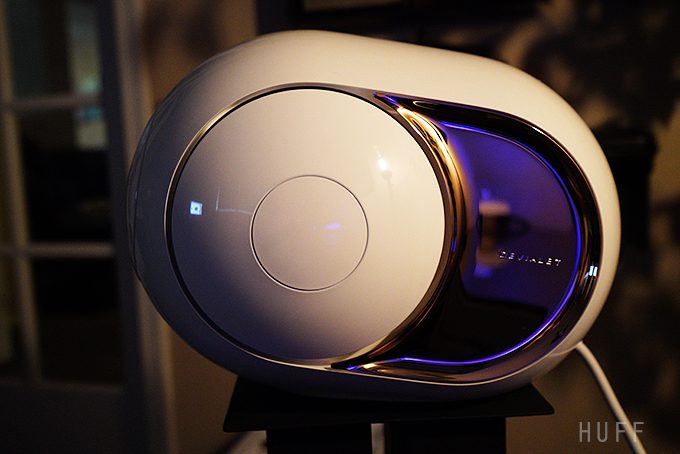 But what do  these Gold Phantoms excel at? Just how much different are they over the Silvers and are they worth the extra bucks over the White or Silver?
Well, when listening to something like Enya, the Golds are just head and shoulders above the Silvers. There is a realness to the voices and a clarity that is hard to describe. Never sterile or bright. On the opposite end of the spectrum, with a band like KISS for example and the Alive II album, the Golds sound a little bit thinner than the silver, but also much clearer and wider..more spacious. With rock and roll, I would recommend the Silvers as they have a huge bass impact and fill in the mids with a thumping driving beat. The Silvers would be a good mate to AC/DC 😉 The Gold's, playing the same album sound great but they are missing just a tad of that thumping driving beat due to the bass being less prevalent. I mean, the bass is there and more capable with the Gold's (and any other full range speaker I have owned) but the bass only comes in when the recording truly calls for it, just like a good Audiophile speaker. To the average Joe, this could lead to an illusion of sounding a little bit thin. To the Audiophile it is just as it should be and can be magical, amazing and therapeutic even. It is for me. If I ever get stressed, even a little I sit in my chair and listen for a while. I always feel much better afterwards. To me, music is part of my world, my life and I feel we can emotionally connect to it. It can be powerful.
If you are considering the Phantom line, you can go for White, Silver or Gold. Each one is a step up but the White and Silver are more similar than different as their sound signature is almost 100% the same. The Silvers just have more power and volume than the Whites. The Gold's are indeed, as Devialet says, for the Audiophile. Listening to classical on these is almost a religious experience due to the power and volume they can hit during peaks. They can shake you out of your chair and they do indeed shake my entire room. If you have something on the wall, and you jack these up to 80 watch out, you may knock it all down!
Weaknesses? 
The set up/update process, the Spark app..all could be improved greatly. Other than that, for the price..NO faults I can find. While I say the Silvers and Whites may do better with Dance, Electronic and Rock due to the more prevalent mid bass, these also sound phenomenal with those genres. It's like the best of both worlds.
My Marantz TT15. I added LED's under it  – Took me 2 minutes and cost me $10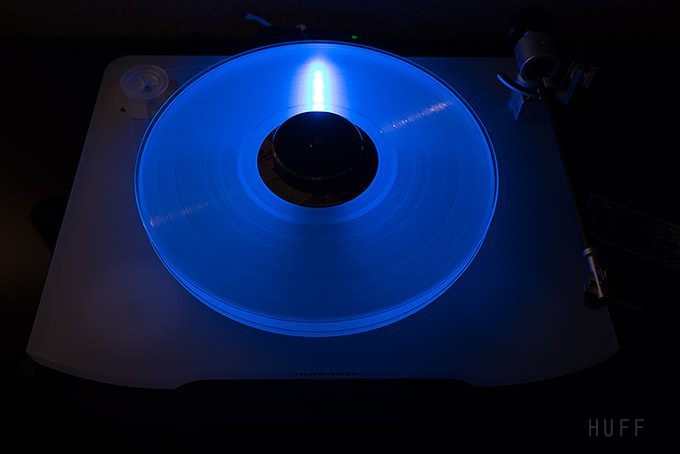 Vinyl?
I have my Marantz TT15 hooked up to my Phantoms as well. I use a Sonos connect with my analog out to a phono stage the Sonos, and the optical out of the Sonos to the Dialog (what you need to configure a pair of these). I then can wirelessly choose my Turntable as a source using the Sonos app and play my vinyl which has never sounded better. I use Spotify connect for my daily listening. Wireless, easy, no cables required at all. Uses WiFi.
With the Silvers I felt the bass in my seat, with the Golds I feel more of the music and experience. 
I SAVED A TON OF CASH!
I was able to sell my old McIntosh separates, my old speakers and my cables and put it in the bank. I had enough left over to take an exotic vacation every year for the next 5 years and I am as happy as can be, with no regrets. That's what I call bang for the buck and while these sound crazy expensive to  those who are not into high end HiFi, to those who are into it, these seem rather cheap 😉 Either way be ready for the heart bass implosion.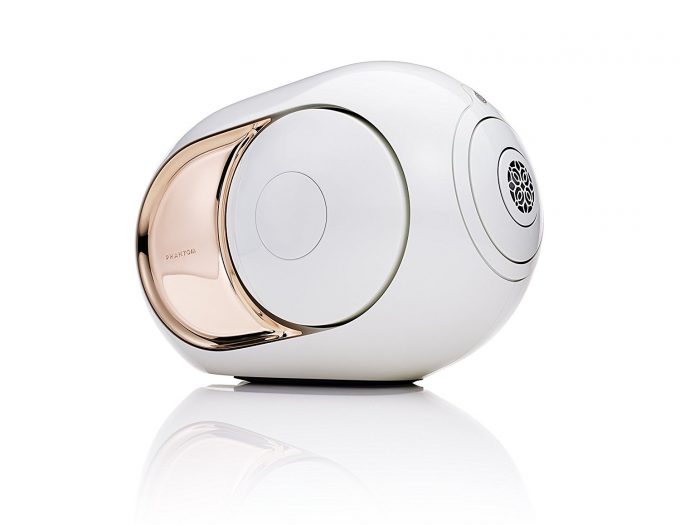 WHERE TO BUY?
I bought my Gold's from Amazon using Prime. They now sell the entire Phantom line:
Phantom Gold at Amazon (I recommend to buy these ONLY in a pair as a single would be waste in the Gold IMO) – 4500 WATTS – ROSE GOLD sides
Phantom Silver at Amazon (listen to lots of dance or rock? These are for you, but again buy in a pair) – 3000 WATTS – SILVER sides
Phantom White at Amazon (This is the only one I would recommend as a single speaker as a take anywhere solution) – 750 WATTS – White sides
NEEDED TO SET UP A PAIR, THE DIALOG. (not needed for a single phantom but mandatory for a pair)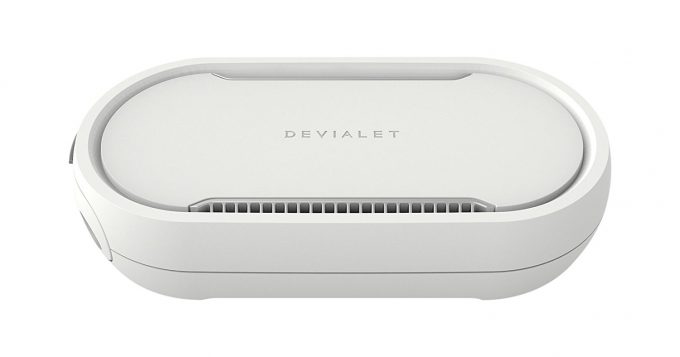 More EXTRAS that I recommend:
The ONLY Exotic Cable I Use is for my Turntable:
Audio quest Diamond Toslink for my Turnatble/Analog Setup. But no need to go that crazy 😉 Any GOOD Toslink will do but only get this if you want to add a CD player or source other than your wireless source. 
Phono Stage I use:
Speaker Stands I Recommend and USE:
More info…
You can add a CD player or any digital source to this system by plugging in a Toslink cable from your source to the dialog or one of the speakers itself. You can add a turntable as well, and I use a Sonos Connect by taking the analog out from my Turntable, into my Vincent PHO 700 Phono stage, then out to the Sonos Connect. Then I use the Optical Toslink out of the Sonos into the Dialog. Sounds gorgeous, rich and is the best my vinyl has sounded..ever.
UPDATE DECEMBER 13th 2016
Hey guys! It's been a little bit since writing this review and I wanted to give an update on what these have done for me the more I listen. These Gold Phantoms, to me, are the best speakers I have ever had in this room and this is saying a lot. I have had speakers ranging from $500-$50,000 in this room over the years and the absolute most satisfying speakers that I have had in here are these GOLD's. Truly, and for many reasons. What would those reasons be?
Size is small yet these sound like huge full range speakers. HIGH QUALITY full range.
These are just as much "Audiophile" quality, if not more than most of the speakers I have had in this room
They offer me the best most quality bass performance I have ever heard, from any speaker ever (not talking loudness or boom, but quality bass when called upon)
They have an amazing balance between treble, mids and bass offering stunningly and haunting vocals that sound so so real. Never had vocals sound this real or emotional.
The imaging is stunning.
The soundstage is blowing my mind. Matches my old benchmark, the Sonus Faber Guarneri Evolutions. But these sound better due to the improved treble and vocal performance. Bass is also much less boomy and thick. The balance, not sure how Devialet did this but its perfect for my ears.
No more expensive cables, power cords, dacs, amps, or source. I simply use my Marantz TT15 turnatble, a $500 phono stage, and Spotify connect using Spotify premium. Never has bringing up my favorite music been easier, never has it sounded better.
Usually there is some form of regret when buying high end expensive speakers. I had it with my Amati's, my Wilson Beneseche, and even my old Audio Research components. With the Gold's there is none of that as I feel I stole them for the price they sell for. When I was able to switch to these and bank $25k into savings while improving my sound and experience..I only regret that these were not available sooner.
No matter what music I play with these…50's through today, it all sounds fantastic. Reference recordings are MAGICAL but even bad recordings are pretty damn good. Seems like there may be magic fairy dust inside or something. Crazy.
THE DOWNSIDES, THERE ARE SOME
Not sure what it is but when an update is available for these, updating them is a chore that takes me an hour. The wireless update NEVER works for me, it freezes and hangs. So I have to remove my speakers from the stands, one at a time, set them on my floor ever so carefully, roll them over and plug in an ethernet cable from my router and update one at a time, hardwired. Then the system gets confused and thinks I have one phantom, and then it will not find the other. I go through a long process to get them both updated so when I see an update I sigh and frown. NOW, this does not happen for everyone, and I am not sure why it is happening for me. Same with the Silvers I had before. I even tried a different modem and router, same issue.
SPARK APP, for me is unusable for anything. My tidal or deezer accounts will load in, but when I try to play there is silence. No sound. Garbage app. I use Spotify Connect now and love it. Works instantly every time.
The fact that these may end my audio review hobby as I cannot imagine getting rid of these to pay more for something else to downgrade. I can't imagine selling them to buy a $500 set of speakers either, and being very disappointed. I am now hooked on these.
SET UP! To get the performance out of these that is possible you must use a PAIR of them, and set them up on STANDS correctly. Set them up for your room size, find the sweet spot and bam. You will hear magic. But if you do not set them up or just set them on a table of shelf you will probably get maybe 35% of the performance out of them. These deserve the set up of $50k speakers. So if you buy a set and say "These don't sound like Steve described", be sure you set them up!
SOME MUSIC TO TEST YOUR NEW PHANTOM GOLDS
Bon Iver – 29 #Strafford APTS
Enya – Last time by Moonlight
BECK – Heart is a Drum
Henry Green – SLOW or Barcelona
Haunted Laundry – Cheated
Lord Huron – Ends of the Earth
Lana Del Rey – Once Upon A Dream
dne' – Asos Model Crush
Kaleo – Way Down We Go – STRIPPED. (Amazing Vocals here)
Dan Owen – Made to love you
ENIGMA – Amen
Bon Iver – Holocene
Jose Feliciano – From Moulin Rouge Soundtrack – ROXANNE (turn this one up and listen all the way to the end…may leave you breathless)
First Aid Kit – Emmylou
Tom Waits – ALICE
Leonard Cohen – Almost Like the Blues
Flor Morrisey – If you can't love this all goes away – Single Version