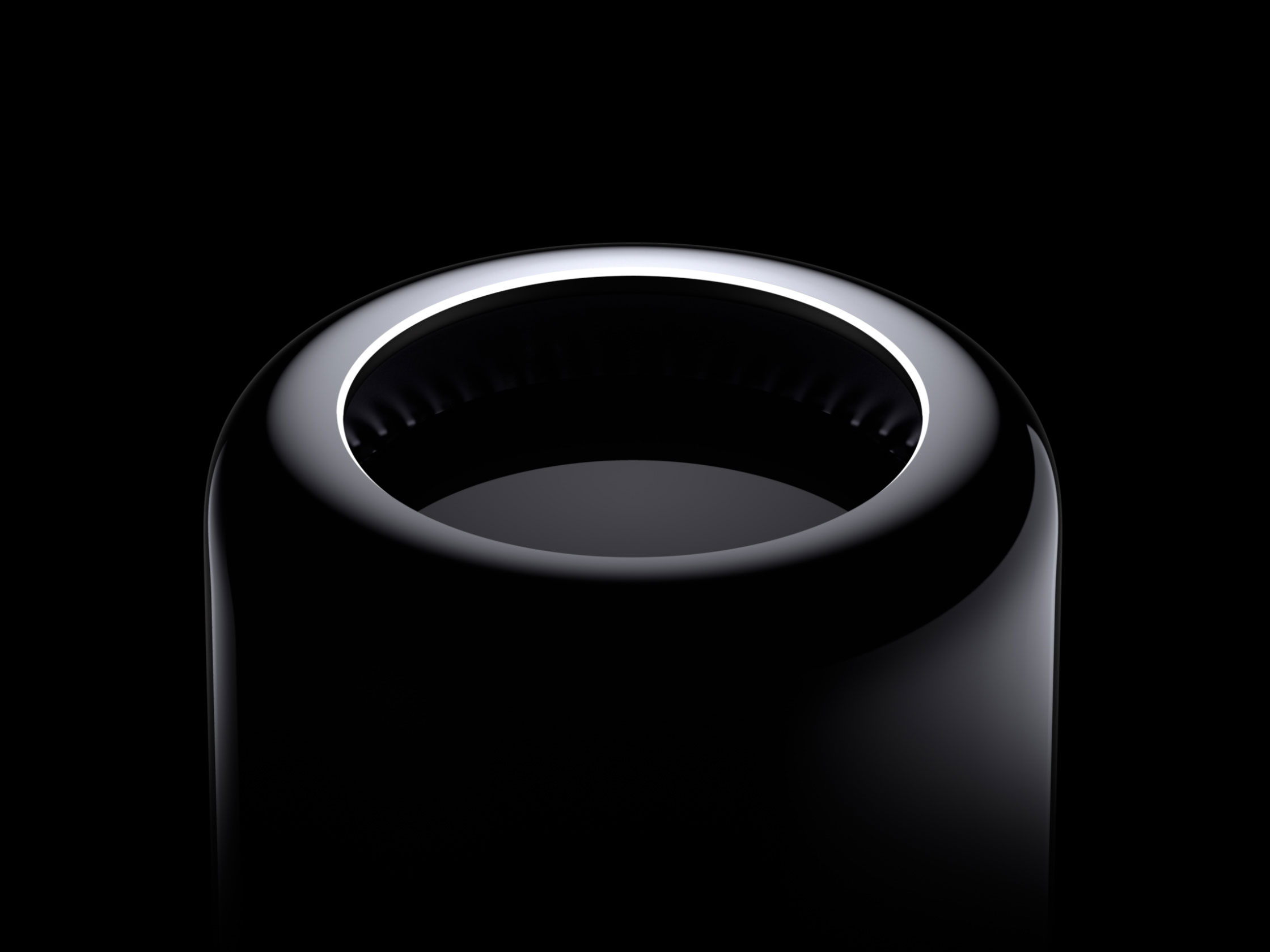 Why I just bought the aging base model 4 year old Mac Pro as my new Desktop Computer in 2017
By Steve Huff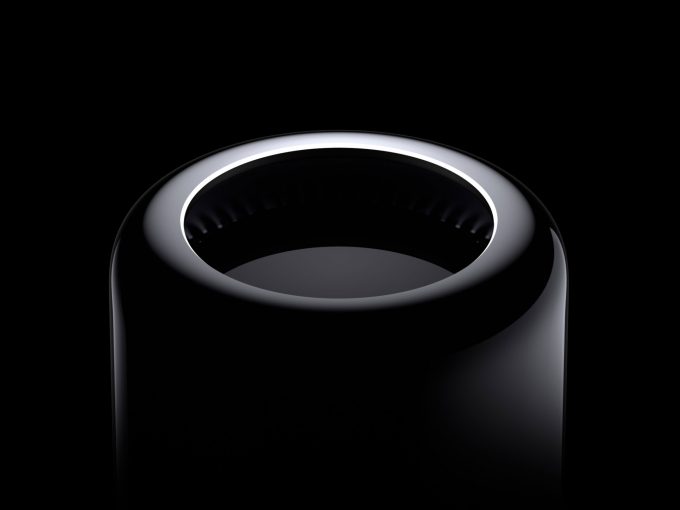 In 2013 when Apple announced their new Mac Pro with the option of 4-12 cores with a design that looked like it came from a crazy futuristic sci-fi-fi movie I was one of those who LOVED the concept and idea, for many reasons.
One, The size on my desk would be perfect. No huge monstrosity like the old Mac Pro, no loud fans like the old Mac Pro, and it would be fast, VERY fast according to Apple, just due to the way it was built and configured. Up to 64GB of Fast ECC ram, the ability to run three 5k displays or even six of Apple's then Thunderbolt Display (R.I.P.) due to having six Thunderbolt 2 ports. No noise, no heat, pro server level Xeon processors, upgradable ram, and even user upgradeable CPU. Even the base level quad core had dual GPU's. I loved everything about it except the price. $3000 for a quad core with 12 GB of Ram? Huh? A 256 PCIe flash storage…256 GB? Yep. Even with some of the wimpy specs when compared to a PC, I was hooked. Only issue was I had just bought a brand new iMac to replace my previous 3 1/2 year old iMac that had fried.
I have been an iMac guy for most of my work for many man years, going back to the bubble "snow" model. But I always wanted a more powerhouse Mac, even though I did own an old G4 pro back in the day.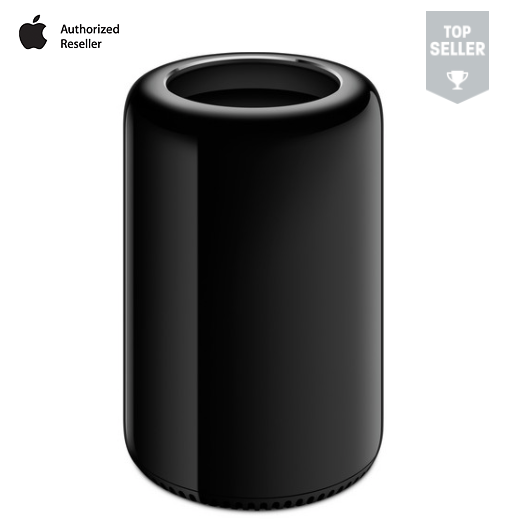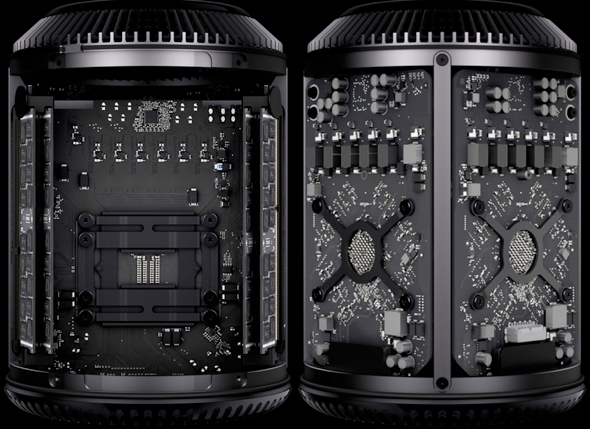 But this new futuristic sleek Mac Pro has been calling my name for 4 years now. I even did a review video of one when it was launched with one that was loaned to me. I almost bought that one but just could not justify it after buying a new iMac! So now here I am, four years after my new iMac and it bit the dust just as all of the others before it did. This time the stand snapped while sitting on my desk and it only faces down but this was after my display started fading and looking off and odd with degradation, and my hard drive, the 3TB fusion drive has been acting funky as well. The thing was crashing, overheating and then I remembered…hey, all of my iMacs did this after 3-4 years, so every time I buy a new one I buy a close to maxed out version, and therefore those iMacs have cost me a fortune over the long haul. All the while I have been being iMacs, a friend of mine has been happily using his OLD Mac Pro that is lasting him much longer than my last 2 1/2 iMacs have, combined.
So this time, instead of going for the new 5K iMac, that is blazing fast and has a gorgeous display I decided to take a look at the old, aging Mac Pro that Apple has not updated, ever. By todays standards one would think I went mad to buy a new "old" Mac Pro. Now I do not need 12 cores or even 8 of them. My main use is Final Cut Pro which I use 3-4 X per week, and Photoshop. Those are my two most used pieces of software, and I use them  almost all day long during the week. Usually if I had a Final Cut Pro project longer than 15 minutes on my iMac I would get crash after crash, even losing two projects this year after editing for 4-6 hours. It's an iMac thing. They get hot under load and stress, and for power users I feel the shortens their life. They may have "Pro" specs but they are not pro. They may be faster than the old Mac Pro but they are not designed to LAST. That was my dilemma yet again… spend $4k on a loaded iMac 5K and get ready to buy another in 3-4 years..or go with a slower  old base model Mac Pro, the four core that I could get for $2799 or so dollars. 
Yep, It's slower than even my 4 year old iMac with a Geekbench test, but hey…I want something I can upgrade a little bit later and something that runs cool, is quiet and that I can attach my blazing fast Thunderbolt 2 10TB external drive to. If it takes me an hour longer to render a 45 minute movie, then so be it. What matters to me is performance while I am working, not while waiting.
But yea, my old iMac is slightly faster than my "NEW" Mac Pro Quad Core base. Crazy. See below…but also know numbers, just like with cameras, do not tell the whole story with real world use.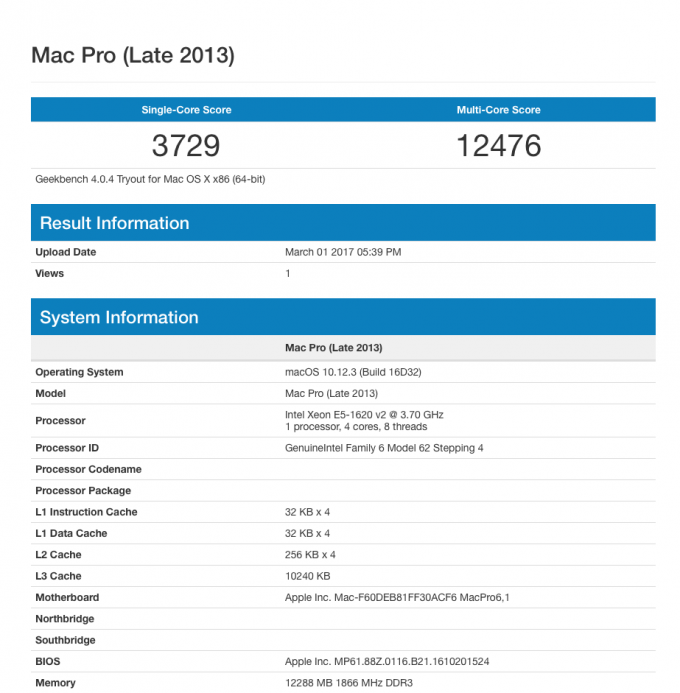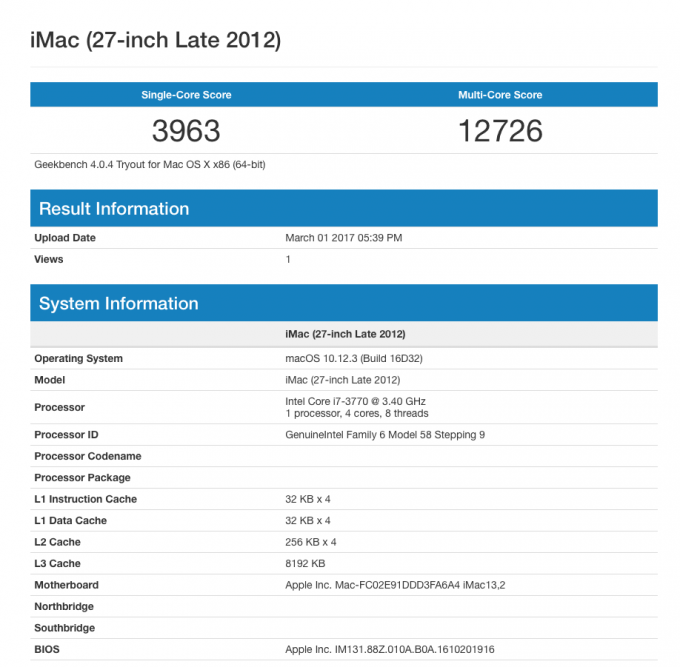 SO I MADE THE DECISION. I bought a Mac Pro, BASE. Quad Core, 12 GB Ram (My iMac had 32GB) and with a measly 256 PCIe drive. When I hooked it all up to a LG Ultrawide flat display I said "WHAT HAVE I DONE"!!!??? I was 2nd guessing myself again…I mean, I paid out around $4k after buying a new magic keyboard and magic mouse and the display, then Apple Care. I could have had a smoking fast iMac with 5K for that.
Then I calmed down and reminded myself than all of my old iMacs burnt out due to my heavy editing use..getting hot..and the displays degraded and looked shoddy. Ok, all was good.
It took me a day or two to get it all set up, and finally last night I tested the latest newest version of Final Cut Pro (10.3.2) (which is the best version I have ever used) and I have been using it since its inception. I imported a 10 minute clip in only 1080P (no 4k Video for me just yet), threw on 12 filters, added titles and there was virtually no lag, no slowdown..even with my 12MB of ECC ram! My iMac would get sloppy and slow down, jitter and stutter with 2-3 filters using 32GB of ram. Hmmm.
Using Final Cut on this display was amazing even though it is not a 4K display. The width of it was just so much nicer for FCP to me. BTW, this is my display.  It has a Thunderbolt port which makes it easy for the Mac Pro to connect, and with the Thunderbolt displays disappearing I figured I would snag one up at least to test (I have 15 days to return if I do not like the ultra wide or want 4K). Any recommendations? What displays do YOU like today?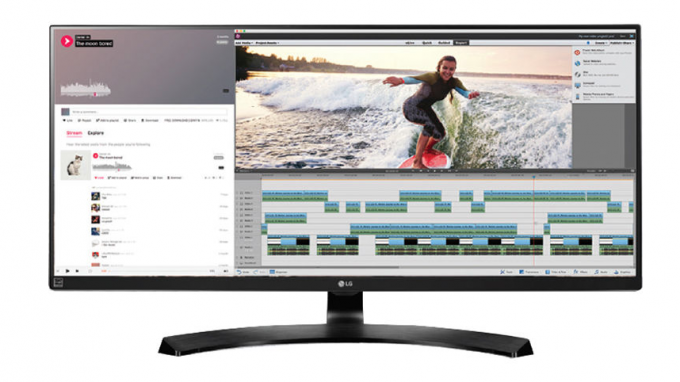 While I love the wide screen of FCP it is not the best for normal day to day use, and I have also seen better displays for color that cost less (BenQ), so I am not 100% sure I am keeping this one just yet but so far, so good.
Anyway, in FCP my project was running smooth as silk, and I had no slowdown, and I was not even using the Mac Pro drive, it was all being done on my External Thunderbolt drive which is truly blazing fast when hooked to this Mac Pro.
Internal SSD drive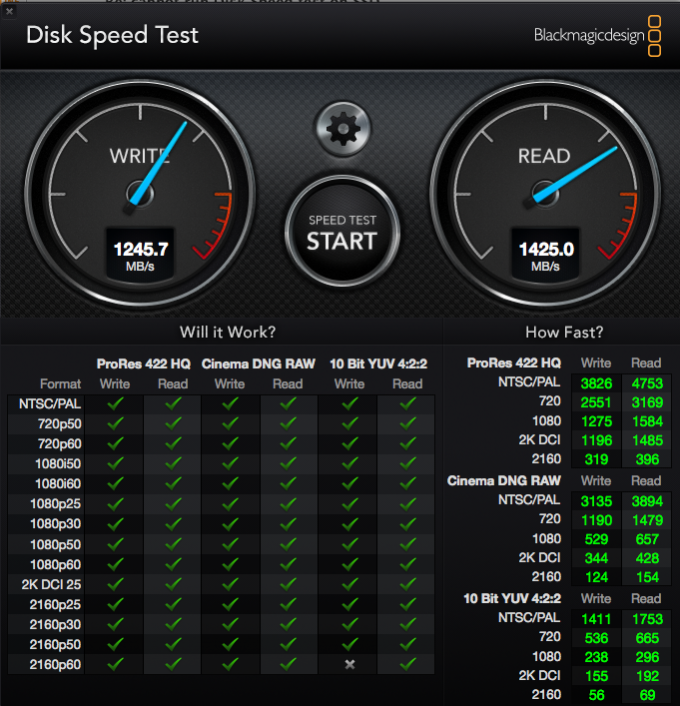 –
Disk Speed test om my 4 year old Thunderbolt 10TB External…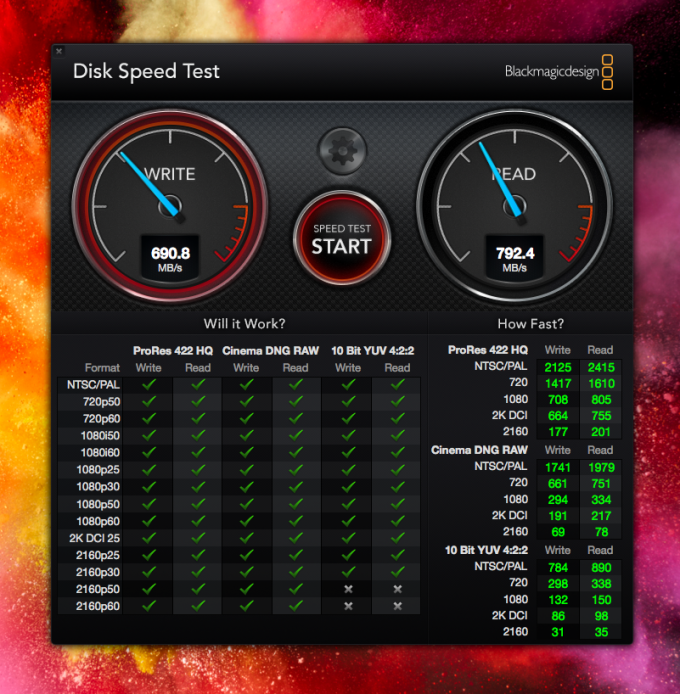 So I was happy. Then I went to export the file, to a simple 1080P and even a 720P H264 encoded file, something I could upload to YouTube. THIS was taking 3-4X longer than what my iMac was doing but that has to do with advancements in processor tech since this Mac Pro, and the Xeon processors can not use this. So this is the one weakness here for FCP users. Export to an H264 video file and you will WAIT much longer than even on a 4 year old iMac.
But this I am ok with as when I am done with a long project, I can let it export/render and I can go to bed with no fear of my Mac Pro overheating or causing havoc or having the fans go into high gear (the Mac Pro stays silent, always).
So overall, how do I feel after spending $4,000 on a four year old computer? I feel OK. I mean, I wish Apple would have updated this 2 years ago with more of everything. The base should not be the 4 core but the 6 core. It should also have at least a 512GB drive inside and at least 16 GB of ram (I mean what is up with this 12 GB thing)?
But even so, it is running quiet, smooth, and fast where it matters the most. No stutter, no issues (I even had FCP issues with my iMac when it was new, with stuttering slow down and the beach ball of death) and I plan on upgrading my RAM to 64GB within a few weeks, which will cost me much less than buying it from apple up front. IN a perfect world I'd love a 6 core, 1TB drive, 64GB of ram and the D700 video cards but I am not doing anything insane, so I feel this one will be perfect for me. Now…I just hope it lasts me more than 4 years. I am hoping for at least 6 which if it can, then it would have already saved me money over an iMac.
So buying four year old tech is not always a bad idea. It is not always about the flash and balls of a new system but as I mature I realize it is more about the longevity and performance where you need it the most. For me, this old aging 4 year old Mac Pro design fit that bill as for me, Windows and PC will never be an option. Been down that road a few times, always with disaster. While I am aware I could have purchased a KILLER PC for half the cost it is just not gonna happen. I am stuck with FCP, and the Mac ecosystem, by choice. ; ) Besides, I am not looking for all out POWER, instead I want stability, I want silence, I want no heat and I want something that will not burn out in 3-4 years from use (like the iMacs do). Kind of like using a Leica. You can get much more powerful cameras that are faster and with higher spec for much less, but a Leica offers you a different experience, and for many a much more enjoyable and beautiful one. To me, having a computer that you do not have to keep updating with drivers, or rebooting from crashes or dealing with viruses (yes I am aware Mac has viruses but in 20 years I have never had one on any Mac I own, ever)  and having one that is silent as a mouse and runs as cool as can be while letting you do your job smoothly and efficiently, well thats all I ask for and thats what I got right here in the stock bare bones Mac Pro 😉
But with that I do hope Apple upgrades this soon, and it is probably guaranteed now than I bought this one. Always happens. But if they upgraded this with the latest hardware and kept the prices the same, it would be a crazy system, at least IMO. But for my use, and the fact that I am tired of replacing iMacs every 3-4 years..and I needed an upgrade NOW, this was my best choice within the MAC family. I also toyed with the idea of a maxed out $4k MacBook Pro but I go through those every three years as well so no go. But damn, Mac's are expensive when you want power. $4k MacBook Pro, $4k iMacs… and a $3k desktop with four year old tech. Crazy.
The Mac Pro can be found in almost ANY configuration at B&H Photo HERE. They even have one close to $10k, maxed out. Ouch! 
As for anyone out there using a Mac Pro, do you still like it and what would be a display recommendation for today, 2017? Leave a comment below! Thank you all!