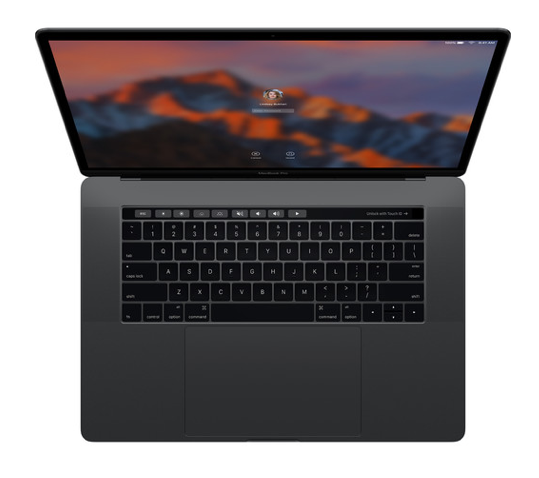 The Cyber Monday deal I could not resist.
By Steve Huff
Having owned my MacBook Pro now for nearly 5 years, it is seriously time for an upgrade. I travel 5-8 times per year and always need my laptop with me for work. The model I have now is old, starting to lag and I am just about out of space on my SSD. Sure, I can upgrade it but what I really want and have been wanting is the new MacBook Pro's with the Touchbar. I passed on them when they were released as at the time, the cost was a bit high for me to just buy a new laptop as I recently, in 2017 bought a Mac Pro. THAT was the best decision I made in a long time as I LOVE it to death, and it has been perfect. Silent, no issues, fast as I need and my video editing workhorse.
But for travel, I knew I had to spend money soon on a new MacBook Pro. Yes, I am a Mac guy and nothing will EVER change that. So to those thinking "Buy a PC", no, not for me. I have tried many PC's and for what I do, what I need, they just always seem to give me more issues than I care to deal with. So I am a Mac guy 100%. Apple TV, iPhone, Mac Pro, iMac, MacBook Pro, and it goes on and on. When I saw B&H Photo's MacBook Pro sale, on a late 2016 Touch Bar model (has it been that long already)? I had to jump.
You can see all of the deals on APPLE at B&H at this link HERE. 
But the one that got me was this one,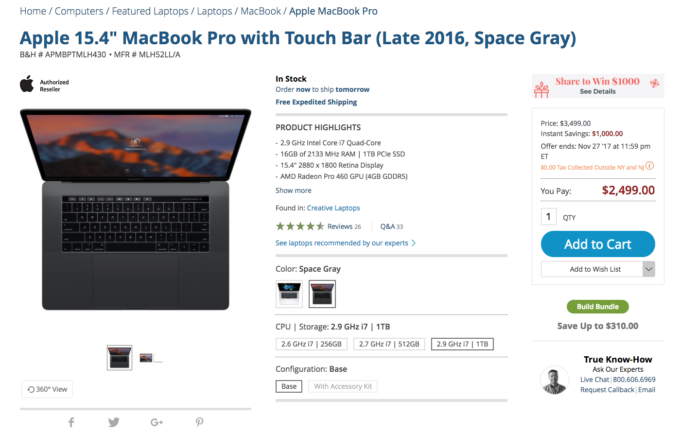 $1000 off, 1TB SSD drive, Radio 460, Touch Bar, 15″ model, Space Gray, 2.9 I7…but the $1000 off is what got me. That's a hefty savings and for travel and work, in a laptop I always try to buy something that will last me for a few years, 4-5 at least. This is a great deal on a wonderful MacBook Pro that many spent $1000 more on just months ago. There is a new 2017 version on sale as well HERE but same processor, smaller SSD drive and an updated graphics card. For the $$, I'll take the larger SSD.
So there are deals to be had on this Cyber Monday and this apple deal expires on 11/27, TODAY,at MIDNiGHT.