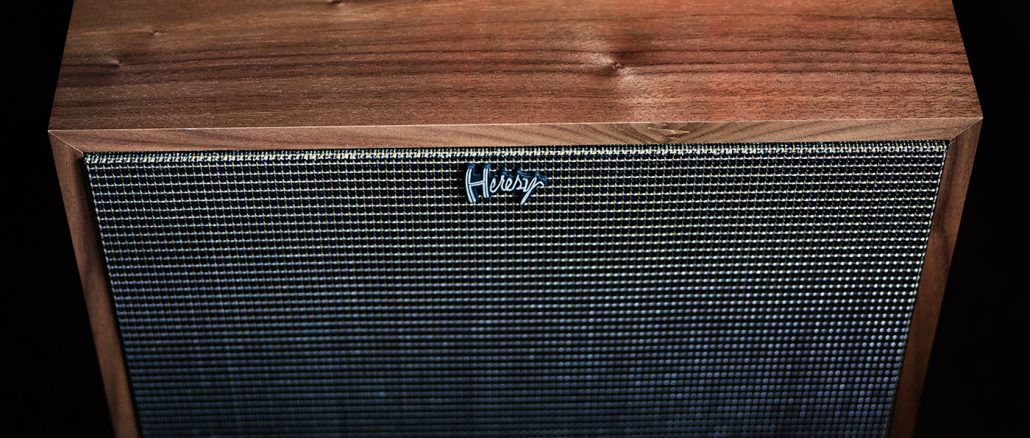 Klipsch Heresy IV Review. Klipsch steps into the Audiophile Realm.
By Steve Huff
The Heresy IV – Rebirth of a Legend.
My video look at the Klipsch Heresy IV Speakers. Yes I know I say "Heresy" wrong just as I did in my III review. : )
–
Note: This review was done after approximately 72 hours of burn in, and listening to hundreds of songs on the speakers over many many hours of late night and morning listening sessions. Enjoy. 
It seems like just yesterday I was sitting in my listening room writing a review of the Klipsch Heresy III. In fact. if you want to see me rave like a raving lunatic about those, see that review HERE.
Better yet, stick around and read this one as the new Heresy IV's have been in my listening room and they are bring some very nice improvements over the III in just about EVERY WAY. In fact, as I listen to these version IV Heresy speakers I keep thinking to myself that Klipsch has now entered the Audiophile realm as these speakers can sing with the best of them (in the $3-$7500k class of speakers).
I will say up front that not only are these gorgeous to look at (more on that later) but they sound like a very good $5000 Audiophile Speaker, and even best my Dynaudio Special 40's in 8 out of 10 ways which come in at the same retail price of $3000.
Yes, I see this as sort of a "Rebirth" for this legendary speaker and if you have even a passing interest in these, I think you will really want to read this review. You may thank me later ; )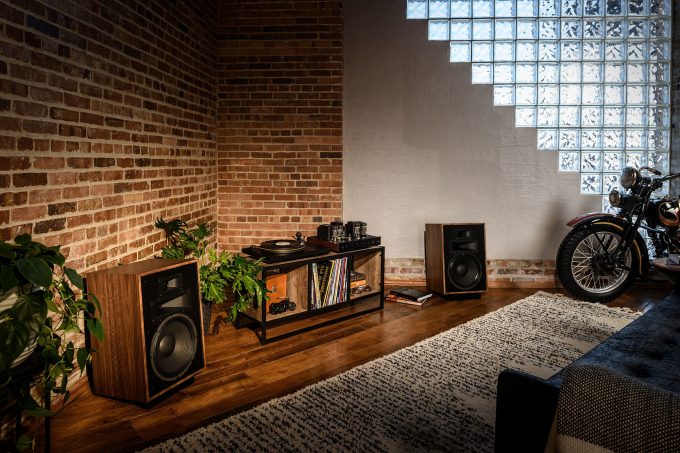 Features of the Heresy IV
All-new K-702 midrange compression driver, featuring a polyimide diaphragm, for exceptional detail (This does bring what seems like a more lifelike voice presentation)
K-702 midrange is mated to the K-704 Tractrix® horn for a wide coverage pattern (Soundstage is very wide with the IV)
K-107-TI titanium diaphragm high-frequency driver with an all-new wide dispersion phase plug for providing exceptionally even high-frequency dispersion (More HF details over the III)
All-new high fidelity network for truer to life sound, best-in-class efficiency, and power handling
For the first time, the Heresy IV features a rear port for the most efficient, fastest air transfer in their class, which reduces port noise for punchier low frequencies (Bass is fast and super tight)
Klipsch Tractrix ports have custom designed inner flares that help reduce air turbulence entering the port. Less turbulent air helps reduce port noise for cleaner, more powerful bass
Available in a high-quality Black Ash, Natural Cherry, Distressed Oak, or American Walnut wood veneer finish
Designed & assembled in the USA
Upgrades from Heresy III
Wide dispersion HF phase plug versus the old standard one
K-702 polyimide diaphragm compression driver offers better clarity and dynamics, and is larger than the outgoing K-53 titanium driver
Modified Tractrix horn with Mumps technology for a smoother response, and better coverage over the K-701 horn
Steep-slope network with internal AudioQuest wiring
Now with a port. The Tractrix port offers tighter and faster low frequencies
Cosmetic upgrades include a scripted logo badge, brushed aluminum input panel, salt-and-pepper grille cloth, and improved finishes.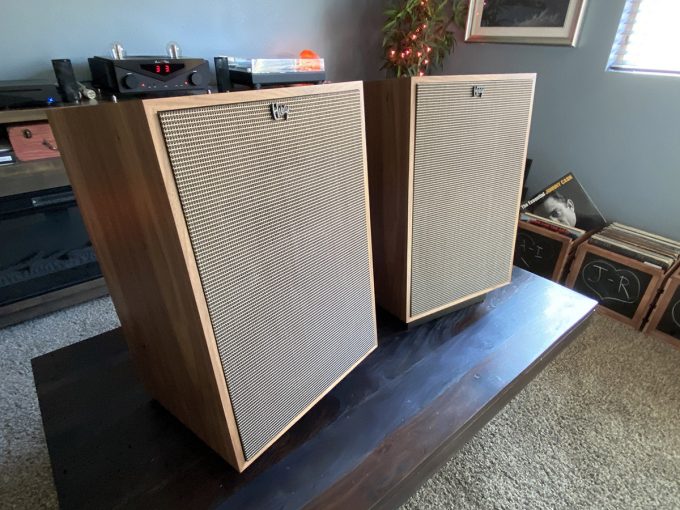 Frequency Response (+/- 4 dB): 48-20k +/-4dB
Sensitivity: 99dB @ 2.83V / 1m
Power Handling (Cont/Peak): 100W/400W
Maximum SPL: 116dB Continuous
Nominal Impedance: 8 ohms Compatible
Crossover Frequency:
   HF: 4500Hz
   MF: 850Hz
High Frequency Driver: K-107-TI 1″ (2.54cm) Titanium diaphragm compression driver
Midrange: K-702 1.75″ (4.45cm) polyimide diaphragm compression driver
Low Frequency Driver: K-28-E 12″ (30.48cm) Fiber-composite cone woofer
Enclosure Material: MDF
Inputs: Dual binding posts / bi-wire / bi-amp
Dimensions (HWD): 24.81″ x 15.5″ x 13.25″
Weight: 45 lbs.
This is like an all new speaker over the III and to those who cherish and own the III, I will do my best to describe what I like about the IV over the III. Remember, new versions do not always mean "better" but they almost always mean "different". Just because a speaker, amp or even camera is new will not mean it will be better for YOU and your situation. Even so, in this case, I feel the IV is a very nice and substantial improvement over the III as this is the first time I heard a Klipsch speaker that does all of the "Audiophile things" so well.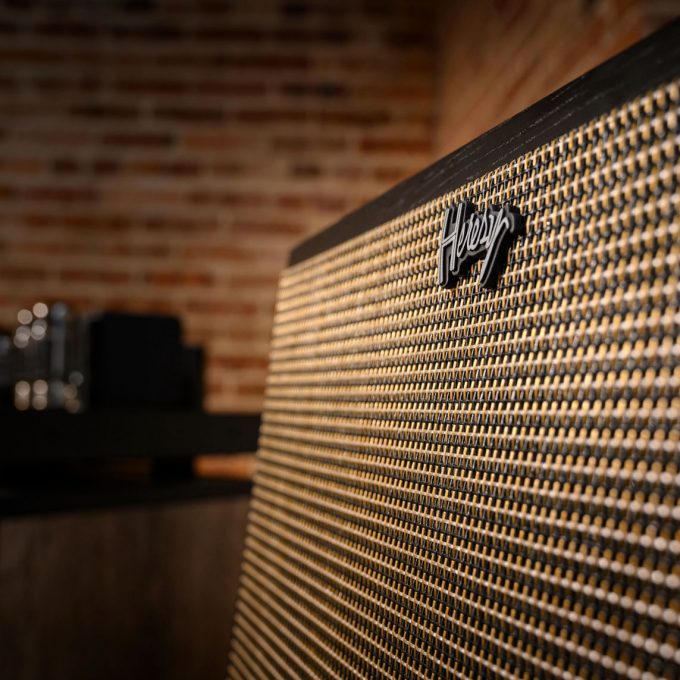 I was VERY surprised
Yes, my beloved Dynaudio Special 40's are facing some competition from these little Heresy IV's and I mean in imaging, in bass tightness and speed, in scale, in dynamics, in details, soundstage and even instrument separation. With Klipsch speakers there seems to be no constraints to the music. It just flows freely like the speaker cable is a vein for music and there are no clogs in that vein. Just free flowing lovely music that has life, vigor and energy. All Klipsch Heritage speakers have this quality from what I have heard over the years and the new Heresy IV continues on. It is a horn speaker after all!
It's no secret that these speakers are easy to drive. They are super sensitive at 99DB efficient and even low powered single ended tubes can be magical with speakers like this. I have been running them in with my Vinnie Rossi L2iSE Integrated which uses directly heated triodes in the pre amp. For me, that means 300B tubes and if you missed my review of the Rossi piece, see that here. It's the best integrated I have encountered in my lifetime, and bought one as soon as I demoed one as a (rest of my) lifetime investment. But let's get back to the Heresy IV…
So what is new with the version IV over the III (that I loved so much) that actually makes an improvement to the speaker? THAT is the question as I am not big on buying the latest and greatest because it is simply the newest, and supposed best. Klipsch made so many changes to these Heresy's here that I knew it could be like an all new experience listening to them and with the price jump to $3k per pair (from $2500 though you can get the III new right now for $1999) I was worried about their performance. Would it be worth the price hike?
First of all, the speakers are an inch taller and a bit less wide. They now have a bass port in the back for the first time in this speakers history and the new mid range horn delivers a much larger "voice" and that is what struck me the most when I first powered them up. I could not believe the realistic human voice that was even larger than what the III's put out in my room.
These IV's are even more real, more intense, closer, more tangible and defined with actual texture to voices in some recordings. With this newfound sound the old Version III's sound darker in comparison. Now, the III was never ever bright, shouty or fatiguing for me as I ran them with an all tube class A 24 WPC amp. That delivered a huge, warm leaning sound that was slightly lacking in lower bass but had a nice mid bass. For me, in the III, it lacked some of those upper register details and air. It offered a nice old school sound with some hints of audiophile traits but overall it was considered a great classic fun speaker that played great music with so much life and a live feel. The III's are awesome, make no mistake. They just do not have the LOW bass performance that many of us search for in a speaker.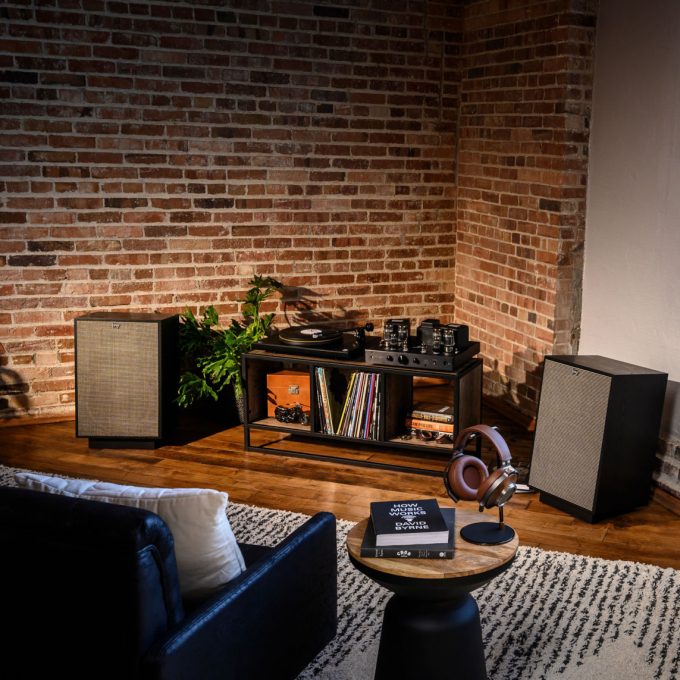 The Heresy IV sound…
The sound is much more detailed and expansive, and not in a harsh, cold or analytical way. Rather, more like a high end speaker would do, like my Special 40's. These Heresy IV's deliver more percieved detail than my Dynaudios in the treble dept and are not as silky smooth or warm but wow, they let me hear what I was missing with the Dynaudio's! The Dyn's are a very full sounding, warm leaning, rich sounding ethereal type of speaker when powered right and in the right room. They have "meat on the bones" and they are sort of like eating a warm stack of pancakes and pouring over some warm real maple syrup. The Heresy IV's on the other hand are like a bolt of lightning struck in your room and energized the speaker to pump out electrifying life and dynamics. This does not mean bright or harsh, it just means these speakers are more lively which is a good thing as it helps the music sound real, lifelike and ALIVE. Dynamics are amazing and these have Dynamics for days.
When I compared the 40's to my old Heresy III's the Dynaudios won in all areas but the Klipsh still had more life. With the IV, well, I believe they are wowing more than the Special 40's! That's huge as the 40's are my fave bookshelf speaker under $10,000.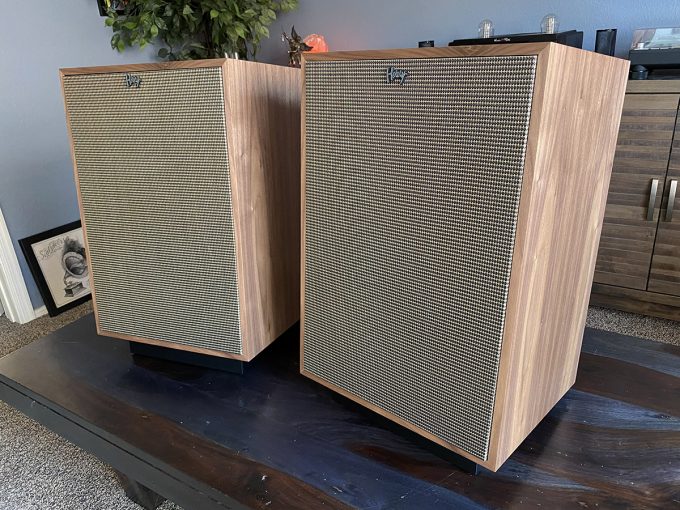 After 200 songs played now I am sitting here in disbelief as to what new Heresy IV was able to do here in my room.
The Heresy IV is like an all new speaker, improved in every way over the III. From looks with the new special grille that is salt and pepper to the new stand that is black and adds great contrast between the speaker and stand. The binding posts are now metal as well, which is a nice upgrade over the old plastic on the III. The speakers are made in the USA with real wood veneers that are book matched and these are gorgeous. These look, feel and sound like a higher end speaker than this little Heresy ever has been. Even the wood veneer is nicer than it was on my older III's.
The Beauty of these surpass the III IMO (at least the pair I had) and my fears about the sealed design vs ported were put to rest as soon as they started playing some music. Yea, the bass is improved but it is no where near what you may think it sounds like. It's not big, flabby, booming or even that noticeable! But it's there and you can tell these have more oomph than the old III's and do indeed go deeper. In fact, at times the bass vibrated my walls behind my couch yet never boomed or sounded loose. Always tight and fast. My Dynaudio's bass seems fuller but is also not nearly as fast or tight.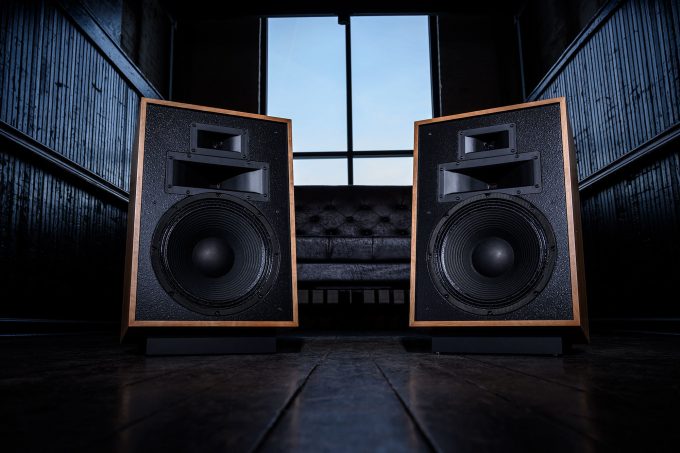 My System
To review these I have the gear below in my 12X13 room. 
Vinnie Rossi L2i SE Integrated Amp with L2 Dac (My review HERE)
Innuos Zen Mini MKIII streamer (Review SOON)
SwissCables Speaker and Interconnects (Review SOON)
Audioquest Diamond USB Cable (No review needed, its as good of quality as you are likely to get in a USB cable and any well made USB will sound great)
My first impressions of the IV
When I read the specs of the Heresy IV I was worried that they took it from a sealed design to a ported. Usually when we talk of a sealed speaker we think of tight tuneful bass. The previous generation III was sealed and its bass output was limited due to that. Many complained that the Heresy III was too anemic in the bass and most supplemented with a subwoofer. I never did as I found them to be nice in my small room. While they did not shake my foundation, they put out enough tight bass to keep me happy though the III did have a midrange kind of hump. No shouting or wonkiness but a bit of a tipped up midrange. The IV does away with this.
With the new port on the IV I am happy and ecstatic to say that Klipsch knew what they were doing here when they took this speaker from sealed to ported. Once set up about two feet from my back wall and about 1 1/2 from the sides these beat my Dynaudio Special 40's in bass, and the 40's almost mimic a full range speaker. Wether I am listening to digital or vinyl (these LOVE vinyl) the bass was just right for my room. Now, in a larger room you may want to try a sub. What I can say is that in my 12X13 small space they sound mesmerizing.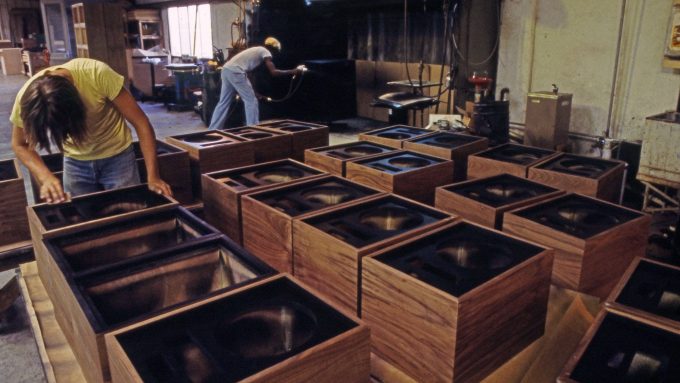 These speakers sound so damn clean I can not believe it. There is no horn wonk, no real mid range coloration (less than ever before it seems) and no softness, darkness nor anything flat at all about these speakers. The bass sounds a little more plentiful than the III and goes about 10hz deeper, in the 40's rather than the 50's. So yes, the bass performance on the new IV is astonishing when compared to the previous Heresy generations. It's quick as lightning too and can strike at any time with a huge thunder clap or even at lower volume with a deep drive that I can feel a bit in my listening chair when turned up to rock out. Oh and these speakers CAN ROCK.
I have the speakers toed in to the listening spot and these IV's offer a somewhat large sweet spot, unlike my Dynaudio's. With the Dyn's my spot I limited to the one sweet spot in the chair. Sit off axis with those and you lose the magic. Listening in the other room with the Dynaudios make them sound thin. If I am anywhere BUT THE SWEET spot with the special 40's they lose the magic. With the Heresy IV you can still hear some of their magic while listening a room away. They sound large, full, and have do the audiophile tricks such as air, imaging, trails, and all with a snap and drive that I never heard in a horn speaker.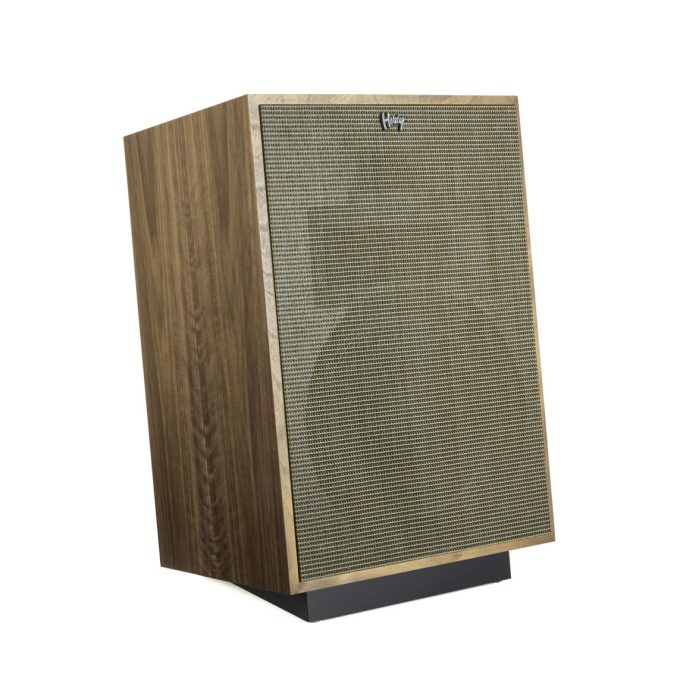 FORGET THE PAST! 
I thought the Heresy III was amazing, and blew past the myths associated with Klipsch from the past (in some audiophile circles they frown upon Klipsch). The III's are a tremendous value for someone looking for an easy to drive old school looking speaker that sounds huge and can rock with a LIVE sound. Those are some of the best $2k speakers around.
These new IV's just sound like an all new speaker and IMO propel Klipsch into real high end HiFi sound. Yes, the price has been increased from $2500 to $300o for a matched pair but when you hear them you will understand why this is. No, Klipsch does not use uber high end exotic parts as some crazy high dollar speakers do but I am telling you here right now that all that matters is the sound that reaches our ears. In our room. With our tastes and music.
The sound that is reaching these very trained and experienced ears is nothing short of wonderful. It sounds much more expensive, and looks much more expensive than $3000. While $3000 is a lot of money, I have heard speakers that cost $40,000 and not sound as alive, fresh and enjoyable as these Heresy IV's. Remember, it's not about how much something costs, it is about the performance. Yes, I own an integrated amp that retails for $26,000 but I bought it not because it was uber expensive but because of the performance that went above and beyond anything I have ever heard in an integrated. It can go each way and sometimes products that are lower cost can be tremendous deals as they perform well above their price point. The Heresy IV is one of those speakers in the HiFI realm that can do this.
Yes, you can get the Klipsch Heritage of the 70's, 80's, and 90's out of your head. The new Heresy IV is an all new animal. They truly sound like a true higher end audiophile speaker, but in all the good ways and none of the bad.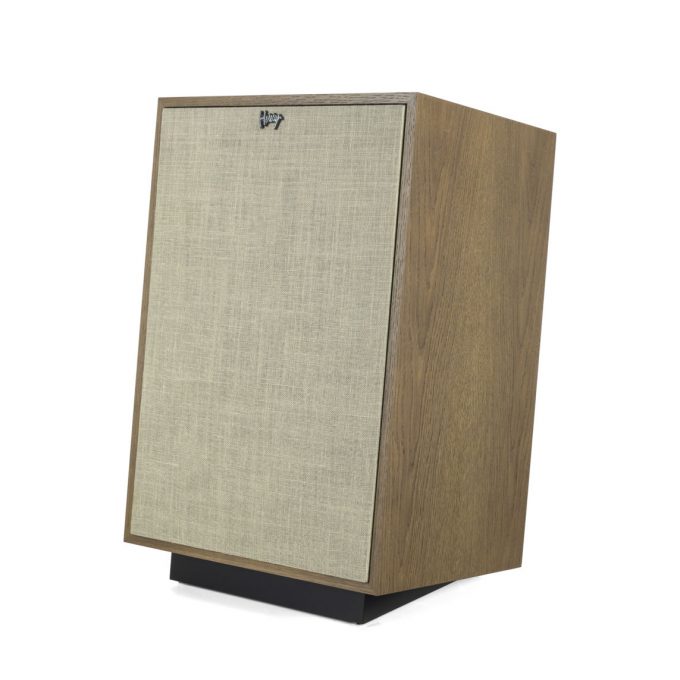 Soundstage? Air? 3D? Imaging? 
Now I am aware that my room and my gear is helping a lot here but these speakers do indeed beat my personal Dynaudio Special 40's I have here. The Dynaudios Special 40's are among my favorite bookshelf speakers under $10k. I adore them and bought them TWICE. But the reality is…
These Klipsch look better in my room and offer me a better sound in my room. Where the Special 40's beat the old Heresy III's in imaging and soundstage width and depth, these new IV's beat the Dynaudios in these areas.
How can this be?!??
I know many audiophiles who snark at Klipsch. They think they are not good enough for a higher end system. All I will say to them is that if they think that about this new Heresy IV, and do not listen to them in their own room, well, their loss!
The new version IV Heresy image just as well as a $10k speaker. The soundstage width is massive and paints a vivid, clear 3 Dimensional soundscape like an artist using his favorite brush. The sound is so cohesive, together and yet I can hear deep into the music all while I get a nice dose of solid, tight, clean rhythmic bass behind it all.
I am FLOORED. But with all of this praise thrown at these lovely speakers I will say that they do not sound like the usual speaker. These are indeed horn based speakers which is what makes them so easy to drive. It's what makes them sound so alive and very LIVE. It is what adds the presence, bite and also humanity to the sound. They sound real. Other speakers, let's say a $10k Sonus Faber, will sound totally different. Much more relaxed and "romantic"..or "lush". It will be harder to drive and therefore one will need to pump up that volume more to open it up. They will sound polished, and perfect and lush. Beautiful sound can emerge but over time, for some of us, it can get a tad boring..this mellow darker sound.
Klipsh sound is the opposite of boring.  The Heresy IV is more of an instrument that comes alive when you power your system up. This may or may not be to your liking as it can be quite striking hearing sounds shoot out with such energy and life. It's a shock to the system if you never heard these kinds of speakers before.
I will say it now. The Heresy IV is in my opinion, the best Heresy EVER MADE. I suspect this run will have a very long life. Being that I am one of the first to get a set, and review them, I now own them. They will stay with me for a long long time as they offer me more over the Dynaudios's I have here now. I will most likely keep those Special 40's as well because I love that speaker as well and can bring them back from time to time when I want a change of pace. I do have two systems in my home now anyway ; )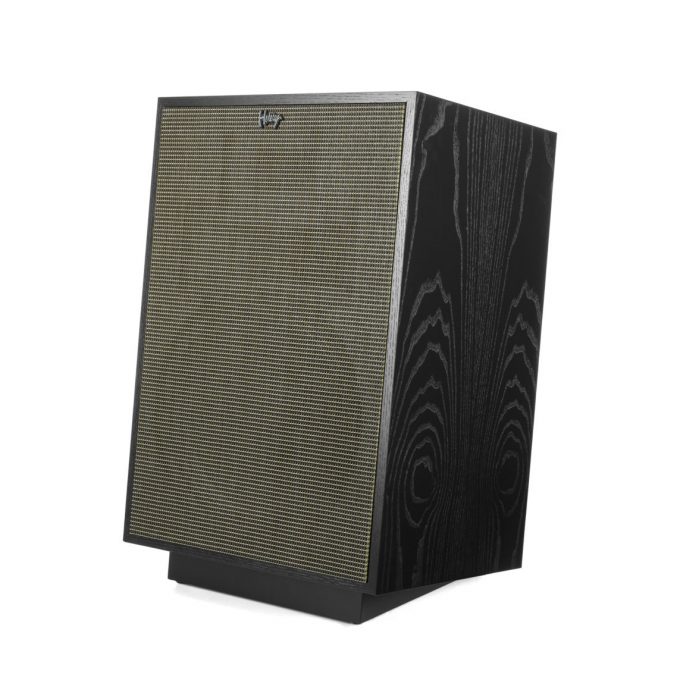 TRYING TO EXPLAIN THE SOUND of the IV
Compared to the III these just have upped the game in the imaging department. Again, they image like a $10k audiophile speaker. Gone is the slight stiffness or hardness some have mentioned with the III. They are very composed, never sloppy in any way. Super tight across the board without any boom or loose bass. In fact they still sound sealed, just with an extra jump in bass performance. No sub is needed at all in my small 12X13 room. None, zilch.
They are very transparent, which is not what I was used to with the Heresy III or Cornwall III.In fact the Cornwall III was very rich, warm, relaxed, fluid and I loved them for that but over time did wish for more bite in the treble and a tad more "alive" energy. I feel the IV will accomplish this (and those will be my next speaker review in March).
The tweeter used here is nothing exotic but it sounds fantastic. A big bold sound that balances the line between warm and brisk. A huge wall of 3 Dimensional sound is created and formed right in front of me as I listen to track after track. The upper midsized are not super fleshed out so it does still have a slight tipped up upper midrange but I fee this is part of the Klipsch sound, and part of the life these bring. I had my 23 year old son listen as he also has his own system with some Dynaudio speakers and a nice amp. He said these were the most impressive he has heard to date in this house. The Klipsch Heresy IV with my Vinnie Rossi L2iSE. Wow.
The IV's even make my old 80's records sound phenomenal. Best I have heard vinyl in a long while, since my Cornwall III's which were my all time fave speakers for Analog. I use a Technics 1210 GR with a Vinnie Rossi L2 phono stage and the great news is that the Heresy IV's also love analog. They impart a richness and offer up that beautiful big analog sound when playing good vinyl records.
These new IV's breath life into music. In the past I have heard many describe Klipsch as "fun". That was because they could play loud, play without sounding congested and they sounded LIVE, like real music rather than something trying to make the music perfect. With Klipsch Heritage we listen to the life of the music, not the analytical details of it. We move our feet instead of our brain overthinking every minute detail. Every time I have Klipsch Heritage in my home I love them and tell myself that I never would need more. This is true, I do not need more than this as they provide all the sound I love, crave and desire from a speaker. Being an audiophile and HiFi geek it is my curiosity that usually gets me to try new things and I always have loved underdogs. I feel these Heresy IV are an underdog that many pre judge without taking a serious look. Some think they are priced too high at $3000 and some feel that because of the $3000 price they are not good enough for their tastes. Crazy as these are some killer speakers that really bring so much to the table.
What I will say is what I feel from my heart. We do not need $10, 20 or 30K speakers when a $3000 speaker sounds THIS GOOD. These Heresy IV's can teach some other speakers a lesson in simplicity as well. While they use some audio quest wiring inside (and I can tell this as Audioquest has a house sound) these speakers are still similar to what they were when the HI was released oh so long ago in 1957.
While they have improved along the way, and in some big ways, they still look very much like a vintage old school speaker. That's a good thing as it takes me back to my teen years when speakers looked a lot like these do. I will say these look much nicer in my room than my Dynaudio's and my wife loves them as well.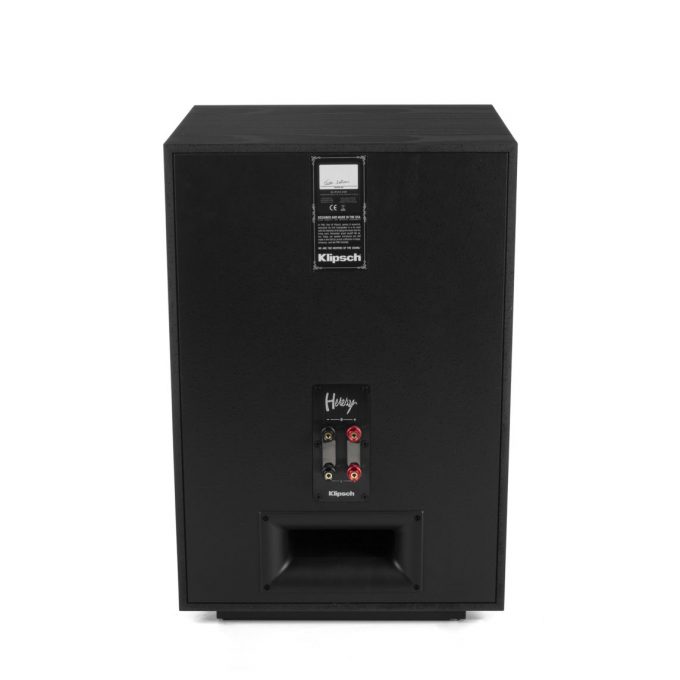 LISTENING NOTES
First Aid Kit – Vinyl. "Cedar Lane" from the album Stay Gold. I LOVE this album and feel it is a beautiful document of some of the most lovely songs crafted by this Swedish sister duo. Cedar Lane is one of my faves on this album, but maybe it is because I once lived near and walked on a "Cedar Lane" during an interesting time in my life. When I play this song through the Heresy IV's I am struck by the vocal purity. I have heard this song on so many systems. It sounds as good as it ever has right now with a full cohesive sound that is gentle, dynamic and sweet all at the same time. Sound fills the room and energizes it. It sucks me into the music and sounds full and rich. When playing the same track trough the Zen Mini MKIII, streaming from Tidal I get even more seductive sound as there is more silence in the background. This sounds so good and leaves me wanting for nothing really. I feel when I have the Cornwall IV here this will sound even better with an even larger and possibly more meatier sound. As is, it doesn't get any better for $3k in my honest opinion.
Frank Sinatra – Digital – "What's New"? from Only the Lonely (Stereo Remaster) – Streaming from Tidal as a 24 bit Flac file this vocal performance blew me away with the little Heresy IV's. Listening on a Sunday morning when the house was still quiet Frank's vocals came out front and center, bold and strong. The instruments were placed to the left and right while his voice, hauntingly realistic, croons out the lyrics as if Frank was about four feet in front of me. I hear texture in his voice. When I bring the Special 40's back in I lose some life, some presence and I also lose some size. They sound smaller (they are after all a bookshelf) and more constrained than the free flowing Klipsch. I have to stress there is nothing here that sticks out or is foul. No brightness, no shouting, no colored midrange, and bass is composed fast and tight.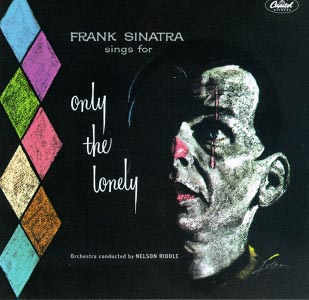 Tori Amos – Digital  – "Reindeer King" from the album "Native Invader"  – Tidal HiFi Flac file streaming at 24 bit 88hz. This track sounds heavenly on my Special 40's. So 3 dimensional and almost brings you into the space where Tori sings this ethereal song. With the Klipsch Heresy IV I get better bass as the weight of the Piano can be heard. The weight is missing from the Dynaudio's but it's here with the Klipsch. I think the 40's put out a more inviting 3D soundstage here with this track but the piano is so nice with the Klipsch. The scale is also nicer with the Klipsch as again, it just sounds more alive. I prefer this track on the Heresy IV but it's a different presentation over the Dynaudio. Tori's voice here is dead center as we hear her piano soaked in some sort of reverb that presents itself as being in space when listening. The Dynaudios are a tad more "airier" and smooth. The Klipsch brings her performance to the room as if she was here.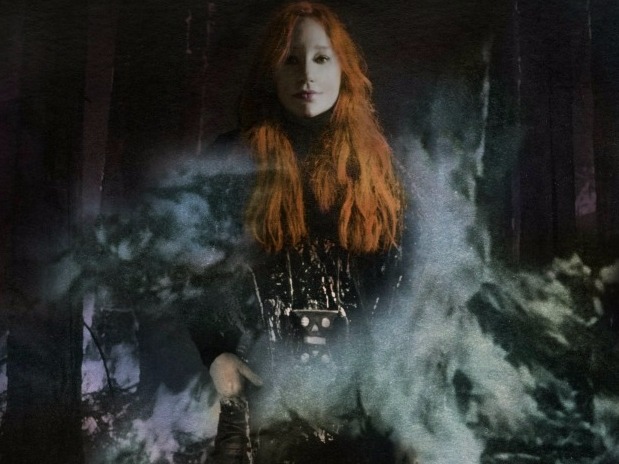 Flo Morrisey – Digital – "I only like his hat, not him" from Tomorrow will be Beautiful.  – Tidal FLAC 16 bit. This is a track I use to test a system for space, for vocals, for sweetness and for air/soundstage. I love the way the Heresy IV handles the bass here. It's there, but it's so clean that I can hear and imagine the performer plucking the strings. I never noticed it like this so I am very surprised. I will say the Special 40 here bright a more 3 dimensional sound but the Klipsch was maybe 94% there. These Heresy IV's can easily do the big wide soundstage thing as well as bring precise imaging and clarity. These sound less weighty than the special 40's here but more composed. The bass of the 40 is a tad more boomy and rich. The Klipsch presents this track in a gorgeous way and leaves me wanting for nothing more.
Fleetwood Mac – Digital – "Landslide" from Fleetwood Mac Deluxe Edition. – Tidal FLAC 24 bit. This may be one of the most wholesome and satisfying presentations of this song I have heard. Here is where I notice a cohesiveness about these speakers and they excel at it. Even though the 40's bring me more instrument separation here, the Heresy IV's bring those instruments to me in a more intimate way. They are more focused and up front vs the Special 40 that brings them back a little. I love hearing the acoustic guitar plucks to my left and right and Stevie's voice dead center with a bass line somewhere between the two floating in space. There is something that these speakers are doing here that I can't quite put my finger on but I like it. A lot. There is that texture again in the voice, which means I am hearing details in the voice. Amazing.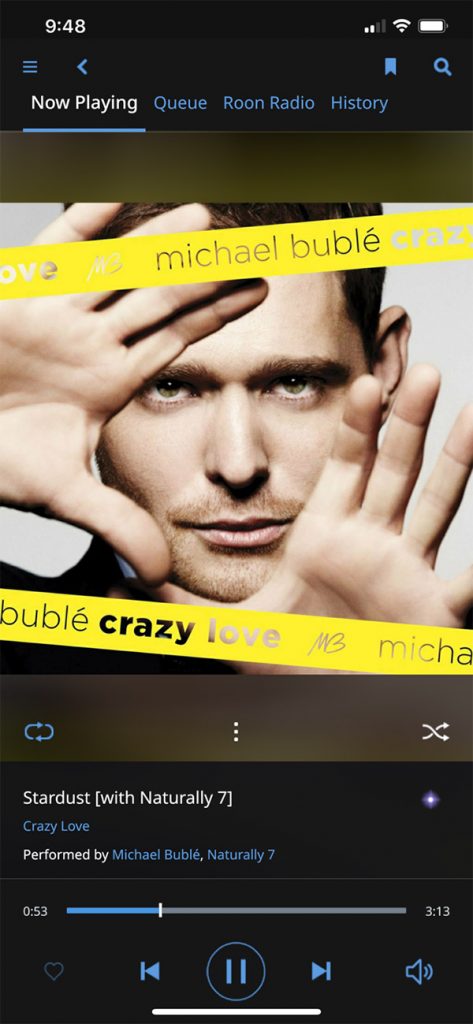 Michael Buble – "Stardust" from Crazy Love. Tidal FLAC. This song is produced so well. A nice big warm sound that bring Michael Buble front and center. His vocals come out from dead center about 1 ft in front of the speakers. The background singers are to the left and right with musical details emerging from the sides of my room. Just an amazingly good sounding recording and a classic song. Throw this one on, turn it up to a moderate level and soak it all in.
Anderson East – "If you keep leaving me" from Encore. Tidal 24 bit FLAC. This is a lovely recording and song. The vocal performance is highlighted here again and this time the voice is dead center and projects about 1 foot in front of the speakers. There seems to be less mid bass here over when I heard this on the Heresy III. These are not as warm leaning but I would say they are more neutral over the III. I hear many more details than I did with the III as well as a wider soundstage and more precise imaging. With the special 40's on this track I get a more meaty presentation, more mid bass and that sounds amazing. The Klipsch here has more high end but again, this seems to bring the life and vigor to the song/performance. I prefer this track on the special 40's but it sounds great on the Klipsch as well.
Moody Blues – "Send Me No Wine" – From On the Threshold of a Dream. Vinyl.  – This is an oldie but sounds so good no matter when I play it. Here the Heresy IV's sound spacious, huge and lean to the warm side as I feel the recording does itself. Again, I have to stress that the bass performance is interesting. I thought we would get some boomy bass with the ports added to the back but this is like no ported speaker I have heard. It sounds like the old sealed version in the bass but it goes 10Hz deeper and I can tell that it does. It's as tight as can be and tighter than the bass of my Special 40's.
Dolly Parton – "Sugar Hill" – From Halos & Horns – Digital. Ripped FLAC from CD. This is a CD I adored back when it was released, and still do. It's been a long while since I gave it a listen as I no longer have a CD player. Since I had the CD I ripped it inside of my Zen Mini MKIII and was able to play it again. Dolly's voice is again, dead center. She sings about her youth at Sugar Hill and there is a lot going on in this song with background vocals and acoustic instruments. The recording is a little flat but sounds as good as ever with the Heresy IV. I placed the Special 40's in to see how they did and yes, the recording is not the best but sounds wonderful on each speaker with the Dynaudios bringing a little more instrument separation.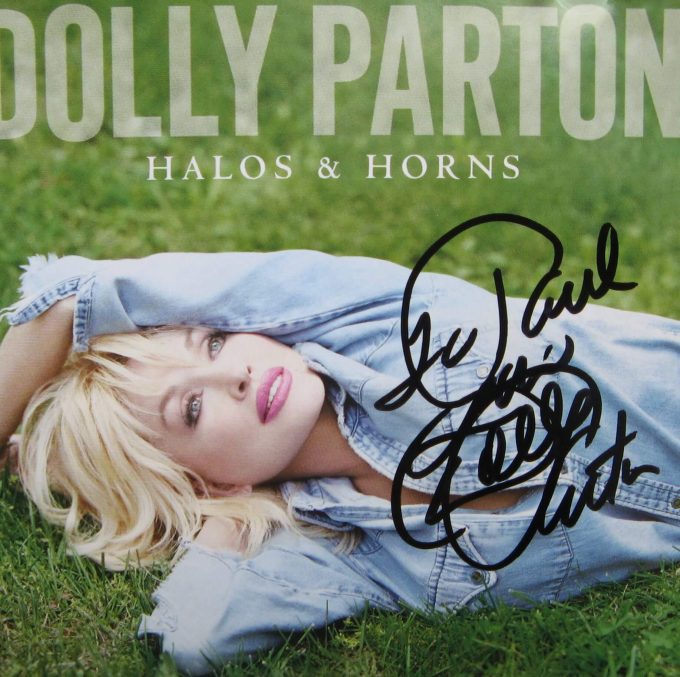 Marissa Nadler – "Buried in Love" From DroneFlower – Digital. Tidal FLAC.  This is about as spacy and ethereal as it gets in a recording. Spacious, angelic, detailed, minimalistic. The Heresy IV show they can do air and space just as well as the special 40's.
Haunted Laundry – "Cheated" from Haunted Laundry – Tidal FLAC – Another song I love to play when I evaluate gear. Acoustic and fantastic vocals and recording quality. I have heard this song many many times on many systems. This may be the best I have heard it, but I have a feeling the Cornwall IV's will bring even more to this track. So human, so intimate and the recording quality is exquisite. The way the blended acoustic instruments flow here, in a 3D space, is beautiful. This song will sound great on almost all systems though.
Billy Idol – "Bitter Pill" from Kings and Queens of the Underground – Qobuz FLAC. Great song, great recording. It is presented perfectly with the Klipsch. I hear the purity and conviction of Billy's voice and when the guitars strum they JET OUT with an energy that I was not used to. That's the thing with the Heresy IV's. They have a wonderful way of painting the musical picture and at times it stuns you. These speakers are the opposite of "boring". With the Klipsch, you can also turn it up … and up… and up. I feel this could have had a teeny bit more upper bass but if this was the case, I feel the imaging would have suffered. From memory, I thought my Special 40's did better so I hooked them up. They sound flatter here and thinner! Wow. (Remember, I OWN the Special 40's and bought them TWICE because they are so good for the cost).
Eric Bibb – "Brazos River Blues" – from Global Griot – Tidal FLAC – An acoustic treat with guitar, harmonica and some processed vocals and breaths that are haunting. So much going on here when played on the Heresy IV's. Sounds emerge from the sides, the back, the front, the center and even by the sides of my head.  When set up correctly you should hear layers of sound with vocals emerging from different spaces and instruments floating around left and right. A little bit dry vs the special 40's but just a much larger presentation from the Klipsch.
Green Day – "Father of All" – from Father of All. Tidal Flac. – OK so this is not any kind of audiophile recording. On my Special 40's it sounded a sterile but good. It rocked on the Dyn's for sure. I could live with either…BUT.. on the IV's the guitars create a virtual wall of sound and they once again, propel out of the speakers with life and energy. When the guitar break comes in at 1:45 or so it's AMAZING when played loud. You will be moving your feet, body, head, whatever. This track does lean a little brighter on the Klipsch vs the Dynaudio.
Perfume Genius – "Otherside" – Tidal FLAC – So my wife loves this song when played on a great system. She has heard it on the Klipsch RP600's and thought it was amazing. She then heard it on the Dynaudio S40's and thought it was magical. She heard it last night on these Heresy IV's and when it was done she was crying her eyes out. This is not something I am just saying, it's 100% true. She said it reminded her of the recent passing of a friend and her emotions just poured out. I will say this is the best I have heard this song presented. It's an aural assault on your senses when you hear this song on a nice Klipsh setup.
Billy Joel – "Live at Shea Stadium" – Entire Album – Qobuz FLAC. Considering these speakers make music sound LIVE and ALIVE I played and listened to the entire Billy Joel "Live at Shea Stadium" album and it rocked out, especially when I went from my normal volume of 17 to 47. My room was shaking and this is one thing Klipsch excel at. RAW VOLUME and SHEER SIZE of sound. I have heard this album on my Dynaudios, my past Sonus Faber and Focal systems. I remember the experience of this on the Focal Sopra 2's and it was phenomenal and so transparent. Something Focal excel at, transparency. With these new IV's being more transparent than ever they played with a similar vibe but the mid bass weight was missing here for me and with the Klipsch there was a bit of brightness I was hearing in the upper midrange area. This comes across to my ears as a dryness of sorts. It's minor and here I am comparing from memory to a speaker that costs 4X as much (Focal). Even so, listening to a live performance is special on almost any Klipsch speaker. I think again, once the Cornwall IV get here then these live albums will create a concert in my listening room. ; )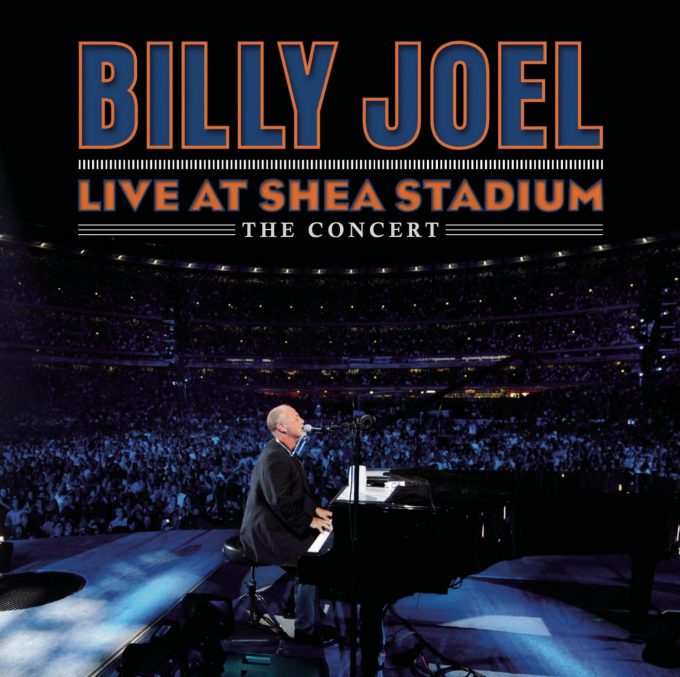 CONCLUSION
I will just say it. This may be the best $3000 you will ever spend on speakers.  They best my $3000 Dynaudio Special 40's in many ways and I am blown away by that as I LOVE MY 40's! The scary part is I have some Cornwall IV's on the way from Klipsch to review. They are sending me a black pair and I am afraid of what they will sound like as they also have the same kind of improvements. Larger mid range horn, crisper details, tighter bass….its going to be very interesting. Going from the old Heresy III to the Cornwall III a while back was quite the revelation. The Cornwall had the same character, it just gave A LOT more of it with the biggest wall of sound I have ever heard and they sounded GORGEOUS in my small 12X13 room. THAT amazed me as well as those Corns are easy to place.
As it is now, I now own these Heresy IV as I could not move them from my room once I heard and settled in with what they gave me back in return. That was, so far, many deep nights listening to music that has touched my soul in the most direct of ways. No they are not as refined as bigger buck brands, and they are not as smooth but it's a tradeoff. What these other speakers lack, the Klipsch has tons of. That is dynamics, life, energy and a huge spacious sound that will fill any space, with almost any amount of amp power.
Some will ask me what the faults are of the Heresy IV. Well, I tried and tried to find one. At the price of $3000 there is zero to complain about here. Are these the best speakers in the world? No! But again for the cost they are remarkable and will breathe life into your music collection. The build quality is exquisite. The look beautiful. The weight is hefty. These are not cheaply made nor do they look like cheap speakers. Where it got me though is the sound and it is has matured so much from the previous Version III Heresy. It's now an Audiophile grade speaker IMO. At least it is in my room, with my gear. So much so that I was in shock the first 48 hours listening to them. Yes, they shocked me. As I have said though, they will sound different than typical speakers like that from Dynaudio, B&W, Sonus Faber, Elac and others. They have a character all their own and it's not trying to be the most "accurate" speaker, rather it's presenting music in a way that touches your heart and soul. THAT is more important to me than analytical accuracy. If a speaker makes me sway, move and even dance it is doing an amazing job.
These are very dynamic which means some sounds may startle you as they pop out from nowhere. A guitar lick may sound more pronounced with these, or a strum of an acoustic may sound more natural and real. They do sound a tad teeny bit more dry than my Dynaudios which I will describe as more lush and saturated and I do like both presentations with different music. Rock and Roll, Klipsch wins easy. Small close miked Jazz? The Klipsch is more immediate and more intimate. The 40's more organic and lush. Acoustic instruments? Love the way the 40 sounds with acoustic but have to say the Heresy IV, again, have more life, dynamics and you can hear the way the artist was playing vs just hearing what he played. The Dynaudios do sound better with EDM due to their generous mid bass groove. 
BONUS! These can play super low volume and still sound so so good. Nice, full and detailed yet very transparent. The Klipsch Heresy IV still do the 3D thing at low volume Want live concert venue type of volume? Crank it up, go ahead. These will rock your head off, something the Special 40's could NEVER do. By direct side by side comparison the Dynaudios sound like they have a clog in the system (as good as they are) and the Heresy IV's just sound so freaking ALIVE when playing loud. I would say the Heresy IV is more like an instrument that produces music where the Special 40 is more like a piece of art that reproduces sound as as lushly and beautifully as it can.
Where these two differ is not in cost but rather in presentation. The Special 40's will remain one of my fave bookshelf speakers ever but the Heresy IV has now become a speaker that I enjoy just as much, if not more than my Dynaudio. No small feat. You know your system is amazing when you can not stop listening and stop thinking about what you can improve upon. With these in my system I have been spending upwards of 6 hours a day in my listening seat, and never ever did I get any kind of fatigue. That's how good these speakers truly are. Heck, who am I kidding…one recent day I spent 11 hours in my listening room with these speakers. I was also writing during those hours but that's a record for me. That is also a key sign that your system is right. When you can't stop listening and get zero listening fatigue.
Again I have to stress that all rooms are different, and will sound different. If you have an empty room, or bare walls, these may sound a bit forward in the upper end. You may get some reflective sounds going on. With my room I have carpeting with thick pad, a couch, a chair, shelves, plants and pillows. These things tame down the higher end and most speakers sound very nice in here Also, the gear you use to power these will make a HUGE difference and to a lesser extent the DAC, cables, etc. So how these sound for me in my room may differ from what they will sound like for you. I always suggest a demo in your own space if you can or at least at a dealer as they will have them set up optimally.
One more thing and that is about the looks. Yes, I tried these on stands as I did the III's but found them to sound much better, fuller and spacious on the floor as they were designed to be placed. They look absolutely gorgeous, classic and amazing in my room. Like they are meant to be here. Something about these speakers get my blood pumping and energy flowing. For now they will replace my beloved special 40's as I move those to the back room system (where Dynaudio Evoke 10's are now) and let the Heresy IV take main duty until the Cornwall IV's arrive.
As for burn in, during the first 50 hours I noticed no huge significant change at all in the speakers sound signature. If anything the treble was slightly more tilted up out of the box, and after a few songs mellowed out to where it should remain. They sound fantastic out of the box and may surprise you when you hook them up!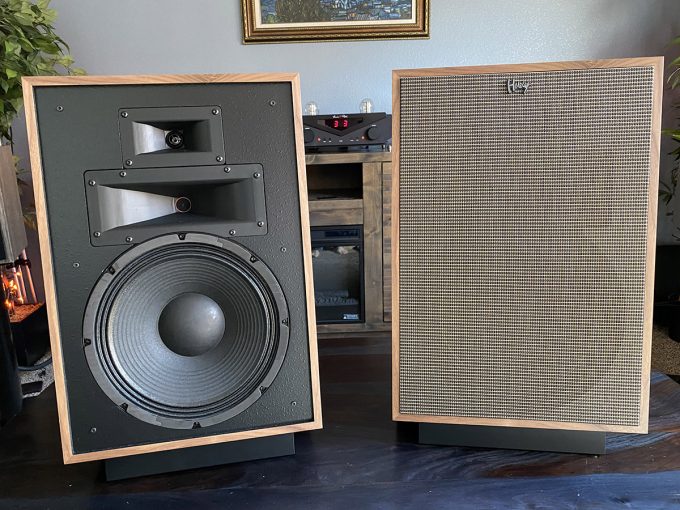 THIS IS A MUST! Remember! 
One thing I will say is that make sure you use good gear with these. Do not think a $250 Best Buy receiver or home theater reciever will do these justice. Sure, they may sound loud and big but these can scale with the best of them and the better you feed them (quality watts, not mega watts), the better the sound that will emirate from these little stout boxes. Add a nice DAC, cables and amp and they will reward you each step up you take. Not something the older III did as well in my experience. I mean, these can image with the best of them, as well as throw a massive stage with incredible details.
With the III I could use a $1000 amp or a $10k amp and they sounded similar. The IV's scale very well and these deserve a nice integrated amp or even a pre amp and amp. They deserve as good as you can give them. I'm running them with $40k worth of gear for this review and they soak it all in but you will NOT need fancy gear like this to appreciate what these offer. I even hooked them up to system 2 here. A Musical Fidelity M2si and $150 speaker cables with a Bluesound Node 2i. They sounded awesome in that system as well, which clocks in at about $1200. So no need to spend the big bucks to enjoy these, just feed them quality and yes, you can get quality for under $1500.
Just some suggestions…
Very nice yet  Affordable Speaker Cables that sound beautiful and lean warm/rich
A fantastic streamer for under $550 and almost as good as my Zen Mini MKIII which is 2 1/2X the cost.  If on a budget this can also be your DAC! Just use the RCA outs. 
Interconnects that will add some warmth and space to these speakers. 
Ok, I have now written nearly 7000 words here… go give these a listen when you can!
At $3000 for a matched pair you can buy these in American Walnut, Cherry or Black. These are one of the best deals in HiFi in 2020 bar none. Check them out if you can, and thank me later.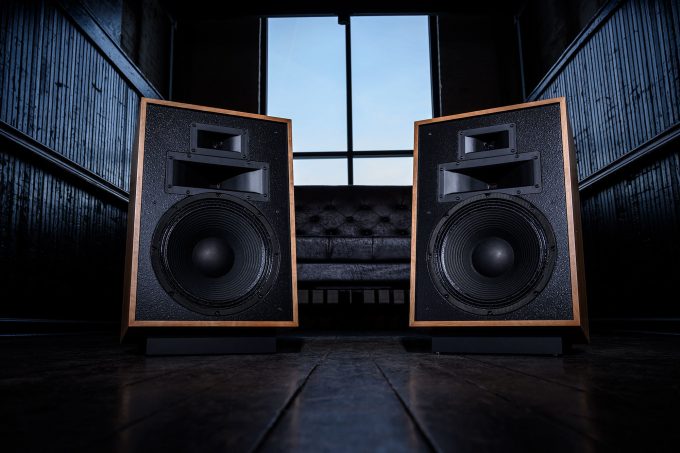 UPDATE after more time: After a while with the Heresy IV's in place I removed them completely and placed my S40's back in. Whoa! What a difference in the way they present the sound. While the S40's are delivering a warm leaning rich meaty presentation that sounds lush and vey nice I miss the ultra big wide sound and clarity of the Heresy IV, and I would have never noticed this without a side by side comparison. I swap them again and ahhhh, there it is. The Heresy IV have surprised me, shocked me and made me realize (again) that Klipsch plays just as well (if not better) than the big boys. This speaker is so transparent, so clean and clear, so massive in the way it paints that musical picture yet it also has some kick and meat to it.
I swear that these now image better and have a wider soundstage than the Dynaudios. The bass is tighter and has more kick with drums. Piano is pristine and has weight behind it (though not anything like what a Cornwall will give you) and guitar and acoustic is magical. Want some EDM? Sure, these can handle it very well. Metal or Rock? Have at it. There is no genre of music that sounds bad, thin or unlistenable on these. They play everyday music just as well as high quality high res  tracks.
Klipsh has something VERY special in these Heresy IV and so far, even though it is only mid February, it is my personal pick for speaker of the year 2020. It just lets music flow in a way that I have rarely heard before with digital and analog. I have loved and owned the Dynaudio's for a long while and also have some Evoke's in a 2nd room. But these here are replacing my Special 40's permanently in my main listening room. My "Flagship" room. They are that good.
When I choose a speaker for myself I do not look at price, brand or size. I look at what will sound the best in my room as the room is what I am stuck with. For my 12X13 room these Heresy IV, without a sub, bring me an amazingly real human presentation with energy, life, slam and plenty of WOW. HIGHLY RECOMMEND these to those getting into audio or seasoned audiophiles who want to be in for quite a surprise at what you can get for $3000 today.
I have had speakers here in my room that range from $500 to $40,000. I will say that the $40k speakers sounded the worst in here (if I have to judge them all) and these little IV's are up with the top best I have had here for fun, excitement, and value. It's funny but as I remember back to all speakers I have owned, tested or ran through here the ones that I remember the most? Klipsch Heresy III and IV, Klipsch Cornwall III and my old Sonus Faber Guarneri (original Homage and Evolution). All speakers that I consider "musical instruments" rather than boxes that make music. Drive them right, place them correctly and use good quality upstream gear and you will be rewarded. Listening right now, 8AM and boy do these sound heavenly with my volume dial at 8 on my L2i SE. Gentle, quiet yet full, balanced, and the vocals are to die for.
As you can tell I really love these speakers. The problem I have now is trying to turn them off. ; )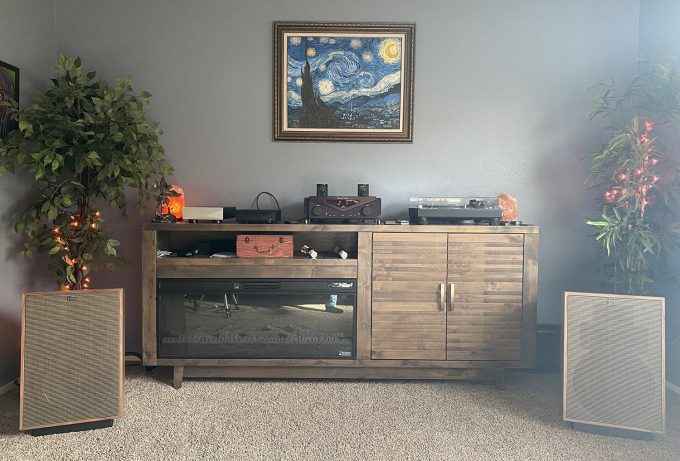 UPDATE FEB 27th 2020: After approx. 100 hours these have warmed up and the treble is now super smooth yet very expansive. While still having more HF energy than the III, what this brings is a wide open soundstage and ultra clarity. None of the darker Version III sound here. These did change throughout the 100 hours. From brighter and splashy to lean bass to where they are now..huge, full, clear, transparent and beautiful. These are jewels. A human experience where you enjoy THE MUSIC rather than worry about whether the $20k you spent on speakers was worth it (because you spent under $3000). ; ) These things ROCK!
UPDATE MARCH 8th 2020: Lifetime speakers IMO. No way you can do better for $3k for speakers that not only plays music with life, and sounds like the real thing…these also throw a massive wall to wall soundstage with precise imaging and fill any room with beautiful music. It's haunting at times when they are set up right, in a dedicated room and with quality gear upstream. No weaknesses at all for this price. THIS IS an all new speaker over the III. New cabinet, new drivers, new crossover, now ported, slightly new shape (taller.thinner) and the difference between the III and IV is quite dramatic.
UPDATE DECEMBER 2020: I have moved cross country and set up a temporary listening room and I am still listening to the Klipsch Heresy IV and still blown away by what these boxes do for the money ; ) After all of this time and with many comparisons against other speakers, I can say that the magic of the H4's lie in the huge midrange. If you like life size big vocals, real sounding vocals, and at times spooky "I am there with you" vocals these are fantastic. These excel with acoustic music, jazz, vocals, and almost everything besides heavy metal in which they could use more bottom end thunder. If you add a sub you can really rock out. When you turn these up to insane loud levels they can get a tad loud in the upper registers, moreso than the bass. These are a little more forward that traditional non horn speakers but it's a sound you will either love or hate. When I go back to a normal speaker they sound insanely recessed to me now. But the H4? HUGE and wide open. It is this characteristic that gives them their live sound.