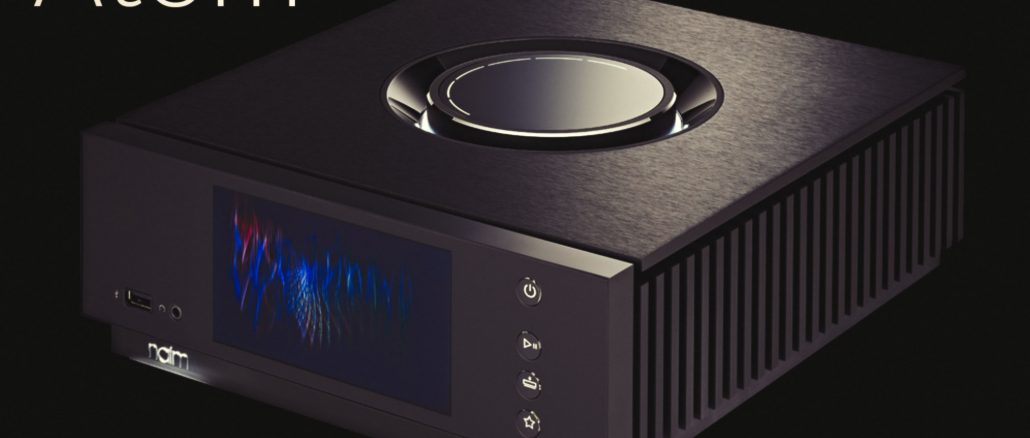 The Naim Atom Review. This HiFi All in One challenged my Belief system. 
By Steve Huff
UPDATE: I tested the Atom and Nova with a set of B&W 705 S2's. Read it HERE. 
I have raved about many a product on these pages over the last 13 years, but only when I really loved said product. There are many products I have not reviewed here, simply because for me, they fell flat, were overhyped or failed to bring a smile to my face. For me, that smile is important. I want my moneys worth out of a product just as much as you do. But today with so many working as "influencers" (where people earn money by "selling you" on a product) it's hard to tell what is hype and what is really special wether we are talking about audio or photography products. We live in the age of constant consumer hype. We must buy this and that to be happy, at least that seems to be the message.
I do not know about you, but frankly I am tired of all of it. I guess I am what you can call an influencer. I have been doing this for 13 years. Writing reviews and yes, even making an income on what YOU buy from my pages at Amazon or B&H Photo. But with audio reviews like this,  I do not make any money. Not from ad revenue (I have no audio advertisers) nor from affiliate sales. I do these reviews because of the love I have for music and I hope that someone out there finds what I write here valuable to them.
I am an audio nut. A lover of HiFi gear and of course, listening to 2 channel high quality music day in and out. My system is on at least 8 hours a day either as background music or for serious listening. I take music very seriously because for me music saved my life about 11 years ago, literally. I de-stress with music. I am taken to other worlds when listening and at times, when I do those late night 1am listening sessions (which are always the best) I sometimes feel as if the artist is in my room with an up close and personal intimate performance. With some systems, the realism can be scary at times.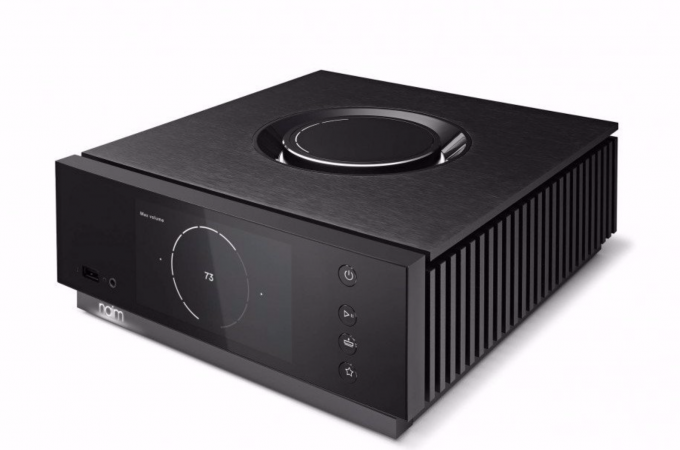 When I discovered this "magic" in certain systems many many years ago, I went on a search for my own system that could deliver this magic while remaining within a budget. I'm not a wealthy guy. Not even close. I just have different priorities than some. I'm not a fan of boats, watches, fancy cars, fancy homes or big RV's. Instead, I live a simple life of happiness, low stress and love. I live in a basic small "starter" home and have for the last ten years. We have one car and are in no way extravagant. I also like to save money, and have been doing that for my entire life. With that said, my spending "weakness" is all within audio and photography!
The little Naim Atom All in One is a Serious Piece of HiFi.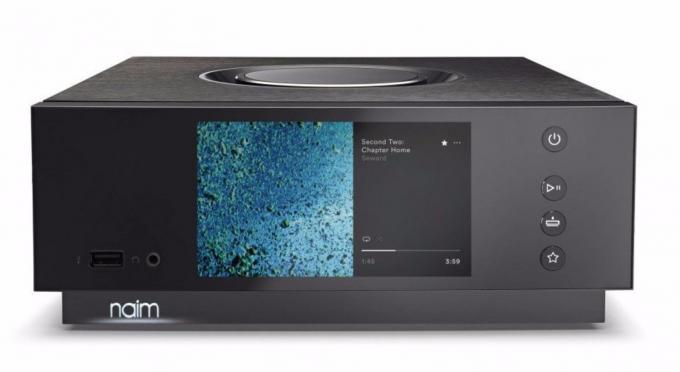 I sent an email over to Dan at Dedicated Audio (local to me) after reading some reviews on the Naim Atom "All in One" system. Coming in at $23k less than my Vinnie Rossi integrated I assumed it would be a huge step down, but I was intrigued and attracted to the atom for what it offered. All in one..as in..amp, pre amp, streamer, DAC and huge 5″ display. Add in the weighted huge volume dial and the amazing design and you have a slick looking, very well built little piece of tech. I am a sucker for big weighted volume dials and this is the nicest one I have seen in an integrated, regardless of cost.
At only 40WPC I assumed it would sound anemic on most speakers like the little PS Audio Sprout. Maybe a tad thin, bright or with a lack of that "magic" I spoke of earlier. I brought these things up with Dan and he told me to buy it, and if I didn't like it I could return it. He does have a return policy, so I figured…why not?!?!? I planned to use the Atom with Klipsch Cornwall IV speakers in a second room in my home (apart from my main reference setup) and my only worry was that it would be thin or bright.
I ordered online at their website HERE. I then drove by to pick it up and since here in AZ we are seeing rising Covid 19 numbers as of June 10th, our highest daily numbers yet, Dan is not open for the public. I went by, had my mask on and he popped his hand out of the door, with mask on, and handed me the Atom ; ) Perfect. Quick. Easy.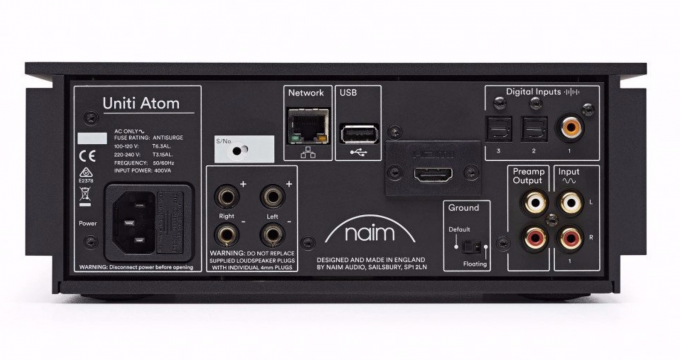 So how does this $3300 all in one do against a maxed out $26k retail L2i SE? Hahaha. Well…I may do a side by side later but one can not expect to get the richness of sound, the layering and magic in a product that costs $26,000 USD in an all in one $3300 product. Even so, how close can it get and can it even get close? I will say that with most speakers and those that are not an easy drive, the Vinnie is in another league but get this…after an hour with the Atom and the Conrwall's I forgot how beautiful my Rossi was as I was seduced by the little Atoms stunning capabilities. I mean, I was shocked at what I heard when I hooked up this Atom to a pair of Klipsch Cornwall IV speakers! 
I will say this….the little Naim is a pretty good match to the Klipsch Heritage line, as in they make these speakers sound wonderful. For more challenging loads, the Atom can still do great things but this is when amps like the Vinnie Rossi show their value and power.
So for this review, I had the Atom hooked up to the big Cornwall's. I did try it with the Qln prestige III as well but the Rossi is a perfect synergistic match for the Qln so the Atom couldn't compete with the L2i SE in that area. While the Atom drove the QLN speakers well, it did not drive them like my L2i SE did.  BUT… with the Klipsch? Wow.
Get yourself a set of Heresy IV's and an Atom along with some $25 cables and you are set with a true high end system for under $6500. I mean, a killer high end sounding system with real audio magic. BTW, I am using cheap $25 speaker cables this time on my Cornwall IV's and with those and the Atom they are shockingly beautiful with such a flowing effortless musical grace. In fact, if this is the "Naim Sound" I am in love as I have never owned a Naim piece and this piece is GORGEOUS while being in their lower tier of pricing. It feels, looks, and sounds much more expensive than it is.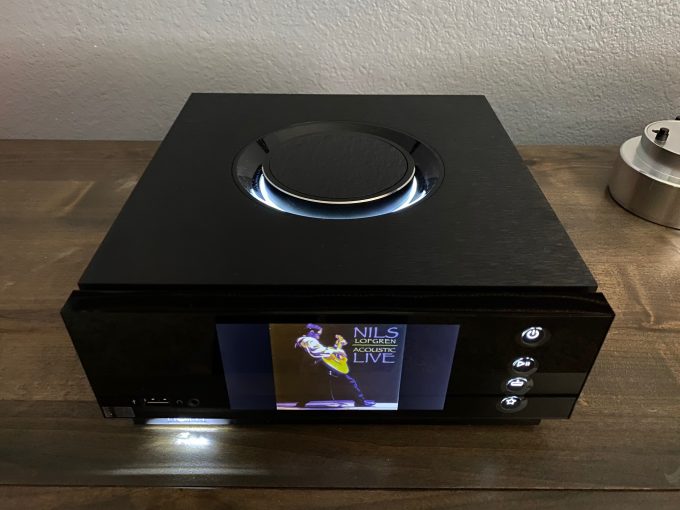 I always heard of this Naim sound, but now that I have experienced it I am listening to so much music, so I would call this sound simply… "MUSICAL". If I can stress one thing it is that these Klipsch speakers took a leap up in Sound quality, clarity and expansiveness with the Atom over other more expensive integrated amps but at the same time they sound a little bit thinner.
I will do my best to describe the sound I hear from this combo but I will say that the Atom is worth every penny of its full retail (even more imo) even in June of 2020, a long while after it was launched. This is a true high end product and if it were made by a company like McIntosh it would most likely cost $7,500- $10,000.
Remember, all you need is the atom, an internet connection (wired or WiFi), speaker cables and speakers. You set it up with the very easy to use Naim app. It can be used as a Roon endpoint or to stream Spotify, Qobuz or Tidal direct from the Naim App or their native apps. You can add a server. I was up and running in 5 minutes out of the box and streaming Tidal and Spotify to my speakers. It has digital inputs, analog inputs and is ready to rock and roll soon as you power it up and do the short setup. Mine needed a firmware update but it did it all automatically, and took just minutes.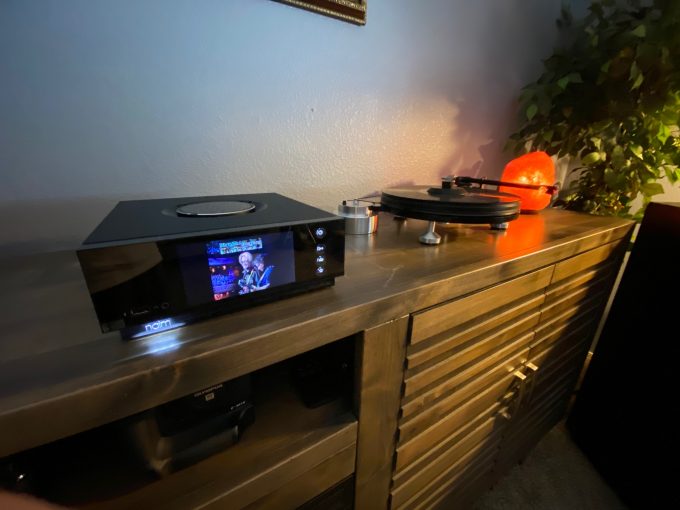 The huge display shows the album art of whatever you are playing. The remote is backlit and motion activated so it lights up when you lift it up. It's motion activated! The remote doesn't have to be pointed at the Atom to work either. Everything here is super high quality. The amp is NOT a class D as the NAD M10 uses (I wasn't a fan of the M10 sound) a class D amp. The Naim Atom uses a class A/B amp and you can easily tell this as the sound is rich, full, fluid, even handed, clear and clean, detailed, big and oh so so sweet. It has decent but slim body yet also has a presence of life that I have never quite heard from other integrated amps like this. Not bright or harsh, in fact there is none of that here at all. In some ways you think it sounds crisp and detailed yet there is a slight weight and punch to the music which his usually absent when you have this kind of detail. It's a different sound but if I can be honest, it sounds more like " toe tapping foot moving music" that many HiFi Pieces that try to be king of one thing. This is a superbly musical integrated amp/streamer.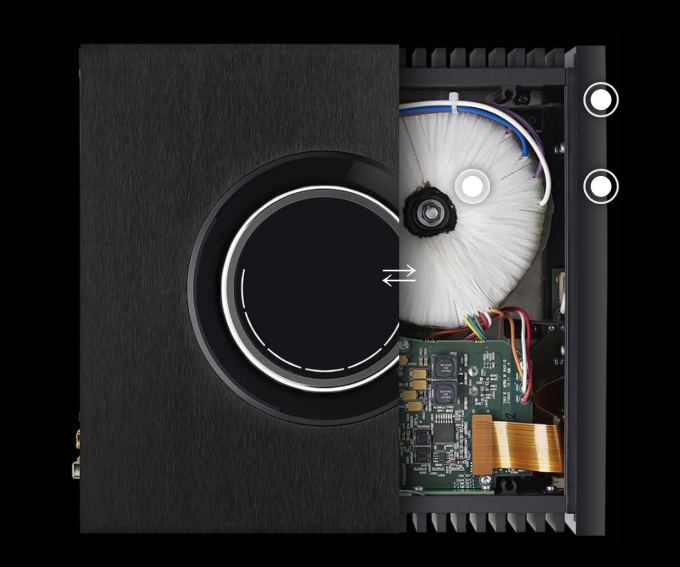 The way the Atom presents music through these Klipsch heritage speakers is with an ease, a grace, and emotion. Rather than sit and listen to the "magic" and only playing well recorded pieces, I am engrossed in the music instead and it is so soulful, no matter what I listen to.  Speakers like the Heresy IV, Cornwall IV or Forte III (though the forte may be a tad brighter) will sound great with the little Atom though with their high sensitivity you will hear a slight hiss from the tweeters, and I mean slight, but the music that comes from the speakers with this Atom is special and for very little money in comparison to other integrated amps.Can you do better? Yes, but for more $$$.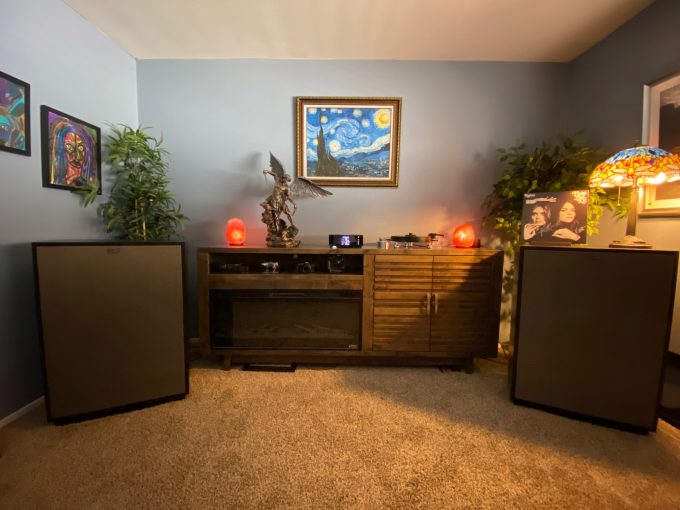 This Naim is high quality in every way. From the toroidal transformer inside, to the way the volume dial feels when you turn it to even the remote which is more useful than most. It has analog inputs so if you have a turntable with a phono stage you can attach and listen. I hooked up my Michel Tecnodeck and it sounded wonderful. Rich, big, and again, with soul and emotion and that was with a cheap $150 phono stage. I mean, it was very very very good. The bass performance is superb and superbly tight, and the Atom added slight meat to the bones on the Klipsch all while keeping it clean and clear without bloat (though tubes will be warmer and fuller). Makes it bigger, fuller and with more 3 dimensionality yet it doesn't have a mid bass hump nor does it sound dark or muddied. It's the opposite as it sounds clean, detailed, smooth, big, and has some serous rhythm going on with a little excitement in the top. Many call it PRAT and I will just say yes, it does that very well.
UPDATE: I tested the Atom and Nova with the B&W 705 S2. The Atom blew me away again. 
After just a few days with the Atom I struggle to understand how this is ONLY $3300. Yes, $3300 is a lot of money but not for what you are getting here. Some spend this much and more on just a DAC alone, yet here we get a killer class A/B amp, a streamer, a Burr Brown DAC, high quality build and a quality remote as well as ease of use. It doesn't sound like something "less than" an audiophile product as it is truly a high end piece.
You can add a USB drive and play direct from the drive. High Res? No problem for the Atom.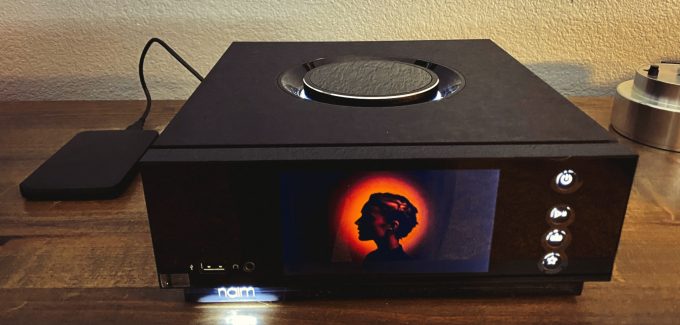 The value here is extraordinary and the best (value) I have ever seen in my 30 years of HiFi. No lie, remember I make no money if you use my link and buy one of these. I speak from my excitement for the Atom. 
The atom will power speakers such as the Dynaudio Special 40's with ease. Even with a rated 40 WPC, it feels almost as powerful as my Vinnie Rossi which is rated to 100WPC. Not sure how or why, but I use the same volume on the Atom as the Rossi when running the Cornwall's which are insanely efficient speakers. Around 28 on the volume dial for both amps and I get the same volume, size, scale and amazing-ness but each breathes a different life into the big Klipsch. The Vinnie Rossi brings a tad more fullness, richness, weight, layering and some of that 300B tube presence and beauty from the DHT Preamp. The vocals with the Vinnie Rossi are bigger/throatier but with the Atom they are sweeter, cleaner and more present. I would say these two pieces are different rather than one being better than the other. They both offer DAC's but the Rossi doesn't have a streamer, so one is needed externally. This can cost thousands. The Vinnie Rossi uses 300B tubes in the preamp which inject that beautiful flavor to the sound that is intimate yet also intense at times, and a good set will run you around $1500 over the stock tubes. The Atom has a lighter presentation (in a way but not fully) but with the Cornwall's this is welcome and again, while the Atom is lighter in sound than the $23k more expensive L2i SE it doesn't sound light. Hard to describe really. But it's good. Very good.
The Rossi will bring a richer presentation, a larger soundstage, and a more defined separation of instruments. It will sound more refined and special. BUT with the Atom, vocals are silky, beautiful and full. Strings are never strident nor are cymbals. Again, the flow and ease and such beautiful sound is a result of some kind of synergy going on, which is hard to find in HiFi. Wether I listen to jazz, classical, bluegrass or metal this Atom delivers and never seems to run out of steam (with the Cornwall's). Even some of my older vinyl sounds good on the Atom. Records I gave up on and haven't listened to in years now sound pretty darn good here.
It's also nice to use Spotify and Tidal just casting to the Atom with a touch of my smartphone.
Before I jumped into the Atom I heard others say that Klipsch and Naim are a bad pairing, and will be bright and thin. Well, that is 100% not true with the Atom and CWIV, at all. Theres no brightness or thin-ness to be had. Just big, full, silky and beautifully presented music with instruments placed within a soundstage though not as defined as some high end offerings. The Atom does the soundstage thing but imaging is not its strong point. Again, this can be good as it makes you listen to the music rather than the sounds, or special effects some HiFi brings. It does image but the instruments are not cut out and defined in space as they are with the Rossi, but this is to be expected.
THIS IS MUSIC, nothing more or less. It's not for tweakers or those who like to change things out regularly like dacs, preamps, tubes, etc. It's a simple one box solution that you turn on and forget. It's there ready at a moments notice to just stream music for you and not only look amazing while doing it, but sounding truly high end for a not so high end price. The good news is that it will sound just as good in 10 years as it does today.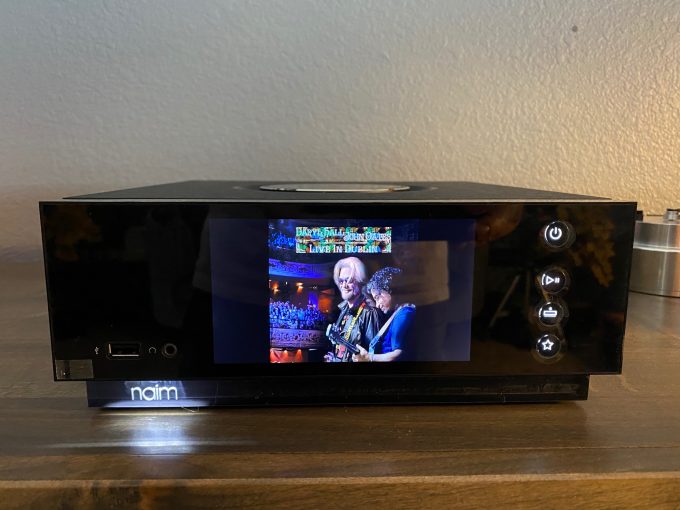 In all of my HiFi years the Atom would be the first product I would say should win a "product of the decade" award. Not just for its sound quality, but for what it brings to the table for so little in this crazy HiFi world of insanely priced products. Some of these HiFi products cam cost more than my house did when I bought it. Crazy, and not needed to enjoy music. 
Anyone can have this up and running in 5-10 minutes, and it also saves you a ton on cables. No interconnects needed. No special power cords needed (I tried with a blue heaven cord and it did make some improvements but not huge) and it sounds amazing right out of the box. The DAC included is fantastic and sounds so musical and smoother than most uber detailed DACS today.
I just plugged in my ethernet cable from my router and was all set up after adding in some cheap $25 speaker cables. When I did put in some much more pricey silver cables the sound became WORSE for me, and I felt this little guy did best with good old copper cable.
*The Atom is not be the "best" all out audio product out there but for the money it damn sure is. You can not find anything like this for the kind of money that this costs. Nothing for this price will offer what the Atom does.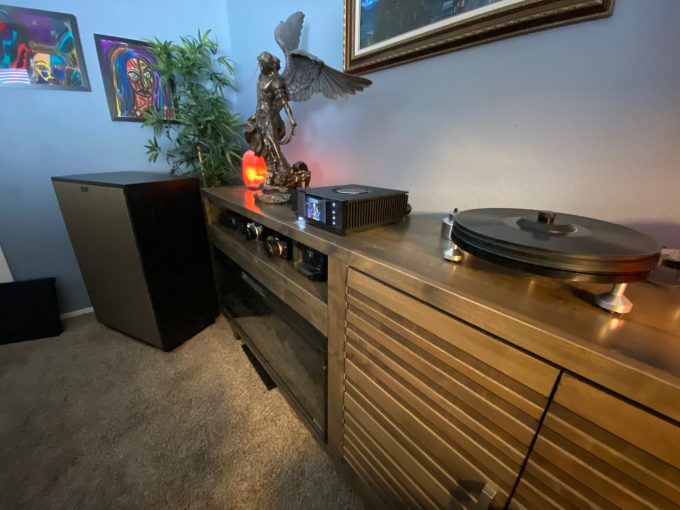 This is the future of Audio, and yes we have had products that do what the Atom does and many are better than the Atom but extremely more expensive. Think Devialet, but honestly? The Naim has more charm IMO. For me, the Atom is a winner as it does everything right from design, to build quality, to size, to packaging, to ease of use to including everything we needed in an audio product in one small box. The bonus is the sound quality which exceeded all of my expectations. If you have smaller bookshelf speakers that are not a crazy hard to drive load, or efficient speaker like Klipsch the little Naim Atom is worth a serious look or auction.
You can buy the Atom at dedicated audio HERE. It's where I bought mine and so glad I did. Naim makes it easy, and today that is what we need in audio so more can appreciate what a great two channel system can bring to their lives.
Yes you can get better or course, but do you need better? What is better exactly? I mean, if it makes you smile, makes you move or makes you want to listen deep into the night is it not already quite amazing? The Atom has done all three for me.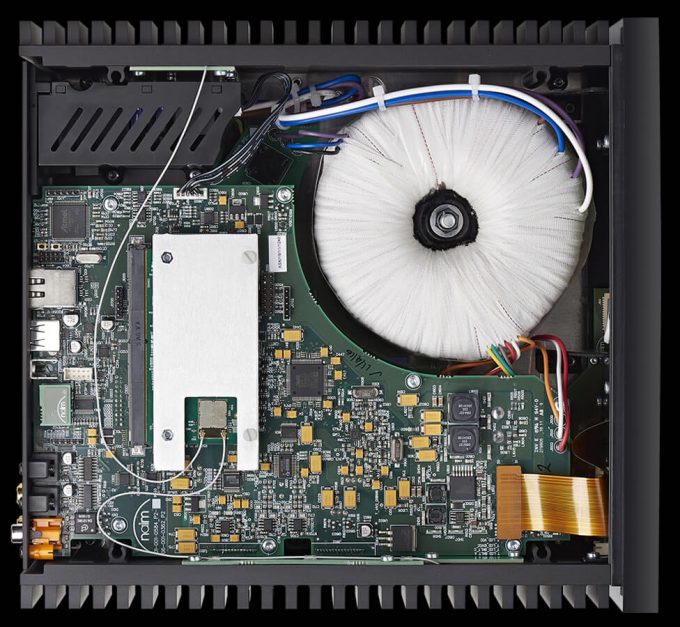 The PROS of the Atom:
Ease of use means you will be set up within minutes.
Beauty of design. This is gorgeous in design and style. Looks amazing no matter where I put it.
Build quality. The build is in the higher end realm. Nothing about it feels cheap or lacking.
Sound quality. This is unique to the Atom as it brings the Naim sound which is so musical and involving.
DAC is wonderful. I have heard pricey DAC's that didn't sound as good as the one here, included inside the Atom.
Analog inputs. Hook up some vinyl if you have a phono stage.
Huge volume dial is gorgeous, weighted and adds a touch of luxury to this piece. Naim didn't have to add this to the starter piece but they did. BTW, this doesn't sound or look like any "starter" piece… yet it is.
Lighted remote is nice to have in the dark.
It just WORKS!
Price for what you get means it is a DEAL. Truly a rarity in HIFi.
Beautiful large Display is so nice. Artwork is displayed crisp and clear as well as menu options.
The CONS of the Atom:
Not all is perfect here. There are cons but for me, they are minuscule compared to the good here.
There is a slight hiss with my Cornwall IV speakers when idle (no music playing but Atom on). So high sensitivity speakers will bring this hiss when you are not listening to music and when the Atom is powered on. Many amps do this, and you have to spend A LOT to get dead quite at idle with a speaker like this. It doesn't bother me at all as it is slight. I mentioned it because my Vinnie Rossi L2i SE has zero hiss and is silent.
It may not do well with large harder to drive speakers. I see this as a great solution for Klipsch or small bookshelf sized speakers. It would probably suffer if trying to power large multiple driver speakers. It does only have a 40 WPC class A/B amp. So not a ton of watts but with it's transformer it does have some current which is why it does so well as is.
The remote is a fingerprint magnet. After a day you will want to wipe it down. Wish it was a more matte black.
The speaker inputs are tiny and not very far apart which means your big fancy cables may not fit. They will take banana type only.
Can't turn off the light that illuminates the Naim logo, only dim it.
I had one issue of the screen freezing on the Atom. I had to unplug it and after that it was fine. Not sure what that was all about but it happened once.
It does have a "lighter" presentation yet is also punchy. Hard to describe but this is not going to bring you a big thick sound. Rather, it's lighter and more nimble and fast. More musical and fluid. Toe tapping with great detail and kick. It's punchy yet not warm. It's detailed yet never cool. I guess this is the Naim sound so while I love it, some of you may not.
For me the pros far outweigh these cons. The Atom is a special piece that rarely comes along in HiFi and yes, there are tons of rave reviews out on this piece as its not new. I'm just late to the game. The beauty is there is no need for expensive interconnects, power cables or speaker cables. Just use basics and this piece will bring a smile to your face with minimal investment. It's a true high end piece, not just a wanna be.
As to how it challenged my belief system? Over all of these years I've never seen an all in one (at this price or less) offer so much for so little, while being true high end in build, sound and execution. The Atom exceeded every expectation that I had going in, and that's why I had to tell you about it.
The Naim Atom gets my absolute highest recommendation.