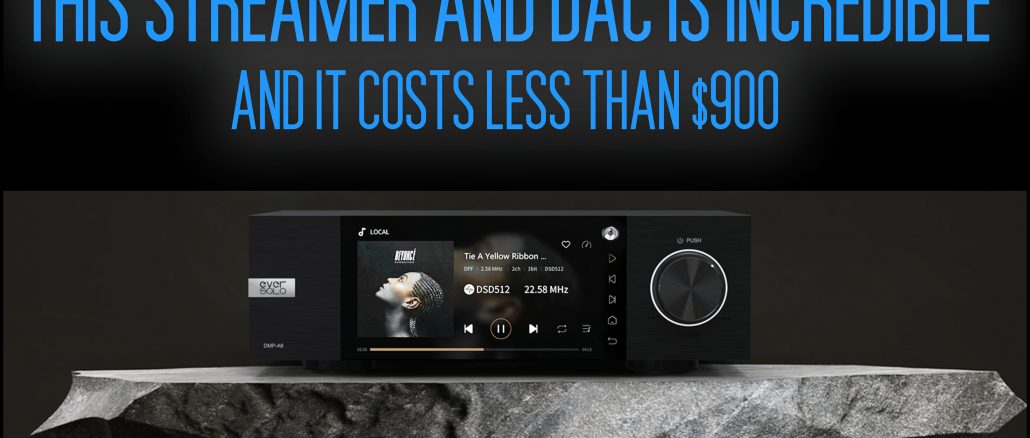 EverSolo DMP-A6 Streamer and DAC Review. Best Buy of 2023. 
By Steve Huff
NOTE: YOU CAN NOW BUY THIS STREAMER ON AMAZON via PRIME! The Listing is HERE. 
If you have been eyeballing streamers and noticing the high prices with some of these digital "turntables" then HOLD ON!
My video review of the DMP-A6
The streamer I am going to talk about today is without question, in my honest opinion,
the BEST BUY in 2023 for streaming digital music from streaming services or even local files.
What you get for the money here is fantastic. No it is not an end game streamer and no, the DAC here will not blow you away but this little box is an amazing rock solid streamer that performed as well as a Lumin U2 Mini in my system going into my external DAC. So yes, this little guy is a Best Buy because of that and the features it brings that the Lumin DOES NOT have. 
What I mean by "Best Buy" is that I do not think you can find this build, quality of parts or performance form anything else at this price point. In fact I will compare it to some big money streamers in this review and the words I wrote down even surprised me! This is a crazy good buy for anyone looking for a streamer to feed your DAC and a very good buy for those looking for an all in one with DAC.
This graphic is from the EverSolo website and all they say about the A6 here is true.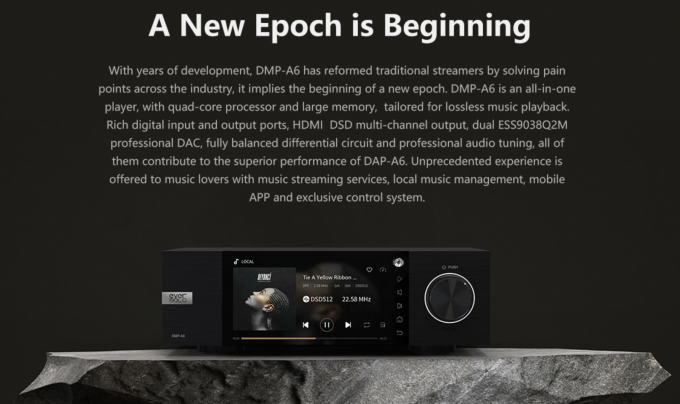 This streamer comes in at under $900 yet it offers up a large 6″ touch screen display that can show album art and file details as well as a selection of VU Meters. It houses DUAL ESS Pro DACS and the ability to stream almost any format using the app or even "connect" apps such as Spotify and Tidal.

The DMP-A6 even has a compartment underneath it that allows you to install an SSD drive, so you can stream local music files as well. It seems they have thought of everything in this "affordable" streamer. 
The EverSolo DMP-A6 also features a fully functional app and it's a good one. Bluesound is known to have a great app but I get along so well with the EverSolo app due to it's graphical interface. It's easy to understand and use and has zero lag or issues.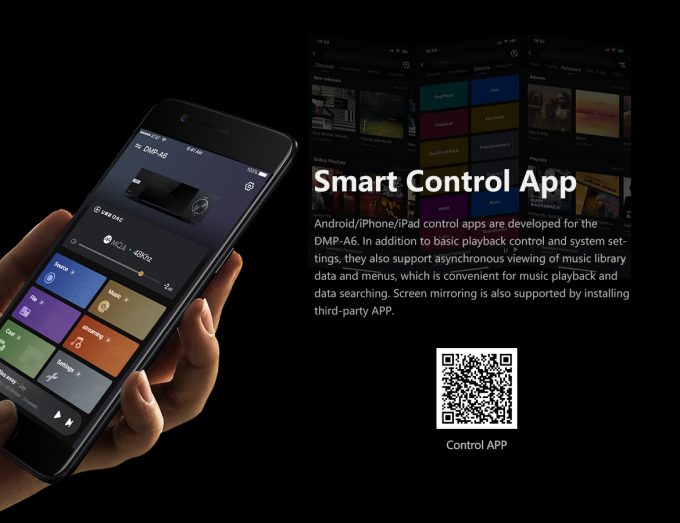 For me, the app experience is better than that from Lumin. Maybe it is just me but I had no issues instantly understanding the app with the A6 and everything was so easy to see and read.
With the A6 we can stream from Tidal or Spotify using "Connect" or you can enter your credentials from Qobuz, Tidal and others to stream in the highest quality. The app is laid out in an easy to understand graphical way. This streamer also does ROON and I was up and running with Roon within 5 minutes of unboxing the A6.
This little box will also fully decode MQA for those of you who are fans of Tidal masters. 
I fired up Roon on my MacBook Pro and streamed from Qobuz and Tidal, using Roon. The sound was glorious and I always find that ROON sounds a bit better than just streaming direct from our phones using the "connect" modes. Even though this is true I still enjoy using connect modes as it easy, and sounds darn good as is. I can do either with this streamer and am not locked into just using Roon like some big money streamers want us to do.
Keep in mind I am using the A6 as a streamer only into a T+A DAC 200 which is a $7200 DAC. The testing of the internal DAC came later. So most of my raves about this piece are talking about it in use as a streamer, bypassing the internal DAC. I do test the internal DAC and share my thoughts later in this review. 
The build of the A6 is quite nice and honestly a stunner for the price point. The device has an all metal enclosure and is built very well, surpassing the all plastic latest gen $600 Bluesound Node which I also own and love. I also had a Lumin U2 Mini and U2 here for a few weeks and those come in at $2500 and $5000 yet they have no album art display, no VU meters and no DAC. The Lumin products are streamers only but are also highly regarded in the audio community. I am a big fan of Lumin.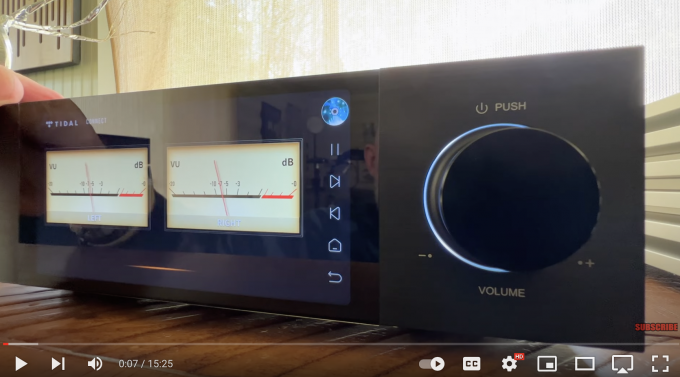 I can give you a spoiler now on the A6 as this review will not be drug out and super long. 
The DMP – A6 sounds just as good as the $2500 Lumin U2 Mini as a streamer going into any one of the four DACs I have here on hand. Not 100% the same but also not that different. They have a similar "illuminating" kind of sound, and I mean just using the A6 as a streamer, the same as the Lumin.
The DMP-A6 (to me) looks nicer than the Mini, has a much easier to read display and a much more fulfilling app experience. The A6 easily bests the Bluesound Node when used only as a streamer as well, even using the same cable going into the same DAC. 
It's undeniable as the A6 is airier, more holographic and yet retains all of the body of the music, even when using just as a streamer. The A6 is one of those rare products that come around from time to time that bring so much value. It's one of those "no brainer" purchases that I get excited about due to the low cost vs what you actually get. This kind of thing is not easy too find within this audio hobby.
I've always recommend the Bluesound Node because of its quality for the price. Nothing else I have found near the $599 price of the Node came close to the entire package. Until now. For $300 more one can have a much nicer streamer and even a decent DAC. This is exciting.
HiFi Rose? 
The EverSolo DMP-A6 appears as if it is trying to compete with HiFi Rose as the DMP-A6 reminds me a little bit of the HiFi Rose RS250A streamer which comes in at $2700 these days. The A6 has similar features, a similar control/display and a similar size and shape (the Rose is larger). The Rose looks even better with the larger display but the EverSolo is a stunner for almost $1800 less.
The HiFi Rose 250 is $2700 and offers very similar features, build and sound as the EverSolo. 

I Had Low Hopes
When the EverSolo arrived my hopes were not high due to the cost and past experiences with lower cost HiFi that tries to be high end. In fact I expected to be let down but after listening to this little guy for the last couple of weeks I can say that as a streamer going into my T+A DAC 200 I am getting back such a high end beautiful sound. The same kind of sound I was getting from the $2500 Lumin, which bested the Node in the treble and all out soundstage depth. The A6 has more magic than the Node Gen 3, even when used only as a streamer.
Wether I streamed from Roon, Tidal, Qobuz or even using Spotify Connect the sound was spacious with a vast wide soundstage. A stage that shrunk somewhat in width and depth when going back to the Node. I did this back and forth with the Lumin U2 Mini/Node as well.
The Lumin was better as a streamer than the Node but not by leaps and bounds. You may have a difference of opinion as the Lumin is fantastic and these things can be system dependent of course. The Lumin is more lit up than the Node but the Node sounds great as well going into a DAC. I lived with the Node in my reference system for the last two months and have enjoyed it every day. It's not the best streamer but it's one that is good enough for most.
Cost. It's why I recommend the Node, not because it bests the Lumin but it gets close for much less money.
Here is the kicker for me. The DMP-A6 matches the U2 Mini in sound, has a nicer display and app yet remains under $900 in cost. 
This will be the streamer I recommend going forward. Especially for those getting into streaming for the first time. While this is plenty good enough even for my reference system (as a streamer only) I have heard a bit better. To get there I would have to spend $5,000.
Comparing the EverSolo to the full size $5,000 Lumin U2 streamer should not be done but since I had both here, I had to do it. A friend let me borrow his Lumin U2 Mini for 3 days so I was able to compare them and this was a thrill as I was so curious as to how this little A6 would stack up to a $5k streamer.
The Lumin U2 is a gorgeous reference class Streamer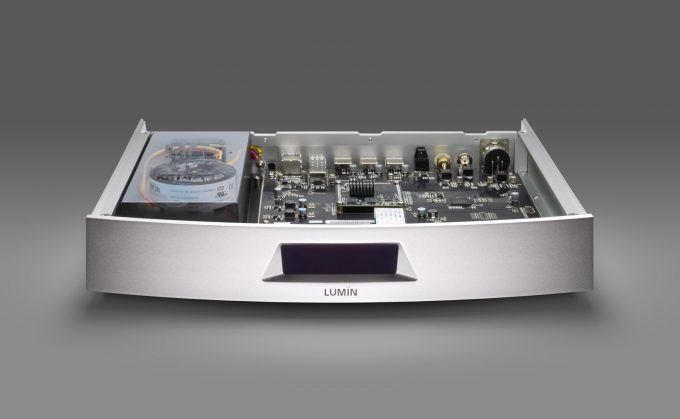 The Lumin looks stunning and appears to be built to a higher level. When it comes to the sound going into the same DAC the U2 has more "shine", dynamics, solidity and is a touch more refined. I have to say though that the difference here is not massive, but it is noticeable.
The A6 is no slouch in these areas but the U2 had a bit more energy and was a touch smoother as well. For that extra $4,000 you do get maybe 10-15% improvement when used as a streamer only but is $4k worth that? For some, yes. For others, not so much.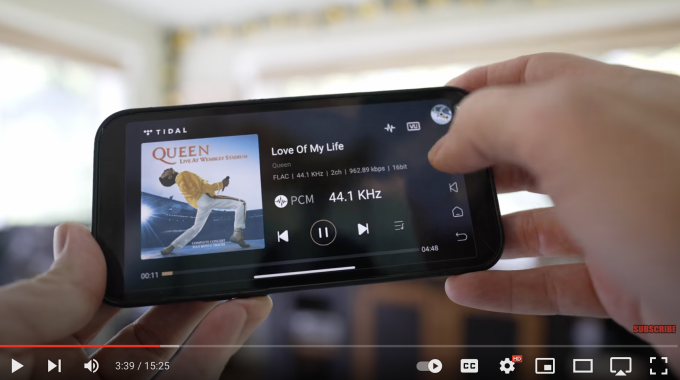 If you do not have an external DAC and just want an all in one, the A6 has you covered as well. It has dual ESS 9038 DACS installed and ready to rock and roll. Here are a few of the specs…
4GDDR+32GeMMC large memory for masses of applications.
Support M.2 NVME 3.0 SSD (not included), up to 2TB.
2xES9038Q2M DAC for independent stereo decoding.
Support DSD512 Native, PCM768KHz@32Bit, MQA full decoding.
The 3rd generation XU316 for higher performance and processing speed.
Low-jitter dual clock synchronous processing with higher accuracy.
Fully balanced circuit, XLR balanced and RCA single-ended hi-fi pre-out.
2x DOH chips, support HDMI DSD Native and D2P multi-channel output.

This is a serious streamer that is set to take on some of the big boys in this area. Think HiFi Rose, Lumin and others in the $3k price range.
When the DMP A6 arrived I used ethernet to hook mine up but this little guy also allows us to hook up via WiFi, something Lumin does not offer as Lumin feels this may harm the sound quality.
As soon as I powered it up it instantly connected to the app. The DMP-A6 is one of the easiest to set up  streamers I have ever had through here. I discovered there were no bugs, hang ups or issues which really pleased me. Sometimes these things can be difficult, buggy or strange but not this time.
I tested the DMP-A6 with the internal DAC, external DACs and with three integrated amps.
The DAC winner was the T-A DAC 200 as it so far ahead of the others I have on hand right now that it allowed me to really see how good the streamer is inside of the A6. You can see my T+A DAC Review HERE.
Using my Focal Diablo speakers and either the Aavik U-150, Galion TS120SE and the brilliant Gato 400s the test was underway. I will have reviews of the Gato and Galion very soon. I also tested it with a set of KEF R3 Metas that just arrived for review.
No matter what amp or speakers I used the DMP-A6 settled right into my reference system where it was not embarrassed to be in the company of $24k speakers, a $20k amp or $7200 DAC when used as a streamer.  The music was dynamic, rich, full, holographic and layered. The soundstage opened up vs the Node and gave me very similar performance to the Lumin U2 Mini. If I had to do a blind test between the Lumin Mini and A6, as a streamer only, I could not tell which was which.
The A6 was holographic and allowed whatever DAC I set it up with to show me its true character. 
The Node was thicker, warmer and had less details when used only as a streamer to the same DAC. The A6 was really delivering the goods and was showing itself to be much better than the cost. I like this.
Switching on the VU meters made me smile, just as they did with the $5,000 HiFi Rose 150b (which is still my fave all in one streamer and DAC). The A6 emits zero noise and has no annoying buzzing or hums associated with it. Just silence as it should be.
I have never heard of EverSolo before they sent me this streamer to review but they are on my radar now. I LOVE when a company makes something truly fantastic and doesn't price it out of the stratosphere. This means more music lovers can experience a higher quality experience without putting a second mortgage on the house, lol.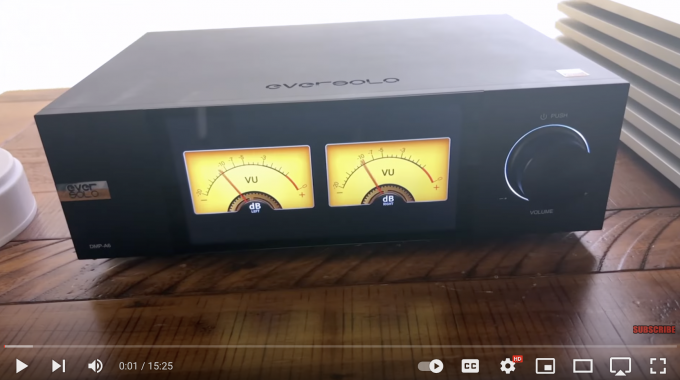 INTERNAL DACS. Any Good? 
Switching to the internal DACs inside of the A6 I found the volume to decrease by quite a bit (does this on the Node as well). I also found the sound to be quite nice but not to the level of my external DACs that cost 7-10X what the A6 cost. While this is not any kind of end game DAC solution, it does great as an all in one. I find the A6 sounds just a little bit better to me than the Node if we use the internal DACs of both pieces. The cool thing is that one can always upgrade later by adding a nicer external DAC.
I have nothing but great things to say about the DMP-A6 by EverSolo and not just because it is affordable. Rather I love this thing because it really delivers a fantastic streaming experience while offering great build and ease of use. It competes with streamers that cost 2-3X as much yet offers more.
The big touch screen display reacts instantly as there is no lag and the app is very easy to use and understand. One of the better streaming apps I have used.
It took a $5k streamer to best the sound I was hearing in my system by about 10-15%% (Lumin U2) and I really do love the Lumin U2. It's sexy, sleek, well made and sounds glorious while being rock solid in stability.
With that said, the EverSolo has also been rock solid, glitch free and quite nice to look at as well.
Under $900. I still can't believe it.
Inputs, Outputs, Bluetooth, WiFi, Ethernet, USB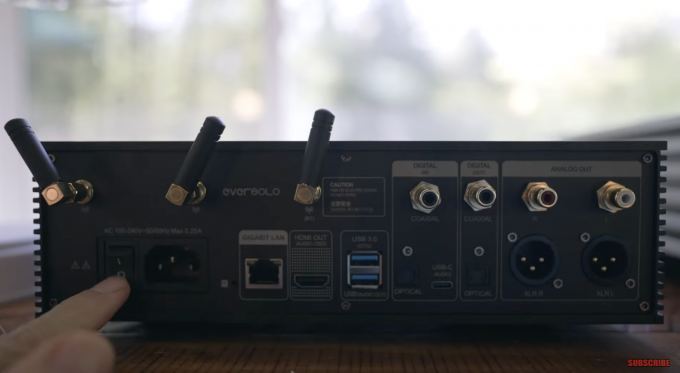 HIGHLY recommended to those who are looking for their first streamer or even an upgrade from a Node. It also works VERY WELL in a high end reference system when used as a streamer only into your DAC of choice. This is where it shines for me. With the ability to add an SSD drive and stream just about any format this little guy has high end aspirations without the high end price.
Is this an end game streamer? Well, no. You can get better but how much will you have to spend to improve upon the A6 when using it as a streamer only? Thousands.
The internal DACs are very good but no where near my reference DACs (that cost much much more). Even so, the A6 does sound better to me than the internal DAC of the gen 3 Node but it is that same kind of ballpark.
The EverSolo DMP-A6 is a STUNNER for the money and I can easily recommend it, especially as a fine streamer going INTO a DAC. Enjoy!
NOTE: YOU CAN NOW BUY THIS STREAMER ON AMAZON via PRIME! The Listing is HERE. 
You will also find other products and streamers from eversolo at that link, for LESS!